Staunch supporters and advocates of child safety may not agree with us when we say that boxing can be a great way for children to develop a lot of their potentials including physical strength and agility, stamina and endurance, emotional balance, concentration and focus, and a whole lot more. While their concern is understandable, considering that boxing can be quite a dangerous contact sport, child development experts agree that we can still ensure our children's safety while they are engaged in training. We do not intend for your kid to become the next Holyfield or even Muhammad Ali but it sure is going to be fun if they will start with their boxing introduction with our 8 best punching bags for kids in 2018.
Our Top 3 Picks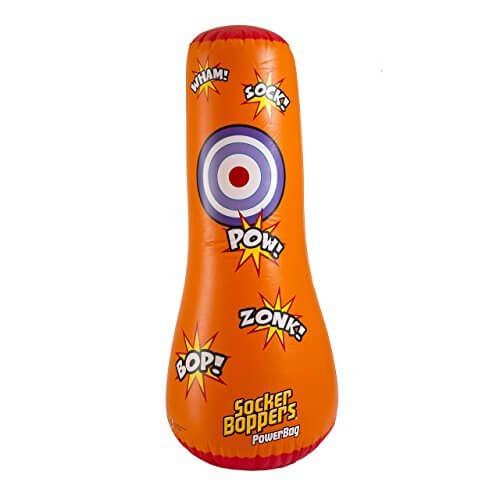 Big Time Toys Socker Bopper

Our rating
Self Defense Practice
Price:

See Here

Kid Kick Wavemaster

Our rating
Perfect Introduction to Boxing
Price:

See Here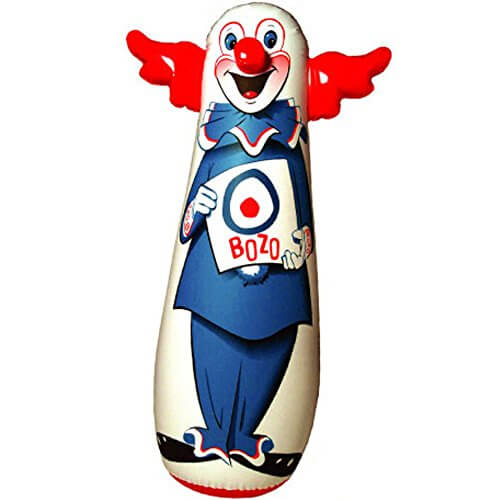 Bozo 3-D Bop Bag

Our rating
Fun Kid-Friendly Design
Price:

See Here

Big Time Toys Socker Bopper Power Bag
Age Range: 5 to 12 years old
Century Kid Kick Wavemaster
Age Range: 6 to 11 years old
Age Range: 3 to 8 years old
Inflatable Bop Bag with Standing Punching Bag
Age Range: 2 to 8 years old
Liberty Imports Sport Punching Bag With Gloves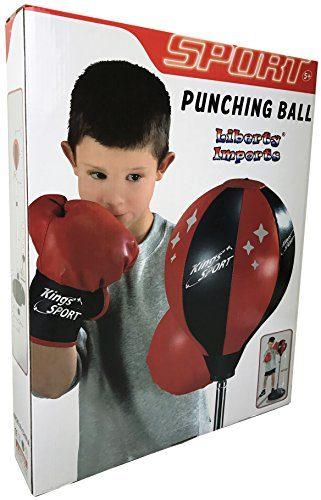 Age Range: At least 5 years old
RDX Kids 2FT Punching Bag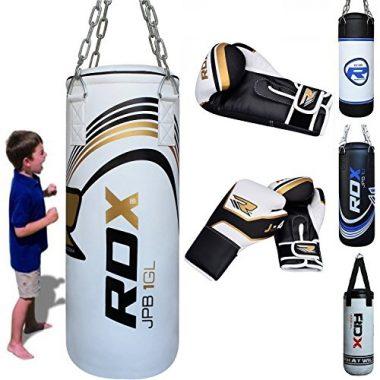 Age Range: At least 6 years old
Ringside Youth Heavy Bag Kit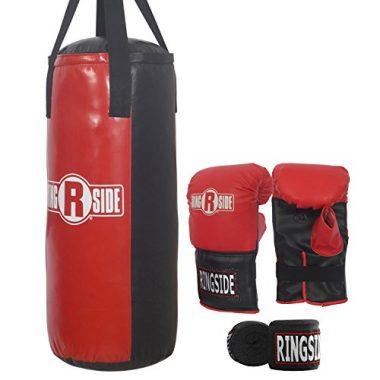 Age Range: 2 to 4 years old
Pure Boxing Inflatable Free-Standing
Age Range: At least 6 years old
Criteria Used in Evaluation of The Best Kids Punching Bags
It is vital to our health to spend a certain part of the day doing something physical. It's important to, early on, instill habits for a healthy lifestyle. The benefits reaped from physical activity are irreplaceable thus there is no sufficient substitute. With so many distractions around it can be hard to inspire your child to be out and active. The goal here is to find something that will help your child burn off extra energy and find a way to lead a healthy and happy life.
The activities these kits will give you and your child so many things to be excited about. Kids seem to have endless energy and a very little attention span. This can make for an exhausting day for the adults in their lives and an impossible bedtime for everyone. Doing an activity like this is a great way to burn off extra energy. The physical exertion that comes from boxing and similar activities is a perfect solution for tiring your child out. Kids tend be imaginative and active, often over-zealous and dare I say, a pain sometimes. Their high energy can be hard to keep up with and finding an activity that will keep them engaged can be challenging.
Physical activity is a great way to help the brain naturally release endorphins. These endorphins help to have happier and calmer days. These kind of activities are also incredible for relieving extra tension and stress. Hormones, new schools and new friends, the list of change never ends. Helping your child find an effective way to get out extra tension without causing any major damage is important for teaching them the value of respecting others. Still while helping them understand that doesn't have to take away from their own needs. There is a middle ground so everyone wins.
Muscle development and gross motor skills are building blocks that are essential to functioning one a daily basis. This activity is a great tool in improving balance, agility and coordination. Your child's safety is of the utmost importance to you. We seem to be living in a world that grows less sure and safe as time goes one. Sometimes we need to be reminded of the importance of knowing how to defend ourselves. Although some of these sets may not be the most ideal in making your child a professional boxer, they are great for serving another important purpose. They are great sets for an early introduction to self defense.
Aside from the physical benefits that come from these sets, they have been designed to reach a number of other expectations. They are aesthetically pleasing to provide your child with a toy they can be excited about. Some options on here are fun and lighthearted. In contrast, there are some that provide a more sophisticated effect. Their design is sleek and some are meant to be modeled after a professional boxing set. The sets on this list are highly rated for reliability, safety and stability. Their sturdy frames and cool style make them a perfect pick for any occasion.
Children with large amounts of energy or even anger, can lead to damage of property. These kids also find themselves in a severe amount of trouble. This can frustrating as a parent because you can't help but see the best in your child. Of course you hope for the same from the rest of the world. Giving them a set like this to occupy their time will give them a great way to roughhouse without getting them into any trouble. This is also a great way to enhance your child's self motivation, discipline and focus.
Most of these are designed to be height adjustable giving them the ability to grow with your child. The height adjustments and durability make them great to use year after year. Understanding your child's specific skill set is important in finding them the right punching bag. Children of different ages and interests have different levels of physical ability. It is important for your child's safety that you as a parent are familiar with their abilities. There are gifts one this list that are meant to be used by small children and some that are not suitable for small children. However, if you have a child who is very well experienced, while still quite small you may want to consider this when making a selection.
What Determined the Best Kiddie Punching Bags in Our List
Sturdiness and durability were two of the most important characteristics of punching bags that we really have to look for in this particular endeavor. First, while the punches of our kids may not be powerful enough, it doesn't necessarily mean that the material used in the manufacture of the product will never get damaged with repeated punches and perhaps, even kicks. As such, the sturdiness of the product was a major consideration. It should also be durable. It won't make sense that a boxing equipment gives up on a kid after only a few sessions. As much as possible, it should grow well with kids so they can continue to use it until such time that they are ready for the real stuff, if ever it comes to that.
Second, since we're talking about products especially for kids, we cannot choose professional-grade punching bags. These should have a certain element of child-friendliness in their designs. We did, however, included three items that were designed more like the professional stuff so that kids who are ready to take their training to a whole new level can use these instead of the fancier ones. Of course, there are also parents who prefer professional-looking products rather than getting one that can be mistaken as a toy.
Third, and in relation to our first criteria, was the stability of the product. This type of boxing equipment is typically hung on some structure, especially the ceiling. However, the height may not be ideal for small kids. As such, many of our products are built as standees. It is for this reason that they should be stable enough to withstand blows from kids without toppling. And in cases where it does sway or tip over to one side, it should still be able to spring back to its original position.
Lastly, we looked at how these products were evaluated by consumers. We wanted to look at the star rating of these products but decided against it. Instead, we relied on the general sentiments of consumers to identify the strengths and weaknesses of each product. This gave us an idea whether the item is an excellent buy or a worthless piece of junk.
Benefits of Learning Boxing among Kids
It is understandable that some parents and child safety advocates don't recommend kids learning how to box or any form of contact sports. Is boxing safe for kids? This is the question that many parents ask pediatric health care professionals and child psychologists whenever the suggestion of boxing for kids pops out. Fortunately, studies have shown that there are many benefits of boxing for kids. Here are some of them.
Stress relief – Stress is an integral part of human existence. Even children experience stress. While older children may already have some rudimentary coping skills to allow them to manage their stresses, younger kids are not so lucky. Boxing allows kids to vent these negative energies so they will feel more relaxed.
Self-defense – We don't agree about using violence in any way. However, everyone, including children, have the right to defend themselves when attacked. At a time when bullying is rampant in schools, equipping kids with the basic tools to defend themselves can hardly be classified as a crime.
Discipline – Boxing requires following a very strict exercise and training regimen which also requires discipline. The good news is that this discipline is carried over to other aspects of a kid's life. He or she will exercise discipline at all times whether it is in school, in the playground, or elsewhere. Discipline is a state of mind and boxing can teach kids this important principle.
Self-motivation – Engaging in any sport instills a great deal of motivation among children. They know that they can get better with each training session. If they can hit a punching bag now, tomorrow they can do so a lot faster. This keeps them motivated.
Strength – Throwing a punch may seem not much but it does strengthen the muscles of the arm. Other exercises inherent in boxing can also improve the overall tone and strength of the different muscle groups enabling kids to perform exceptionally well in physical activities.
The Bottom Line
Boxing can have a lot of benefits to kids. Because safety concerns are legitimate, it is crucial for us to safeguard our kids' boxing efforts by giving them equipment that are proven to be safe for use among children. Our top 8 punching bags for kids in 2018 is always a good place to start.
You May Also Like
FAQ
Frequently Asked Questions
Q: What is the age range?
A: They are meant for a whole range of ages, although there aren't any on this recommended for teens the oldest on this list has a maximum age age of twelve. On the other hand the majority of these are meant for children around six.
Q: Is there a warranty?
A: Right off the bat, there is one choice that provides a ninety day limited warranty, there are several companies andamnucturers that provides their own warranty and return policies. Each company has different policies so it is important to take a careful look before making your purchase.
Q: Are there options that are good for girls too?
A: Although it is typical this sort of activity appeals to boys, there are some really inspirational women who partake in this kind of physical activity. For those girls in your life there are some very pretty options and for younger girls some very adorable choices.There is no reason this activity cannot be enjoyed by a girl.
Q: Can they be used indoor/outdoor?
A: Most of these are made of durable materials although some are not meant to withstand harsh weather conditions. There is one option designed to be durable enough for outside use.
Q: Are they easy to keep clean?
A: These products are made of materials that are generally very easy to clean. There is a couple to allow you to wash them in a washing machine.
Q: Are they easy to assemble?
A: The majority of these set comes in few pieces so assembly should be a breeze.
Q: Are they heavy?
A: Most of these are inflatable or have bases that haven't been filled yet. This means their shipping weight is much less than when you have an assembled product. Because you can fill them on your own there is little challenge to make them as light or heavy as you desire. The majority of these top out around one hundred and ten pounds when they are filled.