What could be more fun this Summer than to get out on the water with your kids? Watersports are some of the most enjoyable, relaxing, and healthy activities that kids can do, plus it will keep them cool. There are several kinds of products on the market for water fun. For all ages of kids, there are body boards, foam boards, and stand up paddle boards (SUP), which we highlight here. Bodyboards are wonderful for kids under six-years-old because they are too young for surfboards. Bodyboards are very safe because they are made of soft materials. Foam boards can be used in areas of small waves by older kids to pre-teens. The whole family can enjoy a SUP, as they are for any type of water area. Activities with these boards include surfing, SUP yoga, leisure paddling, and whitewater. These boards can have one or three fins underneath to provide minimal drag and tracking. These short SUPs are perfect for kids and surfing because they are ten feet or shorter in length. Although most of the items listed are either SUPs or bodyboards, we did include a Spooner board, foamie board, and a balance board, which are similar, but each having their own unique qualities. Each item is suitable for kids to use comfortably and is a top-rated online product in this category. Let us now show you the best kids surf and paddle boards rated and reviewed in 2018.
Our Picks of the Best Kids Surf and Paddle Boards Rated in 2018
SereneLife Inflatable Stand Up Paddle Board
Atoll 11′ Foot Inflatable Stand Up Paddle Board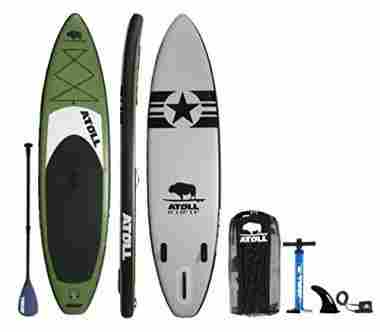 Own the Wave 37" Blue Bodyboard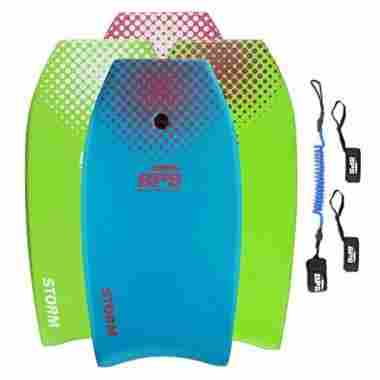 Giantex 6′ Surfboard Surf Foamie Boards
GoofBoard Classic – Surfing Balance Board
ANCHEER iSUP Board Package
Bo-Toys Body Board with EPS Core
ISLE Surf and SUP PEAK Inflatable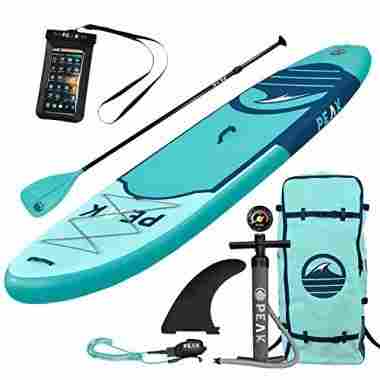 Tower Inflatable 10'4" Stand Up Paddle Board
Pathfinder Inflatable SUP
iROCKER CRUISER Inflatable SUP
ISLE Cruiser Soft Top Stand Up Paddle Board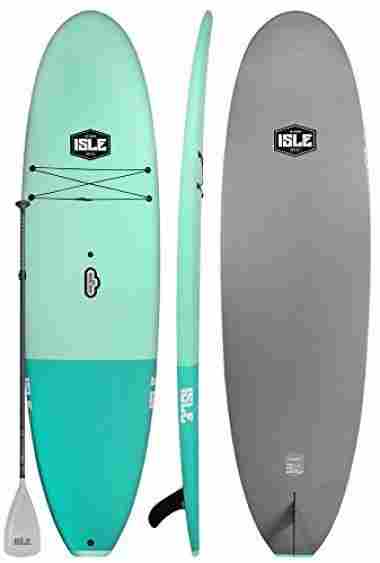 Criteria Used in Evaluation of the Best Kids Surf Boards and Paddle Boards
All boards listed are easily usable by kids and beginners
Kids and beginners need to develop the necessary skills and abilities to use and enjoy these products successfully. We feature several practice boards where these skills can be gained quickly. Children can easily use all of these items, and they are the appropriate sizes for their weights and sizes. Kids as young as three-years-old can enjoy some of the smaller boards, such as the Spooner boards. With parent supervision, talents can be increased and gained.
Each item is a best-rated, mostly-bought product of this category
We search for the best-rated, mostly-bought items in this selected field for your review. This saves you time in scanning through all of the products online that may or may not be the best for your child. Buyers and parents have given their overwhelming, positive feedback on all of these surf and paddle boards.
Every item is durable, long-lasting, and made of quality materials
Most of these items are made of PVC, foam, or polyethylene, which are all very durable and long-lasting. These boards are ready for much use by your kids and the whole family. The weight limits are high, so adults can ride most of these boards too. The majority of the boards come with satisfaction guarantees to ensure your happiness with the items. A few of them are produced by family-owned companies, so they take great pride in their work.
All of these boards come with the accessories needed to enjoy them – no tools necessary
No tools are needed to put these boards together, although some of them do come apart. Instructions are included for a few of them to help with the fin holders and leashes for wrists. All of the SUPs that are inflatable come with pumps to inflate them, and most of the higher priced boards come with a carrying bag that will hold all accessories and the board too.
NOTE: For SUPs, we offer this advice for beginners on how to use them. Get on the floating board by sitting on it with one leg over each side. Adjust your body core by getting on your knees. You can practice balancing and paddling in this position. Once you are comfortable doing this, try standing up and paddling balancing yourself as you move through the water slowly.
FAQ
Frequently Asked Questions
Q: Are the paddle adjustable? Does the paddle break down and fit inside the bag? Do the oars float?
A: Yes, the paddles for the SUPs are adjustable and they do break down and fit inside the included carrying bags. The oars do float.
Q: Are the body boards good for SUP yoga?
A: Yes, most of the SUP boards are good for yoga, but just watch the weight limits of the individual boards to ensure you get one that is the proper size and thickness for the user.
Q: Can first timers stand up easily on the SUPs? Are they easy for kids to use and control?
A: Yes, these boards are very easy to use for the first time and kids will enjoy using them. They are mostly made from soft materials, so they will not hurt themselves if they slip or fall.
Q: Do the fins detach on the SUPs?
A: On the ones with three fins, the middle one comes off only. For the boards with just one fin, it does come off and attaches easily
Q: What is the weight limit on these boards?
A: For the SUPs the usual limit is 250 pounds, but some of them can hold heavier weights. The paddle boards are less sturdy, so they hold less weight. Check the charts that are given for some of the products to ensure you get one the intended user can enjoy.
Q: Are the SUPs good to ride with dogs? I see people ride with a dog all the time.
A: Yes, the SUPs are great to train dogs to ride. Just watch the weight limits and keep the dog's nails trimmed, especially for the inflatable SUPs.
Q: Is the weight or height the most important factor when selecting a bodyboard?
A: Weight would be the most important factor in choosing a SUP or bodyboard, just like for a regular surfboard.
Q: Do you have to put wax on the body boards or SUPs? Do these boards come with ankle or wrist straps?
A: No, no wax is needed for these boards because they are made of Styrofoam. Just unwrap, put the fins on if necessary, inflate if necessary, and ride.