Basketball is a "you shoot, you score" kind of sport in our book. With so many different components involved in the game, this particular brand of athleticism involves complete physical exercise, strategy, improvisation, and teamwork. Basketball requires not only agility and cardiovascular endurance but highly trained muscular patterns. Children build strong, lean legs and cores as they run up and down the court, working for their various muscle groups. Learning to shoot the perfect free throw or two-pointer means constant practice to be able to not only improve hand-eye coordination, but also gauge the necessary arc, spin, power, and angle each shot will require to sink it. Children will run, jump, dribble, and shoot their way to happy, healthy bodies and hearts.
In addition to being a physically varied and demanding sport, basketball also requires strong mental fortitude and the ability to cooperate as part of a team. The very best basketball teams understand how to strategize–this means being knowledgeable about the strengths and weaknesses of their own players, as well as those on the other team, and coming up with the plan that will give them the best advantages in the game. Besides formulating playing strategies and plans, players also need to be able to think quickly on their feet and improvise. If suddenly the ball becomes available, they must identify their best path to the basket, be it solo or by passing the ball off to teammates, and then pursue that plan quickly before the other team wrestles the ball away again. While some of these skills might seem a little advanced for young children, it's never too early to start laying a foundation, and little ones love shooting hoops, be it on the court, at school, or in the comfort of their own yard or living room. Investing in a quality children's basketball hoop means kids can bring their love of the game home with them and leave everything else out on the court.
The Best Kids Basketball Hoops & Sets Reviewed
Spalding NBA Slam Jam Over-The-Door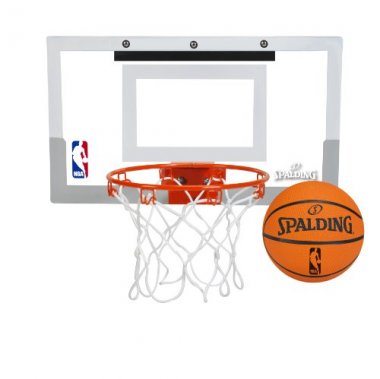 Fisher-Price Grow-to-Pro Junior
VTech Smart Shots Sports Center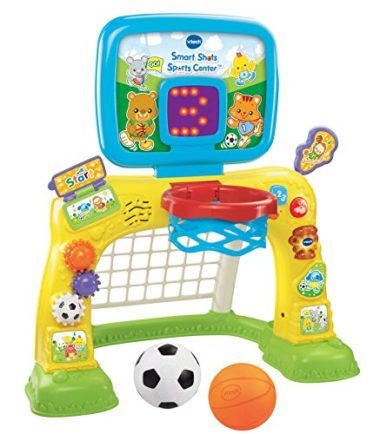 Little Tikes Adjust and Jam Pro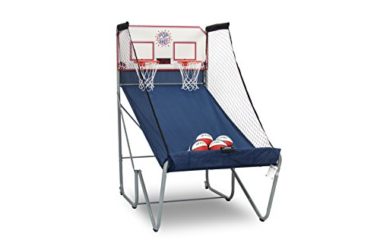 Little Tikes Attach 'n Play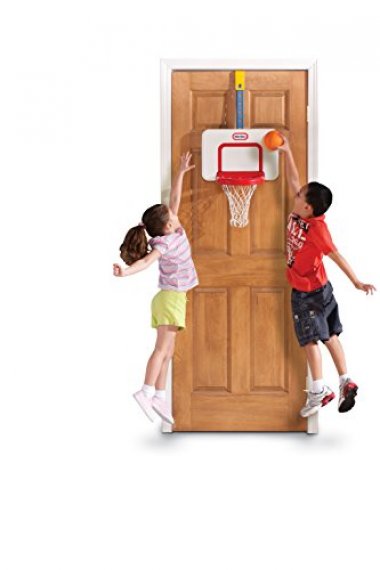 Criteria Used in Evaluation of the Best Kids Basketball Hoops and Sets
Safety
Basketball is a sport that has the potential to cause different injuries for players, no matter how much gear is used or caution is practiced. However, there are a lot of ways to promote safety when playing or practicing the sport. We always prioritize safety when evaluating products to recommend for children, especially those who already have a higher risk of injury. We decided to include smaller basketball hoops designed for younger kids, over-the-door hoops for indoor use, as well as taller steel hoops on our list to provide options for as many kids as possible. When it comes to hoops that stand, we found those with heavy bases that can be filled with sand or water provide a stable foundation. The weighted base helps to prevent hoops from tipping over from weather or dunking.
Many of the hoops have breakaway rims, which fold down with pressure rather than resisting the contact from dunking. When the rim breaks away and then bounces back into position, there is less of a risk for your kid to hurt their hand or wrist by slamming into the hoop. We also focused on finding hoops that have virtually unbreakable backboards no matter what they are composed of. If the backboard were to break on the ball's impact or if the hoop tips over, the hoop wouldn't be usable anymore and the damage might pose a risk of cutting or scraping delicate fingers or feet. Because basketball can involve playing with other people and always involves shooting a ball up to come back down, there is always a chance the ball can slam into a child's face or body, or an elbow may stab someone if the playing gets rough. However, the risk is totally worth taking because basketball provides numerous benefits for players.
The hoops themselves have features that encourage a safer basketball experience, but parents can always purchase protective gear to further shield their kids from injury. The most common injuries experienced as a result of playing basketball are a broken nose and split lip, sprained ankle, and knee injuries such as a torn ACL. Kids can wear safety goggles or mouth guards to guard the face from elbows or contact from balls. Ankle and knee braces can be worn to provide stability for the delicate joints as well. First aid supplies should always be available nearby when kids play basketball, whether at home or at a public court.
Durability
Durability is a great characteristic to consider when making a purchase on a toy or other item. A durable basketball hoop means that your kid will be able to get as much use out of their hoop as they can over an extended period of time. A hoop is durable when it is made with materials that can withstand rough use and weather conditions such as powder-coated steel and nylon rope for netting. The ability to fill a base with sand or water for weight prevents tipping that could potentially damage the hoop. Durability additionally involves a hoop being composed of multiple parts that can be securely fastened to each other without falling apart. The durability of your basketball hoop will encourage long-lasting fun for your family while being financially efficient.
Fun
Fun! It is an essential component for any toy or game for kids. When a basketball hoop provides a fun experience, it encourages kids to remain entertained and occupied for long periods of time. The enjoyment and fun kids will have with a basketball hoop will also assist them in persevering in building skills without getting distracted or uninterested. Whether a kid plays with the hoop alone or as part of a group, they can have fun without much effort. Kids can simply practice basketball skills, organize a game based on the official rules of basketball, or even get creative and make their own games and rules. The physical activity associated with playing basketball additionally circulates endorphins throughout the player's body which increase levels of happiness. Basketball is a fun sport that can be enjoyed from childhood to the rest of a person's active life.
Basketball is a very active sport that provides numerous physical benefits for players. Running, dribbling, practicing defense, and jumping for shooting all increase the heart rate and promote cardio strength. Many movements used in practice and games help kids build muscle mass and increase strength. When kids start to build healthy habits and active lifestyles, it sets the tone for a wonderful bodily experience for their lifetime. Being physically active promotes benefits that extend to the mental sphere, helping to establish a sense of well-being and an even temperament. Today, kids get significantly less exercise than all prior generations, so to be able to have fun and build fitness has even more powerful effects. The more fit a person is, the more they will be capable of throughout their lives.
Builds a Well-Rounded Set of Skills
Whether your child is just beginning their basketball journey or advancing forward later on in their careers, they will experience building skills in various realms of life. Little ones will work on building simple gross- and fine-motor skills, as well as coordination and balance. When they master these foundational skills, they can move on to higher levels of achievement in skills such as aiming, strategizing, staying motivated, and helping others. Typically, kids will advance over time to being able to shoot and dunk at taller hoops. This requires visually aiming for the target and then using the proper movements to successfully make a shot. The strategy is a critical part of playing the official game of basketball, as kids must juggle the allocation of energy to defense, offense, and communication through body language. A lot of times, teams will practice an organized set of moves in order to collectively achieve a goal, although circumstances may call for improvisation during actual games. Finally, kids will learn to help others grow through playing basketball. Some kids will be better at certain skills than others, and it can actually benefit both players when the advanced child teaches the other child how to work on that said skill. Helping others is a wonderful gift to offer on the basketball court, in school, at home, and anywhere in life. Usually, when we help others excel and prosper, we are more likely to be helped when we need it later on. Basketball truly builds character for kids to grow up as honorable and beautiful people. Play ball!!!
FAQ
Frequently Asked Questions
Q: Is basketball safe for my child to play and practice?
A: Ultimately, your child is pretty safe playing basketball. We recommend soft and light balls for younger kids, breakaway rims to avoid slamming, setting rules for a safer experience, providing parental supervision, and safety gear if you want extra protection.
Q: Can basketball be played indoors?
A: Of course basketball can be played indoors. Many public courts are actually built in indoor gyms. There are many small plastic basketball sets for younger kids to use in the house. Additionally, there are a number of hoops for indoor use that can be mounted to hang off the top of a door or stick to the side of a wall. It's great that basketball can be played indoors to combat weather or be able to keep an eye on the kids from the comfort of your home.
Q: Do girls like basketball?
A: Yes, many girls love basketball There are lots of leagues on many levels that have co-ed or all-girls teams. Girls' basketball is just as awesome as boys' leagues, and there is always the opportunity for scholarships and other athletic awards when girls get super-talented.
Q: When I set up an indoor over-the-door hoop, should I worry about scuffing or damaging the door/wall?
A: It is not going to be totally destroyed, but some over-the-door hoops can scuff paint or scratch wood depending on how it is secured. Some of the hoops on our list have foam padding to avoid such damage, but others are potentially going to cause some harm. Usually, you can just repair the damage with putty, paint, or sandpaper to prevent anything super noticeable.
Q: Do I need any power tools to assemble my new basketball hoop?
A: You won't need any power tools to set up any of the hoops on our list. Some hoops might require a screwdriver that isn't included, but the majority of the hoops include everything you'll need to assemble with ease.
Q: Will the hoop last my kid a long time, or will I need to keep purchasing new models?
A: It really depends on the quality of the hoop in question as well as weather conditions, intensity of use, and how large your kid is relative to the size of the hoop. Most of the basketball hoops can be set up over a range of heights to grow with your child over a few years. If your hoop can withstand weather and decay over time, it should last longer than those that degrade with wind, sun, or water damage. Thankfully, a few of the basketball hoops on the list can be returned or replaced within a specified period of time following the purchase.