10 Best Kids' Gym & Exercise Equipment Reviewed in 2019
last updated
Aug 16, 2019
If only we could bottle the energy of children, we would all be billionaires! This is a sentiment that almost every sometimes-exasperated parent thinks as they watch their little one take their 12th flying leap off the couch. Kids are literally full of energy. Children's bodies are much more efficient at manufacturing energy from the food that they eat. Their metabolism is significantly higher than the average adult and that translates directly into their energy levels. Children are also more likely to be exposed to high levels of sugar as well, whether from cookies at grandma and grandpa's or because of the chocolate bar they smuggled out of their Halloween candy and ate when you weren't looking. This can all equal up to a little one who is literally bouncing off the walls while we parents scramble to try to keep them from getting hurt!
In a Hurry? The test winner after 27 hrs of research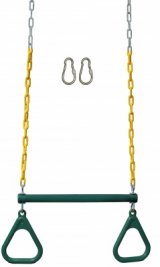 Jungle Gym Kingdom 18" Trapeze
Why is it better?
Comes pre-assembled
Can be enjoyed by both kids and adults
Requires minimal storage space when not in use
Sturdy build with soft overlay, resulting in a comfortable grip
In a
Hurry? Editors choice: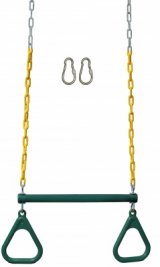 Test Winner: Jungle Gym Kingdom 18" Trapeze
30
Researched Sources
27
Hours Researching
16
Products Evaluated
Comfort
Ease of Use
Safety
By Default
10 Best Kids' Gym & Exercise Equipment Reviewed
1

. Jungle Gym Kingdom 18" Trapeze
Comes pre-assembled
Can be enjoyed by both kids and adults
Requires minimal storage space when not in use
Sturdy build with soft overlay, resulting in a comfortable grip
Requires a pre-existing structure to hang it from, or mild assembly to strap it to a branch
If you intend to switch it out with a swing at a public playground, you'll have to unclip and reclip the accessories each time
Is the playset in your backyard missing something? Take your child's playground to the next level with the Jungle Gym Kingdom Trapeze.
Read more
Comfort
Everyone loves a good swing set, but this replacement will allow your child the same momentum-fueled fun, while also requiring them to work their upper body muscles in order to hang or climb. The bar and the separated triangular handles allow for different grips and thus work for different muscle groups. You can adjust how high or low it sits in comparison to the ground, so if you want to get a few pull-ups in when your child is finished, just lift it and attach a link closer to the apparatus, raising it from the ground.
Ease of Use
With the trapeze designed to hold up to 300 pounds, children of all ages can enjoy using it. Using it is easy as your child will simply need to grab the bar or the handles. With two different places to grab, this playground addition offers several different ways to play. Installing thetrapeze is just as easy as playing on it. While the bar does arrive fully assembled, you will need to purchase a set of swing hangers to attach it to your set.
Safety
The Trapeze bar snaps in where a swing would usually go and comes already assembled so you only need to hook it up to the hanging attachments. The Jungle Gym Kingdom has a whole array of play-structure styles, sizes, and apparatuses available if you're in the market.
2

. Gym Dandy Teeter-Totter Home Seesaw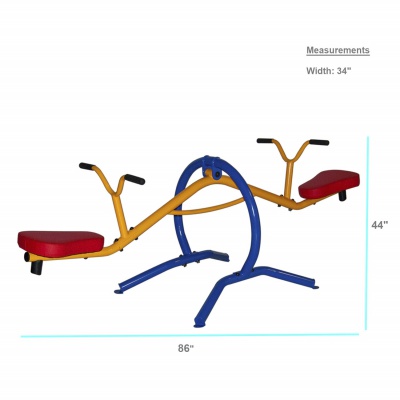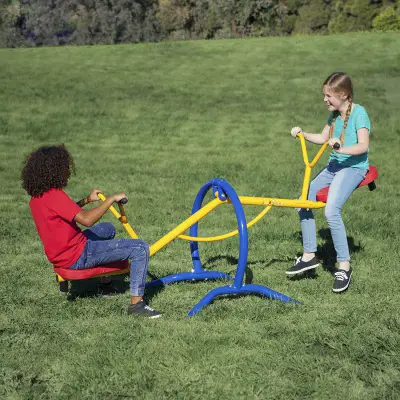 Shock-absorbing design provides safer and more comfortable play
High-quality steel material can support total weight up to 300 pounds
Ergonomic handlebars allow little hands to easily grip and balance
Rust-resistant and durable powder-coated finish
Seat covers are made of fabric which may wear down, fade, or mildew due to outdoor conditions
Sure the park is fun, but with the Gym Dandy Teeter-Totter you can have that same level of fun directly in your own back yard. The bright colors will have all of the children on your block excited to come over and play.
Read more
Comfort
Built-in bump absorbers reduce the amount of impact that your little one will experience while playing on this seesaw which actually makes it safer than the more traditional models that you tend to find at local parks. It also utilizes a single fulcrum to provide a smoother rocking motion and a safer swing. Ergonomic handlebars feature anti-slip padding to help little hands and fingers grip properly to prevent falls and stop callouses from forming regardless of how long they play. Encouraging play can help your child develop coordination, fine- and gross motor skills, as well as balance. Since this teeter-totter is designed for two-person use, it can also be a great way to encourage socialization and help build new friendships.
Ease of Use
Children of all ages can enjoy using this teeter-totter, as long as they have a friend to share it with. In order to get it moving, the child whose seat is on the ground must use their legs to push off. With the motion of the toy being controlled by the users, your child can go as fast or as slow as they want.
Safety
Made of top-quality steel and plastic materials, this teeter-totter has been designed to be durable and withstand the rigors and punishments from years of use. Elongated and cushioned seats, as well as padded-grip handles, help make this one of the most comfortable playground-style toys your little one will ever ride and is suitable for use both indoors and outside.
3

. Flybar Foam Maverick Pogo Stick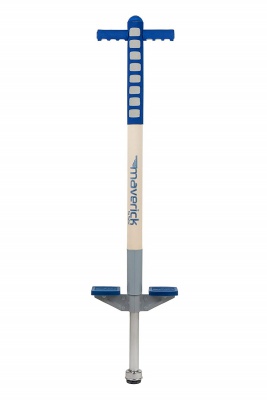 Safe design to protect both equipment and children
Great for beginners
Foam handles for easy grip
Textured foot peg to prevent slippage
Limited age and weight range
Not challenging to more advanced bouncers
Flybar is the original pogostick company, in business since 1918. It is the "standard by which all pogos are measured," according to its page. The product is designed with safety in mind, featuring a protective layer around the spring to prevent curious little fingers from getting pinched.
Read more
Comfort
The pogostick requires balance, which exercises bodily awareness and focus.  Flybar suggests that you can burn up to 600 calories in an hour while bouncing, making it a great way to get your child's physical activity in for the day.  It is meant to be used outdoors on flat surfaces, encouraging children to get some fresh air and enjoy the view outside. Children using it will probably not even realize that they're exercising while they play.
Ease of Use
It is meant to be useful even to beginners, comes in a variety of colors, and features a grip on its leg to allow bouncing on slippery surfaces. The wide and deep footpads allow for easier balancing since this is designed for first-timers. It is meant for children aged five to nine and can carry between 40 and 80 lbs.
Safety
The foam handles provide your child with a comfortable grip and will reduce the chances of their hands blistering. In fact, the metal frame is also coated with foam to protect your child's body if it accidentally hits them. The textured foot pegs increase traction and stability, thus reducing the chances of your child slipping off.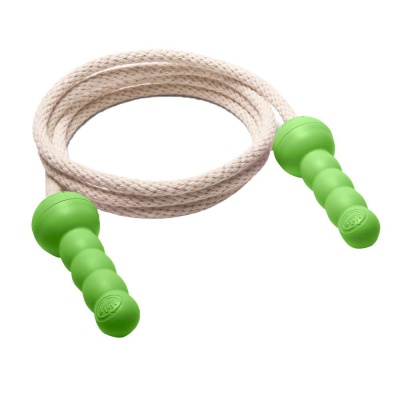 Environmentally friendly materials
Seven feet of adjustable rope to customize for child's height
Heavy rope and durable handles
Not an adult/professional exercise rope; meant for children's use as a toy
Green Toys focuses on products that are safe for both your child and the earth. This jump rope is made from 100% recycled plastic and 100% US cotton. The materials used are all non-toxic, and BPA/PVC/Phthalates-free. Even the packaging materials are recycled. The rope is adjustable for your child's height and suitable for ages five and over.
Read more
Comfort
Any exercise that involves heavy jumping is great for the cardiovascular system. Studies show that cardio exercise helps improve energy levels and overall brain health, thus also advancing cognitive abilities. Jumping rope also involves some hand-eye coordination and focus, both of which are imperative developmental skills.
Ease of Use
If your child is a beginner, mastering the art of jump roping may take a bit of getting used to. However, we're confident they will be a pro in no time. The rope is 7ft long but can be adjusted to better suit your child's height. The cotton material gives the rope a lightweight feel, thus making it easy for younger children to turn the rope. Storing is just as easy as using it. The box it arrives in can be reused to keep the rope organized and one place. The small size of the box allows it to fit in a variety of drawers, bags, etc.
Safety
Being composed of recycled plastic and cotton this jump rope is great for the environment. In fact, with it being made from non-toxic materials it is perfectly safe for your child to use. The plastic handles will not hurt your body if they accidentally hit themselves. Jumping rope will allow your child to destress from the day while also improving their overall health.
5

. ETA hand2mind Plastic Scooter
Multi-directional wheels
The smooth plastic surface so wheels won't damage floors
Handles to keep fingers safe
Holds up to 175 lbs
Concrete/gravel/carpet may damage wheels
Some customers have complained of the product breaking quickly
If these look familiar, it's probably because you used something just like it when you were going through gym class. Most customers agree that the build is durable but lightweight and easy to store and transport. The wheels are plastic, rather than rubber, but seemingly leave no damage on mom and dad's nice hardwood or tiled floors.
Read more
Comfort
This scooter requires balance and hand-eye coordination to manipulate and navigate. Children will build motor skills and core strength while riding these handy platform-scooters. Depending on how your child decides to ride their new toy, different muscle groups (arms, back, and legs) will also be targeted.
Ease of Use
Honestly? It just looks fun. And it's nice that it can be used indoors or outdoors, and is easy for children to tote along with them.
Safety
The design is simple, but effective in protecting children's hands from runaway wheels.
6

. Easy Outdoor Space Dome Climber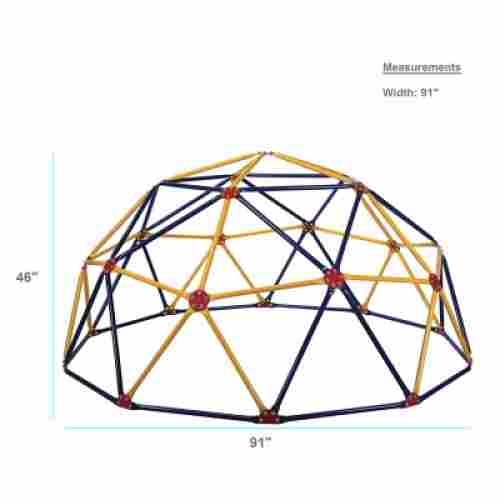 Comes with a two-year warranty
Multiple children can play on it at once
Rust and UV resistant steel
All-weather durability
Requires two people and two or more hours for assembly
Does not secure to the ground (but is sturdy due to its weight and width)
If your children love to climb and hang on the jungle gyms at the park but you don't have the room (or budget) for a full structure in your backyard, this might be the ideal solution.
Read more
Comfort
Let your little monkeys loose. When they play on the Space Dome, they develop balance, agility, confidence, and strength. Additionally, the allowance for other children to join them makes it a prime opportunity to build social skills. The fun colors and layout are creatively inspiring and allow for all sorts of adventures. Children will get a kick out of hanging inside and out with their friends.
Ease of Use
It's easy to share and promotes the social side of being physically active. The warranty is nice as well, in the case by some unlucky turn of fate, your equipment is damaged or found unsatisfactory in the first two years.
Safety
The structure is built with high-quality rust and UV-resistant steel. It can hold up to 1000 lbs and is suitable for ages three to nine. Once set up, the dimension run at seven feet in circumference and forty-six inches in height. It can support up to approximately five children at once.
7

. American Educational Products Cubes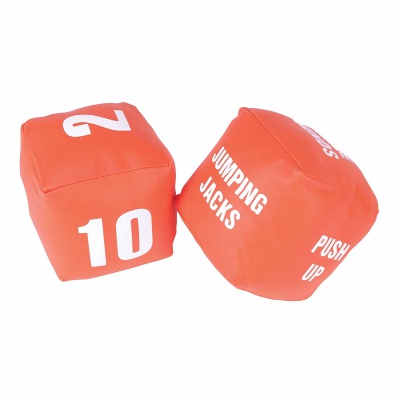 Multiple, varied exercises
Can be used by single-player or large groups
Safe (no hard or sharp edges)
Some customers reported fabric tears within a few uses
These are simple and straightforward; children roll the dice to determine what sort of exercise they will complete and how many repetitions of it. One die has exercise activities and the other is large easy-to-read numbers. The product is screen-printed and comes in a fun, neon orange.
Read more
Comfort
The exercise activities are varied, allowing for different targeted muscle groups. Children will be prompted to perform either two, four, six, eight, ten or twelve repetitions of arm circles, toe touches, jumping jacks, push-ups, single-leg hops, and leg lifts.  This will work back and shoulders, abdomen, arms, quads and calves, and also provide a cardiovascular element.
Ease of Use
If you're trying to entertain and keep a big group active, this is your ticket item. Kids can take turn rolling the dice or an adult can be in charge of that part. It can be played simply, or the group can come up with fun, creative ways to utilize the dice.
Safety
They're foam and plastic so they won't hurt anyone if they go flying. The product dimensions are 4" by 4" per die.
8

. Nekdoodle Pool Float For Aqua Aerobics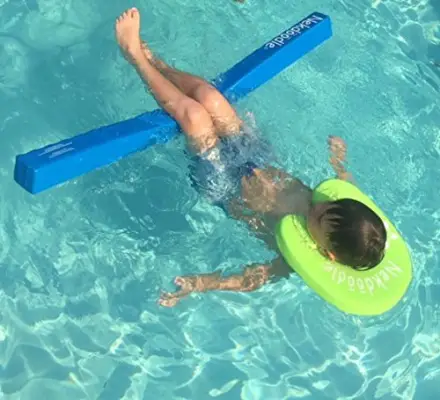 UV Protected
Salt and Chlorine Resistant
Multi-functional
One size fits all so the family can share
Some customers complained about the tightness around the neck, but the company does appear willing to exchange products for larger sizes if it doesn't stretch out enough with time and use.
Safe Sound Family named this versatile product one of their "Top 50 Water Safety Products for Kids and Family."  The Aquatic Therapy Industry recognized Nekdoodle with an "Aquatic Therapy Dolphin Award" for their contributions.  The company supplies the Aquatic Exercise Association, Aquatic Therapy Rehab Institute, and the Arthritis Foundation with their products.  The toy can be used as a neck support for water aerobics or spa time, and also doubles as a kickboard. The Nekdoodle is foam and a vinyl-cover, and may be initially a little tight, but stretches within the first few uses. It weighs less than one pound and supports up to 300 lbs.
Read more
Comfort
Physical therapists use it to help clients float and exercise, so if one of your little ones is experiencing an injury but still begging for pool-time, this might be a wise investment.  It can be used around the neck to float and perform resistance exercises beneath the water, or you can turn over onto your stomach and utilize it as a kickboard to challenge your core and leg strength.
Ease of Use
This is great for water-shy kids as it allows them to acclimate to being in a pool without panicking about keeping their head above water the whole time. Once they're more comfortable, they can try utilizing it as a kickboard as well, so they never truly outgrow its usefulness.
Safety
This is a winner if your child has any sort of trouble swimming. It will keep their head above water in case they panic when submerged.
9

. Liberty Imports Barbell Toy
Lock collars prevent weights from slipping off
You can adjust the weight in the plates
Easy to use
Encourages exercise and Stimulates development
Bar could be more durable
With the Liberty Imports Barbell toy, your child can lift weights alongside you. Your child will have a blasting making gains with you!
Read more
Comfort
The bar is 31 inches long, thus the perfect size for children between the ages of three and eight. With the bar being plastic you don't have to worry about it causing bruises while resting on your child's shoulders.
Ease of Use
You can adjust the weight by filling the plates with either sand or water. With this toy you can introduce your child to weightlifting and the proper form needed for the exercise. The weights and the bar are designed with vibrant colors that will stimulate your child's sensory awareness.
Safety
Once the weight plates are loaded onto the barbell add the lock collars. The lock collars will keep your child safe as they prevent the plates from rolling off. Grasping the bar will increase your child's fine motor skills and hand-eye coordination. Since the toy allows you to control the weight, you can be sure that lifting it is not putting a strain on your child's body.
10

. Fisher-Price Think & Learn Smart Cycle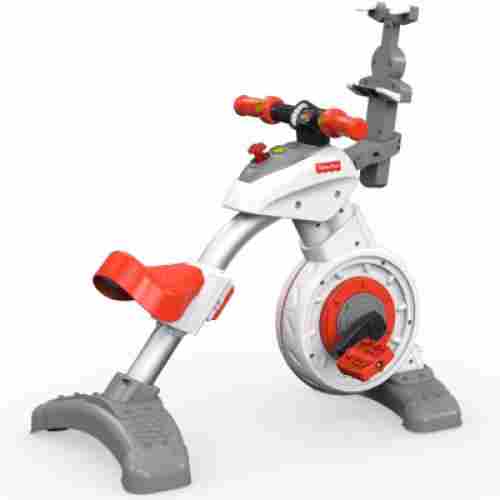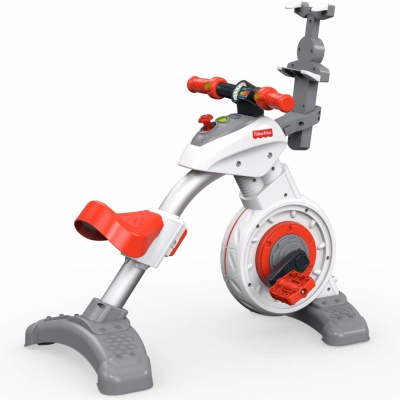 Adjustable seat for various heights
Encourages learning and exercising simultaneously
Fun games with Nickelodeon Characters
Variety of game subjects from letters to phonics to basic math
Solid structural design
Some assembly required (manageable with one Phillips head screwdriver)
Additional apps sold separately
This little tyke trike earned itself an Oppenheim Best Toy Platinum Award in 2017 for its innovative blend of education and exercise.  The stationary bike comes with a tablet holder (adjustable to most standard sizes) and is compatible with a wide range of technology. Adults can hook up an Apple iPad or Television, most Android Tablets, Android TV, Amazon FireTablet, or Amazon FireTV.  From there, the child can choose from a spread of apps and games meant to help them learn reading, writing, arithmetic, basic math, and phonics skills. There is also a racer option to simply pedal as fast as they can and beat their opponents to the finish line.  
Read more
Comfort
Think & Learn toy is an initiative to help unite basic scholastic skills with physically engaging activities. Through Bluetooth, the Learn Smart Cycle allows your child to choose their preferred academic games. The system is meant to promote active learning and build the skills outlined by the Partnership for 21st Century (P21) learning.  So in addition to riding through various tracks and picking up letters and words (the difficulty of which increases as your child's score and abilities grow), the activities are addressing the 4 C's of P21: communication, collaboration, creativity, and critical thinking.
Ease of Use
This is a great, innovative venture into hands-on learning, while also pumping your little one's heart and legs as they cycle. You can choose from the basic games available in the original app, or purchase applications that star your child's favorite Nickelodeon characters to keep them company while they pedal and learn.
Safety
It is suggested for ages three to six and can hold up to 75 lbs. It is perfectly safe for kids, although the little ones should have parent supervision while using this product.
Criteria Used for Evaluation
Comfort
Comfort promotes focus and performance
It is important to make physical activity a part of your child's daily routine. Through sports, children learn about meeting challenges, teamwork, setting goals and sportsmanship. Wearing the proper protective equipment significantly lowers the risk of injuries. Despite it being a bit frustrating for the adults in their lives, your child being energetic is actually a good thing…if properly channeled. Too much screen time and a sedentary lifestyle can have a huge negative impact on your little one's health. Sitting around all day can cause a variety of physical ailments from vein disorders, lower muscle tone, weaker brain function, and can even increase the risks of certain cancers! Emotionally, a lack of proper exercise can lead to behavioral problems, mood swings, and temper tantrums.
Ease of Use
Ease of Use allows focus on performance
Exercise helps bring strength which aids in the physical development of young children. By investing in the proper safety sports equipment, parents are investing in the children's future and health. Engaging in sports helps improve overall health, both mental and physical. In a perfect world, we would take our kids to the park every single day and let them run around and burn off energy to their heart's content. Sadly, this just isn't possible for everyone. Poor weather conditions, unsafe playground locations and equipment, and a lack of low-cost and free play programs across the country keep a lot of kids indoors or at home during much of the year. Purchasing gym and exercise equipment for your little one to use at home may seem like a lot of money to invest but what you are really investing in are your child's health and future. Providing them the tools to play safely whenever they want can help improve their health, reduce behavioral issues, and give them a more well-rounded lease on life.
Safety
Safety for children ensures positive play times
We have gathered a selection of exercise and gym equipment from across the Internet, specifically designed to provide your child with a fun and safe play environment. Whether you need specialized equipment to help with physical therapy or just need a way for your kiddo to burn off energy during the winter months, we hope that one of our 10 Best Kids Gym & Exercise Equipment products will be the right fit for your family.
Most Important Criteria
(According to our experts opinion)
Experts Opinion
Editors Opinion
Users Opinion
By Default

Parents, Did You Know?
Depending on the age of the children, different types of exercise exists to best fit their physical ability. For instance, from birth until the age of six, children merely play with their friends with various toys. After this age, they can engage in other sports that require more energy, such as soccer for boys and aerobic for girls.
Parents, Did You Know?
Being physically active together with the child strengthens the relationship building process. Exercising together with the child ensures that proper care will be taken to prevent any injuries. A large percent of all injuries can be prevented by wearing safety gear and following the rules of the sport.
Other Factors to Consider

Value
The Center for Disease Control recommends that everyone, not just children, engage in at least 150 minutes of moderate exercise every day to help stave off some of these medical concerns that can come with just sitting around too much. Childhood obesity is also a big concern with the number of kids that fall into this category nearly triple what it was in 1970. Children who are obese are 80 percent more likely to remain obese as adults!
Frequently Asked Questions
q:

How much exercise does my child need?

a:

Doctors recommend roughly 90 or more minutes per day for toddlers, two hours or more for pre-schoolers, and an hour or more for school-aged children. This can be broken up into shorter spurts throughout the day, but aiming for longer sessions helps build endurance.
q:

Is the Liberty Imports Sports Boxing set for older kids too?

a:

The Liberty Sports Boxing set is really only meant for younger children. Older children have more force behind their hooks and jabs, and the kit is meant to hold up under the assault of kids aged 3 to 6.
q:

Does the Easy Outdoor Space Dome Climber really hold up to 1,000 pounds?

a:

Yes. Customers report it holding greater weight than that, but the manufacturer ensures that it will hold at least 1,000 pounds safely. It is meant for kids aged 3 to 10, but reviewers cited being able to use it alongside their children without a problem.
q:

Will the Flybar Foam Maverick Pogo Stick work outside on the grass?

a:

Nope. The stick's tip will get stuck in the grass if it is even just reasonably soft. Flybar sells replacement tips but the shipping isn't cheap, and it's probably not super-safe for your child to be bouncing on a surface that isn't even and solid. Stick to hard, flat ground.
q:

Can the Betheaces Hover Soccer Ball Set be used outdoors?

a:

Yes! Any firm, flat surface is fine. Concrete, tile, hardwood floor, and low-pile carpet are all suitable.
q:

What's the difference between the Gym Dandy TT-210 Model Teeter-Totter and the Gym Dandy Deluxe Teeter-Totter Model TT-320?

a:

The products have a lot of the same features but the TT-320 is slightly more sophisticated. It holds 400 pounds, whereas the TT-210 only holds 300 pounds, for starters. And the TT-320 uses a pendulum technology to make the swinging momentum a little more seamless, while also featuring a safety lock to help ensure that your children cannot use it without supervision. Additionally, there are holes in the feet of the seesaw to allow you to secure it into the floor if you choose.