Finding a baseball glove for a young player is not easy. There are so many sizes, brands, models, and other things that affect the fit of the glove that it really makes it challenging. It's not like bat where everyone is using the same one. If you are searching for the perfect baseball glove then look no further. We have created a list of well-constructed and perfect sized baseball gloves for the kids. The list features gloves that will last multiple seasons and give them the confidence they need to perform well on the field.
Our Top 3 Picks
Mizuno GPP1150Y1

Our rating
High Quality Construction
Price:

See Here
Franklin Sports Air Tech

Our rating
AirTech Foam Outer
Price:

See Here
Franklin Sports Teeball

Our rating
Durable & Comfortable
Price:

See Here
Our Best Kids' Baseball Gloves
Mizuno Youth Prospect Ball Glove
Franklin Sports Air Tech Foam Baseball Glove Set
Franklin Sports Teeball Performance Set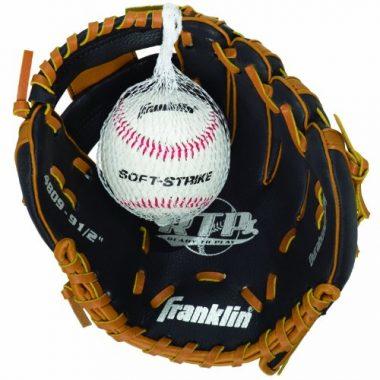 Mizuno Prospect Baseball Glove, Black
Rawlings Player Preferred
Teeball Left Hand Glove with Baseball
Rawlings PL90MB Youth Baseball Glove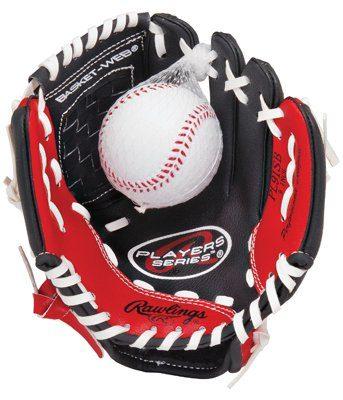 Franklin Sports Field Master Series Baseball Gloves
Mizuno Prospect Youth Catcher's Mitt
Criteria Used in Evaluation of The Best Baseball Gloves
The items on our list get there through extensive research of as many available gloves as possible. We research every baseball glove to make sure it has good reviews. In that way we know that the glove performs as most customers expect.
When we chose the gloves, we tried to make sure the items are safe for kids to use. To be sure, sports are not totally safe, but we have chosen gloves that we feel adhere to parents' safety expectations. So most of the gloves are made specifically for kids. We chose many gloves that are made of foam so they don't hurt kids and make it easy for kids to grasp a ball. Some of the gloves come with a ball made out of similar material so that they don't hurt when they come in contact with the glove or even someone's head.
We also look for quality and ease of use. The main thing is the size of the gloves. Gloves that are too big, get too heavy and are hard to squeeze closed. They also teach bad skill habits, so we limited the list to kids' gloves. It seems the higher the quality, the easier to use, as shown by the reviews.
The glove manufacturers that ended up on the list all seem to produce high quality, easy to use gloves. Most have been in the sports manufacturing industry for decades and have excellent reputations. We have not seen many customer service issues, either. If people were sent the wrong size, for example, most did not have to wait long for a replacement.
We want materials the gloves are made from to be high quality materials. Such good materials help in the area of durability. The glove should last as long as your child uses it. It's best if the glove doesn't wear out before your child outgrows it.
Reviews – Customers have left plenty of reviews for us to pore through, and it's an interesting endeavour to see what people think of their products. The baseball gloves that made the list received high buyer ratings. The kids loved the gloves they had, and the parents loved them even more as most of them are priced at least as low if not lower than they are in the stores. Subjectively, the glove that received the best buyer ratings in terms of what was said about it, was the Rawlings Players Series 9-inch Youth Baseball. It seems to have gotten the most descriptive comments.
We also try to include gloves on the list that parents feel outperform others. We look at the highest ratings and what customers say about the gloves. If the glove doesn't do what it's supposed to do, then it's of no use, and buyers make clear to us which gloves are performing well and which are not.
How does baseball help your child grow?
With baseball, there are so many benefits that your child can take advantage if they enjoy and play the game with others. Physically, they get lots of exercise, allowing for gross and fine motor skills to develop. The muscles strengthen in the arms and legs, and since these are major muscle groups they burn a lot of calories. Plus, all that running, jumping, and playing strengthens the heart muscle. They are moving their legs, arms, head, and torso, so it's a whole body type of workout. And of course, they get to do practice drills during the team practice. So it's even more exercise and incredible muscle strengthening.
With a ball coming at them, the kids get to develop stronger eye-hand coordination, always a welcome asset. And this doesn't just happen during a game. There are drills that can be done in practice to improve eye-hand coordination. Some drills are batting from a Tee, playing catch with a partner, using a pitching machine, and more. There is always a way to work in the use of a brand new baseball glove. Good eye-hand coordination is one of the most important assets a child can have.
Developing a bond with parents and others.
As children grow, they learn to trust their parents. But there is nothing like developing that bond further than by having a parent teach their child a skill so that they can both do that skill. Once a skill is learned, children need to practice that skill. Enter the parent once again to continue strengthening that bond. Children who have close positive relationships with their parents tend to be more successful in life in part because of the confidence they have developed after years of living, playing, and learning with their parents.
Kids who play baseball with other kids benefit from building relationships with these friends, too. If they are on a team, they make new friends and benefit from having a coach who can be a mentor. They learn how to praise and criticize constructively so the they can learn together. This builds self-confidence, helping kids to learn to present ideas to others. They also gain confidence in their friends and, they learn to trust each other. They learn to get along with the other kids and adults on the team.
Being on a baseball team helps your child live out those character traits everyone tries to instill in their kids, like honesty, humility, kindness toward others, and more. Those are the positive qualities that are the basis of our existence and help us live a good life. Kids can put those principles into practice when they are part of a team. They learn to work together toward a common goal: winning games or a championship.
The kids learn to help each other, even the kid who most of the others don't like. Children know it's bad to be dishonest, but on a team, as in any other group, there are the ones who try to take shortcuts. Parents who have taught their kids well, will have kids who are able to recognize that being honest is more important. Being on a team will strengthen the positive character elements that parents teach kids when they are young.
There are other life skills that kids learn as they enjoy the fun and camaraderie of baseball. They learn to listen to others, to have good eating habits, the discipline of going to practice and showing up on time for practice and games. They also can learn about eating healthy foods. Vegetables, meats, and enough fats to be at their best playing weight should all be taught.
A way to unwind.
Like adults, kids need a way to unwind. As they grow, they start going to school, and other public places. They start to feel pressured to perform well and to fit into groups of friends. This can be tough on a kid, so children need to be able to have an activity or hobby they can engage in where they can forget about their problems and just be a kid.
Baseball is a great way to do that, whether it's playing catch with a friend or parent, or going to practice or a game with the team. It's a place where they feel accepted. They can just concentrate on the task at hand. When they are done, they will come away with more self-esteem and confidence to go back to their daily life. They know that they've got ahold of something they are good at, and it prepares them for learning other skills. And the trusty baseball glove is always there for them.
How to measure your child's hand for a baseball glove.
Measure your child's hand by using a measuring tape. Measure from the tip of the index finger down to the base and add two inches. When trying on the glove, it should be easy to close, and there should be two inches to spare from the end of your kid's finger to the end of the glove. Do not go a size up in hopes that the glove will last another year. That just throws off your child's game and, he will learn bad habits.
What Determined the Top Kids' Baseball Gloves in Our List
Picking the best youth baseball glove is like choosing the best mitt to use in the kitchen. Why? Well, you should be able to perform all of your expected chores like holding hot pans and baking trays while also protecting your hands from thermal injuries. In like manner, picking the right ball mitt involves the same process. We had to make sure that it is designed primarily to catch the baseball and minimize dropping the ball. Once the ball has been caught, then it should be kept within the confines of the mitt. It simply doesn't make sense being able to catch a fly ball only to drop it moments later. That's number one criteria. So we had to examine the different features that will allow your kids to catch the baseball every time and minimize drops.
Secondly, protection. Imagine a ball that's going for 90 to 100 mph and you've got to stop this with your hand. All of that kinetic energy will be transmitted to your hands and through the rest of your body like a shockwave creating ripples all over. If you don't wear baseball mitts, it is never uncommon to see injuries not only in your hands but elsewhere. A baseball glove, while it is intended to catch baseballs, should also be able to absorb this kinetic energy and help dissipate it across its surface to help protect your hand from any form of injury. As such, the material design of the baseball glove was crucial as this can help spell the difference between safety and injury. This also included optimum comfort for the hands.
Third, wearability. While baseball mitts come in sizes often in inches, we really cannot make any recommendations as to the appropriate age of the child who will be wearing it. There are some children who may still be young yet already have appendages that are unusually large. Conversely, there are those who are already old yet their hands are still small. As such, it was imperative to look at the size requirements of these gloves. More importantly, these mitts need to have a mechanism that will allow for guaranteeing the perfect fit regardless of hand size or age of the child. Moreover, there must be a mechanism to help ensure it stays in place.
Company reputation was also considered. We evaluated this in relation to the current standing of the product in terms of customer satisfaction. We deemed it necessary to evaluate these two parameters together as it all boils down to trustworthiness.
Benefits of Playing Baseball for Kids
We already said in the beginning that playing baseball can bring a lot of benefits for kids. These can range from health effects to physical and emotional benefits. In case you're still wondering why your child should play baseball, we've listed here some of the many health, wellness, and fitness benefits of playing the game.
Strengthens their arms and legs. Throwing and catching the ball requires substantial force from the muscles of the arms. Running from one base to another or running after a ball involves the use of all the muscle groups of the legs as well. This makes playing baseball a great way to achieve leaner and stronger limbs.
Promotes decision-making skills. Stealing a base requires split-second decisions. Catching a ball and deciding on which base to throw it to also require making a decision. These will not be possible if one cannot stay focused on the game.
Enhances hand-eye coordination. Catching a ball is not easy as one needs to be able to coordinate the placement of the glove in relation to the approaching ball.
Boosts spatial intelligence. Playing baseball is all about understanding one's relationship with space. This is especially true with the ball flying through the air. Catchers will have to have a fair sense of space and the overall trajectory of the ball to anticipate where it will land.
Fosters camaraderie and boosts social relationship skills. Baseball is a team sport. Children will learn how to play as a member of a team and how to work together with others to bring home the win.
The Bottom Line
Playing baseball is fun. For kids, it can bring a lot of developmental and health-related benefits. You don't need to train your kids to become the next Hall of Famer. Simply provide them with the correct tools such as our 10 best kids' baseball gloves and let them discover for themselves the true joys of playing the sport.
FAQ
Frequently Asked Questions
Q: How do I measure my kid's hand for a baseball glove?
A: You can measure your child's hand size by measuring from the top of his index finger to the base. Then add 2 inches. Make sure the hand is flat on a table top with fingers together and fully extended.
Q: How should I choose a baseball glove that fits my child well?
A: The fit is the most important thing in helping your child play his best baseball. The glove should have some way of adjusting it so it fits pretty snuggly on the hand. Do not buy a glove that is too big as it may slide off the hand during a game. That can cause an injury.
Q: My little girl is 5 years old. What size glove should I buy her?
A: Gloves for kids 3-5 years are sized around 9 inches. Five and six year olds go up to about a 10 or 10.5. She may be in between sizes. Try several sizes between 9 and 10.5 inches to find the best fit.
Q: Is there a difference between a glove and a mitt in baseball?
A: Yes. The gloves have fingers. Mitts do not have fingers. The only positions that allow a mitt are catcher and first base. All other positions wear gloves. Mitts, particularly the catcher's mitt protect the player's hand better because it has more padding. A mitt is better for keeping the ball in the mitt if it doesn't hit the pocket.
Q: What is the difference between LH and RH gloves?
A: We know that the designations are a bit confusing. They stand for Left Hand and Right Hand. But they refer to the throwing hand. So a Left Hand glove is meant for a left handed thrower, but is worn on the right hand. An RH glove is for a right handed thrower, but is worn on the left hand. It's the nature of baseball.
Q: What kind of oil should I use to break in my kid's glove?
A: First, most of the gloves in our list are made of foam or poly materials so they don't need breaking. But if you have a leather glove, then the glove will need some softening. You can use an oil recommended by the manufacturer. That is probably the best bet. Alternatives may be: saddle soap, shaving cream with lanolin, Vaseline, mink oil, and others. Apply it lightly and let sit overnight.