10 Best Toy Play Kitchens For Kids & Toddlers in 2019
last updated
Nov 19, 2019
Cooking is a skill that's valuable at any age and during any phase of life. Now, just because your child may be too young to use a real stove or oven it doesn't mean that they're not old enough to have their own kitchen. Having a pretend-play kitchen will make your young one feel like an adult and will allow him/her to model the activities they see their parents do on a daily basis. A play kitchen will offer your kids all the joys of being in a real kitchen without the dangers associated with real kitchen equipment and tools. Your child may even learn a technique or two.
In a Hurry? The test winner after 13 hrs of research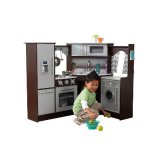 KidKraft Ultimate Corner
Why is it better?
Lights and sounds playset: ice machine makes realistic sound
Multiple appliances included
Made out of wood
Beautifully designed and stylish
Plenty of storage space for additional accessories and food toys.
In a
Hurry? Editors choice: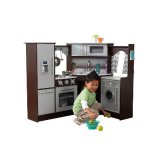 Test Winner: KidKraft Ultimate Corner
15
Researched Sources
13
Hours Researching
17
Products Evaluated
Educational Value
Materials
Social Development
By Default
10 Best Play Kitchens Reviewed
1

. KidKraft Ultimate Corner
Lights and sounds playset: ice machine makes realistic sound
Multiple appliances included
Made out of wood
Beautifully designed and stylish
Plenty of storage space for additional accessories and food toys.
90+ assembly steps: will take upwards of three hours for one parent to complete
Oven knobs are painted on and can't be turned
The KidKraft Ultimate Corner is a cook's dream come true! This kitchen playset is truly elegant with its dark wood design and many appliances. The set includes a sink, refrigerator, freezer, oven, and microwave, as well as stove burners and storage space. It's the most elaborate set we've seen so far and we love how beautifully styled it is.
Read more
Educational Value
There's so much to do! Kids will enjoy increased emotional development and creativity but it's more than just that. Turnable knobs, cabinet doors that open, and other similar features also force children to improve upon their fine motor skills as well as the imaginative benefits they receive from role-playing games.
Materials
Your little one will feel right at home here! This playset is made of wood composite. It features multiple kitchen appliances, below-sink storage space, two gorgeous windows to overlook your child' pretend yard, and a cordless telephone! As a bonus, it includes a laundry machine, so kids can multitask in the kitchen, just like their parents often do!
Social Development
This set is easily big enough for several children to play together! The corner design means that the different facets are all spread out and children can toggle between what most interests them at any given point. Playing house together can help children to better understand social dynamics and familial relationships, explore ways in which they express themselves, develop empathy, and exercise their imagination!
2

. KidKraft Vintage White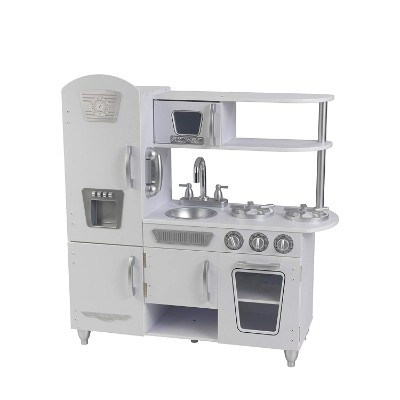 Real working doors
Oven knobs realistically click on/off
Comes with a phone accessory for extra added realism
Sliding oven shelf for easy use
Ample storage space for kitchen tools
Instructions are difficult to follow
It's a great way to introduce young kids to the beauty of kitchen management. Now, if white is simply too "immaculate clean" for you or your kids, you can get the other color versions of the Vintage Kitchen available in blue, pink, red, and medium pink, which has a darker pink hue.
Read more
Educational Value
The KidKraft Vintage Kitchen is a great play kitchen set for your child. The set comes in an unique vintage look giving it an elegance and different experience. Your child will have tons of creative fun with the cordless telephone and the operable appliance doors and knobs giving your child a real feel of kitchen operation. The removable sink makes the kitchen set an easy to clean set as well.
Materials
There is something about white appliances that make it so elegant. Now consider a whole kitchen playset in immaculate white and kids will have to make sure that it stays white. The Vintage Kitchen playset is anything but vintage. It's got all the wonderful toys of the modern kitchen such as a microwave oven, a refrigerator with an ice and water dispenser, a reach-in bottom-freezer, a dishwasher, and an oven.
Social Development
It also comes with a built-in cordless phone, a kitchen faucet with hot and cold water controls, a stainless steel-looking kitchen sink, and a 2-burner gas stove. Standing a little less than 3 feet tall, this should be an excellent playset for toddlers and preschoolers.
3

. LeapFrog Number Lovin' Oven
Batteries are included.
Variety of skills learned.
Can be taken anywhere.
Promotes educational learning.
Interactive and enhanced features.
Small parts choking hazard.
Could receive different color.
If you want your child to have a blast playing but also incorporate some educational learning, this interactive oven is the way to go. Your child will enjoy pretending to bake while learning everything there is to know about math.
Read more
Educational Value
Great for teaching young kids about parts of a whole. For example, the pizza is divided into 4 pieces, teaching them that ¼ means one of 4 parts. The songs and phrases played by the oven can also help develop the numerical skills of children.
Materials
It has a number slider that teaches kids about numerical things and concepts such as temperature and time. It comes with toy pizza slices, bread, cupcakes, and fried egg in addition to different kitchen utensils.
Social Development
While the Number Lovin' Oven is not necessarily a kitchen play set in itself but rather a pay kitchen appliance, it nevertheless is a magnificent piece of toy appliance to have for make-believe kitchen play. It's more of a learning activity center than it is a make-believe oven because it plays several fun and friendly songs and phrases that introduces kids to numbers, counting, and fractions.
4

. KidKraft Uptown Espresso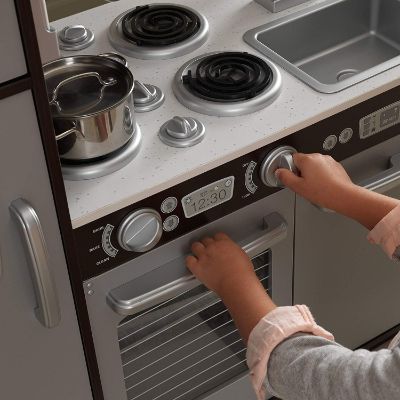 Easily folded up for storage-saving
Sturdy and well-constructed pretend activity kitchen set
Features many interactive features with buttons and more
Includes cordless phone with stand
Constructed from sturdy materials; plastic, solid woods, and MDF
Promotes social interaction through role playing
Connectors for door are poorly design, break away from wood easily
Assembly is tough and time consuming
The kids will be cooking up a ton in no time with this espresso colored kitchen set. It is a kitchen set that offers a deluxe pretend to play activity center that is completely packed with awesome details that the little ones will love exploring each and every time they play with the set. It will stand out in any room that it has been placed in.
Read more
Educational Value
Promoting creativity and imagination building exercises is so important in the digital world that we live in today. The little ones are able to explore many of the interactive features that this kitchen has and enjoying pretending to cook for their friends and family. It will bring them the joy that will promote the development of their confidence through role playing.
Materials
Each of the kitchens that this company creates has been designed by a group of passionate engineers. The kitchen has been built to last and features a sturdy structure that can be passed on for many years to come. Materials used in creating the sturdy structure for the kitchen center are; plastic, solid woods, and MDF. Together these materials come together to create a wonderful kitchen activity center that the kids will love.
Social Development
Encouraging our children to develop their social skills can often be a challenge, but when you give them an interactive kitchen play center and a few friends the magic will happen. Often when kids are placed with a pretend kitchen they assume pretend roles that allow them to explore their social skills and promote confidence to interact with others.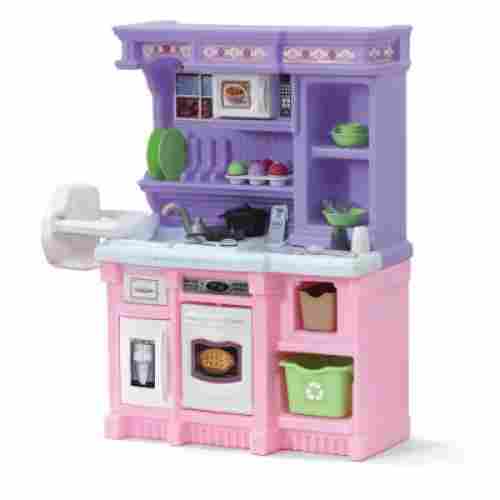 Plenty of storage for all baking items
Burners light up to emulate real heat
The oven is realistic with numerous working buttons and dials
Comes with a high chair for your child's favorite doll
Realistic-looking pictures are attached to the kitchen equipment for a real feel
Screwdriver or hand drill needed for assembly
There are plenty of options for future chefs but in a world of savory cooking, it's great to see something that's made specifically in mind for the future bakers as well. This kitchen playset is a great place to encourage all of their sweet baking dreams!
Read more
Educational Value
The accompanying cooking pots and pans make interesting frying and boiling sounds when placed over the toy burner which makes it excellent for imaginative and make-believe play. The colors are not too bright so it's not really an eyesore.
Materials
It also comes with all the toy replicas of a modern kitchen and includes a microwave oven, 2 electric stove plates, an oven, and a refrigerator. It also has a kitchen wink, a dish rack, a cupboard, and extra storage space. There's also a pull-out vegetable and fruit basket including a baby seat attachment by the sink.
Social Development
With a very soft and cute pink and purple color, the Little Bakers Kitchen set should be one of the gifts that you must consider to give as a present to a 2 year old kid for them and their friends. The soft colors and smooth texture of the playset makes it ideal for small children.
6

. Fisher-Price Servin' Up Food Truck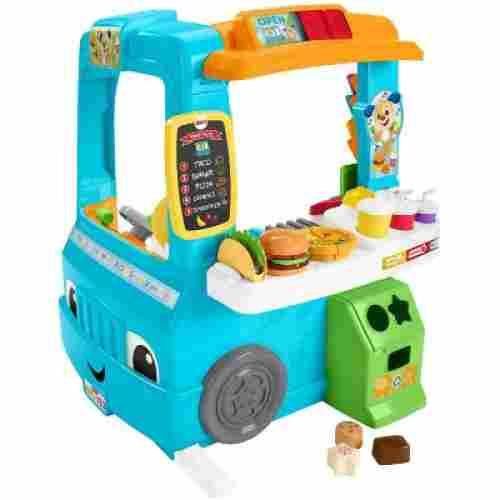 Lots of accessories
Over 120 songs and sounds
Light up cash register reads menu cards
Folds open and closes easily
Interactive car dashboard
Much smaller in overall size than many customers imagined
It's a new dawn, it's a new age, and food trucks are a profitable business venture for plenty of people out there. This darling Fisher-Price Laugh and Learn Servin' Up Food Truck features 20+ food accessories to keep your business running even under high customer demand, as well as over 125 songs, tunes, and phrases. There's plenty of room and children can play on both sides so the more, the merrier!
Read more
Educational Value
The cash register reads all four menu cards, so children can get a sense of what it's like to actually run check out. They're exercising their ability to categorize and match as well as learning from a ton of fun songs that the cash register can play at the push of a button.
Materials
The cash register is interactive and the food prep area lights up as well. There are over twenty removable play pieces, including lots of fake food items. The set is constructed out of a durable, easy-to-clean plastic. It teaches sequencing and size and the dashboard is full of fun facets your child can grab onto.
Social Development
This food truck is shaped like an "L", with a steering wheel on the short side and a customer service window on the long side. This allows one child to stand inside and handle those ordering. Another child can stand on the open side of the truck to play as the customer. There are all sorts of imaginative role-playing games in which children can engage here, whether they're playing alongside family or a friend!
7

. Little Tikes Ultimate Cook
Expandable counter
Cooking sounds for stove and sink
30 pieces accessory kit
Lots of storage options
Easy assembly
Few play food items
Lightweight construction
If your kids have the skills that it takes to run a kitchen, the Ultimate Cook Kitchen should definitely be on your list simply because of its plethora of features. From one end to the other, this kitchen has any cooking appliance your child could need -- including a cappuccino maker for those "late nights"!
Read more
Educational Value
Kids can still click on the stove knobs, open and close the oven, microwave and fridge doors, and organize items on one of the many shelves. One pleasant surprise is the pretend cappuccino maker next to the microwave. That's something you wouldn't expect to see on a rugged unit like this. It's a great idea though, especially for kids who love to "cook" more adult foods for their family and friends.
Materials
Constructed from smooth gray and blue plastics, this play kitchen is tough enough for the most active toddler. It can be set up indoors or out, but you may want to leave out the batteries for outdoor use. The batteries are for making sounds on the stove, but this isn't a big deal considering all the other cool features.
Social Development
Little Tikes play sets can be used indoors and outdoors, thanks to their rugged construction. That's not common among stand alone play kitchens, which are typically indoor only. The ability to set it up outdoors makes this playset ideal for group play dates.
8

. Step2 Fun with Friends Kitchen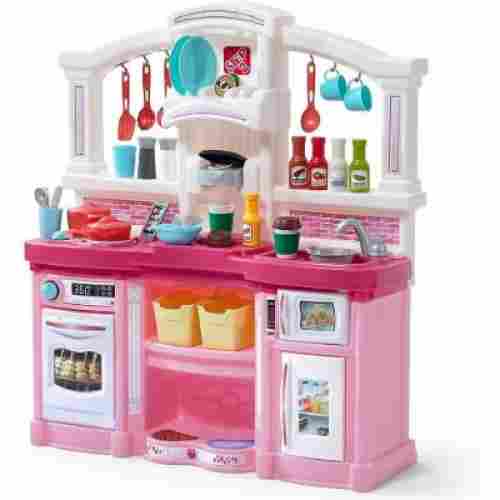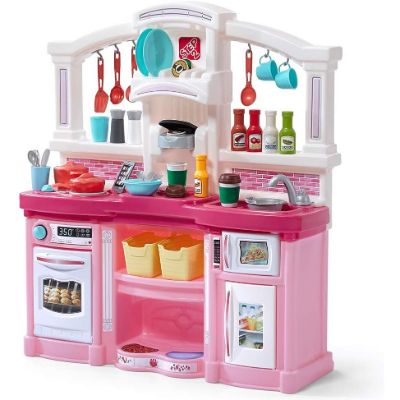 Oversized pretend kitchen set with lots of countertop space
Includes interactive coffee pot
Features storage bins, pet feeding area, pots and pans and so much more
Place to neatly hang and store all included accessories
Encourages social skills through "restaurant" game
Assembly of everything is required, even sticker placements
Instruction booklet included is hard to understand
This is the perfect kitchen set to be able to encourage your little ones to be able to cook up some delicious fun treats with friends. The kitchen set offers a ton of countertop space to able to pretend and also allows more than one child to work in the workspace at the same. time As they play together they will learn together. It will be a huge hit in the house for many years to come.
Read more
Educational Value
Playing a game of restaurant or baking together provides the little one with hours of open playtime. Open play with pretend toys is a great way to encourage their development not only physically, but mental as well. From the interactions with others to some solo playtime the little ones will benefit each time that they are able to interact with this kitchen playset and accessories that have been included.
Materials
Included with the kitchen playset is not only this amazing pretend kitchen, but also a ton of accessories that the kids will love playing with. The set has two storage bins that are perfect for folding all the plates, bowls, cups, and silverware that have been included. Plus there are a set of pots and pans and the cooking gear. Together all these items have been constructed from a kid friendly plastic material that is basically indestructible.
Social Development
One of the cooler accessories that have been included is a pretend smartphone. The phone even has a place to prop it up near the stove to be able to view when cooking and help with preparing meals. Using the phone is a great pretend tool for resources and for social development. Preparing to use the phone creates and inspires the interactive skills that we need to be successful.
9

. Small World Toys Young Chef Cookware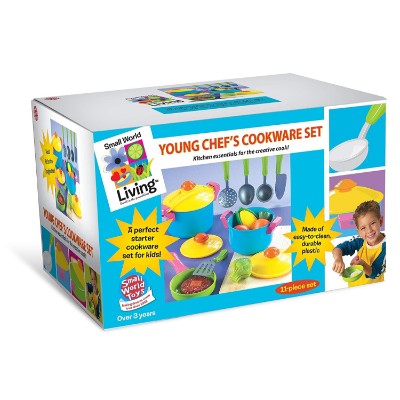 Thick plastic
Easy to clean
Gender-neutral colors
Quieter than metal playsets
Play food not included
Utensils bend easily
This bright and eclectic set is full of various fake food items that lay a brilliant groundwork for imaginative play. There are eleven pieces total, all made of lightweight plastic that's easy to care for and clean. Unlike many other food sets, this one includes the necessary pots and pans for your child to pretend to make their favorite dishes!
Read more
Educational Value
The size also makes it possible to place small pretend or real ingredients inside the cookware. Utensils are included for flipping, ladling and stirring, all of which are great for motor skills.
Materials
This play cookware set proves that appearance isn't everything. In fact, many kids like basic toys without a whole lot of decorations and details. At any rate, this set is still quite adorable with its cheerful color scheme of blue, yellow, orange, pink and green. Also appealing to kids are the playfoods, like the hamburger patty with a texture so real it almost looks edible. The utensil set ( which includes a skimmer!) is quite realistic, as well.
Social Development
This is meant to be a starter set for toddlers, but its functionality and neutral design will also work for older kids. This is a great investment if you want a durable kitchen set that your kids will enjoy for many years. A kitchen set doesn't need to be fancy in order to be fun. This simple 11 piece playset has everything your kid needs to whip up delicious pretend meals for family and friends! Its bigger size and durable construction allows for years of play for even the roughest kids.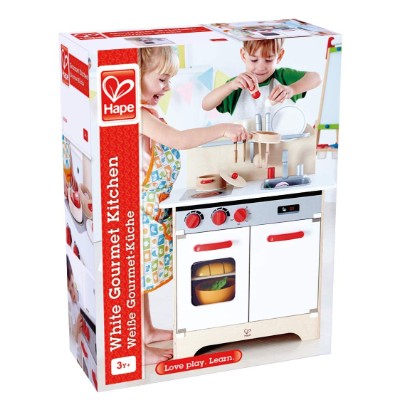 Durable wood
Non-toxic paints
Stove, sink, oven, cabinet, spice shelf, turnable knobs
Helps encourage creative thinking and kinesthetic development
Some customers complained about chemical odor
Pretty small set
The Hape Gourmet kitchen presents a fun kitchen playset in a beautiful, clean aesthetic. The bright wood and basic color palette set this product apart. It includes fun, interactive features such as turnable oven knobs, storage space behind the cabinet doors, and a shelf with built-in cut-outs meant to help you store additional accessories.
Read more
Educational Value
The Hape Gourmet Kitchen playset is the perfect arena for little ones to engage in storytelling and creative role play. It helps to encourage motor skills and other kinesthetic development.
Materials
This set is full of storage space, compatible with other Hape accessories, and features lots of fun interactive elements. It's made from safe, smooth wood and detailed with non-toxic paint.
Social Development
Though this set is small, cooking and kitchen-play can always be a social event. Kids will love working together to make "recipes" and serve their guests delicious food. It's compatible with Hape accessories such as plastic food children can "cut" with a magnetic knife.
Criteria Used for Evaluation
Educational Value
There are several things to learn with a play kitchen set, such as, learning the proper names of kitchen equipment, identifying different types of food, and even how to "cook" recipes. Some sets even go further with teaching educational skills such as color recognition, number learning and even helping to develop your child's fine-motor skills.
Of course, playing with kids' kitchen sets require mastery of gross- and fine-motor skills as children will need to handle play kitchen and cooking utensils and the like. They need hand-eye coordination as well as spatial intelligence.
Materials
When we made up our top 10 list of best play kitchen sets for your children, it was not an easy task. We had to look at all of the existing play kitchen sets and rank each one according to their developmental appropriateness, age appropriateness, the quality of the set, the safety of materials that the manufacture chose to use, the credibility and reputation of the company and of course, the overall feedback from countless parents and caregivers who have already bought the play kitchen sets for their children and would buy them again.

Social Development
Play kitchens are made to help your child develop their social skills as they pretend play, pretend cook, pretend to serve food, making and sharing drinks and then cleaning up the kitchen. Those activities require interaction with others and can help your child develop their socialization skills and help them to make friends later on.
Teamwork makes the dream work! Play kitchens usually involve a variety of people who need to work together, so having one of these sets in your home will help encourage that teamwork atmosphere. That can include cleaning the kitchen up together or even cooking together. Your child will be able to learn teamwork when learning about the different jobs in the kitchen.
Most Important Criteria
(According to our experts opinion)
Experts Opinion
Editors Opinion
Users Opinion
By Default

Parents, Did You Know?
Having a kitchen play set provide such opportunities because it is up to children devise their own strategies to address a particular problem. They tend to figure out which strategy or action will work best for any given role-play scenario that your child creates. This will also lay a foundation for your child's counterfactual reasoning-–this is the type of reasoning that operates on the what-if principle that your child will quickly learn. This helps your child make predications of what may or may not happen if certain variables are changed. This requires an understanding of basic logic and the beginning of learning cause-and-effect relationships.
Parents, Did You Know?
Play kitchens can also provide a wonderful opportunity for kids to share their passion with other children as many of these play sets require cooperative play. This helps facilitate the development and enhancement of social skills which can provide the foundation for excellent emotional development.
Other Factors to Consider
Emotional Development
Having an organized kitchen is optimum and makes it so that your child will be able to find everything they need when they start cooking. This helps your child learn the value of knowing where everything is and teaches them organization skills. Most play sets come with a variety of different storage spaces and can help teach your child how to properly store kitchen items and learn how to plan a kitchen out which will help them later in life.
A kitchen requires a lot of hard work and with the hard work comes a lot of responsibility. A play kitchen set should teach a child how to be responsible for their kitchen from cleaning to storage and cooking when dealing with kitchen items such as knives and the oven.
We all know when it comes to cooking there's no such thing as a silent kitchen. Non-stop communication happens when we're in the kitchen. A kitchen play set should teach a child simple communication skills such as explaining what's for dinner or learning how to create a grocery list. The sooner your child learns how to communicate to others about their kitchen the better communicators they'll become.
Creativity
Great chefs, artists and other creative individuals started playing with kitchen sets when they were young children. These play sets provided them with the opportunities to work out their imagination and creativity skill at a young age. Research shows that open-ended imaginative play is very important when it comes to the development of children's problem-solving skills especially their divergent skills. This helps allows your child to look at a problem from a variety of perspectives, leading to the discovery of a several possible solutions. This will create a foundation of creativity, logic, and critical thinking which can, in turn, further enhance the problem-solving skills of your child for later on in life.
Frequently Asked Questions
q:

What is a toy play kitchen set?

a:

A toy play kitchen set is a lifelike toy that mimics a real kitchen. While it cannot store or cook actual food, it can give your child a fun experience as they learn how to operate their very own kitchen with pretend play. Toy play kitchen sets usually come with a stove, sink, refrigerator, cabinets, cooking and eating utensils, and appliances.
q:

What can a toy play kitchen set do?

a:

A toy play kitchen set can give an imaginative pretend play without the dangers of a real kitchen. Cognitive and social skills can be developed as your child interacts with the kitchen and cooperates with their friends to create unique culinary dishes. They can also help teach your child the basics of a kitchen and how to operate a kitchen.
q:

What ages are best for a toy play kitchen set?

a:

The minimum age is usually 2 to 3 years old and the maximum age is usually 5 to 6 years old. There are exceptions, of course, and it's common to see children have toy play kitchen sets well into their elementary years but by puberty, they usually lose interest in toy play kitchen sets.
q:

Why should I purchase a toy play kitchen set?

a:

A toy play kitchen set is a great way to introduce your child to the kitchen and basic skills such as cooking and cleaning a kitchen. Another reason to buy a toy play kitchen set is that it's a great toy that encourages socialization and therefore, can teach important lifelong skills such as teamwork and sharing. Also, a toy play kitchen set can help with educating a child in object recognition, color identification, and even number learning.
q:

What are the benefits of a toy kitchen play set?

a:

The benefits are immense but the most common benefits are as follows.

Better visual recognition
They will learn how to recognize shapes, patterns, and colors.
Enhanced motor skills
Their fine-motor skills will get better as they handle kitchen tools and utensils.
Improved self-confidence
As your child learns how to run a kitchen on their own they'll gain better ability.
Developed problem-solving
They will figure out meals to prepare and how to fix minor kitchen issues.
Vocabulary building
Their vocabulary will be immensely built as they learn about the kitchen and its objects.
Better counting
Your child will learn how to count kitchen objects and therefore, build their numerical skills.
q:

How else can I discover toy play kitchen sets?

a:

You should start with the Born Cute "10 Best Toy Play Kitchens For Kids & Toddlers Rated" list: Click the link of the toy play kitchen set that interests you and when you arrive at the Amazon page for the toy play kitchen set, scroll down to the "Customers Who Viewed This Item Also Viewed" or "Customers Who Bought This Brand Also Shopped For" lists. Those two lists can give you a great starting point in discovering other toy play kitchen sets.