Cooking is a skill that's valued at any age and during every phase of life. Just because your child is too young to use a real stove or oven doesn't mean they're not old enough to have their own kitchen! A pretend play kitchen can be so valuable in your child's life simply because of how adult it will make them feel.
At a young age, many kids are drawn to one type of skill or another and gifting your child with their own pretend kitchen can help to foster their love of food and cooking. With so many cooking shows on television that involve kids and kid-themed food championships, it's hard for them not to have a mild interest in the gourmet world.
A play kitchen will offer them all the joys of being in the real kitchen without the dangers associated with real kitchen equipment and tools. They may even learn a technique or two!
Below, we've created the ultimate list of play kitchens as well as all of the pretend food and tools your child needs to become a great chef. Cooking can be a wholesome and creative activity, and during their imaginative play.
Kids will be free to practice their pretend knife skills, cuts, sauté flips, and food timing without having to worry about hurting themselves or burning food. Once they've got the hang of it in their own tiny kitchen, they'll be ready to take on dinner with their favorite cook in the family!
Our Top 3 Picks
Hape Wood Kids Play Kitchen

Our rating
13 Wood Accessories
Price:

See Here

NextX Pretend Food Set Kitchen

Our rating
20 Pieces
Price:

See Here

Toy Kitchen Accessories Set

Our rating
6 Pieces
Price:

See Here

Hape Wood Kids Play Kitchen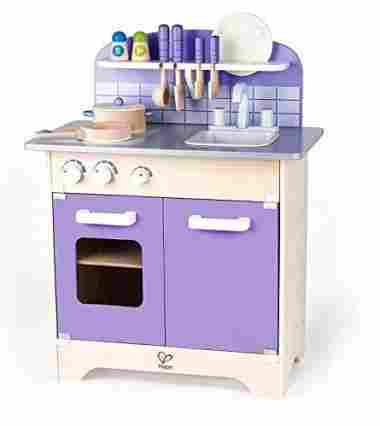 Kidzlane Durable Kids Play Dishes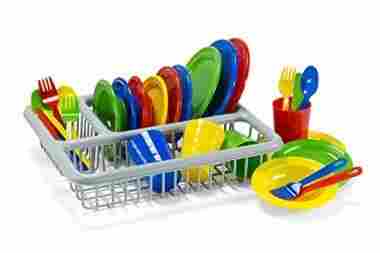 Melissa & Doug Food Groups
Young Chef Cookware Set by Small World Toys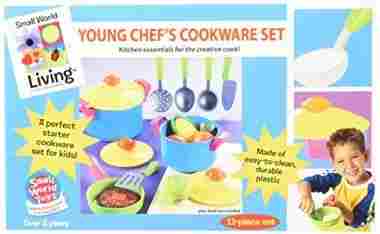 Stainless Steel Pots and Pans Pretend Play Kitchen Set
Step2 Best Chef's Toy Kitchen Playset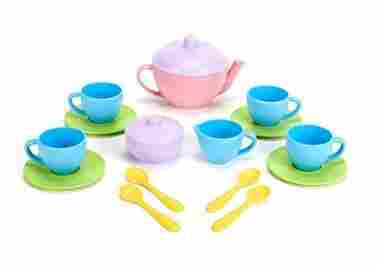 FUNERICA Cutting Play Fruit Toys Set
Melissa & Doug Cutting Fruit Set
Learning Resources New Sprouts Munch It!
KidKraft Ultimate Corner Play Kitchen with Lights & Sounds
27 Pc Cookware Playset – Primary
Wooden Chef's Pretend Play Toy Kitchen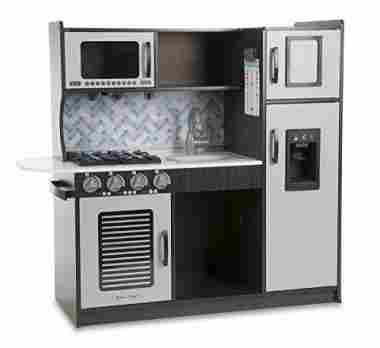 Melissa & Doug Wooden Make-a-Cake Mixer Set
Cook's Corner Wooden Kitchen
Little Tikes Ultimate Cook Kitchen
Play Food Set for Kids – Huge 202 Piece Set
Kettle, Toaster, and Coffee Machine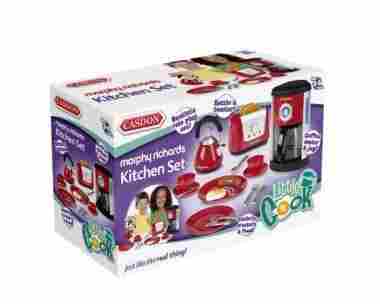 Melissa & Doug Fridge Groceries Play Food Cartons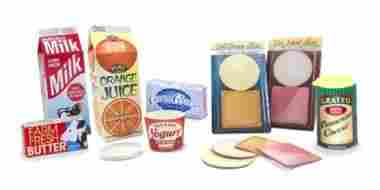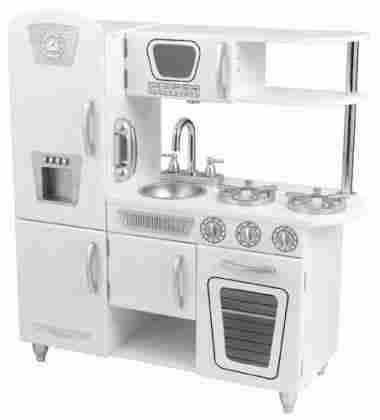 Age range : 3 to 7 years old
Step2 Little Bakers Kitchen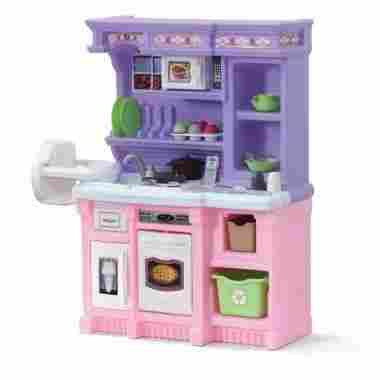 Age range : 2 to 8 years old
Lifestyle Fresh Accents Kitchen
Age range : 2 to 6 years old
KidKraft Uptown Espresso Kitchen
Age range : 3 to 15 years old
Pretend Cooking Toy Cookware Playset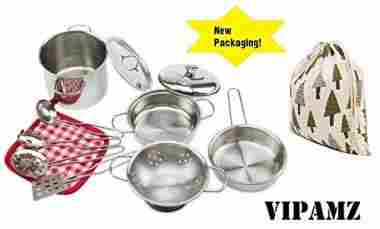 Age range : 2 to 8 years old
Little Tikes Get Out n' Grill Kitchen Set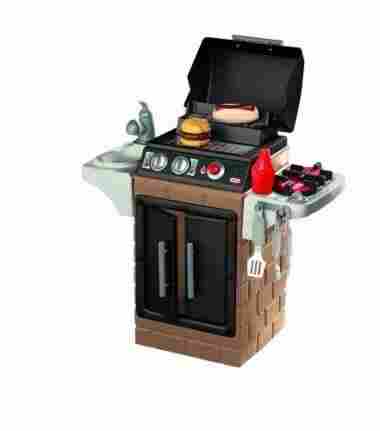 Age range : 2 to 5 years old
LeapFrog Number Lovin' Oven
Age range : 2 to 5 years old
Little Tikes Ultimate Cook Kitchen
Age range : 2 to 10 years old
Heart of The Home Kitchen Set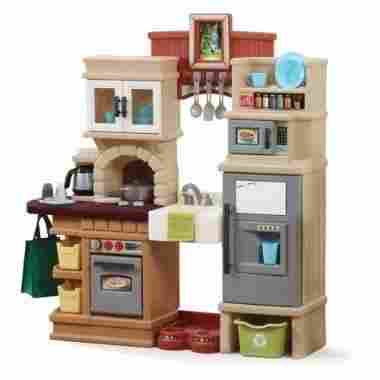 Age range : 2 to 8 years old
Imaginarium All in One Wooden Kitchen Set
Age range : 3 to 8 years old
Little Tikes Cook 'n Store Kitchen Playset
Age range : At least 18 months old
American Plastic Toy Deluxe Custom Kitchen
Age range : 3 to 15 years old
Kidkraft Retro Kitchen and Refrigerator
Age range : At least 3 years old
Age range : 2 to 6 years old
Criteria Used in Evaluation of The Best Play Kitchens
Social
All play kitchens are made with multiple users in mind and a play kitchen set can help a child to develop their social skills as they pretend play cooking and serving food, making and sharing drinks, and cleaning the kitchen. Those are activities that require interaction with others and can help a child develop their socialization and make friends.
Teamwork
Kitchens usually involve a variety of people working together so a play kitchen set needs to encourage teamwork. That can include cleaning the kitchen up together or even cooking together and a child can even learn teamwork when learning how to put the play kitchen set together with their parents.
Educational
There are so many interesting things to learn in a play kitchen set. Learning the proper names of kitchen objects, how to identify foods, and even how to cook can make a play kitchen set a great choice. Some sets go further with teaching educational skills such as color recognition, number learning, and even developing fine motor skills.
Organization
An organized kitchen is an optimum kitchen that's easy to work in and a play kitchen set can teach valuable organization skills. Most play kitchen sets come with generous amounts of storage space and it can help teach a child how to properly store kitchen items and learn how to plan kitchen related things out.
Responsibility
A kitchen requires a lot of work and with a lot of work comes a lot of responsibility. A play kitchen set should teach a child how to be responsible for their kitchen from cleaning to storage and cooking when dealing with kitchen items such as knives and the oven.
Communication
There's no such thing as a silent kitchen and non-stop communication happens when in the kitchen. A kitchen play set should teach a child simple communication abilities such as explaining what's for dinner or creating a grocery list. The sooner a child can learn how to communicate to others about their kitchen the better communicators they'll become.
What Determined Our List of the Best 15
Making a shortlist of the best play kitchens is not easy. We had to look at all existing play kitchen sets and rank each one according to their developmental appropriateness, their age appropriateness, the quality of the toy, the safety of the materials used in its manufacture, the credibility and reputation of the toy company, and, of course, the overall feedback from countless of parents who have already bought the kids' play kitchen sets. Ranking them from 1 to 15 proved to be rather difficult because each one will have its own strengths and weaknesses so we have decided to just come up with the best 15 in this category of toys.
Play Kitchens and Kids
Many of the world's greatest chefs and artistic and creative individuals started playing with kitchen sets when they were still kids. These play sets provided them with the opportunity to work out their imagination and creativity. Studies show that an open-ended imaginative play is very important in the development of children's problem-solving skills especially their divergent skills. This allows them to look at a problem from a variety of perspectives leading to the discovery of a multitude of possible solutions. This lays the foundation for creative, logical, and critical thinking which can, in turn, further enhance the problem-solving skills of children.
Kitchen play sets provide such opportunities because it is up to children to devise their own strategies to address a particular problem. They tend to figure out which strategy or action will work best for any given role play. This also allows them to experiment with different solutions to a particular problem. Consequently, this lays the foundation for their counterfactual reasoning – that type of reasoning that operates on the what-if principle. This helps children make predictions of what may or may not happen if certain variables are changed. This requires understanding of basic logic and cause and effect relationships.
Play kitchens can also provide a wonderful opportunity for kids to share their passion with other children as many of these play sets require cooperative play. This helps facilitate the development and enhancement of social skills which can provide the foundation for excellent emotional development.
Of course, playing with kids' kitchen sets require mastery of gross and fine motor skills as children will need to handle play kitchen and cooking utensils and the like. They need hand-eye coordination as well as spatial intelligence.
Perhaps one of the most important benefits kids can obtain from play kitchens is that it introduces them to the wonderful world of cooking, food preparation, and food organization as well as food sanitation. Cooking is an essential home activity. Introducing this concept to children at the appropriate age can help them understand the essence of kitchen work. Additionally, they will also learn the values of cleanliness, sanitation, organization, preparation, and meal planning.
Kids' play kitchens are a great way to stimulate kids' love for food, nutrition, and cooking. More importantly, however, is the impact of these types of toys on their cognitive, emotional, and social development. So, if you are still at a loss as to what gifts to give kids this coming holidays, why not given them a kids' play kitchen set? Our best 15 kids' play kitchens will help you decide.
FAQ
Frequently Asked Questions
Q: What is a toy play kitchen set?
A: A toy play kitchen set is a lifelike toy that mimics a real kitchen. While it can not store or cook actual food, it can give your a child a fun experience as they learn how to operate their very own kitchen with pretend play. Toy play kitchen sets usually come with a stove, sink, refrigerator, cabinets, cooking and eating utensils, and appliances.
Q: What can a toy play kitchen set do?
A: A toy play kitchen set can give an imaginative pretend play without the dangers of a real kitchen. Cognitive and social skills can be developed as your child interacts with the kitchen and cooperates with their friends to create unique culinary dishes. They can also help teach your child the basics of a kitchen and how to operate a kitchen.
Q: What ages are best for a toy play kitchen set?
A: The minimum age is usually two to three years old and the maximum age is usually five to six years old. There are exceptions, of course, and it's common to see children have toy play kitchen sets well into their elementary years but by puberty, they usually lose interest in toy play kitchen sets.
Q: Why should I purchase a toy play kitchen set?
A: A toy play kitchen set is a great way to introduce your child to the kitchen and basic skills such as cooking and cleaning a kitchen. Another reason to buy a toy play kitchen set as it's a great toy that encourages socialization and therefore, can teach important lifelong skills such as teamwork and sharing. Also, a toy play kitchen set can help with educating a child in object recognition, color identification, and even number learning.
Q: What are the benefits of a toy kitchen play set?
A: The benefits are immense but the most common benefits are as follow:
Better visual recognition
They will learn how to recognize shapes, patterns, and colors.
Enhanced motor skills
Their fine motor skills will get better as they handle kitchen tools and utensils.
Improved self-confidence
As your child learns how to run a kitchen on their own they'll gain better ability.
Developed problem solving
They will figure out meals to prepare and how to fix minor kitchen issues.
Vocabulary building
Their vocabulary will be immensely built as they learn about the kitchen and its objects.
Better counting
Your child will learn how to count kitchen objects and therefore, build their numerical skills.
Q: How else can I discover toy play kitchen sets?
A: You should start with the Born Cute "15 Best Toy Play Kitchens For Kids & Toddlers Rated" list: Click the link of the toy play kitchen set that interests you and when you arrive at the Amazon page for the toy play kitchen set, scroll down to the "Customers Who Viewed This Item Also Viewed" OR "Customers Who Bought This Brand Also Shopped For" lists. Those two lists can give you a great starting point in discovering other toy play kitchen sets.
The "Frequently Bought Together" section on an Amazon product page can help and another great option is speaking with preschool teachers, daycare centers and other educational places that offer toy play kitchen sets.