Best Kids' Cash Registers Reviewed in 2019
last updated
Apr 02, 2019
It's that time to teach your little ones about money! The earlier that children learn about money, the easier they'll adjust to handling it in their future. A fun way to teach them the basic concepts of money is with a toy cash register. These registers are available from various companies and help kids to learn about the American monetary system, bolster their math skills and engage in pretend play. To help guide you, we have selected the top-rated products that parents are raving about to help make your selection easier. Most of the registers on our list are age-appropriate for 3 year olds or older as some accessories, like plastic coins, could be a choking hazard. Each product makes sounds, and all have functional parts such as scanners, microphones, and conveyor belts which all help make learning more fun.
In a Hurry? The test winner after 41 hrs of research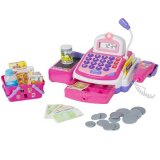 Pink Electronic Cash Register
Why is it better?
Swiping credit cards makes the drawer open
Made of ABS plastic - ASTM certified for assurance and safety
Features sounds and lights from the register and scanner
Requires batteries not included
Great for kids three years old and older
In a
Hurry? Editors choice: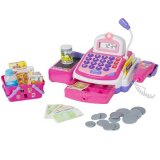 Test Winner: Pink Electronic Cash Register
31
Researched Sources
131
Reviews Considered
41
Hours Researching
14
Products Evaluated
Design
Educational Value
Value
By Default
In depth review top 10
Pink Electronic Cash Register
Fisher-Price Retro
VTech Ring and Learn
Play Calculator Cash Register
Count 'n Play Cash Register
Count Along Cash Register
Pretend Cash Register
Soniki Durable Cash Register Toy Set
Toy Cash Register with Scanner
VTech Ring and Learn Cash Register
Table of contents
Criteria Used for Evaluation
Other Factors to Consider
Frequently Asked Questions
Sources
10 Best Kids' Cash Registers Reviewed
1

. Pink Electronic Cash Register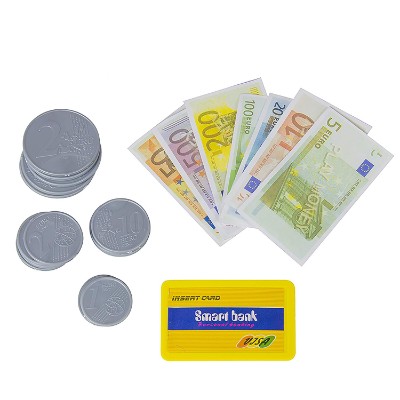 Swiping credit cards makes the drawer open
Made of ABS plastic - ASTM certified for assurance and safety
Features sounds and lights from the register and scanner
Requires batteries not included
Great for kids three years old and older
Some complained about the quality of the product
A few received items that did not work
Wverything is included with this child's cash register to make a day of working at the grocery store. Accessories to keep your little one's store active and well-stocked include a calculator, scanner, opening drawer, microphone, coins and dollar bills, credit cards, groceries, conveyor belt, and a little basket. When the credit cards are swiped, the cash drawer opens automatically.
Read more
Design
The register and the scanner make sounds and light up when they are used. Children three years old and older will be excited to play alone or together in groups with this item. The colors of the register and the groceries are vibrant and enticing to young shoppers. Each piece is made of ABS plastic, and the toy is ASTM certified for assurance and safety. Batteries are required for operation but not included. Boys and girls will want to engage in shopping activities with this adorable toy cash register and grocery set-up.
Educational Value
Those children that love to shop will enjoy being on the other side of the purchasing counter to ring up items and collect money. Development of fine and gross motor skills, cognitive abilities, and hand-eye coordination will be enhanced with this nifty toy.
Value
This is the whole grocery store in miniature form! Kids will delight in all of the accessories that come with this toy. It will keep them quite busy for hours.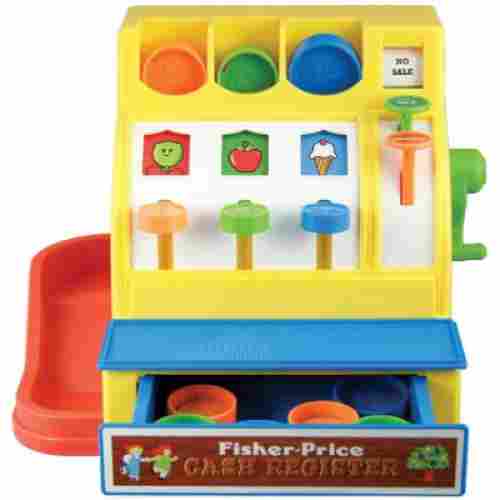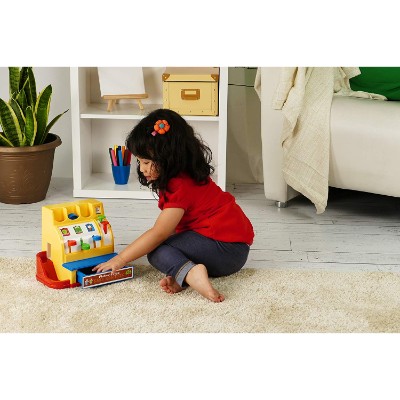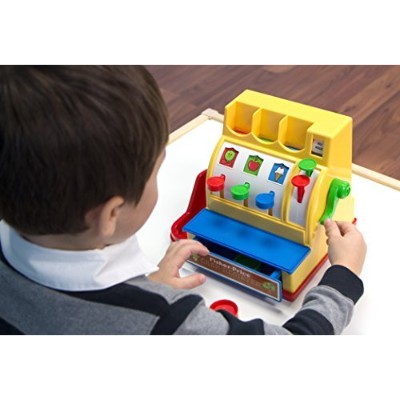 Includes 9 coins total of varying colors
It doesn't require any batteries and is super basic to use
The meaning behind the cash register is the best feature of this product and the fact that it's a simple version of 'checking out' makes it easy to teach the most important factors of it to a kid
Resembles and original 1975's cash register
The sticker on the front may peel off fairly easily
Fisher-Price really outworked the odds with this setup. Balloons, ice cream, or apple? A 1975 original inspired design. The choice is yours but hand me the right amount of money to buy it. What else can you find in your mini play store to reach checkout have your funds ready to pay for what you take home.
Read more
Design
This adorable kids cash register is made with the best kind of plastics that are extra durable and can withstand all of the play your kids put it through. Set is aside in the playroom or out in the living room. Introduce the concept of how money to your young kids and how to purchase items in real life at the grocery store. Better yet, take it to the grocery store and have your kid entertain herself by adding up just how much it costs to buy your cart full. Kids love the bright colors and the slot to insert the miniature plastic coins. Blue, greens, and orange make this yellow cash register very attractive to kids. Easy to use and chunky coins that are fun to hold and keep track of.
Educational Value
Resembles a 1975 styled cash register. Give your kids the gift of quality of the toys that you played with as a kid. Extra textured keys and coins make a major difference in how your child will remember being introduced to the concept of money.
Value
The coins have depth in the center on both sides making it incredibly pleasing for a child to hold and use. As you drop the coin into its meant slot by which is organized by the size and value of the coin: 5,10, or 25 cents have a slot to check into. Then store the remaining coins in the pullout drawer that ia opened by the crank on the side of the cash register.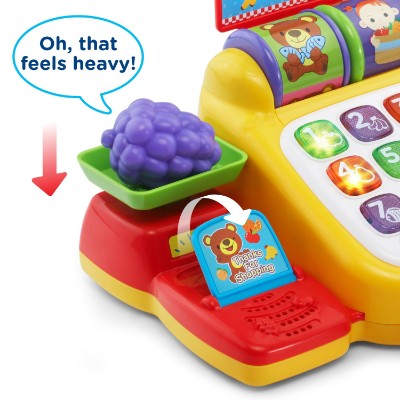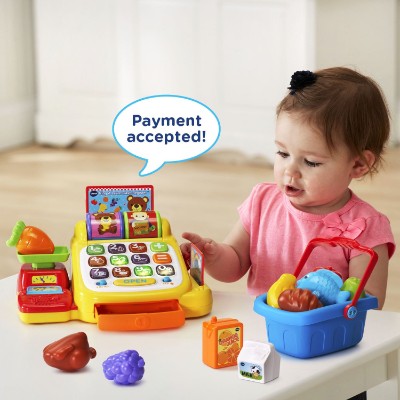 Encourages healthy eating
Stimulates the imagination
Improves fine motor skills
Increases knowledge of color, numbers, and foods
Does not include play money
The drawer does not make a playful noise when opened
Take your little one grocery shopping from the comfort of your own living room with the VTech Ring and Learn Cash Register. On your pretend shopping trip, your child can fill their basket with any of the ten plastic healthy food items included in this set.
Read more
Design
The cash register is equipped with a scale for any food items that need to be weighed. After all of their items have been rung up, they can slide the pretend credit card in the slot on the side of the cash register. Sliding the credit card activates different sayings. Spinning the rollers on top of the register also release fun melodies and phrases.
Educational Value
The color number buttons on the register will increase your child's knowledge of numbers, colors, and food with the informative phrases released after a button is pushed. As your child presses the buttons, grasps the food, and swipes the credit card they will be increasing their fine motor skills. As your child pretends to grocery shop they will be stimulating their development by using their imagination.
Value
With over eighty songs, phrases, melodies, and sounds your child will be learning while also having fun. The pretend food, credit card, and basket included in the set will further stimulate your child's imagination and take their fun to the next level.
4

. Play Calculator Cash Register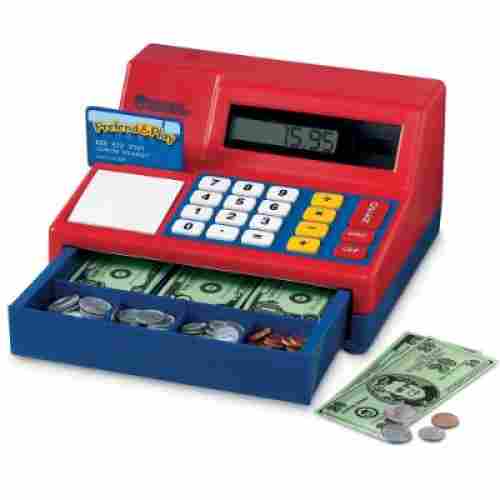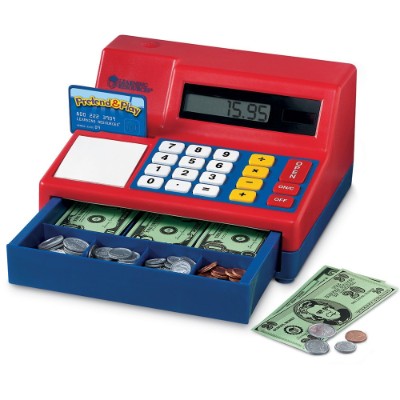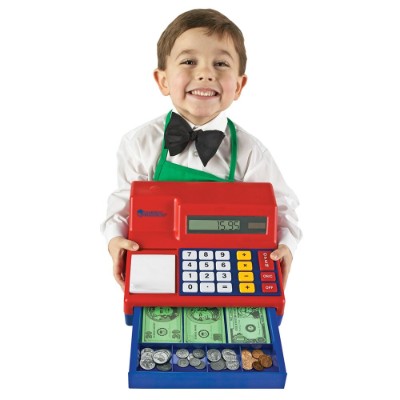 Solar powered register and calculator with LCD screen
Promotes basic money skills and math abilities; encourages counting, sorting, and organizing skills
Includes play dollar bills, plastic coins and credit cards, and an activity booklet
When opened the register makes a "cha-ching" sound
Winner of 23 excellence awards for product
Is only powered by solar – no option for batteries
Dubbed as one of the bestselling toy cash register playsets, the Pretend and Play Calculator has been around for almost three decades, helping moms and their respective kids learn the basics of mathematics, fundamental measurements, and very simple concepts in money management. The money machine may look like a toy but it actually operates like a real one.
Read more
Design
What is marvelous about this toy till is that it is actually solar powered so you will never have to hassle yourself about purchasing numerous batteries ever again. There's even a plastic toy credit card which is perfect for pretending to swipe on the till's credit card reader. There are also 40 plastic coins and 30 play bills so your child will be introduced to the most common denominations of our monetary system. The buttons are smooth and very responsive and will never require much effort on the part of young children to press. The drawer opens easily to reveal a neat money organizer while also eliciting a "cha-ching" sound every time it slides open. The Pretend and Play Register also comes with an activity guide to help young tots and preschoolers make the most of their activities to learn fundamental concepts in numbers. It simply is the best toy cash register around.
Educational Value
The buttons on this toy register are large and easy to press. This is important for toddlers who have yet to perfect their fine motor skills and hand-eye coordination. With practice, they will be using the register with confidence.
Value
It's great for helping young children learn basic numerical skills while encouraging them to use their full imagination in using the till as a tool for their pretend play.
5

. Count 'n Play Cash Register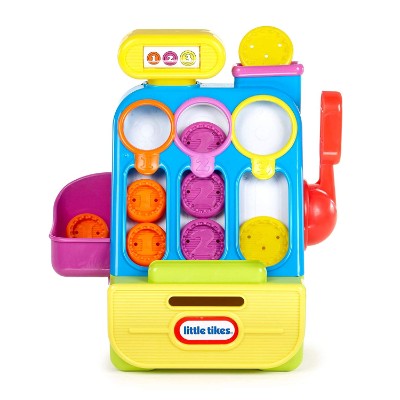 Has an automatic change dispenser
Pulling the handle opens the drawer
Coins drop in the drawer when the credit card is in the slot
Has vibrant, bright colors
For kids two years old and older
Small coins could be a choking concern
Designed with older babies and younger toddlers in mind, the colorful Count 'n Play Cash Register Playset from Little Tikes provides a different set of learning objectives for youngsters. This is specifically intended to build upon the developmental skills that are already established in the first two years of life.
Read more
Design
The Little Tikes Count 'n Play comes with 3 colored coin slots which is ideal for enhancing young kids' color recognition skills while also enabling them to test their problem-solving skills by sorting the differently colored plastic coins and slotting them into their respective colored coin slots. Once the columns have been filled, your kid can now swipe the accompanying toy credit card to open a hidden door that allows the coins to be dropped into the drawer. The swiping of the card facilitates the continuous development of the child's fine motor skills as well as spatial reasoning and visual motor coordination. Pulling the handle on the side of the Count 'n Play allows young kids to open the drawer and see their stash of coins. The Count 'n Play may not really be a sophisticated toy but it sure can deliver on its promise of building on the earlier developmental milestones of young kids.
Educational Value
Sparking the imagination and stimulating the creativity of toddlers are the goals of this coin register. This is accomplished by matching colors, sizes, and numbers of the coins in the register slots.
Value
Kids as young as two years old can use this small cash register that has just coins and credit cards! It is a wonderful way to get them active with simple, colorful objects.
6

. Count Along Cash Register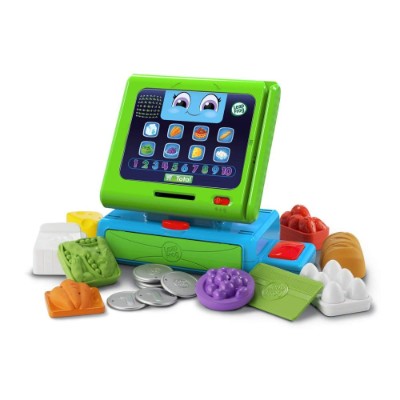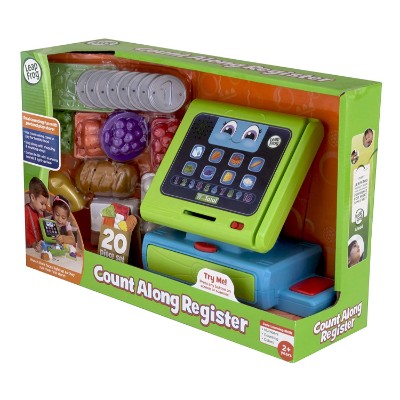 Well built so it can stand up to a little rough play
Toddlers can learn about money, counting, and even singing
Register face covered with plastic for easy cleaning
Lots of opportunity for open ended, imaginative play
Go shopping or be the sales clerk, make up stories to go along with your characters
Some parents would like to be able to scan items without pushing a button
Some parents complain that the toy is too loud.
Many of today's merchants now use fully computerized POS terminals that allow them to efficiently manage purchases and payments made by customers. Kids who happen to go with mom in one of these shopping trips already know that some tills actually do talk. And they would expect this when they go home. If that's the case, don't fret since LeapFrog's Count Along Cash Register is here.
Read more
Design
The Count Along toy cash machine is a great tool for helping children to have all the fun running their very own retail shop or store. The Count Along comes to life as it teaches kids a variety of learning concepts such as counting numbers, colors, and even number names through the use of counting and shopping songs. It also comes with a pretend scanning sound as well as a friendly light up face on the LCD display. The LCD screen comes with a variety of buttons to simulate a real store complete with credit cards, loyalty cards, coins, and even 20 checkout items at the store. These items can be scanned and the total button will tell your child how many coins he or she needs to insert into the coin slot. Not only are you teaching young kids about the basics of math, you are also grooming your child to become the next entrepreneur.
Educational Value
The LeapFrog Register sings, counts, and talks to kids with over fifty exciting phrases and enlightening songs. Children will gain many abilities by simply interacting with this charming toy.
Value
The use of music and interactive sounds and light effects make learning math and money management concepts absolutely fun.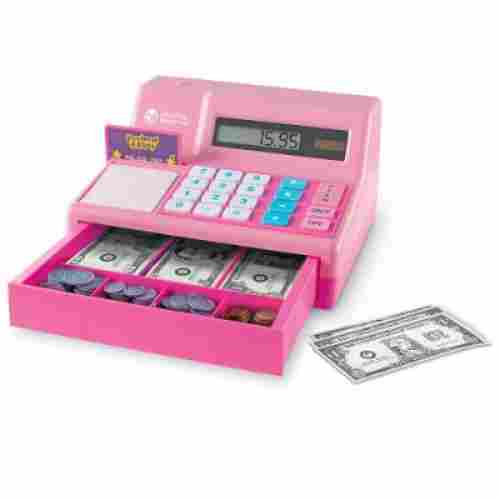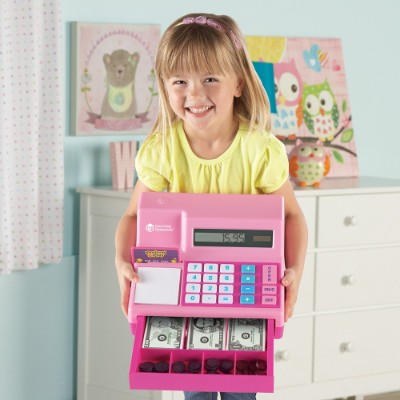 Large buttons for little kids who don't have yet have fine motor skills
Cash register drawer dings when opened
Calculator runs on solar energy
Provides learning opportunities for children such as counting money, giving change, and improving fine motor skills
Stands up to rough and tumble play
Drawer sometimes opens very fast, scattering coins
The note pad runs out of paper, but can be replaced with post-it notes
Most toy registers for kids are powered by batteries, but this one gets it energy to operate from the sun. It is one of the few on the market that does so. That feature alone teaches kids the importance of using the sun for energy.
Read more
Design
With this register, children will develop their skills in money recognition and counting, while sorting and organizing the bills and coins in their proper slots. An LCD screen on the toy lets kids add up items so they can see the total. With a bit of training, they can be taught how to collect money and make change with the play money. If using the credit cards, then kids will learn how to pay with plastic instead. When your kids start making purchases on their own in real stores, they will be professionals because of the practice with this simple register. Get your child started with early math and money abilities now that will last a lifetime.
Educational Value
Even though most of our purchases now are completed with credit and debit cards, children still should learn how to count and recognize currency. Toys like this pretty cash register make this task fun, easy, and simple.
Value
The gorgeous shades of pink make this register a real eye-catcher! Any child would love to play with it because it looks so inviting to touch and explore.
8

. Soniki Durable Cash Register Toy Set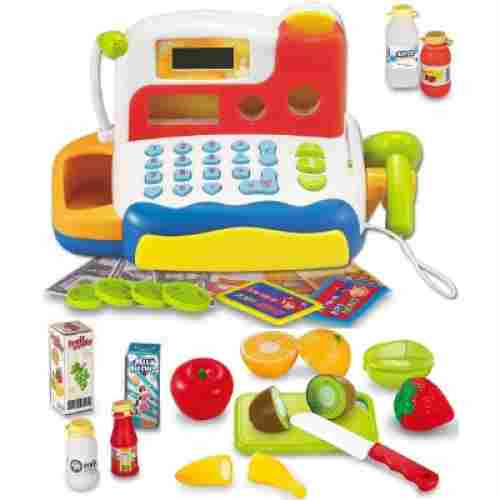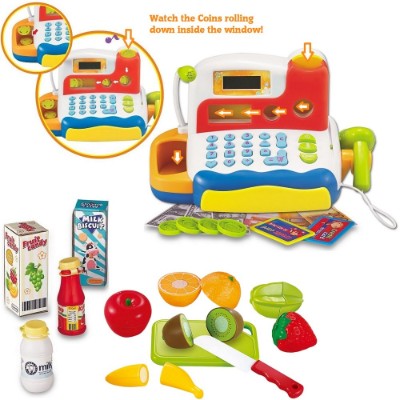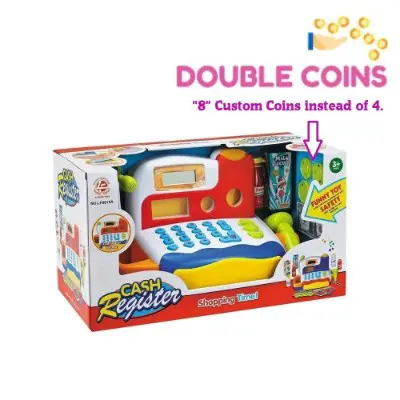 Has a working scanner and microphone with authentic sounds
All items are vibrant and colorful
Gives real practice of working and buying in a supermarket
Includes various grocery items and play money
Perfect for kids three and older
Issues with the screen not working after a while
Cash drawer sticking was a problem for some buyers
For endless supermarket fun and food enjoyment, this toy set has it all. A cash register that operates to ring up purchases and collect the cash is just the beginning of the excitement. Kids get play dollar bills, special plastic coins, and credit cards to make purchases. A scanner and microphone are fully-operational on the register, and they make realistic sounds when used.
Read more
Design
The buttons on the register work and beep as well when customers buy things from the play grocery store. Engaging in the role-playing of a supermarket encourages imaginative talents, fine motor skills, math and money abilities, as well as food, color, and number recognition. For grocery items, children get to play with fruit that can be sliced by the play knife, a cutting board, and various products such as milk, juice, and ketchup. Give your kids that are three years old and older some hands-on experience in working their own grocery store and being a customer making purchases. Adults will love playing along with kids because the set is so cute and attractive.
Educational Value
Children get to do it all with this register and play food set. They can operate the cash drawer to be the owner or sales person, or they can be the customer buying certain items. Either way, they learn the basic skills to make them great entrepreneurs
Value
A cash register that comes with all of the groceries and the equipment to properly ring them up is a fabulous toy! There is so much to look at and do with this cash register for one child or several.
9

. Toy Cash Register with Scanner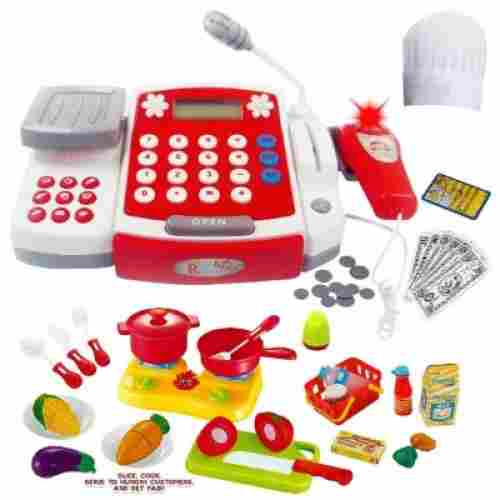 Over 40 items included in the set
Foods can be sliced apart and put back together
Will encourage endless fun and imaginative play
Quality tested and 100% safe for kids
Materials are high-quality and long-lasting
Complaints about the overall product quality
Some stated the register was too small
The cash register is just the beginning of this fabulous restaurant/grocery set of merchandise and equipment. Over forty items are included to keep children constantly entertained and intrigued in the merry world of doing business. Contained with the cash register are some play money, a shopping basket, cookware, dinnerware, a mini stove, an assortment of play veggies and foods to slice, a cutting board, a knife, and a chef hat. The individual food pieces can be sliced apart with the knife and then put back together again.
Read more
Design
They have durable Velcro on the inner sides, so kids can cut them open again and again on the cutting board for continued fun. The register makes authentic sounds, and the microphone is operational for store announcements. Surprisingly, the cash drawer opens and locks with a key to keep the play money safe. More products are available from this manufacturer to increase the food supply, equipment, and accessories of this set. All items are bright and cheery with wonderful colors so that kids will be fascinated with this toy for hours.
Educational Value
This toy exercises fine motor skills, hand flexibility, and hand-eye coordination during the play of selling, shopping, slicing foods, and cooking. With so much to do, kids will never be bored or run out of play situations to practice restaurant or store.
Value
What a bargain this package is! Kids get so many things with this toy cash register that it is hard to list them all. There is certainly plenty to keep little hands busy with all of these accessories and food items.
10

. VTech Ring and Learn Cash Register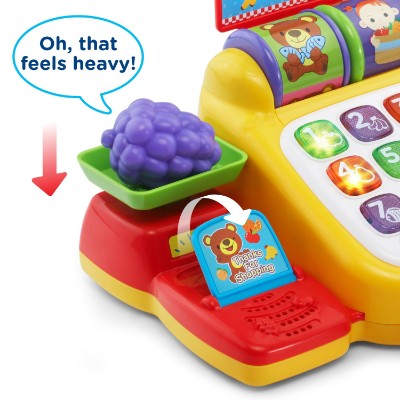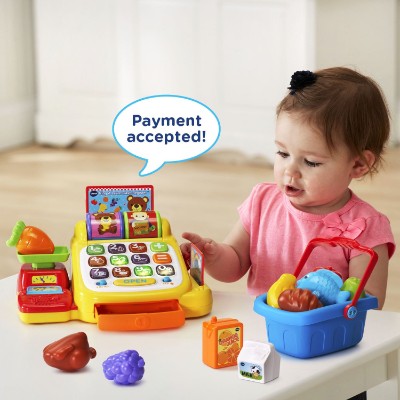 Boosts fine-motor skills
Helps teach healthy lifestyle
Boosts creativity skills through pretend play
Features over 80 different song choices your child can choose from
Some customers have said when you push the buttons it doesn't repeat the name of the number back to you.
This cute little VTech register is perfect for your little one. It comes with various buttons that they can push and learn not only numbers but colors, food, and even phrases that will encourage healthy eating.
Read more
Design
There's a credit card scanner and the cash drawer opens with the hit of a button. It is perfect for the pretend play of shopping and learning about groceries. It even comes with a basket for your child to shop for the items they want. This Vtech register is perfect for pretend play of the grocery store. It helps benefit your child early on teaching them about healthy food choices and it's fun while they do it. It comes with a little basket and pretend food products. This register helps not only fine-motor skills but creative skills as well through pretend play. This can be used by children from ages 1 to 3.
Educational Value
This register helps promote fine-motor skills and helps boosts mathematical skills as well. It teaches your little one how to count, eat healthy and helps them learn their colors all while having fun.
Value
We love this product because it helps teaches your child the wonders of money and helps promote healthy eating as well.
Criteria Used for Evaluation
Design
Any child that wants to learn about American money would enjoy these cash registers and money sets because they are highly functional and well-designed. However, the intended age for use starts at 3 years old because kids this young can perform the skills necessary to enjoy the toys.
After the age of 7 or 8 years old, kids will probably have their own money from chores or allowances, so they will have real money to count, sort, and organize. The earlier parents introduce toy cash and registers to a child, the quicker they will progress with the abilities to spend and save their money wisely.
Educational Value
Of the many skills that are exercised and developed with play money and cash registers, these are the most important: counting, subtracting, adding, sorting, pattern recognition, and organizing, just from the coins and bills alone. With the cash register and equipment, they will build their gross- and fine-motor skills by operating the various parts, role-playing talents, and imaginative abilities.
These toys seem simple and child-like, but they have so much to offer kids because of the thought and ingenuity that the manufacturers built into them. Not only are they beneficial, but they are also fun and interactive. Learning should be very enjoyable, especially at the toddler stage of life.
Value
While we thought of including super-realistic cash registers in our selection, we remembered that pretend play sets should leave something to the imagination. By creating a gap between what is a toy and what the real object is, we are able to encourage children to use their minds in filling the gap through their sense of imagination. As such, we chose products that provide some form motivation for kids to use their cognitive abilities in conjuring images of a real money management machine.
Additionally, since our goal is to provide the correct tools for children to enjoy their pretend-play activities, we had to make sure that the recommended age of these toys are appropriate. Simply put, the toy cash register must be developmentally appropriate to the kid's age. This is crucial as getting a toy that is simpler than the child's developmental age can create boredom while something that is more advanced than the developmental level of the child can bring about frustrations. Striking a balance was thus, very important.
The overall construction of the toy was also evaluated. This included the safety and quality of the materials used. Harmful chemicals had to be ascertained to be absent from the manufacturing process as the presence of these substances can significantly undermine any developmental gains achieved by children so far. The integrity of the different components was also ascertained especially if the toy is geared for younger users.
Most Important Criteria
(According to our experts opinion)
Experts Opinion
Editors Opinion
Users Opinion
By Default

Parents, Did you Know?
Pretend play with cash registrars and money is a great way to introduce the concept of money to a toddler. When playing with the money talk to them about the value and make it into a game. You will be surprised about how much they will understand.
Parents, Did you Know?
Fine motor skill development can be fun with money. Playing with pretend coins and dollars creates the muscle memory that they need to create a good controlled grasp.
Other Factors to Consider

Effectiveness
There is no preference for toy cash registers for boys or girls because all kids need to learn the necessary financial skills to be a functional part of our society. Children who cannot handle coins and bills will soon get lost in the way our monetary system functions. All children must gain some hands-on knowledge of the bill denominations, their names, and how they are interchanged to purchase items.
Being left-handed or right-handed should not pose a problem either way in operating or enjoying the cash registers and money set drawers. The placement of the scanner, microphone, or conveyor belt may be on a side that would be a bit uncomfortable for some children, but overall it should not be a big concern.

Logic
You don't need to wait until your kids reach high school before you even start considering teaching kids about money. As early as one year of age, you can already start integrating simpler concepts in money management in their playtime activities. There are plenty of money lessons to teach kids even before they reach the age of 10. Here are some tips to help your child understand the basics of money management.
Make saving money a very fun activity. Use colorful character jars to place a part of our kid's weekly allowance. Be as creative as you can be in the choice of a piggy bank to help entice your kid to save.
Help your kid to set a goal that he or she wants to achieve. Then help him or her devise a budget plan on how much he or she needs to save every day to achieve the goal within the set time frame. Make sure the goal is workable and is something that your kid really wants.
Contribute to your kid's savings. Children will be more enticed to save if they know that you'll match everything they save. For instance, if they were able to save $10 in a week, then you also need to add $10 to their piggy bank. You can look at it as a form of incentive for kids to really save.
Be a good role model. If you're teaching your kid to save or to have a goal, then you yourself must also be able to exhibit such attributes. Children learn best when they see a congruence between what we are saying and what we are doing.
Frequently Asked Questions
q:
Do any of the cash register make sounds when they are being used? What are the sounds and what activates them, if so?
a:
All of the cash registers make some sound. Usually, it is the cha-ching of the drawer opening or the beeping of the buttons when pushed. The scanners make sounds as well as light up when operating. Pressing buttons on the cash register triggers the sounds and lights. Conveyor belts are operated by the cash register functions or by hand with a handle to move the belt.
q:
Are these toys more for girls or boys? Are any in particular for one gender or the other?
a:
Boys and girls alike love these cash registers and money sets. There is no gender preference when it comes to money-–everybody loves it! All of the products highlighted on this page are for either sex. The only ones that may be viewed as primarily for girls are the pink electronic cash register and the pink Learning Resources Pretend & Play Register. Just because they are pink does not mean they are exclusively for girls. The manufacturer makes no such statement regarding gender preference, so the pink cash registers, like all of the others, are for any child that would like to have one.
q:
How old does a child have to be to play with these cash registers? Are there some for very young kids, such as 3 years old?
a:
Most of the products are for ages 3 and older, but the Little Tikes Count n' Play Cash Register can be used as early as 2 years old. This determination is strictly up to the parents because every child develops differently than all others. Two year olds may be ready for the other cash registers as well, but this is left for the parent to decide. It certainly would not hurt to introduce the concepts and toys early just to get the child used to seeing money and feeling it. Most of the registers have enticing sounds, tunes, and lights that would engage a child in playing with it.
q:
Are there any options or choices with these toys, such as color selection or size? Are the dollar bills and coins the same size for all of the products? Would the extra money items fit in these cash registers?
a:
The Learning Resources Pretend & Play Register is available in red or pink, but that is the only one that has a color choice. There is no option for size for any of the registers. The coins and bills will vary with each toy because of the manufacturers. They even vary in materials used, as some are plastic replicas of coins and others are more realistic. The two money sets in the list can be used with the registers, but the dimensions of the money and the register compartments were not given in the product information. It would be hard to say into which registers the bills and coins would fit the best.
q:
Do all of the cash registers come with money that fits in the drawers? Do any of them come with extras, such as toy items to ring up for a sale? Is the money in dollars, euros, or pounds?
a:
Yes, all of the registers come with either just coins, as the Little Tikes Count 'n Play does, or they have both bills and coins in their drawers. Almost all of them come with food or grocery items to ring up on the cash register. A few come with a shopping basket for the grocery items, and one has pots and pans for a restaurant. All of the money included with the registers is in American dollars and coins. The Little Tikes coins are just numbered and not replicas of real money.
q:
Do any of the cash register talk or speak to tell the child what buttons they are pressing on the registers, or what they should be pressing to do it correctly?
a:
The LeapFrog Count Along Register talks and sings to kids when the buttons are pressed. The other toys make sounds and light up when the buttons are pushed, but they do not speak.
q:
What do these toys run on for power – batteries, electricity, or other?
a:
All of the cash registers run on battery power, except the few that are specified as solar-powered. Only two types were solar-powered in this list. Most of the toys have batteries included, but sometimes they are only to show the operation of the toy. Fresh batteries are required for full functionality during play. None of the toys plug into electricity for safety, storage, and travel reasons.
q:
A few of these items have microphones. Do they really work or are they just a toy for show?
a:
If a register has a microphone, they are fully functional. Kids can speak loudly with the microphone to announce store specials in pretend play.