It's a beautiful Saturday morning but you have a family and a household to run. This means your week never really stops. Generally, the weekend gives people, who work typical Monday through Friday 9-5 jobs, an opportunity to get their other chores and errands taken care of. From laundry and getting everything ready for the week to grocery shopping, there is so much to do it can often be overwhelming. Add a determined and independent toddler into the mix and we are left feeling as though productivity comes to a halt.
As parents, it's our job to create a happy and educational environment in which our children can be nurtured. This helps with their development and ultimately instills in them the confidence they'll need to one day manage their own lives. When we assign children easy to do tasks such as locating their snacks and juice boxes they are given the opportunity to strengthen their observational skills. These adorable mini shopping carts give children a sense of independence as they can keep track of their own shopping list and items. There are so many reasons to consider a shopping cart as a great gift idea. By simulating real-world environments or even letting them explore, nearby, at the store children learn to become responsible for their own things. To make for an easy clean up routine toys can be stored in these baskets and trolleys for safekeeping.
These carts feature seats so your child's toy buddy has somewhere comfy to sit while tagging along on this adventure. Take the carts with you on the go so your littles can help with grocery shopping or set up a grocery store in your living room to foster imagination! Catering to both boys and girls is a list composed of some of the highest rated shopping carts available to toddlers and kids to inspire creative play.

The Best Kids Trolleys & Childrens Shopping Cart Sets Reviewed in 2018
Melissa & Doug Shopping Cart With Sturdy Metal Frame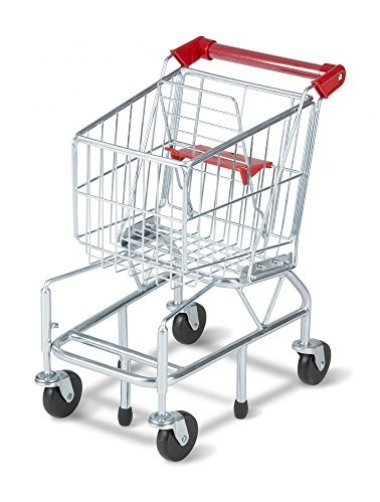 Little Tikes Toddler Pretend Shopping Cart
Little Tikes Cozy Shopping Cart
Precious Toys Pretend Shopping Cart with Groceries
Bright Starts Giggling Gourmet Shop 'n Cook Walker
Play Circle Grocery Shopping Cart Toy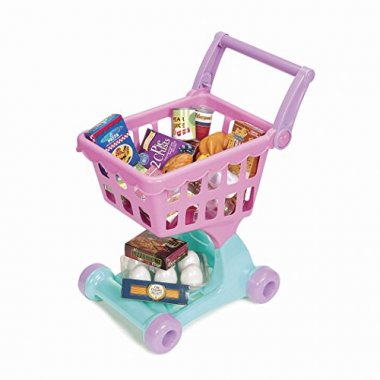 Little Helper's Kids Grocery Cart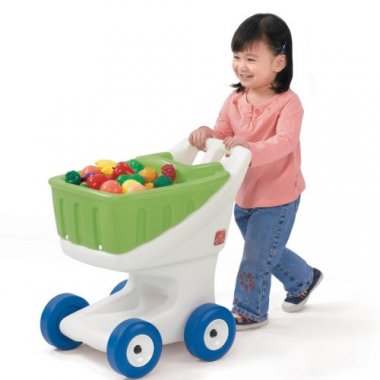 Toy shopping cart for kids and toddler – Pretend Play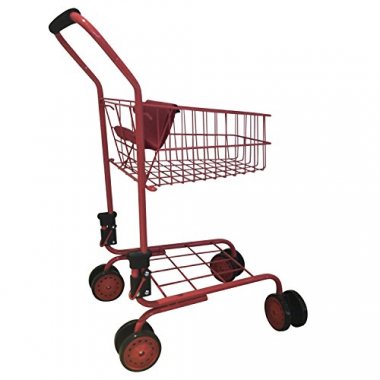 American Plastic Toy 15 Piece Deluxe Shopping Cart with Play Food
Criteria Used in Evaluation of the Best Kids Trolleys & Children's Shopping Cart Sets
While an unpleasant sentiment, it's inevitable our children will grow up faster than we imagined possible. Our job in the meantime is to teach them the skills they'll need in order to do a successful job as adults. While children learn through a number of techniques, hands-on training can often be the most effective.
With these carts, children can help make things just a bit easier for you while simultaneously learning what it means to shop for the most nutritional food, how to stay on budget and even the concept of patiently waiting in line until it's their turn to go through the checkout stand. Shopping carts that are designed for toddlers offer a wide range of benefits to brain function and muscle development. All babies must fall a few times in the process of learning to walk. This can often lead to frustration but these carts provide toddlers with a mobile walker to offer them extra support and something solid to hold during this process.
It is not guaranteed that babies will never fall down even with this support so always remember it is not recommended that babies learning to walk be exposed to the metal carts. These can cause serious damage or injury to your baby's mouth and face. There are soft plastic options that are great for babies learning to walk. This can help to improve coordination and balance. Additionally, through the actions of wrapping little hands and fingers around their toys and filling and emptying their carts, toddlers are given ample opportunity to improve their fine motor skills.
By improving these skills neurological pathways in the brain are stimulated and thereby strengthened to improve memory and cognitive abilities. There are endless possibilities to enhance creative play and foster brain development.
As production has shifted from man to the machine we are often left feeling unsure about the chemical compounds we expose our children to but when we see or hear about companies that are highly reputable we are given some peace of mind. The companies that distribute the items on this list are well known for producing toys to children that are safe and non-toxic. Many of these companies are run and owned by parents who hoped to bring a wholesome toy to children in a world that have quickly become overwhelming and chaotic with products that are manufactured by the masses.
Undoubtedly, durability and strength coincide with quality. These carts are made of high-quality materials that are meant to last and provide children with hours of fun. The age recommendations for these toys range from two or three and up. Keep in mind the age recommendation is put in place to ensure children's safety. The metal carts may cause injury to small children and the plastic carts may be too small for children ages four or five. It is important to know your child's limitations and capabilities while deciding which of these is right for them.
Children can make long-lasting memories with their friends or family by playing store and engaging in a number of other fun and imaginative games. Expose them to the concept of gender fluidity by encouraging them to swap gender roles and let little boys make a pretend run to the store. This action will encourage men and women to feel adequate to each other and to appreciate the hard work cultivated by one another. From happy memories to the aid of healthy brain function these toys are a wonderful option in providing so much joy to children.
FAQ
Frequently Asked Questions
Q: Can the wheels turn 360 degrees?
A: This list consists of options that do have 360-degree spinning wheels. However, most, have wheels that can only go front to back.
Q: Can these carts be used at the store?
A: Yes! These carts are miniature so they aren't meant to support a load of groceries. However, if you feel like taking the cart with you, children can participate in the shopping experience by placing a few lightweight items in their cart. Keep in mind that some grocery stores already have children's shopping carts available so these are
Q: What are the recommended ages?
A: The age recommendations range from two to six years old. For example, the metal cart is suited for children a bit older than a toddler. The metal frame may cause injury without proper care.
Q: How can I find replacement parts?
A: Each manufacturer for most products has a page on their site that explains how you can find replacement parts.
Q: Do these carts come fully assembled?
A: These products come with some adult assembly required. This makes them easier to package and ship. They come with step by step instructions for assembly.
Q: What are some benefits to simulating a shopping cart for toddlers?
A: Not only are they really helpful for improving skills like balance, these shopping carts are a great way to keep your kids engaged and even occupied while you are at the store.
Q: Where are these toys made? What are they made of?
A: Most are made and distributed in the U.S. or Canada. While there are a few comprised of materials from China. All the carts on this list are plastic or metal. There is one wood option if you are looking to find a chemical free alternative.