Kids have been playing with tea sets for many generations, but it is now that these sets are so cleverly decorated and exquisitely manufactured. Our grandparents played with tea sets that were ruggedly made out of anything they could get or from leftover pieces of real dishes. Today, our kids have the luxury of obtaining gorgeous tea sets that are offered by many manufacturers that cater to our children's wishes and desires. Plus the individual pieces are specially crafted for their small hands. Tea parties with these miniature dishes and teapots provide kids with valuable skills that they will carry with them through life as an adult. Imaginative play lets kids act out what they see happening around them and thoughts that are being processed in their heads. Things that trouble them are played out with stuffed animals or even other children during these tea events, so they can plan or figure out a solution or feel better about a situation.
As humans, we have this natural reasoning ability to work out our concerns, even at a young age. Tea parties are perfect for these mental and emotional occurrences for boys and girls. Many skills are developed through make-believe play such as social, thinking, language, and imagination nurturing. Kids are usually between the ages of two and seven when they begin to use imaginative play to advance their emotional intelligence and social abilities. Tea parties are highly social events, whether the guests are other kids, toys, or parents. Fine and gross motors skills are also exercised with tea sets as kids set up the party and then use the small items for the gathering.
We feature a rainbow assortment of tea sets here that will surely please any child with at least one or two choices. They all have characteristics that make them unique, but they all are appropriate for kids in the age range of two to eight years old and they are all the finest choices of available products on the market. We hope you enjoy our selections of the best children's tea sets and pots reviewed for all kids in 2018.
Best Childrens Tea Sets & Pots For All Kids Rated in 2018
LeapFrog Musical Rainbow Tea Set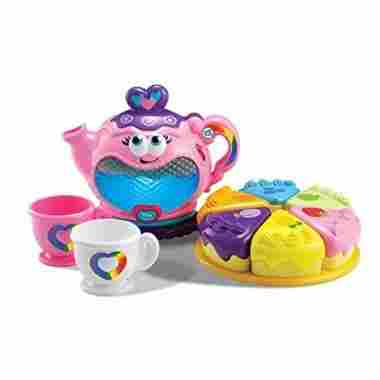 Schylling Children's Ceramic Tea Set
Melissa & Doug Sunny Patch Bella Butterfly Tea Set
Kidzlane Play Tea Set for Childrens Tea Party and Fun
Small World Toys Living – It's a Party Porcelain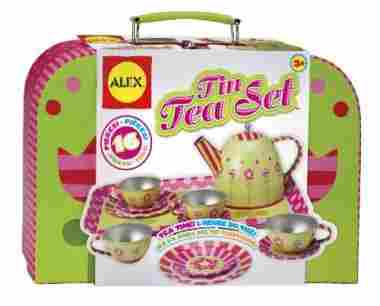 ALEX Toys Chasing Butterflies Ceramic Tea Set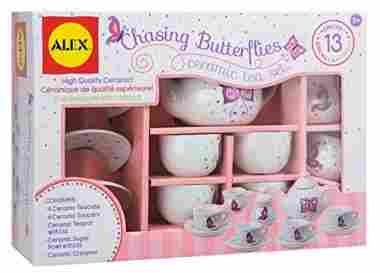 Deluxe Ceramic Tea Set with Basket
Disney Beauty & The Beast Enchanted Tea Set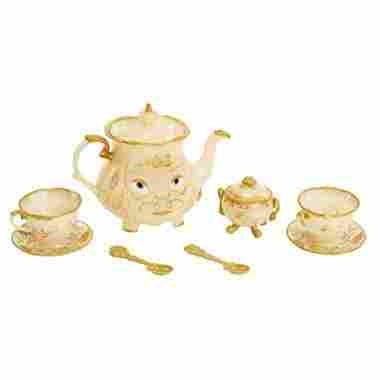 Delton Products Rose Tea Set for 2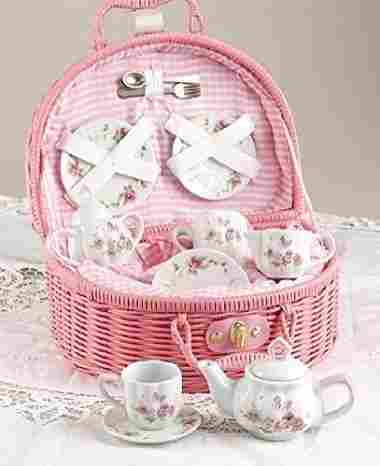 Liberty Imports Rose Flower Porcelain Ceramic Tea Set
Criteria Used in Evaluation of the Best Children's Tea Sets and Pots
All items have great, positive reviews from purchasers
Each of the tea sets we feature has the best reviews and the most reviews from parents. This is important because we want you to be able to choose from the best products on the market for your child. Having all of the best choices in front of you at once takes away the struggle to obtain the best tea set that will make you and your kid very happy. Throughout our searches, these are the top purchases that buyers were truly glad to make and are currently excited to own.
Each tea set is user-friendly either for pretend or real usage
Whether your child intends to put liquids and treats in and on the dishes, these can all be used for real drinks and foods. Some tea services are plastic, while others are ceramic, but they can all be washed and cleaned easily, making them useful for years of play. These can also be used just for decorating a child's room too. They look great on a shelf or a small table where kids can look at the pieces and admire their possession.
Tea sets are appealing to kids and pleasing for parents
Most of the tea collections here are decorated with butterflies, roses, or various floral patterns, so they are desirable to kids of all ages. Some are made in the most vibrant colors without patterns for those kids that may not desire designs on their teaware. Parents too will love the cute designs and styles that decorate each tea service and carry case. There are many comments from previous buyers about the small size of the pieces of these tea sets, but if you keep in mind that they are for children, then the sizes are most appropriate. Kids have small hands that cannot handle large cups and saucers, so these items were made especially for their tiny fingers.
Items are safe to use and easy to clean
When the manufacturer mentioned that their products were non-toxic, BPA-free, or PVC-free, we made note of it for you. More than half of the tea sets were either in this category or created from ceramic materials, which are seen as safe to eat and drink from. Some parents had concerns about the paints used for the graphic designs on the pieces, but we did not find any statements from the makers about lead-free paints or special techniques used in designing the items. All are easy to clean with most of them being safe to clean in the dishwasher. Only one product was environmentally friendly, and that was the Green Set made from recycled materials.
FAQ
Frequently Asked Questions
Q: Which popular sets are made of plastics that are safe for my kids to actually use for liquids?
A: The Green Tea Set, Bella Butterfly Set, Tea Time Shape Sorter, and the set by Kidzlane are all created from plastic. These are also safe to use for real foods and liquids because they are easy to clean in the dishwasher. The Green Tea service is made from recycled products.
Q: Which good tea sets have the most pieces and the sturdiest boxes for storage?
A: For the most pieces, choose the Bella Butterfly set, the Li'l Tea Tote, or the Deluxe Ceramic Set. The sturdiest storage and carrying boxes were with the Rose Tea Set, the Li'l Tea Tote, and the Deluxe Ceramic Set.
Q: Does it matter what the individual pieces are made of in the tea set if my children will use them for drinking? Does it matter if they are just for pretend parties with stuffed animals?
A: If you are concerned about hazardous materials used in the production of the individual items, it would be best to purchase the sets with the ceramic pieces. These would not have any harmful materials. There was some concern from a few parents about the paints used to decorate the dishes and cups, but none of the manufacturers addressed this issue in their descriptions or questions answered.
Q: Are all of the tea sets listed dishwasher safe? If not, how must they be cleaned?
A: Yes, all of the collections are dishwasher safe, except maybe the Tin Tea Set because of the metal material and the Shape Sorter teapot because of the design. The ceramic items would be safe in the dishwasher, but there may be a concern about the paints coming off in the machine It is always best to just wash by hand if you can to prolong the life of the toy.
Q: Do any of the manufacturers of these sets sell individual pieces of the set? If pieces are lost or broken will I be able to replace those pieces? If I need more cups and saucers for more "guests" I want to know if I could get those with some of these sets.
A: No, none of the sellers sell individual pieces to the sets. You would have to purchase another entire set to get a replacement or additional pieces.
Q: Are tea sets just for little girls or can boys use them and join in with other kids at a tea party? Would a tea set be an appropriate gift for a little boy that loves to pretend with his stuffed animals?
A: Tea sets are for all children. Boys like to pour liquids and drink from small cups just like little girls do, so yes they are appropriate for both sexes. It would be a great gift for a little boy that would enjoy having a social break with his toy friends.
Q: Do any of the tea sets featured have color choices or different design patterns to choose from? I would like to be able to choose from different color schemes to match my daughter's room décor.
A: No, all of the sets have just one pattern and color choice. The only exception is the Rose Tea Set for 2, as it is possible to get it in a basket lined with purple gingham material instead of the pink we feature here.
Q: Which sets have teapots that do not leak or dribble when liquid is poured from them? My daughter will actually be using hers for real tea parties.
A: The ones where spillage from the teapot was not an issue were mostly the ceramic sets. The plastic ones had comments from parents about dribbles when liquids were poured from them into the cups. It is possible that the lids were just not properly fitted to the tops of the teapots.