10 Best Tea Sets & Pots For All Kids in 2019
last updated
Jul 22, 2019
Tea parties are a staple in many young children's playtime routines. They love pretending to be fancy, and they get a kick out of inviting guests or making invitees of their favorite toys and dolls. Role-playing games are an excellent tool in children's development, and the right tea set can encourage all kinds of fun, while also giving children the ability to explore conflict resolution and problem-solving skills, empathy, imagination, and memorization. Likewise, it's a wonderful opportunity to work on some (probably much-needed) table manners. Below, you'll find 10 of the most well-received tea sets on the market. There are options for different age ranges and skill levels, as well as plenty of exciting themes and colors to choose from. Pinkies up!
In a Hurry? The test winner after 21 hrs of research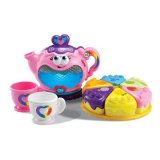 LeapFrog Musical Rainbow
Why is it better?
Teapot set features two cups and cake to share
Solid plastic cake with six slices on a serving plate
Lighting and sounds with six different songs
Rainbow color scheme
Encourages fine motor skill development
In a
Hurry? Editors choice: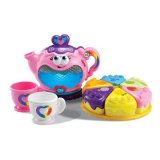 Test Winner: LeapFrog Musical Rainbow
15
Researched Sources
21
Hours Researching
17
Products Evaluated
Design
Entertainment Value
Materials
By Default
10 Best Tea Sets for Kids Reviewed
1

. LeapFrog Musical Rainbow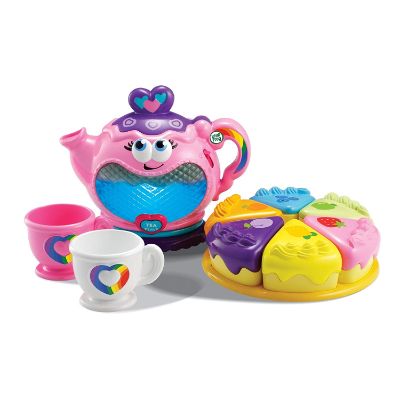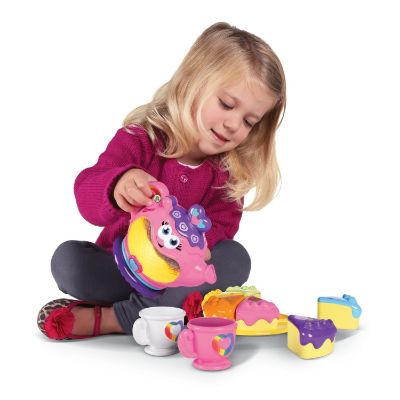 Teapot set features two cups and cake to share
Solid plastic cake with six slices on a serving plate
Lighting and sounds with six different songs
Rainbow color scheme
Encourages fine motor skill development
No volume control, loud
No button that turns it off
Whether hosting a tea party or playing alone kids will love playing with this light up and singing teapot. It lights up while playing seven different songs.
Read more
Design
Playing with a tea set can be some of the best memories for a child. This tea set is great for pretending with others or working on learning the colors on their own. The bonus is that is able to learn while playing with this teapot set.
Entertainment Value
Playing with toys is a great way to practice fine motor skills. The solid plastic cake with the slices is used to practice serving and sharing the slices. The hand and finger movements are used in picking up and placing the slices on a plate. This creates a motor with the hands that are great for fine motor skill development.
Materials
The teapot comes along with two cups and a color sharing cake. The cake is constructed from solid plastic that has six sharing slices. Have friends sip some tea or work on learning the colors, how to share, or the art of patience this teapot is a rainbow musical teapot that makes learning and sharing the fun.
2

. Disney Beauty & The Beast Live Action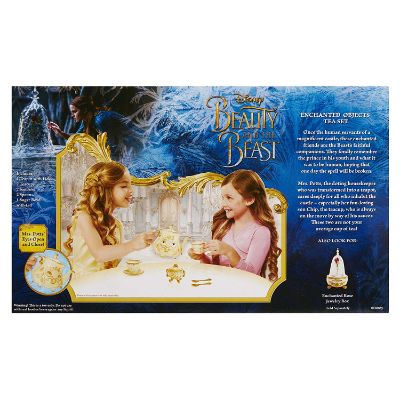 Features everything you need for a party for two
Tea pot's eye blinks when tipped over
One of the teacups wobble on the saucer just like in the movie
Best suited for children over the age of 3
Develops strong family bonds
Not food or liquid safe
Wobbling cup on saucer requires hand movement, does not do it on its own
The teapot was once a servant of the most beautiful castle in the land. The friends inside each object then became the friends of the beast living there. Little kids all over the land are just looking to play with some of their favorite characters from this movie.
Read more
Design
This teapot set serves two and when tipped over her eyes come to life by blinking. The little chip even wobbles on his saucer just like in the movies.
Entertainment Value
Developing strong bonds with family members is beneficial for the development of the little ones. Playing a sharing and caring role play toy with them is a great way to develop and create this bond. Nothing is better than seeing your kid's eyes light up when they receive a gift that just brightens their day. This tea set has all the details that make it just like the one in the movie.
Materials
It is a set that is best suited for kids over the age of 3 years old. Bring the movie to life in your living room today with this beautiful plastic toy tea set.
3

. Melissa & Doug Sunny Patch Bella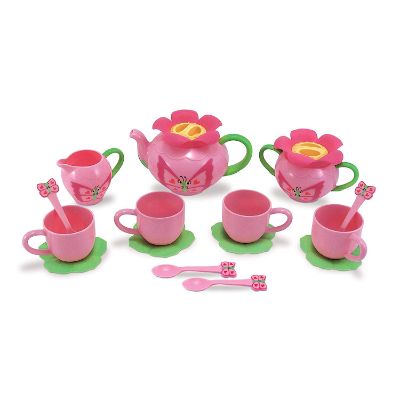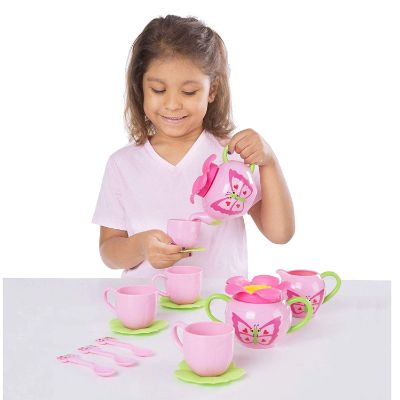 Made of food-safe, durable plastics
Includes 17 pieces in set
Has pretty butterfly designs on spoons, creamer, sugar bowl, and teapot
Promotes imaginative play and creative thinking
Set is well matched in design and color theme
A few complaints of cups tipping over when spoons are in them
Some remarks about the set being too small
It is very important that kids tea sets be able to actually hold liquids so they can use them and not just pretend. This set allows such real tea events with the teapot being able to hold about one cup of liquid to pour into the cups.
Read more
Design
All seventeen pieces are food safe and plastic intended for long use. The spoons, creamer, teapot, and sugar dispenser are all beautifully painted with butterflies on them to set off the pastel pink color of the set. The saucers for the cups resemble leaves making the cups look like flowers.
Entertainment Value
With larger sets like this one, kids have more pieces to handle and organize. This allows more practice with their skills of imagination, planning, and motor abilities.
Materials
The tops of the creamer, teapot, and sugar canister have flower petals on top of them making this one of the most adorable tea sets we have seen. Kids will play with this tea set for hours because it is so appealing to the eye and just the right size for little fingers to hold. Unlike other sets that have different colored pieces, this adorable set is completely matched with all the pieces having the same color, but with variations in the decorations. The added butterflies are a wonderful touch!
4

. Toysmith Lil Tea Tote Set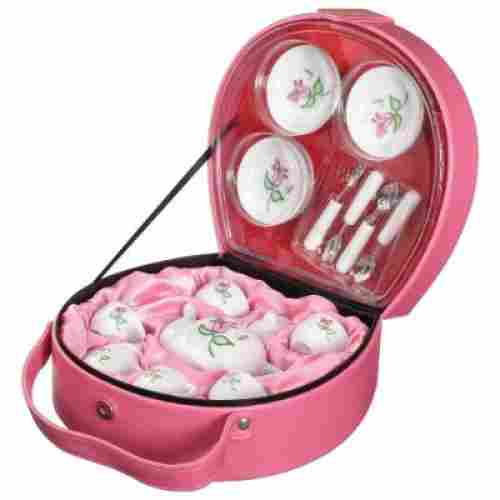 Adorable design
Seventeen matching pieces
Carrying tote included
Great for tiny hands
Ceramic breaks easily if dropped
Pieces are small
This darling set includes a carrying tote and seventeen pieces meant for the perfect tea party! It's a great way for kids to be able to play and to put their toys away neatly at the end of their party.
Read more
Design
Each piece in this matching set is a classic white with a beautiful flower painted on it. The dishware feels vintage in a super cute way and the carrying case is sleek and bright.
Entertainment Value
Now your little one can invite up to three of their most honored guests to tea with them! This set has everything necessary for a fun, creative tea party, including beautifully styled ceramic cups.
Materials
This set includes a carrying case, a tea pot, four cups and matching saucers, four teaspoons, a sugar bowl, and a creamer. Everything except the silverware is ceramic.
5

. MMP Living Play Tea Set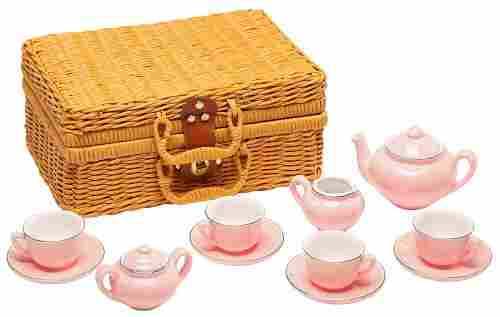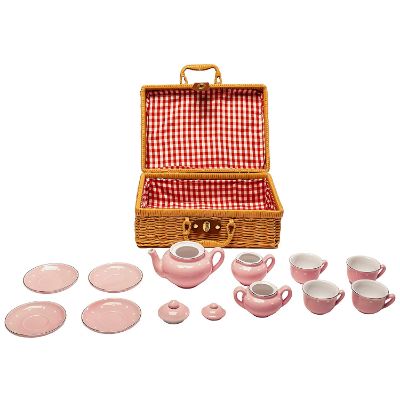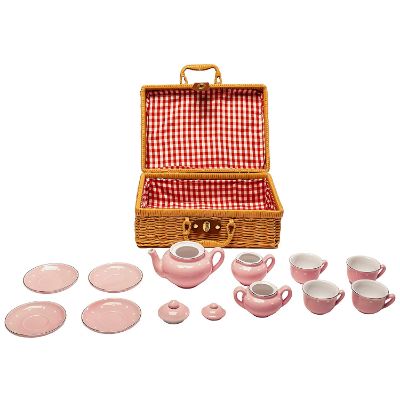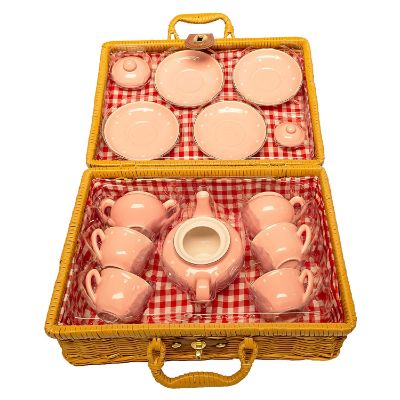 Meets all FDA standards
Wicker basket makes transporting and storing easy
Includes enough cups for four people
Entire set looks elegant
Basket could be made more durable
Put on your best outfit, it's tea time! Children ages eight and up will feel all grown up with this porcelain set.
Read more
Design
This thirteen piece porcelain set is available in pastel pink or blue. Whichever color you choose, each piece in the set is designed with a silver rim and polka dots that add a touch of elegance. There are four sets of cups and saucers, a sugar bowl, a teapot, and a wicker basket. Both the sugar bowl and teapot are equipped with a lid.
Entertainment Value
This set is sure to stimulate your child's development as it encourages them to engage in imaginative play. With four cups, your child has enough to share with their friends or family. The teapot is designed to hold 1 cup or eight ounces of the liquid of your child's choice. The small amount of liquid makes it easy for young children to lift the pot as well as pour it.
Materials
The porcelain material complies with all FDA standards, thus your child can actually eat and drink from their playset. Transporting, storing, and caring for the set is easy as all of the pieces fit inside the fabric-lined wicker basket.
6

. Kidzlane 15+ Durable Plastic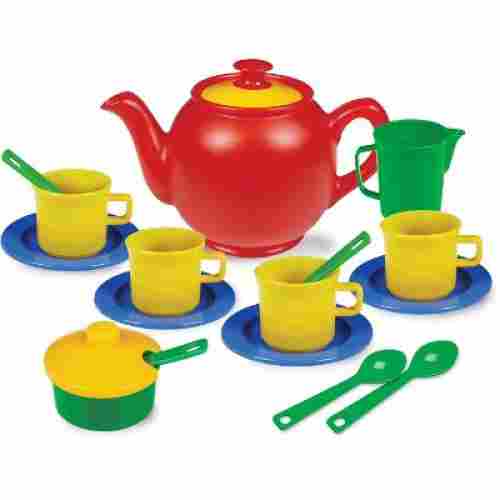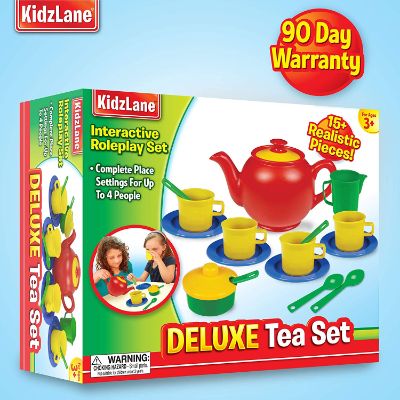 Made with BPA-free plastics – safe for real use
Bright colorful shades of red, blue, green and yellow
Comes with 15 individual pieces
Lightweight, sturdy construction
Easy to clean – dishwasher safe
A few not happy with the quality of the materials
Some complaints about the small size of the set
Kidzlane makes this darling little tea set that boys and girls will like equally. The delightful colors would be welcome in any child's room for hours of indoor play with friends, toys, or parents.
Read more
Design
The design is quite simple, but the pieces are durable, non-toxic, and completely usable for liquids, hot or cold. Even though the pieces are lightweight, the cups and pot can hold liquids well and steady. The cups sit well on flat surfaces and will not tip over easily, even when the stirring spoons are inserted in the cups.
Entertainment Value
The various bright colors are certainly the drawing element for this tea set. It will look wonderful out on a patio or in a child's room during tea time!
Materials
Sets that have many pieces to them must be easy to clean. If they were not, the small pieces would not be in use for very long because of health concerns. These, like many others we highlight, are dishwasher safe.
7

. Melissa & Doug Steep and Serve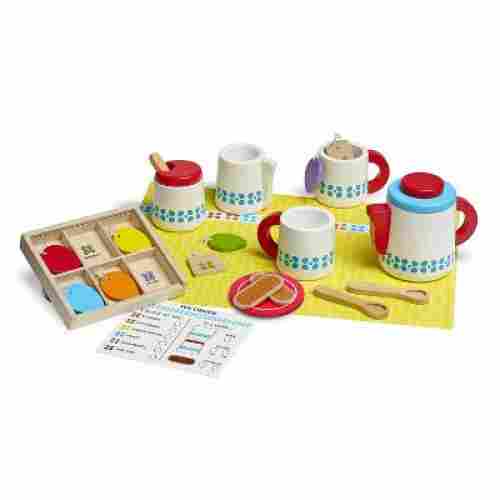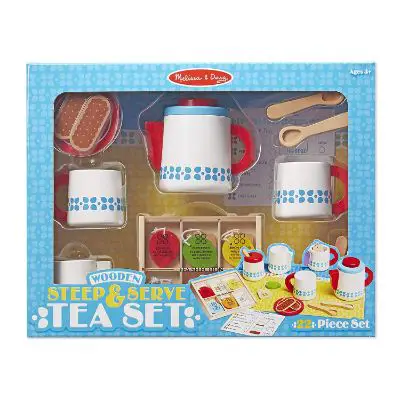 Perfect tea set for two
Colored tea bags for categorization skills
Dry-erase order card
Caddy comes with tea descriptions; great for memorization skills
Also includes a sugar bowl, cookies, spoons, a pitcher, and a teapot
Not actually meant to hold liquid
Will wear quickly; not a forever toy
Take your child's tea party to the next level with the Melissa & Doug Steep and Serve tea set.
Read more
Design
This set includes two cups, two spoons, two cookies, a teapot, a sugar bowl, a milk pitcher and six tea varieties. The six different tea bags lay inside a caddy and are each designed with a tag that shows the name of each tea. Your child and their plus one can choose between Peppermint, Earl Grey, Lemon Ginger, White, Rooibos, or Chamomile.
Entertainment Value
The bright and colorful designs of each piece will have children excited for tea time. Along with the wooden tea set pieces, this set includes a wipe-off order card. The card can be used to take the guests tea order. They can also choose to add milk, sugar, and a cookie. After taking someone's order, your child can wipe off the card to prepare it for their next tea party guest. The entire set will unleash your child's creativity and have them fully immersed into a world of pretend play. Their social skills will improve as they share the set with their buddies. The different colored tea bags will further increase their color recognition skills as well as their memory.
Materials
The entire set is composed of wood, thus making it durable enough to survive countless tea parties. The sturdy material makes this set perfect for children between the ages of three and seven.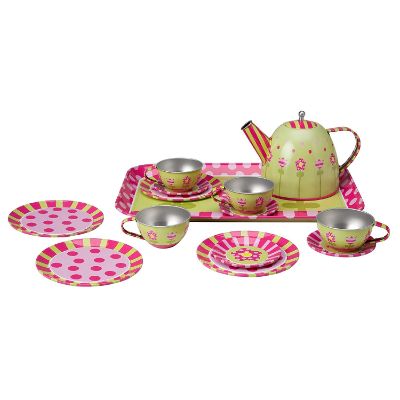 Has an award-winning design
Comes with a tray and carrying case – beautiful graphics on the inside of the case
Great for indoor or outdoor playtime
Dishes and cups are washable, usable, and durable
Packs away nicely in the form-fitted slots in the case
Small size issues for some parents
Dented or easily damaged parts in some packages
The pretty floral pattern of this tin tea set covers every piece, even the serving tray and carrying case. In the storage case, each piece has a place that will hold it snugly to minimize breakage when on the go or traveling.
Read more
Design
This pattern has won a toy award for its delightful graphics and well-planned design of the toy. Even though the graphics are a flower pattern, boys like playing with this set too. They can obtain the same skills as girls in packing away the dishes and setting them up on the tray to carry to the designated tea area. Everyone likes tea and cookies, and we certainly all love a party!
Entertainment Value
Children will get the added skill of learning how to pack away their tea set in the carrying case, as well as learning how to carry their dishes on a tray that is included. A tray is an important item for a tea party, yet most children's sets do not include them as this one does.
Materials
The sixteen various pieces are all durable, washable, and most of all, usable. Use this set indoors or outdoors, or even while traveling for pretend play. It is perfect for parties, picnics, and cookouts, especially where little ones can enjoy each other's company for tea. The case that comes with this tea set is the most endearing feature. It has slots for each piece inside, plus it is attractively designed to match the dishes and tray.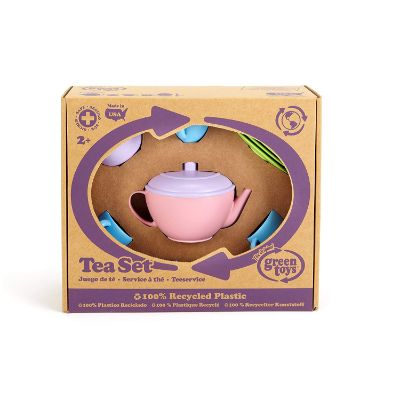 Complies with food standards of the FDA; does not include PVC, BPA, or phthalates
Promotes fine and gross motor skills
Perfect for outdoor or indoor play
Set is durable, vibrantly colored, and lightweight
Made from 100% recycled plastics and cardboard; no plastic wrap or twist ties to throw away
Many comments of the teapot leaking as liquid is poured from it
Parents did not like the safety holes in the bottom of the sugar bowl
This is a green toy that will not add to the clutter of waste heaped on our fragile environment because it and its packaging is made from recycled materials.
Read more
Design
Included are a sugar bowl and lid, teapot and lid, creamer, four saucers, four cups, and four teaspoons. The lids on the teapot and the sugar bowl are interchangeable. They are all dishwasher safe and very easy to clean. The vivid pastel colors make it great for girls or boys to use as kids develop their imaginations, social abilities, and motor skills. Perfect for indoor or outdoor play, this cute tea collection is so durable it will last for years. Go green and get this charming tea set for your kids.
Entertainment Value
Kids can really use this set to put liquids in an have a genuine tea party. Liquids can be hot or cold with no worries of harm from the materials or leaking cups.
Materials
Made from recycled plastic milk bottles, this adorable tea set has seventeen pieces to delight any child. It is completely safe to use as regular drinkware because it meets the food standards of the FDA. The set is also free of PVC, BPA, and phthalates, so it is non-toxic and environmentally safe.
10

. Schylling Thematic Tea Sets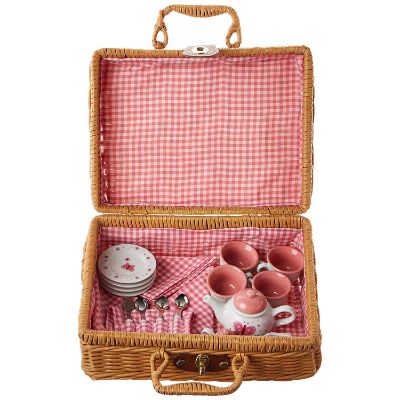 Multiple thematic sets to choose from
Tin and porcelain options
Some sets come with carrying baskets with latched lids
All sets include tea cups, saucers, and teapot
Many also include other accessories such as sugar bowls, creamers, napkins, and spoons
The sets are pretty tiny, better suited for dolls than kids/adult hands
Your little one can be the perfect host with the Schylling Butterfly tea set.
Read more
Design
Created with an elegant design, this porcelain tea set contains 23 different pieces. Four tea cups and saucers, four spoons, four napkins, a teapot, a sugar bowl, a cup for creamer, and a tablecloth are all included. Furthermore, all of the pieces can be stored inside of the included wicker basket.
Entertainment Value
Children ages eight and up will love having a pretend tea party with their friends. The napkins and tablecloth will allow them to set the table beautifully. The included sugar bowl and creamer will allow your child to pretend to make their tea just the way they like it. With enough cups for four, your child can increase their social skills as they play and share with others. Their fine motor skills will improve as they grasp their cup, saucer, and tea pot.
Materials
While the butterfly set is composed of porcelain, Schylling also has tin and plastic sets available for younger children. You can choose between a variety of materials and designs at check out. The porcelain will provide your child's tea party with a more sophisticated feel.
Criteria Used for Evaluation
Design
Most of the tea collections here are decorated with butterflies, roses, or various floral patterns, so they are desirable to kids of all ages. Some are made in the most vibrant colors without patterns for those kids who may not desire designs on their teaware. Parents too will love the cute designs and styles that decorate each tea service and carry case. There are many comments from previous buyers about the small size of the pieces of these tea sets, but if you keep in mind that they are for children, then the sizes are most appropriate. Kids have small hands that cannot handle large cups and saucers, so these items were made especially for their tiny fingers.
Entertainment Value
Tea sets can be great fun! They encourage children to play imaginatively and exercise their creative muscles. They also are an opportune tool for furthering social play, even if it's just amongst your little one and their imaginary friends. Tea parties are the perfect setting for children to learn manners, good hosting skills, sharing, and more!
Materials
Whether your child intends to put liquids and treats in and on the dishes, these can all be used for real drinks and foods. Some tea services are plastic, while others are ceramic, but they can all be washed and cleaned easily, making them useful for years of play. These can also be used just for decorating a child's room too. They look great on a shelf or a small table where kids can look at the pieces and admire their possession.
Most Important Criteria
(According to our experts opinion)
Experts Opinion
Editors Opinion
Users Opinion
By Default

Parents, Did You Know?
Each of the tea sets we feature has the best and most reviews from parents. This is important because we want you to be able to choose from the best products for your child on the market.
Parents, Did You Know?
Having all of the best choices in front of you at once takes away the struggle to obtain the best tea set that will make you and your kid very happy. Throughout our searches, these are the top purchases that buyers were truly glad to make and are currently excited to own.
Other Factors to Consider
Safety
When the manufacturer mentioned that their products were nontoxic, BPA-free, or PVC-free, we made note of it for you. More than half of the tea sets were either in this category or created from ceramic materials, which are considered safe to eat and drink from. Some parents had concerns about the paints used for the graphic designs on the pieces, but we did not find any statements from the makers about lead-free paints or special techniques used in designing the items. All are easy to clean with most of them being safe to clean in the dishwasher. Only one product was environmentally friendly, and that was the Green Set made from recycled materials.
Frequently Asked Questions
q:

Which popular sets are made of plastics that are safe for my kids to actually use for liquids?

a:

The Green Tea Set, Bella Butterfly Set and the set by Kidzlane are all created from plastic. These are safe to use for real foods and liquids because they are easy to clean in the dishwasher. The Green Tea service is made from recycled products.
q:

Which good tea sets have the most pieces and the sturdiest boxes for storage?

a:

For the most pieces, choose the Bella Butterfly set, the Schylling set or the Deluxe Ceramic Set. The sturdiest storage and carrying boxes were with the Schylling, the Deluxe Ceramic and both Alex sets.
q:

Does it matter what the individual pieces are made of in the tea set if my children will use them for drinking? Does it matter if they are just for pretend parties with stuffed animals?

a:

If you are concerned about hazardous materials used in the production of the individual items, it would be best to purchase the sets with the ceramic pieces. These would not have any harmful materials. There was some concern from a few parents about the paints used to decorate the dishes and cups, but none of the manufacturers addressed this issue in their descriptions or questions answered.
q:

Are all of the tea sets listed dishwasher safe? If not, how must they be cleaned?

a:

Yes, all of the collections are dishwasher safe, except maybe the Tin Tea Set because of the metal material. The ceramic items would be safe in the dishwasher, but there may be a concern about the paints coming off in the machine. It is always best to just wash by hand if you can to prolong the life of the toy.
q:

Do any of the manufacturers of these sets sell individual pieces of the set? If pieces are lost or broken will I be able to replace those pieces? If I need more cups and saucers for more "guests" I want to know if I could get those with some of these sets.

a:

No, none of the sellers sell individual pieces to the sets. You would have to purchase another entire set to get a replacement or additional pieces.
q:

Are tea sets just for little girls or can boys use them and join in with other kids at a tea party? Would a tea set be an appropriate gift for a little boy who loves to pretend with his stuffed animals?

a:

Tea sets are for all children. Boys like to pour liquids and drink from small cups just like little girls do, so yes they are appropriate for both sexes. It would be a great gift for a little boy who would enjoy having a social break with his toy friends.
q:

Do any of the tea sets featured have color choices or different design patterns to choose from? I would like to be able to choose from different color schemes to match my daughter's room décor.

a:

No, all of the sets have just one pattern and color choice. The only exception is the Rose Tea Set for 2, as it is possible to get it in a basket lined with purple gingham material instead of the pink we feature here.
q:

Which sets have teapots that do not leak or dribble when liquid is poured from them? My daughter will actually be using hers for real tea parties.

a:

The ones where spillage from the teapot was not an issue were mostly the ceramic sets. The plastic ones had comments from parents about dribbles when liquids were poured from them into the cups. It is possible that the lids were just not properly fitted to the tops of the teapots.