Bring the outdoor fun inside your home by purchasing an indoor slide for your child. Children love soaring down a brightly colored slide and we love the developmental benefits the activity provides to your little one. Climbing to the top of the slide, positioning themselves in the center, and pushing themselves down the chute are all actions that will improve your child's balance and coordination skills. As they near the end of the slide they will decide on when to put their feet down; that decision alone helps develop their spatial awareness. Grasping the ladder, handlebars, and edges of the slide will increase your child's fine-motor skills and strengthen the muscles in their arms. For safety purposes, it is always a good idea to only allow one child on the slide at a time. As your child waits for their turn, they will develop a sense of patience and cooperation. If you're loving the developmental benefits we shared but are worried about how you will fit a slide in your house, don't be. We created a list of the 10 best indoor slides for kids, that come in all shapes and sizes. In fact, some are even designed with extra playground accessories for added fun. By including a wide variety of slides on our list, we are confident that you will be able to find one that will fit in your home perfectly.
Our Top 3 Picks
Step2 Climber With Slide

Our rating
Includes 10 Play Balls
Price:

See Here
Lil' monkey Olympus Climber

Our rating
Easy To Fold
Price:

See Here
Little Tikes Rock Climber

Our rating
Slide Included
Price:

See Here
Our Top 10 Slides for Toddlers
Sports-Tastic Activity Center Playset
Naturally Playful Lookout Treehouse
Naturally Playful Woodland Climber
Little Tikes Hide and Seek Climber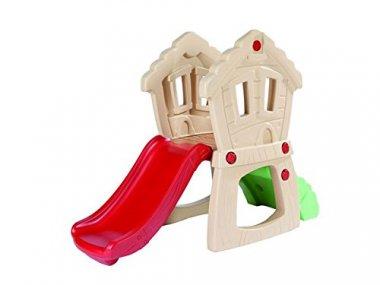 Hide and Seek Climber and Swing
Little Tikes Junior Play Slide
All Star Sports Climber for Toddlers
Naturally Playful Big Folding Slide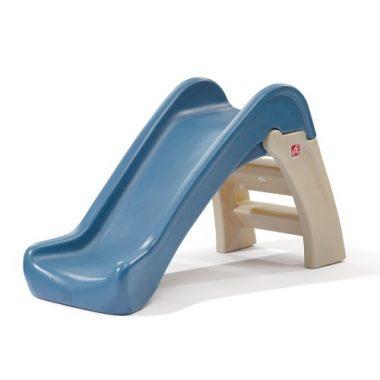 Criteria Used in Evaluation of the Best Indoor Toddler Slides
Versatile products, such as slide sets, help you to encourage your child to stay active without them actually realizing it. Indoor playsets allow you not to worry about the weather conditions outside or playground conditions at the local park or in your backyard.
Our list includes a variety of products. Some of them are simple slides, while others have more activities that toddlers can play within the playset. Depending on what your child likes, their age, height, and ability-–we've compiled a list from which you're sure to find a slide that works for you and your child.
We followed a criterion while researching for appropriate toys. Below is the outlined criteria which led to the list above.
Safety
First and foremost, is your child's safety. If a product is not safe for toddlers, it would not be on this list. If the slide has a platform, then it's important for it to have a railing of some sort to provide some balance and stability for your child to lean on or hold on to. It also should be high enough for your child to be safe on the platform. The playset should also have smoothened and curved edges, handles around steps, and barriers to protect your child.
Flexibility
Most of the products that we listed above can be used indoors and outdoors. The versatility is what makes them flexible products. However, this also means that some products might not have the same quality as specialized products. So, it's best to look for products that are made of high-quality, poly plastic construction that enable it to be used indoors and outdoors. This material will protect your product's color from fading by natural elements.
Construction
Metal products in a children's slide should be avoided at all costs. You should always purchase products that are constructed fully of plastic. Along with making it safer for your toddlers, it also helps make the product lightweight and versatile. Construction time should also be considered. Some products require a lot more assembly time than others, simply due to the number of pieces they contain. It's important to look at product reviews to find out this information, as other parents are likely to have shared their experiences.
Features
Nowadays, there is a vast number of products available on the market. The sheer amount of them can be quite overwhelming. The prices can also vary quite a lot based on their features. A simple slide might not cost as much as a full jungle gym set. It's best to look for products that suit your budget but will also be the most useful for your toddler.
What Determined the Best Indoor Slides for Toddlers on Our List
Coming up with a very comprehensive list of the best and most amazing slides specifically designed and built for children between the ages of 18 months and 3 years old was not easy. We knew it was imperative for us to understand the unique physical developmental milestones of this particular age group of children to help ensure the products we chose are commensurate to the developmental level of such kids. You see, the developmental appropriateness of a kiddie product is especially crucial in the first five years of life as this is that period in a child's life where he or she is rapidly developing physically, mentally, cognitively, socially, and emotionally. It is for this reason that the slides we include in the list are really appropriate for such kids.
Once we determined the developmental appropriateness of these products relative to the growth and developmental milestones of 1.5 to 3-year-old kids, we knew it was time to get right down to the nitty-gritty stuff. Our first concern was the size of the product. Since it will be used indoors, we had to make sure that it will not take up the entirety of your child's playroom. We did include two that will require substantial floor space designed especially for larger homes that may want to create a mini indoor playground for all of their kids and their kids' friends.
Secondly, we took note of the sturdiness and stability of the slide. This is imperative as the muscle strength and sense of coordination and balance of this particular age group of children are still relatively in their developmental stage. Needless to say, safety is a paramount concern so we took note of the overall safety features that are embedded or are integrated into the design of such products.
Thirdly, the built-in features of the products were also evaluated carefully. Since we are talking about a gadget that works on certain physical principles like gravity and motion, it was clear that the slickness of the slide surface is a definite must. If the surface is not smooth enough, kids' clothing or apparel can get snagged on these surfaces and may lead to accidents. If the surface is overly slippery, on the other hand, then there is also a likelihood that kids might lose control and balance, also leading to possible accidents. Related to the slickness of the slide surface is the degree of incline. It should not be so steep that kids risk falling straight from the top.
Why Slides are Great for Toddlers
For many parents, playing on slides is just that-–simply play. However, research shows that such activities can bring a lot of developmental benefits especially to toddlers and preschoolers. Here are some of the reasons why slides are great for toddlers' development.
Strengthens muscles of the extremities – Sliding is an excellent muscle-strengthening activity for kids, especially toddlers. Climbing a playground slide requires strength both in the arms and in the legs. Toddlers are just beginning to make full use of their limbs as they were greatly dependent when they were still babies. Now, they have the opportunity to use these muscles to the fullest by grabbing onto handlebars and stepping onto the ladder's steps and pushing themselves up.
Enhances spatial awareness – Stepping up onto the next rung of steps require toddlers to have a fair sense of space. They are now learning to understand the relationship between the positioning of their feet and the immediate surroundings.
Boosts visual motor coordination – Akin to the enhancement of spatial awareness is the continuing development of the toddler's visual and motor coordination. What they see should be processed and integrated by their brain. This is then transmitted to the different muscles that initiate the movement. That's why there must be coordination between visual input and the motor output.
Introduces simple concepts of causal relationships – Toddlers don't know it yet but sliding essentially lays the foundation for learning some concepts related to causality or cause and effect.
The Bottom Line
As much as possible, we strongly recommend letting kids play outdoors as there are simply more fun activities to be had. However, we also recognize the fact that our kids cannot go outdoors whenever they want to. As such, bringing their playground right inside the home can be the next best thing. One of our 10 top indoor slides for toddlers should be considered if you're indeed planning on getting the playground inside your home.
FAQ
Frequently Asked Questions
Q: Where can I purchase these products?
A: All the products that are mentioned on our list can be purchased directly from Amazon. They are also available for purchase on other third-party websites as well as the manufacturer's own websites.
Q: How do I find the best prices?
A: The only way to find the best prices is to do thorough research. In some situations, the cheapest price might be on Amazon, other times you might find other places have cheaper prices.
Q: Why are some of these products meant for older children?
A: Some of these products are listed for children older than 2 years of age. However, with proper and constant supervision, children aged 1 to 2 years can also use those products.
Q: Why do these products require constant supervision?
A: Some of these products have a steeper slide than others. If your toddler has not been on slides before, they won't have the balance skills that are needed to ensure their safety. So, in order to keep them safe, careful supervision will avoid any injuries.
Q: Are all of these slides adjustable?
A: No. Some of the slides just come in one size. We have tried to state which slides are adjustable within each of their mini-reviews.
Q: Why are there repeating brand products on this list?
A: There are a lot of Little Tikes and Step2 products on this list, yes. The reason behind this is that these two brands are well-known in the children's toy industry for their high-quality products. At this moment in time, these products are the best-performing in the children's slides market.