When summer hits, there is really nothing else you can do to beat the heat other than staying wet. While you can, of course, go and hang out at the pool, it wouldn't really be as fun as a slip and slide.
These iconic water slides are now a mainstay in many backyards, providing hours of fun for children. The concept is quite simple: it consists of a long plastic sheet with tubes on the sides where water comes out. Kids can then jump on it and slide down the sheet, thanks to the water. It is much like that slide in the pool, except it is not as steep and is designed for your backyard. With this, we have made our search for the best Slip 'N Slide products so you can pick the perfect set for your kids.
Surf 'N Slide Inflatable Play Center by Intex
Age Range: 6 years old and up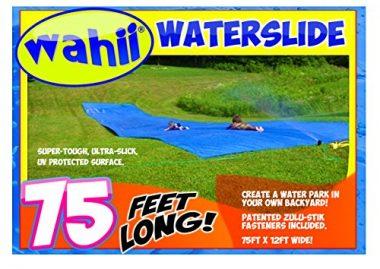 Age Range: 5 to 13 years old
Slip and Slide XXL by Team Magnus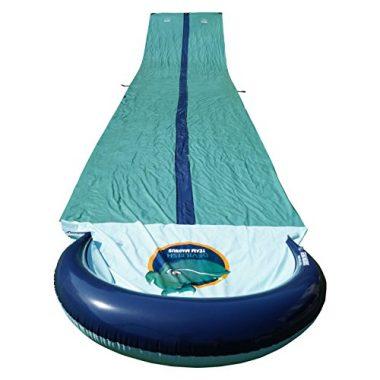 Age Range: 3 to 12 years old
Wet & Dry First Slide with Slip Mat by Little Tikes
Age Range: 2 to 8 years old
16 Foot Dual Racing Water Slide by Banzai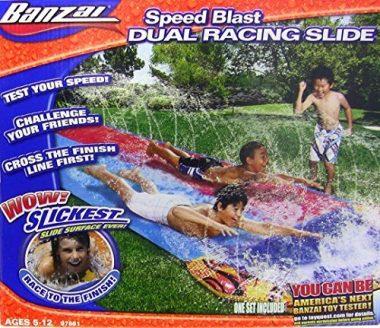 Age Range: 5 to 12 years old
H2OGO! Triple Water Slide w/ Speed Ramp by Bestway
Age Range: 5 to 12 years old
Slip N Slide Wave Rider by Wham-o
Age Range: 5 to 15 years old
Slip N Slide Hydroplane Double by Wham-o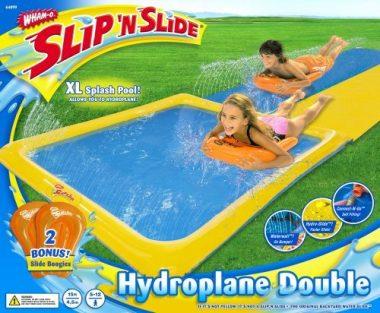 Age Range: 5 to 12 years old
Water play and Child Development
Water play is becoming more recognized as being important for supporting physical, emotional, social, and cognitive development in children.   Water can be very relaxing for people, and having kids take time to relax in a bath can help to charge up their batteries and soothe their emotions.
It seems kids have a tendency to reach out for water. They are in exploration mode always, when they are young. Many seem to enjoy touching it, feeling it run through their hands, and listening to water run or raindrops on the roof can be quite soothing for them.
When kids play in water, it enhances their coordination. The buoyancy  that water lends us helps us complete large muscle movement that are much more difficult when dry.  So repeating those movements helps kids learn the movement and makes those movements easier on land.
Water provides resistance to movement as well, so swimming and exercising in water helps to strengthen muscles. Swimming is great because is provides the resistance without putting so much stress on the joints. And swimming is fun for kids.  Any time kids get to swim, slide, play, or splash in water, they seem to have fun.
Playing in water seems to bring out a child's personality because they have the freedom to be who they are. This is great for forming friendships, bonding, and playing games.  Children gain social skills they will need later in life that will help them interact with others.  Playing with the water slides helps them learn to share their toys and take turns, as the space around them is limited.
Of course, kids talk to their friends and family members while playing slip and slide. So kids learn how to express themselves while they are doing all of this playing, having fun, and sharing with others.  They learn water terms, swimming vocabulary, and how to put words together into phrases and sentences. This enhances their communications skills, and they can transfer those words into other experiences they will have.
Communications skills relate intimately to thinking and problem solving skills. Water play is open ended, meaning that kids can use their imagination and creativity to make up any kind of play they want to. They can make up stories, take on role playing. Maybe they play baseball and slide down the water ramp to home plate.  Or ride imaginary horses down to the river. There are endless possibilities, and these all relate back to cognitive skills, ie.: how to think.
How about just having fun?
As far as the children go, they just want to have fun. That's what they are about. They do this by exploring the world around them, making discoveries, telling family, friends, and teachers about their discoveries, and maybe acting them out in a play or teaching a new skill. You never know what kids will come up with, and coaching by parents and teachers is allowed. That's what adults are for.
As kids are figuring out what works best for them to get a good, long, slide they are learning problem solving skills without even knowing it.  Maybe a parent can help them measure the slide to see if it's as long as what it says on the box.  Or cook up a math problem.  If the slide is 15 feet long, how long will 2 of them be?
As long as it's fun, kids don't care that they are really learning skills. And they don't really know that, so let's keep it our little secret, Ok?
A few water play rules for water slide safety
Always have an adult in attendance while kids are near the water.
Before laying down the slide, survey lawn area for sharp objects.
Always have a phone nearby.
Make sure there are no objects on the slide before a child makes their run.
Only one child at a time should be sliding.
Not a comprehensive list, but it will get you started.
Criteria Used in Evaluation of The Best Slip and Slide Inflatables
In order to bring you the best toys we believe are available, we research several factors about each toy.  We look at the manufacturer, how the toy is built, safety features, visual appeal, and the parent reviews. It's a lot of research for a bunch of toys, but we want your children to be safe, and we want them to be able to learn as much as possible from each toy.
We look at each toy to see if it has visual appeal for kids.  Is it colorful? Does it make pleasing sounds? We look to see if it is sturdily built and by whom. We try to choose the toy makers who have been in the toy business the longest and if they have high ratings and testimonials from parents who have used them.  If the manufacturer has a high rating from the Better Business Bureau, all the better.
Safety is very high on our list of the features we look for in a toy.  We look for smooth edges and ways to avoid getting little fingers and toes caught or squeezed.  We also test to see if the manufacturer has the age range set for the most appropriate age group.  If the idea of the toy is to splash into water, where will the toy have to be placed and does it have some kind of cushion? We also want the manufacturer to be clear of any safety violations it may have in its past.
Parent reviews are important.  We can check any site the toy is displayed on, including the company's website. We check to see if they have anything posted about safety and if parents have posted negatives about the safety of the product. We check to see if the kids like the toy and why. Some kids just decide the toy isn't exciting enough. That's a matter of preference, and that's ok.
We try to check to see if any toy helps kids in their development, whether it be for mind or body. Support of both is preferable.  Toys that engender creativity and imagination are the ones that encourage open ended play. These are really good for mind development.  Open ended play encourages divergent thinking and problem solving.  If your child can become a solver of people's problems and enjoys doing that, then they will probably be very successful in life.
Water play includes great toys for building strong muscles, both large and small.  Kids get excited if they can help set up the play area, encouraging working those small muscles for fine motor development. Running and playing in the water support growth of strong large muscles, help kids to gain strength and agility.
Safety Tips for Slip 'N Slides 
The warm weather of summer makes you want to soak your body in water all the time. For many families, summer means water fun and plenty of water toys. Actually, playing in water is the best way to beat the unbearable heat of the sun. This activity also encourages children to exercise rather than spend their time playing with gadgets indoors and all sorts of air conditioned indoor entertainment. Slip and slide sets for kids are great summer essentials. While these inflatables bring a lot of water fun, a variety of safety risks are also involved. To ensure a safe and healthy fun summer, here are few simple steps to keep in mind.
Keep the Way Clean and Clear 
Basically, a Slip 'N Slide is a long piece of plastic with a small pool or bumper at one end. The user has the option to put a hose with flowing water on the surface allowing the pathway to make it more slippery. This makes sliding downward faster and easier. Children enjoy various positions sliding down the Slip 'N Slide such as gliding across while seated, on their bellies or on their back.
Any object or obstacle in the landing area or under the slide can be the cause of a serious injury. Therefore, keep the way clean and clear before allowing your children to slide down. Clear out the lawn before setting up Slip 'N Slide. Examine the area and ensure there are no sharp objects, rocks or sticks in the way. Simply place the Slip 'N Slide on a flat soft surface such as grass or sand and never install the toy on a hill or slope as this increases the speed and therefore becomes more dangerous.
Pick the Right Slip 'N Slide for Your Kids 
The key to safe play always depends on the right choice of toys for your kids. After the first Slip 'N Slide was introduced, different versions came out in the market. Each product today comes with a number of features allowing more enjoyable play time. Depending on your budget and child's needs, features you should consider are the following: extra water sprays, curved path, two or three paths to allow racing, deeper pool at the end, extra water and a boogie board. Determine the space of your lawn and check the length of the slide. Ensure no barriers or obstacles near the Slip 'N slide to allow your children to run around safely.
Avoid Additional Features 
Slip 'N slides are made of plastic material which makes it compatible with water. Any other liquid format such as baby oil, shampoo, or soap, added on the surface, will make sliding uncontrollable. Excessive slipperiness may result to severe injury, therefore avoid putting any of these products on the slide. Furthermore, avoid installing the Slip 'N Slide on the pool leading to the water to prevent drowning and head injury.
Flowing water is necessary to ensure smooth and effective sliding. With plenty of water gushing on the slide, burns, scrapes and skidding are prevented. Simply stretch the garden hose and situate the spout towards the top of the slide. Only turn the water on when the Slip 'N Slide is properly installed.
Follow the Specified Age Range
Keep in mind that Slip 'N Slides are toys for children. Although the original toys were initially marketed as appropriate for all ages, a number of injuries where soon reported, referring to adults and teenagers using the toy. Individuals with more weight who used the toy were found to have suffered head and spine injuries and even paralysis. While strict supervision is recommended, the right age range for the Slip 'N Slide is between 5 and 12 years old. 
How to Buy Slip 'N Slides
Slip 'N Slides today are aplenty and they come in various formats and sizes. Look online and use the search engines to narrow down your options and find the exact Slip 'N Slide fit for your kids. Consider ratings and review customers' feedback. When buying in brick and mortar stores, check the product prior to purchase. With this, you can be confident you have selected a safe and quality Slip 'N Slide for your children. 
Conclusion 
Without a doubt, a slip and slide is a must-have for families with backyards as it provides kids a lot of fun for a lot less than going to the swimming pool. If you are especially living in warmer cities where summers can be quite unbearable, then it also doubles as a way to keep kids cool.
Given the frequent use, it is important to choose models with sturdy materials. Still, most of them can tear easily, especially if there are sharp items around. It is therefore important to make sure there are no sharp stones and that kids are not too rough to cause it to tear. As with most things, it is important to read the instructions, especially the weight limits, to be sure to keep it working well for as long as possible.
FAQ
Frequently Asked Questions
Q: What are some games that my kids can play at a party with a water slip n slide?
A: Here are a few ideas.  You may need more than one slip n slide.
Slip n Slide Bowling – Buy some inflatable bowling pins to put near the end of the slide and compete with each other to see how many pins the kids can knock down as you slide.
Jousting with Water Balloons- set up 2 slides if yours is not a double slide.  As kids slide at the same time, but past one another, they get to throw water balloons at each other to see who gets the most wet. No jousting lances involved.
Toss a Sponge – Kids carry soft objects like nerf balls or tennis balls and see how many they can get into the targets.  Use cardboard cut outs, plastic pails, inner tubes,  laundry baskets as targets and set them up along the sides of the slide. Then let the kids slide.
Targets can be anything with a hole in the middle that is safe.
I hope that helps.  There are other examples out there. Google can help.
Q: My 10 year son old only wants to play with electronic games. How can I encourage him to go outdoors and play water games?
A: Be honest with your son and let him know that being outdoors is a whole lot of fun.  Invite his friends over to play with him. They will find something to do. Guide them so that they choose appropriately and set down rules about when to be home and leaving the yard.
Of course, you can set up a slip n slide for the kids to play on. Water play is fun, and kids can learn from water about how it feels, what it does, its volume and other characteristics.  The only electronic gadget out by the slide should be your phone in case of an emergency.
If you already have a water toy, try a new slip n slide, or buy one that is more challenging. Kids love challenges.  They don't want the easiest computer games, do they?
Q: I want my child to be challenged physically and mentally. How do I know that's working?
A: Your child is growing, and as long as he gets both physical and mental play, he will grow in strength and problem solving ability. If he is improving in both areas, he is being challenged. If he loses interest in a toy, if it doesn't keep his attention, then try another toy. Open ended play is the best for problem solving as it encourages creativity.
Physically, you can observe, informally test him at home, and discuss his activity with the phy-ed teacher to make sure he is getting stronger and more agile.  The slip n slides are great because they support both physical and cognitive growth, especially if you let him help set up and invite friends.
Q: Can adults ride on these water slides?
A: Many adults have fun on these slides, but they are not made for adults.  Adults carry more weight than little kids. The slip n slides are made for lighter weight people. Adults can sometimes slide off the end of the slide and get hurt because of the momentum they build up. Note the age groups of the products on our page is limited to kids.  Your better choice for adults is to get a slide made for adults.
Q: How do we clean the slip n slides?
A: Cleaning is pretty easy.  Just let it dry off well. Leaving it wet may create a mold problem.  If there is some place you can hang it without tearing it, even better. Then just roll it up and store it.
Q: How can we make sure our slip n slide works well?
A: Your best plan includes having copious amounts of water available to wet down the surface.  Some people use soap or shaving cream to make it more slick.  That is up to you, and not our recommendation.  Be sure the slide is long enough so no one flies off the end. Having a wading pool at the end helps a bit. Also make sure you dry it out well after play is done. Putting a  wet slide away can promote mold growth.