10 Best Water Guns & Super Soakers for Kids in 2019
last updated
Sep 19, 2019
Some things never go out of style! Like those sultry summer days of most kids' childhoods for each generation, whether it involved the old school fire hydrant, the garden hose, the lawn sprinkler, the kiddie pool, and the slip and slide! The best-added accessory had to be a plastic water gun, later to be outdone by the super soaker! It was always fun to blast some unsuspecting kid while you were running around the yard, whether in your bathing suit or not. Running riot like that never tends to go out of style. We've compiled a list of some of the most fun, most noteworthy water guns and super soakers out there for your kid to engage in some watery combat. Still one of the perfect ways to cool off during a hot day!
In a Hurry? The test winner after 21 hrs of research
Born Toys 5 Piece Premium
Why is it better?
Stimulates your child's imagination
Clear zipper bag can be used for storage
A fire extinguisher also shoots water
The straps for the tank are adjustable
In a
Hurry? Editors choice:
Test Winner: Born Toys 5 Piece Premium
23
Researched Sources
21
Hours Researching
19
Products Evaluated
Design
Ease of Use
Value
By Default
10 Best Water Guns & Super Soakers for Kids Reviewed
1

. Born Toys 5 Piece Premium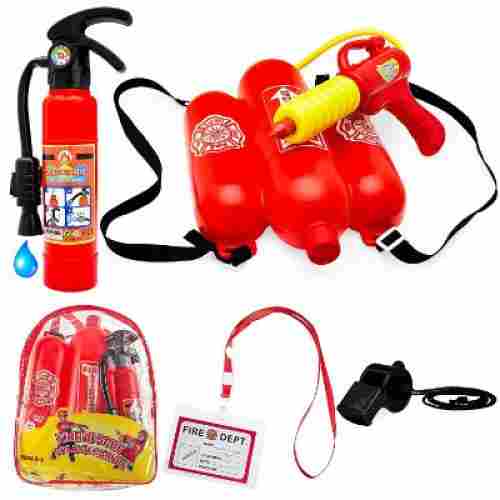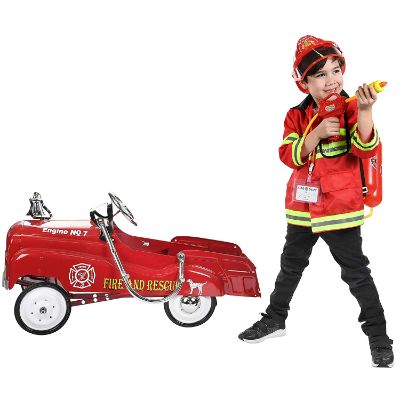 Stimulates your child's imagination
Clear zipper bag can be used for storage
A fire extinguisher also shoots water
The straps for the tank are adjustable
The lid for the tank has a small hole in the middle
With the Firefighter water gun set your child can pretend to be their favorite hero. A whistle, name tag, pump and spray fire extinguisher, and a water tank backpack with an attached water gun are all included in this set.
Read more
Design
Along with the water gun, the fire extinguisher is also designed to shoot water so your child can enjoy this set with a friend. All of the accessories come inside a clean bag that zips up, thus allowing you to use it for storage when the set is not in use. Children ages three and up can unleash their creativity and let their imagination run wild as they use this set to engage in pretend play.
Ease of Use
The adjustable straps on the water tank allow it to fit comfortably on your child's back. Your child can easily use the tank to squirt water by pumping it first and then pressing a button. Your child can write their name on the name tag and immediately feel like a real fireman.
Value
Priced under twenty dollars we find this set to be highly affordable as it includes five different firefighter themed toys for your child. With two of the toys having the ability to shoot water, your child can enjoy the set with a friend.
2

. Toyrifik Emoji Blaster 24 Pack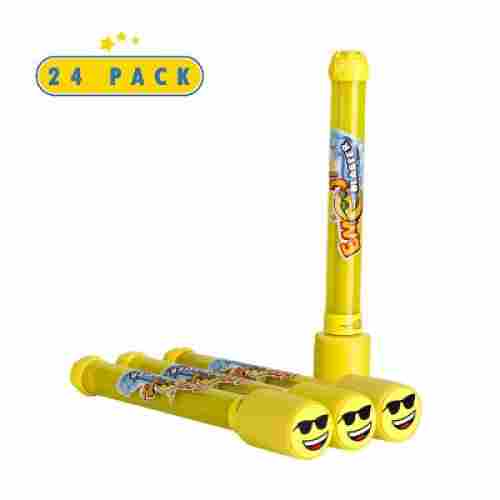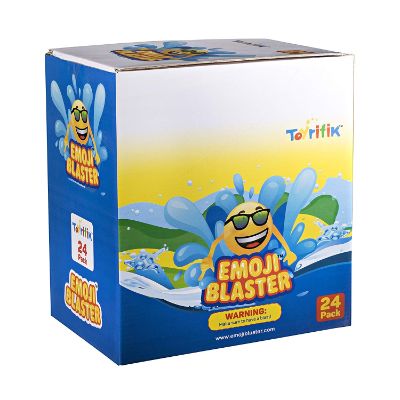 Includes 24 water blasters
Encourages social play
Easy for young children to grasp and carry
Shoots water up to thirty feet
The shooter could be made more durable
Fuel your child's love of water guns and emojis with the Emoji Water Shooters. Each shooter is 10.5 inches long and is composed of plastic and foam. The size and composition make these guns easy for small children to carry.
Read more
Design
The foam grip provides a comfortable holding position for tiny hands. Each gun shoots the water up to thirty feet, thus allowing your child to shoot targets that are near or far. The design of the guns stays true to the classic emoji look as they are bright yellow and include an emoji face on the front.
Ease of Use
With 24 water shooters included in this set, you will have enough for your family and your child's friends to enjoy. Since there are enough guns for everyone, your child can increase their social skills as they play. When your little one is ready to fill the gun all they have to do is dip the nozzle in the water and pull the handle back. When they are ready to shoot, they will simply push the handle forward.
Value
Not only are the guns super easy to fill and shoot, but they are the perfect size for tiny hands. With a gun that has the ability to shoot water up to thirty feet, your child is destined to win every water gun battle.
3

. Heytech Super Water Blaster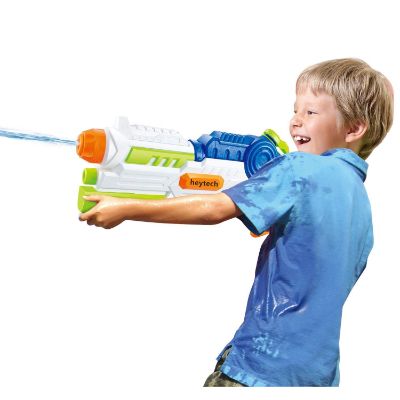 Includes two guns
Easy to use
Holds up to 1200cc's of water
Shoots up to 32 ft.
Could be made more durable
Cool off in the heat with the Heytech Super Water Blaster.
Read more
Design
Designed to hold up 1200cc's of water, your child will be fully prepared for their next water gun fight. Measuring in at 9 x 16.5 inches, the water gun is rather large. However, it is very lightweight and easy to carry.
Ease of Use
Children as young as five can use this gun as it is easy to operate. In order to shoot water, your child will need to pull the pump and then pull the trigger. Filling the gun is just as easy. The back is equipped with a large water nozzle that can be placed under a faucet or hose.
Value
With two waterguns included in this set, your child can increase their social skills by playing with a friend or family member. Enemies that try to run away don't stand a chance as the gun is able to hit targets up to 32 feet away.
4

. Balnore Water Gun Soaker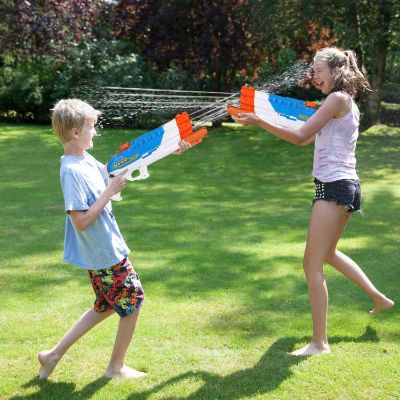 Composed of a non-toxic durable plastic
Designed with four water nozzles
Holds more than forty ounces of water
Easy to use
May be heavy for some children
With the Balnore Soaker your child is sure to come out victorious in any watergun fight.
Read more
Design
Designed with four different nozzles, this gun is capable of blasting opponents up to 32 ft away.
This soaker is capable of holding more than forty ounces of water. The nozzle to the tank is wide enough to fit ice cubes, so your child can make the water extra cold.
Ease of Use
The wide handle makes this gun easy to carry by children ages three and up. Filling and firing the water gun is a stress-free process. The bright orange cap on top of the gun is used to keep the water inside. When your child is ready to fire they will need to slide the pump handle forward and then pull it back to squirt water.
Value
The entire gun is composed of a durable non-toxic plastic, thus your child will be able to enjoy this toy gun for several summers.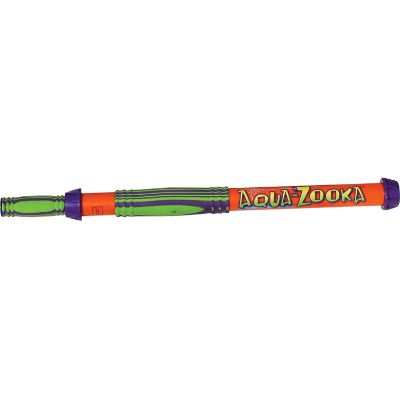 Suitable design and easy handling for younger kids
Can be used to deter pests and as a water pump
Ideal for watering hard to reach plants
Packable and travel-friendly
Lacks the accuracy of a handheld water gun
Shots scatter rather than emitting a smooth stream
More of a useful toy for pool activities rather than for the beach or lawn. The elongated design makes for a fun and easy handling for young kids. It's loading capabilities make for even more user-friendliness! All your kid has to do is dip the barrel into the pool and -- voila -- your reusable water cannon is full and ready to go!
Read more
Design
The range and trajectory of this water cannon are unbeatable! And, whenever the kids are done having a go with it, it can come in quite handy for adult gardeners that find themselves having a problem with pests! Or, hey, maybe even just high reaching plants that need watering!
Ease of Use
This is a good introductory water toy cannon for young children whose hands can't grip the handle of a water gun. Or, overall, for just a less competitive form of play. It's basic utilitarian uses for around the house and on trips is undeniable, as well! Both kid and adult user-friendly.
Value
This product is easy to use and can serve many purposes within the household. Investing in more than might be a good idea, since it's doubtful that it will outlive its usefulness.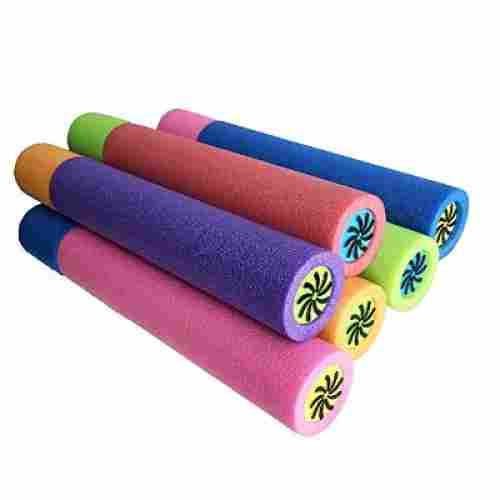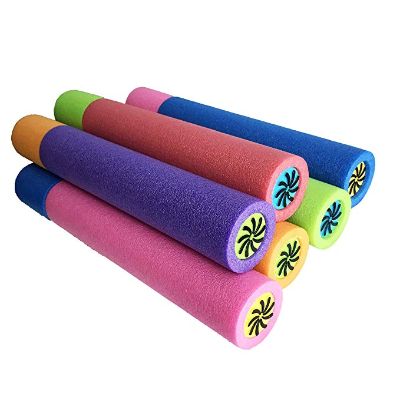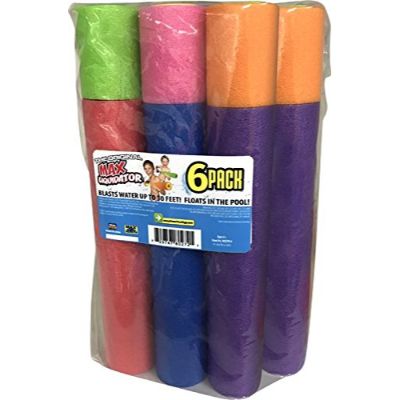 Floats in the pool
Includes 6 brightly colored guns
Easy to use by children as young as six
Blasts water up to thirty feet
Some reviewers were disappointed in the small size of the shooters
Will have to be around water to use them
Take your fun in the sun to the next level with the Nerf Freezefire water guns.
Read more
Design
With six different colored shooters in this pack, everyone in the family can participate in a water gun fight. Furthermore, each shooter is a different color so everyone will know whose gun is whose. Designed much like a pool noodle, these guns are lightweight. Each shooter is 2" x 2"x 12.7".
Ease of Use
These guns are super simple to fill and shoot. To load with water, simply pull back the handle. When you're ready to fire, push the handle forward to blast your target. Children ages six and up will have little to no trouble carrying and using these blasters.
Value
The fun doesn't have to be contained to the land. These shooters are designed to float, thus your child can enjoy blasting their friends while in the pool or lake. Each gun can shoot water up to 30 feet thus making every water gun fight even more fun. The bright colors make the guns easy to spot and almost impossible to lose.
7

. Stream Machine QF-2000 35-Inch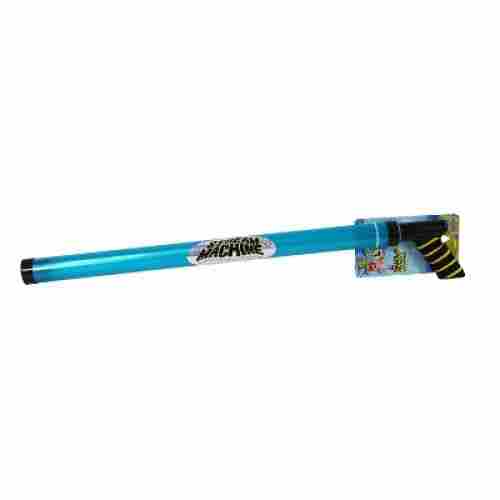 Pump action only for easy use
Barrel loading for less complication
Constructed with a polymer to avoid paint chipping
Compatible with additional foam accessories
Accessories sold separately
Lacks reserve tank for multiple uses
With a phenomenal range and powerful streaming action, the days of fun and glory can never end for you this summer! In fact, it may seem like you've added a veritable fountain in the backyard of the pool area!
Read more
Design
The range of streaming is up to 70 for a clear, or not so clear, target! With this, there will be few corners in which the bad guys can hide from a soaking. Just easy load it, then watch it shoot out straight ahead or in an arcing action.
Ease of Use
It has an easy to handle pump action, without a complicated trigger. It loads with a quick dip of the barrel in any body of water. This makes it ideal for any trip -- whether it be camping, kayaking, a day at the beach, pool parties, or just some backyard shenanigans.
Value
The one shot continual pump action is by far the best! The range makes it unbeatable and the fact that it reloads so easily can open it up to further possible uses down the road!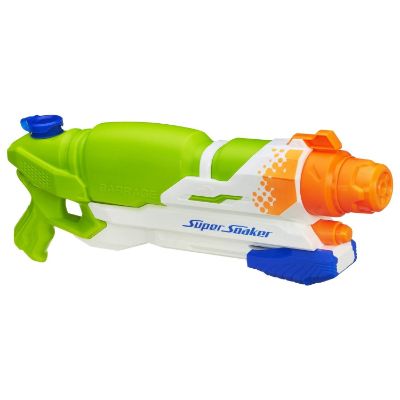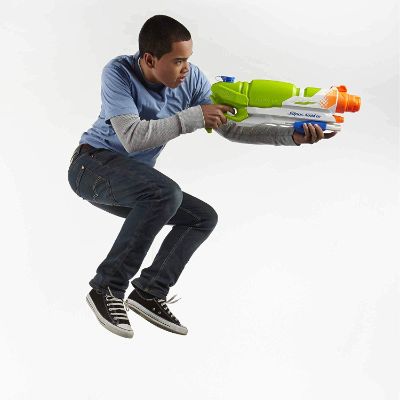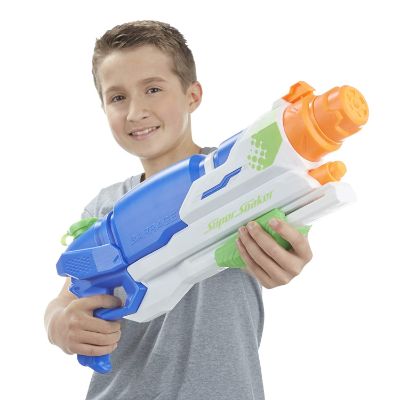 Three modes of play
Can blast up to 38 feet away
Can cover wide ranges with scatter mode
Holds up to 84 ounces at once
Flood mode also blasts wide and strong
Air hole in filler cap sprays the user a little
Heavier gun
Don't mess with the Barrage soaker. This water gun has three different modes: scatter, flood, or distance. The scatter mode allows you to hit a wider range of targets all at once. The flood mode blasts the water in one straight, wide line at an impressive force. And the distance mode lets you shoot opponents long-range.
Read more
Design
This gun can soak targets up to 38 feet away. This water can hold up to 84 oz of liquid at once. That's some serious mileage before having to refuel. Nerf has been a leading brand name when it comes to water battles since 1989. The Barrage soaker is no deviation from their usual standards of quality and fun to be had.
Ease of Use
This water gun is great for little soldiers looking to do some serious soaking! It will get your kids up and active, and it also helps to improve hand-eye coordination and motor skills as they battle it out.
Value
This gun has three different modes which means it won't get boring anytime soon. The fact that it can shoot three different ways also implores kids to practice tact and strategy when it comes to their water wars.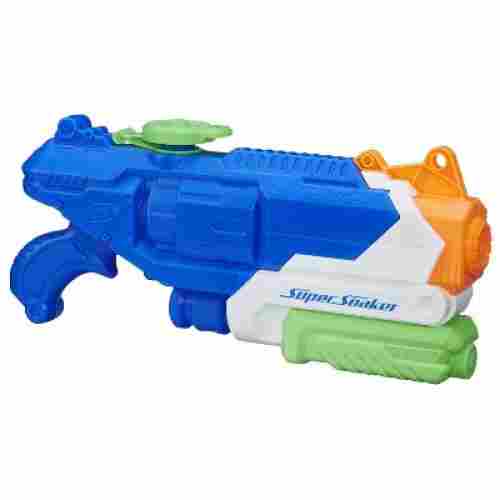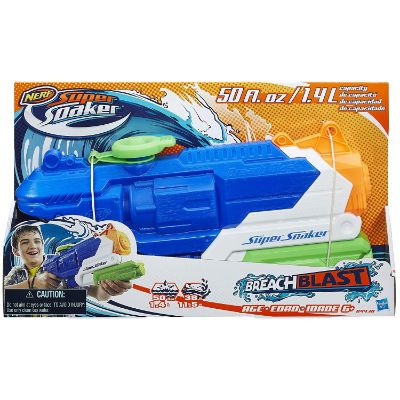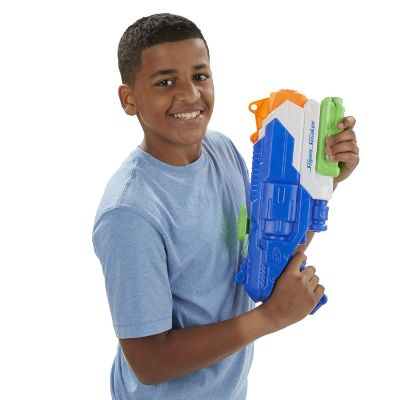 Larger tank capacity (50 ounces)
Shoots up to 38 feet
Solid stream, will soak opponents
Durable, a little more heavy-duty
Heavier and bulkier to carry around
With one of the largest capacities on the market, the Breach Blast holds up to 50 ounces of water and can spray up to 38 feet.
Read more
Design
The soaker is pump-action, like most of its brethren, and sprays one continuous stream of water. It requires two hands but is still functional enough to be used for games that require a great deal of mobility.
Ease of Use
With a longer range and greater tank capacity, the Breach Blast will let your child focus on the endurance, agility, and hand-eye coordination necessary to win their water war.
Value
The 50-ounce tank allows players to stay in the game for longer without having to stop and refill.
10

. Zombie Strike Dreadshot Blaster
Double-barreled blaster
Holds up to 24 oz
Water tank lights up
Shoots up to about 30 feet
Durable
You have to keep this upright or the water leaks out
Take out the walking (and wet!) dead with the ZombieStrike DreadShot Blaster. This one-handed water gun allows you to soak targets up to thirty feet away with dual blasts! Two streams of water pour out of the double-barreled gun which can hold up to 24 ounces of water.
Read more
Design
Made from safe materials tested for both quality and durability, the ZombieStrike is a reliable weapon in the aquapocalypse. And for a little added razzle-dazzle? The water tank lights up to make warm summer nights just as much fun as sunny afternoons.
Ease of Use
This water gun will light up your kid's playtime. Water fights are a great way for children to get cardiovascular exercise and water guns help them to exercise dexterity, motor skills, and hand-eye coordination.
Value
This water gun features not one but two streams of action! It's also a pretty flashy accessory to be toting around; the water tank lighting up is a cool touch. And a 24 oz tank means the gun isn't too heavy but holds a decent amount of water before needing to be refilled.
Criteria Used for Evaluation
Design
When a lot of us were kids, we hardly thought twice about playing war games or getting into water fights! Typically, if you were of a certain generation, it took place on the front lawn with some other kids and a narrow border between grass and broken-up concrete! You might've run with your buddies in a pack, played all day and not come inside until sunset unless it was a break to get some lemonade or a snack!
Ease of Use
It was all for kids and parents were hardly ever involved unless someone got hurt--and, if any kid did, it was never on purpose! Now everything tends to be a more family-oriented, adult, as well as, child-friendly. Parents and kids interact and play more in activities like this which involve playing with water guns and super soakers. The boundaries have narrowed to the point of teens, coeds, and hipsters now collect water guns and super soakers as party favors. No longer is it just a game for kids only!
Value
For the kids, it's crucial to their development during the formative years. Studies have shown that water play can introduce them to textures, temperatures, and shapes. Oddly enough, it's the perfect entry into a background in physics and mathematics, if your kid is so inclined! It can go to the fine details of developing the crucial motor skills required for holding any sort of stylus or pencil; the physical range of motion required in using a water device like a super soaker; and, the development of depth and perspective needed to take aim at a target.
Most Important Criteria
(According to our experts opinion)
Experts Opinion
Editors Opinion
Users Opinion
By Default

Parents, Did You Know?
Water guns are a ready way to get through a hot day. They provide the kids with a cooling good time along with a way to get some social interaction.
Parents, Did You Know?
Water guns should always be emptied and dried outside before storing. The water could leak from the storage tank causing a mess and it is also a good practice to ensure the longevity of the device.
Other Factors to Consider

Social Development
Our criteria have centered around the health and emotional benefits of play across generations. In a way, our sense of playfulness and wonder never really leave us, no matter what age we are! Becoming the parent of a child or children simply helps us to re-visit this state of being more easily. The sense of well-being that is brought on from this tends to lower heart rate and blood pressure while enhancing the bonding experience gained through social interaction.
Frequently Asked Questions
q:

Are these super soakers and water guns safe? I worry about my kid getting shot in the eye by one.

a:

Most of them are pretty safe! As with most products like this, we advise caution. A blast in the eye from an ordinary squirt gun probably won't do much harm, other than being slightly annoying. But, the same blast coming from a pump-action super soaker could be dangerous! Parents should monitor their kids' play and teach them the hazards of playing with these toys. Also, if possible have them wear protective eyewear. This might already be the case if they're at the pool playing.
q:

I worry about teaching my kid the wrong values by buying him a weapon. Why should I buy one?

a:

While this is a concern, it shouldn't worry you too much. Studies have shown that toy guns and games of play have no connection toward later tendencies to violent behavior. It can be a healthy outlet for energy and aggressiveness which are natural to children. It stimulates their imaginations and senses of wonder. It strengthens the bonding experience and facilitates greater socialization in the process of playing with their friends and siblings.
q:

What other uses are there for these devices?

a:

As mentioned above, many buyers who are adults tend to buy these super soakers and water guns for their own use. They're not just for kids! For better or for worse, the kid inside never grows up. So, there can be an adult theme or adult pool party where the water soakers can be broken out! Our research has uncovered one use for a toy water cannon that was used as a device for pumping out water during a kayak trip. Many adults like to use it in the household for watering hanging plants or gardening; or, driving away pesky birds and squirrels. Others, use water guns keep their house pets in line.
q:

Do they design water guns and super soakers that will never leak?

a:

Sure they do! Finding the right device is a matter of how much you want to spend. There are some high-quality water guns that are inexpensive, but they tend to be few and far between. Do your research and, when all else fails, go with a brand name! Also, go with a company that has a good return policy. A note of warning though, after so many years almost all plastic receptacles will tend to leach out water. Therefore, even with the tightest water seal, eventually, each device will need to tossed and replaced with a new one.
q:

What's the best beginner water device for my child?

a:

That depends on how you might assess the capabilities of your child based on age and size! Take into consideration grip and hand-eye coordination. Overall, it would probably be the best start off with an easily loadable water cannon. With that, all your kid has to do is point and push out the water. To refill it, all they have to do is dunk the barrel and pull the plunger up. The second alternative might just be a little clear water pistol with a small trigger and refill nozzle. Either way, invest in something cheap that you don't mind getting broken right away.
q:

Are all of these products nontoxic and environmentally safe?

a:

Quite a few of them are! The trend and the standard for the last decade have been toward developing more environmentally safe and sound plastic toy products for the safety and health of children. The majority of the products we've researched tend to be both safe and durable. But, we can't guarantee anything! The practices of many companies that are based overseas can vary far and wide in their practices! That's why we ask you to do your own research to cover anything we might've missed to find the right fit for you and your family!