10 Best Outdoor Games Reviewed & Rated in 2019
last updated
Jul 16, 2019
Encourage your child to put down their iPad and enjoy the outdoors. If you're thinking "that's easier said than done", don't worry we're here to help. We've created a list of the ten best outdoor games that will have your child excited to play outside. Our list is composed of games that can be enjoyed by children of all ages and are developmentally appropriate. Each game is designed for more than one player so the whole family can bond together.
In a Hurry? The test winner after 30 hrs of research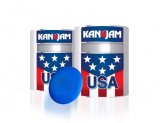 Kan Jam Ultimate Disc
Why is it better?
Easy to play
Can be a short or long game
Includes everything you need
Easily transported
Can be played on any terrain
In a
Hurry? Editors choice: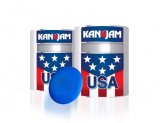 Test Winner: Kan Jam Ultimate Disc
20
Researched Sources
179
Reviews Considered
30
Hours Researching
12
Products Evaluated
Ease of Use
Brand
Entertainment Value
By Default
In Depth Review Top 10
Kan Jam Ultimate Disc
Elite Backyard Games
Spikeball 3 Ball Kit
Hey Play Bocce Ball Set
Upstreet Pickleball Paddles
Yard Games Giant Connect Four
Yard Games Giant Tumbling Timbers
Midway Monsters Giant 3-in-1
GoSports Portable PVC Framed Cornhole
Haywire Group Flickin Chicken
Table of contents
Criteria Used for Evaluation
Other Factors to Consider
Frequently Asked Questions
Sources
Top 10 Picks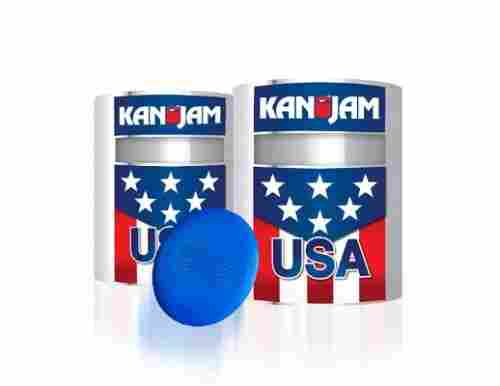 Easy to play
Can be a short or long game
Includes everything you need
Easily transported
Can be played on any terrain
Windy days can cause interference with gameplay
It's a classic and it's still hanging around for a few more chances to impress your family with its challenges. Kan Jam is fun, competitive, and requires a certain fun finesse.
Read more
Ease of Use
Kan Jam is like if frisbee met hockey and formed a super intense fan club. The concept of Kan Jam is something that has been around for a long time and is a popular favorite at beaches and in big parks, where you have the capacity to run longer distances. However, it can also be set up just as easily in a backyard. The idea is to score points by getting the lightweight frisbee near the "cans" that come with the game. Certain points are awarded for the frisbee landing on the top, inside, or around the can itself. The opposite player stands behind the can and takes the role of the "deflector", which is basically a goalie. By swatting the frisbee away from the can they're protecting, it's their job to play defense and prevent the other person from scoring any points. It can be played with up to four people and as few as two so it's a versatile game as well as a fun one!
Brand
Kan Jam has a long-standing history of being one of the best beach games next to volleyball. It could not be simpler to set up, includes everything you need, and will definitely test your agility.
Entertainment Value
It's super kid-friendly! It can be played nearly anywhere with level ground and is totally portable, making it a fast family favorite. The rules are uncomplicated and simple to follow which eliminates any stress for first-time players.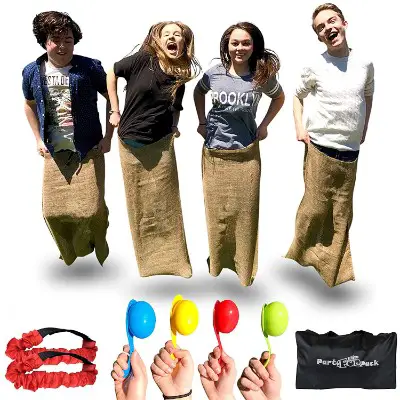 Includes storage bag
Increases social skills
Fun for all ages
Encourages outdoor fun
Zipper on storage bag could be more durable
The Elite Backyard Games pack comes with everything you need for a day of outdoor fun. In fact, with this set of yard games, you can bring the fun of field day to your backyard. This set includes four burlap sacks, four egg and spoon race sets, and two three-legged relay race bands.
Read more
Ease of Use
The sacks are designed to fit both children and adults, thus people of all ages can enjoy competing in the sack race. Each piece in the set is highly durable and designed to survive countless outdoor family fun days. When the set is not in use, store all of the pieces in the included storage bag to keep everything organized and your home free of clutter.
Brand
This quantity of games included in this set makes it perfect for birthday parties, sleepovers, or family reunions. Your child can increase their social skills as they play these games with their friends and family. The objective of each game will instill a healthy level of competition in your child. Engaging in relay races will teach your little teamwork and how to cooperate with others.
Entertainment Value
We find this set to be highly affordable as it includes three different games and enough accessories of each for multiple people to enjoy at once.
Creates a fun competitive atmosphere
Can be played anywhere
Easy to set up
Simple concept
It will encourage everyone to be as active as possible
It might take a bit of time to get comfortable with the fast pace of the game
Now here's one for the athlete that's hidden in us all. While you don't have to be super fit to play this game, you do need a passion for winning and a competitive edge.
Read more
Ease of Use
Who says that Shark Tank doesn't come up with any good ideas? Spikeball is a concept that we can totally get behind and it's one we're sure that you'll love, too. This game is not for the faint of heart (we're just kidding, it's all in good fun!) since it can get pretty competitive, but it's perfect for families who are into just that. It's probably the most intense game of ball-spiking that you'll ever play and we're about to tell you why. The concept of the game was taken from the idea of spiking the ball, which we all know was coined during volleyball. Rather than spike the ball over the net, however, and making it nearly impossible to perform a "save", the developers flipped this notion on its head. The goal is to spike the ball downwards onto the net that's laid out across the ground and functions as a sort of trampoline. Once the first ball is "served", players can then begin to swat the ball back down at the net, causing it to once again be shot up in the air -- At that point, it's anyone's game! the goal is similar to ping pong in the sense that you must keep the ball in the air for as long as possible; if it should hit the ground, the opposite team scores a point. It's a constant back and forth and essentially like volleyball crossed with ping pong and no boundaries.
Brand
Not only will you work up a decent sweat with this game, but you'll soon realize how brilliant it really is. It can be played virtually anywhere, with as much space as you have, and entertains up to four players.
Entertainment Value
This highly competitive game is just a blast to play. It'll bring together your family in ways you never thought imaginable as you watch each player do their best to score some major points.
4

. Hey Play Bocce Ball Set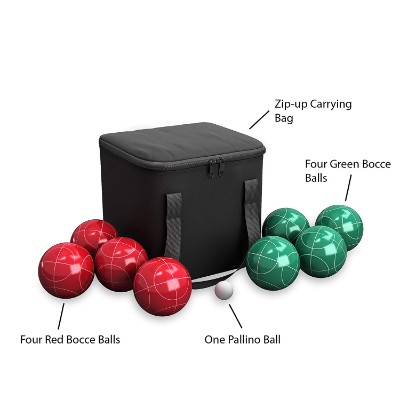 Easy to transport
No assembly required
Bocce balls are highly durable
Perfect for people of all ages
Carrying case could be more durable
The next time your family is outside playing on the grass, sand, or dirt unpack Hey Play Bocce Ball set. Packed inside the durable carrying case is everything your family will need to start playing.
Read more
Ease of Use
There are four green and four red balls, two scoring patterns, one pallino ball, and one instruction manual. People of all ages can enjoy learning how to play as well as playing the game. There's no assembly required thus you can start playing immediately after unpacking.
Brand
The carrying case makes it easy for you to tote this set to any outdoor barbeque, beach day, etc. The balls are composed of a high-quality poly-resin, which gives them a high level of durability. The material is damage and crack-resistant, thus making it easy for you to play on a variety of terrains no matter the weather.
Entertainment Value
The balls are composed of a high-quality poly-resin which gives them the durability to survive countless bocce ball sessions. They're easy to transport and can be rolled over grass, dirt, sand, or concrete.
5

. Upstreet Pickleball Paddles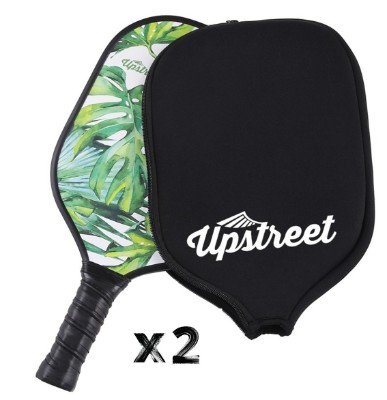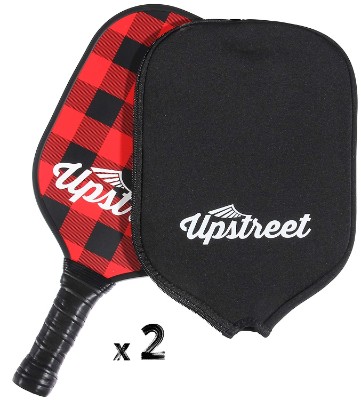 The paddles are excellent quality
Can be played with minimal equipment
Good for smaller groups
Can be as competitive as you want it to be
Doesn't require tremendous skill
Pickleball balls are not included
When you're tired of badminton, give this game a shot. Pickleball is classic for a reason and works out well for one-on-one teams.
Read more
Ease of Use
Don't ask us where the name "pickleball" comes from, because that's one thing that we can't answer. What we can answer, however, is whether or not the game of pickleball is fun... And that's a resounding "yes!". The concept is very similar to badminton or ping pong but with paddles that are shaped a bit differently. This game is a great two-on-two and can be played with any net, although there's no rule saying that you have to have one. Traditionally, pickleball is played with specific balls that resemble woofle balls (not included) which help add to the overall fun of the game. It's great for families who want to test their skills and have an existing net or are planning to purchase one since it's versatile, quick to play and doesn't take a ton of skill to figure out. It's a classic and a great replacement for those who are tired of traditional volleyball or badminton.
Brand
These paddles are prime when it comes to playing pickleball. If you're really looking to polish your game and invest in something your family will love, they're not to be missed out on.
Entertainment Value
Aside from a name that makes us laugh quite a bit, pickleball has a good reputation for a reason. It's a fun way to pass the time with half the effort that many other games take and is easy enough for kids of all ages to play.
6

. Yard Games Giant Connect Four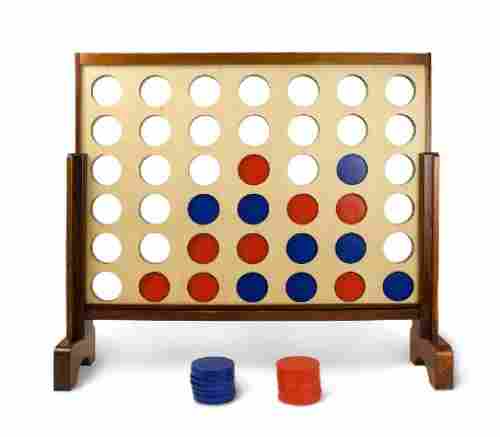 Carrying case keeps all the pieces organized
Stain adds an elegant touch
Pieces can easily be lifted by younger children
Increases fine motor skills & stimulates cognitive development
Some reviewers claim dropping the coins makes too loud of a sound
With the Giant Connect Four game, your child can play their favorite tabletop game on the lawn.
Read more
Ease of Use
This giant board game is composed of premium wood and is 31 inches by 23 inches. The frame of the game is finished with a natural stain which will add a touch of elegance to any backyard. Along with the frame, the board comes with 21 red coins and 21 blue coins. When your child isn't enjoying the game the entire board can be placed in the nylon carrying case. The carrying case is designed with pockets for the coins and handles to make it easy to transport.
Brand
Not only are the legs of the frame beautiful but they also provide the game with a high level of stability. The coins are lightweight, thus making it possible for younger children to play as well. As your child grabs, lifts, and places the pieces in the slots they will be increasing their fine motor skills and hand-eye coordination. The objective will stimulate their cognitive thinking as they must develop a strategy to win the game.
Entertainment Value
Children of all ages can enjoy playing Connect Four as the pieces are lightweight and can easily be lifted. Designed with handles and pockets the carrying case will keep everything organized and makes it super easy to transport.
7

. Yard Games Giant Tumbling Timbers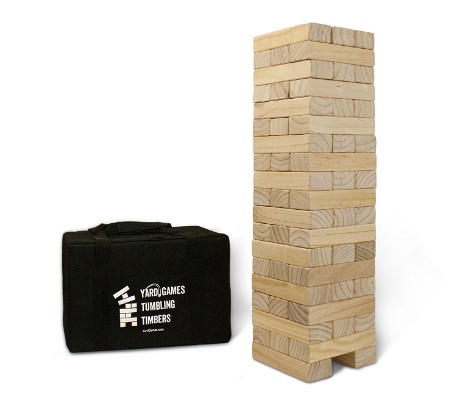 Includes everything you need to play
The rules are incredibly simple
Can be set up on a patio or backyard deck
There's no limit to how many can play
Its jumbo size makes it more fun
It must be played on a level surface otherwise the tower won't stand upright
It's the perfect game of Jenga with a bit of a jumbo-sized edge to go along with it. This game is a blast, albeit a bit of a surprise if you're the one to lose.
Read more
Ease of Use
Are you beginning to notice a trend here? Everything is way more fun when it's jumbo-sized! Giant Tumbling Timbers is the ginormous version of Jenga but with twice the fun. The concept is exactly the same as its predecessor's but with the added bonus that you're playing with blocks as big as your hand. To play, simply start by building a tower that's structurally stable and stands on its own with no leaning, tipping, or out-of-place blocks. Each player starts by slowly (or quickly, depending on your strategy) removing a block from a level of their choosing and placing it back on top to continue the build. As long as the tower is still standing by the time you've replaced your block then you're good to go. If the tower falls, however, you've just lost! This game is ideal for playing outdoors because it starts at a mere two and a half feet in height but can grow to almost five feet by the end of the game if your players are skilled enough. It's fun, shocking, and a blast to play with multiple people.
Brand
This game will truly test your patience. It takes fifty percent strategy and fifty percent luck when it comes to ensuring your survival in this game, and no one knows when your tower will come tumbling down!
Entertainment Value
It's a classic but super-sized! We really love that this game doesn't have a lot of rules but isn't exactly easy. It'll provide an adequate challenge and is friendly for nearly any age group.
8

. Midway Monsters Giant 3-in-1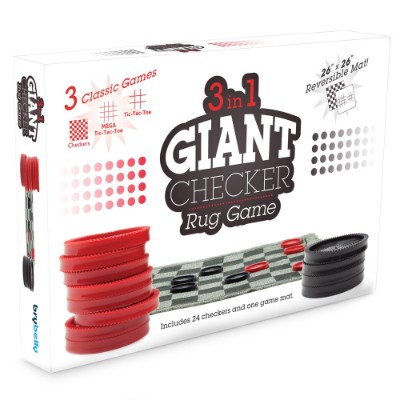 Easy to travel with
Contains three games
Options for every age and skill level
Great for bringing to parks and the beach
Tests mental skills
Only two people can play at a time
Is it checkers? Is it tic tac toe? It's both! This 3-in-1 is great for smaller get-togethers when you want a classic game that's great for passing time.
Read more
Ease of Use
If you've ever seen those giant checkers sets outside of old-fashioned restaurants that people use to pass the time while waiting for a table and thought to yourself, "how can I get my hands on one of those?" Well, this is your opening! Midway Monsters has created a neat little game set that can be played just about anywhere you can lay down a towel. This blanket-board that it comes with features a giant game of checkers on one side and a choice of regular tic tac toe or mega tic tac toe on the other. It's perfect for outdoor parties but also great for bringing to the beach or to the park. It can be rolled up and transported easily so if you wanted to, you could even travel with this game and its pieces. While the game is restricted to two players, its massive size lends itself well to onlookers who are watching the competition take place. It's a great addition to any party and a must-have for lovers of these classic mental games.
Brand
These games are brain challengers for sure, which is why they've garnered the reputation they have. It's a good way to test your skills while having some outdoor fun at the same time.
Entertainment Value
It seems like nearly everyone is familiar with the gameplay of checkers and if they're not, it's easy enough to explain. For younger kids, tic tac toe is an option, which gives you something for everyone at a get-together.
9

. GoSports Portable PVC Framed Cornhole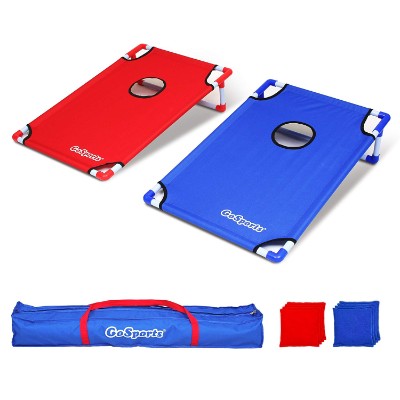 No serious rules
Improves hand-eye coordination
Great for all ages
Fun for BBQs
PVC is a solid choice for a personal set-up
High winds can occasionally cause some interference
You can't go wrong with cornhole. It's age-appropriate for just about everyone, doesn't have any serious rules, but packs in all the serious fun.
Read more
Ease of Use
We're not sure if it's just us but with the fall season approaching, cornhole is definitely the game of choice. It's rare that you find something like this in someone's backyard as it's usually a game found outside in a park, but the concept of having it in one's own yard is pretty cool. This set, in particular, is made with PVC pipe as opposed to traditional wood which means it will last quite some time outdoors. It's sturdy, structured well, and holds up to even the hardest of beanbag throws. Cornhole is a simple game with one goal: Land the beanbag in the hole! It's incredibly easy to keep score with and can be played with whole teams of people or just between two if you'd rather go one-on-one. The game itself is perfect for any age group because there really are no hard and fast rules about playing. The brightly-colored cornholes make it easy to discern where the hole is and where to aim, giving everyone an equal chance to score the most points. This is a game that's common at BBQs and is sure to be a hit with your family when they walk into the backyard and find this setup.
Brand
While cornhole is a ton of fun to play, it's also a great way to improve hand-eye coordination. It's perfect for adults but also serves kids in such a way that they'll be having fun while working on their own game skills as well.
Entertainment Value
The choice of using PVC pipe versus traditional wood construction is something that we really like. It's still just as durable but comes with the extra-added bonus of being lightweight and easily taken apart.
10

. Haywire Group Flickin Chicken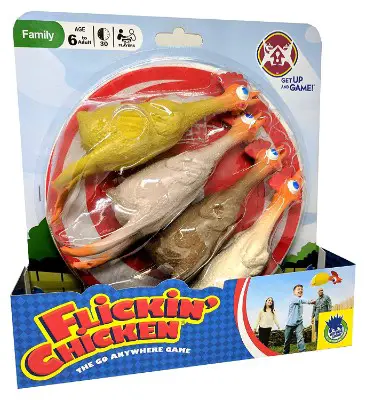 There are no rules whatsoever
It's hilarious to play
Great for groups
Players are encouraged to create their own gameplay
It can be played indoors as well
Wind will easily pick up and flip the scoreboard
Two words: Rubber chicken. Here's a full sentence: You get to throw them at a target. Are you sold yet?
Read more
Ease of Use
Oh boy, do we have some explaining to do with this one! We promise that Flickin' Chicken isn't as weird as it sounds (okay, maybe it is a little bit) but it is a ton of fun to play. The goal of the game is exactly how it sounds; players must "flick" their rubber chickens in order to get them as close as they can to a scoreboard. Prior to this, the scoreboard needs to be thrown (like a frisbee) in order to land in a random spot. After the scoreboard is down and flat to the ground, players will then take turns throwing their chickens in an effort to get as close as they can to hit the target. It's a little bit like golf without golf clubs, golf balls, or any type of rules whatsoever. The developers of the game even made clear that they encourage the players to create their own rules which really adds an element of fun to an otherwise unusual game. Your family can decide on how to toss their chickens during each round, how close you need to be in order to advance, and what the scoring system should be like. You can even just throw the chickens at each other for a game of funky dodgeball if you'd like. Either way, this game is fun, creative, and bound to give you a stomachache from laughing so much.
Brand
As silly as it seems, this game is the perfect icebreaker. Not only are you laughing over the fact that a rubber chicken is your game piece, but you can choose to play in teams as well which will encourage communication and teamwork.
Entertainment Value
This game has an air of humor about it that's sure to incite some giggles, but it's also a clever way of improving hand-eye coordination. Since the target is so small, it really takes an effort to land your chickens as close as possible which is a fun and clever way to improve your skills.
Criteria Used for Evaluation
Ease of Use
The games are fairly simple to play, usually in two teams of two participants. The games are great for families to engage themselves in a fun and enjoyable activity.
This was a big question that we pondered before making the decision to include both on our list. Many of these games can be played in teams while others do best when it's a game of two-on-two. Additionally, the game of Uno is an individual game where each person is out for themselves, making it great for families who truly love being competitive without getting sweaty while doing it. There's no limit to the amount of fun that you could have with any of these games and they've all been tested to be tried and true ways to have fun.

Brand
These games can help families strengthen their bonds and make memories which will last a lifetime.
Why make a big deal out of games in the first place? There are no "wrong" backyard game choices, there are only choices that will help strengthen your family bonds and bring everyone much closer together. The point of selecting a game that's specifically intended to be played as a team or in partners is to ensure that your family learns how to work together and has fun doing it. Games like these can truly help to bring everyone together and ensure that everyone gets an equal opportunity to build their skills and make memories that are sure to last a lifetime.
Entertainment Value
These games provide children with new skills associated to learning a new game. They bring pleasure of playing as a family and make sure that children are active.
No one wants to play a boring game especially when the goal is to be outside, enjoying nature. Outdoor games should be fun, exciting, and occasionally sport a bit of a competitive edge as well. Our research process when it came to figuring out what was worth it for families and what wasn't, came down, really, to two things: How much fun it would ultimately be, and which age groups would feel confident playing it. The major benefit of playing a game outdoors is the fact that you're outside; your family is getting fresh air, vitamin D, and soaking up the rays while having a great time. Therefore, all we needed to figure out is what would make a game worth playing -- What would make it truly fun for the entire family? You'll find that there's a wide variety of game types on this list, including games that test your mental skills, games that have a serious competitive side, and games that are just plain silly and laughable (we're looking at you, rubber chickens). It really is a fully comprehensive guide to finding whatever it is your family needs in order to thoroughly enjoy their time outside and continue coming back for more each time. We also knew that some classics had to be included in this list because not every child is comfortable learning a new game and not every adult is keen on trying a highly-active sport. We're positive that you'll find something on this list that will bring happiness as well as a great physical activity to your family bonding time.
Most Important Criteria
(According to our experts opinion)
Experts Opinion
Editors Opinion
Users Opinion
By Default

Benefits
By nature, kids enjoy playing outside. By doing so, they can gain self-confidence, explore the nature and outside environment, as well as muscle strength. Activities outdoor are an essential component of the healthy development of children.
Attire
Children should be wearing comfortable clothes when playing outside in the nature. Parents should watch over young children and toddlers to avoid any harm they are exposed to.
Other Factors to Consider
Age Range
We're not saying that every child is going to run out and begin playing checkers or Uno immediately, especially if they're no older than four. However, this is why we did provide other game options such as Spikeball, Kan Jam, and Flickin' Chicken. For kids who are more introverted and don't feel completely comfortable playing team sports, something such as Checkers or Tumbling Timbers might be a suitable option for them. Either way, you'll find games for any age, any personality type, and in any range of icebreaker that you need. Even something as classic as cornhole or ring toss can bring out the confidence and social skill of a child.
Frequently Asked Questions
q:

Is there any limit to how many people can play this game?

a:

Each game has its own specific rules as to how it can be played and how many people can actually play it. We've specified in the summaries how many people each game allows for clarification.
q:

Do any of these travel well?

a:

Many of these games can be traveled with easily and even include carrying bags in order to do so. Games such as cornhole and pickleball are less easy to travel with simply due to the fact that they require bigger pieces for gameplay.
q:

Will toddlers get any benefit out of this?

a:

Of course! Depending on the game of your choosing, toddlers will learn a skill, get active, and have a chance to be part of a fun game with their family and friends. It's the perfect way to get them involved.
q:

Will these last through rain, wind, etc.?

a:

We advise that you bring all your game equipment inside when not in use, aside from cornhole. At best, games can be easily stored in a shed, garage, or under a deck for safekeeping. While they're all excellent quality, we can't guarantee that they'll continue to hold up after being exposed to excess moisture and other elements.
q:

Could I give these as a gift to my child to play with their friends?

a:

Sure! These games aren't specific to family game days or just for parties and get-togethers. If your child enjoys going to the park with his or her friends on the weekends, any of these would become a great way to pass the time while they're there.
q:

How big of a backyard do you need to play these?

a:

Most of these games operate with minimal space needed. Aside from pickleball, Kan Jam, and cornhole, where you need a bit more room to spread out, they're all good for relatively small yard spaces.