Gone are the days where kids stay out playing kick the can until the street lights come on. The evolution of technology has created a major impact on kids today. But is it necessarily a bad thing? While you may not be entirely thrilled that your child is reaching for their iPad instead of the handle to the door leading outside, the iPad does provide plenty of benefits. There are thousands of educational apps available that will increase your child's cognitive development while they play. If your child seems to be struggling in a certain area, you can download a game or tool to help improve their skills. Using iPad's at a young age give your child the ability to be more tech-savvy, which could set them up for a highly successful career. As your child swipes and presses the buttons they will be increasing their fine motor skills. All good things should be taken in moderation. Even though iPad's are a great tool to aid in your child's development, we recommend designating specific times for your child to use it so they can still spend time doing other activities that don't involve sitting in front of a screen. It's no secret that iPad's can be expensive and children aren't exactly gentle with their toys. After diligent research, we came up with a list of the best iPad cases to protect your child's iPad.
Our Top 3 Picks
HDE Kids iPad Case

Our rating
Shock Proof
Price:

See Here

Pure Sense iPad Case

Our rating
Antimicrobial Surface
Price:

See Here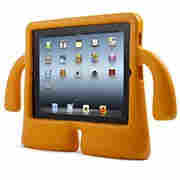 Speck iGuy Freestanding Case

Our rating
Free-Standing
Price:

See Here

HDE Shock Proof Case for Kids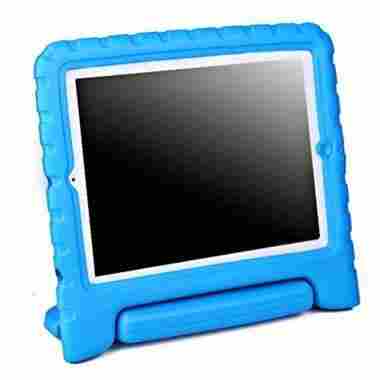 Pure Sense Buddy Apple iPad Case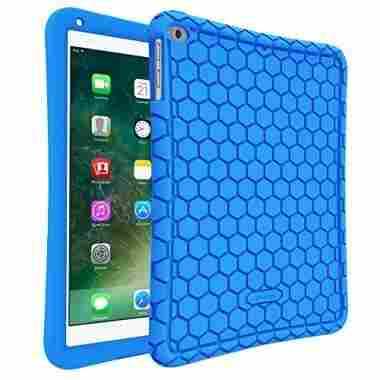 AVAWO Apple iPad 2 3 4 Kids Case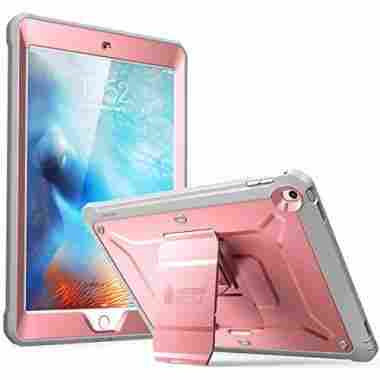 TopEs iPad Mini Case (Tempered Glass Screen Protector)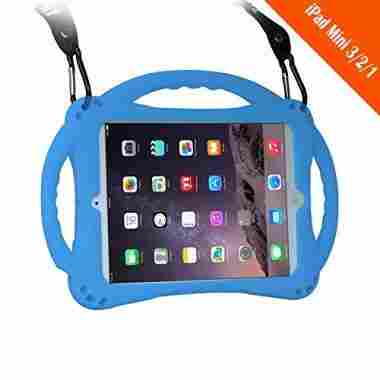 Fintie iPad 9.7 Inch Ipad Case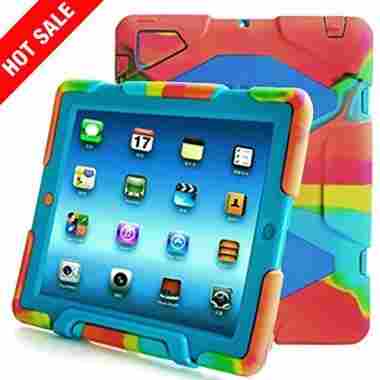 LEDNICEKER for iPad 2 3 4
Criteria Used in Evaluation of The Best Ipad Cases for Kids
Hi-tech devices are everywhere these day and kids can't help but be fascinated by them. One of the devices that grabs a child's attention even at an early age is the Apple iPad. However before a parent actually gives a child an iPad be it a used on or a brand new it is highly recommended that they purchase an iPad case designed for a kid to go with the iPad. When coming up with this list there were several iPad cases design specifically for kids out there in which to look at, it was hard to whittle down the field of contenders so in doing we took some of the following into consideration knowing that these are concerns that most parents will have as well.
Durability & Safety
This is an essential component to a iPad case for kids. The case needs to be able to provide the needed protection to take care of the iPad. This will include being able to absorb shocks such as being dropped, and also be able to protect certain vital elements of the Apple iPad from liquid that can accidentally be spilled on the device. Also, the freestanding feature included in most kids iPad cases gives the iPad a bit more security that it can be placed in a spot inside room standing on its own. Another component taken into consideration was protecting the child. These cases are all free of any toxic material.
Functionality
Yes, we all want an iPad Case to protect our tablets but we also want them not interfere with our iPads functioning properly. For kids this is of vital importance in order for them to understand that the iPad must remain within the protective covering of the case, the iPad still needs to work as it would without a case. This is something that manufacturers take into consideration when creating an iPad case.
Responsibility
By providing a child with an iPad case when they are given an iPad, it's the first step to a child knowing that an iPad isn't a toy. That this is a powerful yet fragile electronic device that must properly be cared for. The kid will learn that the iPad will need to be properly turned off and placed in an area of their room where it can be displayed in the case.
Sensory Perceptions
There is a valid reason why the iPad cases for kids come in bright vibrant colors and unique designs. It makes this something that is visibly appealing to kids. Also, if they love things such as robots or butterflies, cases shaped like these are sure to be a hit with a kid.
What Determined the Best iPad Cases in Our List
As there is literally an ocean full of cases for iPads, coming up with a top 6 list was quite a challenge. Nevertheless, we had to focus more on a unique combination of fun design and superb protection. We know very well that the best tablet guards don't have designs that kids will love. Similarly, a lot of kiddie Apple tablet cases do not provide the kind of shielding that we require. As such, getting an excellent mix of the two was indeed perplexing, to say the least.
First, the protective capabilities of the casing were evaluated. From scratch-proofing to shock absorption and other features, these cases were carefully assessed as to how they would really keep children's iPads safe and secure.
Second, the fun design was considered. Colors, textures, and other cool features were assessed and determined whether these would be loved by kids. Children don't need the stainless steel or platinum plated covers of adult iPad cases. What they need are designs that speak of fun, of being a child.
Third, we examined other features and evaluated how these would prove beneficial to children's use of the Apple device. Features such as integrated tablet stands, antimicrobial protection, unique handles, and other notable design structures were carefully evaluated.
Lastly, we took only products with a product rating of not less than 4 stars. At any rate, this should give you the confidence in the quality, safety, and usefulness of these products.
Teaching Kids to Take Care of their Gadgets
Whether you care to admit it or not, Apple's devices are simply the world's best. Unfortunately, they are also not cheap. And if they do get damaged, it would be like flushing hundreds of dollars down the drain. For some, it's not a problem. For most of us, it's an issue. That's why, if we do decide to give our children expensive gadgets, they must know how to take care of their gadgets. We can help kids to use gadgets wisely and at the same time initiate ways to protect electronic gadgets by making them more child-proof.
But how do we teach kids to take care of their gadgets? First, we must be able to set the rules that will help our kids understand what can and cannot be done when using a gadget. For instance, we can enforce a no-eating-while-playing rule to minimize spills, smudges, and other potential damage to the screen and other sensitive parts of the device. These ground rules must be understood very well by children so they know the possible consequences if these rules were broken. For example, drinking while playing may spill liquid onto the device can damage it permanently.
We can also try to teach our kids how to use the correct accessories such as the iPad cases we have featured here. They must be taught how to hold the device correctly and how to operate the different functionalities of the device with the accessory on.
Having a specific place for storing the gadget when not in use can also help. This teaches kids to be more responsible for the upkeep of their tech gadgets.
The Bottom Line
Everyone wants an iPad. As it is a very expensive item for kids, these gadgets must have the appropriate protection at all times. The 6 best iPad cases we presented should get you started.
FAQ
Frequently Asked Question
Q: Is it necessary to buy an iPad case for a child's iPad?
A: In a word, yes it is. In fact, it's even a good idea for an adult to buy an iPad case when they purchase an iPad for themselves. The Apple iPad is an electronic device and is similar to that of the desktop computer and laptop, only it's mobile. This could lead to more accidents or mishaps with the iPad if it's not properly cared for. A nice case that can help give the iPad some extra protection is an essential accessory. If we are willing to invest in this piece of technology than we should certainly invest in properly caring for it so that it will last longer. This is certainly important with kids, some may still be a bit too young to understand just how essential caring for the iPad is, and the proper case will help ease a parent's mind about whether or not the iPad will be safe.
Q: How young is too young for an iPad?
A: It seems that these days kids want to newer technological devices quite young. Even toddlers seem to be fascinated by their parent's computers and mobile devices. After all these light up, and are visually appealing. However, it's important to keep in mind that at a very young age a child could view an iPad as a toy, which of course it isn't. So, some experts have determined that it's usually not a good idea for a child under the age of 3 to be allowed any iPad activity. From the age of 3 to 5 years of age, a child can start interaction under parental supervision for around an hour. By the age of 6 when they enter school, it might be time to consider giving them a cheaper iPad model or perhaps your previous iPad as you upgrade to a new one, along with a good sturdy iPad case designed for kids. From age 6 to 18 it is also important to make sure a child spends no more than two hours on a tablet computer. An iPad is great and can even benefit a child educationally but there is also real-world interaction with other kids, that is just as important.
Q: What if a parent does plan to give a kid their previous iPad, which already has a case, would this case be ideal for a child?
A: Although, not a bad idea for a parent to hand down their previous iPad model to a child who is ready to have their own iPad but the case would be another story entirely. An iPad case for kids has certain parameters that have been taken into consideration to take the wear and tear that can happen. The iPad cases for kids comes with certain features that will protect an iPad from things such as accidentally be dropped, having liquid spilled on them and other mishaps associated with a child. So, while it might be fine to pass on the Apple iPad, the case isn't recommended. The best course of action, if your new iPad fits inside the old case than keep the iPad case, and purchase a separate iPad case designed for kids to give your child your old iPad.
Q: How do I know which iPad Case will fit my child's particular device?
A: One thing to remember when buying an iPad case is that we want the tablet to fit securely within the case. This is the main reason that the case is being brought to properly protect the unit. One way to ensure the right case is being bought is to know the model of the iPad your child has. Once the model is known, it's also a good idea to know the measurements of device in general, usually this will be mentioned by the manufacturer on the box and if this is an iPad that is being handed down the child from parent, a search can always be done online to get the proper specifications. From there look at the various iPad cases out there for sale and look at the measurements of parameters that fit around the tablet itself. From there a parent can decide which iPad case they feel is going to appeal to their child would like. There are several different kinds on the market including those that were stated above which include several features such as free-standing, durability, fun designs and also pleasing colors that will no doubt delight a child.
Q: Do these cases properly support slots such as USB ports and on/off switch?
A: This can be a tricky feature when it comes to iPad cases. Why because some of these cases are designed to be used with different series of iPads such as the IPad1 and iPad2 series. In some cases, due to the model, the slots that are provided in the cases may not line up as desired. The best course of action is to read other customer reviews online to see what others have said regarding this feature pertaining to the case you have in mind for your child. If there is an issue odds are it will be discussed.
Q: Do all of the iPad cases for kids cover the screen as well?
A: As stated above there are a few iPad cases for kids that do include a screen protector feature that we included on this list and there are some on the market as well. However, for the part iPad cases, even those design for kids usually don't cover the screen. So, in order to protect the iPad screen from things such as sticky hands or from being scratched. One method that can be used is using a screen protector which is like a transparent protective skin that goes directly over the screen. However, these may not be necessary if a kid is taught the importance of caring for the iPad and if a kid is taught how to use a touch pen which can replace using a finger to navigate the screens on the iPad.
Q: Is the EVA Foam used to make kids iPad cases really safe and non-toxic?
A: EVA foam was first considered a safe alternative to the standard PVC plastic materials. However, in the past, it was made known to the public that some forms of EVA Foam did contain the chemical formamide which does have toxic properties and had been proven harmful. In order to put consumers minds at ease manufacturers started to come up with ways to remove formamide from the EVA foam that was being used, especially in items design for use by kids. This is indeed the case with the Pad cases listed above which have been determined to be safe and non-toxic. If this is still a concern, usually a manufacturer will clearly state that a product made from EVA foam will let it be known on the packaging that it's safe and nontoxic, and in some cases actually state outright that the product is free of formamide.