10 Best Kids Laptops Reviewed & Rated in 2019
last updated
Sep 04, 2019
If you have a child who's very into gaming or loves creating, getting your child their own laptop is only essential especially if they're entering that pre-teen age where they want a little bit more of independence. Now we know that there are many, many computers in today's market but we are here to help. Gifting your child their own kids laptop is wonderful to get them excited about technology and getting ahead with the future. A computer can help your child practice their motor skills with typing which will be beneficial to them in the future.
In a Hurry? The test winner after 14 hrs of research
Kano Computer Kit
Why is it better?
Winner of the Family Choice award, Webby Award, Red Dot Award, Cannes Gold Lions, and more
Utilizes Raspberry Pi 3
Includes DIY case, power button, wireless keyboard, memory, LED lights, HDMI and power cables
Recommended Age: 6 years and Up
In a
Hurry? Editors choice: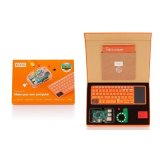 Test Winner: Kano Computer Kit
17
Researched Sources
14
Hours Researching
16
Products Evaluated
Design
Effectiveness
Educational Value
Brand
By Default
10 Best Laptops for Kids Reviewed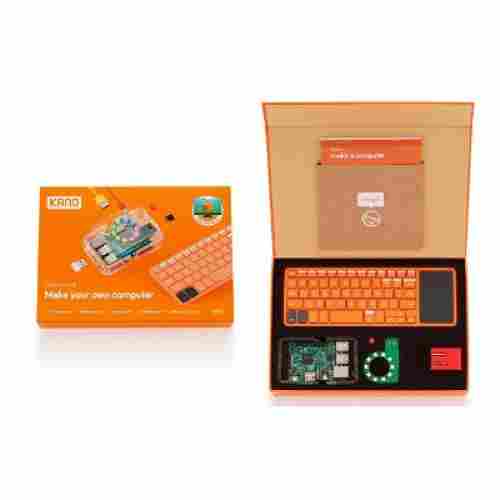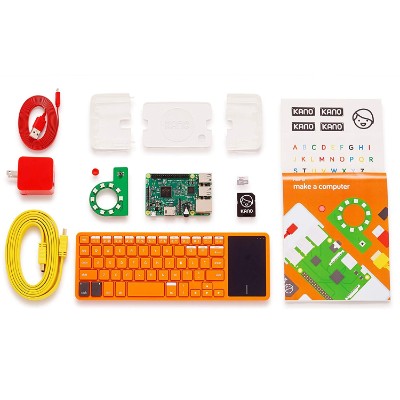 Winner of the Family Choice award, Webby Award, Red Dot Award, Cannes Gold Lions, and more
Utilizes Raspberry Pi 3
Includes DIY case, power button, wireless keyboard, memory, LED lights, HDMI and power cables
Recommended Age: 6 years and Up
Parts can break if incorrectly connected or handled roughly
Coding applications may be difficult for some children to grasp
In 2019 technology is everywhere. Computers are a part of daily use, from smartphones to cash registers. The information technology industry is one of the highest growth in our society right now and shows no signs of slowing. It's not surprising that children would form an interest in these intelligent machines and even for what makes them tick. With the Kano Computer Kit, you are providing your child not only with what may be their very first computer and subsequent internet access but also with a foundation of software coding skills that can help pave a career path for them in the future.
This computer-in-a-box style project kit contains every piece you need to literally build a computer from scratch. The manual is written in an engaging and simplistic format that can walk you through the steps to piece together the do-it-yourself case and all of the internal mechanisms without being intimidating.
Read more
Design
Once all of the pieces are assembled all that's left is to plug it into any HDMI capable screen such as your tv or a compatible computer monitor. Then turn it on and utilize the dozens of included apps to do everything from browsing the internet to hacking into Minecraft.
Effectiveness
With the rise of advanced mobile technologies such as smartphones, there is a massive need for competent programmers who are capable of expanding and innovating the software that runs these devices. Learning to code is just like learning a foreign language and studies have shown that the earlier you introduce coding concepts to children the easier they will understand them and even outthink them as they grow. This kit is designed with that in mind. Not only will it provide your child with a hands-on approach to understanding the physicals aspects of why computers work but it is designed to spark their creativity in HOW it works as well.
Educational Value
Dozens of coding games and apps are included to help teach your child how to create everything from artistic backgrounds to music players to animations. They will be able to hack into and control games such as Minecraft and Pong. These entertaining challenges are designed to inspire a love of coding that can transcend this device and possibly spark a lifelong career path.
Brand
This kit is the preferred choice of over 2,000 schools and coding clubs to teach children how to code and to help inspire the next generation of software architects.
2

. Fisher-Price Laugh & Learn Smart Screen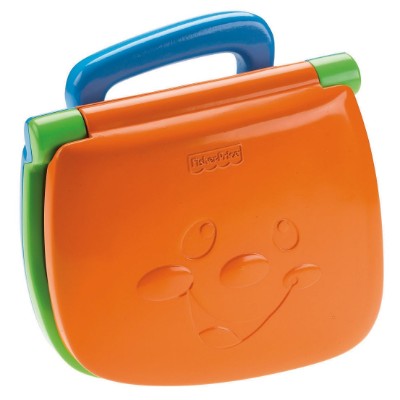 Nine large, chunky buttons play sounds, songs, and phrases when pressed
Sturdy on-the-go handle and durable case withstands drops without breaking
Introduces early concepts of color and shape recognition, language skills, and more
Suitable for children from 6 months to 3 years old
Not a true "screen," uses LED bulbs to light up instead
The available activity choices are a bit limited and may lose interest quickly
For the first year of their life, your baby's vision is very limited and requires bright and engaging colors to draw their interest. The Fisher-Price Laugh and Learn Smart Screen use this concept of bright colors to create a laptop full of fun, chunky buttons that your little one will love to squish! This delightful laptop toy is full of fun activities from songs to ABCs and more. The large buttons and easy-to-see screen are perfect for introducing early shape recognition and will keep your little one busy for hours. It also features a closing lid and manual volume/power switches to help maintain battery power when not in use.
Read more
Design
The large, friendly buttons on this laptop toy simultaneously provide an early learning system for the introduction of color, shape, and number recognition. Your baby will also be encouraged to grasp and reach for the carry handle and the bright engaging characters which will bolster fine- and gross-skill-motor development.
Effectiveness
Manipulating the buttons, mouse, and other interactive features is also a great way to build computer confidence and positive self-esteem from a young age.
Educational Value
This laptop includes three unique play modes, one of which will provide a basic bilingual start for your little one as it teaches them numbers and simple phrases in Spanish. Best of all, the durable plastic casing is virtually indestructible and has been built to survive the drops and rough play that toddlers are well-known for.
Brand
We love that this laptop toy has a Spanish mode available that introduces some numbers and words in another language. Children are the most receptive to bilingual learning prior to the age of 6!
3

. Acer Chromebook R 11 Convertible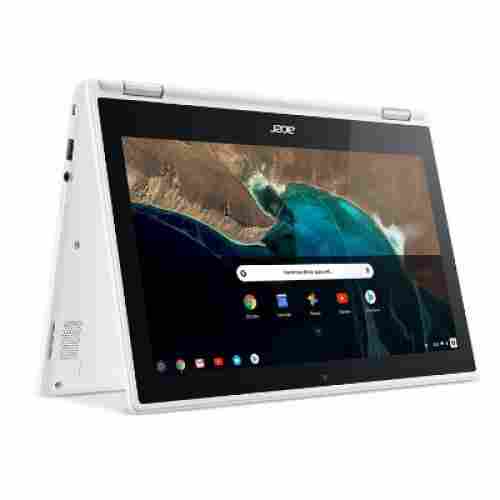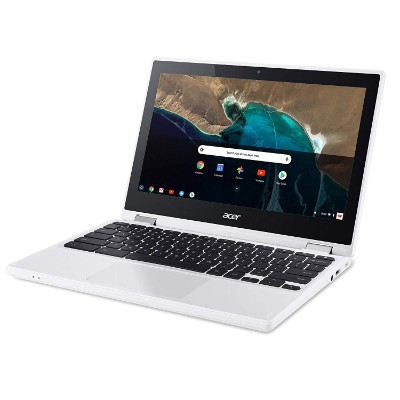 Utilizes Chrome OS with built-in virus protection
Celeron N3150 CPU
4GB RAM, 32GB Hard drive space
Up to 10 hours of Battery Life
Thin and lightweight design can break easily if dropped
The device can have flickering problems when switching between tablet and computer modes
Once your child enters middle school or junior high they will most likely have at least one class that requires email correspondence of some kind. They will also likely need to write reports and even complete homework online. Technology has been fully integrated into our school systems in such a way that it's almost impossible for a young adult to properly complete their schooling without some type of computer access. The Acer Chromebook R 11 Convertible is the perfect powerhouse to provide them all with all of their schoolwork and personal needs in one easily portable package. This device is a convertible which means it is half laptop and half tablet.
Read more
Design
It includes a full-size QWERTY keyboard with touchpad and USB ports. That keyboard is then capable of rotating a full 360-degrees to turn the device into 10 point multi-touch tablet.
Effectiveness
Best of all the 32 GB internal hard drive is a solid state drive, no moving parts. This means if the device is accidentally dropped your files won't be corrupted or destroyed and can always be recovered by a professional if the convertible stops working. It utilizes the Google Play Store just like an Android smartphone which means that all of your child's favorite productivity and gaming apps are all in one place and since the storage is expandable there is no concern about running out of space. The integrated Intel Celeron N3150 Quad-core processor is more than powerful enough to support email, web surfing, video streaming, and anything and everything else.
Educational Value
One of the largest benefits to this Chromebook is the Chrome operating system. Created by Google, this operating system provides a very simple point and click interface with built-in virus protection to keep your teen's files safe. Google apps such as Docs, Sheets, and Slides are pre-installed on the device and work just like Microsoft Office, Excel, and Powerpoint for your teen's schoolwork.
Brand
The internal memory is a little lacking with only a 32 gigabyte hard drive included but it is capable of using an external hard drive or internet SD card to expand its size to whatever capacity is required.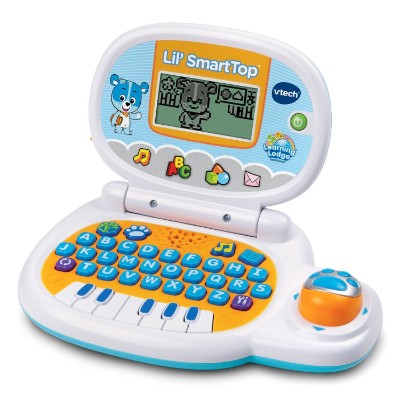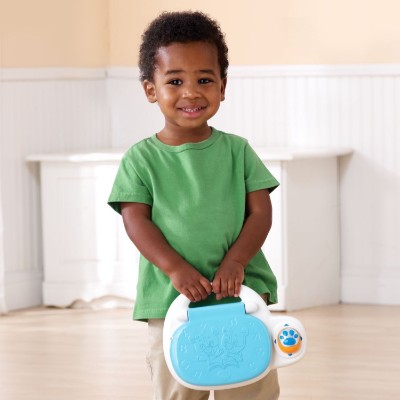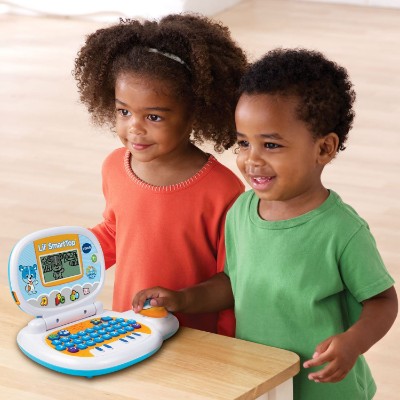 Full Qwerty keyboard
10 sing-along songs and 20 melodies
Volume control and automatic shut-off
Recommended age: 18 months to 4 years
The screen is not backlit and may be hard to see
Instructions for some games may be confusing to younger children
Young children love to mimic their older role models. But not everything adults or older siblings do is safe or appropriate for tots. There are, however, plenty of inventive toys that allow children to gain some practical skills while enjoying role-playing. The VTech Tote and Go Laptop for kids is a mini computer designed to be just right for children ages 3 to 6. It offers 20 fun, educational activities that concentrate on spelling, numbers, words, shapes, animals, logic, and more. It can play songs and be customized with children's age, name, favorite color, and avatar. It even has a cute little mouse to help familiarize kids with true computer skills!
Read more
Design
Best of all, this toy features several parent-friendly options such as volume control, automatic shut-off, and a durable design that is built to withstand even the roughest toddler play.
Effectiveness
Piano keys and interactive shape buttons also provide extra engagement and stimulation to your little one. 10 sing-along song and 20 musical melodies are incorporated into four modes of play.
Educational Value
This learning laptop introduces several early learning concepts through its four play modes. Letter and Shapes will help encourage early words and build your child's vocabulary. Adventure Fun can stimulate your little one's creativity. Music Fun along with the piano key buttons can encourage cognitive development.
Brand
Messages and Stories will inspire mimicry and pretend play as they pretend to check their email right alongside you! The small interactive buttons and kid-friendly mouse are perfect for encouraging fine motor skill development while the carry handle can also build gross motor skills as well.
5

. ASUS Chromebook C202SA-YS02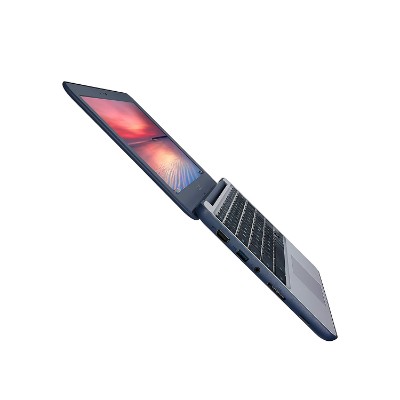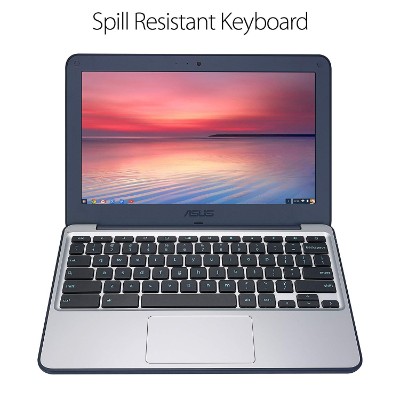 11.6" inch Anti-Glare screen
4GB DDR3 RAM, 16GB Flash Storage
Intel Celeron N3060 processor
Durable and spill-resistant design
Compact keyboard style lacks several keys that are present on standard laptops
The laptop requires an internet connection at all times
If your child is hard on electronics but still needs a laptop for schoolwork, then the ASUS Chromebook C202SA-YS02 is for you. This rugged 11.6-inch Chromebook is powered by an Intel Celeron processor that's guaranteed to stream video and load files without lag. It incorporates a 360-degree WIFI antenna to maximum signal strength and minimizes dead zones for mobility. It included built-in HDMI and USB ports as well as an SD card reader for easy file transference. The anti-glare screen is connected to a 180-degree hinge that allows the laptop to lay completely flat for easy viewing.
Read more
Design
This laptop was designed specifically for classroom and child use. The Chromebook uses nano-molding on all 4 exterior edges and corners to protect internal components from impact damage if the device is dropped. Reinforced rubber bumpers and frame protect the casing from everyday wear and tear.
Effectiveness
The internal components have been secured against physical stress and vibration and have been proven to survive a fall of approximately 4 feet, the average height of school desks. The keyboard contains child-friendly larger characters on each key and a smaller gap between keys that provides easier reach for smaller hands.
Educational Value
The entire keyboard and touchpad area have also been designed to be spill-resistant in case of accidents. Topping off the kid-friendly features is the 10-hour battery life. Finally, since this device utilizes constant WIFI and Google Drive, all the schoolwork that your child types or draws are automatically backed up in case of power loss, drops, or accidental deletion.
Brand
It is powered by Chrome OS by Google and uses Google Docs, Sheets, and Slides to provide a schoolwork suite capable of opening and producing Microsoft Office type files. Since it runs on flash memory only and utilizes Chrome OS's built-in virus protection is essentially virus-proof.
6

. LeapFrog My Talking LapPup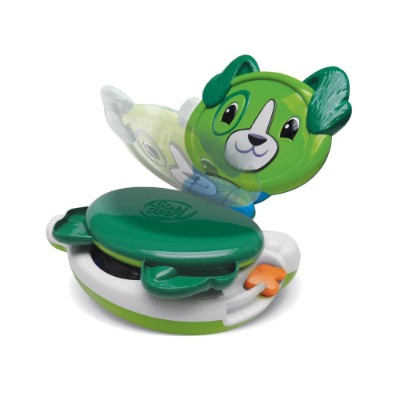 On-the-go handle and closing lid for easy portability
Introduces early concepts of counting, shape recognition, opposites, and more
Customizable via the Leapfrog Learning Path website
Suitable for children from 6 to 24 months of age
The laptop does not turn off when the lid is closed, must be manually turned off to avoid depleting batteries
May not be engaging enough to entertain older children
As cute as it is to think about a baby at a desk with a computer, we all know that isn't the most practical scenario. With LeapFrog's My Talking LapPup, your little whiz can enjoy banging away at the keyboard without parents worrying about damaged hardware. This laptop features a darling puppy character named Scout who helps little ones ages 6-24 months learn and play. Scout lights up and can play fun activities such as peekaboo while also familiarizing children with colors, shapes, opposites, numbers, and more.
Read more
Design
The sturdy handle is the perfect way for your little one to bring their new favorite toy everywhere that they go while being durable enough to handle a few inevitable drops without breaking.
Effectiveness
This laptop also includes a carry handle and an opening/closing lid, both of which are ideal for building fine- and gross motor skills and encouraging grasping and reaching in infants.
Educational Value
The large buttons of this laptop toy are perfectly sized for little fingers to press and help instill color and shape recognition. Scout sings and speaks more than 40 songs and phrases to your child, building vocabulary skills.
Brand
Large buttons showcase bright primary colors and shapes to encourage your baby to explore and learn. Scout will even play a game of peek-a-boo with your child everytime they open and close the lid!
7

. Fisher-Price Laugh & Learn Smart Stages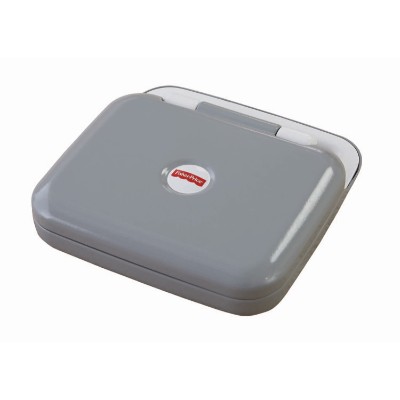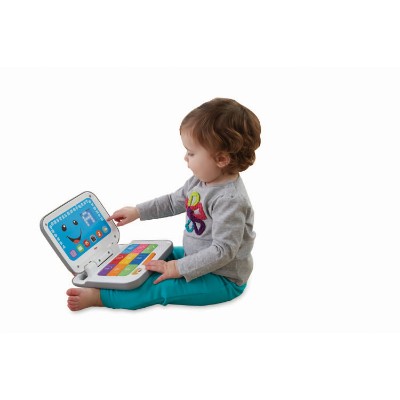 Interacts through word recognition, simple questions, and commands, and early role-play with Smart Stages technology
Has continuity of interaction unlike similar products
Key-operated function for all games and phrases
High-quality LED screen
Highly affordable and great for early socialization
Paint on the keyboard can peel easily
Audio may have distortions and not come in clearly
The toy laptops are a great tool for young ones but it can feel indulgent to buy something they'll grow out of in a few months. Fisher Price's Laugh and Learn Smart Stages Laptop changes content and increases the level of challenge as baby grows to ensure there's no plateau. There are over 30 sing-along songs and phrases installed. Three levels of play offer varying levels of challenge as your child learns and grows. The keyboard includes large, colorful keys that babies and toddlers can easily push, each with a number 1-9. A big smiling face stars on the screen and helps guide play, making learning fun and friendly for little ones!
Read more
Design
Highly interactive toy that's responsive to baby's needs and wants for engagement and play. Sleek design makes it very portable.
Effectiveness
The interactive functions can educate in the entire alphabet visually while using a sing-along song or phrase.
Educational Value
In addition, the smart stage technology makes it incredibly parent-friendly, even going as far as to promote encouragement and imaginative play, which are both major concerns of any parent of young children.
Brand
The best part is how the laptop continually interacts with your child -- the push of a button gets a response! Even the opening and closing of the lid gets a response.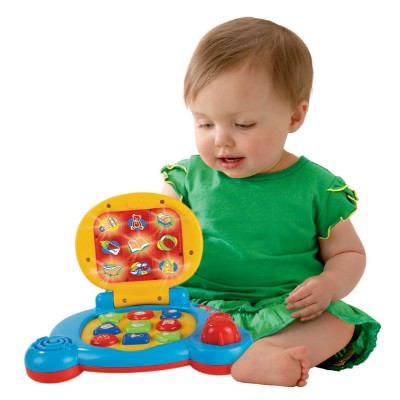 Recommended age: 6 months to 3 years
Includes over 90 sing-along songs, music, sounds, and phrases
9 large soft keyboard keys to press
Teaches shapes, common objects, feelings, and music
The lid can fall closed and pinch little fingers
VTech's Baby Learning Laptop is equipped with basic lessons to help tots understand shapes, feelings, music, and common objects. A movable mouse helps children work on motor skills and is large enough for little hands to grab. When baby's ready to change locations, fold the laptop up and they can easily carry it themselves by a cute little plastic handle. It comes in blue and pink and is most appropriate for children ages 6 months to 3 years. There are over 90 sing-along songs and phrases. Parents, grab your earplugs--some of these tunes are pretty catchy and other moms and dads report humming them even when baby isn't in the room.
Read more
Design
It operates on 2 included AA batteries and is made of kid-friendly, durable plastic. The three modes of play provide ample entertainment and education while also providing a large assortment of music and phrases to help stimulate your little one. It can also keep you from being bored to tears of the same repetitive song playing over and over again!
Effectiveness
Since it lacks an LED screen and is designed for more simple play it may be an ideal choice for children with autism, light sensitivity issues, or who are easily overstimulated.
Educational Value
The three available play modes can teach your little one about shapes, everyday objects, and feelings through more than 90 sing-along songs, music, sounds, and phrases. The large keyboard buttons are soft to the touch and easy to press for little fingers. The built-in mouse can help develop fine motor skills and mimicry which is the forerunner to pretend play.
Brand
This laptop is a learning toy that can help stimulate cognitive development from a young age by providing an engaging way to introduce early learning concepts.
9

. LeapFrog My Own Leaptop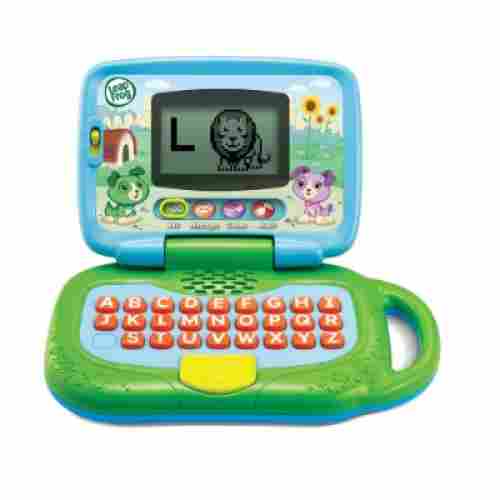 The toy can be personalized to suit your child
A custom playlist can be created
App for parents that can instruct on new learning ideas for their child
Volume is low enough to not cause disturbance
Sturdy design and good for long trips
Low visibility, the screen doesn't light up
The newer version doesn't have customizable options like previous ones
Reading and writing are valuable skills but learning the mechanics of a language can be tough! Practice makes perfect and the LeapFrog My Own LeapTop is a great way to get children comfortable with their linguistic building blocks! Each LeapTop includes a large screen and a keyboard with the whole alphabet laid out in order. You can program the laptop to help children spell their own name or they can choose from lots of fun activities such as messaging, games, and music! A built-in handle makes it easy to carry so kids can play and learn on the go!
Read more
Design
The new larger screen makes the animation more realistic and letters easier to comprehend. Easy to grip take along handle. Good for ages 2 and above.
Effectiveness
This is a great introduction to what is inevitable to every generation from now on -- the ability to handle an electronic device of some kind! This is one of the best mirrors for that and deeper socialization.
Educational Value
Not only is it aiding in spelling and learning about animals, but it also allows your child to send out pretend emails to friends and colleagues, just like mommy and daddy do!
Brand
With games and music, it's only a close second to actually surfing online. The fold-down screen and handle are just an extra bonus.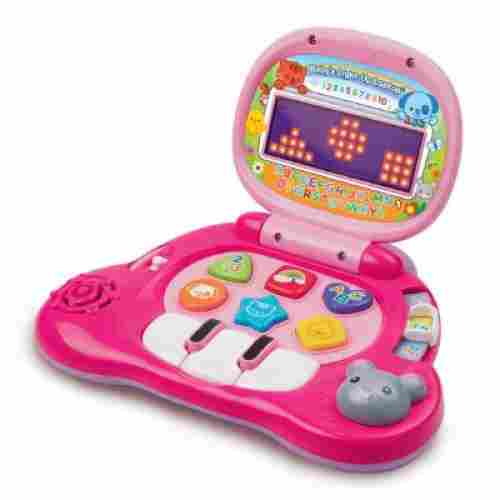 Volume control switch included
Recommended Age: 12 months to 3 years
6 shape buttons and 3 piano keys built-in
Teaches letters, numbers, shapes, and Spanish
Younger children may pinch fingers in the closing lid or hinge
Laptop continues to play even if the lid is closed and can drain the battery quickly
VTech's back with another stellar product in their Light Up Laptop. A light up screen teaches letters, numbers, shapes, and more! This laptop also can teach in both English and Spanish! Switch between the two if your household is bilingual and you're trying to familiarize baby with both. Six colorful buttons come in different shapes with cute pictures on them, three piano keys make fun songs and sounds, and a little gray mouse helps children develop motor skills. There's even (get ready for it) a volume control so parents don't have to listen to the songs blaring from the other room.
Read more
Design
There are three play modes and a three key piano is included as well. With a variety of lights, shapes, colors, and sounds this laptop is a perfect way to introduce your little one to the wonderful world of computers!
Effectiveness
While you may be looking at this laptop simply as a way to distract your little one from the bigger computer in the home or to use as a playtoy during long drives or waits, you can rest assured knowing that your baby is going to be intellectually stimulated at the same time.
Educational Value
Repetitive phrases and sing-along songs in the music mode of this laptop can help encourage first words and build early vocabulary skills. Pretend play can help your little one start to develop social skills and work towards emotional maturity. The acts of pressing buttons, grasping the carry handle, and manipulating the mouse are all great practice for the development of fine and gross motor skills.
Brand
With the VTech Baby's Light-Up Laptop you can give your little one their very own laptop, and hopefully draw their attention away from yours! This delightful learning toy features a bright 75-LED screen, six light up shape buttons, and an adorable little 'mouse'.
Criteria Used for Evaluation
Design
Trying to choose what the best laptop is for your child can be a difficult task. Even searching for the best laptop can be a tedious and overwhelming one for parents. Keeping children in mind, we had to be very particular and pay close attention to the needs of children and parents as far as laptops were concerned. One thing we took careful into consideration of was: would a child actually need a laptop?
With so many screens around in today's world, we know that for parents that the last thing they might want to get their child is a laptop. However, this is simply because many adults also didn't get their own computer until they were after high school or ever really need a computer until they became a full young adult. Everyone now has their own computer or version of a computer to watch the latest videos, streams or play their favorite games on.

Effectiveness
Your children will start mirroring your behavior – which of course we all know from the toddler stage – that that's perfectly normal! We wanted to make sure that for our top ten list we looked at a computer for every age group to make sure parents could find a computer that's age appropriate for their child. We looked at the basics: for toddlers, we wanted computers that would light up, have computer-like sounds, symbols, pictures of animals and objects.
We wanted to make sure that we also found options that would be appropriate for pre-teens and teens as well. By doing this we made sure that each laptop on our list there was something for everyone. Whatever you're looking for, for your child, we are sure you will find one.
Educational Value
We know that mainly the reason why you've stumbled about here and doing your research is that your child has already shown an interest in wanting their own computer. We wanted to make sure that parents knew how getting their child their own computer could be beneficial to them. Getting your child, a computer can make it so that your child starts gaining an interest in STEM-related fields. For older children, the specs related to having the right amount of GBS and CPU so that their laptop can support whatever streaming functions they need and porting capabilities.

Brand
For the younger crowd, laptops are a wonderful way for your child to practice their typing skills. When practicing their typing skills, they're learning memory, motor and other skills as well along the way. Parents should also know that for toddlers: there are apps that can help their child learn sounds, pictures, songs, rhymes any other kind of visual aid that could possibly be educational and help your child later on.
Most Important Criteria
(According to our experts opinion)
Experts Opinion
Editors Opinion
Users Opinion
By Default

Parents should know
We know that what kids mostly want is a connection and the ability to communicate with others in the blink of an eye. We wanted to make sure we had every need for every stage that a child goes through on our top ten list. We made sure that we each laptop on our list matched whatever wants your child has in their laptop whether their a young toddler or a pre-teen our list have it all.
Parents should know
We know that getting your child a computer isn't something that should be taken likely. We wanted to make sure that each laptop on our list was long-lasting, made of nothing but good quality had high reviews and matched a sophistication level for each age range. We're sure you will find the perfect laptop on our list above.
Other Factors to Consider
Entertainment Value
Our research unearthed the double-edged sword quandary of recent technology and your child! We all know that the recent advancements in digital and wireless technology are amazing! They've given us quantum leaps in the area of communication in a very short period of time! And, kids are picking it up and adapting just as quickly. For better or for worse, it is now the current Zeitgeist, part of the socialization process--and, I might even dare say a preschool rite of passage! Kids will mirror what they encounter in their environments.

Social Development
What we found is that the basic toy laptops will help in strengthening causal relationships, the socialization process, imaginative role play, and developing hand-eye coordination. The drawbacks that can occur are isolation and a sedentary lifestyle, eye strain from too much screen time, and a tendency to lack focus and become easily distracted. (Think of the average Millennial attention span).
Frequently Asked Questions
q:

Can a computer like the Kano kit be considered a STEM toy?

a:

It can, though maybe not in the purest sense of that term! The Kano will definitely spark interest in computer science and mechanics. The set-up is incredibly basic and luckily comes with easy-to-follow instructions. We would say that this toy is for older children that might already be mechanically inclined, but want to take it to the next level. The building of the machine itself is a breeze. It's the coding process that will be the biggest draw and that tends to be more geared to towards the creative and is not too challenging.
q:

I have a fear for my child's eyesight through prolonged exposure to LED, is there any risk?

a:

Yes, eye strain is one of the inherent risks of using screen technology! What we recommend is that each parent supervises their child's time in front of the screen. These products are meant to supplement your child's playtime--not monopolize it!

Break up screen time with storytime! Get your kids outside as much as possible and schedule play dates with other kids and parents that don't involve technology. The more natural light your child receives, the more healthy their vision will be. As for our products, there are many child options that only have an LCD screen which has less glare and is more forgiving.
q:

Could I get better performance on some of these laptops if my internet was high-speed?

a:

Not sure! Many of these kids laptops are meant for travel and to be used with a roaming WIFI signal or a hotspot. If the computer has the capability, it might be improved through a modem with an ethernet cable. Most of the computers for kids don't have the ordinary Mac and Windows OS, therefore it's dodgy as to what can be done with it. Look at the amount of GHBs and GHZs it offers, which is a telltale sign of its performance and the output of CPUs that can give better resolution and buffering speeds for something like streaming.
q:

How interactive are most of these laptops?

a:

There's a range depending on the needs of the age! For the older more proficient kids, the interaction comes from being plugged into the net--the ability to stream, surf the web, text friends, etc. Other models have included games that help a child learn letters, numbers and correlate sounds with instruments and animals in the natural world or the immediate environment. Either way, it's guaranteed that your child will always remain engaged and learning with smart stage modes of learning by means of the correct keyboard configuration or simply streaming a documentary on their latest Android-operated laptop!
q:

Which laptops are the most age-appropriate for young children? Will they break easily?

a:

This specific guide is aimed towards laptops and computer toys made for younger children so most of the products are great for babies and toddlers! These types of toys tend to be more durable since little ones aren't always the most graceful or gentle creatures with their toys. If you're looking for something for kids ages 0-5, we'd recommend any of the Fisher-Price, VTech, or Leapfrog options!
q:

Which laptops can be continually used as my child matures?

a:

Some of the laptop toys are made to last a little longer. Fisher-Price's Smart Stages is a great example of a design that allows for multiple levels of play and challenge. The Kano Computer Kit is a fun in between for kids ages 6 and up. And when your child is mature enough to handle their own computer, the Chromebooks both have wonderful ratings and feedback from users.