We were just wondering how many parents out there remember taking a typing class! Or, if anyone remembers the old Apple Macintosh computer and wired mouse; when the graphics were all LCD on a pixelated screen when the font was green against a black void-like background of the screen! No one had ever heard about the "internet". We know now that it was already out there, but was only used in the upper echelons. No such thing as email. If you wanted to get in touch with someone, you either picked up the phone (old fashioned rotary dial maybe), wrote 'em a letter, or, heaven forbid, show up at their place, knock on the door and see if they were home! Some of the biggest revolutions came in the form of video games, through Atari's Pac Man, Sega, and Nintendo! Getting through all the sequences of Street Fighter, or the levels of Super Mario Bros. what made you cool!
It all stayed within the realm of fantasy! Then, gradually, the computer began to take the role that the typewriter had had for decades when it came to documents. Still, only basic typing skills were required. We had hard copies! Hard reality! The fantasy became a reality in the corporate world through interoffice systems that required quicker communication, thus the use of e-mail for office memos. It seeped down into High School and College culture, on to their campuses, as a way of efficiently communicating. This was all by the early-to-mid-90s! Then, through the World Wide Web, everyone got access to email service! Over the past 20 years or more, there has been an ever-widening circle of technological advancement that becomes more intricate each year or fiscal quarter, depending on how you see it! In the last ten years with the widespread use of WIFI and Apple products, it's not a matter of "if" your child is introduced to the latest new or old technology, but when! We've compiled what we think of as being the 10 Best Laptops for kids! These devices are meant to be introductions and not overly challenging for your child. It ranges from familiarization and ownership of keyboard skills to learning a hassle-free way of coding.
Our Top 3 Picks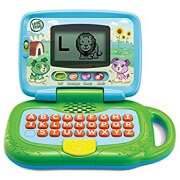 LeapFrog My Own Leaptop

Our rating
4 Learning Modes
Price:

See Here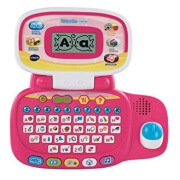 VTech Tote and Go Laptop

Our rating
20 Learning Activities
Price:

See Here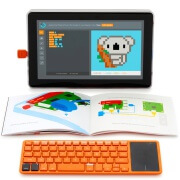 Kano Computer Kit Complete

Our rating
Learn to Code
Price:

See Here
The Best Kids Laptops Reviewed for 2018
LeapFrog My Own Leaptop, Green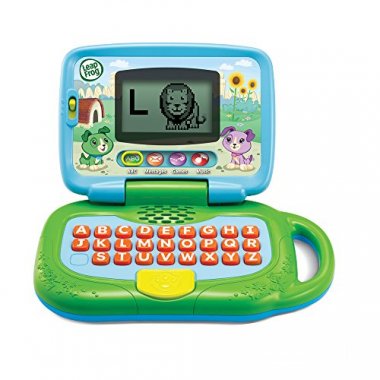 VTech Brilliant Creations Advanced Notebook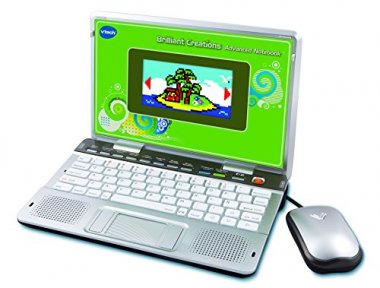 Kano Computer Kit – Make a computer, learn to code
Fisher-Price Laugh & Learn Smart Stages Laptop
VTech Disney Princess Magical Learning Laptop
Acer Chromebook R 11 Convertible
VTech Baby's Light-Up Laptop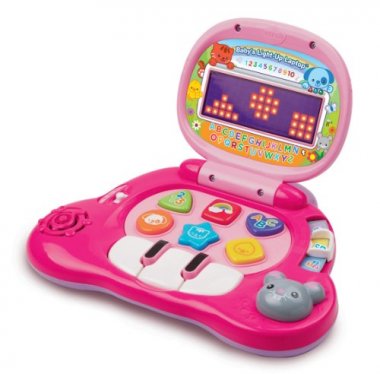 VTech Baby's Learning Laptop Toy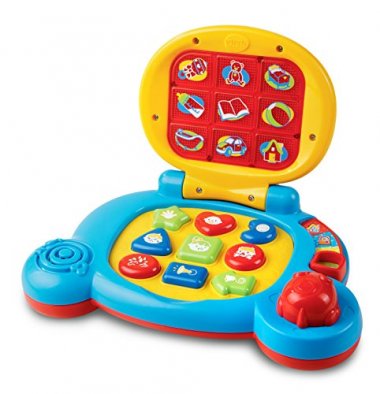 ASUS Chromebook C202SA-YS02 11.6
Criteria Used in Evaluation of the Best Kids Laptops
When choosing our selection of Laptops for kids, we had to be very particular and sensitive to the needs of both kids and parents. First, is the question of, why would a kid need or want a laptop?! Most adults over the age of 30 didn't grow up with one, and probably didn't even have a need for, or extensive of, a computer until high school, college and beyond! Well, that's precisely it! That generation has passed far into adulthood. Times have changed! Everyone is using or carrying around a computational device of one sort or another; pretty much every home has a computer, too! Your kids will see this and want to mirror your behaviors — which is only natural! Soon, they will see your new expensive Macbook as their latest toy! Is that what you want?!
We came up with a variety of selections that will appeal from age groups of 18 months to 12 years. We're starting off with just the basics, a light up computer/laptop that will help with comprehending sounds, symbols, and pictures of animals and objects. Then, we moved up to a stage that will imprint further socialization, such as the Barbie-themed Laptop. In addition, one of our options gives an early introduction to the QWERTY keyboard for a head start in typing. In the adventure of WIFI, we gave two Android OS options with adequate speed and surfing abilities for your tween child. All-in-all, they add up to some of the best laptops for kids.
What kids need in a laptop
Much of this has to do with the expressed interest of the child; and, the direction that the parents would like to take their child in! We still take into account the socialization factors, whether it's related to a computer that sparks an interest in STEM-related fields, or simply a device that lets a kid download all of the latest apps! For older kids, the specs are related to having the right amount of GBs and CPU that can support proper streaming function and downloading; standard WIFI and porting capabilities. Nothing too fancy with the OS since it's still within the realm of a tween's world, and not yet a student of Mechanical Engineering.
For the younger kids that are still just learning about the world and their immediate environment, we want to offer products that will keep them continually engaged. At that stage, the biggest concern that a parent has is to keep their child happy and stimulated! It is known that most of the functions, such as matching sounds with pictures, songs, rhymes, and the colorful artistic adornments that some of these toy computers have, focuses children more and creates lasting neural pathways that will enable greater socialization once they enter kindergarten or preschool.
What kids want in a laptop
Hands down, what kids want the most is communication! It's the desire of every human being from the womb on! The desire to understand and be understood! We're attempting to cater to this basic need/want in a child from all stages at the electronic level. As your child grows to become more sophisticated in his or her understanding and awareness, the form of the need will change while the desire remains the same.
Basic Research 
Our research unearthed the double-edged sword quandary of recent technology and your child! We all know that the recent advancements in digital and wireless technology are amazing! They've given us quantum leaps in the area of communication in a very short period of time! And, kids are picking it up and adapting just as quickly. For better or for worse, it is now the current Zeitgeist, part of the socialization process — and, I might even dare say a preschool rite of passage! Kids will mirror what they encounter in their environment.
What we found is that the basic toy laptops will help in strengthening causal relationships, the socialization process, imaginative role play, and developing hand-eye coordination. The drawbacks that can occur are, isolation and a sedentary lifestyle, eye strain from too much screen time, and a tendency to lack focus and become easily distracted. (Think of the average Millennial attention span).
FAQ
Frequently Asked Questions
Q: Can a computer like the Kano kit be considered a STEM toy?
A: It can, though maybe not in the purest sense of that term! The Kano will definitely spark interest in computer science and mechanics. The set-up is incredibly basic and luckily comes with easy to follow instructions. We would say that this toy is for older children that might already be mechanically inclined, but want to take it to the next level. The building of the machine itself is a breeze. It's the coding process that will be the biggest draw and that tends to be more geared to towards the creative and is not too challenging.
Q: I have a fear for my child's eyesight through prolonged exposure to LED, is there any risk?
A: Yes, eye strain is one of the inherent risks of using screen technology! What we recommend is that each parent supervises their child's time in front of the screen. These products are meant to supplement your child's playtime — not monopolize it! Break up screen time, with story time! Get your kids outside as much as possible. Also, play dates with other kids and parents that don't involve technology. The more natural light your child receives, the more healthy their vision will be. As for our products, there are many child options that only have an LCD screen which has less glare and is more forgiving.
Q: How well does the Disney Princess computer aid in socialization?
A: We would say that this is the ultimate toy for socialization with little girls! The aesthetic value already touches at the heart and core of what young girls want and look for! It reinforces with familiar images from the beginning with the mural of the famous Disney characters they already know and love! It has a heart-shaped mousepad, which is both functional and cute! The key that unlocks the lid also unlocks a secret side drawer for keepsakes. The functionality of it extends to having a QWERTY keyboard, which is incredibly rare for a kid's laptop. This is just a further indication that a child's cognitive development is first and foremost in the mind of the manufacturer.
Q: Could I get a better performance on some of these laptops if my internet was high-speed?
A: Not sure! Many of these laptops are meant for travel and to be used with a roaming WIFI signal or a Hotspot. If the computer has the capability, it might be improved through a modem with an ethernet cable. Most of the computers for kids don't have the ordinary Mac and Windows OS, therefore it's dodgy as to what can be done with it. Look at the amount of GHBs and GHZs it offers, which is a telltale sign of its performance and the output of CPUs that can give better resolution and buffering speeds for something like streaming.
Q: Are there more accessories that can go with the G.I. Joe laptop?
A: While we can't answer definitively, there are probably more than a dozen downloads that can aid and complement your child in using this item! While there is a great learning value and benefit that can be gained from the challenge and learning modes provided by this laptop, we still have to remember that it is still a toy that relies on the use of imaginative play. More than anything, your kids wants to be on Top Secret Mission against Cobra Command! That's what the whole design displays! The educational benefit is almost secondary. Anything you can find to supplement the fun and playful aspect will do wonders — but don't take from the realm of consideration that it might just need the addition of an action figure!
Q: How interactive are most of these laptops?
A: There's a range depending on the needs of the age! For the older more proficient kids, the interaction comes from being plugged into the net — the ability to stream, surf the web, text friends, etc. For the example of our Disney Princess computer, the interaction takes place in connecting the realm of imaginative play and engendering social skills. Other models have included games that help a child learn letters, numbers and correlate sounds with instruments and animals in the natural world or the immediate environment. Either way, it's guaranteed that your child will always remain engaged and learning with Smart Stage modes of learning; by means of the correct keyboard configuration; or simply streaming a documentary on their latest Android operated laptop!