One of the best gifts anyone can ever give to someone is a wristwatch. For kids, this will be memorable especially if they get a truly personalized watch for kids complete with their favorite characters, colors, or even patterns. Aside from teaching kids how to read time, watches also provide them the opportunity to create an identity that is uniquely their own. More importantly, kids' watches can be very useful instruments in teaching our kids about self-discipline and time management. So, if you want to help your child learn to manage his or her time more efficiently, strengthen his or her self-discipline, and discover his or her true identity, then a wristwatch is simply the best gift to give this coming Holiday season.
And if you are on the lookout for the best-looking, kid-inspired, and highly thematic children's timepieces, then you've come to the right place because we have 12 of the hottest, most popular, and top watches for kids this 2018. Before the year officially ends, get your child any one of the timepieces we have in our list and he or she will love you for it, guaranteed!
Our Top 3 Picks
SpyX Wrist Talkies

Our rating
High Tech Features
Price:

See Here

Timsty Electronic Sports Watch

Our rating
Water Resistant
Price:

See Here

Azland Waterproof Sports Watch

Our rating
Swimming Waterproof Watch
Price:

See Here

Our Picks Of The Top Watches for Kids
Timsty Electronic Sports Watch
Waterproof Swimming Digital Sports Watch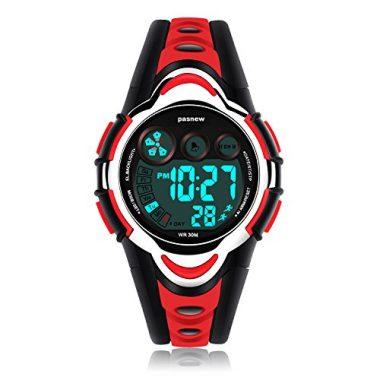 My First Timex Outdoors Watch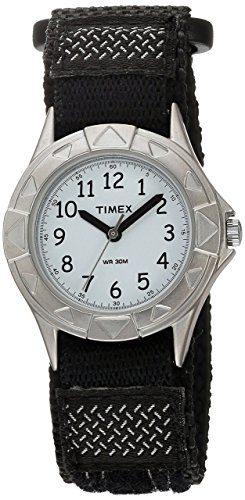 Disney Kids' Time Teacher Watch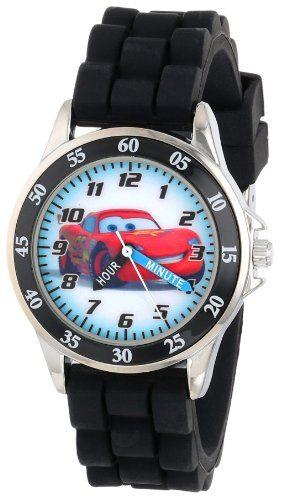 Frozen Anna and Elsa Digital Watch
Illuminator Black Resin Strap Digital Watch
Darth Vader Kids Buildable Watch
Batman Quartz Multi-Color Watch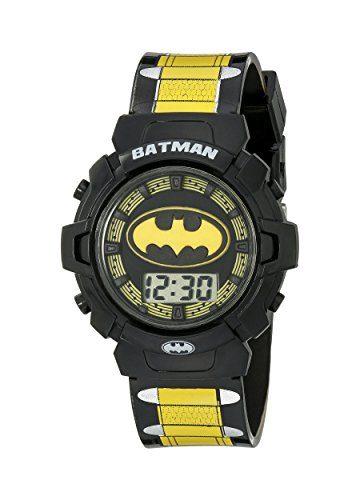 Digital Watch by Timex Youth
Youth Timex Gecko Analog Watch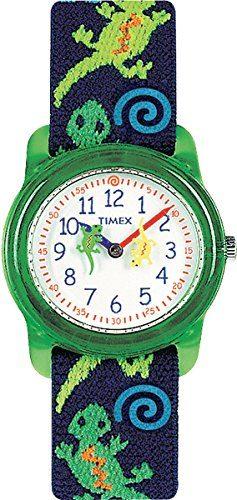 Criteria Used in Evaluation of The Best Watches for Kids
Usability
Usability determines the ease of use or the ease of learnability of an object or tool that is used by humans. From cars to software, usability has a very important role in human interaction and watches are no different, especially for kids. Kids go through various learning stages in life and some of the most important stages are the development of fine motor skills, problem solving skills, and critical thinking skills.
A watch for kids can help such developments because owning a watch requires know how such as how to put the watch on and set and read the watch's time. When a kid's watch has extra features such as a calendar, alarm system, and even a compass it's even more crucial that those skills are developed.
Therefore, the usability of a kid's watch determines if the child will learn how to wear and use a watch correctly. Are the numbers legible? Are the different features properly labeled? Can the buttons be easily pressed? Is the strap easy for the child to put around their wrist? Even the first time setup of a watch can determine a positive or negative usability score.
A kid's watch that is efficient to use, easy to learn, and very satisfying in wearing is the top usability criteria to implement.
Readability
Readability is very important when choosing a watch for a child. While the average child has the required reading skills applicable to their age, any text that has poor readability will result in poor understanding.
Numbers on the watch (analog and digital), labeled watch hands, and other text on a watch with quality readability will give a child a great experience with watch owning. If a child is learning how to read time properly with a watch, they need to be able to read the numbers clearly. They also need to see the seconds/minutes notches on an analog clock to be able to read the minutes and seconds of time as well.
Readability also ties in with usability. If the watch of the child is barely readable, how can it be usable? Therefore, quality readability is very important when choosing a watch for a child.
Durability
Children are an active, roughhousing bunch. From the home to the school, children always want to play and that's a great thing! Playtime helps a child's development and a child needs a watch that will grow as they develop during playtime. Children watches with a high durability can withstand wear and tear, pressure, and even possible damage. Some children's watches are come either waterproof or water resistance which is great for children who might be active swimmers.
Durability in a child's watch can also help prevent unnecessary repairs or having to buy a brand new watch and that can help curb disappointment and money spent. A child's watch that is durable will usually have a long battery life (some last seven years!), have a strong case, crystal, and bezel, and a wrist strap that is either easily wiped or washed with a strong built to prevent snapping or breaking.
Even if your child prefers to read a book in their room instead of being outside and wears fashionable watches, durability is still required because the daily bumps, falls, and scratches will still happen.
Fashionable
While this might seem like an odd or out of place selection of criteria, it is very much important in determining watches for kids. Kids love personal items that are cool, hip, and makes them unique. Whether your child is a Disney fan, has a favorite color to wear, or just likes to make a fashion statement watches can help do just that for your kid.
Most children are not going to be into the sleek, simple, and streamlined design of adult watches so they required fashionable watches that are loud and fun just like them! Watches that are colorful, have designs, and Disney theme are very popular with kids. Even LEGO watches are available and those watches can not only be cool and hip but even developmental because they teach children how to use their own fine motor skills to build their watch. That's fashionable uniqueness plus learnability all wrapped in one!
Of course, fashion comes and go so if you're a choosing a watch solely based on fashion, be prepared to constantly update your child's watch collection. Also, fashionable children's watches have a clock face that list only the current time in the digital numbers format only which can lack in learning to read time in the traditional w
What Determined The Top Kiddie Timepieces on our Page
Honestly, this has got to be one of the most challenging selection we have ever have to make. Watches are considered very precious accessories. Some would even classify these as jewelry and a very important addition to anyone's fashion. There are also timepieces that can readily run in the millions like the $30 million 1827 Breguet Grand Complication Marie Antoinette or even the $25 million Chopard 201 Carat Watch studded with 874 very rare precious diamonds. Of course, we don't expect you to shell out millions of dollars or even hundreds of dollars on a timepiece for your kids. That is why we have assigned this task to one of our teams of researchers as they have the best understanding of the world's timepieces.
As always, our researchers focused on the design ingenuity of the watch. It should, first and foremost, allow children to easily and correctly read the time. This can include the illumination of the watch face, the accuracy of the time, and alarm or notification systems as well as other features that make it easier for kids to read and be updated with time. We also had to look at built-in features like shock-proofing and water-proofing or water-resistance technologies, different time modes, and other features we believe your kids will love.
We then correlated our assessment of each of these products with what the consuming public had to say. We had to look for issues that people may have already encountered related to the purchase of the product, its shipping, as well as its intended use. We then had to factor the credibility of the watchmaker to help establish a more definitive picture of the quality workmanship of these timepieces.
So, this is how we came up with our list of the top 12 kids' watches you can give to your child anytime and not just on special occasions or holidays. We are optimistic that you found our list helpful in making you feel more confident about your choices.
Teaching Your Child the Importance of Time Management
It's never too early to start teaching your kids about the value of managing their time in a very efficient manner. Kids can readily benefit from time management especially when they already go to school. Later in life, they will be able to use these time management skills to help them in all aspects of their adult life.
In school, classroom instruction is provided in chunks. Children learn things in a progressive manner and not in one massive take. They learn to accomplish or complete their tasks, assignments, home works, and even projects within the allotted period of time.
Children also learn better if their attention span were taken into consideration. For example, studies show that younger children learn a lot better if their learning activities were kept short because they have relatively shorter attention span. Likewise, an older child can already stand longer classroom instruction sessions of about 45 minutes, again because of their improving attention span. As children grow older their attention span also increases. They are now able to listen more attentively in class for much longer periods of time without getting restless or agitated.
The issue, however, is that they don't know it yet and they cannot associate this concept with time management. It is not part of the curriculum. It is for this reason that we, as their parents, should help them realize this.
How?
The very first thing we have to consider is the tools or instruments we give to our children. These should be of interest to them as what we would like to achieve is for them to increase their attention span. This can be best achieved by giving them toys, books, playthings, and other instruments that are interesting. It can also include providing them with activities that will arouse their natural curiosity. The point, however, is to choose instruments that are perfect for our kids' learning styles. So, if we have children who are kinesthetic learners, then giving them toys and gift items with touch screens will surely appeal to them.
We can also create a room or an area in our homes or even in our kids' bedroom as a study zone. We then need to organize and design this particular area so that it allows our children to concentrate and focus on what they are studying, reading, writing, or even drawing. You may have to check if your kid wants absolute silence or one with a background music. The point is for us to create an environment where our children can associate with study and learning.
If we have to teach time management, then we need to use the correct tools. Calendars, alarm clocks, timers, wall clocks, and, of course, kiddie wristwatches can all help. For older children, you may want to give daily planners or even school-provided agendas or even a desktop computer-based calendar application which they can synchronize with their mobile devices such as smartphones and tablets. It is often a lot better to encourage our children to look at the month view so that time appears less abstract.
We then need to help our children make a schedule of their daily activities. For example, how much time do they think should be allotted for studying, playing, and helping with simple chores in the home? With the calendar you provided your child, he or she can then schedule in time blocks of 30 to 90 minutes. You can then teach your child how to use the alarm function of his or her watch so that he or she will become conscious of it.
Time management is inherently tied to self-discipline. In fact, according to a Canadian study, post-secondary school individuals said that, if there's one thing they could change in the way they lived their lives as school children and high school students, then that would be more self-discipline and a better grasp of time management. We can help our kids learn self-discipline by giving them the responsibility of managing their school activities like home works, assignments, and projects all on their own. We can help them by explaining to them the benefits or advantages of focusing on their tasks instead of following distractions. We may have to let our children get a taste of what it's like to mismanage their time. For example, if they failed to accomplish their assignment, they will get poor marks for it in school. We can then use this experience as a learning tool for our children.
Perhaps the best way to teach self-discipline and effective time management is modeling these ourselves. This way, we have a better chance of conveying to our kids how important time management and self-discipline are.
The Bottom Line
Teaching our kids to manage their time well can help them do better in school and prepare them for greater things to come. They will need the correct tools for this and one of the best instruments for teaching time management is a wristwatch. It's convenient, highly mobile, and full of features. And with our list of the top 12 watches for kids, we are confident your kid will have the perfect partner to develop his or her time management skills, enhance his or her self-discipline, and set out on his or her way to productive life as an adult.
FAQ
Frequently Asked Questions
Q: What kind of watches can I buy for kids?
A: The most common and popular watches for kids are sport watches, fashion watches, and time learning/management watches. Such watches can come in either analog or digital format. Sport watches are usually digital whereas fashion watches and time learning/management watches usually come in both analog and digital format.
Q: What's the difference between analog and digital watches?
A: Analog watches uses the classic clock face of with the hours, minutes, and seconds hands and digital watches use a backlighted LCD screen to display watch time. Both types require the user to set the time during user setup and after any subsequent battery replacement. Also, both analog and digital watches are usually quartz base and quartz base watches keep the timing running properly.
Q: Why is quartz the most common choice in watches?
A: Quartz is a common mineral found throughout the world and it's superb as a tuning device regardless if synthetic or natural quartz is used in the watch. Analog quartz watches and digital quartz watches cover ninety percent of the watch market, can range from inexpensive to very expensive, and are the most reliable and accurate watches.
Q: What are the benefits of an analog watch?
A: An analog watch is not only classic and timeless, it also helps to incorporate a child's brain facilities by teaching the child how to read, understand, and express time in the traditional way which is still commonly used in today's 21st century world. The skills a child obtains from learning to use an analog watch can be applied to other objects such as reading a meter or gauge.
Q: What are the benefits of a digital watch?
A: Digital watches are not only sleek and made for the 21st century, they also give an exact time, are easier to repair, and since they have lower production costs are cheaper to purchase. Sport watches are usually digital watches and therefore, are perfect for a child that is super active because digital watches are made for high durability. Also, if your child has mastered time learning with analog watches, a digital watch can be a great next step in developmental maturity as digital watches provide advanced time telling features such as calendars and timers which aid in time management.
Q: Why is it important for a child to own a watch?
A: Children owning a watch can birth the beginning stages of independence, responsibility, and ownership. A watch can teach a child the importance of time management, positive habits such as punctuality, even help incorporate a routine for studying, sleeping, and playtime (especially if the watch comes with an alarm).
Of course, owning a watch can help tremendously in teaching a child to read time and visualize the concept of time. It can also help a child develop a respect for time and discover that time never truly is free.