Technology has a way of reaching our children before it reaches us these days, and the adept way in which your child interacts with technology is an amazing sight for you as a parent. But you will quickly find that the mind of a child is in constant search for new information, new technology, new gadgets and gizmos with which they can interact. This interfacing is good for their cognitive development, and certain gadgets and gizmos are even aimed at the mitigation of anxiety and depression through the simple process of redirecting fidgety behavior into a constructive dexterity exercise.
Your child has an incredible amount of energy to burn, and they are given all this extra energy to help them deal with the extraordinary amount of new information pouring into their mind every day. To give them the motivation and interest to retain all the important new names and functions of the things that surround them. Gadgets are made to stimulate and improve this process for your child: to give them a toy with which they can simply play, or to give them a tool and allow them to discover its form and function. We've chosen the brightest gadgets out there today, the most intriguing and educating pieces of kid-friendly technology on the market.
Our Top 3 Picks
LittleBits Gizmos and Gadgets

Our rating
Visual-Spatial Skills
Price:

See Here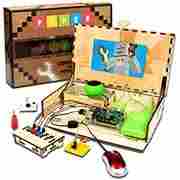 Piper Computer Kit

Our rating
Build Minecraft
Price:

See Here

POWERUP 3.0 Paper Airplane

Our rating
Smartphone Controled
Price:

See Here

Our Picks For The Coolest Gadgets For Kids
Sunnytech Low Temperature Stirling LT001
Piper Minecraft Computer Kit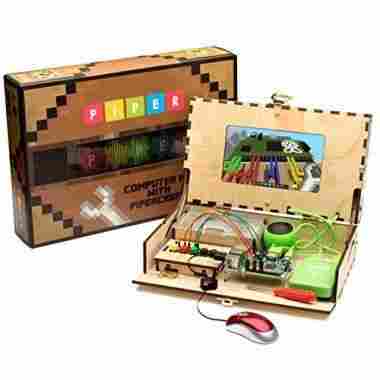 Age Range: 8 to 13 years old
Flippy Chain by Tom's Fidgets
Age Range: At least 8 years old
Games & Gadgets Electronics Lab
Age Range: At least 8 years old
Age Range: At least 3 years old
Light-up Terrarium Kit for Kids with LED Light on Lid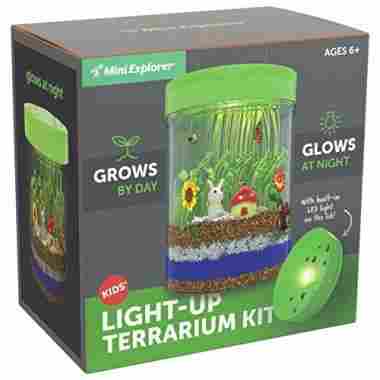 Age Range: At least 6 years old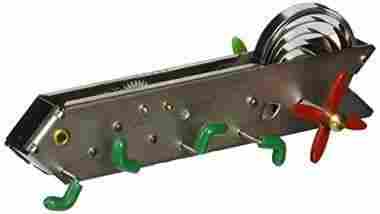 Age Range: At least 8 years old
Age Range: At least 14 years old
OWI Hydraulic Arm Edge Kit
Age Range: At least 5 years old
Criteria Used in Evaluation of The 10 Coolest Kids' Gadgets
Compiling this list of cool gadgets for kids really was a challenge to take on. Why because it would seem that in today's market consumers tend to think of cool gadgets as being hi-tech, electronic devices. Today technology seems to be taking over, and kids certainly want to be part of the new revolution. The only problem is using devices such as laptops and smartphones although can sometimes enhance a child's mind there are concerns that these could be taking away other valuable developmental skills. When going about creating this list of some great cool gadget gift ideas for kids we wanted to address these issues while providing gadget ideas that will expand a child in various stages of their growth. We also wanted to remind parents and show kids that cool gadgets don't have to actually be electronic, there are definitely other kinds gadgets and gizmos out there that are just as much fun and also beneficial In order to do this we followed these chosen criteria.
Educational
The mind is always expanding in learning, and the right gadgets can continue to expand a kids learning platform. Through certain gadgets, a child can further learn science, and mathematics just to name a few of the things waiting to be learned. Kids could even learn a new interest such as engineering or computer programming. Yes, through the right gadgets the educational possibilities are endless.
Responsibility
This is truly an essential skill to teach an older child and gadget that are hi-tech can definitely do this, if a parent encourages the child to care for the gadget themselves. Kids may learn that although some gadgets are indeed toys there is still care involved in having one.
Interaction
These gadgets make it possible for kids to have fun on their own, but are also ideal to share the activity with someone else. This would include siblings and friends who can also enjoy the activity. Also, parents can even interact with their kids sharing quality time while enjoying the activity that the gadget is supplying.
Imagination and Creativity
Yes, gadgets can expand a child's own imagination. Give them an opportunity to learn how electronics and technology actually works. An opportunity to create their own fun-filled little world. This will expand the child's horizons and at the same time allow them to perhaps find a new hobby or perhaps even a career goal.
Nostalgia and History
Today's kids come from a time where laptops and other electronic mobile devices are common. Most aren't even aware of what a typewriter, a phonograph, and even a pager are. So, whenever possible always a good idea for parents to give a child a gadget that is nostalgic. It will help a child to know that there is more to life than electronic, hi-tech devices. The child could also learn that these can be just as much fun and engaging as any technological device.
What Determined the 10 Coolest Kids' Gadgets in Our List
This is one of the trickiest projects we have ever done. Why? Well, modern living is actually filled with a lot of gadgets. From our living room to the kitchen to our kids' playroom and bedroom, there are gizmos and devices that are truly wonderful pieces of technology. Go to a toy store and you'll see rows upon rows of toy shelves full of gadgetry. You could easily pick one and your kid will still enjoy it.
We had to scrutinize every bit of gizmo that our researchers have shortlisted. We specifically looked at the product's developmental benefits to children. The more areas of development that are covered, the greater is the chance that the product will be included in our final list. This is very important as we firmly believe that gadgets serve a purpose. However, since we are talking about kids here and not adults like us, then we had to make sure that these technological pieces will be beneficial in their growth and development.
Secondly, we had to make sure it's safe for kids. Most of today's technology run on some form of electricity, whether it is AC or DC. It is therefore imperative for us to check for electrical safety in these products, lest we expose our children to potential harm. The materials used in the product were also examined as a matter of safety.
We then tried to consider how children would react if they are given any of these products. To help us understand children's sentiments, we read hundreds of feedbacks from parents who report on their children's experiences with these gadgets. While these are only second-hand information, they did prove invaluable to us in creating a mental image of how good this product can be in the hands of a kid.
Kids and Today's Technology
Man's evolutionary development is closely tied to the advances in science and technology. There's simply a lot of things that we do now that have been simplified or made more convenient by these technological advances. Children, in particular, are able to benefit a lot from these modern-day gadgets and gizmos. Here are some of the benefits of today's technology in the growth and development of children.
Enhances creativity – Many of today's gizmos allow children to use their creativity to the fullest. The creation of a particular gadget, for example, is made a lot easier by technology allowing children to explore the infinite number of possibilities in their creations.
Aids in understanding science and technology concepts – From computer programming to engineering and principles of physics, children can use many of today's gadgets as an example of how these concepts apply in real life. This greatly aids in their understanding of the different principles inherent in any professional discipline.
Promotes a healthy self-concept – When kids are able to create something extraordinary, maybe a robot or a computer, this gives them a sense of accomplishment which also enhances their self-esteem and self-confidence. The end result is a much healthier self-concept enabling them to function in a much more progressive manner in the real world.
Improves social interaction skills – Many of today's technology helps improve children's social interaction skills. As kids are introduced to different science and technology concepts, they widen their vocabulary as well as an understanding of how the world works. This can be the basis of a more successful establishment of social relationships.
The Bottom Line
There are many gadgets and gizmos in the world. Everywhere you look, there's bound to be a gadget that kids can be fascinated with. You can also get any of our ten cool gadgets for kids if in case you are not sure which ones will work best for your child.
FAQ
Frequently Asked Questions
Q: Do these gadgets come with an instruction booklet?
A: Some of the ones listed here do indeed come with an instruction booklet. It is highly recommended to keep the booklet to ensure that the gadget is always well maintained. These instructions booklets will contain viable information that will always be important to know.
Q: Should I be concern about those gadgets that contain Lithium batteries?
A: Odds are right now a parent and even their child already own a laptop, a smartphone and perhaps a tablet computer among other mobile devices. All of these also contain Lithium batteries, so it would be hard to avoid this type of battery these days. Lithium batteries have become quite popular due to the fact that they are compact and rechargeable, making them an ideal battery for our mobile devices. However, there is no doubt reason for concern, there have been reports on gadgets containing lithium batteries exploding and catching fire. The best thing to do is to remember that lithium batteries need a certain amount of care and safety consideration. For example, make sure the child never gets any gadget that contains this battery wet because moisture can damage this battery even when it's properly encased in the unit. Also, make sure that the gadget never gets overheated, that it is always stored away at room temperature or a cool dry place. There are other safety guidelines for Lithium batteries that can be found online and it's strongly recommended that any consumer read these guidelines to ensure that all their devices containing this battery are being properly cared for.
Q: Should I monitor my child's time playing with a gadget?
A: Gadgets can be fun-filled toys and yes there are times when a child could get so wrapped up in what they are doing that they will need a parent to help get them to take a break away from the gadget. The gadgets featured on this list will certainly occupy a child, and a parent will need to have a certain guideline of time in place when giving the gauge to the child. Such as telling them that they can spend an hour playing with the gadget, if the guidelines are put in place early on the child will understand there are parameters that will need to be followed.
Q: Do these Gadgets come with a Warranty?
A: It will depend on the type of gadget and the company. The best form of advice is if a limited warranty didn't come with the gadget and the consumer feels one may be required go to the company's official website to see if they offer a warranty for things such as damage and replacing missing parts.
Q: Should I teach my child how to care for these gadgets themselves?
A: Definitely, this is another important part of a child's development learning responsibility. These days kids want high tech gadgets such as the iPhone and the laptop computer but are they responsible enough to care for these. So, teaching a child with the gadgets listed above how to ensure that the gadget stays clean, to follow all instructions and in the case of electrical not have any type of drink or water around it will help this child to learn that when having a high tech gadget there is a certain amount of care that is involved.
Q: Would my child really be interested in wind up gadgets?
A: Definitely, over the years the types of wind up gadgets and gizmos have changed due to the changing times, but there are those time-honored types such as wind up robots or cars that will still interest a child. Also, wind up toys actually help a kid when it comes to strengthening motor skills. Since kids need to grab hold of the wind-up feature in order to get the toy to work. Plus, believe it or not, a child might actually be fascinated by the fact that this gadget can play music or move without any batteries being needed. Make no mistake about it, wind up gadget and gizmos are still quite popular.