10 Cool Gadgets for Kids Reviewed in 2019
last updated
May 29, 2019
Growing up in 2019 and all of the new and growing concerns over cyber and personal security means that there has never been a better time for kid-oriented gadgets and smart devices. These gadgets have been uniquely designed to allow our little ones to explore and sometimes even create the world of computers that surrounds them without exposing them to danger. Many of these gadgets function without an Internet connection which can prevent your child from being exposed to inappropriate content. Others incorporate parental settings or teach technology concepts using a more hands-on format which can help our kids step away from the screens and back out into the world. We have gathered a selection of gadgets suitable for a variety of ages, interests, and skill levels from across the Internet!
In a Hurry? The test winner after 11 hrs of research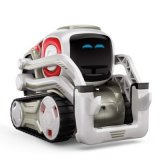 Anki Cozmo
Why is it better?
Works with the Cozmo app to teach basic coding at a beginner level
No assembly required
Includes one Cozmo robot and three interactive cubes
Compatible with all iOS and Android devices
In a
Hurry? Editors choice: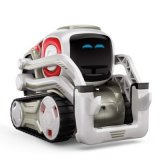 Test Winner: Anki Cozmo
12
Researched Sources
11
Hours Researching
15
Products Evaluated
Design
Educational Value
Creativity
By Default
10 Best Cool Gadgets for Kids Reviewed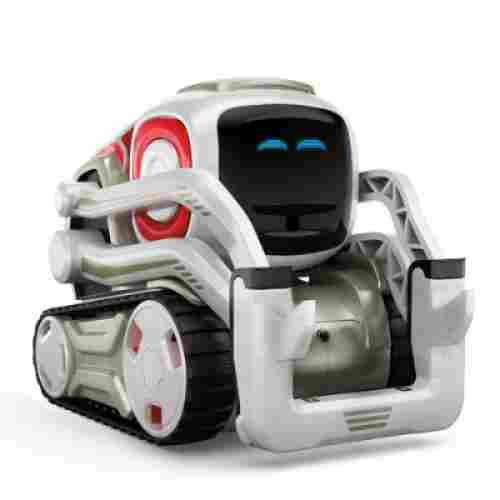 Works with the Cozmo app to teach basic coding at a beginner level
No assembly required
Includes one Cozmo robot and three interactive cubes
Compatible with all iOS and Android devices
Limited gameplay and coding challenges may become boring or repetitive over time
Requires a compatible smart device (tablet or smartphone) in order to use
Cozmo is the perfect fun way to bring the interesting world of coding to your child, and help prepare them for the future job market!
Read more
Design
Cozmo comes pre-assembled and fully tested to work right out of the box and is capable of performing a variety of tasks. Pair your little one's robot with the Cozmo app, a free download suitable with all Android and iOS devices, and you can start coding right away! The user interface on the app is simple and easy to understand, even for a total beginner. Simply drop blocks of code in a line and Cozmo will follow the direction to move, turn, spin, and even lift. Watch as it lifts and throws the three included cubes which can work as obstacles or props for your code. The challenges go up in skill level as your child discovers more of Cozmo's personality, and may even spark an interest in a lifelong career path!
Educational Value
Software engineering is a rising field that is only expected to grow over the next decade. There is a huge demand in the job market for skilled coders to help create and maintain the next level of technology. In fact, in 2019 alone computer coders are projected to make upwards of $85,000 a year. Software coding is considered to be one of the fastest-growing and important job fields not only for now but also for the future so its no wonder that many toy companies are getting in on the ground floor to start training the next generation of engineers. Enter Anki Cozmo, A Fun and Educational Toy Robot for Kids. This delightful little robot has been designed to introduce coding in an easy to understand and simple-to-use format that is perfect for children.
Creativity
This adorable robot is too cute not to play with! Pre-assembled and charged, Cozmo is ready for his first command right out of the box. Very little adult supervision or setup is required in order for your child to start coding and playing right away. Spark your child's creativity while they learn the basics of coding using the Cozmo app to program and control their robot's action. The block-based coding style is easy enough for children as young as 8 to understand and use. This STEM-based toy has been designed to help introduce early engineering concepts, such as cause-and-effect relationships and strategic thinking that can stimulate cognitive development.
2

. Games & Gadgets Electronics Lab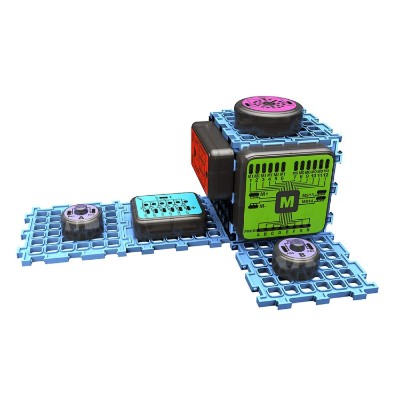 Unlimited games and gizmos possibilities to create
Includes LED lighting
2 Push button controls
Gadgets and Games can be played with after built
Small parts, can get lost and choking hazard for younger kids
The Smart Circuits is an excellent instrument for kids to learn about electronics as well as the other concepts that are related to the development and operation of some of today's ubiquitous gadgets.
Read more
Design
The kit comes with a very detailed instruction guide on how to build up to 50 different electronic gadgets and gizmos using the various components of the Smart Circuits. With 10 smart modules providing a wide array of functions from microprocessing to LED lighting and a whole lot more, the Smart Circuits is one great way to let children create their own gizmos that light up, produce a variety of sounds, and more. The best part of it is that once these gadgets or games have been built, then your kid can start playing with them.
Educational Value
If a child loves to find out how something works this is an ideal gift for them. The Smart Circuits Games and Gadgets Electronics Lab provides a kid with a way to enjoy putting together their own unique gizmos. All the gadgets created will also light up and produce sound to add to the overall experience This SmartLab product is a great gift for any aspiring inventor to create their own toys to play with.
Creativity
In a world that runs on electronics, it is not really a surprise if kids have a very keen interest in how these things work. Sure, you can try to explain to the different concepts of capacitors, ohms, wattages, and volts as well as other concepts but everything will simply be a blur to them. A much better solution is to give them the Smart Circuits Games & Gadgets Electronics Lab. This is a kit that will not only introduce your child to the thrilling world of electronics but also help entice him or her to develop his or her own electrical ingenuity with the Smart Circuits' six baseboards providing the framework for your kid's creativity.
3

. VTech Kidizoom Smartwatch DX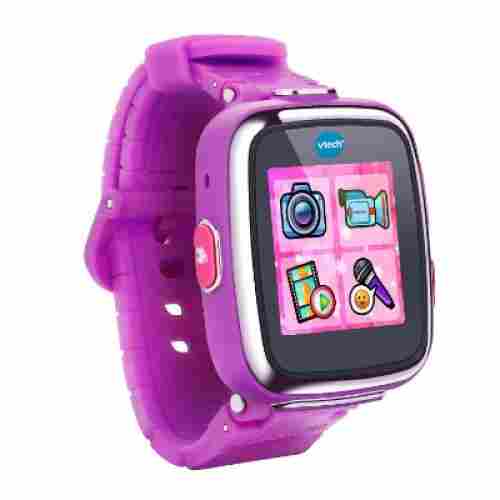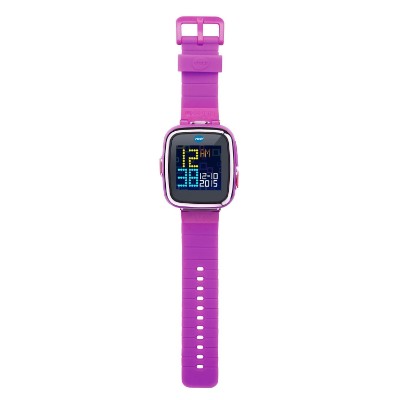 Includes five games, alarm, timer, calendar, calculator, and more
Action challenges work with a built-in motion sensor to promote exercise
Splash- and sweat-proof design holds up to rough play
The camera allows for picture and video recording, voice-changing and photo effects
Charges via micro USB (cable included)
Not waterproof or suitable for showering, bathing, or swimming
The battery life is limited and may last one hour or less if being actively used
Get your little one off your phone and back into the action with this smartwatch designed just for them!
Read more
Design
This smartwatch has been designed with kids in mind, featuring games and activity challenges dedicated to promoting mental and physical health. It also includes over 50 unique clock face options to give your little one a variety of personalization options. With the incorporated camera and photo effects, your child can regale your family with personalized photos for weeks to come!
Educational Value
The VTech smartwatch provides a plethora of educational functions from the calculator which can introduce early addition, subtraction, multiplication, and division skills to the calendar to help your little one plan their day. The splash- and sweat-proof design provides extra durability for even the most rough-and-tumble kids. Easily rechargeable utilizing the included micro-USB cable, this wearable smart device is a portable way to help entertain and challenge your little one. It also encourages physical activity through the use of motion-sensing games and action challenges to keep your child exercising which can, in turn, promote better sleeping habits.
Creativity
In 2019, smart devices are everywhere. From tablets to smartphones, your child has most likely been exposed to touch screens for the majority of their life. In fact, it's not surprising to find toddlers today who are unfamiliar with the more traditional computing methods such as a keyboard and mouse. With the expansion of these computing technologies also comes an increased concern about cyber safety. When it comes to our children, finding devices that will allow them to explore their world without making them a target for predators can be difficult, if not impossible, task. With the VTech Kidizoom Smartwatch DX, your child has the opportunity to take pictures, play games, and even perform motion-based tasks just like your FitBit...without the ability to access the Internet! Removing the Internet connectivity from the device gives your little one the freedom to be '"just like the big kids" while allowing you the peace of mind to know that they are not online communicating with unknown elements.
4

. Ozobot Bit Coding Robot
Teaches screen-free coding examples perfect for younger children
Comes fully assembled and ready to use
Includes Bit robot, Activity Pack, 4 Color Code Markers, USB charger and more
Recommended age: 6 years and Up
Instructions can be complex for younger children and may require adult assistance
Robot actions are limited and may become boring over time
In a world where everything from school report cards to games of Solitaire requires apps or Facebook logins, this robot provides an excellent interactive way to teach kids coding skills without requiring any external logins...or even a mobile device!
Read more
Design
This little gadget might look like a flying car from the Jetsons but is a powerhouse of coding knowledge that has been designed specifically to teach computer programming completely screen-free! Ozobot works by reading color combinations on either the provided activity tracks to tell it what to do. Your little one can also use the provided Color Coding Markers to draw their own tracks on any piece of blank white paper and begin learning how to make their robot perform dozens of different actions. This provides your child with the basis of all modern computer programming and helps prepare them for the future.
Educational Value
We live in a world run by computers, from your car to the cash register at your favorite morning coffee place. It's not really surprising to hear that at any one time there are up to half a million software programming and coding jobs available within the US. That's over 500,000 jobs waiting for someone with the right skills and technical know-how to step into, and this number is only projected to increase. STEM learning principles are at an all-time high in schools partly because of the need to foster interests in these types of sciences now in order for our children to be prepared for the job market that will await them in the next 10 to 15 years. Finding ways to teach your child to code has never been easier, with dozens of websites and online lessons available. The problem is that most of these apps and websites are designed for teens to adults and don't provide appropriate tools to introduce coding concepts to a younger generation. Enter Ozobot, the Bit Coding Robot!
Creativity
The STEM learning concepts that this little robot promotes are nearly endless! It introduces the concept of basic computer programming through fun and interactive activities. Utilizing the markers to create new code is an excellent way to develop fine motor skills and stimulate cognitive development. It can pair with the OzoBlockly mobile app to provide even more coding-based games that are designed to be visual representations of coding making them suitable for pre-readers. Beyond the technical aspects, the bot also comes with a plethora of stickers, skins, and pop outs that allow your little one to customize and personalize their Ozobot and encourages creativity and imagination.
5

. Sunnytech Low Temperature Stirling LT001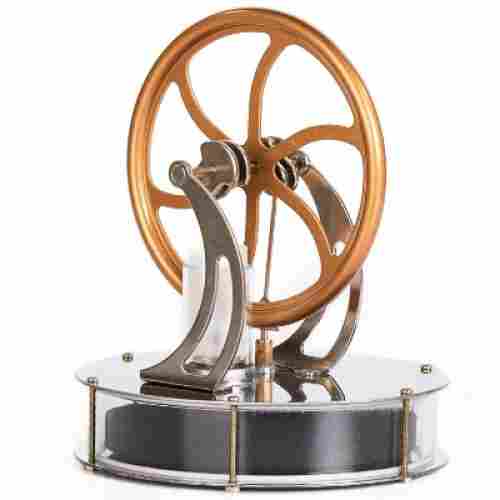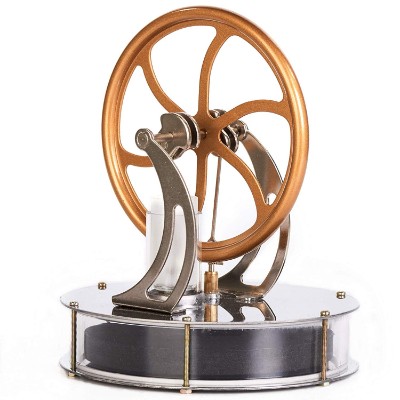 Composed of high-quality carbon steel, stainless steel, bronze, and zinc alloy parts
Oil-free
Promotes STEM learning
Can run for hours with continuous temperature differences
No batteries required
Materials are not very durable and can easily break with rough handling or misuse
Can develop a clicking sound over time that may require lubrication
This spinning gizmo is the perfect gift for the science-minded child in your life either as a standalone physics demonstration or even as part of a science fair project!
Read more
Design
This is not your average gizmo. The Sunnytech Stirling Steam Engine is also traditionally classified as an external combustion engine. The concept is simple, the different metal materials that make up the flywheel as its base absorb heat at different rates. This difference in the ambient temperature causes the wheel to spin around and around as if in perpetual motion!
Educational Value
This steampunk style science fair project come to life is easily set into motion using basic household objects. Simply pour a cup of hot water, set the engine on top and give it a quick spin with your finger. The temperature of the coffee versus the temperature of the air around the engine will provide all the energy it needs to continuously rotate. It also works great with coffee or hot chocolate! Even the difference between body heat, like your hand, and an air-conditioned room can be enough to set this whirligig off to the races!
Creativity
A Stirling engine is a heat engine that uses the concepts of compression and expansion of air for power, in this case, to turn an ornate flywheel. This engine model is like a living physics lesson for your child. Not only will it promote STEM learning by introducing concepts of thermodynamics and mechanical engineering but it will also help open up age-appropriate discussions about dozens of scientific concepts such as steam power, pressure, and other gas laws. Although this model does not require a full build in order to assemble, it does provide an opportunity to foster mechanical skills and encourage an interest in the sciences.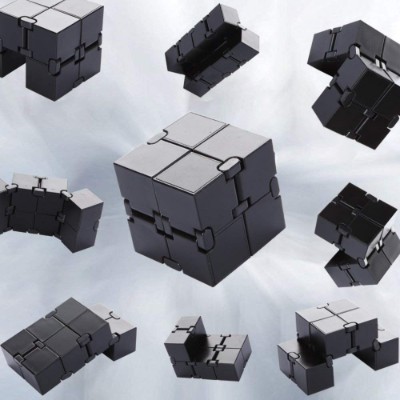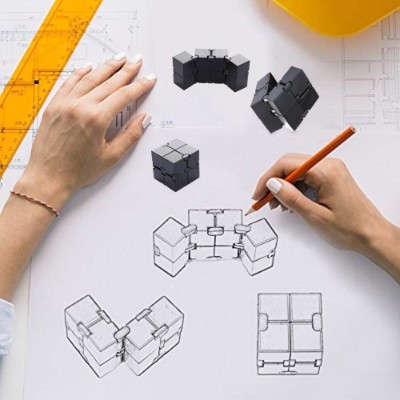 Solid, plastic construction
Sleek, attractive toy; they'll love to show it off
Great way to divert extra energy when your child is at rest
Fun, open-ended puzzles built-in
This great product from aSmallfish is geared towards the constructive diversion of energy, giving your child a way to divert their extra energy when they can't run and play.
Read more
Design
The various configurations of plastic dice work like a puzzle without an endpoint, giving your child's hands and peripheral brain functions an outlet when they can't play.
Educational Value
This product can actually help your child maintain focus when they have to sit and listen. If you have a child who is always brimming with energy, they may actually need a way to burn through the excess and keep their mind partially occupied.
Creativity
This fidgeting, as it is sometimes termed, is actually a way for the mind of your child to maintain focus when they are required to keep still. The sturdy materials and complex design of this product will work wonders for your child's fidgeting tendencies.
7

. OWI Hydraulic Arm Edge Kit
No power cords or batteries required
Introduces concepts of hydro-mechanical technology
Provides 6 Axes of movement
Highly detailed graphical instructions make assembly a breeze
Recommended age: 10 years and Up
Plastic construction may fail or break if used to lift objects weighing more than 1 pound
Assembly can be complex and may require adult assistance
This water-powered robot arm is an excellent way to help foster an interest in mechanical engineering while still being just plain cool!
Read more
Design
Six different movement points allow the arm to pivot at the elbow and the wrist, rotate at the wrist, base, and shoulder, and allows the gripper 'hand' to open and close. The gripper hand can also be removed and utilized as a suction-based apparatus instead! Your child will have complete control over the movement and manipulation of the arm that they created, opening up boundless opportunities to foster an interest in the sciences and promote STEM learning strategies!
Educational Value
It's very infrequent that we can include a product on our list that doesn't require any batteries or even electricity of any kind. So many models and toys today require complex electronics or flashy lights to provide interactivity but the real science lessons come when you can move beyond such gimmicks. The OWI Hydraulic Arm Edge Kit does just that. This multi-positional robot arm runs on water power alone! Your child will be able to explore the concepts of hydro-mechanical energy while they assemble their fully articulated arm.
Creativity
This STEM building kit provides a hands-on approach to learning concepts such as engineering, and hydraulic power. Building the arm requires your child to follow a detailed set of instructions which can help promote problem-solving and critical thinking skills. The assembly itself utilizes many small parts such as screws and even cutting tubing which can help develop and strengthen fine motor skills. Once the arm has been completed, the real learning begins as the arm provided opportunities for age-appropriate discussions on everything from mechanical engineering to robotics, to pressure and suction. The instructions do use several technical terms that may require an older sibling or adult assistance and can create opportunities for familial bonding and positive adult-child interactions.
8

. LittleHippo Mella Ready to Rise Children's Trainer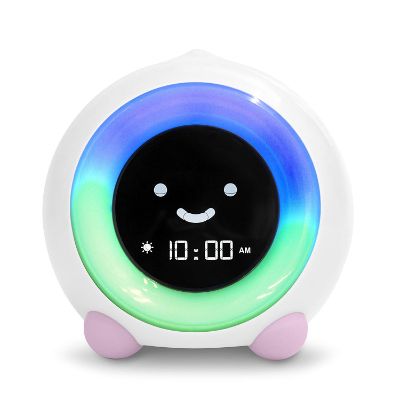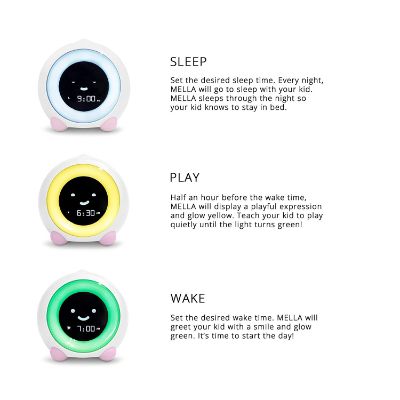 Helps kids achieve the right amount of sleep for their bracket
Display features facial expressions to teach when to wake
Lights change according to a period of time in the sleep cycle
Features three different sleep sounds and five different light colors
Constructed from kid safe and durable materials
Yellow color is very bright, no option to change or turn color off
Easy for child to unlock the clock and change the settings
Designed to make it easier for kids to know when it is time to get out of bed and also to help make sure that they are getting all the sleep that they need. The facial features on the front of the digital face of the clock teach your kids when to know it is time for bed and when it is time to get out of bed. The neat feature of this clock is the color changing rim. When it is about 30 minutes from time to get up the rim of the clock will change to a yellow color and then when it is time for them to get out of bed the rim will turn green. This lets them know it is time to start their day.
Read more
Design
As your child grows so do the features of this sleep training clock. The clock features sleep sounds that help your child get to sleep and stay asleep. All three of the sleep sounds are soothing and have been designed to help put your little one into a deep sleep that they need. The rim of the clock can also be changed to five different color selections. Each of the colors is soothing enough to help them sleep, but not too bright.
Educational Value
Learning to go to bed at a certain time without your parents having to tell you is something that kids learn as they mature. What this learn to sleep clock does it help them with learning how to manage their time before bed? The face of the clock starts a countdown before bedtime and lets them know when it is time to get into bed and get to sleep. This feature can also be used during the time for a timed activity. When children start to learn their schedule throughout the day it helps parents and children be more productive throughout the day and builds the social development skills that are needed.
Creativity
Constructed from kid safe and durable materials, but this sleep trainer will not let the kids down when it comes to a neat looking accessory for their bedroom. The digital face on this clock with the color changing rim gives it a look like an alarm clock that an adult would have but features all the things that kids need to have. Getting your kids to go to bed will never be so fun.
9

. Millennium Falcon 3D Lamp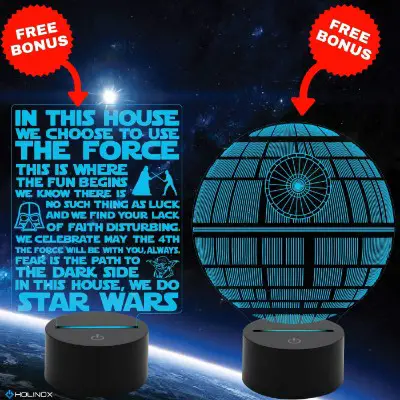 Energy-saving
Awesome spaceship design
Color-changing
Easy operation
Bonus features include a Death Star design and light up Star Wars quote
Not as interactive as some of the other sets on this list
Got a Star Wars fanatic at home? Get them a gift that will truly light up their room. This awesome 3D lamp looks cool and allows you the chance to talk about how light works and can be manipulated.
Read more
Design
This lamp uses acrylics which features similar properties to fiber optics. It's easy to use, has seven different color settings, and is energy saving. Plus it looks just like the Millennium Falcon! Kids and adults alike will love this new addition to their decor!
Educational Value
While this isn't a particularly hands-on gadget, it does still encourage curiosity and important scientific questions. You can use this to discuss light rays, how we perceive color, and how you can use electricity and engineering to create cool objects like this one!
Creativity
This lamp features a touch-pad light and seven different colors. It's easy for children to operate and they'll love getting to pick their favorite shade. It is equipped for over 50 hours of usage and contains a USB cord for charging.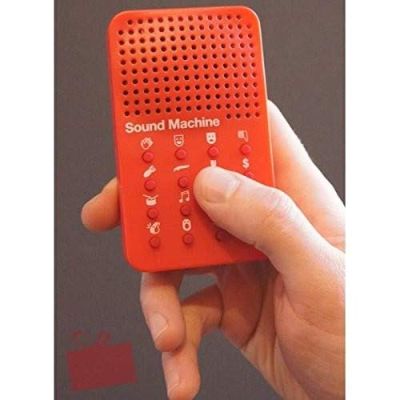 Handheld device ready to make some sounds
Features 16 different sound effects
Perfect for parties, sleepovers, and dinner time
Loud sound effects with just a push of a button
Best suited for kids age 6 years old and up
No volume control on the device
Requires odd sized batteries (AG13 / LR44)
What a better way to enhance the life of your kids than with this sound machine. It starts many laughs and ends many sad faces. From the burst of laughter to the crying sound your kids will have a blast with this gadget. From boring old conversations to laughter bursting from their mouths, this sound machine will turn any frown upside down. Entertaining family and friends with this fun time gadget will never be so fun.
Read more
Design
Break the ice, hear the whistle, and bust out with laughter. This easy to use classic sounds machine is a great feature for the kids. It displays 16 easy to push buttons on the front of the display. Each of the buttons when pressed makes a different classic sound; there is the pump action shotgun, the drum roll, the round of applause and so much more. It is best for kids that are over the age of six years old, but the simple machine is easy to use and is sure to start a few rolling rounds of laughter.
Educational Value
Placing the sound machine in your pocket and entering a social setting can make for some interesting reactions. The easy to reach and press buttons along with the small size makes this the perfect sound machine to help kids work on their social interaction skills. From the bursts of laughter to the wolf whistling this sounds machine is sure to start up some conversations in a crowd.
Creativity
Being silly is one thing, but taking a sound machine and playing it at that right moment turns a silly moment into something that everyone will remember. The 16 different sounds that can easily be created with this sound machine will have your kids ready to hit the buttons and waiting for the laughs at a moment's notice.
Criteria Used for Evaluation
Design
These gadgets make it possible for kids to have fun on their own, but are also ideal to share the activity with someone else. This would include siblings and friends who can also enjoy the activity. Also, parents can even interact with their kids, sharing quality time while enjoying the activity that the gadget is supplying.
Today's kids come from a time where laptops and other electronic mobile devices are common. Most aren't even aware of what a typewriter, a phonograph, and even a pager are. So, whenever possible it's always a good idea for parents to give a child a gadget that is nostalgic. It will help a child to know that there is more to life than electronic, high-tech devices. The child could also learn that these can be just as much fun and engaging as any technological device.
Educational Value
The mind is always expanding in learning, and the right gadgets can continue to expand a kid's learning platform. Through certain gadgets, a child can further learn science and mathematics, just to name a few subject areas. Kids can even learn a new interest such as engineering or computer programming. Yes, through the right gadgets, the educational possibilities are endless.
Creativity
Yes, gadgets can expand a child's own imagination by giving them an opportunity to learn how electronics and technology actually work, for example. An opportunity to create their own fun-filled little world will expand the child's horizons and at the same time allow them to perhaps find a new hobby or perhaps even a career goal.

Parents, Did You Know?
When kids are able to create something extraordinary, maybe a robot or a computer, this gives them a sense of accomplishment which also enhances their self-esteem and self-confidence. The end result is a much healthier self-concept, enabling them to function in a much more progressive manner in the real world.
Parents, Did You Know?
Man's evolutionary development is closely tied to the advances in science and technology. There's simply a lot of things we do now that have been simplified or made more convenient by these technological advances. Children, in particular, are able to benefit a lot from these modern-day gadgets and gizmos. Here are some of the benefits of today's technology in the growth and development of children.
Parents, Did You Know?
When going about creating this list of some great cool gadget gift ideas for kids, we wanted to address these issues while providing gadget ideas that will expand a child in various stages of their growth. We also wanted to remind parents and show kids that cool gadgets don't have to actually be electronic, there are definitely other kinds gadgets and gizmos out there that are just as much fun and also as beneficial.
Other Factors to Consider

Social Development
Many of today's technology helps improve children's social interaction skills. As kids are introduced to different science and technology concepts, they widen their vocabulary as well as an understanding of how the world works. This can be the basis of a more successful establishment of social relationships.
Safety
Most of today's technology run on some form of electricity, whether it is AC or DC. It is therefore imperative for us to check for electrical safety in these products, lest we expose our children to potential harm. The materials used in the product were also examined as a matter of safety.

Logic
From computer programming to engineering and principles of physics, children can use many of today's gadgets as an example of how these concepts apply in real life. This greatly aids in their understanding of the different principles inherent in any professional discipline.
Frequently Asked Questions
q:

Do these gadgets come with an instruction booklet?

a:

Some of the ones listed here do indeed come with an instruction booklet. It is highly recommended to keep the booklet to ensure that the gadget is always well-maintained. These instructions booklets will contain viable information that will always be important to know.
q:

Should I be concern about those gadgets that contain lithium batteries?

a:

Odds are right now a parent and even their child already own a laptop, a smartphone and perhaps a tablet computer among other mobile devices. All of these also contain lithium batteries, so it would be hard to avoid this type of battery these days. Lithium batteries have become quite popular due to the fact that they are compact and rechargeable, making them an ideal battery for our mobile devices. However, there is reason for concern, as there have been reports on gadgets containing lithium batteries exploding and catching fire. The best thing to do is to remember that lithium batteries need a certain amount of care and safety consideration. For example, make sure the child never gets any gadget that contains this battery wet because moisture can damage this battery even when it's properly encased in the unit. Also, make sure that the gadget never gets overheated, that it is always stored away at room temperature or in a cool dry place. There are other safety guidelines for lithium batteries that can be found online and it's strongly recommended that any consumer read these guidelines to ensure that all their devices containing this battery are being properly cared for.
q:

Should I monitor my child's time playing with a gadget?

a:

Gadgets can be fun-filled toys and yes, there are times when a child could get so wrapped up in what they are doing that they will need a parent to help get them to take a break away from the gadget. The gadgets featured on this list will certainly occupy a child, and a parent will need to have a certain guideline of time in place when giving the gadget to the child, such as telling them that they can spend an hour playing with the gadget. If the guidelines are put in place early on, the child will understand there are parameters that will need to be followed.
q:

Do these gadgets come with a warranty?

a:

It will depend on the type of gadget and the company. The best form of advice is if a limited warranty didn't come with the gadget and the consumer feels one may be required, go to the company's official website to see if they offer a warranty for things such as damage and replacing missing parts.
q:

Should I teach my child how to care for these gadgets themselves?

a:

Definitely! This is another important part of a child's development learning responsibility. These days kids want high-tech gadgets such as an iPhone or a laptop computer but, are they responsible enough to care for these? So, teaching a child with the gadgets listed above how to ensure that the gadget stays clean, to follow all instructions and in the case of electrical options not having any type of drink or water around it, will help the child learn that when having a high-tech gadget there is a certain amount of care that is involved.
q:

Would my child really be interested in wind-up gadgets?

a:

Definitely, over the years, the types of wind-up gadgets and gizmos have changed due to the changing times, but there are those time-honored types such as wind-up robots or cars that will still interest a child. Also, wind-up toys actually help a kid when it comes to strengthening motor skills since kids need to grab hold of the wind-up feature in order to get the toy to work. Plus, believe it or not, a child might actually be fascinated by the fact that this gadget can play music or move without any batteries needed. Make no mistake about it, wind-up gadgets and gizmos are still quite popular.