10 Best Math Flash Cards Reviewed & Rated in 2019
last updated
Jul 26, 2019
The building blocks of math can feel like a monumental task to a lot of kids. This is an area in which many children struggle, and it's can be tough on parents too to watch their little loved ones getting frustrated or constantly feeling confused. Skip the tears and the breakdowns by practicing together in a way that is fun and helps kids create a solid mathematical foundation upon which to keep learning: flashcards. Flashcards are a great way to test children's academic skills in a way that seems fun and more like a game than studying. Check out ten of our favorite sets here!
In a Hurry? The test winner after 39 hrs of research
Attractivia Magnetic Large
Why is it better?
Extra large size- 5 ⅝" x 3 ⅝"
Magnetic and Dry erasable
Recommended age: 2 years and Up
41 total cards including numbers 0-25 and mathematical operation symbols
In a
Hurry? Editors choice:
Test Winner: Attractivia Magnetic Large
19
Researched Sources
39
Hours Researching
16
Products Evaluated
Educational Value
Emotional Development
Logic
By Default
10 Best Math Flash Cards Reviewed
1

. Attractivia Magnetic Large
Extra large size- 5 ⅝" x 3 ⅝"
Magnetic and Dry erasable
Recommended age: 2 years and Up
41 total cards including numbers 0-25 and mathematical operation symbols
Magnets can stick to one another causing it to be difficult to use by hand
Box and cards are very heavy, may require adult supervision
The Attractivia Magnetic Flash Cards are a homeschoolers dream as they provide an interactive way to teach basic math skills at any age! The 41 cards in this set contain every number 0-25 as well as the operation symbols for addition, subtraction, multiplication, and division. These cards are very large and designed with the bright, simple font that can be easily seen from the back of a classroom.
Read more
Educational Value
Each number card has a numerical symbol as well as counting dots for younger children. All of the cards are both magnetic and dry erasable so they can be used in a variety of different ways. Attach them to your whiteboard and school for lesson supplements. Lay them out on the table at home with a dry erase marker and let your little one practice finger counting and tracing the number shape. Throw them on a cookie sheet for math practice on-the-go. There are dozens of ways to utilize these cards and tweak them to fit your child's individual learning style.
Emotional Development
This flashcard set provides one simple but extremely beneficial feature that no other flashcard set on our list can. You can create your own math problems! Since the numerical cards and operational symbols cards are separate, this allows you to mix and match them to fit your lesson plan or your child's specific learning needs. This allows for a plethora of teaching opportunities as well as skill level variance meaning these cards can grow with your child as they age.
Logic
You can start with simple counting practice as toddlers, utilizing the brightly colored counting dots on each number to reinforce numerical retention. Addition and subtraction can help prepare your child for 1st and 2nd grade while also providing multiplication and division for the rest of their elementary learning needs. You can even use the 'subtraction' symbol to create fractions for older children and teens!
52 cards per set (with 4 sets, totalling 208 cards)
Double-sided cards, meaning 104 examples in each set and 416 examples total
Hole-punched so they can be stored on the included ring
Large, easy to read print
Answers on the back corner in small print so players can't cheat
Cards could be a sturdier stock
Great for ages six and older, these flashcards are hole-punched and include a set of rings you can carry them on and use to flip quickly through while you practice. All of the problems are displayed in large font and are the perfect size for little hands. These are easy to read from afar and a great tool for review and practice. Practice makes perfect and this set gives plenty of opportunity for that.
Read more
Educational Value
Star Right is making sure to cover all the bases: this multipack features all the basic math schools necessary for your little one: addition, subtraction, multiplication, and division. Each set is packed with 52 double-sided cards and each side features an example of a math problem, making for 104 examples in each set. (Answers are detailed in fine print on the bottom left of the opposite side of each card so no one can cheat.)
Emotional Development
It's not going to go back and do the same problem in reverse (i.e. if you see 3 x 7, you won't later see 7 x 3), so you'll need to explain some basic principles to your children, but it's a great little set for the price and allows you to have a dialogue and teach them basic shortcuts and principles that will allow them to work quickly in their heads.
Logic
Test all their math skills with this collection of 4 different flashcard sets. Each set includes 52 cards which are plenty to test their knowledge of the subject and also it great for one setting. Each of the cards is double sided which provides double the number of questions. The answer to each card can be found in the bottom corner on the card on the opposite side. This provides the student and the teacher with the answer making going through the set efficient and effective.
3

. Star Education Multiplication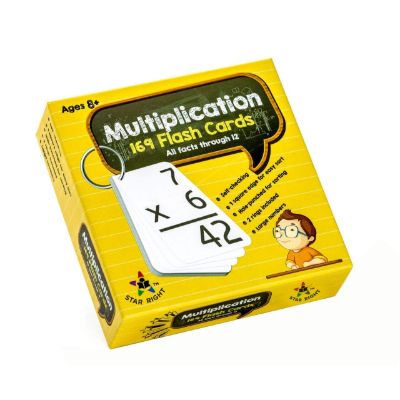 Includes two rings
Self Checking
Large Bold Print
Thick & Durable
Sized perfectly to fit in the palm of your hand
Cards are not in order in the box
If cards are on rings they will not fit in the box
Star Education has created a great set of flashcards to help improve your child's multiplication skills. This includes 169 cards which are the multiplication sets for 0-12. If you're a teacher this set is great for the classroom because the numbers are in large bold print. The children in the back of the class will have no trouble reading what the card says.
Read more
Educational Value
Learning multiplication for kids can often be a challenge. It has proven that flashcards can help boost the skill and provide them with a learning tool that is very educational. Flashcards use physical and cognitive skills that work together to give kids the ability to master a skill set. The 169 cards that contain multiplication in this set are perfect.
Emotional Development
This set of flash card is great for independent or social play. The answers are provided on the back of the card, which allows your child to check their answers. The Star Education Multiplication Flash Cards are great for children at any level. Whether they are just learning their tables or they are an expert these cards allow them to multiply at their own pace.
Logic
The set also includes two metal rings. The rings are great for separating the cards. You can separate them by one set at a time or by cards your child knows and needs to work on. Star Education also has addition, subtraction, and division flashcards. Your child can keep practicing math, long after they master their multiplication tables.
4

. School Zone Addition and Subtraction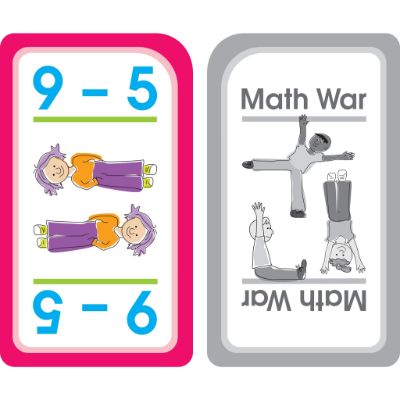 Affordable
Encourages Social Play
Makes learning math fun
Cards have pictures
Promotes creativity as children can come up with their own games
Answers are not on the back of the card but on a separate sheet
Due to the large size, cards can be hard to shuffle.
There are a variety of ways to play with these cards. Typically this game is played like the card game "War". Each child will place their card down, solve the problem, and whoever has the highest number wins that round. Another way to play allows gives kids the option to play one on one or in teams. Whoever solves the problem first gets the card, and whoever ends up with the most cards wins. As they become more comfortable with playing the game they can develop new ways to play.
Read more
Educational Value
Solving Two plus Two has never been more fun. With the Math War Addition and Subtraction Game cards, children compete to solve the math problem. This particular set is geared toward children who are six and up. In other words, children who are in Kindergarten, first or second grade and are learning basic addition and subtraction will benefit from this set.
Emotional Development
This set of flashcards encourages social play and allows children to develop a sense of competitiveness. As they race to solve the problem they will not only improve their problem-solving skills, but they will also develop their sense of collaboration and cooperation. Each card has a picture on it, which will not only tickle your child's sensory development but also keep them interested in the card game.
Logic
This set of cards brings two elements together to create a fun card game that helps little ones with both subtraction and addition. It is a simple game that most have played as a child. This is the math revision of the card game of war. It is a simple game that helps them learn and master the equations. It is based on the idea that children will focus on the game and during the playing will learn to solve base addition and subtraction problems. The game can be played with other kids or a caregiver.
5

. Edupress Multiplication
Cards are color-coded by number family
Designed with rounded edges for added durability
Two rings are included in the box
Includes all multiplication facts for 0 to 12
Rings could be made more durable
Multiplication facts are a part of math that everyone looks forward to mastering. At first, it can be tough but then it is just another part of the skill of math. These flashcards aid in developing the skill of multiplication by having a set of flashcards on a ring that they can work with. As they flip through the cards and give the answer the goal is to become quicker, faster, and more efficient at working through the ring of cards. The cards are each colored and the color places the cards together in a number family. It is a great way to use all the developmental skills to master the skill.
Read more
Educational Value
Your little math wiz can independently practice their multiplication tables as the answers are written on the back of each card. With each number family being a different color, they can easily find the set they want to practice.
Emotional Development
The cards are color-coded by number family so you can easily pull out the set your child needs to work on. Equipped with pre-drilled holes, your little one can use the rings included in the box to keep their cards in one place. With two rings in the box, your child can sort the cards any way they please. The text is bold, thus making these cards easy to read by children of all ages.
Logic
The cards are designed with rounded corners to enhance their durability. Each card is 2.5 inches by 4 inches, thus making them the perfect size for a child's hand. On the back of each card is the answer which makes practicing alone great because your child can self-check.
6

. Trend Enterprises Three-Corner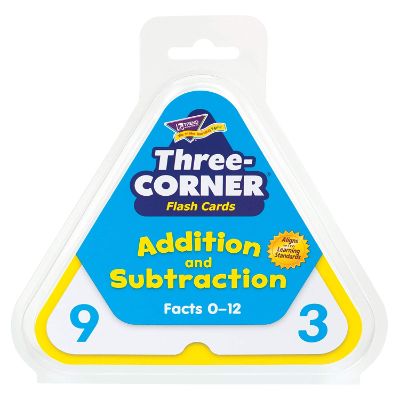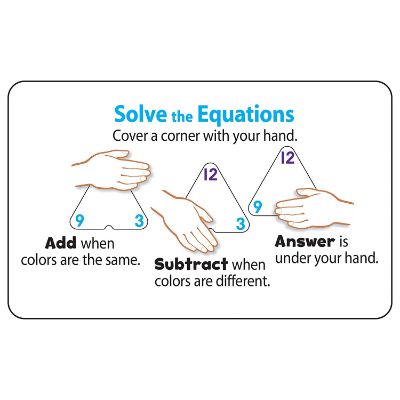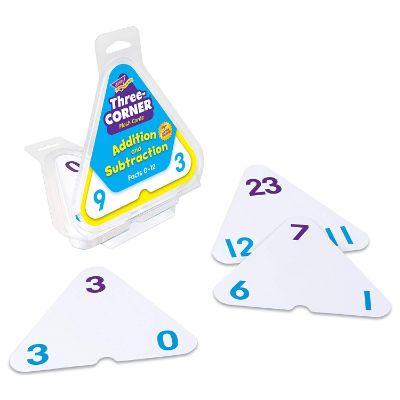 Unique Design
Encourages Social Play
Lightweight
Made in America
Affordable
Some people may find the lack of math symbols to be confusing
Cards could be Laminated to add extra durability
These Three Corner flash cards are not your ordinary flash cards. While their unique triangle design does set them apart from other flashcards, they are also different in the way they allow your child to do the math. Each corner of the flash card has a number. There are no addition, subtraction, multiplication or division signs on the cards anywhere.
Read more
Educational Value
We love the unique design of these flash cards. The triangle shape and the extra challenge of having your child remember when to add or subtract are sure to keep your child's interest in studying. We also love that these cards allow your child to study alone or with others.
Emotional Development
While these triangle cards are great for individual play, they also encourage social play. You can quiz your child or your little one can play a game with their friends. These cards offer an added challenge for your child's problem-solving skills as they decide whether to add or subtract. However if your child struggles with deciding on whether to add or subtract, you can purchase dry erase markers and write the symbols in yourself.
Logic
Even though there are no clear signs, your child will be able to figure out the problem. They will begin by placing their hand over one number, so they will only be able to see two numbers. If those two numbers are the same color, they add them. If the numbers are different colors, they subtract them. The answer to each problem will be the number covered up. This set of flash cards is geared towards children ages 6-8 and are lightweight enough for little fingers to grasp.
7

. Multiplication & Division Three-Corner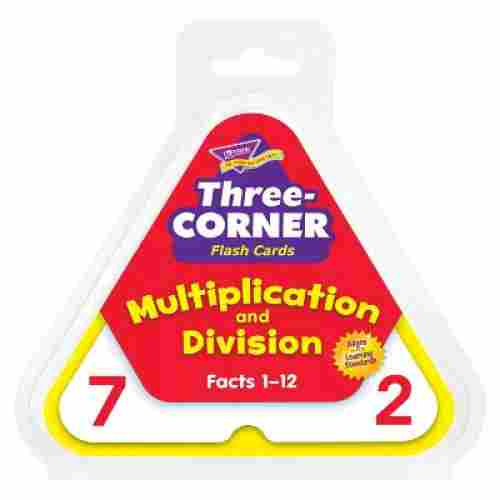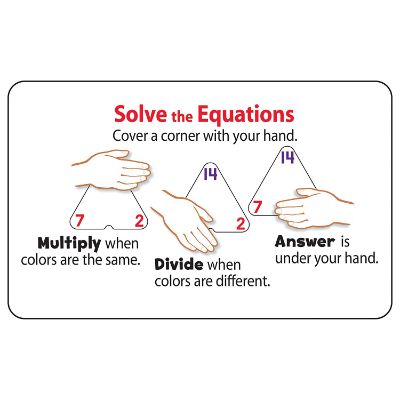 48 two-sided cards
Durable card stock
Teaches inverse operations
Can use the same card for both multiplication and division
Come in solid carrying case for travel and storage
A little difficult to hold so that you cover the answer properly
These triangular cards truly emphasize the point that multiplication and division are inverse operations and to do one right after the other is to undo your first step. Children will be able to draw the parallels between the two functions by seeing all the numbers on the card's relation to each other based on which function they're applying.
Read more
Educational Value
This brilliant design allows you to use the same cards to do both multiplication and division. The method it encourages also helps to drive home that multiplication and division are inverse operations, so children will begin to understand the principle of what they're doing. Each triangle card has three numbers in two different colors. When you're multiplying, cover the number in a different color to hide the answer. When you're dividing, cover one of the numbers that share a color to hide the answer.
Emotional Development
It's a pretty innovative concept and while it might seem a little quirky, most teachers, parents, and kids who have used this method truly love it. It isn't just about memorization; it also helps them to understand the mechanics of math.
Logic
When children are working on developing the skill of division it plays along with the skill of multiplication so these flash cards bring the two elements together. They are a neat triangle shape and they each feature a relationship of an operation. Kids work with the cards and their hands. By covering one of the numbers the kids then can figure out the operation and develop the skill set through an awesome game that is fun to play.
8

. Brighter Child Addition Zero to Twelve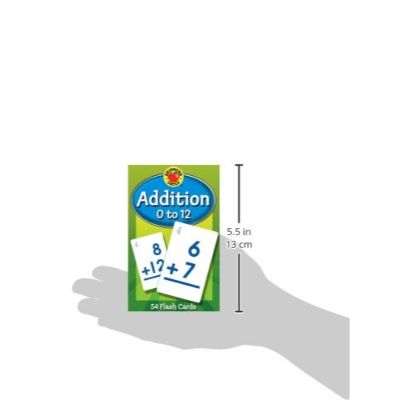 Affordable
Math Problem on each side of the card
Large Numbers
Self Checking
Has an extra card suggesting fun games.
Front of the card is glossy and the back is dull, making them more prone to stick together.
Addition from facts 0 to 12 is covered in this set of flashcards. It is a set that maximizes the learning, retention, and the ability to ace any addition test or quiz. The set includes 54 flashcards that cover over 100 math problems. Each card features a math problem on each side and then the answer to the problem is on the opposite side of the card up in the corner. It is easy to locate and allows kids to quickly verify they have the correct answer and move on the next card.
Read more
Educational Value
Your child can practice adding alone, as the answers to the problem are on the back of the card in the top corner. This pack of flash cards also includes an extra card suggesting fun games to play with the deck. The games will provide tons of fun while also ensuring your child is learning.
Emotional Development
Since the front and back of the card are not in sequential order, your child will actually be learning how to add instead of memorizing the answers to problems. Since the answers are printed on the opposite side of the card, your child can check their answers.
Logic
Since the front and back of the card are not in sequential order, your child will actually be learning how to add instead of memorizing the answers to problems. Since the answers are printed on the opposite side of the card, your child can check their answers.
9

. Fun Tree Books Multiplication
Portable
Dry Erasable
Pocket Sized
Easy to clean
Durable
Doesn't include a chart for every number
Using a visual to learn multiplication tables is one of the most effective ways to master the skill set. This flashcard set is different than the rest. It is a really cool dry eraser flash card that the kids write right on. The card features the entire number family on one side and then a place to be able to answer the equations. The goal is to quickly work down through the card to solve the problems. On the back of each card are the answers to the problems on the front. Then once down with that card they easily wipe clean.
Read more
Educational Value
Each card contains the multiplication tables for one number. Your child can work through one card or multiple cards as they write the answers to each problem in the coordinating blank. This set includes a chart for the following numbers; 3,4,5,6,8,9, and 12. The cards are bound together by a metal ring, which makes it easy to keep the cards organized. The size of this set makes them the perfect on the go flash cards. You can practice multiplying with your child anywhere.
Emotional Development
We absolutely love that the cards are dry erasable, allowing your child to learn at their own pace. We also love that they are pocket sized which makes it easy for your child to practice anytime anywhere. While some may consider this set to be pricey, we find that they are worth every penny. They are thick and durable, ensuring that they will last.
Logic
Studies show that if we write something down we have a better chance of remembering it. This dry erasable set will improve your child's knowledge of multiplication tables. Your child's writing can simply be wiped away, making these cards easy to clean. These thick cards are durable and can withstand being tossed around inside your little one's backpack. As your child grips the dry erasable marker they will be improving their fine motor skills and practicing writing.
10

. School Zone Zero to Twenty Five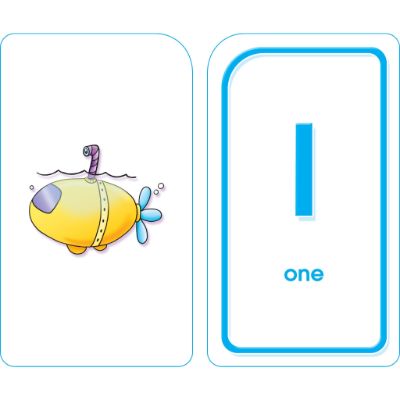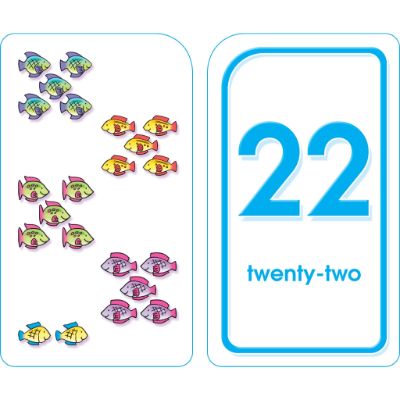 Affordable
Includes a parent card with suggested math games and activities
Brightly colored illustrations stimulate sensory development
The cards are large, thick, and durable
Some reviewers mention the box being torn upon receiving the deck
Children ages 4 through 6 can increase their knowledge of numbers with the School Zone numbers flash cards. This set includes a card for numbers 0 through 25 as well as cards for each math symbol.
Read more
Educational Value
Once your child learns their numbers, they can use the symbol cards to create and solve math problems. A parent card is also included in the box, which will help you come up with activities that enhance your child's learning. On one side of the card is the number and on the other side is a picture of an object that represents the quantity. For instance, the card 22 has 22 fish on the back. The fun illustrations will make counting exciting. The cards are easy to understand so your child can practice with a partner or alone.
Emotional Development
The suggested games on the parent card are not only fun but will also increase your child's retention. Not only do the illustrations make the flash cards fun, but also they are brightly colored and will stimulate your child's sensory development. The large size of the cards makes them easy to grasp by tiny hands. They are thick and durable, thus allowing your child to practice as often as they like.
Logic
Teaching preschooler's numbers is fun and with these picture flash cards even more fun. The logic behind this set of flashcards is that the kids are able to learn number association. On the front of each card there is a number and on the back is the picture presentation of the number. Working through the set helps them learn their numbers, how to count, and then works on adding the skill of addition and subtraction.
Criteria Used for Evaluation
Educational Value
Active recall is very important in learning because it's all about retrieving memories. When your child looks at the problem listed on their flash cards, as they try to come up with the answer, they are practicing active recall. This process is much more effective than multiple choice, as it allows you to think on your own instead of choosing from several answers. In order to actually learn the math techniques, your child will need to use their brain to recall how to solve the problem from their memory. As they practice with number flash cards, the information will become ingrained in their long-term memory, which will make it easier for them to recall on a test or when needed.

Emotional Development
As your child begins to practice their flash cards, they will decide how well they know the answer to each card. If they know the answer well, that card is set aside but the ones they need more practice to go into a separate pile. As your child repeats working on the cards that needed more practice, they will increase their confidence as well as their active recall. Through repetition, their ability to remember the answer will improve.

Logic
Metacognition is basically thinking about thinking with the goal to improve learning. After your child has come up with the answer to the problem listed on the flash card, they will think "Did I get the answer correct?" or "Did I use the right problem-solving strategy?" before the answer is revealed. This is metacognition. As your child continues to think independently, their dependence on their teacher will decrease. They will have higher academic performance as they will depend less on the teacher for learning. Your child will be self-motivated to succeed.
Most Important Criteria
(According to our experts opinion)
Experts Opinion
Editors Opinion
Users Opinion
By Default

Parents, Did You Know?
Flash cards are extremely beneficial in helping your child master math! Since your child will grow up using math in their everyday life, we made sure the flash cards on this list targeted their active recall, metacognitive faculties, and provided confidence-based repetition.
Parents, Did You Know?
Flashcards have proven benefits in all areas of education! You can also use flashcards to work on vocabulary, history, foreign languages, and more!
Other Factors to Consider
Materials
When you're helping your child study, you want the best materials you can get your hands on. These flashcards have been reviewed and picked for their educational value, ability to help your child improve in math, and quality resources used in their manufacturing.
Frequently Asked Questions
q:

Will flash cards help my son, who has autism, with math?
q:

I'm a math teacher. How do I get my whole class involved in using flash cards?

a:

There are plenty of games you can play with your students. A favorite of ours is dividing them into teams, and having them compete. This will also develop a healthy sense of competition in your students.
q:

What should I look for when buying a deck of math flash cards?

a:

You will first want to buy a deck that is associated with the area of math your child struggles with. For instance, if your child is struggling with adding, buy them a set of addition flash cards. We also recommend buying flash cards that have the answer on the back, so children can practice alone.
q:

Why should I use flash cards in the classroom?

a:

A classroom is made up of students who learn differently. Flash cards will appeal to the visual learners in your classroom.
q:

Should I buy flash cards with problems listed on both sides or just one?

a:

Really, it's up to you. Most of the time when flash cards have problems on both sides, the sets are not in order. Some parents feel this is more difficult when their child is first learning because they can not learn one set at a time.
q:

How often should my child practice their flash cards?

a:

Practice makes perfect. The more times you go through them, the more you'll remember. We recommend three times a day. The goal is not to just speed through them. Be sure you focus more on the cards that your child needs more practice on.