10 Best Construction Toys & Trucks for Kids Reviewed in 2019
last updated
May 12, 2019
Construction toys (and even construction sites!) have long held the fascination of boys and girls--and a construction toy of some sort could be found in almost every child's home. Nowadays, electronics are taking over, and children aren't using their imaginations during playtime like they used to. Whether your child enjoys dressing up in a hard hat and safety vest, "fixing" things around the house with their tools, or just loading up a dump truck and dumping it out, there is a type of construction toy out there for every child. With so many different construction toys on the market, how do you know which ones are the best? We take all the hard work out of figuring out which construction toys are best by doing all the research for you! Below you will find the 10 best construction toys that made the cut to be featured on our list.
In a Hurry? The test winner after 25 hrs of research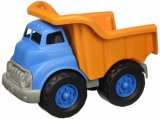 Green Toys Dump Vehicle
Why is it better?
Chemical-free
No greenhouse gas emissions/wasted energy
Replicates real trucks with the treaded tires
Dishwasher safe
In a
Hurry? Editors choice: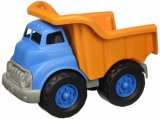 Test Winner: Green Toys Dump Vehicle
20
Researched Sources
25
Hours Researching
17
Products Evaluated
Entertainment Value
Ease of Use
Durability
Physical Development
By Default
In Depth Review Top 10
Green Toys Dump Vehicle
LEGO Duplo Town Excavator
Funrise Steel Mighty Dump
Green Toys 3-Pack
Melissa & Doug Role Play Costume
Liberty Imports Cartoon Friction
WolVol 3-in-1 Bulldozer
Melissa & Doug Take-Along
ETI Toys Original 101-Piece
ToyVelt 68-Piece Realistic
Table of contents
Criteria Used for Evaluation
Other Factors to Consider
Frequently Asked Questions
Sources
10 Best Construction Toys & Trucks for Kids
1

. Green Toys Dump Vehicle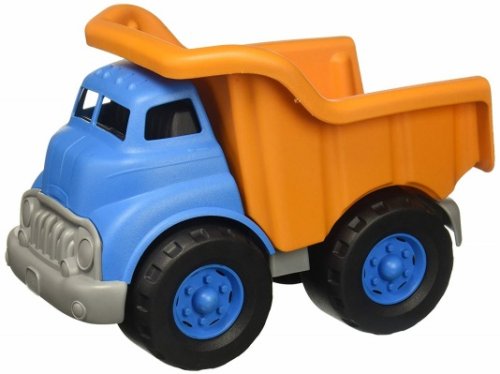 Chemical-free
No greenhouse gas emissions/wasted energy
Replicates real trucks with the treaded tires
Dishwasher safe
Doesn't zoom easy
Noisy and clunky
Manufactured in Green Toys' California home base, this Dump Truck toy is another example of the point wherein environmentally friendly toys meet toys that are safe and fun for little ones.
Read more
The dump truck has no metal axis but features a functioning flatbed that lifts to dump its cargo. Thick, treaded tires mean easy navigation over uneven terrain. Once again, no harmful chemicals or extra coatings on this product. The lifting flatbed will help develop motor skills, while the design strays from any kind of sharp corners or jabby elements that might hurt little fingers. It's similar to the dumpster in Green Toys' three-pack, except that it's a little larger.
Entertainment value
Dump trucks are always a good point of interest for kids. These are basic toys that lay the foundation for the development of creativity and physical talents that will also entertain and delight children for long periods.
Ease of use
The simple workings of such a basic toy do not overpower the abilities of kids to come up with scenes and storylines to play with the truck. Such vehicles do not require much knowledge or skill to enjoy.
Durability
With the sturdy materials and superb construction, you can count on this item lasting for several generations in great shape. Even with rugged use, the product will not show signs of wear or use.
Physical development
It can hold some cargo, and the mechanism of the truck's back lifting and lowering helps children hone their motor skills. Such physically-inviting toys bring out the moveable talents in kids to develop muscles and balance.
2

. LEGO Duplo Town Excavator
Contains two functioning construction vehicles
Made from safe non-toxic materials
Comes with two figures with helmets
Includes other accessories such as colorful bricks
Smaller pieces that can get misplaced over time
This clever set put out by LEGO is like getting two toys in one. First, a child will have the challenge of putting the construction vehicles together.
Read more
The process is simple enough but will still be challenging. Once the town truck and tracked excavator machines are made, it's time to put them to work. The dumping feature on the truck actually flips over and the front arm on the excavator actually makes a shoveling motion. This toy will challenge a child's cognitive skills as they put the machines together. From there, a child will challenge their imagination skills as they set up their own construction-site experiences.
Entertainment value
To add to the realistic experience, the set includes two little construction workers figures and other accessories. Children will have loads of fun making up stories and scenes with these two, play people and the trucks.
Ease of use
Yes, these vehicles will actually work. They will roll around on their wheels, so kids can drive them all around and pretend to be really driving. So simple in the design, this item is wonderful for easy and stress-free play.
Durability
This Duplo set is like getting two toys in one. This first a fun-filled puzzle for which your child will put the pieces together and then they will be able to play with the trucks they have just built.
Physical development
It is good for sharpening visual skills since the parts are all bright, vivid colors. This toy is great for interactive experiences since a child can have fun playing with friends or siblings.
3

. Funrise Steel Mighty Dump
Is bright yellow similar to an actual dump truck
Made of a strong steel body and rubber tires
Has an actual dumping feature
Guaranteed to last a lifetime
Edges on the truck bed might be sharp for toddlers
When it comes to having a construction toy dump truck perhaps none comes better-made than this one. Created by Tonka, a trusted name in toys, this little dump truck originally came out in 1964.
Read more
Since this time, it has undergone some changes in its overall construction such as being made for the most part out of strong sturdy plastic as opposed to being composed all metal. Which makes it easier for younger kids to be able to handle while still being sturdy. However, the dumping bed remains made of metal along with the driver's cab. It has all the features of an actual dump truck found on a construction site. Kids will certainly enjoy this toy dump truck with a reputation for being made to last by a company trusted to create toys that will for generations.
Entertainment value
This is a wonderful toy truck that will provide kids with hours of imaginary play. Such stories and scenes can be developed with simple props and surface areas to make the play more interesting.
Ease of use
Loading, dumping, and driving are the main activities associated with play trucks. These talents are all easy to do and do not require much work from the child, but each can be so beneficial for the child.
Durability
Built to be used indoors or outdoors, this sturdy and long-lasting truck is great for playing in the sand at the beach or in a sandbox. On almost any type of terrain or surface, it will do well and provide much enjoyment.
Physical development
Driving a toy dump truck may seem like a simple action for a child, but in reality, it takes several physical processes to execute properly. Kids will develop balance, coordination, and dexterity among other abilities using this toy.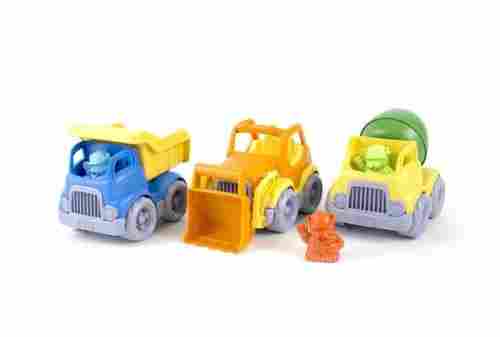 Made from completely recycled materials
Can be used in the bath
Small, light, easy to travel with
Dishwasher safe
No harmful chemicals in making this set
Wheels can lock up on hardwood floors
Dogs don't stay put in trucks; no mounting functions
Can you say cute AND eco-friendly? You sure can, with the Green Toys Construction Set. Manufactured entirely from recycled milk jugs, these toys are BPA-, PVC-, and phthalate-free as well as being dishwasher safe.
Read more
The three-pack includes three cute construction puppies (in red, blue, and green), one mixing truck, one dump truck, and one scooping truck. (The dump truck's bed lifts up, and the mixing truck's tank spins a little bit, though it takes a hardy push.) Green Toys recommends users of this toy be between twenty-four months and six years in age. These sweet little pups and their trucks contributed no greenhouse gas emissions, come packaged in green, recyclable materials (there are no plastic ties or wrap!), and are printed with soy ink. Feel at peace with the busiest parent of all (Mother Nature) by purchasing a responsible, sustainable toy for your children to enjoy!
Entertainment value
The fun is endless and ongoing with these several truck and puppy items. Younger kids will be so excited to play and engage with this incredible toy that is so colorful and bright.
Ease of use
Each vehicle is approximately six inches in length and is light enough for easy travel and tiny hands. Even the smallest of toddlers can learn to grip these and carry them around for all-day play.
Durability
The recyclable plastic is meant to be long-lasting and safe for the environment. Packaged eco-friendly, this item will be around long after the child grows up and moves on to other more complicated toys.
Physical development
Mixing, spinning, and scooping are the wonderful activities your child will learn and experience with these adorable little trucks and pups. In addition, they can drive the trucks on their favorite terrain indoors or outdoors.
5

. Melissa & Doug Role Play Costume
High-quality machine-washable fabric
Includes hard hat, name tag, and goggles
Comes with a toy hammer and saw for the pockets
Can fit kids ages 3 to 7-years-old
Tools can fall out of the pockets easily
This dress-up set actually gives a child a chance to take on the role of a construction worker. Made out of polyester material, the bright orange and yellow vest of the set has cleverly sewn-on pockets at the waist that resemble a tool belt.
Read more
Along with this vest, the set also includes the bright yellow hard hat that is synonymous with construction workers. In all, there are six pieces to this playset, put out by Melissa & Doug, that really make a child feel like a genuine construction worker. Playing dress up is a time-honored tradition that should never go out of style. With the inclusion of the hard hat and goggles, a child will learn the importance of always wearing safety gear, be it at work on a construction site, playing sports or riding a bike.
Entertainment value
To complete the whole overall look, the set includes a pair of goggles for the child to wear over their eyes, plastic tools, and also a plastic name tag where the child's name can be written.
Ease of use
So easy to put on and take up the serious role of a construction worker in the field, this splendid costume will entertain kids on rainy days or even on sunny days in which they can out and tool around in the sandpit or dirt mound.
Durability
The cute vest and hat of this ensemble will surely outlast your child's pretend years. They can put the pieces on countless times without getting tears or rips in the vest or the hat showing signs of wear.
Physical development
Wearing a costume is a good way for a child to expand their imagination and engage in role play. It also gives them practice in choosing an occupation role to possibly be when they get older.
6

. Liberty Imports Cartoon Friction
Includes four brightly-colored trucks
Made from quality plastic materials
Will work well even on thick carpeting
Ideal for children as young as 18 months
Don't go very far when pushed due to friction power
This is an adorable little set of trucks for toddlers to play with. This set consists of three construction vehicles--a cement truck, dump truck, and bulldozer.
Read more
Along for the ride with these three construction machines is a cute farm tractor that includes a connected wagon. The trucks are all bright colors and have little figures inside each one. This set of four vehicles helps a child work on their visual perception by being brightly colored and with cute figures. The vehicles measure from 4 to 8 inches in length. These are the ideal first construction-type vehicles for younger kids to play with. Adorable and visually appealing, these could occupy a child's time for hours.
Entertainment value
Because this is a set, the multiple vehicles encourage interaction among kids playing together and also offers the chance to sharpen imagination skills as kids pretend the trucks are really driving along.
Ease of use
Trucks and play vehicles are some of the first toys that toddlers can grab and play with in their childhood. These items are usually large and safe for little hands to explore and discover.
Durability
They are made from sturdy plastic and are built to last in great condition for long play. Each of the trucks also features friction power that helps a child control the trucks as they move it along.
Physical development
A child will benefit by manually pushing the cars along with their hands providing good hand muscle tone and fine-motor-skill development. Balance and coordination will also be developed in this simple play.
7

. WolVol 3-in-1 Bulldozer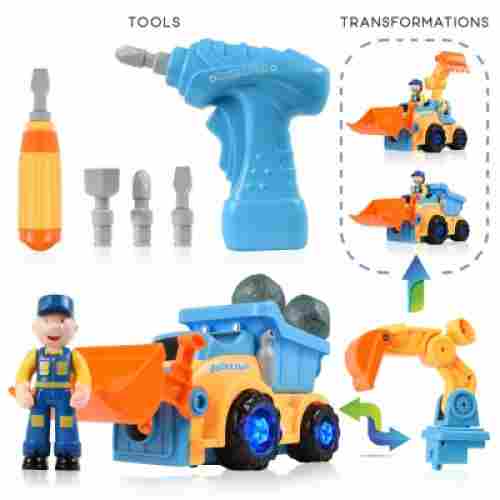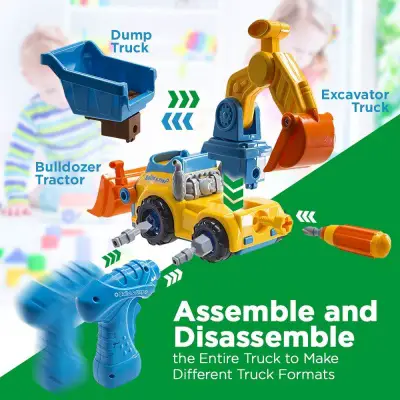 Toy drill comes with batteries
Creation of three different types of trucks
Includes blue flashing lights and plays music
A set of tools, a toy figure, and two plastic rocks
Switch for the truck run on its own or manually
Excavator arm doesn't work well or have a shoveling motion
Batteries are not included
This toy construction vehicle is a bulldozer, no wait, it's a dump truck, no it's an excavator. Well, actually it is all three of these construction machines in one cleverly made toy.
Read more
In fact, this clever little truck has what is known as a bump-and-go feature that is battery-operated. If a child wants to have the truck work on its own, all they have to do is turn this feature on and the truck takes off. If it should hit an obstacle, it will actually change directions. It is a challenging puzzle that offers children a chance to work on their concentration and problem-solving skills. This toy gives a child three different construction machines all in one toy and gives a child a chance to create the truck they can change on a daily basis, depending which one they feel like playing with that day.
Entertainment value
This is the perfect toy to occupy a child for hours. It provides a chance for a kid to use their creativity to make their own vehicles that actually work putting a new twist on plain trucks and vehicles.
Ease of use
Not only will this toy give kids a chance to actually take apart and put back together with the truck of their choice for that day, but the toy functions beautifully when it is in the completed form.
Durability
This incredible toy has to be strong and durable to withstand the interchangeable parts and constant reforming of the structure. It is cleverly designed to be tough and sturdy for rough or regular playtime.
Physical development
It provides a child with sensory perceptions with the vivid visual colors and effects along with providing various sounds such as music. These physical qualities are important to develop in early childhood.
8

. Melissa & Doug Take-Along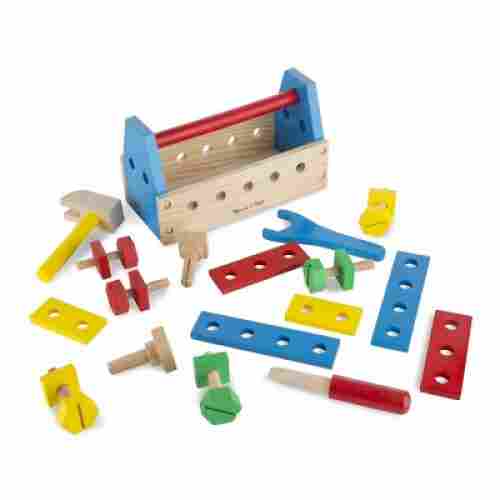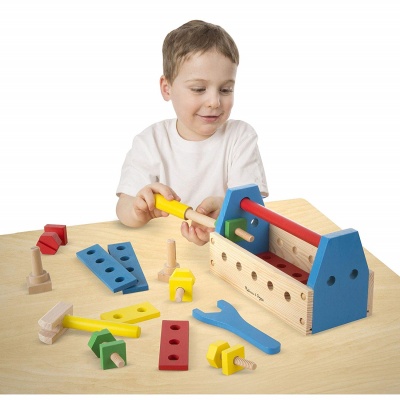 Functions as a workstation with all parts included
Fun, bright primary colored tools and hardware
Helps teach kids about shapes and colors
Smooth, durable wood
Safe for toddlers to tinker with and explore
Young kids need supervision with the soft wood pieces
Heavy and smaller than expected
Let Junior assist mom and/or dad in the fix-it department with this wooden tool kit. The set features 24 wooden pieces, including wooden nails, screws, nuts, bolts, a hammer, a wrench, and a screwdriver.
Read more
The storage box itself has properly sized holes drilled into the sides, so children can hammer and screw the various hardware into the wood without having to cart around any extra pieces. Compact, creative, and kid-friendly, this makes a great gift for any little one interested in fun, basic building techniques. It is recommended for ages 36 months to 5 years. The features of this handy kit help children to practice hand-eye coordination, sorting skills, color recognition, counting, and problem-solving.
Entertainment value
All kids love to build and construct things with their hands, so this product will be a hit with any child. both boys and girls get excited and intrigued with the small pieces and puzzle-like form of the toolbox where the pieces fit precisely.
Ease of use
It's nice to have a compact, all-in-one toy that allows your child both the tools necessary for "repairs," and a place to do them safely, without damaging furniture or other materials.
Durability
Even though this item is made of a soft wood, it is still tough and strong to withstand many hours of engaging play from children. having the holes predrilled will increase the life of this toy greatly.
Physical development
Both the amazing toolbox and the lovely tools provide many opportunities for physical abilities in kids. Muscle strength, hand-eye coordination, and motor talents are just a few that come to mind.
9

. ETI Toys Original 101-Piece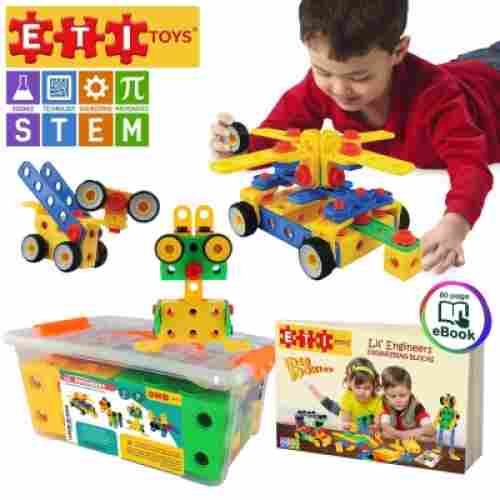 Includes brightly colored blocks
Comes in a plastic container for easy storage
Includes two plastic wrenches for tools
Made from safe, non-toxic materials
Getting all the pieces back in the container can be challenging
This is an incredible, massive set by ETI Toys that is loaded with creative possibilities for kids. The set includes thin colorful blocks that have strategically placed holes that play a part in a child's overall construction design.
Read more
The set also includes an idea sheet which gives instructions on how to go about creating different types of models. There is also access to an 80-page e-book which contains more design projects to make with the set. But perhaps the main features of this set are that it challenges a child to let their imagination soar. This set provides fun while being truly educational in its principles. If children don't want to make some detailed on the idea sheet or in the e-book, they can come up with their own creation, which unleashes their creativity and imaginations.
Entertainment value
A kid can construct things that they themselves dream up using this amazing STEM toy that gives them all they really need for hours of creative fun. The imagination can run wild and free with the possibilities of innovation.
Ease of use
This construction toy takes regular building blocks to the next level. Ideal for ages as young as 5 and up, this set is great in that it allows a child to create to his heart's content the ideas in his or her head.
Durability
Blocks are one of the most durable and long-lasting toys that a child can possess. These will certainly outlast their childhood stage and be ready for the next generation to come up with new ideas.
Physical development
It gives kids a chance to sharpen their visual skills with the brightly colored blocks. Working with their hands provides hand-eye coordination and fosters fine-motor skills.
10

. ToyVelt 68-Piece Realistic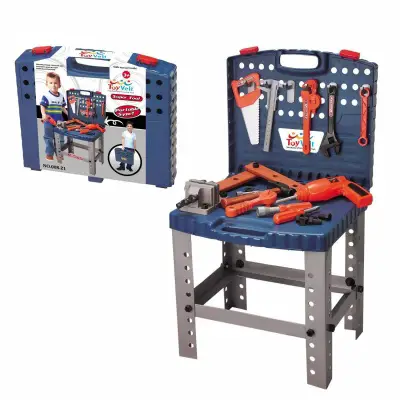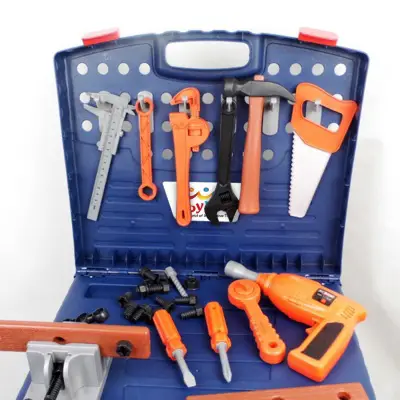 Easy to travel with
Also sets up as a nice stationary activity
68 pieces with realistic tool and hardware replicas
Working drill with sound
Light plastic, injury-averse
Small pieces; can be easy to lose
Workbench legs are not retractable; must be disassembled
It's a toolbox, it's a workbench--it's a ton of fun. This 68-piece Mega Toy brand dual workbench and toolbox is versatile in its functions and its age range (3 to 12 years old).
Read more
For stationary play, there are removable legs that allow the kit to sit upright, a bit like a stool. Customers have called this product "not just realistic, but REAL." The materials are obviously not heavy, metal, or harmful, but the mechanism of the tools and hardware work just like the real deal. It doesn't hurt that the set is easy to lug around but also can live as its own more-permanent station if you prefer a longer-lasting set-up.
Entertainment value
With 21 screws of varying size, 16 bolts, a handsaw, screwdriver, wrenches, hammer, drill, and assorted other pieces, this set truly has everything. Kids will go wild with excitement when they see this large combo set.
Ease of use
When your child is done playing for the day, they can pack all the pieces back into the box, lock it, and carry it like a suitcase. Just the activity of doing these functions is fun all alone without even using the toy pieces in play.
Durability
The materials are light but sturdy and the tools are all close replicas, with a working drill that even makes noise when you pull the trigger. This is a great toy for those kids who like to be rough with their playthings.
Physical development
They won't have to play pretend too hard; this set does the work for them. The working drill is truly a nice touch; it turns both ways and makes noise. Children will get a real workout from this physically designed item.
Criteria Used for Evaluation
Most Important Criteria
(According to our experts opinion)
Experts Opinion
Editors Opinion
Users Opinion
By Default

Parents, Did you Know?
In life, a child's best teacher can be their own parents who encourage their child in their own talents and pass on talents that they have that the child has shown interest in. Kids that are interested in construction toys may be architects, builders, designers, or developers someday, so encourage them to explore all of life's career avenues.
Parents, Did you Know?
Parents may feel like girls should not play with or be interested in such toys that are themed more for boys. This would be a disservice to them, as many of these items impart on the child endless opportunities to exercise their physical and mental abilities that are so important in life.
Other Factors to Consider

Logic
Using their minds to come up with answers and solve problems is something a child needs to start learning early in life. Construction toys can start to put them on the path of sharpening their cognitive skills. Whether it just putting together a simple puzzle, assembling a simple model or putting together a more complex structure, all require sharpening the mind. This list includes many toys that get kids to think on their own to get the most use from the playthings. Logic is a huge part of play and construction items.
Creativity
Stimulating creativity is a benefit that will please a parent and a child alike. Kids love to be creative and freely express themselves. Construction toys give them this chance. Whether it is taking the time to actually assemble something using instructions or allowing their own creativity to flow while making their own unique creations. Whichever it may be, creativity is one of the main benefits of construction toys because creative ideas can flow forth.
Frequently Asked Questions
q:

Exactly what do the initials STEM stand for?

a:

STEM stands for Science, Technology, Engineering, and Mathematics, concepts that can be found in many construction toys on the market. Some are actually advertised as being STEM-related, which is a shout out to parents that the toy has been actually certified to cover these bases.
q:

Are construction toys ideal for girls to play with as well as boys?

a:

Sure, why not. Little girls can be just as interested in construction toys as boys are. The best thing to do is not to discourage this interest but encourage it. The days of there being toys designed only for boys and ones designated for girls don't apply any longer. Kids shouldn't have to have stereotypes placed on them by society. If girls want to work with tools or want to experience the fun of playing with construction toys, then they should have that opportunity.
q:

When did LEGOs first hit the market?

a:

The LEGO company was founded in 1932, although the colorful interlocking plastic brick that has become so synonymous with the brand came out in 1958. Since this time the brand has created several interactive kits such as the one, we featured above.
q:

Is the Original Tonka Classic Steel Mighty Dump Truck still available on the market?

a:

Yes, the Tonka dump truck that was first put out on the market decades ago, which was built from steel with tough rubber tires is available to purchase online. Two things to keep in mind though, unlike the one we featured here, the classic one will cost quite a bit more since it is metal and also a classic toy. The classic steel version really isn't designed to be toddler or younger kid-friendly. As stated above, it is very heavy because of the steel construction and so could be dangerous if it were to be thrown or dropped.
q:

Do these toys require adult supervision?

a:

It goes without saying that the construction toys aimed at toddler age do require supervision by an adult. But regardless of the child's age, interaction by parents could be essential to their growth. Not only will this lead to quality time and bonding but also will give a child a sense of validation. If a parent takes an interest in what the child is making with their model kit or even takes the time when the child is old enough to teach them how to actually fix things around the house, it works toward bringing the lesson even further.
q:

Are all these toys really safe and nontoxic?

a:

As we stated above, the ones we placed on this list are nontoxic. As far as safety goes, nothing is ever completely safe in this life. As with any toy, it is always a good idea to follow the directions set forth by the company. If there is an age restriction, make sure that this is abided by. If there are safety tips and instructions that come with the toys, read these carefully.