10 Best Jigsaw Puzzles for Kids in 2019
last updated
Jul 09, 2019
A favorite family rainy day activity is sitting around the table and building their favorite puzzle. Jigsaw puzzles have been around size the 1700s when they were first used by mapmakers who engraved their designs onto the wood and then cut them into pieces.
It's time to put away those screen devices and start working out the analytical and the creative sides of your brain. When you provide a puzzle with your little one at a young age, you're giving your child the tools to build memory and to make connections between relationships and objects. So, gather around the coffee table, pick out your favorite puzzle and let's get to work!
In a Hurry? The test winner after 12 hrs of research
United States of America - 55 Pieces
Why is it better?
Helps kids learn geography
State names and capitals on each piece
Includes both oceans and adjacent countries
Great for classroom work as well as home
In a
Hurry? Editors choice:
Test Winner: United States of America - 55 Pieces
14
Researched Sources
12
Hours Researching
15
Products Evaluated
Educational Value
Entertainment Value
Sensory Stimulation
By Default
10 Best Jigsaw Puzzles Reviewed
1

. United States of America - 55 Pieces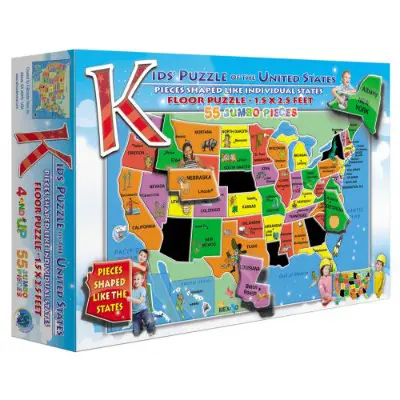 Helps kids learn geography
State names and capitals on each piece
Includes both oceans and adjacent countries
Great for classroom work as well as home
Not all state shapes are correct
Symbols and pictures on each state are a little nonsensical
Instead of giving your kids a map of the United States or even giving them an electronic version of it, we believe it will be more entertaining and more educational at the same time to give them something that they can put together.
Read more
Educational Value
It's not only for kids. The Kids' Puzzle of the USA can also be a very useful teaching-learning tool in grade school geography classes so teachers can make the learning of US geography more fun. What's more, the set can truly enhance a child's memory and understanding of the geographical information of the different states that make the US of A.
Entertainment Value
The Kids' Puzzle of the USA is an exceptionally well-designed learning puzzle that is unlike other interlocking games. Instead of the usual patterns of interlocking pieces, the different states of the country are the pieces themselves. Each state piece comes with important information including the landmarks, state symbols, and even their state capitals. This can make for a great tool for learning US geography.
Sensory Stimulation
This puzzle includes 55 vibrant, jumbo pieces that fit perfectly into the small hands of kids. The 55-Piece Kids' Puzzle of the USA by A Broader View offers a spectacular geography lesson, a kids can't complete this puzzle without knowing where each is. For states that are smaller in size, like the New England states for examples, numerous states are combined onto one single piece. This is great for preventing potential choking hazards. This puzzle is made from very sturdy cardboard and the pieces stay intact as you work on the remaining pieces.
2

. Kitchen Cupboard - 1,000 Pieces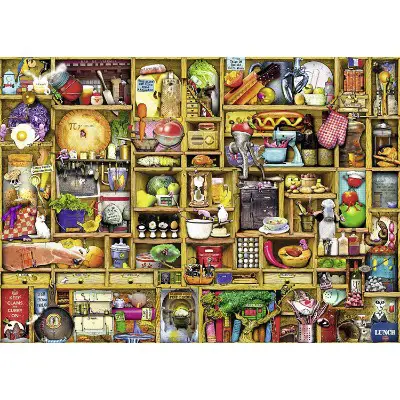 A good challenge for teens to adulthood
Lots of visual surprises in this eccentric puzzle
Attractive enough to frame and hang
Sturdy, thick puzzle pieces, perfect interlock design
Frustrating for young children
The Ravensburger Kitchen Cupboard puzzle presents s a delightfully challenging task for puzzle enthusiasts from 12 and up. There are 1,000 pieces to assemble in this 20"x27" picture.
Read more
Educational Value
This 1000-Piece Kitchen Cupboard Jigsaw Puzzle by Ravensburger is one of the most uniquely unusual puzzles on our list. In addition to that, it's also one of the most challenging puzzles, as no 2 pieces are alike. This ensures that all of the puzzle pieces perfectly interlocks together. Ravensburger uses exclusive extra-thick cardboard to craft their puzzles, in addition to the special paper they use to ensure a glare-free puzzle image.
Entertainment Value
Bright cubby holes throughout the cupboard are full of surprises and fun, driving a desire to discover all the little details hidden away in the picture. There's a high enough degree of difficulty to keep adults engaged and the cupboard is interesting enough for children to want to explore. The eccentric cupboard featured in this puzzle is full of vintage kitchen items that might inspire some conversation about old-fashioned cooking and storage containers. The non-electronic puzzle may require some google searches to identify all the objects in the cupboard. The extra thick cardboard pieces are carefully engineered for perfect interlocking. Fun and unexpected, this puzzle is durable enough for solving over and over but it's also a beautiful work of art, worth preserving and putting on the wall.
Sensory Stimulation
Due to the complexity of this busy puzzle, kids will discover unexpected finds and each section and can even enjoy a fun game of iSpy after it is completed. There are hours of fun to be had while assembling these pieces and lots of visual surprises in this puzzle.
3

. Ravensburger Disney Moana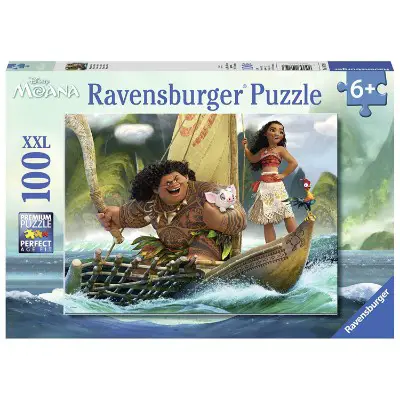 Enhances creativity
Boosts concentration
Vibrant colors
Durable
Upon purchase customers weren't sure of whether the puzzle pieces were small or large when purchasing for a specific age.
Ravensburger's puzzles have been around for decades. They're made of nothing but the highest quality and each piece fits perfectly as their all unique in their own special way.
Read more
Educational Value
When doing a jigsaw puzzle your children will enhance their developmental skills such as their concentration and brighten their creativity skills along as well.
Entertainment Value
"See the light where the sky meets the sea, it calls me," How far will you and your family go with this Moana themed puzzle? You and your family will love the quality of this special Ravensburger's puzzle of their favorite new Disney princess "Moana,". Whether you watch the movie along or listen along to the soundtrack, your children will love building and watching these characters as they come to life.
Sensory Stimulation
This puzzle is wonderful for any Disney lover. We love how well-made this Moana puzzle is as it's perfect for all ages. While this puzzle is specifically recommended for children six and older, many parents were pleased that their four-year-old was able to help complete it. It's the perfect family rainy day activity.
4

. Melissa & Doug Butterfly Garden
Boosts hand eye coordination
Educational
Enhances problem solving skills
48 pieces
Wooden toys are still popular to this day. Jigsaw wooden puzzles like this butterfly one by Melissa & Doug are long lasting and easy to store.
Read more
Educational Value
We love this product because it will help boost your child's confidence levels. While this is on the smaller side, your child will be able to complete this 48 piece butterfly puzzle on their own and feel accomplished once it's complete.
Entertainment Value
Wooden puzzles are a wonderful thing to have as you don't have to worry about them being flimsy or breaking constantly. This butterfly puzzle will help your child's developmental skills tremendously as it will increase their hand eye coordination and problem-solving skills.
Sensory Stimulation
While this particular puzzle is on the smaller side with 48 pieces, your child will be able to put it together themselves which will help give them not only a boost of confidence but also gain a little bit of independence.
5

. Match It! Mathematics - 30 Pieces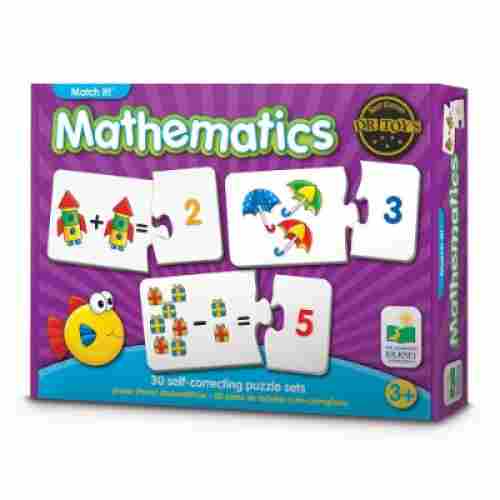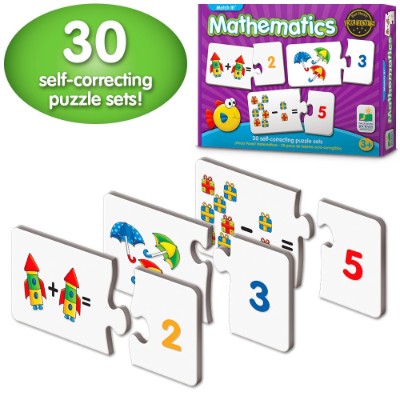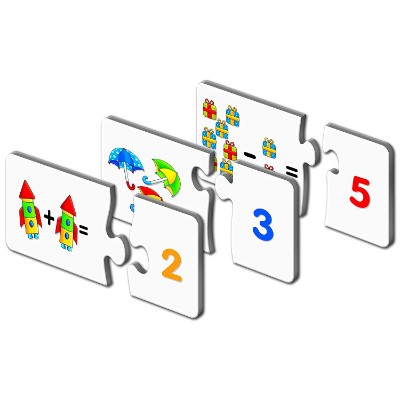 Introduces kids to numbers, counting, addition and subtraction
Only correct answers will fit together, to promote confidence and numerical fact reinforcement
Made of durable, thick cardboard
Due to the educational nature of this product it can be used in classrooms and childcare centers, in addition to being used at home
Doesn't really allow any progression skills for kids owing to the fact that the pieces are self correcting
More than just a puzzle, The Learning Journey Match It - Mathematics kit is a great way for kids to develop some early math skills. Just being familiar with the subject of math supports good self-esteem in preschoolers and, since it's just a game, there is no pressure to perform.
Read more
Educational Value
This cute educational puzzle game is an excellent way to introduce kids to basic math. The puzzle pieces are made out of thick, durable cardboard to hold up against rough play and to last for several years. In addition to ensuring endless hours of interactive play, this puzzle promotes confidence as only cards that contain the right answer will fit together. The 30-Piece Match It! Mathematics by The Learning Journey has colorful illustrations and the puzzle pieces fit perfectly into little hands.
Entertainment Value
The game introduces mathematical concepts and encourages interest in numbers by offering addition, subtraction and counting skills practice. Using brightly colored 2-piece puzzles, Match It helps kids learn concentration beginning at age 3. Only the right 2 puzzles pieces fit together so the solution is clear and consistent. Seeing the answer in repetition helps to learn it. These puzzles will require a little coaching by parents in the beginning to show children how it works but once they understand, kids can play with the puzzles on their own. PUtting the puzzles together helps develop motor skills while the process of finding the right connections is great for problem-solving. These are an easy and fun to learn and recognize numbers while slipping in the more advanced concepts of adding subtracting. Kids can build their confidence about math long before it's required in school, making formal educational setting a lot less intimidating.
Sensory Stimulation
The thick puzzle pieces are just the right size for small hands and they're made of durable cardboard to withstand constant use. Young children need all the help they can get to learn the basics. As numerical skills are important in adult life, giving them the Match It! Mathematics can help develop these skills.
6

. Winnie the Pooh - Thomas Kinkade Disney Dreams Collection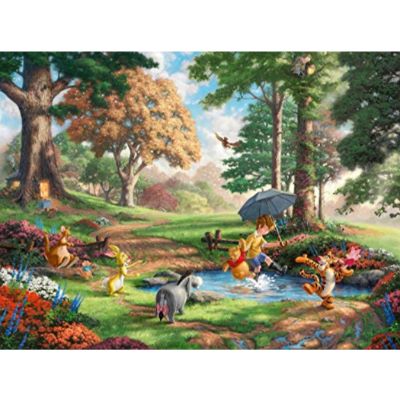 Great activity for whole family to enjoy
Includes 750 pieces
Perfect for anyone who loves Disney
Inspired artwork by Thomas Kinkade
Boosts creativity
Educational
Some customers were annoyed that there is a "dark tree" featured in the puzzle it's self but it is not displayed on the box picture.
Some customers believed that the puzzle pieces were "too small"
This disney puzzle is perfect for anyone who wants to get lost for a while in the 100 acres wood. Including all of your favorite characters from the hit Winnie the Pooh series this puzzle is 750 pieces and perfect for the whole family to do or if you want to do it solo. The image comes in a high glossy image which you will be able to use the box on the cover as a reference if needed. It's based off of the sole design panting by Thomas Kinkade.
Read more
Educational value
Puzzles are a great way to help problem-solving skills. They are also a great way for your child to learn about creativity. These puzzles can even be used as a great family bonding tool if you're looking for a way to connect with your children more. They're also a great way to enhance your child's hand-eye coordination skills.
Entertainment value
With over 750 pieces in this hit collection, this puzzle is fun for all ages. Everyone in your family will be able to enjoy helping finish this puzzle piece by piece. You can talk about your favorite characters, scene, or even watch one of the classic Disney films while enjoying some quality family time. It's also the perfect activity to save for a rainy day.
Sensory Stimulation
Puzzles are a great way to get your child's hands moving. Puzzles that are bright and colorful also are a great way to help stimulate creativity and enhance your child's imagination. They're also a wonderful way to help with your child's memory.
7

. Four in a Box Farm by The Learning Journey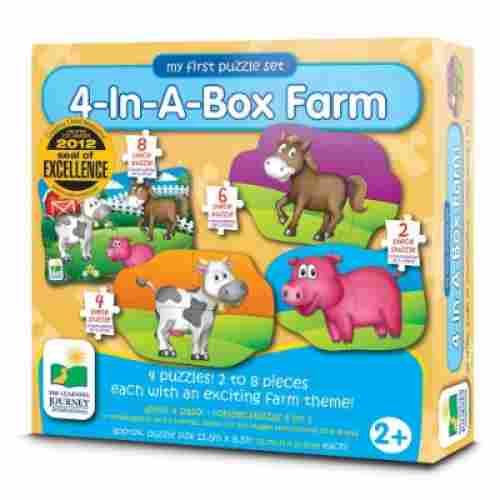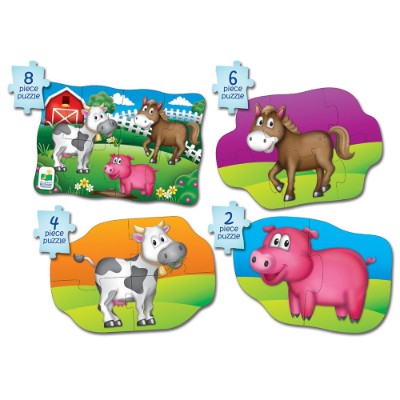 Improves hand-eye coordination and fine-motor skills
Builds object recognition and introduces early vocabulary
Progressing difficulties suit a variety of skill levels
Promotes positive adult-child interactions
Puzzle pieces can easily detach from one other and may require adult assistance to complete
The heavy cardboard material may bend or warp over time or through rough play
The pig butt attaches to the pig head? This is the general idea that will get your little one excited with the 4-In-A-Box Farm from The Learning Journey. This multi-puzzle set is designed to grow with your child from ages 2 to age 5.
Read more
Educational Value
This puzzle is chock full of educational benefits, from the differing difficulty of the puzzles themselves to the familiar animal shapes and scenes. Connecting jigsaw pieces gives your child's hands a workout, building grip strength, improving hand-eye coordination, and enhancing fine-motor control. Boost early vocabulary and shape-recognition skills by having your little one name the animal as they build the puzzle. Practice color recognition, orientation skills, and even counting with the familiar farm scene.
Entertainment Value
The box contains four unique puzzles designed around a farm theme. Each puzzle has a different number of pieces, from the simple two-piece pig puzzle to the more complex six-piece horse puzzle. The final puzzle is made of eight total pieces and incorporates all of the animals that your child has already created. This natural progression of difficulty can build your child's self-esteem as they play their way through the challenge.
Sensory Stimulation
We love the progression of these puzzles as they increase in difficulty from two pieces to four pieces and beyond. This is a great way to help your little one learn how to manipulate interlocking pieces while building their self-confidence.
8

. Paw Patrol with Storage Box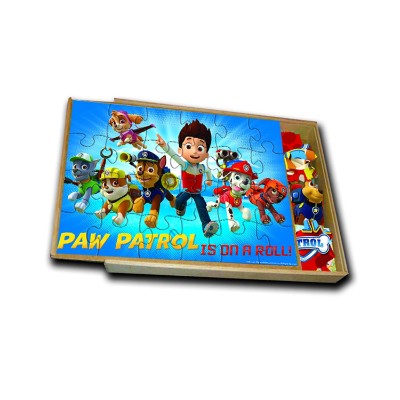 Improves hand-eye coordination
Officially licensed Paw Patrol product
Includes five puzzles with varying difficulties for added challenge
Storage box easily contains all puzzles and pieces for easy clean-up
Outside box does not contain pictures of completed puzzles which can be frustrating for young builders
Puzzle pieces are made of heavy cardboard which can bend and separate over time
"No job is too big, no pup is too small!" These words might haunt your nightmares if you are the caregiver whose child has discovered the popular Nickelodeon show, Paw Patrol!
Read more
Educational Value
Self-esteem building is easy with this set that features multiple puzzle sizes to suit a variety of skill levels. Jigsaw puzzles are an ideal aid in improving hand-eye coordination and bolster fine-motor-skill development. The storage box contains a sliding lid that can easily be utilized as a building surface for the puzzles, making this set the perfect travel companion.
Entertainment Value
This quirky cartoon geared toward preschoolers depicts several pups and their pal Ryder who consistently use their special abilities to save the day. Now your little one can bring home the pup-tastic play of their favorite show with the Paw Patrol 5 Puzzles with Storage Box. This jigsaw set features five brightly colored puzzles that showcase Chase, Marshall, Ryder, and the rest of the crew. Different levels of challenge await within the 12-, 16-, and 24-piece puzzles crafted from high-quality wood guaranteed to last through build after build. Once your child has finished creating their masterpieces you can quickly and easily store all of the puzzles and their parts inside the included storage box.
Sensory Stimulation
Each piece is marked with a number corresponding to its puzzle (1-5) and can also provide a fantastic matching, sorting, and number-sequencing lessons. This puzzle set truly has it all--popular characters, multiple skill levels, and a storage box for quick cleanup!
9

. Wooden Vehicle 4-in-a-Box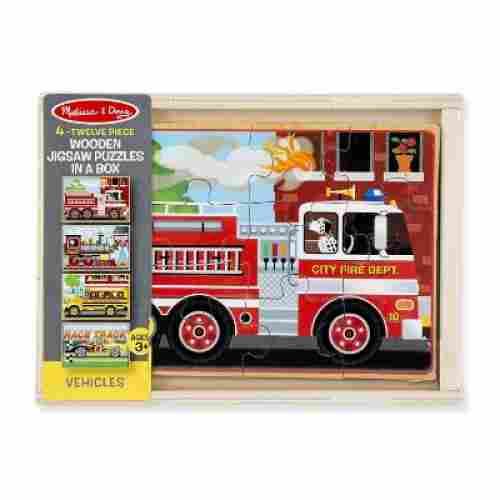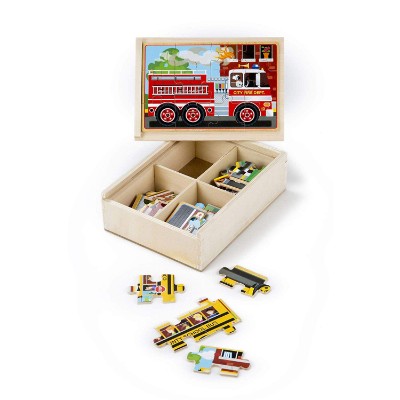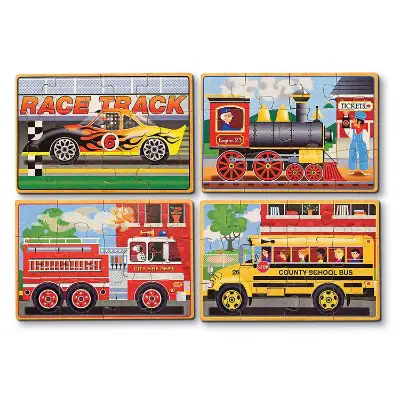 Includes 4 different, distinct puzzles
Durably made with high-quality, sturdy wood
Comes with a wooden storage container for easy travel, storage and organization
Promotes problem solving and logical thinking
Puzzles are large enough to fit into small hands perfectly
Puzzles smaller than standard at 6"x8"
Puzzle pieces can rip with repeated use
You cannot give a toddler a 1000-piece interlocking puzzle set. It is imperative that he or she start first with the basics. And when it comes to toddler products, one of the best we have seen so far is the 12-piece Wooden Vehicle Puzzle by Melissa & Doug.
Read more
Educational Value
If you're introducing your toddler to puzzles, you can't go wrong with this 4-in-1 wooden puzzle set from Melissa & Doug. Toddlers and young kids will have an enjoyable time as they learn to think logically while developing problem solving skills and hand-eye coordination. Each puzzle pieces has a distinct shape on the back so that the 4 puzzles don't become mixed up. This is an excellent feature, as it teaches kids how to sort and distinguish shapes from one another. This also allows kids to reverse the puzzle, or do it upside down so that they may further enhance visual stimulation.
Entertainment Value
There are four different vehicle panels that young kids will have to put together. Each panel is composed of 12 interlocking pieces to give the Puzzles in a Box a total of 48 beautiful units. There are 12 wooden units each for the race car, school bus, steam engine, and a fire engine or a fire truck. It comes with a wooden box that has 4 different compartments to store the different panel sets. The wooden storage box can also double as the puzzle board for your kid as he or she attempts to make sense of the pictures in each piece.
Sensory Stimulation
Toddlers are still exploring a lot of things around them. And for this, we believe this Melissa & Doug product does an exceptional job of helping young children learn more about 4 of the more common vehicles in their surroundings. This can also help in the enhancement of their language development as well as their ability to refine their motor skills.
10

. The Little Mermaid - Thomas Kinkade Disney Dreams Collection
Vibrant colors
Perfect activity for a rainy day
Great for the whole family to enjoy
Boosts creativity and memory skills
Some customers were missing a piece in their kit
Some customers received duplicate pieces
Inspired by the artwork of Thomas Kinkade this Little Mermaid puzzle design is 750 pieces. The colors of this puzzle is nothing but vibrant and bright for everyone to enjoy. This puzzle comes in a high gloss resolution and includes a reference if needed. It's the perfect gift for anyone who loves Disney.
Read more
Educational value
Puzzles are a great learning tool. Not only will puzzles help your child's memory but they are a great way for your child to enhance their fine motor skills as well as their hand-eye coordination. Your child can also learn about the power of teamwork. When working together your child will be able to see that with a little help from others their puzzle can get completed a little bit faster. This is also a great way for your family to enjoy some quality time with one another on those rainy afternoons.
Entertainment value
Fun for the whole family. For any Disney lover, this puzzle is perfect. Your family will be in awe over how beautiful this little mermaid design is once it is complete. With only 750 pieces included your family will be able to finish this puzzle in no time. It's great if you're looking for a fun, screen-free activity to do and to keep your little one entertained.
Sensory stimulation
Vibrant colors are a great way to help your child's senses. Not only will it help them notice pieces, but it will also help your child figure out puzzle shapes, design, and memory skills. Puzzles are also a great way to get your child to develop their problem solving and matching skills as well.
Criteria Used for Evaluation
Educational Value
These puzzles promote education in a variety of ways. One of the best ways that kids learn is through play. Kids are more adept to learn if they are enjoying the activity or task at hand. Kids can learn many different subjects such as math, reading, science, geography, cinematography and gaming while completing these puzzles. The puzzles on our list provide the chance for kids to exercise problem-solving skills, tactile- and visual-sensory stimulation, individual play and cooperative play, imaginative, social and physical play, as well as logical thinking, hand-eye coordination and motor skills.
Due to the educational nature of these puzzles, they can be used as supplements during math, science, and social studies lessons. For example, maybe your kid is struggling with memorizing the location of the states or their capital cities. The USA puzzle on the list above is an excellent resource to help with that.
If a kid is going to spend a lot of time and effort assembling a puzzle, then as a parent, you want it to be educational and well worth their time. These puzzles are amazing educational resources that will teach lasting life lessons.
Entertainment Value
In real life, we are often faced with situations wherein the solution is unknown to us. So, we try a particular solution. If it works, then we can say we are successful. If not, then we try a different approach. We do this until such time that we are able to achieve the desired outcome. This is grounded in our ability to solve problems using the trial and error method. It may not really be scientific but, given the scarcity of factual information, we can only use what we currently have.
This is what children learn to develop in solving jigsaw puzzles. While most moms and dads will see fine-motor skills development, most child experts see substantial improvements in kids' cognitive development.
Jigsaw puzzles are not just for kids. These are for adults, too. That is why we believe our top 10 jigsaw puzzles for kids will be an excellent source of Christmas gift ideas for your loved ones. It can be a great tool for encouraging family bonding and cooperation. Completing a jigsaw puzzle is one great way to spend the holiday with the whole family.
Sensory Stimulation
These puzzles require a direct hands-on response which is wonderful for stimulating your kid's tactile sensory skills. The puzzles listed above will keep not only engage your kid's mind but keep your kid engaged in the task at hand.
Each puzzle promotes hand-eye coordination, which is a skill that kids will need throughout their entire lives. Hand-eye coordination should be practiced by kids very often as this function enables the eye and brain to communicate through hand movement. A lack of proper hand-eye coordination can have a huge impact on life such as:
The inability to write
The inability to tie shoes
The inability to safely play sports
In addition to hand-eye coordination, interactive play is closely tied to developing fine-motor skills, which are needed in order to do everyday life tasks.
Most Important Criteria
(According to our experts opinion)
Experts Opinion
Editors Opinion
Users Opinion
By Default

Parents, Did You Know?
If you think that the only benefits you'll get from solving a jigsaw puzzle are strained, tired eyes and a severe throbbing headache, for children, it is entirely different.
Being able to piece together several units of vastly different shapes requires an understanding of patterns, colors, and shapes and how a particular shape can fit into the slot of another shape. This helps sharpen a kid's cognitive skills, primarily his or her spatial reasoning and problem-solving.
For example, to put a piece into a slot, the brain has to interpret how the slot is shaped and then compare it with the piece in hand. The brain makes very fast computations and estimations leading it to conclude that the piece fits into the slot.
Parents, Did You Know?
While this does not happen all the time, it is also possible that kids learn to appreciate problem-solving by means of trial and error. If the piece does not fit into the slot, then the brain is encouraged to look for another piece which the child can "try" to fit into the slot. If it doesn't fit again, then the process is repeated until such time that a particular piece fits perfectly into the slot. While the trial-and-error method is going on, the brain is keeping track of which shapes of puzzle pieces do not fit into the slot so that these will automatically be excluded from successive attempts.
Other Factors to Consider

Brand
Well, we had to rely on fellow parents. Many of the products on the market today have been around for quite some time. As such, we had to look at the experiences of these parents and determine if they strongly recommend the jigsaw puzzle. Likewise, we had to look at the developmental appropriateness of the puzzle. Most manufacturers recommend a particular age for which their products will be most valuable. Our task, therefore, is to make sure that the recommended age is appropriate to the developmental age of children who will be putting together the jigsaw puzzle. It should not be too easy otherwise they'd get bored easily. It should not also be too difficult lest they get frustrated and simply give up.
And then there's the reputation of the manufacturer. While it is safe to say that well-established brands have an excellent reputation, there are also new players that really strive to adhere to federal guidelines regarding product quality and safety especially when talking about products for kids. It is therefore essential that we establish a company's credibility as well as trustworthiness to help us better decide on whether to include the product on our list or not.

Social Development
Although many of the jigsaw puzzles promote independence as they are easy to complete without much assistance from adults, these puzzles can promote communication skills.
After completing puzzles from the Disney movie scenes, kids may want to retell their favorite part of a specific movie from their point of view. While doing the map puzzle, kids may want to review the name and capital of each state with a parent, teacher or friend. In addition to that, kids may even want to teach their younger siblings about the United States.
Frequently Asked Questions
q:

Can these puzzles be used in a classroom?

a:

Yes, due to the educational nature of the majority of these puzzles, they can be used in classrooms as well as childcare centers. Kids can learn a variety of subjects while putting these puzzles together, such as:

math, with the 30-Piece Match It! Mathematics by The Learning Journey
cinematography, with the scenes from the 60-Piece Disney Frozen 4-Puzzle Pack by Cardinal and the 500-Piece Thomas Kinkade Disney Dreams Collection 4-in-1 Jigsaw Puzzle Set by Ceaco
geography, with the 55-Piece Kids' Puzzle of the USA by A Broader View
q:

What's the best way to store these puzzles?

a:

Many of these puzzles come in their own box, as well as non-resealable plastic bags to store them in. However, with loose puzzle pieces being bounced around in a box, there's definitely a slight chance of losing them. In addition to that, storing them in the non-resealable plastic bags that they come with increases the risk for losing them, as the bag remains unsealed.

The best way to store loose puzzles when not in use is to put them in a labeled quart-sized ziplock bag. By doing this, you can rest assured in knowing that your puzzle pieces are safe from getting scattered about. Furthermore, by labeling the puzzles, you'll know exactly which puzzle is located in the bag.

The wooden puzzles each come with a wooden tray to contain all of the puzzle pieces, but the trays do not come with a top. The best way to store wooden puzzle pieces, when not in use, is by putting the wooden pieces in a gallon-sized ziplock bag. Due to the fact that wooden puzzle pieces are bigger in size than cardboard puzzle pieces, you should use a bigger sized ziplock bag to properly fit all of the pieces into it without causing damage. If large wooden puzzle pieces are shoved or stuffed into a quart-sized ziplock bag, the pieces may chip or the paint may become damaged.
q:

Can I frame the cardboard puzzles?

a:

Yes, you can frame the cardboard puzzles. Framing completed puzzles is an excellent way to preserve your kid's hard work as well as adding to your home decor. Framed puzzles are great conversation starters and a good way to provoke storytelling. To frame your puzzle you should seal it first, in order ensure it will look natural in the picture frame and won't fall apart. To seal your kid's puzzle, simply take the following steps and tips:

Place your puzzle on a flat surface that is clean and dry, it's also very important to put a piece of wax paper beneath the puzzle to prevent a mess from happening.
Be sure that there are no fibers such as hair or lint on the surface of the puzzle.
Get your adhesive ready to apply. One of the most important factors when sealing a puzzle is the type of adhesive that you use. Using regular craft glue will not give your kid's puzzle the beautiful finish it deserves. Be sure that you have an adhesive that's specifically made for preserving puzzles.
After you have your puzzle adhesive ready. Pour an adequate amount directly into the middle of the puzzle. Use a thick plastic card, such as an old gift card or credit card to spread the adhesive easily around the puzzle, leaving no part untouched.
Many puzzle adhesives include a small brush, use that brush to spread the adhesive evenly around the border.
Allow the adhesive to set and dry. Depending on the type of puzzle adhesive that you use, it could take anywhere from one to four hours to dry.
For more durability, after the adhesive is dry, carefully flip the puzzle over and repeat the steps above to the back side of the puzzle.
Be sure not to use too much adhesive, as it could cause the puzzle to peel or swell.

After your kid's puzzle is completely dry, place it in an accurately sized frame and mount it to a wall in whichever room that your kid will like.
q:

Do any of these jigsaw puzzles pose any hazardous threats?

a:

All of the puzzles on our list of best jigsaw puzzles for kids are durably made and don't contain sharp edges. However, many of the puzzle pieces are small which poses a potential threat for small kids. If consumed by kids, the small pieces could become lodged in their airway, causing them to choke.

It's very important to follow the manufacturer's age-appropriate warning to prevent any potential hazards. When doing puzzles that include small pieces around small kids, be sure to keep the puzzle out of arm's reach of the kid. Small kids, not knowing any better, may be attracted to the small puzzle pieces due to their unique shapes and vibrant colors.