Just several weeks more and parents, especially Moms, will again be flocking to department stores, retail shops, and other merchandisers looking for the perfect Christmas gift they could ever give to their loved ones, most specially children. And if you are looking for something that is guaranteed to help your kids build on their sense of patience and perseverance while stimulating the various intellectual and cognitive processes of their young brains, then you may want to try giving them jigsaw puzzles.
This year, we have shortlisted 15 of the best and most entertaining jigsaw puzzles you can give to kids this coming season of giving.
1000-Piece Candy Wrappers Puzzle
Age Range: At least 12 years old
12-Piece Wooden Vehicle Puzzle
Age Range: 3 to 6 years old
1000-Piece "The Games We Played" Jigsaw Puzzle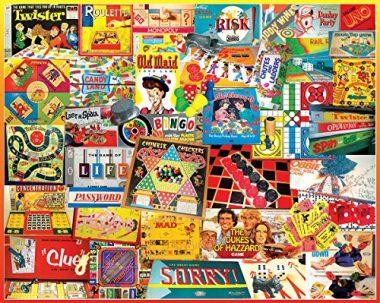 Age Range: At least 12 years old
500-Piece Thomas Kinkade 4-in-1 Jigsaw Puzzle Set
Age Range: 5 to 15 years old
30-Piece Match It! Mathematics
Age Range: At least 3 years old
1000-Piece Kitchen Cupboard Puzzle
Age Range: 12 to 15 years old
55-Piece Kids' Puzzle of the USA
Age Range: At least 4 years old
24-Piece Under the Sea Jigsaw Puzzle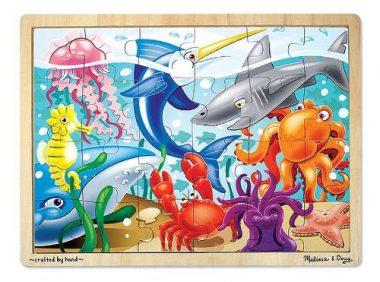 Age Range: 3 to 5 years old
60-Piece Disney Frozen 4-Puzzle Pack
Age Range: 4 to 15 years old
45-Piece Deluxe Wooden USA Map Puzzle
Age Range: 5 to 10 years old
100-Piece Solar System Jigsaw Puzzle
Age Range: 6 to 15 years old
40-Piece Wooden Tangram Tetris Puzzle Toy
Age Range: 3 to 10 years old
24-Piece Construction Jigsaw
Age Range: 3 to 5 years old
100-Piece Shark Jigsaw Puzzle
Age Range: 6 to 9 years old
24-Piece Thomas the Tank Engine Shaped Floor Puzzle
Age Range: 3 to 6 years old
Criteria Used in Evaluation of The Best Jigsaw Puzzles
Educational
These puzzles promote education in a variety of ways. One of the best ways that kids learn is through play. Kids are more adept to learn if they are enjoying the activity or task at hand. Kids can learn many different subjects such as math, reading, science, geography, cinematography and gaming will completing these puzzles. The puzzles in our list provides the chance for kids to exercise problem solving skills, tactile and visual sensory stimulation, individual play and cooperative play, imaginative, social and physical play, as well as logical thinking, hand-eye coordination and motor skills.
Due to the educational nature of these puzzles, they can be used as supplements during math, science and social studies lessons. For example, maybe your kid is struggling with memorizing the location of the states or their capital cities. The USA puzzles that are listed above are excellent resources to help with that.
If a kid is going to spend a lot of time and effort assembling a puzzle, then as a parent, you want it to be educational and well worth their time. These puzzles are amazing educational resources that will teach lasting life lessons.
Interactive
These puzzles require a direct hands-on response which is wonderful for stimulating your kid's tactile sensory. The puzzles listed above will keep not only engage your kid's mind but keep your kid engaged in the task at hand.
Each puzzle promotes hand-eye coordination which is a skill that kids will need throughout their entire lives. Hand-eye coordination should be practiced by kids very often as this function enables the eye and brain to communicate through hand movement. A lack of proper hand-eye coordination can have a huge impact on life such as:
The inability to write
The inability to tie shoes
The inability to safely play sports
In addition to hand-eye coordination, interactive play is closely tied to developing fine motor skills, which are needed in order to do everyday life tasks.
Communication skills
Although many of the Jigsaw puzzles promote independence as they are easy to complete without much assistance from adults, these puzzles promote communication skills.
After completing puzzles from the Disney movie scenes, kids may want to retell their favorite part of a specific movie from their point of view. While doing the wooden map puzzles by Melissa & Doug, kids may want to review the name and capital of each state with a parent, teacher or friend. In addition to that, kids may even want to teach their younger siblings about the United States.
What Determined the Jigsaw Puzzles in Our List
When we told our research team that our next project will be jigsaw puzzles, almost everyone in the group, quite literally, had a "puzzled" look on their face. And why not? How do you choose a jigsaw puzzle from a sea of choices when everything essentially boils down to the same inherent features? The only possible thing that can differentiate one puzzle from another will be its design which is, in our opinion, very subjective. Our choice of design may not actually sit well with your taste. So how did we do it?
Well, we had to rely on fellow parents. Many of the products in the market today have been around for quite some time. As such, we had to look at the experiences of these parents and determine if they strongly recommend the jigsaw puzzle. Likewise, we had to look at the developmental appropriateness of the puzzle. Most manufacturers recommend a particular age for which their products will be most valuable. Our task therefore, is to make sure that the recommended age is appropriate to the developmental age of children who will be putting together the jigsaw puzzle. It should not be too easy otherwise they'd get bored easily. It should not also be too difficult lest they get frustrated and simply give up.
And then there's the reputation of the manufacturer. While it is safe to say that well-established brands have an excellent reputation, there are also new players that really strive to adhere to federal guidelines regarding product quality and safety especially when talking about products for kids. It is thus, essential that we establish a company's credibility as well as trustworthiness to help us better decide on whether to include the product in our list or not.
Choosing the top jigsaw puzzles that will comprise our shortlist was indeed, never easy. Nevertheless, it was a fruitful endeavor.
Jigsaw Puzzles and Children's Cognitive Development
If you think that the only benefits you'll get for solving a jigsaw puzzle are strained, tired eyes and a severe throbbing headache, for children, it is entirely different.
Being able to piece together several units of vastly different shapes require an understanding of patterns, colors, and shapes and how a particular shape can fit into the slot of another shape. This helps sharpen a kid's cognitive skills primarily his or her spatial reasoning and problem solving.
For example, to put a piece onto a slot, the brain has to interpret how the slot is shaped and then compare it with the piece on hand. The brain makes very fast computations and estimations leading it to conclude that the piece fits into the slot.
While this does not happen all the time, it is also possible that kids learn to appreciate problem solving by means of trial and error. If the piece does not fit into the slot, then the brain is encouraged to look for another piece which the child can "try" to fit into the slot. If it doesn't fit again, then the process is repeated until such time that a particular piece fits perfectly into the slot. While the trial and error method is going on, the brain is keeping track of which shapes of puzzle pieces do not fit into the slot so that these will automatically be excluded from succeeding attempts.
In real life, we are often faced with situations wherein the solution is unknown to us. So, we try a particular solution. If it works, then we can say we are successful. If not, then we try a different approach. We do this until such time that we are able to achieve the desired outcome. This is grounded in our ability to solve problems using the trial and error method. It may not really be scientific but, given the scarcity of factual information, we can only use what we currently have.
This is what children learn to develop in solving jigsaw puzzles. While most moms and dads will see fine motor skills development, most child experts see substantial improvements in kids' cognitive development.
The Bottom Line
Jigsaw puzzles are not just for kids. These are for adults, too. That is why we believe our top 15 jigsaw puzzles for kids will be an excellent source of Christmas gifts to your loved ones. It can be a great tool for encouraging family bonding and cooperation. Completing a jigsaw puzzle is one great way to spend the holiday with the whole family.
You May Also Like
17 Best Board Games For Kids
15 Best Wooden Puzzles For Kids
FAQ
Frequently Asked Questions
Q: Can these puzzles be used in a classroom?
A: Yes, due to the educational nature of the majority of these puzzles, they can be used in classrooms as well as childcare centers. Kids can learn a variety of subjects while putting these puzzles together, such as:
science, with the 100-Piece Solar System Jigsaw Puzzle by EuroGraphics, 24-Piece Under the Sea Jigsaw Puzzle by Melissa & Doug and the 100-Piece Shark Jigsaw Puzzle by Melissa & Doug
math, with the 30-Piece Match It! Mathematics by The Learning Journey
cinematography, with the scenes from the 60-Piece Disney Frozen 4-Puzzle Pack by Cardinal and the 500-Piece Thomas Kinkade Disney Dreams Collection 4-in-1 Jigsaw Puzzle Set by Ceaco
geography, with the 45-Piece Deluxe Wooden USA Map Puzzle by Melissa & Doug and the 55-Piece Kids' Puzzle of the USA by A Broader View
gaming, with the 40-Piece CB-23 Wooden Tangram Jigsaw Tetris Puzzle Toy by SainSmart Jr.
Q: What's the best way to store these puzzles?
A: Many if these puzzles come with their very own box, as well as non resealable plastic bags to store them in. However, with loose puzzle pieces being bounced around in a box, there's definitely a slight chance of losing them. In addition to that, storing them in the non resealable plastic bags that they come with increases the risk for losing them, as the bag remains unsealed.
The best way to store loose puzzles when not in use is to put them in a labeled quart-sized ziplock bag. By doing this, you can rest in knowing that your puzzle pieces are safe from getting scattered about. Furthermore, by labeling the puzzles, you'll know exactly which puzzle is located in the bag.
The wooden puzzles each come with a wooden tray to contain all of the puzzle pieces, but the trays do not come with a top. The best way to store wooden puzzle pieces, when not in use, is by putting the wooden pieces in a gallon-sized ziplock bag. Due to the fact that wooden puzzle pieces are bigger in size than cardboard puzzle pieces, you should use a bigger sized ziplock bag to properly fit all of the pieces into it without causing damage. If large wooden puzzle pieces are shoved or stuffed into a quart-sized ziplock bag, the pieces may chip or the paint may become damaged.
Q: Can I frame the cardboard puzzles?
A: Yes, you can frame the cardboard puzzles. Framing completed puzzles is an excellent way to preserve your kid's hard work as well as adding to your home decor. Framed puzzles are great conversation starters and a good way to provoke storytelling. To frame your puzzle you should seal it first, in order ensure it will look natural in the picture frame and won't fall apart. To seal your kid's puzzle, simply take the following steps and tips:
Place your puzzle on a flat surface that is clean and dry, it's also very important to put a piece of wax paper beneath the puzzle to prevent a mess from happening.
Be sure that there are no fibers such as hair or lint on the surface of the puzzle.
Get your adhesive ready to apply. One of the most important factors when sealing a puzzle is the type of adhesive that you use. Using regular craft glue will not give your kid's puzzle the beautiful finish it deserves. Be sure that you have a adhesive that's specifically made for preserving puzzles.
After you have your puzzle adhesive ready. Pour an adequate amount directly onto the middle of the puzzle. Use a thick plastic card, such as an old gift card or credit card to spread the adhesive easily around the puzzle, leaving no part untouched.
Many puzzle adhesives include a small brush, use that brush to spread the adhesive evenly around the border.
Allow the adhesive to set and dry. Depending on the type of puzzle adhesive that you use, it could take anywhere from 1 to 4 hours to dry.
For more durability, after the adhesive is dry, carefully flip the puzzle over and repeat the steps above to the back side of the puzzle.
Be sure not to use too much adhesive, as it could cause the puzzle to peel or swell.
After your kid's puzzle is completely dry, place it in an accurately sized frame and mount it to a wall in whichever room that your kid will like.
Q: Does any of these Jigsaw puzzles pose any hazardous threats?
A: Allow of the puzzles our list of best jigsaw puzzles for kids are durably made and don't contain sharp edges. However, many of the puzzle pieces are small which poses a potential threat for small kids. If consumed by kids, the small pieces could become lodged in their airway, causing them to choke.
It's very important to follow the manufacturer's age appropriate warning to prevent any potential hazards. When doing puzzles that include small pieces around small kids, be sure to keep the puzzle out of arm's reach of the kid. Small kids, not knowing any better may be attracted to the small puzzle pieces due to their unique shapes and vibrant colors.
Q: What materials make up the 100-Piece Solar System Jigsaw Puzzle by EuroGraphics?
A: The 100-Piece Solar System Jigsaw Puzzle by EuroGraphics is one of the most durably made puzzles on our list of best jigsaw puzzles for kids. With this puzzle you will not have to worry about anything going wrong as far as the quality goes.
The foundation of this puzzle is made from durable, recycled cardboard to ensure strong unbreakable puzzle pieces. The beautiful solar system image is printed on recycled paper. Moreover, the ink used to print the vibrant, detailed image is vegetable based in contrast to petroleum based ink, which many manufacturers use.
Vegetable based inks are less harmful to the environment than petroleum based inks. Vegetable based ink isn't only beneficial to the environment, but to your kid as well. This type of ink provides more accurate colors which is great for the fact that young kids may have trouble distinguishing pink from red or dark blue from dark purple.
Q: Does the 40-Piece CB-23 Wooden Tangram Jigsaw Tetris Puzzle Toy by SainSmart Jr. have to be completed the same way each time it is assembled?
A: No, the 40-Piece CB-23 Wooden Tangram Jigsaw Tetris Puzzle Toy by SainSmart Jr. does not have to be completed the same way each time that it is assembled. This is one of the amazing features of this unique puzzle. It encourages an immense amount of creativity for the fact that it can be assembled correctly in several different ways.
To assemble this Tetris puzzle correctly, all a kid must do is systematically gather each block on the puzzle without any blank spaces. This puzzle is great for showing that problems can be solved in many ways, and that problems can have multiple solutions. This is a good life skill to have, because in life itself, there may be times when kids have to come up with a solution to a problem, and there may be more than one answer to resolve it. Additionally, this Tetris Jigsaw puzzle proves that each small step in a process plays a key role in achieving the end goal.