Nothing excites kids more than having to drive their very own car. And if they can take it to a racing level, then that would even be thrilling for them. Who knows, your kid might as well belong to the next generation of Sennas, Schumachers, and Prosts as well as other greats in Formula 1 racing. Of course, we don't expect your kid to jump right away into any one of ultra-high performance Formula One racing monsters. Instead, your kid will be hopping into one of our 10 top go-karts for kids. These will serve as the all-important stepping stone to F1 glory.
Our Top 3 Picks
EzyRoller

Our rating
Improves Coordination
Price:

See Here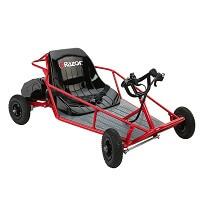 Razor Dune Buggy

Our rating
Reaches 10Mph
Price:

See Here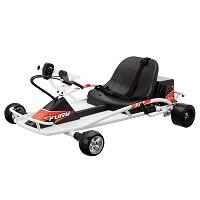 Ground Force Drifter

Our rating
Reaches 12Mph
Price:

See Here

Our Picks Of The Top Kids Go-Karts: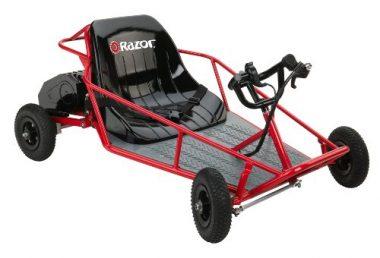 Age Range: At least 8 years old
Razor Ground Force Drifter Fury Ride-On
Age Range: At least 8 years old
Razor Ground Force Drifter Kart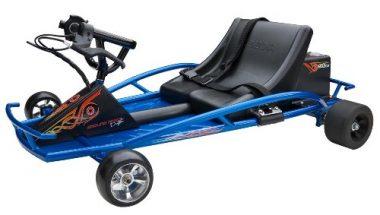 Age Range: At least 8 years old
Razor Ground Force Electric Go-Kart
Age Range: At least 8 years old
Hauck Nerf Battle Racer Ride On
Age Range: 4 to 10 years old
Hauck Lightning Pedal Go-Kart
MotoTec MT-GK-10_Black SandMan 49cc Go Kart Black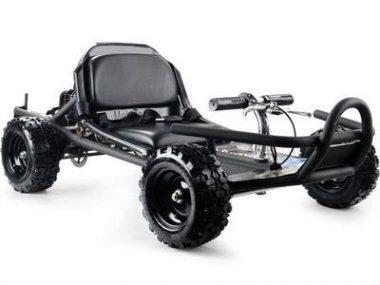 Age Range: At least 10 years old
Razor Power Rider 360 Electric Tricycle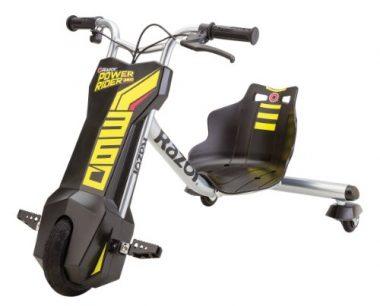 Age Range: At least 8 years old
Merax Childrens Racing-Style Ride On Toy Pedal Car Go Kart
Age Range: 3 to 8 years old
How We Chose the Top Go-Karts in Our List
Choosing a go-kart to include in a list is like trying to figure out which among the world's best automobile makers is the best, the fastest, the most efficient, and the safest. Unfortunately, every single manufacturer strives for perfection in these areas. The only thing that clearly separates them is their overall design philosophy which includes the seamless integration of all of these parts and its unique styling. While a go-kart doesn't really have to be as aerodynamic as an F1 racecar and be used as an actual racing go-kart, it still needs to have certain elements to make it a racecar for kids.
First, safety is very important. As such, the different safety features that have been built into the go-kart have been examined. From protective bars to seat belts and other features, we had to make sure we fully understood the implications of these features on your kids' safety. While we really cannot examine directly these safety features, we had to rely on the company's reputation as well as any indicators of quality workmanship. Typically, products that have been tested and passed rigorous assessment tests often have a seal or certification issued to them by recognized federal agencies as well as third party national and international organizations. If such certifications exist in the product, then we know that it is safe and of the highest possible quality of workmanship.
We looked at the other features of each product specifically their motors, pedals, acceleration and braking systems, and other things that have been integrated into the go-kart. These must serve a purpose and that purpose must be able to help children who sit behind the wheel to have greater control of their go-karts. More importantly, we would like kids to really have fun while taking the go-kart for a spin cruising along with their friends. This can help improve their social development. We also chose quite a handful of pedal-powered go-karts because we believe these can help with your kid's physical development as well.
We read the different comments and feedbacks of other parents like us who simply wanted a ride for their kids. We'd love to find out what their experiences are and how their children responded to their go-kart. We also looked for specific issues and whether these were addressed by the go-kart maker in a very timely and appropriate manner. We felt the need to ensure you get high quality and reliable customer service so that if you encounter an issue with your purchase, you'll get the answers straightaway.
Go-Karts, Ride-On Toys, and Your Kid's Development
We have always said that toys are very vital tools to help ensure the healthier and more "normal" development of children as they move across the different life stages from infancy all the way to adolescence. And while some may not readily admit the benefits of ride on toys in child development, everyone nevertheless, agree that it is one of the most fun and truly meaningful playtime experiences for children.
But how do ride-on toys, especially go-karts, help develop your child?
First, the most obvious benefit is in the enhancement of their cognitive abilities. This is firmly rooted in their ability to imagine and extend the boundaries of their imagination by role playing what-if scenarios. For us adults, kids playing what-if situations are just kids' play. But experts agree there is more to than just kids' play. Child development professionals say that children who operate on what-if scenarios are actually exercising their abilities to use divergent thinking. What this essentially means is that they have a very good idea of what the standards and norms are and that they would like to see if changing some or all of the attributes of a particular norm can change the expected outcome.
For example, children know that driving in the real world means obeying traffic rules and that they need to follow these rules. In a divergent thinking child, they will try to see what happens if such rules don't exist. They test this through their roleplaying activities. That's why we can see them having so much fun bumping into each other with their ride on toys. Of course, it's up to us to refocus their thinking that such a manner of driving is totally unacceptable in the real world.
In essence, the roleplaying activity helps children act out their feelings and their thoughts. Go-karts and other toys can help facilitate the expression of these thoughts and feelings.
Secondly, some go-carts run on pedal power. It should be readily obvious what benefit this brings to kids. Because they will have to use their legs to move the go-kart, then they will have the opportunity to grow and develop their muscles a lot better as well as enhance their motor skills. Additionally, this helps improve their energy expenditure which, sadly, has been proven by healthcare authorities to be one of the main reasons why we have such a huge problem on childhood obesity. The lack of or insufficient physical activities among children favor the deposition of fats from high calorie and high fat diets. Having kids pedal through the different terrain should help them get physically active while also giving them a more engaging experience.
The child's emotional development is also substantially enhanced by playing with these go-karts. Being able to drive a go-kart at 12 miles per hour can be an amazing feat for a child. Performing a variety of tricks can also help foster a sense of confidence, making the child believe in his or her abilities spurring the child to excel. And as we all know, a well-motivated child is a happy child. And a happy child will definitely translate into happier parents.
There are other ways in which ride-on toys like go-karts can help in children's development. Suffice it to say, these are very helpful tools.
Criteria Used to Evaluate the Best Go-Karts for Kids
Safety Features
It's a no-brainer that any sort of ride-in device that is made to accelerate and involves kids needs to have it's safety features considered. One of the biggest factors that come into play here and needs to be considered first is the age range for the specific kart.
Material used in the kart plays a part in how safe a kart is, but those made for bigger kids will be heavier and have heavier parts, being much less safe than a kart made for younger kids.
Karts that are made for 3 to 4 year olds or in that range will typically be composed of more than 75% plastic. Plastic is much lighter than steel or aluminum, and much less likely to cause any injuries.
Other safety features you want to look out for are safety belts and seat harnesses. These are especially critical for big kid karts that can reach speeds of up to thirty miles per hour. A good bumper system is also important, just as much as the braking system. Braking systems on go-kart type ride-ins usually come in the form of a hand brake.
Acceleration and Speed
This really needs to be considered depending on the age of your kids. Karts for younger kids in the range of 4 years old will not include really sturdy bumpers. This is because the karts are usually pedal powered and don't need them as much.
A kart that goes 15 to 30 mph will certainly need a great bumper system. You also want to slow down, and sometimes immediately so a great braking system is also something to look for. You will usually see hand brakes as the primary method for sudden stops.
When it comes to enjoyability, you want to consider the fact that your pre-teen kid will not play with a relatively slow moving kart. That is why older kids karts in the range of 10 to 14 start becoming faster, reaching higher speeds. Although, you certainly don't want a child who should be on a peddle ride-in to be behind the wheel of a fast moving electric kart.
For the younger kids, peddles are the way to go. This ensures your kid can only go as fast as he/she can peddle, thus never providing much of a hazard to those around or themselves. Most of the time, stopping is done easily by using the bottom of their shoes. Just make sure they are wearing footwear whenever riding in any similar type of toy or kart.
Overall weight
Weight not only plays a big part in safety, but it also makes sure a fast moving kart stays on the ground. It is also increased do to more sturdy material being used (aluminum/steel) for the reason of increased durability and protection on impacts for faster karts. Plastics are lighter, but would shatter easily at high speeds. This is why the faster karts are much heavier, and usually have little to no plastic. Little kids karts being comprised of mainly plastics, which are softer and lighter, but less sturdy.
Supported Weight, Frame Size and Adjust-ability
The supported weight of the frame is just as important as any other aspect here, just as it depends on the age of the child and the karts suggested age range.
Every kart is made differently, with different gimmicks and components, just as every child will be of different weight from the next, with little the matter on the age. We've included karts of all supported weights and body types, just make sure you know your child's general weight, and always keep in mind the weight limit for any particular kart. When it comes to the size of your kid, not all karts are created equal. Some have adjustable seats, to compensate for leg length, and some are build wider, for a wider frame.
The Bottom Line
You don't have to let your kids race in these go-karts. Just let them enjoy and relish the feeling of sitting behind a Formula One inspired ride-on toy. This should really make for a great and truly fun day for them.
FAQs
Frequently Asked Questions
Q: Is racing safe and should it be allowed with these go-karts?
A: Parents need to be cautious with racing and always supervise if at all possible. If you are going to get your kid a go kart, you are responsible to make sure you also get them knee pads, a helmet and any other precaution safety devices. If you have a pre-teen child, chances are racing with other kids in the kart will happen.
Q: Are go-karts multi-terrain, for road and dirt?
A: The answer lies in the tire and motor. The smaller and less tread the tires have, the harder it will be to traverse dirt terrain with the kart. Also, if the cart is not powered by a motor, and the kid has to peddle, it will not fair well in dirt, although it will depend on how much the child pushes on the pedals to make the thing go. You also want to consider how much off the ground the body of the kart is. Most of the time, the kart will do best sticking to flat, hard ground.
Q: What's the top safe speed for a kids go kart?
A: The top safe speed for a kid in the four year old range will be in the 12 mph range, and for pre-teens or in that age range, 20 to 30 mph is okay if they have proper safety equipment.
Q: Will a go kart fit in a car?
A: If it's a little kids kart, yes it will. It is not advised to put a steel framed, heavy kart into a car. If you have a tow it for it, that is ideal.
Q: What are the best areas or places to let my kid use his go kart?
A: Pedal go karts can be used in the house but electric karts should be used in the front yard and around the street. Just make sure all safety precautions are taken, and all cars in the area know of there being kids at play.
Q: What are the benefits of an electric vs non-electric kart?
A: Non-electric usually means your kid will be peddling. This provides them a method of exercise, just as a bike does. For electric, they go faster typically and provide more enjoyment to pre-teen kids who prefer faster than safer.
You May Also Like
12 Best Wagons For Kids You Can Buy in 2017
15 Electric Ride-On Kids Cars