A child's world can be filled with many toys, but those toys that spark their imagination and inspire their inquisitive nature is what builds their brains for more complex thoughts. Most children see animals during the course of their day. Whether they are pretend, real, or on TV they represent a part of their childhood.
Learning to pretend is a part of natural development and to help build that developmental skill it is important to provide toddlers and kids with toys that inspire their imagination.
Animal toys are a great way to do this.
Animal Planet is usually only known as a network channel on your TV, but they have grouped together and created their own line of fantastic toys. The toys are sets of pretend play inspired toys that will really grab the attention of kids. Each set of toys has details that just make them awesome for little and big kids to play with. The next thing you know you will find yourself on a safari with them. We have created a list of the best Animal Planet toys to help in your search to find the greatest sets that will inspire your kids.
The Best Animal Planet Toys for Kids & Toddlers Reviewed in 2018
Blue Printed Hammerhead Shark Plush Toy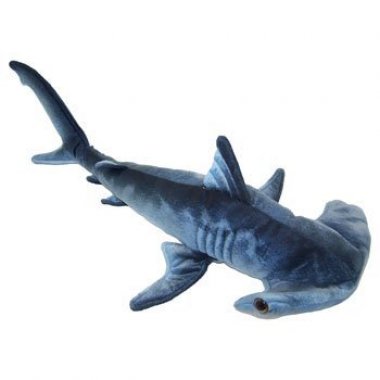 Animal Planet Big Foot Play Set
Animal Planet Shark Attack Adventure Playset
Animal Plant Baby Leash Backpack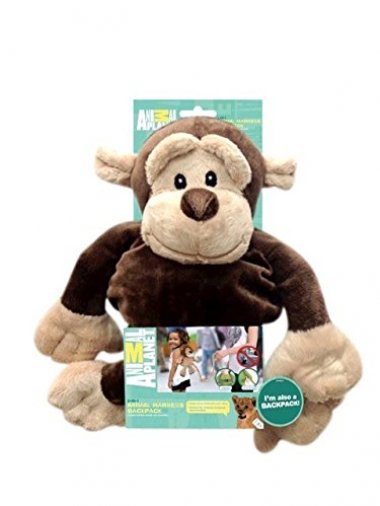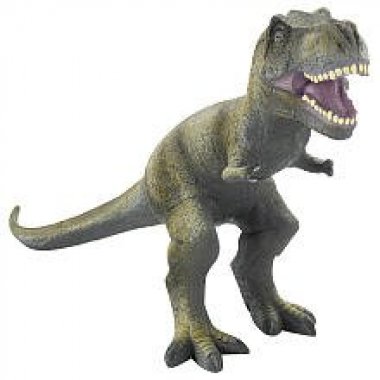 Animal Planet Wild Animal Transport
Animal Planet's Big Tub of Dinosaurs, 40+ Piece Set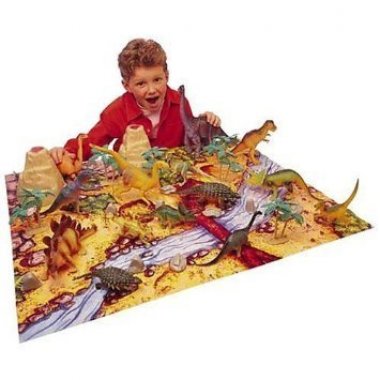 Animal Planet Deep Sea Submarine Playset
Animal Planet Giant T- Rex Playset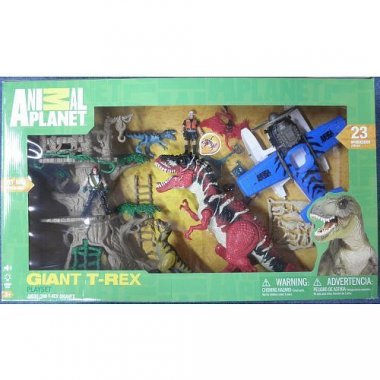 Animal Planet Zipper's Safari Play Set
Animal Planet Yeti Play Set
Animal Planet Animals of World Learning Pad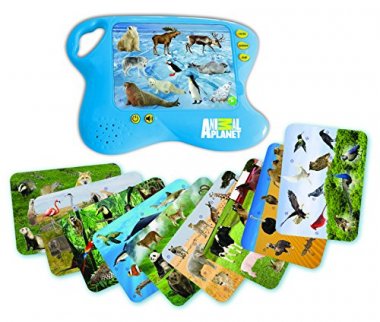 Criteria Used in Evaluation of the Best Animal Planet Toys on Our List
The 12 Best Animal Planet toys were selected based on developmental qualities that the toy sets offers and consumer reviews. Each of the set of toys offers an excellent opportunity for kids and toddlers to explore through a learning experience while also promoting many developmental skills.
The developmental skills most commonly found for each of these playsets in fine motor skill development and also the encouragement of engaging in creative pretend time play. These are very important in their developmental and will offer a lifetime of opportunities for them.
While it is important for us to suggest toys that offer developmental benefits we also want to make sure those toys are of the best quality and have been reviewed by many consumer ensuring that they are not only great toys but kids love them too.
Each of the Animal Planet playsets suggested on this list offer a super star rating with outstanding quality. The hard part has been done. Now you get easily choice something great for the little animal lover in your life.
Providing Kids and Toddlers with toys that spark their interest
When you provide kids and toddlers with toys that speak their interest it not only encourages them to play with the toys, but it also makes the experience with learning and engaging in pretend play that much more beneficial for them. You want the toys to provide an open way for them to explore their imaginations while sparking their interest in a subject.
Sparking an interest in a subject especially animals allows children to take part in learning about them while also engaging in a pretend play experience. The experience of learning through play is awesome for both parents and children. This not only sparks their interest, but provides them with a lifetime of developmental skills that they can build on.
Benefits of pretend play
The benefit of pretend play comes through the building of many essential developmental skills. When a children engages in pretend play they are actually experimenting with social roles and emotions that they see in their day to day life. Through this type of play they are engaging and playing out different scenarios that they will be faced with throughout their lifetime.
This benefits children in many ways. It prepares them through cooperative playtime opportunities while teaching them to problem solve; learn how to take turns, and to be creative. This will prepare them for school ages activities that they will engage in and also how to understand social relationships between themselves and others.
Why Animal Planet toys and toy playsets
We selected and decided to feature Animal Planet toys and toy playsets to give children a learning opportunity to explore pretend play through the life of animals. We want to teach children to love animals and pets in a way that they respect them. Teaching toddlers and kids about animals is a great way to also teach love and respect for others. These are a few tips that will help kids to respect animals.
Lead by example: kids learn by watching others, so always make sure to be a good role model to kids by respecting animals and their habitats.
Always show kindness: Make sure to always show kindness towards animals especially pets.
Visit zoos and farms: Exposing children to animals at local farms or zoos is a good way to teach them about animals while they also have the opportunity to watch and sometimes even engage with them.
Help the animals living around you: Feeding the birds and even the squirrels in your backyard is a great way to help teach children about the animals without even having to interact with them. It also gives you a great opportunity to teach them facts and makes it a great learning experience.
Do Not Litter: Teaching children not to litter is a great way to help preserve the wildlife around them. This teaches them to respect the earth and what it provides us with while also helping them make great choices on how to respect the environment around them.
FAQ
Frequently Asked Questions
Q: Are the Animal Planet toy sets safe for my 3 year old?
A: The Animal Planet toy sets above all have different age groups that they are appropriate for. Please review each toy set for the manufacturer's suggested age group to determine if they will be safe for a 3 year old.
Q: Why is it important to provide children with toys to play pretend with?
A: It is important to provide children with toys that will inspire their imagination and spark their interests. When child engage in pretend play they are developmental developing their skills. This is very important for other upcoming developmental skills. Plus they allow children to explore the environment around them and engage in a positive learning experience.
Q: What kind of animal play sets is best for my little girl that is 5 years old?
A: Animal sets that are best for a 5 year old girl are different from girl to girl. We would suggest that you review their interest and buy a playset those correspondences with those. If she likes cats, then a set of big cats would be something that would be interesting. If she enjoys fish, then a set of larger fish like sharks and sea life animals may spark their interest.
Q: How do I get my child interested in playing with toys that will inspire their imagination rather than always waiting to play with their tablets?
A: The best way to get children to play with toys that will inspire their imaginations is to limit their time that they are exposed to screens and present them with toys that they can play with. Presenting them with toys and making time that they are away from all other stimulates makes it easier for their minds to focus on the task and enjoy playing with their toys.
Q: Are there Animal Planet TV shows to go with the play sets?
A: The shows on Animal Planet not do directly correspond with the toy playsets. They were created as inspiration for imaginative play. The animals in the playsets are often featured on shows giving great details about their lives and where you can find them on the planet.
Q: Where can I buy the Animal Planet toys from the list?
A: You can buy the Animal Planet toys from Amazon. Below each picture of the product is a link to Amazon that will take you the directly to the product. You can purchase it and have it shipped to a location of your choice.