There was a time long, long, long ago (okay, just kidding, not that long) in which children and parents could not be reliant on screens and electronics to keep them entertained. Watching a good movie together or playing a computer game is a great way to bond, but if you're trying to limit screen time, it might seem like your options are limited. Thankfully, a great number of innovative minds are hard at work to bring creative, stimulating children's activities to the table. One of the most time-tested staples for a family game night has grown in recent years to offer a wide variety of options. Card games are a wonderful way to engage the whole family in a simple but fun activity with minimal cleanup.
Research also suggests that card games can help to improve many developmental skills in young ones. Shuffling cards and rolling dice help to improve motor skills and hand-eye coordination. Additionally, there are plenty of games out there targeted at exercising certain skills, such as math, spelling, and vocabulary. Numerical card games help to improve children's chronological skills (ability to correctly place numbers in order), value-assignment (the knowledge of which numbers are larger or smaller), and their ability to recognize and name the numbers presented to them. Strategy-based card games help children develop long-term memory techniques. Additionally, studies show that families with routine bonding activities scheduled tend to see higher reading scores, stronger vocabularies, tighter peer relations, and more academic motivation in their children. We've picked the following card games for our list based on customer satisfaction, but also bearing in mind the need for variety in anything our children consume as they grow. Enjoy!
The Best Kids Card Games Reviewed in 2018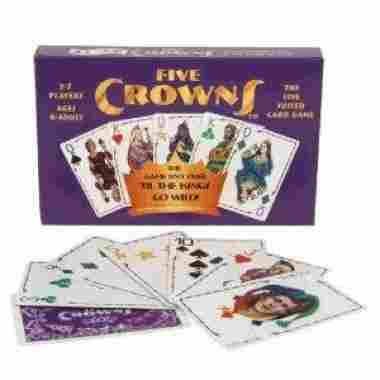 Reinhards Staupe's BLINK Card Game
Quiddler Junior Card Game
Smack it! Card Game for Kids
Apples to Apples Junior – The Game of Crazy Combinations!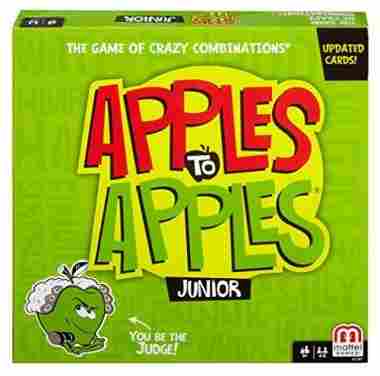 Travel Scavenger Hunt Card Game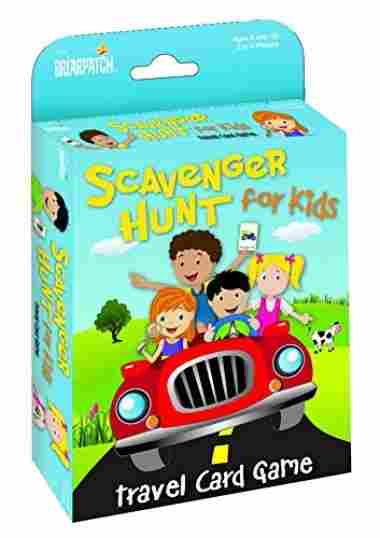 Peaceable Kingdom / Go Fish! Card Game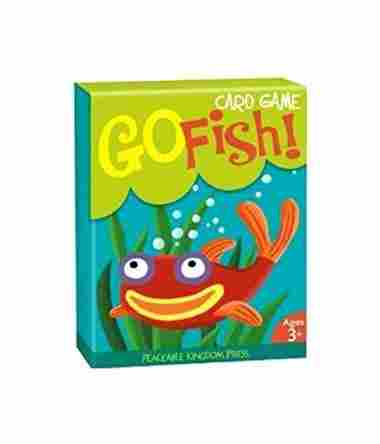 Not Parent Approved: A Card Game for Kids, Families and Mischief Makers
Exploding Kittens Card Game
Dr. Seuss Cat in the Hat Card Game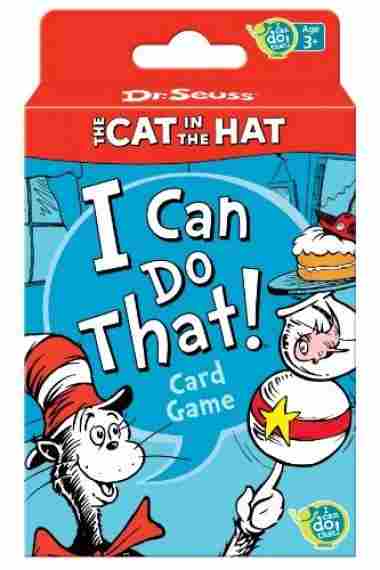 Loaded Questions Junior card game
You Gotta Be Kidding Card Game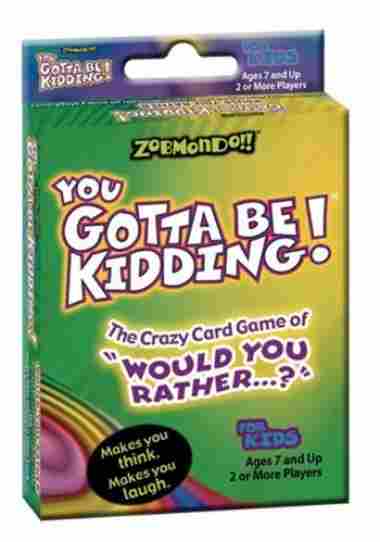 Criteria Used in Evaluation of the Best Kids Card Games
The criteria for 15 Best Kids Card Games was created based on quality card games with great reviews that provided players with developmental benefits. The reviews of the card games were viewed but our expert panel to select games that were made from quality materials and had reviews that were better than a 3.8-star rating out of 5 stars. This was very important for our expert panels because they want to provide nothing, but the best card games possible.
The list of card games was then reviewed for developmental benefits that it provided the players with. Each of the games needed to provide both physical and mental development benefits. All of the games selected on the list provide kids with developmental benefits that will last them a lifetime. It is always important for our teams to provide the best suggestions for our lists. This list is constructed of nothing but the best card games.
Developmental benefits of kids playing card games
Card games provide kids with physical and mental developmental benefits. Card games have been around for hundreds of years and provide many skills that children will use throughout their lives. They promote physical developmental benefits like; fine motor skills and hand-eye coordination. Holding the cards and placing them down on the table builds hand and eye dexterity. Physical benefits are great, but card games also stimulate many mental benefits.
The mental developmental benefits of card games are a wonderful part of the game night. They provide positive social interaction while providing an engaging experience and some friendly competition. Along with many other benefits that stimulate their learning skills, teach patience, and provide great sensory system development. Bonds are also easily formed when playing games and provide a great time to interact with family and friends. The benefits can not only be seen but felt as well.
Bringing families together with card game night
Card games are a great way to bring families together for a time filled with fun and laughter. During the digital age that our kids are experiencing, we often lose touch with the basic games and items that entertained families for many centuries. Playing games requires people to look at each other and provides an experience that a smart device is not able to.
At a time in history, most families joined together for a night of games. This provided them with the experience of real-life, interactive, group time that brings families together creating a strong bond. As children grow up in this century they are losing this bond and it is leading to developmental issues in children. The best way to bring game night back to the table is starting with your family. You will see the benefits instantly.
Card games for all ages and skill levels
There are many games on the market and card games are no different. Card game developers have worked very hard to bring together games that are great for many different age groups of players and also challenge their skills. When we think of card games often the classic games like Uno and Go Fish come to mind, but card games have become much more complex and also more interactive. They provide a challenge that is physical and mental making them great for family time.
Simple card games like Go Fish are great for preschoolers and young children, but as children grow they need something more complex or provide a new and exciting level of interactions. Many games on the market now provide this. The trending games for older kids are the fill-in-the-blank games and fast moving, quick thinking card games that keep players on their toes at all times. Whether you need a game for a 4-year-old or a group of 13-year-olds they have card games out there that are just for them. It is a wonderful and exciting world to explore with your children.
FAQ
Frequently Asked Questions
Q: Are card games better than board games?
A: Card games and board games are only different in the items that are used to play the game. Card games usually consist of a deck of cards and maybe a few supporting items but they are simple. Board games are usually more complex and require many items or pieces to play the game. So, one game is not better than the other. It is just a matter of choice or playing style.
Q: Can you buy these card games at a store on online somewhere?
A: The card games listed on the 15 Best Card Games for Kids can be found at local stores and online. Below each one of our products is a link that can be clicked. The link will go directly to Amazon where the card game can be purchased online.
Q: What is the best age to introduce card games to kids?
A: Card games can be introduced at any age that you think that the kid is ready for them, but the best age suggestion for card games is three years old. Three-year-olds are right at the age where learning to take turns and understanding the concept of the game is the easiest to introduce. They have many card games that are great learning support tools.
Q: Are card games beneficial for kids to play?
A: Card games are very beneficial for kids to play. They offer mental and physical developmental skills that are used throughout their lives. Card games use different types of skills so when checking them out, review the skill level and select one that could provide the most benefits for the group.
Q: What is the best card game for a family game night?
A: The best way to pick a card game for family night is to think about the players and their interests. It is best to select a game that everyone will enjoy without leaving anyone behind. The best kinds of card games for family nights are the fill-in-the-blank card games and activity related games. They tend to get players engaged on all levels and provide interest for a broader audience.
Q: Can my three-year-old play these card games?
A: Some of the card games listed above are great card games for a three-year-olds but some are not a good match. When trying to find a card game for a three-year-old it is best to try and find a simple matching game with colors and shapes. This will not only offer a learning experience but allow them to have some fun.