As technology advances, parents seem more desperate to limit screen time for their children. During those allotted times, parents want to be sure that what their child is watching is both age and developmentally appropriate. Disney and Pixar movies are always a great option. Toy Story specifically is far more than just a creative storyline. The story centers around Woody, who is toy cowboy. However, he's not just any toy cowboy, he is Andy's favorite. When Andy gets Buzz Lightyear, a hot new astronaut toy, Woody begins to feel like he is being replaced. In the beginning, Woody tries to get rid of Buzz but finds himself on an adventure to save his friend. The journey will teach your child the value of friendship and the importance of teamwork. The plot is engaging to both adults and children and even demonstrates the age-old question, "Do my toys come alive when I am not around?" The toys coming to life will stimulate your child's imagination while also entertaining them. Your little one is bound to fall in love with the characters and the Toy Story franchise. So much so that they will loading their birthday and Christmas list with Toy Story toys. We've created a list of the 10 best Toy Story toys that will allow your child to show off their love of the movie while also providing them with hours of fun.
Our Picks Of The Best Toy Story Toys for Kids and Toddlers
Playskool Mr. Potato Head Classic
The Original Slinky Dog in Retro Packaging
Woody and Buzz Lightyear Plush Doll Set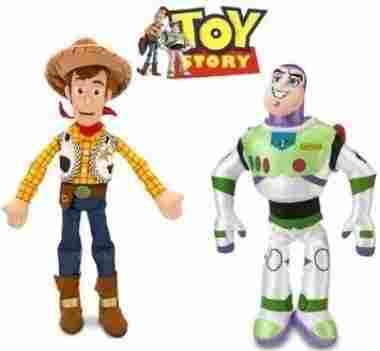 Playskool Classic Mrs. Potato Head
Disney Pixar Slinky Dog Jr
Slinky Disney Pixar Plush Dog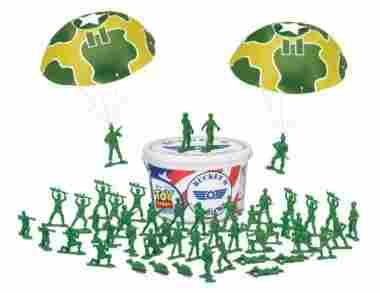 Mattel Disney/Pixar Talking Rex
Criteria Used in Evaluation of the Best Toy Story Toys
We are always on the lookout for ways to help educate our children that are fun and will leave a lasting impression. These toys combine the popular kid's movie Toy Story with engaging activities to help reinforce the lessons learned by watching the movie. By combining the nostalgia and familiarity this movie brings with skill-building activities helping your children develop alongside their favorite companions is easy and enjoyable for everyone.
Woody goes through a series of emotions and experiences that we face on a fairly regular basis. He has to learn healthy coping skills and how to treat others with love and respect. Vital to our abilities to function in society, we learn to respect others, we learn to master patience and we learn to have compassion for others. Finding a way for our children to fully grasp these concepts can be a challenge but with the fun provided by these toys, they won't even know they are learning.
In addition to learning some very valuable lessons in the dynamics of friendship, this movie can also help to reinforce animal and color recognition. Space exploration is touched on very slightly and adventure is used to promote imagination. Another valuable lesson to be noted is understanding growing up doesn't have to mean we lose ourselves. Growing up can be stressful but it's important to take care of yourself. This may sometimes mean letting your inner child out as Andy does; although he is growing up, he still finds comfort in some of his favorite toys.
The toys on this list are modeled after this popular children's movie and provide a number of developmental benefits. There are toy options that model after the whole series of Toy Story movies. You are sure to find something for your little one, no matter which movie was their favorite. These toys can be used to improve skills such as hand-eye coordination, fine-motor skills, precision, and finger dexterity. They inspire creativity and imagination and help your child learn to respect their toys. This can, in turn, help them learn to respect people they encounter in their lives. These toys are meant to enhance your child's Toy Story fun and reinforce the lessons learned.
There are several options on this list that come with many pieces. These sets are meant to help promote socialization skills. The number of parts allows for multiple children to play at once helping to encourage socialization. Imaginative play can also help with socialization as your child acts out and imagines how they would handle certain situations or crises. The age recommendations for these products are from ages 2 through around 12 so you can help inspire your children to play together as opposed to independently.
FAQs
Frequently Asked Questions
Q: Are these toys heavy?
A: Most of these toys weigh only a couple of pounds when they ship and arrive. You'll find however, they are much lighter when they are unpackaged. Some even weighing only a few ounces.
Q: Are these toys large?
A: Most are only a few inches tall. There are a couple that may be just over a foot in height or width.
Q: What are the age recommendations?
A: The ages for the toys range from 2 to around 12. Knowing your child's personal interests and development level will better equip you with the understanding of which toys meet the age range of your children.
Q: Will exposing my child to violence through play time cause more damaging effects in the future?
A: It's true that children are easily persuaded and often mimic the words and behaviors they see and hear from movies/TV and the people around them. Exposing them to the "violence-themed" toys on this list can help your child improve a number of developmental skills and also will give you the opportunity to correct certain behaviors. These toys give you the opportunity to explain to your child the importance of understanding how severe violence is and the importance of knowing there is a time and place for everything.
Q: Are there toy options from the whole Toy Story series?
A: Yes, there are toy sets with characters included in all the movies and you can make a Toy Story collection. Note that each set does not contain characters from all movies.
Q: How do I find replacement parts?
A: There are many sets available with accessories and pieces should you lose anything. There are a few options on here that give replacement options based on the manufacturer's policy.