You've got a friend in me! One of the most beloved Pixar movies is Toy Story. Toy Story is more than just a storyline for some children. If you're familiar with Andy's toys then you know that Woody, the cowboy, is his favorite that is until Buzz Lightyear comes along. Woody and Buzz have their differences but, in the end, they become fast friends through the journey of teamwork.
We know that your child's toys don't come to life while you're not there. However, this wonderful film will get your child's imagination going and their toys might start to entertain them a little bit more. Whether your child is a Woody or Buzz fan, we have all your favorite Toy Story characters on our list below! Your child will love playing along and acting out their favorite scenes along with their favorite movie!
Our Picks Of The Best Toy Story Toys for Kids and Toddlers
Woody and Buzz Lightyear Plush
Playskool Classic Mrs. Potato Head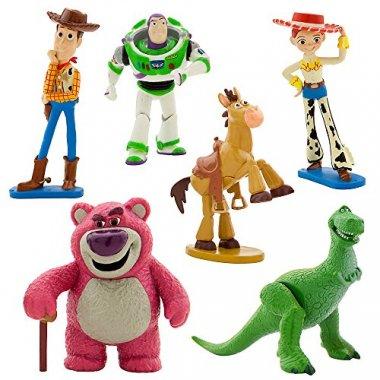 Disney Pixar Slinky Dog Jr
Slinky Disney Pixar Plush Dog
Criteria Used in Evaluation of the Best Toy Story Toys
We want to make sure that your children not only have a fun time playing with their favorite toys but that they're also educational as well. While these toys are part of the wonderful Disney Pixar franchise, they also all come with activities and lessons that your child will learn just by watching their favorite movie. When combining familiarity and pretend-play this will bring new development skills for your child with their favorite companions.
It's a known fact if you've seen the movie that Woody experiences a lot of emotions that even younger children and pre-teens might go through. While he has to learn good coping mechanisms when something changes in his life and learns the golden rule of how to treat others, it's a wonderful story to teach your children these values. Teaching your children these values can be tricky especially if they don't quite understand them yet, however, using toys from this favorite franchise will help your children learn these concepts through pretend play without even realizing it.
FAQ
Frequently Asked Questions
Q: Are these toys heavy?
A: Most of these toys weigh only a couple of pounds when they ship and arrive. You'll find however, they are much lighter when they are unpackaged. Some even weighing only a few ounces.
Q: Are these toys large?
A: Most are only a few inches tall. There are a couple that may be just over a foot in height or width.
Q: What are the age recommendations?
A: The ages for the toys range from 2 to around 12. Knowing your child's personal interests and development level will better equip you with the understanding of which toys meet the age range of your children.
Q: Will exposing my child to violence through play time cause more damaging effects in the future?
A: It's true that children are easily persuaded and often mimic the words and behaviors they see and hear from movies/TV and the people around them. Exposing them to the "violence-themed" toys on this list can help your child improve a number of developmental skills and also will give you the opportunity to correct certain behaviors. These toys give you the opportunity to explain to your child the importance of understanding how severe violence is and the importance of knowing that there is a time and place for everything.
Q: Are there toy options from the whole Toy Story series?
A: Yes, there are toy sets with characters included in all the movies and you can make a Toy Story collection. Note that each set does not contain characters from all movies.
Q: How do I find replacement parts?
A: There are many sets available with accessories and pieces should you lose anything. There are a few options on here that give replacement options based on the manufacturer's policy.