The assortment of Disney toys and games for kids is huge and varied. Anything with Disney on it is in large demand. The world-famous characters of Mickey, Minnie, Donald, Daisy, Pluto, and Goofy adorn games and toys in almost anything imaginable for kids. They are timeless representations of childhood innocence that have enthralled kids for over 80 years. People all over the globe recognize their legendary appearances and collect anything with their images on it. Also, hugely popular currently are the Disney princesses of Ariel, Snow White, Belle, Aurora, and Cinderella. The appealing characters of Toy Story are still well admired by kids. Parents can find many items appropriate for the age levels of babies, toddlers, and grade school children in the Disney category.
All of our selections of the top-rated Disney toys and games benefit children either educationally, physically, or emotionally. Toys are not just something to occupy a child's time; they should advance the growth of the child in some positive way. Popular board games, such as Pictoria and Candy Land, with the Disney theme, promote personal quality time that is crucial for bonding of family members. Card and board games often must be played by more than one player, thus providing an atmosphere of comfort, enjoyment, and learning in a group.
Our top picks consist of Disney board, travel, and trivia games that kids are enthusiastically playing today. The Disney wooden puzzles, building blocks, and board books encourage analytical thinking skills, while the Disney bath toys, magnets, and character figures spur a child's imagination and develop motor skills. As simple as they seem, plush toys provide a comfort level for very small kids in the form of a snuggle buddy or small friend. Many of these items are supportive on several layers because they have many intended goals for stimulating constructive growth in kids. Whether you are looking for a gift or an everyday toy for a child, our list highlights the very best Disney toys and games for kids in 2018.
The Best Disney Toys & Games for Kids Reviewed in 2018
Delta Children Chair Desk With Storage Bin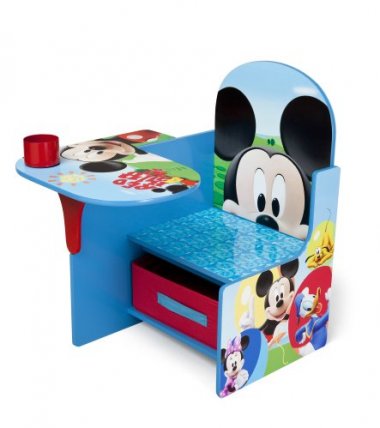 Hasbro Candy Land Board Game: Disney Princess Edition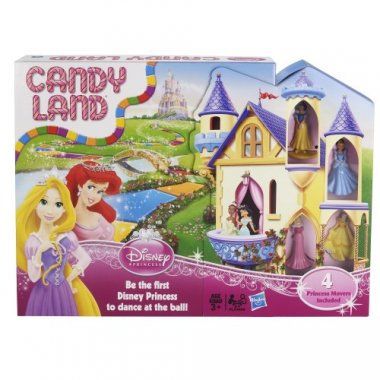 Disney Minnie Brush and Comb Set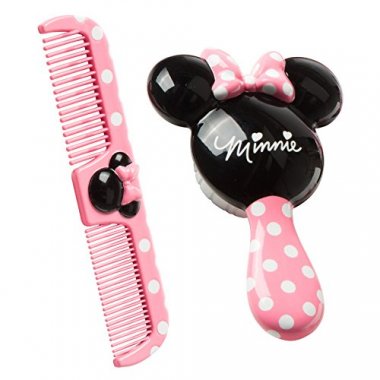 Disney Princess Enchanted Cupcake Party Game
Baby Bath Squirt Toys, The Little Mermaid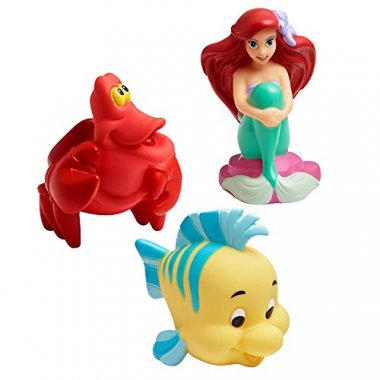 Spot it! Disney Frozen – Alphabet
Mr. Potato Head Toy Story 3 Classic
World of Disney Eye Found It Board Game
Disney Princess Pop-Up Magic Pop-Up Magic Castle Game
Minnie Mouse Musical Touch 'n Crawl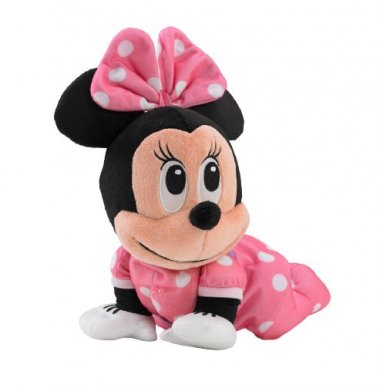 Pictopia-Family Trivia Game: Disney Edition
Minnie Mix and Match Dress-Up Wooden Play Set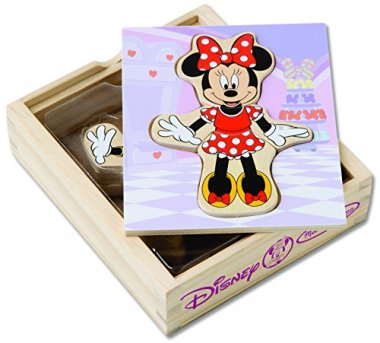 Disney Pixar Toy Story Plush Slinky Dog
Disney Moana of Oceania Adventure Doll
Princess Wooden Stamp Set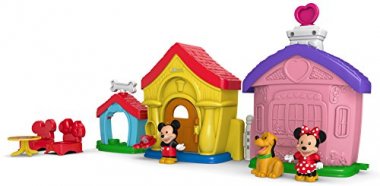 Disney Princess Pop-Up Magic Pop-Up Magic Castle Game
Melissa & Doug Disney Mickey Mouse Clubhouse Wooden Tool Kit
Minnie Mouse I'm Ready To Read
Disney Princess Matching Game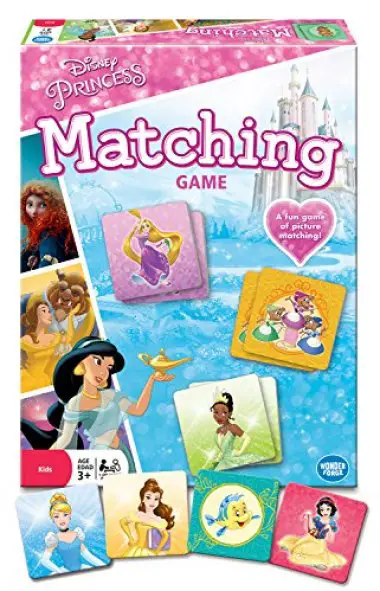 Disney Classic Characters Matching Game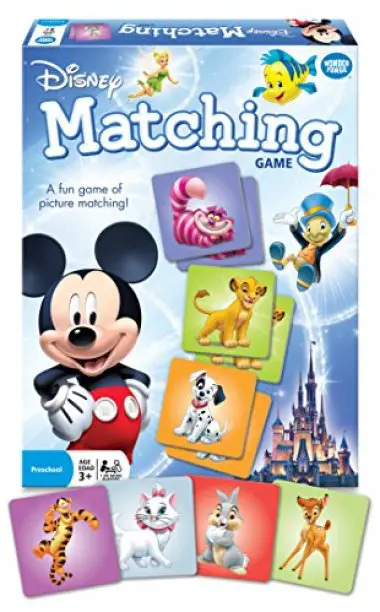 Paw Patrol Foam 25 Piece Floor Puzzle by Cardinal
Disney Baby Mickey Mouse and Friends Wooden Train

Disney Junior Mickey & Friends Beach House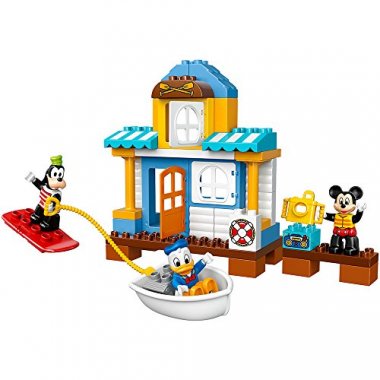 Criteria Used in the Evaluation of the Best Disney Toys and Games
Appropriate Age of Toy
Most of the toys on this page are intended for toddlers and young kids. The ideal age range would be from three to twelve years old because younger children may be harmed by small parts if swallowed. All age ranges are given when they were provided by the manufacturer for easy reference. Toys that are not advanced enough for a kid's age will bore them and not stimulate the development intended by the creator. If children are too young for toys that they get, they will not understand them and not be interested in playing with them. It is most important to match the best we can the toy with the appropriate age level of the child for the maximum benefit of skill building and time allocation.
Learning/Enjoyment for Child
Every toy here profits children in one or many ways to advance their skills and get them ready for the next level of learning. Even the simplest of toys, such as the plush Slinky Dog, have their place in the scheme of things by being a huggable friend and companion for trips and bedtime. Other items ripen skills such as cognitive, motor, memory, and imagination abilities. Toys such as board games and card games exercise the fine motor skills of kids, while the gross motor skills are put to the test with items like the Plush Minnie Mouse Touch 'n Crawl. Playing is learning. We learn from acting out what our brains are constantly creating. With imaginative toys, children can expand their horizons and think outside the box. They need to see what has been discovered already, so they can move forward to become the next inspired inventors and developers.
Toys Are Disney Products with Disney Characters
All toys Disney should all have Disney personalities involved. The ever-popular Mickey and Minnie Mouse along with their friends personally embellish each and every item we list of these Disney games and toys. Whether it is the Disney princesses of Snow White, Belle, Aurora, or Ariel or characters from Toy Story, all of these top-rated toys are personally enhanced by at least one of them. Even the well-known games of Candy Land and Pictopia have the Disney characters featured on these instead of the original personalities. Disney movies and theme parks have been the symbols of magical experiences for decades, as Walt Disney intended, so Disney toys impart their own magic personally for each and every child that is lucky enough to own one.
FAQ
Frequently Asked Questions
Q: Can the desktop of the Mickey Mouse Desk and Storage Bin be changed to suit a left-handed child or is the desk reversible for lefties?
A: The desktop is made for right-handers only. It cannot be reversed or switched to accommodate left-handed kids. Most school desks are that way too. Lefties can use these desks, but it is just not as well-suited to them as a right-handed child.
Q: Is the seat of the Mickey Mouse Desk and Storage Bin hard and uncomfortable? It is made of wood, so does it need a seat cushion added?
A: Is it made of hard durable wood, so yes, it is a hard seat just like many school desk seats are. It is no harder than the desks kids will encounter there. Kids under six usually do not sit for long periods of time without moving around or getting up frequently so this should not be a problem.
Q: What is the diameter and size limit for the Hopper Ball?
A: The Minnie Mouse Hopper Ball is for kids under the age of six with a recommended weight limit of 100 pounds. The ball size is 15 inches in diameter.
Q: For the Disney Cupcake Party Game, what are the pieces made of and are they durable? Also, do the cupcakes stay together well once assembled?
A: The pieces are made of rubber so they are bendable, and it would take a lot to break them. They do stay together well. Maybe a bit hard to put together but if they are twisted some they go together just great.
Q: What is the difference in the original Mr. Potato Head and this Toy Story version of the toy? Are the parts compatible?
A: The Toy Story Mr. Potato Head has fewer holes to put the parts on the head. Yes, the parts are compatible and fit both versions of the toy.
Q: Which princesses are included in the Disney Candy Land Game? How big are the figure play pieces?
A: The four princesses are Belle, Aurora, Cinderella, and Snow White. The pieces are about 3 inches tall.
Q: Does the Minnie Mouse Touch 'n Crawl work well on carpets? Does the child play with it after they learn how to crawl well?
A: Yes, this toy crawls very well on most surfaces, even on plush carpets. Yes, babies love to play with this toy well after they learn how to crawl. It makes a wonderful snuggle toy for bed and nap time. It is small enough to tote around too for travel.
Q: Can the Mickey Foam Puzzle Mat also be a general purpose floor mat?
A: Yes, it can be a general use floor mat too after it is put together, but it is smaller than you would expect of a regular floor mat for kids.