10 Best Cotton Candy Machines for Kids in 2019
last updated
Jun 21, 2019
Given how bad sugar is for your teeth, it might be hard to reconcile the fact that Cotton Candy was invented, in part, by a dentist. In 1897, Dr. William Morrison and his friend John C. Wharton (a candymaker) teamed up and created what they called a "Fairy Floss" maker. They debuted it in 1904 and it's been a fan-favorite ever since. Who doesn't love the taste, or at least the smell, of cotton candy when they visit the fair or a theme park? Now you can have that same delicious treat in the comfort of your own home! Check out our top ten cotton candy machines. You don't need an excuse or a special reason to enjoy something so colorful and delicious!
In a Hurry? The test winner after 18 hrs of research
VIVO CANDY-V001 Electric Commercial
Why is it better?
Couldn't be simpler to use
Safe for kids with parental supervision
Easy to clean with water
Kids have the space to make fun shapes
Starts up quickly
In a
Hurry? Editors choice:
Test Winner: VIVO CANDY-V001 Electric Commercial
19
Researched Sources
18
Hours Researching
26
Products Evaluated
Brand
Entertainment Value
Effectiveness
Design
By Default
10 Best Cotton Candy Makers Reviewed
1

. VIVO CANDY-V001 Electric Commercial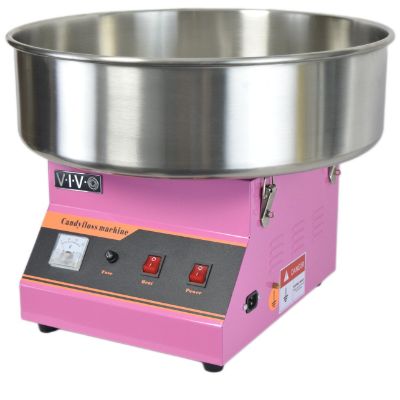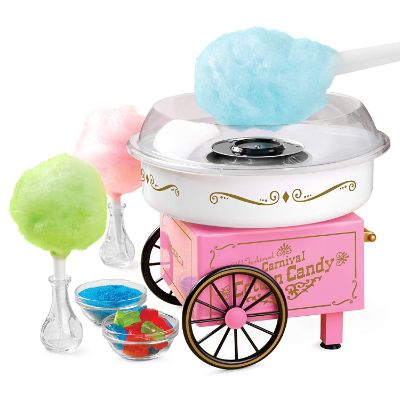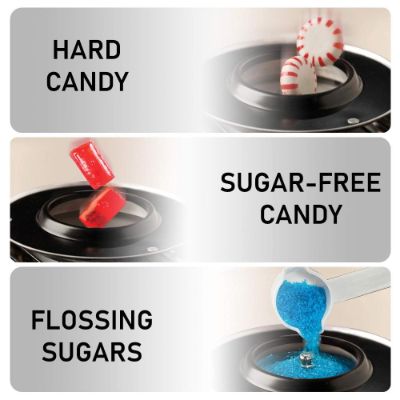 Couldn't be simpler to use
Safe for kids with parental supervision
Easy to clean with water
Kids have the space to make fun shapes
Starts up quickly
The wires can get stripped easily and need to be checked often
Understandably, not everyone is a huge fan of cotton candy. Sometimes, the sugary sweetness is just too much or the texture is just off for certain kids. However, just because they don't like eating it doesn't mean they can't love watching it being made or help to make it themselves! That's why the VIVO Cotton Candy Machine is so much fun.
Read more
Brand
With parental supervision, this cotton candy machine is easy and fun for kids to use. All they need to do is take a designated candy stick, hold it over the circular opening, and watch the colorful candy threads spin around to create a giant, edible cloud of candy.
Entertainment Value
The simplicity of this cotton candy machine is what sold us on it in the first place. Every kid dreams of having their favorite carnival confection whenever they want it, and this machine makes those dreams come true (in the easiest way possible!).
Effectiveness
It's simple enough to use for both parents and kids.
Design
Just simply flip the switch to start the motor spinning, flip the heater on, and carefully pour in sugar with the pouring cup. It's literally as easy as one-two-three, and voilà! You have cotton candy spinning and ready to go.
2

. Nostalgia PCM805 Hard & Sugar-Free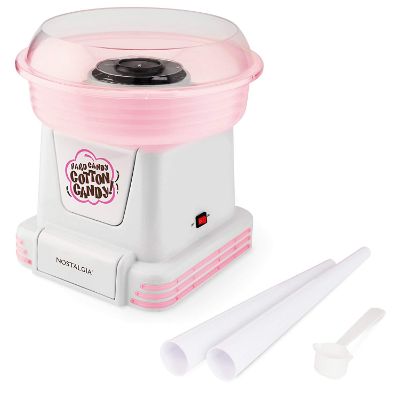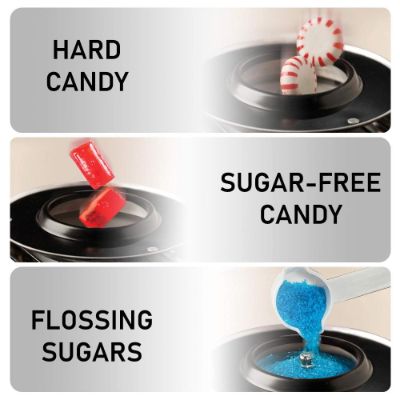 Compatible with sugar-free candy
Accessories included
Affordable
Designed for home use
In today's day and age, not every child is able to have sugar. The last thing you'd want at a party is to have a child who's not able to partake in the cotton candy fun because they need strictly sugar-free foods, and that's why this machine is so wonderful. The versatility is unreal and virtually unmatched by other cotton candy machines since it can break down a variety of your child's favorite candies into cotton candy, including hard candy, sugar-free candy, and flossing sugar.
Read more
Brand
Cleanup is always a breeze with this model because it comes apart so easily. Better yet, it comes with all the accessories you need to get started! No worries about running out of cones, because the ones included can be re-used for better convenience. Sturdy rubber feet keep the machine balanced while you work as well.
Entertainment Value
It's even a great reprieve for families who want something sweet but are looking to take a break from sweets loaded with sugar, so the sugar-free option is really a major selling point. In addition to that, this machine also allows for easy and fun viewing through a clear top and comes with everything you need for first-time cotton candy making.
Effectiveness
For parents who are concerned about their child's daily sugar intake, it can seem hopeless to find a solution. But with this sugar free-friendly machine, you don't have to restrict their fun because of it.
Design
The unit also features feet that suction-cup to hard, smooth surfaces so there's no instability or chance of it being knocked over mid-production. For the cotton candy machine that has everything, look no further than Nostalgia for your party needs!
3

. Nostalgia Vintage Hard & Sugar-Free Maker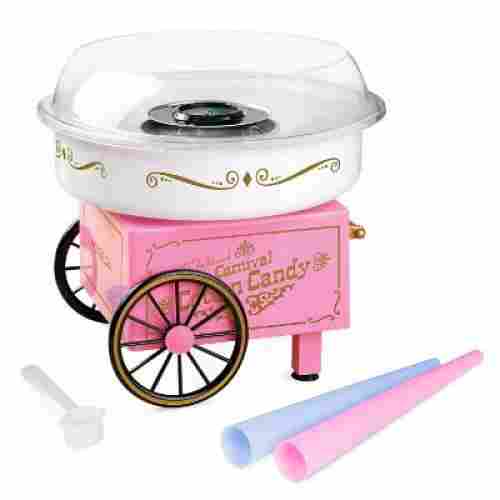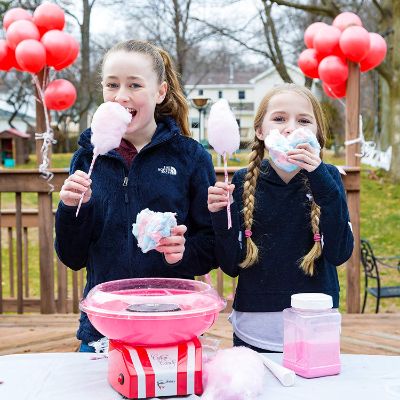 Machine works with sugar free hard candy, flossing sugar, and standard hard candy
Features a clear rim guard for viewing fun
Set includes; machine, two reusable cones, scoop for sugar, and extractor head
Added stability and safety with suction cup feet
Easy disassembly for easy cleaning
Process is messy, prep area before starting
Does not make a large amount of cotton candy at one time
Creating Cotton Candy just like you would get at the fair or circus is easy with this maker. It is a machine designed to work with hard candy or sugar free candy plus it even uses flossing sugar so making a delicious treat will be that easy. The set comes with everything that is needed to get started minus the candy. The machine is easy to use and comes apart for quick cleaning.
Read more
Brand
Once you start making this cotton candy it will be hard to stop. That is why a machine that uses several different kinds of mediums is a total bonus. It allows you to be able to create lots of cotton candy and also different kinds of cotton candy. The difference between the mediums is something fun to watch.
Entertainment Value
The name of the machine says it all: Nostalgia. Bring your childhood memories back and then also enjoy making them with your kids. Getting this machine out at any party or even for a raining afternoon will bring joy to many faces. Who doesn't love cotton candy especially when you can it is being made?
Effectiveness
The set features everything that you need to get the party started, but does not have the sugar elements. Once you purchase the medium you want to use the rest is easy. Included with the set are two reusable cones that make serving the cotton candy fun and easy. It also has the sugar scoop that makes measuring out just the right amount of the medium is easy plus the extractor head for the machine. It all comes together to make the process fun for everyone.
Design
Making cotton candy is as fun as it sounds. Who doesn't want to take sugar and turn it into a delicious puff of joy? The design of this machine makes that simple. It features a clear rim that makes it easy to see the process and what you are doing with the cones. The machine also has suction cups on the feet. This adds stability and safety when using with children.
4

. Nostalgia PCM805RETRORED Retro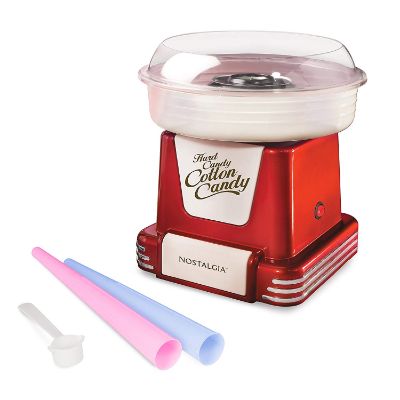 Retro look
Accessories included
Works with both hard and sugar free candy
Affordable
Can be difficult to clean
Nostalgia is hitting it out of the park with their retro cotton candy machines and they should really have "versatility" as their middle name. What's so beautiful about this cotton candy maker is its throwback style. Even when you're not using it, it's an appliance that will look stunning on any countertop simply because of the classic carnival theme and vibrant colors.
Read more
Brand
This model has done all the hard work for you by providing two colorful cones that can be used again and again. Impatient kiddos? No problem thanks to this model's super quick warm-up time, which is under five minutes.
Entertainment Value
Getting the most for your money is what we're all about. We like that this one comes at an affordable price that will not put a huge dent in your wallet.
Effectiveness
Parents love the fact that it can be easily taken apart for efficient clean up after the fun's over. Families with diabetic children can still enjoy the fun with this pleasant option.
Design
This machine offers the same features as their original cotton candy maker, but with an upgraded vintage style that will have any kid lining up at your door to get some sugary treats. It's perfect for cotton candy lovers, but also a great addition to a decked-out birthday or celebratory party.
5

. Carnus 3 Flavor Family Package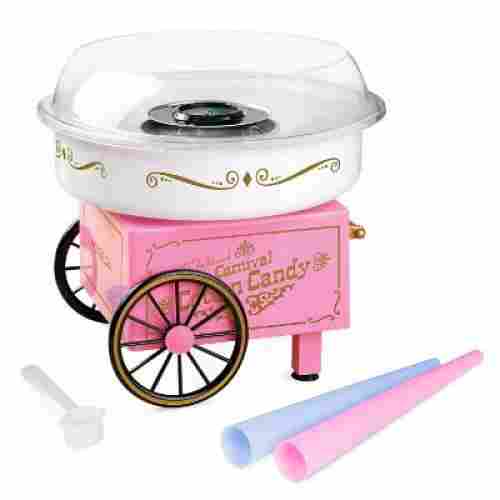 Simple machine that makes the process of creating cotton candy easy
Includes with the set: machine, three flavors of sugar, and cones
Uses standard 120 volt outlet
Easy to use, clean, and store
Features a one year manufacturer's warranty
Machine does take some time to heat up
Only makes two to three cones before needing to cool down
Bring the fun to the house with this cotton candy making machine. The set comes with everything that is needed to start making cotton candy right out of the box. It even has the sugar and the cones included. It is a perfect activity to do with the kids. They will absolutely love watching the sugar magically turn into cotton candy treats.
Read more
Brand
Making cotton candy at home can seem like a crazy idea, but what this device has done has brought the whole process down to a simple machine that is smaller than the ones at the fair, but does just the same thing. They have even included all the things that you need. The set comes with the electric machine, paper cones, and three pouches of resealable sugar floss. Each bag of sugar floss has 6 ounces and will make about 12 servings.
Entertainment Value
Children will attend many parties as they grow up but not all parties will have a cotton candy machine making delicious cotton candy right before their eyes. This machine makes that all possible. It is a fun way to enjoy a party with a neat treat that everyone will be waiting in line to get one for them self.
Effectiveness
Included with the kit is three different flavors of cotton candy. Each of the flavors comes in a resealable bag so if it is not used all in one setting, storing is easy. The flavors are; grape, vanilla, and blue raspberry. Not only are the flavors delicious, but the colors of them are a huge hit as well.
Design
This is a complete kit. Right out of the box the kids with adult supervision can get the party started. It is a simple machine that makes a puffy treat that everyone will love. The machine does use a standard 120 volt outlet. It is super easy to use and cleaning up is easy, too. It is one of the few kits on the market that comes with everything that is needed right out of the box.
6

. Express Brand Party Kit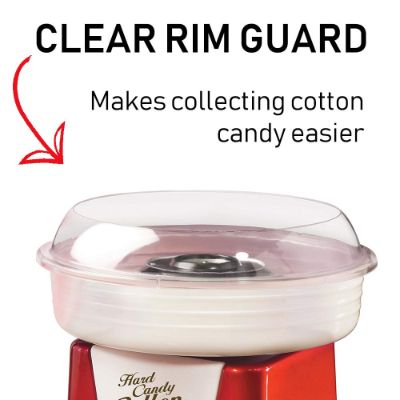 Three sugar flavors included
Easy operation
Easy to break down and clean
Includes 50 cotton candy sticks
Great party accessory
Some users had trouble getting the cotton candy to catch on the cone and found that it stuck to the sides of the machine
The Cotton Candy Express Party Kit is ready to crank the fun up straight out of the box. This set includes a pink cotton candy machine, along with cherry, blue raspberry, orange, pink vanilla, and grape flavored floss sugar. Fifty paper cones mean you can make plenty of sweet, vibrant treats to go around.
Read more
Brand
Kids will love watching as the candy forms cloudy puffs of deliciousness. The Cotton Candy Express company also sells a variety of other flavors and colors separately if you want to expand your collection. The machine itself is easy to use and a cinch to take apart for cleaning.
Entertainment Value
It can be fun helping children make food. Cooking and baking are bonding activities that many families enjoy. Take your culinary expertise up another notch with this simple, sugary delight. The machine is easy to use for kids and adults alike (though supervision is always recommended) and the end product is oh so yummy!
Effectiveness
It takes a little practice to get the hang of a perfectly twirled cotton candy cloud, but this machine makes it pretty easy to fire up the engine and give it a go. It already includes five flavors in the kit so you won't have to go out and buy ingredients or wait on a shipment before testing it out. And by all accounts, the cotton candy it makes is truly scrumptious!
Design
To make your treat, just turn the machine on, wait about ten minutes for it to heat up, put the sugar in, and then hold your cotton candy stick a short distance away from the heat so that your cloud won't melt or turn sticky and gooey. This simple, effective machine is sure to be a bit at any party or just as an added bonus to fun family nights spent in together!
7

. Clevr Large Commercial Pink
Ladle included
1050 watts of heat
Up to seven servings every minute
Organizing drawer
Matching lid sold separately
Extremely efficient, this option comes with an impressive capacity for quick heating, with 1050 watts of heating potential. This helps to speed up the sugar transformation process by heating up the sugar faster, which means you don't have to wait long between each batch.
Read more
Brand
The glossy stainless steel pot that comes with it is incredibly simple to maintain; just a quick wipe after use is all it needs to stay clean.
Entertainment Value
Offering three classic solid colors, this option will have no problem fitting in at even the most formal of events. Every minute you can have up to an astonishing seven servings guaranteed, so no need to worry about not having enough for everyone.
Effectiveness
A ladle for scooping sugar is already included, making it easier for you to prepare. Two straightforward buttons in front control everything you need to work with, eliminating the hassle of dealing with multiple parts.
Design
An equally powerful motor and voltage capacity keep things running smoothly, and the steel drawer provides lots of room for easy cleanup and organizing of tools.
8

. BELLA 13572 Red and White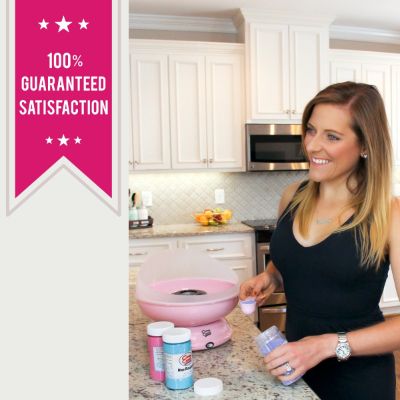 Affordable
Suitable for hard candy
Long life
Clear protective rim included
Where else can you get a quality cotton candy maker for under $100? From Bella, of course! This party favorite sports a unique look that's definitely a nod to the retro carnival feel that you get when you walk up to the cotton candy vendor, awaiting your sugary treat
Read more
Brand
With some machines, you are often limited by what type of sugar you can use. Not so with this adaptable product! This one allows you to use not just softer regular sugar, but hard candy as well.
Entertainment Value
This is exactly the type of party favor you need to pump up any of your child's parties, and the best part is how simple it is to use and clean. With a dishwasher-safe bowl, removing the top piece and washing couldn't be easier.
Effectiveness
The on/off button is really the only control you need to know to create mountains of fluffy candy, which makes it quick, reliable, and safe for kids to be around. This is one long-lasting cotton candy machine that all the kids on your block won't stop raving about!
Design
This opens up so many more flavor varieties for you and your family to experiment with, and parents love that their kids can choose more exotic flavors like lime or maple syrup to enjoy.
9

. The Candery Homemade Sweets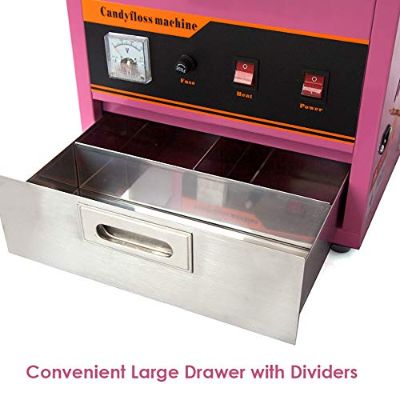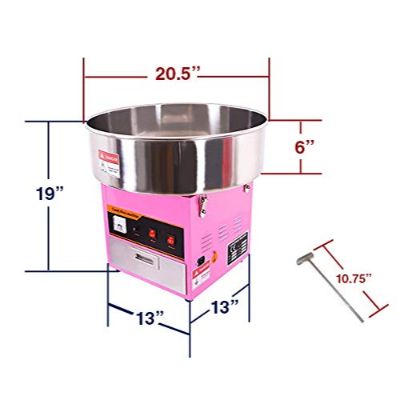 Accessories included
Quiet motor
Suitable for hard candy
Safety rim
With its old-fashioned appearance, your kids will be eager to get in on the fun with this one in your kitchen. One button is all it takes to start the entertainment, and the sturdy rubber feet keep it from moving around on your countertops.
Read more
Brand
This one comes with the most accessories of any others on our list; you get ten cones included, as well as a ladle! You'll never have to worry about running out of cones since this one gets you started properly.
Entertainment Value
Unlike other cotton candy machines, this one comes with a silent motor with hardly any noticeable vibrations. Whereas other machines can irritate with their obnoxious shaking and humming, this one almost makes you forget that you're operating a complex electrical appliance.
Effectiveness
The clear plastic rim that surrounds the pot prevents injuries, and you can still watch the magic as it happens. Luckily, this option is also suitable for hard candy, so your family can have even more fun with flavors!
Design
An opening at the top lets you easily feed the sugar floss into the bowl, making this one instantly safer for kids to try out themselves with adult supervision.
10

. VIVO Commercial CANDY-V002
Capable of producing 2-3 servings every minute
Suitable for turning hard candy or sugar into cotton candy
Includes 20-inch bowl, sugar scoop, and cash drawer
The cart comes apart for cleaning ease
The cart does not come with a cover/bubble shield which is recommended for added cleanliness
The pre-drilled holes may not line up precisely making assembly difficult
Nothing brings back fond memories of summer carnivals and fall festivals quite like the smell and taste of delicious cotton candy! If you have tried the countertop versions of candy floss makers and felt underwhelmed at the amount of sweet, sweet sugar clouds produced for the amount of effort that it took to create, it may be time to up your game with a commercial-grade machine.
Read more
Brand
The VIVO Commercial Machine & Cart Stand can create the perfect at home version of this carnival classic. This large cotton candy maker sits atop a pink cart with two wheels and two legs for easy portability and stability in any situation.
Entertainment Value
Capable of churning out out huge puffs of fluffy cotton candy, this machine is surprisingly powered friendly as it utilizes normal household voltages around 110V/60Hz. It takes only 45 seconds from turn out to heat up before being ready to turn out delicious candy floss and only 10 seconds to wrap a stick, eliminating long lines and frustrated kids.
Effectiveness
The entire machine can be quickly disassembled for easy cleaning, allowing you to reach all of the sticky innards and prevent buildup. We do recommend purchasing the CANDY-V003 bubble dome for this machine to prevent cotton candy flyaways, aid in cleanliness, and help your candy form that perfect beehive shape!
Design
The machine functions at a whopping 1030W of power, allowing it to produce anywhere between 2 and 3 individual servings per minute! This is the ideal go-to for everything from fundraisers to family reunions to game night. It even includes a built-in cash drawer for simple transition into event selling!
Criteria Used for Evaluation

Brand
From the sleek and ultra-modern to the old-fashioned and retro, there's a style for everyone on our list of cotton candy machines. Depending on how you intend to use your machine, whether only at home or at an event, we knew it was important to present a wide range of styles that would appeal to many different personalities and tastes.
Entertainment Value
If you're going to invest in a costly cotton candy machine, then it makes sense to purchase one that will produce a large amount. This ensures that you are getting the biggest yield of product for your money and that you won't have to worry about running out at a special event.

Effectiveness
At birthday parties and school or church events, this couldn't be more important. All of these machines offer significant yield amounts for your money and vary slightly depending on their intended use. Whether you need cotton candy every 30 seconds or even faster, these models have got you covered.
Design
Because kids tend to gravitate more to bright colors, the retro-themed and colorful Nostalgia machine would be a great choice for regular home use. For a public event, you may prefer to go with a slightly more modern choice like one of the Clevr models, depending on the event's theme. The smaller machines on our list would be perfectly suited on a kitchen countertop, while the larger versions are more suited to public events or family reunions.
Most Important Criteria
(According to our experts opinion)
Experts Opinion
Editors Opinion
Users Opinion
By Default

Parents, Did You Know?
While some of these cotton candy machines are stand-alone items and do not come with extra accessories, several of them do. Whether or not you want a machine that comes with accessories will greatly depend on how you intend to use it. How often you intend to use it should also affect your decision regarding extra features.
Parents, Did You Know?
It may be beneficial for regular at-home use to buy a machine that comes with some reusable accessories, which will make clean up easier. The Nostalgia Retro machines are great examples because they come with key tools
Other Factors to Consider
Safety
For all of the products we discuss on our site, safety is always the number one priority. There are several reasons for this, including the hot temperatures and possibilities of hands getting caught in the bowl. Several of these products offer safety features to prevent accidents, like temperature controls and plastic domes that cover the bowl while in use.

Ease of Use
Frequently Asked Questions