Given how bad sugar is for your teeth, it might be hard to reconcile the fact that Cotton Candy was invented, in part, by a dentist. In 1897, Dr. William Morrison and his friend John C. Wharton (a candymaker) teamed up and created what they called a "Fairy Floss" maker. They debuted it in 1904 and it's been a fan-favorite ever since. Who doesn't love the taste, or at least the smell, of cotton candy when they visit the fair or a theme park? Now you can have that same delicious treat in the comfort of your own home! Check out our top ten cotton candy machines. You don't need an excuse or a special reason to enjoy something so colorful and delicious!
Our Top 3 Picks
Clevr Cotton Candy Machine

Our rating
Suitable for Commercial Use
Price:

See Here
BELLA 13572

Our rating
Beautiful Retro Design
Price:

See Here
VIVO CANDY-V001 Electric Commercial

Our rating
Comes Apart for Easy Cleaning
Price:

See Here
The Best Cotton Candy Makers for Kids Reviewed
Clevr Large Commercial Pink
BELLA 13572 Red and White
VIVO CANDY-V001 Electric Commercial
The Candery Homemade Sweets
Nostalgia PCM805 Hard & Sugar-Free
Nostalgia PCM805RETRORED Retro
Great Northern Popcorn Company 6303
VIVO Commercial CANDY-V002
Clevr Compact Candy Floss Blue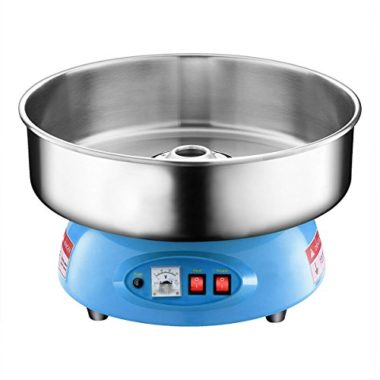 Criteria Used in Evaluation of the Best Cotton Candy Machines
Safety
For all of the products we discuss on our site, safety is always the number one priority. This is especially true when it comes to more complex products that require adult supervision, like these cotton candy machines. Although they are meant to be enjoyed by both kids and parents, they are not designed to be operated by children without adult help. There are several reasons for this, including the hot temperatures and possibilities of hands getting caught in the bowl. Several of these products offer safety features to prevent accidents, like temperature controls and plastic domes that cover the bowl while in use.
Yield
If you're going to invest in a costly cotton candy machine, then it makes sense to purchase one that will produce a large amount. This ensures that you are getting the biggest yield of product for your money and that you won't have to worry about running out at a special event. At birthday parties and school or church events, this couldn't be more important. All of these machines offer significant yield amounts for your money and vary slightly depending on their intended use. Whether you need cotton candy every 30 seconds or even faster, these models have got you covered.
Visual Appeal
From the sleek and ultra-modern to the old-fashioned and retro, there's a style for everyone on our list of cotton candy machines. Depending on how you intend to use your machine, whether only at home or at an event, we knew it was important to present a wide range of styles that would appeal to many different personalities and tastes. Because kids tend to gravitate more to bright colors, the retro-themed and colorful Nostalgia machine would be a great choice for regular home use. For a public event, you may prefer to go with a slightly more modern choice like one of the Clevr models, depending on the event's theme. The smaller machines on our list would be perfectly suited on a kitchen countertop, while the larger versions are more suited to public events or family reunions.
Accessories
While some of these cotton candy machines are stand-alone items and do not come with extra accessories, several of them do. Whether or not you want a machine that comes with accessories will greatly depend on how you intend to use it. How often you intend to use it should also affect your decision regarding extra features. It may be beneficial for regular at-home use to buy a machine that comes with some reusable accessories, which will make clean up easier. The Nostalgia Retro machines are great examples because they come with key tools like a scoop and reusable cones.
FAQ
Frequently Asked Questions
Q: Can any of these cotton candy machines be operated by a kid, or are they meant for adult use only?
A: None of these machines are meant to be operated by a child alone. Due to the nature of these machines, a child attempting to operate one on their own could easily lead to injuries and accidents. The cotton candy makers on our list all require set up and supervision by an adult. Although your child can be included in the cotton candy-making process, this should only be done after the machine has been properly set up, and only with close adult supervision.
Q: What kinds of safety mechanisms do these cotton candy machines have?
A: All of these machines have clearly visible safety warning signs displayed on the areas where heat is the most concentrated. The bright red color of the warning signs helps children to notice them as well. In addition, many of these machines feature visual safety cues that help parents manage their operation. These include ways to control the voltage, a visual volt measure display, and a fuse controller. Sturdy feet on the bottoms keep the machine in place while in use, preventing it from toppling over or spilling. The Clevr Commercial Cotton Candy Machine even has an automatic safety feature that prevents the machine from turning on unless the pot is fully latched on.
Q: Are these suitable for regular at-home use?
A: Yes! Although some of these machines are labeled as "commercial use," many parents have purchased these strictly for their families at home, and have had great success in using them. Because cotton candy machines tend to be fairly uniform in size and detail, there really is no reason why commercial ones cannot be used enjoyably at home. Every machine on our list is easy to clean and maintain, thanks to removable bowls and detachable parts. And, by getting a machine labeled for "commercial use," you are getting the high-performance quality of an industrial machine that you can use in the comfort of your own home!
Q: Which one would be best for a kid's birthday party?
A: For birthday parties, you'll want to make sure you purchase a machine that not only looks great but can also supply the large amounts of yield you'll need to satisfy a large crowd. For this reason, we recommend either one of the Nostalgia machines for their cheerful retro appeal. They also come with accessories that make operation and cleanup easier. For parents who are trying to reduce their kid's sugar intake, they also offer a machine that is designed to work effectively with sugar-free formulas.
Q: Which one would be best for a large school fundraising event with lots of families attending?
A: One of the most popular attractions at any event, a cotton candy machine is sure to attract both kids and adults alike. Make your machine stand out and look professional with the recommended VIVO commercial machine and cart stand, a great choice for a more formal event. Because this product is labeled as "commercial" use, you can be sure that it is meant to cater to large groups of people. It even comes with a bright pink wheeled cart that can be easily moved to different locations.
Q: What's the difference between the regular cotton candy machines and the ones labeled sugar-free?
A: The main difference is that the machines labeled sugar-free are designed to work with both regular and sugar-free formulas. The products labeled sugar-free are a great choice for those who are diabetic or who are trying to reduce their family's sugar intake. The great thing about these machines is that they're very versatile; they can be used equally well with both regular sugar and sugar substitutes, such as Splenda or natural sugars like coconut sugar.