One of the most cherished times for a new mother is rocking their new baby to sleep. For every nursery, its nice to have a glider chair not just for getting your baby to fall asleep in your arms but it makes those nightly feeding times a little bit easier. We have a wonderful selection of the best glider chairs for your newest bundle of joy. There's a little something on our top ten list that's suitable for every nursery. You'll be falling asleep with your baby in your arms comfortably with these gliders. Take a look at our top ten list below and you will find exactly what you're looking for. .
DaVinci Olive Upholstered Grey
Graco Duetsoothe Swing Sapphire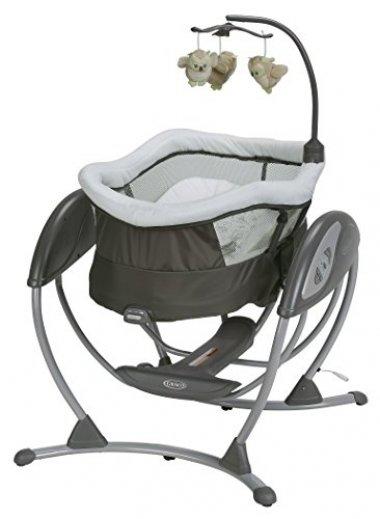 Baby Relax Mikayla Upholstered Microfiber
Naomi Home Brisbane Espresso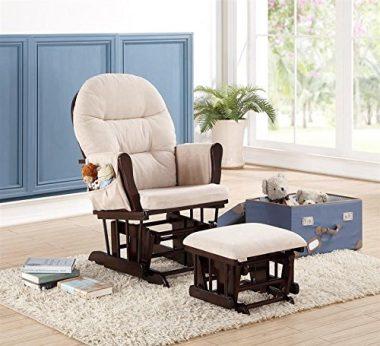 Baby Relax Kelcie Set, Grey
Naomi Home Odelia Swivel Gray
DaVinci Piper All-Purpose, Cream
Criteria Used in Evaluation of the Best Baby Gliders & Nursing Chairs
Countless nights during the first year of your baby's life will be spent, most likely, getting very little sleep and possibly feeling like you're going to lose your mind. Fussy babies can often be particular about their positioning. More importantly, when you're sleep-deprived, being in a plush and comfortable position can often make things seem a bit more manageable. Comfort and safety are the most important factors when making a purchase like a rocking chair or glider, followed by style. Rocking chairs are great for making memories as your little one gets older. Bestowing wisdom upon them, reading to them, singing together, these are all great ways to create lifelong memories. These chairs provide a perfectly cozy environment to promote snuggles and laughter. On the other hand, there are options to provide your baby with a more independent approach.
The rockers, recliners, and gliders on this list have plush, generously stuffed cushions to provide the most in comfort. The large seating area provides you with plenty of room to position yourself and baby in an effort to help make it easier to put your baby to sleep. Babies have a number of needs that keep them from sleeping through the night for a solid eight hours. You know your baby isn't hungry or wet. You've checked they're not too hot or cold. Most likely at this point, your baby is simply looking to snuggle with you while in motion. You want to know you are being provided with the most in comfort, for who knows how many hours will be spent in this chair.
Rocking and vibrating your baby can often simulate the movement experienced within the womb. For this reason, recreating those motions, can be very soothing and calming for your baby. There always seems to be so much going on around us everywhere we go and babies can often and easily, become overwhelmed. Gently rocking your baby can help them to relax and unwind. This, in turn, can often lower their stimulation level and help to drift off to sleep easily.
You are your baby's protector. In taking that role seriously, it seems highly unlikely that you would be comfortable buying something for your baby if you haven't been assured it's safe. When searching for a rocking chair or glider you want to know you are getting something that is strong and sturdy. The frame of most of these is made of solid wood or metal providing you with ample support and stability. With minimal assembly required, you are sure to be provided with all you could possibly hope for out of a rocking chair.
As much as you love snuggles, sometimes growing an extra hand seems to be the only solution for getting anything accomplished. Being able to put your baby down for a nap or even for a minute while you put groceries away is often an act we struggle to perform. Oftentimes it makes the difference between feeling like you have it all together and being moments away from losing it. While some babies don't mind those solitary moments, most babies aren't very accommodating of the milk and groceries that easily spoil. For moments like these, there are a few options provided on this list that are great for providing baby a safe and comforting place to rest. To help soothe your baby or engage their auditory senses, there is a range of melodies and sounds to choose from. The vibrate and swing options simulate the feeling of comfort they receive being safely rocked in your arms.
What Determined the Top Baby Gliders in Our List
Choosing a piece of furniture is a lot different from picking the best toy from a lot. First and foremost, the soundness of its construction is very important as you simply don't want to be sitting in the so-called best glider chair only to fall flat on your behind because the chair's frame basically gave way. Safety is a primary consideration so we had to make sure that the companies that make these furniture pieces have an impeccable reputation for strict quality-control standards. They must be able to adhere to the different protocols and guidelines set by federal agencies as well as subject their products to voluntary testing by recognized trustworthy third-party accrediting and certifying organizations. It is a must that these companies have unquestionable manufacturing practices so that we can be assured that these gliders for the nursery are safe to use.
Aside from the sturdy frame, we also had to look at the level of comfort provided by this furniture. Unfortunately, we cannot test each and every single one of these so we had to rely on the comments or feedback of customers. While we recognize the subjective nature of customer feedback, we nevertheless came up with thematic documentation of the responses to identify commonly occurring themes in all of the customer reviews. This gives us an idea of whether the product we are considering including on our list can provide the level of comfort that we know mothers would like to have.
Once the issue of safety and comfort has been addressed, we then moved on to the ease of maintenance. It should be noted that you will be sitting on this chair with your baby on your chest. It is inadvertent that your little one may regurgitate or spit, drool, or even leak from his or her diapers. These bodily fluids can stain even the most expensive glider rocker. As such, it is imperative that we also choose these types of furniture according to how easy they can be cleaned as well as maintained.
Now, if the gliding chair can provide some form of versatility, then we'd factor this in as well. Remember that the purpose of getting the best-upholstered glider chair is to provide a more soothing, more relaxing time with your baby. But, what if your infant has already grown up, can you still use this type of furniture? So, if it can be used for purposes other than its intended use, then we'd consider it on our list.
Picking the top 10 baby gliders was very challenging. However, with the dedication of our researchers, we were able to accomplish the unexpected.
A Word about Gliders and Rockers
There's an ongoing debate as to which between a baby rocker and an infant glider is better. To answer this, it is often important to look at the similarities and differences.
For starters, both gliders and rockers aim to simulate the rhythmic movements that babies felt while they were still in their mother's wombs. Mimicking these movements after birth helps them make the successful transition into post-uterine life. This is also the reason why gentle rocking or minute vibrations have also been shown to help infants make the transition while also soothing them in the process.
As for their differences, a rocker will often produce a slightly arched back and forth movement while a glider will always move forward and backward in a straight plane. For the baby, there may not be a significant difference. But for mom, the difference is in keeping the rocker moving which means that, if you are already too tired from rocking your chair, then the rocking motion eventually stops. This is addressed by the glider as it moves on a straight plane. While it will still need your effort, it is not usually as great as the one required by a rocker.
So, which should you choose? It actually depends on you. Gliders and rockers can really benefit both you and your baby especially if you know what you're looking to buy.
Now it is important to understand that you should always choose a glider that has a very sturdy and stable base. This is very important as any imbalance in the glider's center of gravity can result in falls. It's alright if it's only you who will get injured; you have your baby in your arms as well. Additionally, the risk of falling asleep while on the glider is high. If this happens, your baby might slip off your arms and fall. That is why it is always advisable not to use the glider if you yourself are sleepy. Better use your baby's crib instead.
The Bottom Line
Baby gliders are great tools to help you soothe your baby and help him or her make the successful transition from life inside your womb to one in the real world. This Christmas, get your baby the best glider chair in our top 10 list.
You May Also Like
10 Top Rated Baby Cribs
10 Best Bassinets For Your Baby
10 Best Baby Gadgets
10 Best Baby Monitors
10 Best Baby Booster Seats & High Chairs 
FAQ
Frequently Asked Questions
Q: How will these be helpful for soothing my baby to sleep?
A: There are many benefits to having a rocking chair, swing or glider around the house. They can simulate the same motion experienced during the months spent in the womb.
Q: Do the electric options come with a plug for the wall?
A: Yes, they provide the option to be both battery-operated and plugged into the wall to provide power.
Q: What do these products weigh?
A: They range in weight from around 20 pounds to roughly 60 pounds.
Q: Are there style/color choices?
A: Yes, almost all of these come with at least two options but most come with several more. There are boy/girl choices as well as gender-neutral colors so you are sure to find something to match any motif.
Q: What is the maximum weight limit for these products?
A: Some, specifically the options designed just for baby, are meant to max out at around 20 pounds. The larger rockers and gliders max out at around 230 pounds.
Q: Are they difficult to assemble? Are all the pieces included that are required for assembly?
A: Most require very minimal assembly. All of these come with everything needed for assembly, helping to reinforce an easy and hassle-free experience.
Q: Are these made of safe, environmentally friendly materials?
A: Most of these are made of wood with microfiber or polyester cushions.