10 Best Baby Booster Seats & High Chairs For Tables in 2019
last updated
Jul 29, 2019
It's that time to convert your toddler into a booster seat! While we know that they can't be in a highchair forever, unfortunately, booster seats are wonderful as it allows your child to feel like they're sitting at the table just like mom and dad. We know that there are many options in today's world, which is why we came up with a list of the top ten that we are sure will fit your family's needs. Your toddler will be joining the family around the table in no time!
In a Hurry? The test winner after 98 hrs of research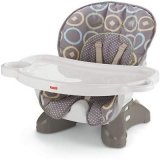 Fisher-Price SpaceSaver High Chair
Why is it better?
In a
Hurry? Editors choice: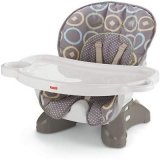 Test Winner: Fisher-Price SpaceSaver High Chair
25
Researched Sources
134
Reviews Considered
98
Hours Researching
29
Products Evaluated
Design
Durability
Ease of Use
By Default
10 Best Booster Seats & Highchairs Reviewed
1

. Fisher-Price SpaceSaver High Chair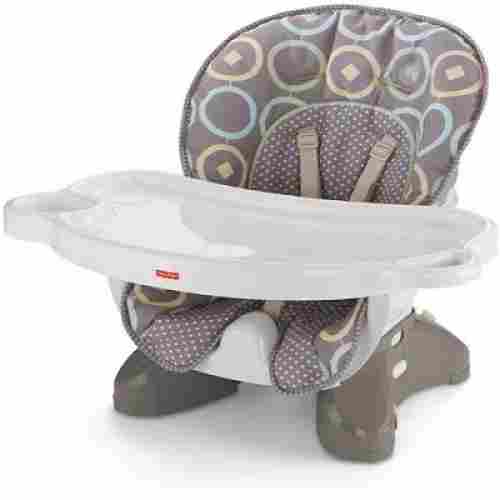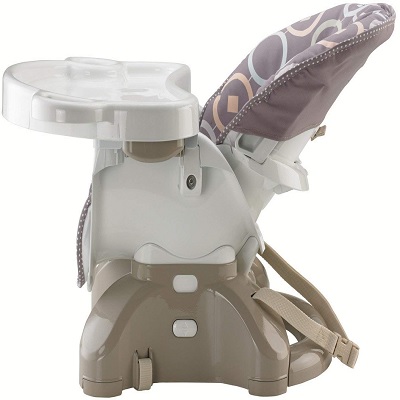 Never can be placed on a counter top
Only for use on chairs
This high chair is a parent's dream come true. Fisher-Price is already known for their high quality and long-lasting products but as times change, so do the needs of parents. Space saving is becoming more and more common on parent's lists of pros when they go shopping for baby-related products, so why shouldn't the high chair you choose be any different?
Read more
Design
Whether it's a case of too many kids at the table, a small kitchen, or just not enough space to store a large room-hogging high chair, the SpaceSaver is for you! Not only does this chair have adjustable straps and fit most existing chairs at your table setting, it can also be altered in seating size to adjust to your growing baby. The tray insert and removable backing are the only things that keep this baby booster as a reliable high chair until kids are old enough to need just a booster seat. Simply remove the temporary baby necessities and voila, you've got a booster seat that'll be perfect for years!
Durability
This seat grows with your baby. The chair's backrest, tray and seat pad can be removed to provide extra room as your child develops. The easy to remove tray means you don't have to struggle to get them in or out of their chair either. It also has three different reclining positions for children up to 50 lbs.
Ease of Use
Dinner can easily turn into a game of elbows without the space needed to be spread out comfortably at each setting. The SpaceSaver high-chair allows for comfort as well as growth while keeping any excess space free from flying hands, arms, or food.
2

. Fisher-Price Healthy Care Deluxe Booster Seat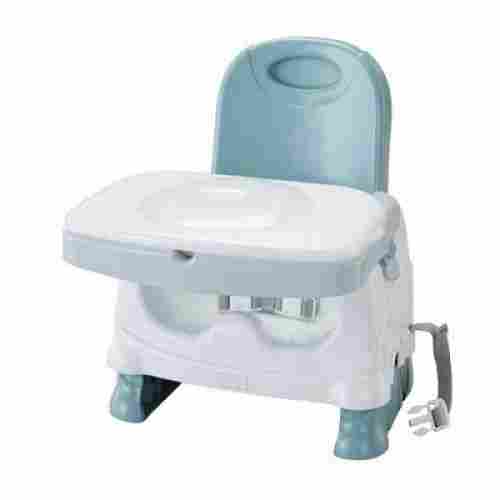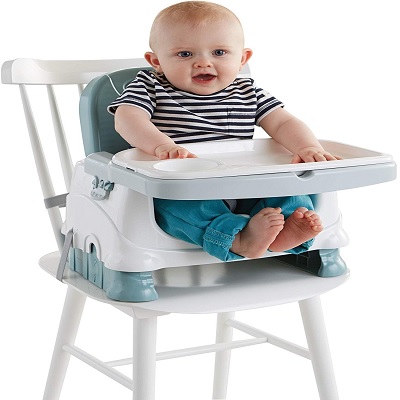 The feeding tray is dishwasher safe
There are no crevices for crumbs and food to get trapped in
It has a built in sippy cup holder
The tray can be taken off one handed. And it snaps on easily
It doesn't come with a cushion
This is a portable booster seat that is height adjustable and tummy adjustable. It is designed to prevent buildup of crumbs and food by being crevice free. There is a built-in cup holder. It can be easily wiped down fits onto standard dinning room chairs.
Read more
Design
This seat can be taken anywhere like restaurants or camping. The snap-on lid also means that the tray can be kept clean until baby is ready to use it.
Durability
The tray is dishwasher safe while the seat is crevice free for effortless cleanup. The tray can be removed with one hand so you don;t have to set down baby to get them or out of their seat. And this model even comes with a built-in cup holder for those times when the cup isn't launched as a way to communicate discontent.
Ease of Use
It is lightweight and the straps keep the seat sturdy. The tray can be removed with one hand and it can be snapped on.
3

. Portable Infant Safety Seat (Chevron)
Keeps kids in place, especially the wiggly ones
Public chairs are often dirty, this seat helps keep children clean
Can support children up to 35lbs. and over 6 months of age
Can be folded down and fit inside a diaper bag
Airplane seats may be too big for this harness
This portable safety seat is revolutionizing girl's day out for moms everywhere, and making it possible for dads to head out and watch the football game at their favorite dive. One major thing that keeps parents from going out with their babies is the hassle of needing to request a high chair and the occasional possibility that the selected restaurant won't have one.
Read more
Design
Now you won't need to worry about requesting a high-chair or bringing one since the Portable Infant Safety Seat is all you need to make sure that your baby is sitting securely in a chair without all the fuss and heavy lifting! Just strap the cushy seat to a sturdy chair backing and buckle your baby in, and you can sit back and relax. Not only will you feel better knowing there's no need for a clunky high chair or booster seat, but your baby will also feel better sitting upright next to you and not isolated in a chair of their own. This handy little seat creator is useful for any place with upright chairs: family's houses, friend's houses, outdoor events, restaurants, etc. Anywhere that you could sit, your baby can, too!
Durability
A portable seat is only as good as its ability to be carried and the great thing about this one is that it fits perfectly in a baby bag or even a pocketbook. If you have room for an extra scarf, then you already have room to take this baby seat with you anywhere!
Ease of Use
The simplicity of this portable seat is what catches our attention. High chairs and booster seats can be complicated and unfamiliar when using a restaurant-supplied version, but with this durable strap-in seat there's virtually no guessing and no wasted time setting it up and putting away.
4

. OXO Tot Nest Booster Seat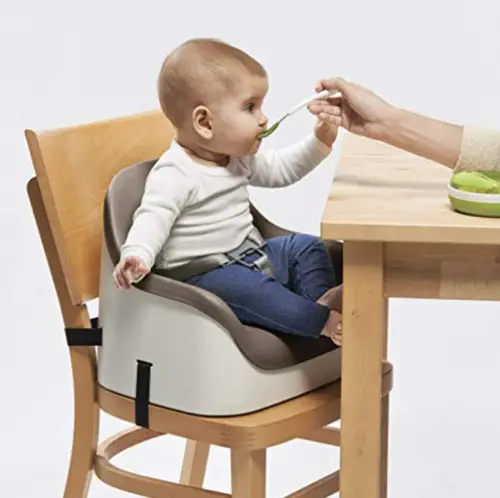 BPA, phthalate and PVC free
No-slip feet keep the booster from scratching chairs
Comfortable for little ones
Stain and tear resistant
3-point adjustable harness
Only holds up to 50 pounds
Doesn't come in any fun, bright colors
The OXO Tot Nest Booster Seat gives kids nine months and older a chance to be part of the grown-ups by sitting at the table instead of a high-chair. The booster seat is designed to be soft and comfortable, but light enough to maneuver so parents can take it on the go. Plus, this holds up to 50 pounds.
Read more
Design
Made with a soft cushion, high back and sides, and a 3-point harness, the OXO Tot Nest Booster Seat is safe AND comfortable. The back and bottom straps are even removable and adjustable, so the booster seat can be easily moved, all while still protecting your nice kitchen table chairs from scratches and dents. Plus, the booster seat is BPA, phthalate and PVC free, so it safe for your child.
Durability
The OXO Tot Nest Booster is made with plastic and foam, and it has a nice, soft, durable cushion so it can make any grown-up chair into one perfect for your toddler. Even the trickiest toddlers can't escape this booster seat, since it has a 3-point adjustable harness and two side-release buckles to keep them secure. Hopefully, kids will eat their greens while in this awesome booster!
Ease of Use
The OXO Tot Nest Booster Seat is easy to clean and easy to move, making it perfect for parents who are always on the go or who have very, very messy eaters. In order to clean, simply take a wipe or damp cloth and wipe away the mess. Plus, it is easy to store so the family can enjoy after-meal fun.
5

. Ingenuity SmartClean Toddler Booster Seat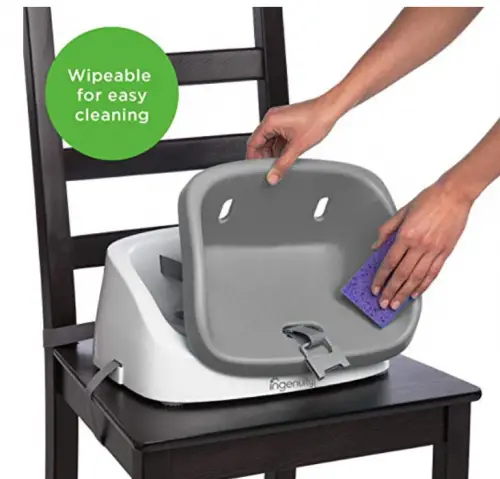 3-point harness keeps kids safe
Comfortable foam padding
Easy to clean
Can hold up to 50 pounds
Hollow on the inside so it may damage chair
Height isn't adjustable
This toddler booster seat is great for after your kiddo graduates from his or her high chair. Easy to use and in monochrome colors, it fits in well with any home, style or aesthetic. Plus, this item is made of durable materials, so it will last for your first, second and even third child!
Read more
Design
This booster has a 3-point harness to keep your child safe and secure. It also has a foam harness to keep squirmy little ones comfortable. The best part? The straps and harness are machine washable, and you can wipe down the rest of the booster with ease after a messy meal. Plus, the slick design is perfect for modern homes and mommies.
Durability
Easy to clean and made of durable materials, the SmartClean Toddler Booster stands up to even the messiest of eaters. Spaghetti? Wipe it clean. Spilled juice? Toss the harness into the wash. Even the messiest of eaters don't stand a chance when it comes to destroying the Ingenuity SmartClean Toddler Booster Seat.
Ease of Use
Not only is the toddler booster easy to clean, it is also easy to fold and store. You can even take this booster on the go, so it is perfect for travelers or parents who like dining out but hate restaurant high chairs! This booster seat can also be stored easily in the closet of your home, so once you are done with family dinner, simply fold and put away. It doesn't take up too much space either!
6

. Summer Infant Deluxe Comfort Folding Booster Seat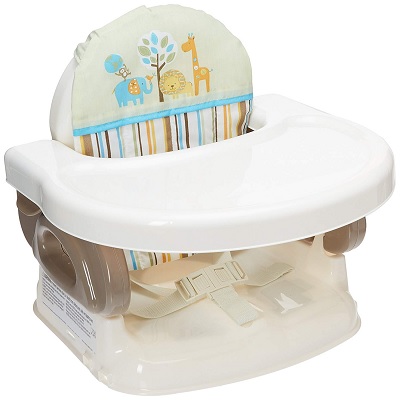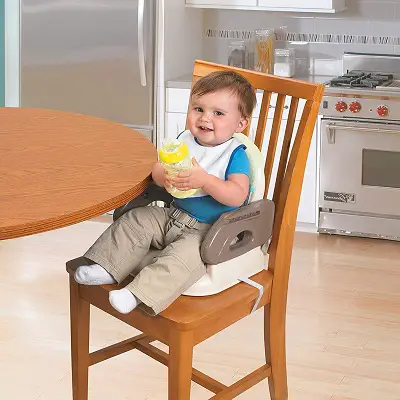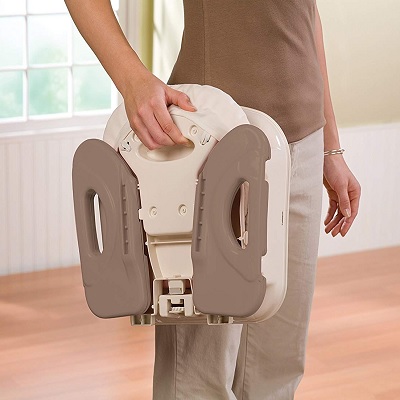 Cute design on the back
Easy to clean chair and tray
Removable tray to "grow" with baby
Portable
Folds up for easy storage options
Back of chair may be difficult to clean due to fabric material; may stain
Booster seats don't need to be boring one-note monochromatic pieces of temporary furniture that sit at your kitchen table. The Summer Infant Deluxe Folding Booster proves that firmly by creating a seat that's not only efficient and compact but also cute and fun! In addition to this seat is easily folded up and stored, it features a baby-centered zoo animal design that's colorful and fun.
Read more
Design
Your baby will have happy memories at meal times with a booster seat that's as pretty to look at as it is comfortable to sit in! The booster seat itself is perfect for on-the-go parents or for just a simple at-home use during major meal times, and when you're done all you need to do is fold it in half and it's good to go. It's space-saving, adorable, and the detachable plastic tray makes it super easy to clean as well. There's nothing not to love about this booster!
Durability
Having a huge eyesore of a booster seat isn't what any parent wants when it's difficult enough to feed a baby at times. The Summer Infant Deluxe will bring a smile to your baby's face while making it easy to use, clean, and put away.
Ease of Use
The portability and space-saving aspect of this booster seat is excellent, but it's even more difficult to find one that does all that and looks welcoming and fancy. This booster's design is great, but its cute artwork makes it top of the line.
7

. Graco Blossom 6-in-1 Convertible High Chair Seating System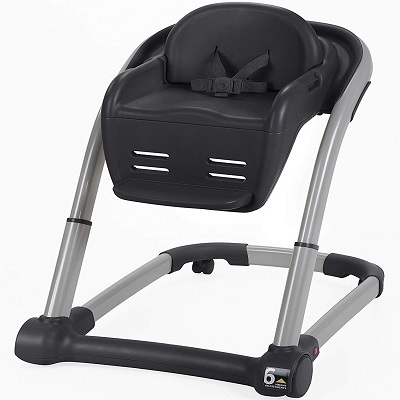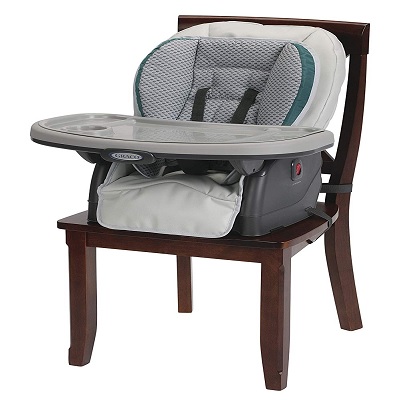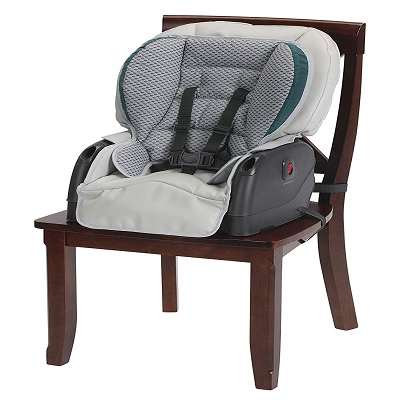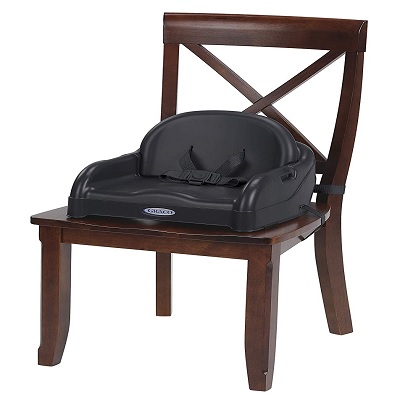 Easy to clean
Two-in-one chair system
Can be converted six ways for each growth stage
Reclining system for full comfort
Adjustable and removable seat back
Forget 3-in-1 systems, we've got a 6-in-1 high chair for you! It's almost hard to believe this Graco Blossom high chair offers as much as it does, but that's exactly why it made our list of the best. Graco has your baby covered from high chair infancy all the way up to their toddler years when they'll need a stable booster seat to include them at the table.
Read more
Design
The miraculous thing about this chair is that it doesn't just do all of that -- it also becomes a new, second seat for another child. This means that if you happen to be a parent of two or if you add a new member to your family, this chair does double duty for both of them. This high chair is well worth the money when you consider how long you'll be able to use it! The benefits don't stop there though, this chair comes with a super easy to clean tray system and even a reclining mechanism. To ensure that your baby is comfortable at every stage of their childhood this is the chair that you need at your kitchen table.
Durability
It's rare that you'll find a high chair that comes with the option to be separated into two for a dual use. Graco presents that among other fantastic qualities and for parents with plenty of mouths to feed, the more uses the better!
Ease of Use
The six-in-one aspect of this high chair is a no-brainer for parents who want a high chair that's easy and will last through their child's toddler years. Graco truly revolutionized high chairs as we know them, and this one is well worth it.
8

. Fisher-Price Healthy Care Booster Seat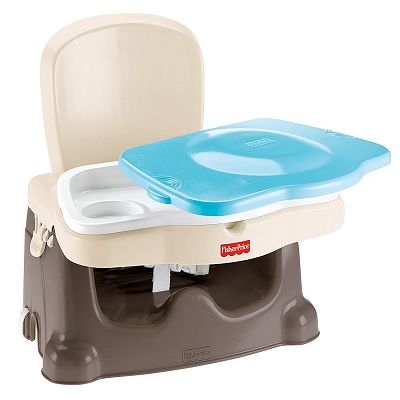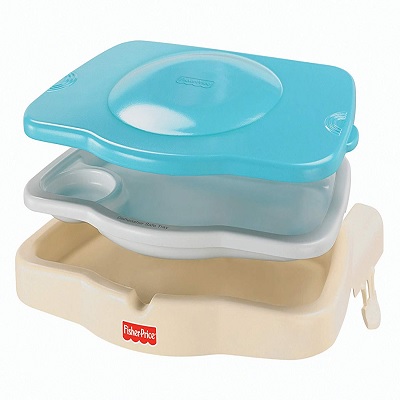 It is dishwasher safe and can come apart easily
It is BPA free, making this product safe for toddlers to use
The seat is lightweight and can easily be taken out with family to restaurants
The safety buckles keep the seat secured onto the chair so they won't fall out
Toddler love to take the first top tray off the feeding tray
If you think your child is not yet ready for the open-ended design of a full dining booster chair, then you might want to give him or her the Healthy Care Deluxe Booster seat by Fisher-Price. Just imagine a baby's high chair sans the long and tall legs. You will still have the same feeding tray that can also double as a protective barrier against accidental falls. This should provide you with the peace of mind you will ever need as your child begins to enjoy meal times with the rest of the
Read more
Design
The Healthy Care also comes with a seat surface that is carefully molded to follow the contours of your child's legs giving an additional layer of security. And if this is not enough, it also comes with a seatbelt to help make sure your kid is not going anywhere. The feeding tray is composed of three different layers that can be stacked on one another to adjust the height according to your child's preferences. The entire chair is secured onto any style of adult chair using rear and front straps. Best of all, the whole package is made of high quality plastic that is also dishwasher safe.
Durability
Move aside Tupperware, we've found a snap-on lid that fits and actually remains secure. Keeping surfaces clean around your baby is so important, and Fisher-Price thought of a way you can do it without constantly spraying harmful chemicals or stressing over hitting every nook and cranny for stray crumbs.
Ease of Use
It allows a more successful transition from the high chair to a full-sized adult chair. The Healthy Care's inherent features make it one of the best gift suggestions this holiday season. Or, you can simply buy it now for your kid.
9

. Graco Blossom Booster Seat
The chair is dishwasher safe, but it can also be easily wiped down with a cloth
This seat will raise a kid about 3 inches
The back of the chair is removable, this allows the chair to grow with the child
It easily attaches to any chair
The straps may be hard to clean for some parents. But the straps can be removed and washed in a washing machine.
Graco has always been known for sturdy and very reliable children's furniture such as baby car seats, strollers, cribs, and play sets.
Read more
Design
The same quality workmanship is highly notable in their Blossom Toddler Booster which comes with a fully removable back seat insert so you can use the seat as your child grows. This simply means that if your child's legs are already long enough for him or her to push himself or herself all the way back to the backrest of your standard chair, then you can remove the Blossom's back rest insert. The Blossom also features a 3-point harness for added security in addition to the 2-seat installation straps that secures it to any type or style of dining or kitchen chair. A word of caution – the Blossom should only be used in chairs without cushions for optimum stability. The Blossom is made of high grade, solid plastic allowing it to be easily cleaned with a moistened piece of clean cloth.
Durability
The Blossom Booster seat has the look and feel of a real chair and minimizes the fact that your child is using a booster. The best part is the removable back that will grow with them when they're almost the right height!
Ease of Use
It's from a company that has a long history of quality workmanship. That alone should be enough reason to include the Blossom in our list of the top 10 dining booster seats.
10

. Ingenuity Baby Base 2-in-1 Booster Seat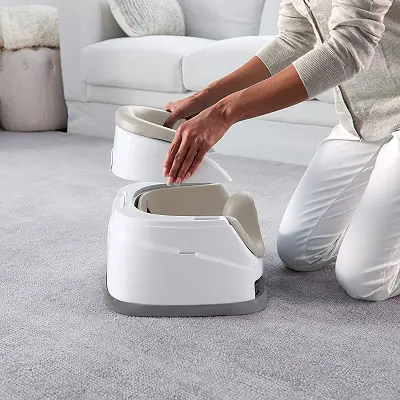 This seat takes up less space than conventional high chairs
It can be secured on any normal table chair
Kids with chubby legs can fit into this booster seat
The entire chair can be clean with a quick wipe
The chair likes to tip forward, some parents use a rolled-up cloth or blanket to add additional support to the front
The Baby Base 2-in-1 Booster Seat is one of the cutest dining booster seats we have ever set our eyes on. The Baby Base can be used 2 ways: first as a booster seat and second as a floor seat.
Read more
Design
It comes with a beautiful feeding tray and a 3-point harness for absolute safety and security. The soft molded foam insert provides optimum comfort for babies. Once baby has reached toddlerhood, the insert can be safely removed to allow your kid to have full access to the space of the Baby Base. The feeding tray can be easily removed and thoroughly washed in the dishwasher. Cleaning the rest of the chair is as simple as wiping the surface with a moistened piece of cloth. The feeding tray can be slipped into a slot at the bottom of the Baby Base so there simply is no worry about having it misplaced or taking up precious storage space in your kitchen.
Durability
Does your baby no longer require the tray that comes with their booster seat? No problem! With the Ingenuity Baby Base, all you need to do is slide it off and slide it under -- storage problem solved.
Ease of Use
The overall design is fantastic. Unfortunately we don't agree with the minimum recommended weight which is 12 pounds, roughly corresponding to a 3-month old baby. As such, we strongly recommend looking at the developmental milestones of your baby. If he or she can already control her head, neck, and upper body then you can start propping him or her in his or her own chair.
Criteria Used for Evaluation
Design
Everyone has a different taste. This is something that we knew and took into special consideration when coming up with our top ten list above. We wanted to make sure that we had a style that fit every family's needs/furniture style in their home. If you take a peek at our top ten list above, you will see that we have several different styles to suit different table and chair styles. We did however on our list include high chairs because we know that there are some toddlers who aren't quite ready to make that transition to a booster seat.
Durability
Now parents are questioning on booster seats. We know of course that high chairs come with trays to keep your child locked down from going anywhere during feeding time. Ideally, high chairs are supposed to prevent your child from standing in their seats instead of sitting. When your child is able to control their behavior at the dining table, parents can start considering if they're ready for a booster seat. One other reason is if your child is able to use utensils and plates properly instead of a feeding tray then parents might consider switching their child over into a booster seat.
Experts also recommend parents that they follow along with the manufacturer's weight guidelines. Mainly any child around 20 to 50 pounds should be ideally fine for being switched over to a booster seat but it is recommended that parents consider where their child is developmentally as well. Whenever you decide to switch your child over or if you've decided it's time for that transition, we've got you covered. Please take a look at our top ten best booster seats that are currently available in today's market.
Ease of Use
One of the most common questions parents ask is when they can graduate their kids from their high chair to a dining booster seat. While the answer can be largely considered academic, we need to understand a few things first.
Parents also should start asking questions like when is the right time to put their child in a booster seat instead of in a high chair? Some of this determination actually comes from your child's developmental age and where they are at. In order for your child to sit up they need excellent muscle control of their head, neck, and upper body. This motor development is also known as the cephalocaudal nature of human development. Once your children are able to exert full control of their upper body, unsupported, they are ready for their high chair.
Most Important Criteria
(According to our experts opinion)
Experts Opinion
Editors Opinion
Users Opinion
By Default

Parents, Did you Know?
That the safest highchairs feature; crotch post; a five-point harness; wheels that lock in place. These are the features are that are the most important when looking at the safety of a highchair.
Parents, Did you Know?
Make that you purchase a highchair that has been certified by ASTM International. They set the standards for the safety along with making sure that the materials and the highchair is properly tested.
Other Factors to Consider

Effectiveness
When researching the best booster seats and high chairs we knew that it was going to be an overwhelming task as the market for both products was going to be tedious. We wanted to make sure that we had nothing but the best of the best and the highest rated products that are featured in today's world that matched our criteria method. By doing this we made looked at each item on our list design, value, the safety of materials, and of course the manufacturer. We wanted to make sure that we included products if they had any type of certification or accreditation that a product has to obtain, and we looked at every customer review and rating that each customer provided regarding their purchase. Yes, this meant we looked at not just the positive reviews of every item, but we also looked over all of the negative ones as well.
By taking every single one of these factors into consideration we were able to eventually come up with our top ten best dining booster seats and high chairs for the modern-day table. We hope that you find exactly what you're looking for with our list up above. We're only here to help make that difficult transition period a little bit easier for you.
Frequently Asked Questions
q:

What is an appropriate age to put a child in a booster seat?

a:

When a baby can sit up without falling over is when they can sit safely in a booster seat. This starts between the ages of 9 and 12 months. Keeping their head up is one thing, but they need to be able to sit up without constantly needing help from falling over.
q:

Once a baby grows out of their high chair, should I immediately take their high chair away?

a:

No, you want to ween your baby into a booster seat to make the transition as less stressful as possible. It is not recommended that the baby's crib be taken away at the same time. This will make the transition too stressful for the baby.
q:

Are seats with no straps safe for babies?

a:

Parents should wait to use strapless booster seats until their baby is at least 36 months old. Otherwise, it is too dangerous for younger kids because they can fall off and seriously injure themselves.
q:

Should parents remove kids from their high chairs as soon as they're 18 months old?

a:

No, kids can stay in their high chair up to about 24 months. That's when they are too big for a high chair and can start knocking it over while they're in it. Don't use a car booster seat to sit on a chair, it's not safe and they're not interchangeable.
q:

What are the benefits of booster seats?

a:

Booster seats can be used by children who can sit up on their own. This happens around the age of 2 years old. The booster seat offers the same advantages as a high chair, it just minimizes the risk of falling.
q:

What to look out for when transitioning a toddler into a booster seat?

a:

Toddlers need to be able to sit up on their own before they can sit in a booster seat. Parents should try and put a toddler who can sit on their own into a seat with a tray. Trays help keep toddlers sitting up by providing additional support. They also need to be in a seat with belts, otherwise, they'll slide or climb out of them.