During the cold winter months, spending some time outdoors making snowmen and snow angels or even riding on their kiddie sleds can be so much fun for young toddlers. It's a whole new experience for them. Unfortunately, they are at the mercy of the cold environment, particularly their feet. That's why it's important that you get them a pair of boots that will help protect their feet from the bitter cold. Regrettably, this is a lot easier said than accomplished since the market is technically inundated with toddler winter boots that all claim they're the best. Not to worry, though, as we're here to help you decide with our 10 best winter boots for toddlers so you can bring your tot and have a merry time in the snow.
Our Top 3 Picks
Northside Snow Boots

Our rating
Warm & Waterproof
Price:

See Here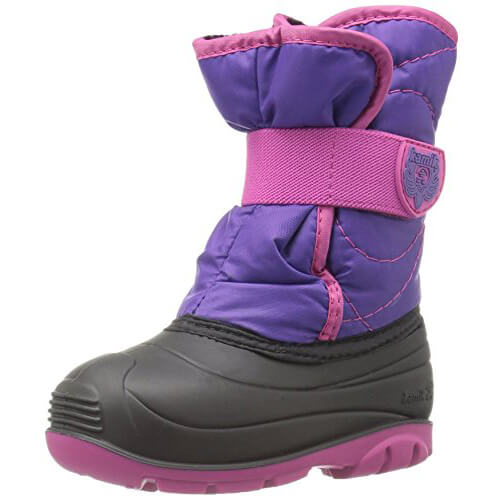 Kamik Snowbug3

Our rating
Plush Lining
Price:

See Here
Tundra Teddy 4 Boot

Our rating
Traction Outsole
Price:

See Here
Frosty Snow Boot by Northside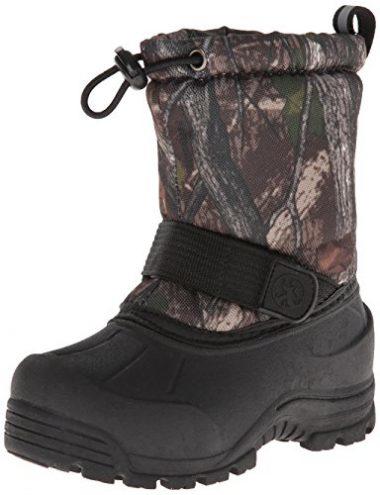 Snowbug3 Insulated Boot by Kamik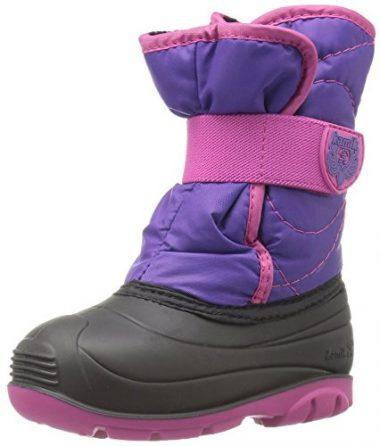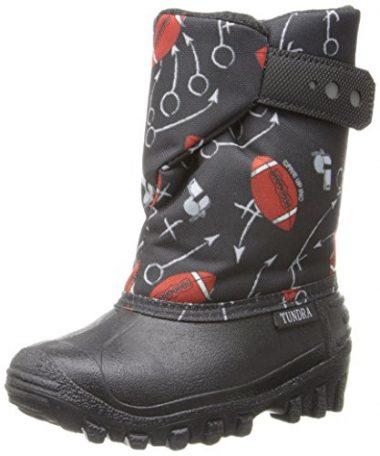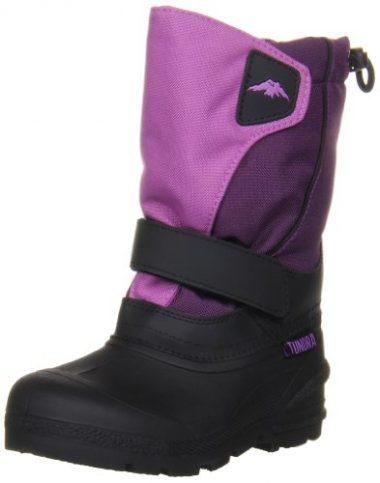 Waterbug 5 Cold Weather Boot by Kamik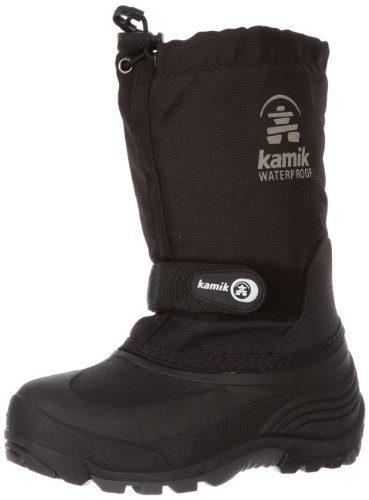 Made 2 Play Sneaker Winter Boot by Stride Rite
Children's Powderbug Plus II-K Snow Boot by Columbia
Toddler Girl's Winter Snow Boots by Nova Footwear
Kids' Winter Puff Boot by Crocs
Criteria Used in Evaluation of The Best Winter and Snow Boots
The boots on our list were well researched, and we tried to pick the best, most supportive winter boots that are available. Of course, safety is first, and with boots, it's the boot construction that plays the most important part in that.
Boots should be as waterproof as possible with the entire boot proofed, including the seams. Some boots have a tendency to leak at the seams. The lower part of the boot should be made of rubber to keep the water out of the bottom. Keeping your child's feet warm and dry is very important to help avoid colds and flu and keep your kid comfortable. The drier the feet, the longer she can play outside.
Winter boots should have ankle support so that there is no chance of twisting an ankle while doing winter activities like sledding or building a fort. You can control support if your little girl's boots have good laces that you can loosen and tighten at will. You could also look for boots that have built in ankle and arch support.
The last thing you want is to be frustrated putting boots on and removing them. Once your child learns to do this for himself, you don't want him to be frustrated either. When kids get frustrated, they won't wear the boot. Get boots that have zippers or some way to open to tops wide so he can get his foot in. Or look for boots with pull tabs on the sides that your young one can hold on to when he pulls the boot on.
Traction is a big safety point, and you want your child to be safe. He will have a hard time getting around if his feet are slipping and sliding. It's important to have solid footing so your little boy won't fall and hurt himself. So look for good tread on the boot bottoms.
When you are poring through all of the boots that are available, read the buyer reviews to see if they had problems with the boots not fitting well. Some boots run small and some large. Many people will say that in their reviews so you can get a good fit right away and not have to exchange the boots. Look for boots that customers are saying have a true to size fit.
We of course, look for our list products only from manufacturers that have been around awhile and have a good reputation. We check their website to see if it is user friendly and has enough info one it. We check the reviews on the manufacturers to make sure they have good reviews on their products. We also check for good or poor customer service reviews.
When we check out the product, we read thousands of customer reviews so we can figure out the good and the bad for all of the products. There are often little gems in the reviews that tell us what the boot is all about and buyers' attitudes toward them. Of course we try to choose the products with the highest ratings possible.
Foot Development in Children
You may have wondered how to choose your kids' shoes and boots. They kind of go hand in hand. But first we need to talk about how a child's feet develop.
When babies are born and as they go through babyhood, they have flexible feet. There is no actual bone in the foot, only cartilage. So babies do not need shoes. They can walk barefoot or in stocking feet indoors. Outdoors, since they aren't walking yet, their feet just need protection from the elements.
In fact, it's best to leave a baby's feet without shoes to allow the feet to grow and develop naturally. Even when babies start to walk, they can still go barefoot for awhile in the house. Outside, flexible shoes are the best to allow the feet to grow without being shaped by a stiff shoe.
As toddlers continue to learn to walk, it's time for shoes. The best shoes are flexible in in the front, and and more supportive in the heel. Shoes should have support, but not be stiff. The goal is to allow a child's feet to grow naturally, and they can't do that if the shoes are too restrictive.
Your child's feet will grow very fast in the early years. Be prepared to buy new shoes every couple of months around 2 and 3 years old. A kid's feet will grow by about a half inch every 2 to 3 months, and it's best to put a child into new shoes when his current shoes are have been outgrown.
Also, experts say that giving a child hand me down shoes is not a good idea, except if the shoes are of high quality and have actually survived a previous wearer. This is because the hand me downs usually have taken the shape of the older child's feet so they won't fit well.
How to Choose Boots for Toddlers
When buying snow boots, you have to measure your child's feet. The best way is to have his feet measured by a professional at a shoe store. But if you are buying online, you can do it yourself. Here is a size chart you might like to use: Size Chart
Make sure your child is standing straight up with toes straight out. Take the measurements, and use the size you got for the largest foot to purchase the shoes. Don't forget to measure the width of the foot. The fit is the most important. Without the right fit, your child's feet may not develop correctly and can cause foot or back pain later in life.
And buying a size bigger so the boots last another year is not advised. That is not a good fit, and a good fit is so important! Buy a new pair the next year. The good news is, a child's foot is almost done growing around age 10. The foot is done growing between ages 14 and 16.
These are some things to look for in a boot:
The boots you choose should at least be water resistant. Waterproof, including the seams, is much better at keeping little feet dry. The boot bottoms should be waterproof as well, so they need to be composed of rubber or similar waterproof material.
Get boots with a removable liner. This way, if the weather is warmer your daughter can just wear socks so her feet don't get too warm. When there's lots of snow and her feet get wet, the liner can be pulled out to dry.
Make sure that the bottom of the boot has lugs/grooves so that your child can get good traction as she walks and plays in the snow and ice. They need to be able to get a grip.
Another really good feature would be a soft, warm lining. Try to get boots with a wicking lining that soaks up water away from the skin.
Boots need to be able to keep water out at the top as well. Pick something with a bungee cord that fastens on top of the boot to keep water out.
Many boots are way too heavy for little kids to walk in. This is especially dangerous with small children who are still learning to walk. Heavy boots can throw off their gait and make the kids tired more quickly. Get lighter weight boots so your kid can easily move his feet as he walks.
Ankle support is more of a subjective thing, so you'll have to determine this on your own, but boots with laces give your child very good ankle support because you can tighten the laces if the ankle is wiggling around too much.
Make sure you can get your toddler's boots on and off easily. As they grow, they will be dressing their own feet, so the need boots that are easy peasy. If kids get frustrated, they won't wear the boots. Or they will not get them on correctly and the boots will be uncomfortable to walk in.
Things to Consider When Buying Winter Boots for Your Tot
Enjoying a day or two in the snow can be particularly risky for the feet of young toddlers as they are especially vulnerable to a lot of cold-related injuries and conditions. Choosing the best winter boots for them entails an understanding of the fundamental characteristics that these kinds of footwear must possess to help protect your child's feet. Here are some of the things to consider when buying winter boots for your tot.
This is perhaps one of the most important considerations you will ever make in choosing the right winter boots for your tot. Remember that if you're feeling cold whenever you're outside, the feeling can be twice as cold for the young child owing to a relatively thinner skin and a still-immature thermoregulatory system. Additionally, their body surface area is significantly smaller compared to adults making heat loss all the more pronounced. That's why it is critically important to look at the individual temperature ratings provided by the boot manufacturer. For example, a well-known brand of winter shoes can have products that can handle temperatures as low as -100 degrees Fahrenheit. Unfortunately, not all manufacturers put temperature ratings in their footwear and, as such, you should look for other signs of excellent heat-retaining properties.
In cases where there are no printed temperature ratings, you can always look for a removable liner which is often made of polypropylene if not acrylic or wool. In some manufacturers, they fabricate their own special thermal liners. If the boots don't have removable thermal lining, these may use special thermal materials. There are also fashion boots that use a different kind of wool that is known as shearling. Unfortunately, there are plenty of faux shearlings in the market. These may look and feel like the real deal but they do little in keeping the feet of your little one comfy and warm. Lastly, it makes no sense having a thermal liner if the insole of the footwear simply doesn't retain as much heat as possible. So, these are the things that you need to look for so your kid's feet won't be affected as much by the bitter cold.
Warm winter boots should also provide your kid with exceptional comfort. As toddlers now love exploring the world around them, they will be wandering around. And if they will have to wear their winter boots for extended periods of time, comfort is a major factor.
You will have to consider adequate support for the arch of the feet and the feet itself. Ideally, your tot should have no problems walking with his or her boots. Look for arch supports and ample padding in the insoles. Some manufacturers actually provide for orthopedic insoles as well as pronation control. This is one very useful feature in maintaining the perfect alignment of the feet in relation to the central axis of the body by preventing the inward rolling of the foot every time it hits the ground. If this is not corrected early on, it can lead to a variety of health issues in the knees and the back.
Additionally, you have to check the lacing system of the winter boots you're considering for your toddler. As much as possible get a boot with full lacing as it guarantees the best possible fit for your tot. However, there are winter footwear that do not have full lacing yet they provide exceptional protection especially in deep snow. Most winter boots for toddlers come with hook-and-loop straps, however, for ease of securing and removal.
Imagine your footwear as a closed system that your feet actually can feel suffocated. If it's too warm and the air simply cannot circulate inside, you run the risk of growing bacteria and other microorganisms that can cause nasty odors in the feet. That's why one of the characteristics that you might want to consider is the breathability of the footwear. These should have antibacterial or even antimicrobial properties in addition to the inclusion of quick-drying or moisture-wicking technologies in their design.
Unfortunately, the need for breathable footwear often clashes with the need for waterproofing. As such, it may be important to look at the material used in the winter boots to check if it is both breathable and waterproof. If not, you will have to weigh in on which of the two will matter more to your kid.
The grip of your kid's winter boots is inherently supplied by the unique design of its outsoles, particularly the depth and size of the lugs. These lugs help prevent falls and slips as they provide a mechanism for the outsole to improve its contact with the ground surface, or in this case, the surface of the snow. Typically, the larger and deeper the lugs the better is the grip. In some cases, a heel brake is provided for added protection against slips especially when descending or walking on uneven terrain. You can think of the heel brake as an anchor for the boot so it will not easily slip.
Most winter boots have outsoles made of rubber although some manufacturers combine it with carbon to make it harder and more durable. Unfortunately, such design can be quite slippery on icy surfaces.
Snow may look solid to you, but, with the right temperature, it can easily melt and turn into water. That's why it's important to look for boots with exceptional waterproofing to help prevent snow, water, or even slush from ever entering the footwear. The material that is used in the construction of the boot should be, in itself, waterproof. Additionally, there are certain technologies and systems that can help prevent the entry of moisture so you might want to check these out.
For instance, there are boots that have gusseted tongues that help prevent the entry of water through the spaces on the sides. There are also those that feature a gaiter or a cuff which serves as a collar that effectively channels snow away from the interior of the boot. Gaiters can be likened to sleeves that effectively cover the boot and extend well up into the level of the knees.
You can expect winter boots to be especially heavier than most other types of footwear. And given the relatively smaller and less strong feet of your tot, the weight of the footwear may have to be considered. It is important to look for footwear that can provide you with all of the above features but will not require your young child to exert too much effort in simple walking. The good news is that today's winter boot manufacturers continue to find ways to improve their materials, making them more waterproof, breathable, comfortable, and with excellent thermal capabilities, without having to add weight to the boot. If the winter boots will make walking more like a chore, you'd better look for something else.
Even if you were able to buy a lightweight winter boots for your kid, these will still be heavier than most other shoes that he or she wears. When buying winter boots, it is thus, important to look for those that provide ample ankle support such as padded sides, full lacing, and an overall firm structure.
It is a well-established fact that toddlers are already beginning to make full use of their newfound mobility. Winter time is an excellent opportunity for them to discover this snowy wonderland. With the 10 best winter boots for toddlers, you can help them explore in the wintery cold while protecting their feet.
FAQ
Frequently Asked Questions
Q: How do I know if my child has narrow feet?
A: Have your child put on some shoes. Check the toe-box for extra padding. Then move your finger around the heel to see if there is room in the heel for the width of your finger. If so, then your child may have narrow feet. You can also go to a shoe store and have a professional measure the width of his foot.
Q: How many pairs of boots should my child have?
A: The answer to that depends on your little one's age. Little kids grow fast and many parents find that they've grown out of their boots before winter is over. The best thing to do is buy new boots. We know that's an expense, but if your child's feet are too cramped, it could hinder foot growth and create physical problems later in life.
Q: I need some suggestions about cleaning my son's boots. I've washed them off but they stink inside.
A: Usually the stinky smell comes from bacteria inside the boot that love the damp environment. Often, the bacteria come off of the skin of the wearer. Make sure your child's feet get clean in the bath.
There are many creative ways to quell the odor. First, if your son's boots have a removable lining, take it out, wash it, then air dry. If not, you could use a sock or a muslin bag and put baking soda in it with some tea tree essential oil. Leave in overnight. There are also many boot sprays on the market that can eliminate odor.
A better solution may be to purchase a boot with an antimicrobial lining like this one on our list: Stride Rite Made 2 Play Sneaker Winter Boot.
Q: What are three best things to look for in a boot to keep my son's feet warm?
A: You want a boot with a closure at the top to keep out snow and water. Make sure there is warm padding in the bottom of the boot, a lining that has some kind of thermal element to keep heat in, and the lining should have a moisture wicking component to keep water off of the foot.
Q: What is the best way to make sure my daughter can easily walk in the boots?
A: Buy a boot that is light in weight so she can lift her feet up without getting tired. Also make sure she gets good traction on the bottoms. The best way is to try on a pair.
Q: Should I buy boots for my toddler that are stiff?
A: Probably not. Your toddler's feet are still developing, so a flexible boot with a flexible sole is better than one that is stiff. Stiff boots can impair proper growth of the foot. And, a softer, more flexible boot would be more comfortable.