Pull along toys are one of the most common playthings that are recommended by child development psychologists and toy experts alike for the optimum growth and development of children in the first 3 years of life. Choosing the best pull toy for your kids is therefore crucial in helping them reach their full potential.
Our 16 Top Pull Along Toys for Kids:
Age range: 1 to 3 years old
Age range: 19 months to 12 years old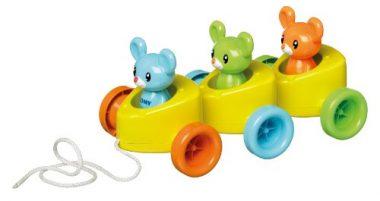 Age range: 1 to 5 years old
Age range: 1 to 3 years old
Age range: At least 10 months old
Pull-Along Snail by PlanToys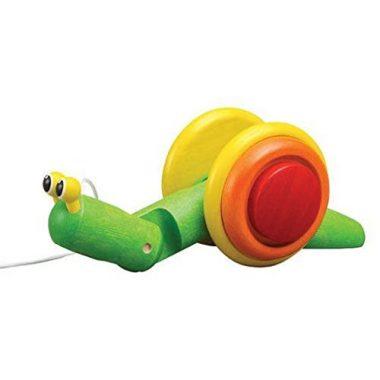 Age range: 19 months to 3 years old
Lil Snoopy by Fisher-Price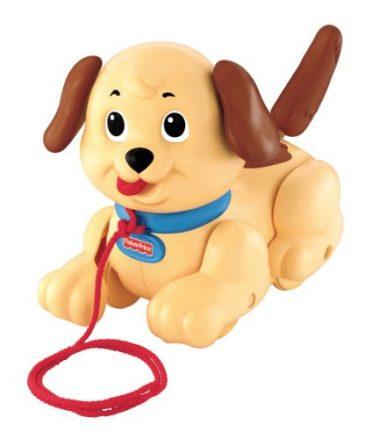 Age range: 1 to 3 years old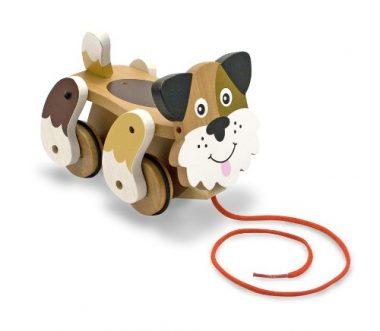 Age range: 18 months to 3 years old
Shape Sorter Turtle Pull Along Toy
Age range: At least 1 year old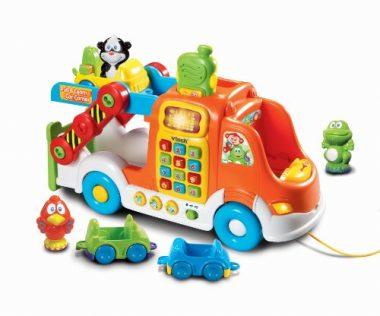 Age range: 1 to 3 years old
Age range: 12 months to 3 years old
Children's Frolicking Frog
Age range: At least 18 months old
Age range: 1 to 5 years old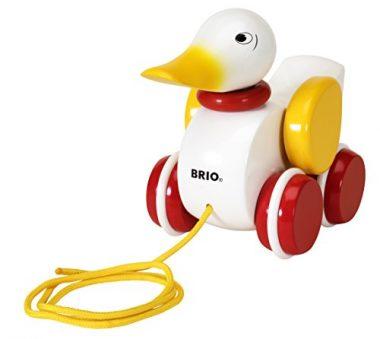 Age range: At least 1 year old
Zoo Animals Wooden Pull Toy
Age range: 2 to 4 years old
Criteria Used In Evaluation of The Best Pull Toys for Toddlers
With the sheer number of toys out there, it can be quite hard, not to mention overwhelming, to find a toy that is safe and fun for your child. Toys play a large role in a child's development stage. So, it's important for parents to find a toy that passes all the necessary safety concerns, such as choking hazards for kids under the age of three.
All the toys that are made in, or imported to, the U.S. need to comply with the regulations set by the U.S. Consumer Product Safety Commission. There are certain aspects that should be kept in mind while purchasing a toy for your child.
The guidelines should be:
Stuffed toys need to be washable
Toys that are made from fabric need to be flame retardant or flame resistant.
Paints and crayons should state ASTM D-4236 on the packaging (American Society for T
Testing and Materials)
Art materials should be non-toxic
Things You Should Avoid…
Toys that have glass, edges, or sharp pointed parts
Toys that have parts small enough to fit into a child's ear, mouth, or noise
Lead paint or toxic materials
Hinged parts
Cords, ribbons, ropes, or strings that can get tangled
Stuffed toys that contain beans.
What Determined The Toys in Our List
As there are plenty of products to choose from, making the correct decision as to give your baby or toddler can be quite daunting especially to first-time parents. This is why we came up with our list of the 15 best hand picked toys for your children below 3 years of age.
Our list of the top sellers includes research on the pull toys that have excellent quality, good safety profile, well-established toy manufacturer's reputation and credibility, and positive remarks from parents who have seen remarkable developments in their respective children. More importantly, our research is largely based on the ability of these toys to help stimulate or enhance the development of infants and toddlers. We are thus, optimistic that our list of the 15 leading pull toys for babies and toddlers will be beneficial in your own search of what's best for your kids.
The Benefits of Playing with Pull Along Toys among Infants and Toddlers
For the first 3 years of life, it is crucial to provide children with the correct kind of toys for their various developmental needs. Young children, particularly infants and toddlers, require a lot of sensory stimulation as well as physical activity to help fast-track their growth and development especially the development of their cognitive skills, social skills, and emotional skills.
Pull toys help infants develop both their gross and fine motor skills which they can refine until they reach toddlerhood. Pull toys require good control of the muscles of the hand as well as the arm especially when pulling on the toy. Additionally, young children will need stronger leg muscles, a steadier gait and stance, and excellent coordination of the body and limbs as the young child attempts to move with the pull toy in tow.
As the baby learns to master the control of his or her bodily movements, mobility and physical activity are enhanced. At the same time, the kid's sense of exploration and experimentation is also stimulated. This leads to the discovery and appreciation of the things around the child which, in turn, can help impart an understanding of how the real world operates. This is especially true among toddlers as they already have the physical capacity for increased exploration. This generates new knowledge and new experiences which leads to social and emotional development.
Pull toys can also help in the development of inferential skills and problem-solving skills as the toddler tries to navigate his or her pull toy around obstacles. These playthings can also help facilitate creativity and imagination especially among older toddlers who may already start showing signs of make-believe or pretend play.
Pull toys are important in infant and toddler development as these toys provide the necessary sensory stimulation, physical activity, and cognitive development that will become the bases for optimum growth and development for these kids.
FAQ
Frequently Asked Questions
Q: Why Do Some of These Have Choking Hazard?
A: Some of these pull toys come with stacking parts or just other accessories that are quite small. These small pieces are the reason that they are considered choking hazards. Smaller children that do not quite have the sense of safety yet might consume these parts making them very dangerous. With these types of toys, if you still wish to order them, it's important to remove these smaller parts until your child is old enough to play without the risk of consuming them.
Q: Why Do Some of These Have Strangulation Hazards?
A: All of these pull toys come with strings that essentially make the pull toy, pull-able. However, with the addition of this string, it can create a hazard where a child might accidentally wrap the string around their neck, thus creating a strangulation hazard. Though the toy companies do try their hardest to make strings that are only long enough for your child to pull them from, it's still important for you to supervise your child while they play.
Q: Where Can I Get These Products?
A: All the products on our list can be purchased from Amazon.com. However, there are plenty of other website and stores that offer these products. For the purposes of consistency though, all our links to the products lead to their Amazon sale pages.
Q: Why Do the Prices Vary So Much?
A: The prices depend solely on the distributer or on Amazon. We have no power to alter the prices that are set. There are ways that you can find the best prices available, which is to do your research and look everywhere.
Q: How Do I Make Sure That These Products Are Safe for My Child?
A: We try our hardest to make a list of products that are safe for your child. If there are any parts that could prove to be a danger to your child, we make sure that we have mentioned that in our short reviews. It's also important that you have a read through the reviews of other parents, as they might hold an insight that we could not have given.
Q: How Can These Toys Be for Babies and Toddlers?
A: The pull aspect of these toys is most likely only going to be used by toddlers, however babies can also use these pull toys. Babies can use the body of the toy to roll around, they can use the stacking parts. They can also simply play with the string to keep them occupied. It is important to keep the baby under supervision while they play with these toys and to remove any choking hazards.