Pull-along toys come in so many shapes, sizes, and colors today that it is hard for parents to choose the best ones for their kids. We help you narrow down the vast selections on the market with this list of the best-rated items by parents just like you. These are the pull toys that parents are raving about and the ones that delight their kids with hours of pleasure and activities. Simple pull-along toys can benefit toddlers in so many ways as they learn the skills of walking and crawling. Whether your child is still crawling, just beginning to take a few steps, or has mastered most of the basic skills, pull-along toys can be of great value to them with their many features. Below you will find the 10 top-rated pull-along toys that have been hand-picked based on all of our criteria listed below. Come along and explore the best pull-along toys for your baby and toddler in 2019 with us!
Our Top 3 Picks
Hape Puppy Toy

Our rating
Coordination Skills
Price:

See Here
Plan Dancing Alligator

Our rating
Non-Toxic Materials
Price:

See Here
LeapFrog AlphaPup

Our rating
Leaning Letters
Price:

See Here
[/vc_column_text][/vc_column]
[/vc_row]
Our 10 Top Pull-Along Toys for Kids:
VTech Drop & Go Dump Truck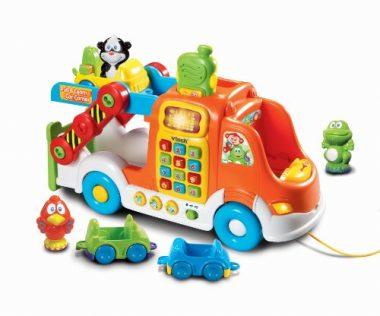 Age range: 1 to 3 years old
Age range: 1 to 3 years old
VTech Pull and Sing Puppy
Age range: At least 1 year old
Lil Snoopy by Fisher-Price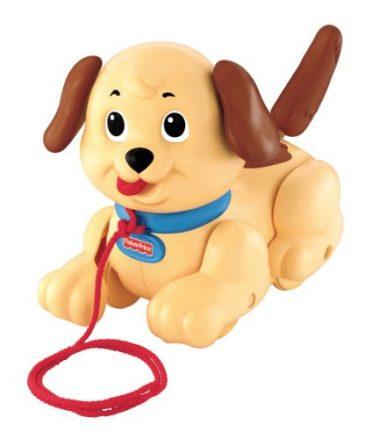 Age range: 1 to 3 years old
Age range: 19 months to 12 years old
Age range: 1 to 3 years old
Age range: 1 to 5 years old
Age range: 1 to 5 years old
Pull-Along Snail by PlanToys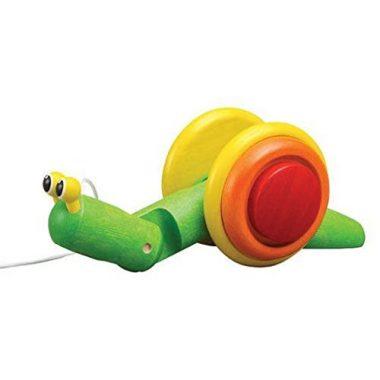 Age range: 19 months to 3 years old
Criteria Used In Evaluation of The Best Pull Toys for Toddlers
Best Ages for Pull Toys
Taking into consideration the large variety of pull-along toys that we highlight, the age ranges are very different for each item. Some of them, such as the Chatter Phone, are for the youngest of kids starting at 6 months or 1 year old.
These are simple, basic toys to get your child to notice beginning colors, shapes, and movements in the early stages of life. Others, such as Pull and Sing Puppy and the Drop & Go Dump Truck also offer fun, exciting activities for the kid to do while building on those walking and balancing abilities.
Overall, the majority of the pull-along items on this page are for kids in the range of 1 to 4 years old. Of course, this highly depends on the physical and cognitive level of each child. Parents should select the most appropriate toy for their special little one.
Skills/Abilities Developed
So many talents are developed and exercised with these basic toys that it is hard to go into great detail. However, at the least, kids should be able to build gross- and fine-motor skills, basic movement coordination, hand-eye coordination, cognitive abilities, imagination skills, and balance. Some of the items will give opportunities to work on verbal and listening abilities because they make noises or react to sounds made by the child. Examples of this is the Pull and Sing Puppy.
A few of the toys will give your kid a chance to do problem-solving with the activities added, such as the Drop and Go Dump Truck and the Car Carrier. Because all of the toys are brightly decorated, children will be able to name and recognize numerous colors, plus get to know shapes and numbers with some items like the Chatter Phone. The more the toy can do, the quicker the child will advance to more complicated toys in the future.
Extra Features
The extra features of some of the more advanced pull-along toys are for the older kids above the age of 3. The Car Carrier and Drop & Go Dump Truck are perfect examples of this type of toy.
They include extra pieces for kids to insert or place into the body of the item for extra enjoyment. The rotary dial on the Chatter Phone provides kids with an opportunity to begin number recognition and counting talents in a stimulating way.
Material Used/Construction of Toys
The Pull-Along Snail, Walk Along Puppy and the Dancing Alligator are some of the toys featured here that are made from organic, environmentally safe materials that will not harm your child, even if chewed on. Others like the plastic wagons were constructed of the best chemical-free substances that will pose no dangers.
Most toys for toddlers must pass health standards because of the age of the child using the product and the possibility of ingested pieces due to chewing on the toy. When it was specified by the manufacturer of safety standards, it is noted for you in the summary and pros sections for each toy.
The Benefits of Playing with Pull-Along Toys for Infants and Toddlers
For the first three years of life, it is crucial to provide children with the correct kind of toys for their various developmental needs. Young children, particularly infants and toddlers, require a lot of sensory stimulation as well as physical activity to help fast-track their growth and development especially the development of their cognitive skills, social skills, and emotional skills.
Pull toys help infants develop both their gross- and fine-motor skills which they can refine until they reach toddlerhood. Pull toys require good control of the muscles of the hand as well as the arm especially when pulling on the toy. Additionally, young children will need stronger leg muscles, a steadier gait and stance, and excellent coordination of the body and limbs as the young child attempts to move with the pull toy in tow.
As the baby learns to master the control of his or her bodily movements, mobility and physical activity are enhanced. At the same time, the kid's sense of exploration and experimentation is also stimulated. This leads to the discovery and appreciation of the things around the child which, in turn, can help impart an understanding of how the real world operates. This is especially true among toddlers as they already have the physical capacity for increased exploration. This generates new knowledge and new experiences which leads to social and emotional development.
Pull toys can also help in the development of inferential skills and problem-solving skills as the toddler tries to navigate his or her pull toy around obstacles. These playthings can also help facilitate creativity and imagination especially among older toddlers who may already start showing signs of make-believe or pretend play.
Pull toys are important in infant and toddler development as these toys provide the necessary sensory stimulation, physical activity, and cognitive development that will become the bases for optimum growth and development for these kids.
FAQs
Frequently Asked Questions
Q: Are the strings or ropes long enough to accommodate different sizes/heights of kids, or can they be extended somehow?
A: You could always extend the cords or ropes of the pull-toys, especially if you have or can find material that is similar. However, you must keep in mind that the main reason for the short ropes is safety. If the pull cords were any longer, then they would pose a problem of tripping or tangling the child's legs and feet as they try to walk with the toy. There could also be an issue of choking if the cord becomes wrapped around the child's neck if left unattended to play with the pull toy. If you do decide to extend the cords, make sure they do not cause these problems for the toddler.
Q: Do any of these pull toys require anything extra, such as batteries or tools to put them together?
A: A few of them, such as the AlphaPup require batteries, but they are included with the toy. Nothing else is required to enjoy the toys right from the packaging.
Q: Are there any choices for any of these pull toys, such as color, size, or different designs?
A: Most, if not all, of the pull toys we highlight, have only one option for size, color, or design. Manufacturers, such as Melissa & Doug, do offer several types of pull toys, but each item has only one option when buying.
Q: Will these work on carpets as well as hard, smooth surfaces?
A: Any surface that can offer some amount of traction will do better than ones that are very slick. Hardwood floors are not the best option for pull toys most of the time. Thin carpets work the best because they offer traction, but do not impede the rolling of the wheels of the toy. Small rugs or towels can always be put down on slick surfaces to help with the movement of the pull toy.
Q: Do any of these pull toys have small parts that would detach or come off accidentally and cause a swallowing issue? Do any of them make noise?
A: Some of the pull-along toys do have separate pieces that fit into the main toy, such as colorful Pull & Learn Car Carrier. These parts fit into the bigger item like a puzzle to enhance learning skills. The Dancing Alligator and AlphaPup are such toys that make click-clack sounds as the wooden pieces hit together as the toy moves or they make sounds and say educational phrases aloud.
Q: Being that most pull toys are for toddlers already beginning to walk, are any of them okay for a child who is not walking yet?
A: Any child who is crawling may be enticed to move and begin walking with these pull toys. As they see the toy roll along, they will be encouraged to follow. It is a great way to get them motivated into walking quickly.
Q: What is the best age of a child for these pull toys? What age would be too young and what age would be too old?
A: Manufacturers suggest ages basically from 1 year to 3 years old for most of the pull toys. This is based on the attention level of the child with these simple toys, the walking abilities of the child, and the length of the cord to pull. Kids younger than 1 will not be able to follow the toy walking, but they can do so crawling. It would be a good idea to start them with the toys before they can walk to get them walking as soon as possible. Kids older than 3 would be mentally too old for such toys, the cords or strings would not be long enough for their height to the toy, and these children will already have great walking abilities to go on their own.
Q: Do any of these toys help or educate the child on anything besides walking or crawling? Are there any with some thinking challenges to them, like puzzles?
A: The Pull & Learn Car Carrier and the Drop and Go Dump Truck are two highlighted pull toys that are wonderful for extra skills. They each have smaller pieces that fit into the main toy, so they promote extra abilities such as color, shape, and number recognition as well as practice with fine-motor talents.