The wagon has come a long way from the metal frame and little wheels, but the fact is everyone loved a good wagon ride as a kid. Many of us have many fond memories that involve being hauled around in a trusty red wagon. Wagons are great for hauling the kids and once they are old enough to walk, then the wagon becomes a great way to haul all the much needed gear.
With so many designs of wagons on the market, it can quickly become overwhelming when buying one. We wanted to make that process smooth and easy for you. We have selected the Best Wagons for Kids on are currently on the market and made this great list.
Our Top 3 Picks
Radio Flyer Ultimate

Our rating
Seats up to 5 kids
Price:

See Here
Radio Flyer All-Terrain

Our rating
10" air tires
Price:

See Here
Little Tikes Lil Wagon

Our rating
Great for pulling toys
Price:

See Here
YSC Wagon Garden Folding Utility Shopping Cart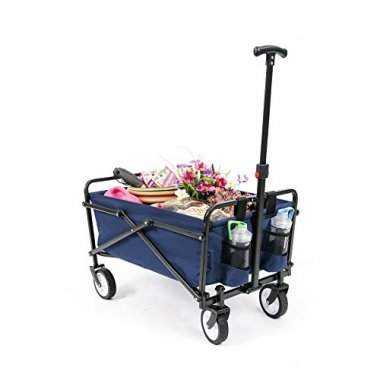 Radio Flyer All-Terrain Pathfinder Wagon All-Terrain
Berlin Flyer Ride Sport Wagon
Radio Flyer 3-in-1 EZ Folding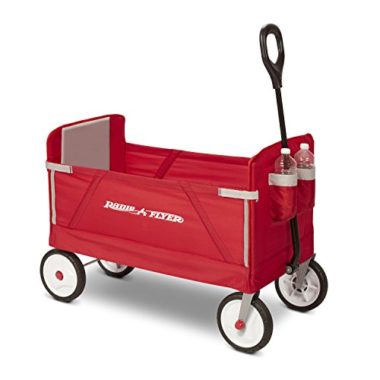 Radio Flyer Full Size All-Terrain Steel & Wood Wagon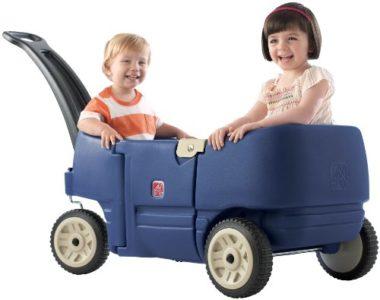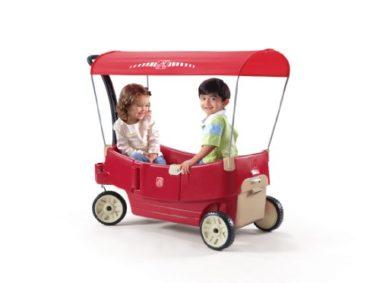 Step2 Neighborhood with Seats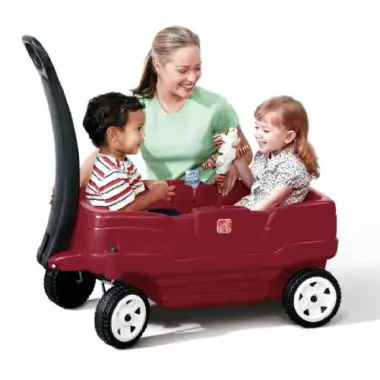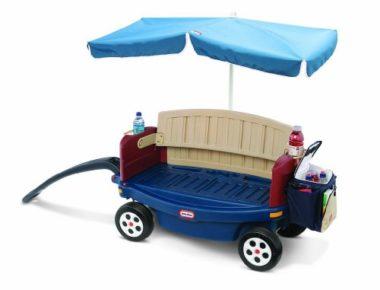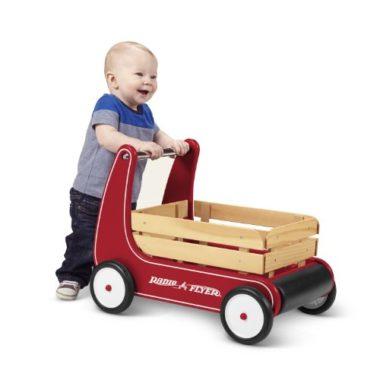 How We Chose the Best Wagons for Kids
Choosing the leading options is never easy since they all belong to the same category and pretty much have the same basic structure. However, our research showed that there are particular elements that can truly separate one model from another.
We considered the overall design, particularly the different benefits it can provide to children in terms of their growth and development. We also carefully examined the different features that are built-in and determine whether these features play a role in the development of the child as well as provide for other benefits for the whole family. Of course, we also had to consider the safety and reliability of its construction as children will be riding in these toys. We are talking about not just a single child but at least two children so durability, the rigidity of chassis, and overall structural integrity are a must. Then, we also had to read feedback from parents as well as other consumer reviews and reports about their experiences with the wagon. Lastly, we had to look at the credibility of the wagon maker.
We know these are the same things that you will be looking for in kids' wagons. We also know that there's actually an ocean of wagons out there so we have made this shortlist of the 15 best for children so you don't have to fret about the enormity of the selection process. At the very least, you will only need to choose from our 15.
Their Value in Growth & Development
Unlike other types of ride-on toys like rocking toys, pedal toys, tricycles, scooters, and bicycles, a kids' wagon is particularly beneficial in developing a child's social skills. This is especially true for larger varieties that can accommodate at least two kids. They learn to share the seat with other children. Smaller versions can also benefit the development of the child's social skills. These smaller versions like the classic pull-along wagon or sled teach kids about taking turns and about valuing another kid's time.
Playing with other children also teaches them cooperation. For example, one child rides on while another child or two pulls. They then take turns riding and pulling until everyone has had the chance of both riding and pulling. This can also be a great opportunity for accomplishing a certain task a lot faster. For example, they can all agree to bring their toys to a particular area of the park. Instead of carrying them one by one, they can all agree to put their toys on the wagon and all of them will be pulling towards their agreed upon area. This is the essence of teamwork and cooperation.
In addition to the development of their social skills, children riding in or pulling wagons eventually learn to expand on their language development and communication skills especially in the use of language within the context of social interaction. They eventually learn pragmatics and how this can be used for different purposes, changing their language to suit a particular situation, and following the rules of ordinary conversations as well as storytelling.
Development of Strength
Ride-on toys can also benefit the psychomotor development of older children. It's a great way to help tone and strengthen their arm and leg muscles as they attempt to pull the wagon over a certain distance. They need to firmly plant their feet and establish a stable stance so they won't fall. This also helps them enhance their muscle coordination and spatial intelligence as they need to understand just how far their next step should be to still maintain balance while moving. This is a lot better than having older kids stay in front of the computer all day long. It's a great way to encourage increased physical activity to help fight the growing concern of childhood obesity.
For little children who are not yet strong enough to pull the product, they can still benefit from toy wagons. Riding onboard encourages imagination which can be the foundation for creativity. As young children take a leisurely cruise in the park or in the neighborhood, they are able to pretend that they are on a luxury cruise ship traveling on the Caribbean or even a wide-bodied jumbo jet soaring above the sky. The sensation of movement allows their brains to think of other instances where movement is involved like riding on a bus, a plane, a car, or even a train. The point of the matter is that wagon play allows children to let their imaginations fly.
There are other benefits in terms of the optimum growth and development of children. It is therefore not really surprising that there are a lot of parents who buy these type of products for their kids. And with our list of the 15 most popular products, you too can give your children the best ride of their lives!
Just make sure if you are buying one for the purpose of being a baby wagon, that you are always supervising and aware as wagons can be a hazard for little ones if not careful. Big kids tend to do better with these wagons.
Criteria Used to Evaluate the Best Wagons for Kids
Main Body & Structure
There are various shapes and sizes of wagons and they are built for a variety of purposes. The undercarriage and main body play an important role in how the wagon handles itself while on the move. The undercarriage is an interface and support system between the wheels and the main body. In addition, the body size is the determining factor in exactly how much the wagon can carry on the go. The design of a wagon overall is made up of three parts–the undercarriage, the steering device or handle, and lastly the wheels. All of these parts make up a high-quality or low-quality wagon, depending on what materials are used for each and how they are constructed.
Axle: An axle is an intricate design that is made up of a rod or spindle which is passed through the center of any wheels. In addition, the axle on a toy wagon is made up of a front axle alongside a back axle. The front axle is made with a pivoting system that moves in many directions and is fixed to the wagon's body. The back axle is also fixed to the wagon's body, however, it can only move in one direction.
Wheel Size/Air-Filled or Thick Rubber?
An honorable feature of the very best wagon are the wheels. For centuries the wheels on a wagon have been very important in the creation of a good sturdy wagon. The first toy wagon was built in 1880. Today, toy wagons large and small are produced off the charts, becoming one of the most-loved toys to a child.
The wheels make a large impact on how well the wagon can move, turn, swivel, and bounce when put through challenging terrain.
The wheels of toy wagons in 2019 are most often made of durable materials like steel, high-density polyethylene plastic, and pneumatic rubber tires, which are usually the big inflatable tires.
Steel: This is a bluish-gray or gray steel alloy of iron. This material is very strong, and hard. It is primarily used in making structures that hold things up, like wheels.
Polyethylene plastic: This is an accidental creation. It was first prepared in 1898, while a chemist was working with diazomethane. It is a very hard, highly durable plastic when used in the high-density form.
Pneumatic Rubber Tire: An inflatable rubber wheel that is sealed airtight through pressurization.
Whichever type of tire that your wagon has, you can easily find replacements if one breaks or deflates. They are easy to work with and fix. There are also tires made from real rubber called TPE-tires.
Flexibility, Mobility & Management
Management should be easy.

The ride should be smooth.

You should be able to pull, jerk, and move a high-quality wagon easily.
Now let's talk flexibility, management, and mobility. In a wagon, this means to be able to take those curves and swivels without a problem. A high-quality wagon is going to naturally have greater abilities in these important areas. So what does it come down to?
There are many different kinds of wagons, and this means many different styles and materials used for the axles and body. A classic wagon is made up of three parts, a steering wheel, an undercarriage, and its wheels. The wheels and axle, I would say are the main concern when it comes to the wagon's mobility. A wagon's wheels have a very detailed axle system, made up of ball bearings which ensures that it has the ability to move freely during operation. Wagons made with plastic ball bearings will require lubrication from time to time.
On a four-wheeled mechanism, the axle can either sit fixed to the body of the vehicle in which the tires rotate around the axle. The second option during construction of a wagon is where the axle is fixed to the wheels and this causes them to rotate together freely. On either design, the axle is a centralized bar or shaft that's the main job is to rotate or spin the wheels or gears.
Weight Makes a Big Difference
The weight of a wagon is a highly significant feature–parents especially know this to be true whether they are handling, carrying, or maneuvering the toy wagon they have invested in. The weight makes the greatest difference in the enjoyment one can have while operating this four-wheeled vehicle, especially with children inside of it. A classic Radio Flyer wagon comes in at 33.29 pounds, having the capacity to withstand roughly 150 pounds of weight. On the other hand, a wagon made from high-density polyethylene plastic weighs less at 23 pounds. It is also impressive that a plastic wagon has a much greater capacity to withstand weight at 200 pounds. The wagon style with the greatest capacity to withstand 300 pounds, is a wagon made from wood and metal in combination. These mixed wagons are built for heavy-duty handling and offer very flexible movement as well.
Variety of Colors
Toy wagons on the market come in many colors although red is the signature color of a Radio Flyer wagon. This type of red is usually acrylic paint atop a metal surface. The edges of metal wagons are folded over to prevent injury. If you purchase a plastic wagon it usually comes in a bright red, but often times is seen in a deep blue as well.
How about a wooden toy wagon? These wagons can involve many colors. If the wagon is pure wood, it contains the natural colors of the wood itself, although the wood used on a toy wagon can undergo many processes before it hits the market. The wood can be stained, sanded, and dyed all before it reaches your possession. Wooden wagons can be a deep burgundy red to a light golden wood color.
You are also going to find many colors painted on the wheels, if any cloth is used it will be colored, usually blue or black cloth is used here. Then also the metal alloy contains natural colors like gray, grayish-blue, or coated with black paint.
FAQ
Frequently Asked Questions
Q: Where to buy children's wagons?
A: If you are seeking to purchase a toy wagon there are many places. Either in-store, online, or from other people who are reselling their own. So it all depends on your budget, and if you are able to find a good discount or coupons to help out with your purchase.
Online there are many websites that sell wagons for kids. Amazon is a great place to find affordable new, high-quality wagons. Specific brand names websites such as  Radioflyer.com is going to have Radio Flyer wagons for sale at full price. You also can find wooden or plastic wagons through online shopping sites like Target.com, Fredmeyers.com, and Walmart.com. In addition, they are often carried in these same brick-and-mortar stores. Google is a great way to do an initial search for wagons you might be interested in buying.
Q. Where can I buy replacement wagon wheels?
A: If you ever so happen to find yourself in the unfortunate situation of needing to replace your toy wagons wheels, you can easily find them online at Global Industrial, Service Castor Corp, Amazon, and Radioflyer.com.
It may also be useful when replacing your wagon's wheel to search on Youtube for instructional videos, or the owner's manual that you received upon initial purchase of your wagon. At times, along with replacing your wagon's wheel, you may also need to replace a part or piece of the axle that is crucial for the wheels of a wagon to function smoothly. Be sure to look at both the wheel and the axle when determining the problem.
Q: Who invented wagons?
A. The very first toy wagon was invented by Antonio Pasin in 1917 in Chicago. He began with wooden wagons and sold them to local area shops.  In 1933, his wagons became a national hit after the Chicago World Fair. Initially, Pasin began building wooden wagons to carry around his shop tools, being a craftsman at the time, phonograph cabinets had been his main focus to sell.
Popularity with his small wooden wagons began to grow rapidly; he received many requests by folks around him. Until 1923 he had a high demand for his unnamed wooden wagons, that is until the Liberty Coaster Company was formed. Through Liberty Coaster, he began a much faster production of his toy wagon, incorporating mass production techniques learned from the auto industry. Shortly after Liberty Coaster happened, this wagon company was renamed once again, in this case, the named evolved as a tribute to two famous men of that time; Lindbergh and Marconi, and the Radio Flyer company was named Radio Steel & Manufacturing in 1930. This is the time when he began creating metal wagons by utilizing stamped steel. This eventually flourished into what we know today as Radio Flyer, which is a widely known brand for kids wagons.
Q: Why is the staple wagon color red?
A: The simple answer to this question, from Radio Flyer, is that red wagons always sell the very best. For some time, Radio Flyer made wagons that were blue, green, yellow, and colors of many kinds. But red has always remained the most popular to purchase, and eventually, through the natural desire of consumers, this color of wagon became an iconic piece that represents the American childhood.
You can find multiple kids' books written about this question, explaining to children why their wagon is red.
Q: Why are wagons so expensive?
A: The price for anything comes down to its quality of materials and how it is made. The materials used to produce any given wagon will determine its durability, strength, and where the supplies had to be purchased in the first place. Overseas shipping can end up being quite expensive. Toy wagons are usually manufactured at high rates, with this you are also paying for the cost to operate the equipment during manufacturing, employees to assist in the job, as well as paints, and parts of your wagon.
A toy wagon is going to cost anywhere from $50 to $300 brand new. Although children's resale stores across the country can have them priced for much less, maybe even half the cost of a brand new wagon of its kind. If you are on a budget, there are many options to find your kid a toy wagon for his childhood.
Related Posts
15 Best Power Wheels For Kids
10 Top Electric Scooters For Kids