Toys for toddlers are usually more than just entertainment. Little tikes ages 1 to 3 are still processing important information and developing lifelong skills. That's why it's important that their resources are both fun and stimulating. Ball poppers are one such example of this two-for-one. Mobile ball poppers are helpful as children learn to crawl and walk. They encourage children to get up and move while offering some stability. The fun of watching all the colorful little balls jump and roll around provides incentive for children to be mobile themselves. Stationary ball poppers help promote hand-eye coordination, cause and effect, and basic motor skills. Many ball-popping toys also include music or lights, giving little ones lots to take in. Ball poppers come in all different shapes and sizes. Fun animal-themed ones might appeal to toddlers who are already obsessed with furry friends. There are silly cartoon ones, basic push-n'-plays, ones that teach numbers, and cute little labyrinths for the balls to roll through.
Below are 10 of our favorites. We've worked to select the toys with the greatest developmental benefits, highest quality materials, and safest design, so you and your little one won't have to worry about anything but having a ball together.
The Best Ball Popper Toys for Kids Reviewed in 2018
Fisher-Price Brilliant Basics
Fisher-Price Go Baby Go Musical Dino
Playskool Explore N' Grow Busy
Fisher-Price Zoom 'n Crawl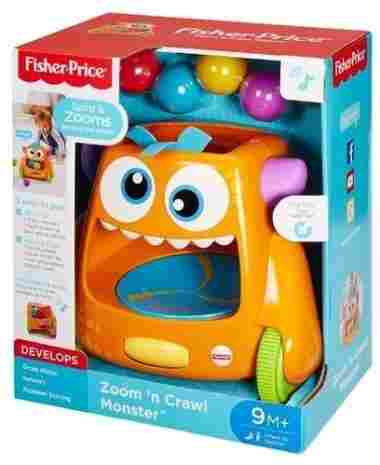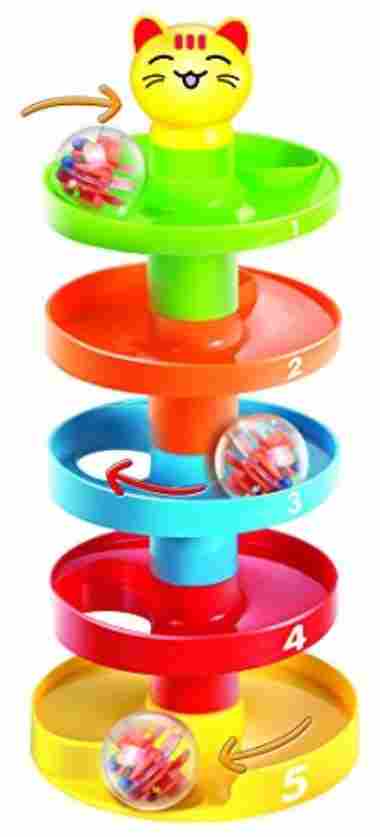 Bright Starts Hide 'n Spin Monkey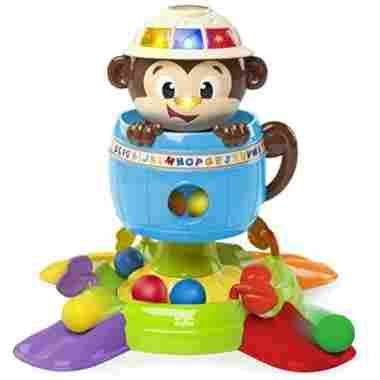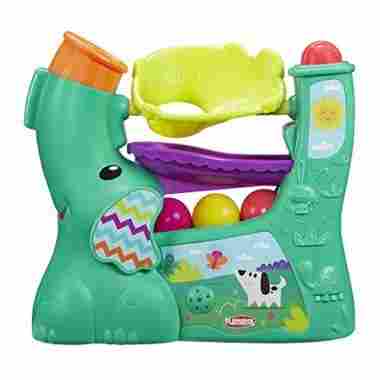 VTech Pop-a-Balls Push & Pop Bulldozer
Criteria Used in Evaluation of the Best Ball Popper Toys
The ball poppers on our list are fun and safe to use for children. The toys are well-made and are crafted by top-notch companies with good reputations in toy making. The launching mechanisms are all attractive to kids. They look nice and shiny, and they have good details. Some of the poppers on our list will be more for boys, and others will be more focused on girls. Some poppers can be used by either boys or girls and a few are meant for toddlers.
The No. 1 ball popper on our list is a corn popper from Fisher-Price. That toy is meant for toddlers and young kids (boys or girls) to use. The design is gender-neutral and the mechanics of the toy are simple. This toy is perfect for kids who have just started to walk and sometimes fall. The lever helps keeps kids steady and helps them work out their legs and arm muscles as they push and make the balls pop.
Toy No. 9 is an elephant ball popper. That toy is also gender-neutral, even though the elephant is blue. Boys and girls love this toy and rightfully so. The elephant ball popper is an award-winning toy that continues to win the hearts of families. It is a game that several children can play, and parents can get into the action too.
Toy No. 10 is the bulldozer. This is a toy that is intended more for boys to play with. But that doesn't mean girls can play with this toy. It is a construction toy truck with push buttons and a push lever. The advertisements show little boys playing with their truck and its accessories.
FAQ
Frequently Asked Questions
Q: What do toddlers find so funny about ball poppers?
A: The popping sound is addictive. When a little kid releases the ball, they are surprised every time. The popping sounds excite them and that is why they go bananas every time they successfully use their toy.
Q: Do adults use ball poppers?
A: The sale and advertisement of ball poppers are directed toward children. But ball poppers are used for other types of groups like physical therapists. They use ball poppers as a tool for speech and language therapy. They have their patients try and count the number of times they popped a ball while they are working on their dexterity and hand-eye coordination.
Q: How do physical therapists help their patients using ball poppers?
A: In speech therapy, ball poppers help patients by answering the therapist's questions. Like telling the therapist where the ball landed. "Did the ball fall behind the chair or next to the chair?" If they do a good job, patients like kids are awarded more balls to pop. Kids also recite back the directions for how to use their toy to pop the balls. And then the fun begins when they begin to pop all of the balls.
Q: Are all ball popper balls safe to use for kids?
A: Unfortunately no. There are some toy balls that are a nightmare for parents. Take a look at this image. Who to feel sorry for the most? The kid with all those balls stuck in her hair or the parent that has to gently pull them all out? The ball poppers on our list are safe for kids to use. But, it is always advised to keep an eye on kids because they can make any toy into a hazardous toy. Kids might still try and swallow those balls or chew on their launcher.
Q: Other than kids, who else uses ball poppers?
A: Ball poppers are used at work and during study time. Adults at a desk often need something to do with their hands. Call-center employees are a good example because they are required to be at their desk for the entirety of their shift. They are known to bring yo-yos, coloring books, toy launchers, sketchbooks, etc.
Q: How early can parents introduce the corn popper to babies?
A: Parents can let their kids play with corn poppers from a very early age. But it is recommended that kids as early as 1-year-old be allowed to play with this toy. Any younger and kids can get hurt because they don't have better control of their limbs yet.