Picture it: Your baby is about to take hold of their first rattle. Will their reaction be one of surprise? Of initial fright? Will they be delighted and give you the best baby smile that you've ever seen in your life? These are all questions that we don't often wonder when giving a baby something like a rattle for the first time but perhaps they should because they're so much more than a small noisemaker. Rattles can do a myriad of things for your child including help their cognitive skills, give them a way to pass time, and improve their sensory focus and skills. All of these are results that we wouldn't normally consider when choosing a rattle because to adults, it's just one more toy that babies shake around and are amused by. In reality, what's going on underneath the surface is so impressive and captivating that we decided to devote a guide to the best rattles out there that can support all of these things in your child and so much more.
Of course, they are also a super fun toy and are something that will keep your child preoccupied and probably give them a few laughs as well. When it comes to baby toys, anything that makes noise and is vibrantly colored is often a winner when it comes to holding their attention. This is a great thing because it means your baby will be alert and focused while learning about their skillset and expanding their sensory exploration. Playing, in general, helps to expand their capacity for learning while encouraging them to engage with their environment and the toys they happen to find within it. Additionally, since babies learn via all five of their senses, rattles provide a great learning opportunity as they explore their way through sight, sound, taste, and touch. This is imperative to their hand-eye coordination as well as their mental development in terms of learning how to use each sense. Therefore, we've looked high and low to find all of the rattles worthy of being shaken in your baby's hands.
10 Best Baby Rattles Reviewed
1. Bendy Ball Rattle Toy by Baby Einstein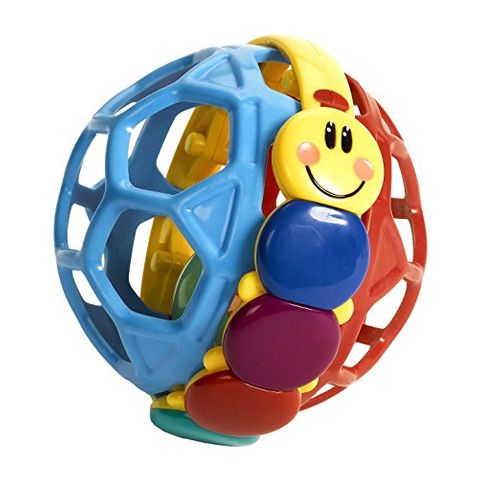 This Bendy Ball isn't for playing catch but it will help your baby expand their sensory skills. It wouldn't hurt their hand-eye coordination, either.
Expand to see more
We applaud any baby brand that makes good use of humor in order to describe their products. Baby Einstein describes this rattle as soon to become "your baby's main squeeze" which is a fun play on a modern term. It happens to be true, however; this ball is intricately designed with a unique webbing pattern that allows it to be easily gripped by babies. This gripping will improve their hand-eye coordination,
dexterity
, and overall circulation when it comes to muscle health. The simple concept has been updated with the addition of a vibrantly-colored exterior and noise that comes from the ball within the rattle. It's easily cleaned with the use of a baby wipe and will surely become a favorite.
Benefits
Due to the larger size of this ball, babies will find it easy to grip onto it and are encouraged to use both hands. It has the ability to roll around which also encourages motion and active play amongst crawling and walking babies.
What We Like About It
Baby Einstein is a leading brand when it comes to smart toys and this shaker ball is no exception. It's perfectly colored to hold the visual attention of your baby and although they'll be mystified as to what's making all of that noise, it will encourage them to play with this ball time and time again.
Pros
Encourages active play
Can be rolled around or played within a stationary position
Easy to clean
Improves dexterity
Durable
Cons
The ball does not roll very well
2. Bright Starts Lots of Links
Similar to a daisy chain, these links are great for encouraging problem-solving skills and increasing creativity within your little one. Watch out though -- they might improve their skills so much that they'll be using these links to stage a crib escape before bedtime!
Expand to see more
Here's a toy that's great for kids all the way up to three years of age. This is definitely not your traditional rattle toy but don't worry, we'll explain exactly why it's on this list. These links can be played with individually or via connecting them together and our focus is on the latter. Once these links are connected, they make a light "clink" sound when banged together, something which babies can produce on their own by simply shaking the chain. This toy works to not only encourage sensory learning but also to provide a way for babies to work on their problem-solving skills. By learning how to link chains together and create even louder and varying noises, what you have are several avenues for learning that will keep your child entertained and enthralled.

Benefits
These links are flexible which means versatility. They can be bent and shaped to fit a variety of shapes all of which your child will get a blast out of stringing together. Links are popular due to their ability their encouragement of motor skills as well as logic improvement.

What We Like About It
There really isn't much to dislike about this toy! It's easily cleaned with the use of a baby wipe or soap and water and is also highly portable. Simply store some links in a diaper bag or bring the entire set along for playdates or long-distance travels.
Pros
Very easy to clean
Can be played with in a variety of ways
Encourages logic and problem-solving
Doesn't create an overwhelming amount of noise
Good for kids up to three years of age
Cons
The gaps can be easily stretched out which reduces the effectiveness of the link
3. Fisher-Price Rattle 'n Rock Maracas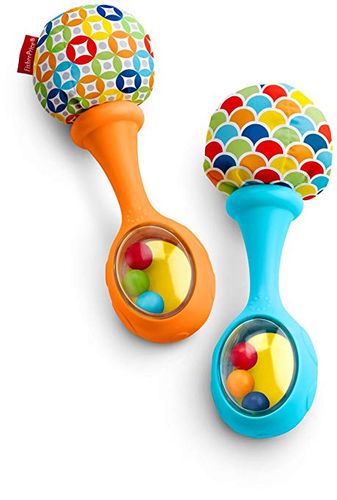 These Maracas are so much fun that your baby will be shaking and dancing in no time! While they expand their music skills and practice hand-eye coordination, that is.
Expand to see more
This is a
brand
that you will definitely recognize as well as a product that you've probably seen more than once. As far as traditional toys get, this is one that every parent should have in their arsenal. Maracas are often the first introduction to "musical" instruments that kids will get because they're easy and fun. This Maraca-style rattle features a soft, fabric top with a hard plastic shaker at the bottom and this is great for a variety of reasons. For starters, your baby is getting exposure to different textiles which will encourage their sense of touch. The top half of the Maraca is easily squeezed and feels soft to the touch while the bottom is hard and smooth, which allows them to gain textual insight into their toy. This will also pose a question to them: Where is the sound coming from? As they dive deeper into their developing problem-solving skills, they'll begin to learn that sound comes from the bottom of the toy. As they inspect their new toy even further, they'll discover that the noise is coming from tiny beads in the bottom of the Maraca, which will be confirmation of that "aha!" moment as their inference skills grow.
Benefits
These music makers are a unique toy even though they are so traditional because they help to foster a love for sound. Babies can make sounds at will and control how loud or soft they are and through this process of learning, they'll be improving three out of their five senses.
What We Like About It
Your baby will get two Maracas rather than just one which really extends the playtime of this toy. As your baby gets older and learns about music, they'll be anxious to create their own using their very first "instrument" in the form of a rattle.
Pros
Comes with two rattles
Helps promote inference skills
Addresses three out of five senses
Encourages music-making
Exposes your baby to textural differences
Cons
Caution should be exercised during playtime since one side of this rattle is very hard plastic
4. Bright Starts Grab and Spin Rattle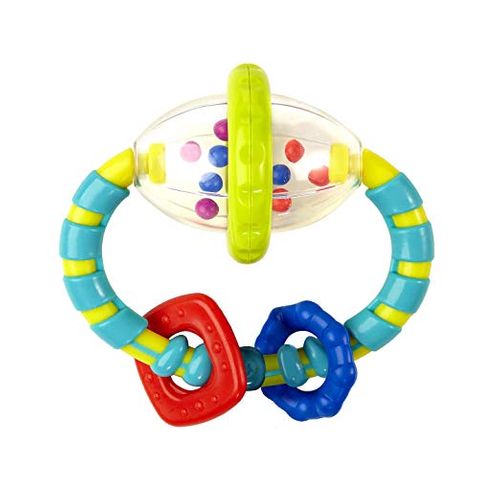 This is one three-in-one rattle that you won't want your baby to miss out on. It features three sides, each corresponding to a need that every baby has.
Expand to see more
Whoa, what is this contraption? We weren't kidding when we said that rattles were becoming more and more advanced and you'll find that many are more of a two-in-one or three-in-one type of toy, such as this one. This Grab and Spin Rattle actually has three separate components that function as one solid toy. The first side, which is probably the most obvious, is the actual rattle. Inside, there are tiny beads that will produce a sound when shaken. On the sides, your baby will find that these indentations are great for teething and are intended for such purposes as well, making it a great option for when those stubborn teeth start coming in. Lastly, the rings around the handles of this toy are designed to engage in visual learning and hand-eye coordination as your baby learns how to slide them around, one by one. This is an inventive take on a spherical rattle and combines several stages of learning as well as one growth stage to produce a toy that's relatively genius.
Benefits
When it comes to finding a toy that's safe for teething but also engages your child in playtime and learning, this is a front-runner. Each side serves a specific purpose and will encourage a new aspect of learning in your baby.
What We Like About It
This rattle takes a simple concept to create something over the top and brilliant. It's a toy that has a long shelf-life as far as playtime goes and one that your baby will probably play with as they enter their toddler stages as well. This toy is also
great for travel
in the car, on planes, etc., to keep boredom at bay.
Pros
Three-in-one toy
Good for teething purposes
Great for traveling
Easily cleaned
Targets various areas of learning and sensory function
Cons
There are no soft parts of this toy and no textural differences
5. O Ball 1-Piece Rattle & Roll Car
Everyone loves car toys, right? Right! These have the extra-added bonus of making that classic rattler sound that you'd expect while looking flashy, something your little one will love.
Expand to see more
Similar to the spherical rattle that we listed earlier, this toy car functions in very much the same way. This toy specifically targets motion and movement (since it is a car, after all) and encourages babies to get up and move around. The wheels on the bottom help to propel this car forward and backward but also have a surprise -- They also function as the "rattle" part of the toy! Tiny beads inside help to produce noise every time the car is moved to encourage continuous movement. This is excellent for babies who are just learning how to crawl and need a little bit of extra motivation. Of course, the toy can be shaken with being rolled as well which makes it appropriate for any babies over the age of three months. Its gridded top allows for easy gripping and helps babies with their hand-eye coordination since this toy is fairly big compared to other rattlers.

Benefits
Babies are active by nature but sometimes it takes a little encouraging in order to push them to start crawling. This toy car might just be the trick in getting them to succeed because as this toy moves and makes noise, your baby might just be curious enough to follow it.

What We Like About It
This car is appropriate for teething and will provide a semi-hard surface for your baby's teething needs. It's non-toxic, making it safe and helpful for encouraging teeth to break the surface.
Pros
Grippable for tiny hands
Teething-proof
Encourages movement
Easy to clean with a baby wipe
The rattle noise is not overwhelming
Cons
There's no guarantee you'll receive cars in the color of your choosing
6. Oball Shaker by Oball
This futuristic rattle has one cool feature that your baby will love: A clear exterior! That means that not only will they hear what's going on inside but they'll be able to see it too.
Expand to see more
If you're thinking that this toy looks a little futuristic and complicated, don't worry -- It's as simple as can be quite traditional in nature. Oball has taken a modern spin on the traditional rattle and designed something that looks like the shape of a rattle but contains beads in the center rather than at either end. By designing the toy in this way, sound carries more evenly and is produced no matter which way your baby shakes his or her toy. By leaving either end of the rattle empty, Oball has taken the liberty of introducing the same great gridded design that we've seen in many other toys on this list. These gridded spheres are easy to grab onto and very easy for babies to hold, shake, and play with. It provides a place for them to put their fingers and have a firm grasp on their toy while they figure out exactly what it is and spend time exploring where this interesting sound is coming from.

Benefits
A unique addition to the design of this toy is the clear exterior. By not having these beads encased in a solid-colored chamber, babies are able to peek inside and see exactly what is making that noise. This encourages visual learning as well as auditory learning allowing babies to draw connections between the two.

What We Like About It
This toy also doubles as a teething toy. It's BPA-free which makes it non-toxic and safe for those days when your baby seems to be putting everything in their mouth.
Pros
Suitable as a teething toy
Clear exterior engages visual learning
Both ends are able to be gripped
The sound is even and clear
Much more traditional rattle-style
Cons
The sound is not very loud
7. Lamaze Mortimer The Moose
This is one moose that we absolutely adore because he has some great benefits in store for your baby. With five difference sensory-targeting features, there's no way this toy can lead to boredom.
Expand to see more
There's no denying it -- Mortimer is one of the most perfect baby toys we've found for triggering nearly every sense that your baby has. There are plenty of different textural, visual, and auditory differents that are seen on this toy and all of them serve a purpose. This is the type of toy that would be excellent for restless babies who seem to lose interest in average toys quickly because Mortimer is anything but an ordinary moose. Let's start at Mortimer's head and work our way down. His trademark moose antlers are intended for teething purposes since they're semi-firm and provide a flat, safe, and non-toxic space for your baby to bite down on. Following that, you'll find a clip attached to Mortimer's back that allows parents to clip this toy to the handle of a stroller, a
diaper bag
strap, or even a car seat. His feet serve a purpose as well; each leg has been knotted to add textural interest as well as visual interest with the introduction of various fabric patterns on each hoof. In his stomach, babies will be delighted to find that it actually squeaks! This is great for auditory listening and improvement of your baby's audio skills. Lastly, Mortimer has rings for a tail that make this toy a "rattler" of sorts. When knocked together, they make somewhat of a "clack clack" sound, which is interesting and different.
Benefits
There are so many sensory aspects to this toy that's it's almost overwhelming which is great news for your baby. They'll never run out of things to explore with Mortimer and he'll soon become one of their favorite on the go toys.
What We Like About It
The simple additions of things like the teethable antlers and squeezable stomach make this toy one of a kind. Lamaze has gone above and beyond to create a toy that appeals to nearly all the senses.
Pros
Works for almost all the five senses
Produces a variety of sounds
Will peak a child's curiosity and interest
Plenty of textural differences
Great for travel
Cons
It can be challenging to wash with so many textures
8. Skip Hop Explore and More Roll Around Rattle Hedgehog Toy
Hedgehogs are cute and so is your baby, so this is a match made in heaven! In all seriousness, this is a toy that's great for encouraging movement via the use of sound.
Expand to see more
If there's one thing babies love, it's cute toys. This hedgehog by Skip Hop is intended to encourage movement and motion in babies while providing an appropriate relief from teething as well as an auditory stimulant. The beads located on the outside of the toy provide the "rattle" sound that will encourage and engage babies. As this toy rolls around on the ground the sound will become more prevalent, encouraging a "follow the leader" type effect. When it's a teething day, babies can safely chew on this toy without worry of it being toxic or containing anything harmful. Additionally, this toy can be rolled around and played with while sitting for babies who aren't comfortable with crawling yet. It's a great starter toy for babies three months and older and will surely be one they'll come back to.

Benefits
With so many holes throughout this toy, it's very easy for babies to grab and hold onto. This makes playtime fun and engaging as they figure out different ways to hold and roll around their new ball.

What We Like About It
The addition of beads on the outside of this toy was so interesting to us because normally, anything that "rattles" is on the inside. That adds a level of intrigue for babies as they notice that they can slide the beads back and forth on the outside and also realize those beads are responsible for producing the sound they hear.
Pros
Interesting design
Safe for teething purposes
Large enough to hold onto
Encourages movement during playtime
The beads can be slid back and forth
Cons
It's very top-heavy and won't sit upright
9. VTech Baby Rattle & Sing Puppy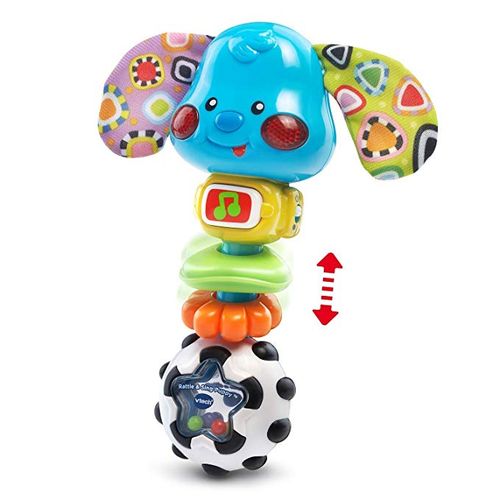 VTech appeals to a wide variety of ages and this toy appeals to a wide array of senses and areas of learning. This is one smart puppy that has plenty to teach your growing baby.
Expand to see more
Similar to Mortimer, our moose pal, this Rattly & Sing Puppy features a wide variety of sensory qualities that far outweigh anything that we've seen. Each level of this toy has a different texture and visual appeal which keeps babies interested visually. As far as auditory stimulation, this toy is battery-operated and features over 20 different songs for babies to listen to and even sing along with. On either side of this adorable puppy's head, you'll find ears that are crinkly and produce yet another sound to contrast with the melodies and songs that this toy sings. The fun doesn't end there, though. This smart puppy also knows phrases and sounds and even has coordinating lights in order to further engage your baby and hold their attention for hours at a time.

Benefits
This is one toy that's great for older babies but would really suit any child over three months of age. It's compact and has a plethora of different options, all of which are great assets to a child's learning.

What We Like About It
VTech rarely disappoints when it comes to toys that encourage learning and growth. This singing puppy is perfect when it comes to kids who are easily distracted (as many babies often are!) because just when you think you've found everything, there's another aspect to be discovered.
Pros
Babies will not get bored easily with this toy
It sings, talks, and lights up
Each ring varies in texture and shape
The ears provide a contrasting sound
It's suitable for kids up to two years of age
Cons
The songs and phrases can be a bit loud or overwhelming for a young baby
10. The First Years My First Rattle
It's simple yet the perfect solution to your baby's first real toy. Not only would this make a great first rattle, but it's in the running for being a favorite toy of newborns as well.
Expand to see more
Finally, we have a toy that's simple yet effective for newborn babies. The My First Rattle by The First Years is exactly what it sounds like and is designed in plushie form which adds a level of safety that the hard plastic or rubber toys can't compete with. It's intended to be a great starter toy and plush toys such as this are so popular because there's no risk of a child hurting themselves if they accidentally bang it against an arm, leg, or even their head. The rattling inside this toy is subtle yet captivating for a newborn and each color is vibrant and bright, encouraging visual focus while they explore their new toy. This toy can be used for teething as well though it will need to be washed thoroughly in between uses. Overall, it's a safe and standard option to encourage a newborn's newly discovered skills and senses.
Benefits
The soft exterior of this toy adds a level of cuddly nature that the other toys simply don't have. It's an understated yet popular toy for newborns since it will engage their focus without becoming overwhelming.
What We Like About It
We love that this toy is so visually stunning. It's a great addition to a play mat or while your baby is sitting in their
rocker
and can even be taken in the car. Overall, it's a great first toy or gift to expecting parents.
Pros
Visually appealing
Sounds are not harsh
Its round design encourages hand-eye coordination
Can be washed easily in a machine or with soap and water
It's okay for teething
Cons
Some parents think it's a bit pricey for such a simple toy
Criteria Used in the Evaluation of the Best Baby Rattles
Rattles are a somewhat misleading newborn toy — In the best way possible, that is. While they began as something to simply grab the attention of a child and provide them a toy that was as stimulating as it was interesting to look at, they've grown into much more than that. Studies have shown that toys that are heavy in the sound, visual, and texture categories are great for improving sensory skills and encouraging babies to do more exploring. With one shake of a rattle, your baby has multiple things going on inside their brain. For starters, their attention is being directed to the direction of the noise they've made. Following that, their focus will be completely on the rattle in question, narrowing their attention span down to what's right in front of them. Once they've focused, their inquisitive nature takes over and they begin the process of sensory learning where they'll continue shaking the rattle, observe it, or make the decision that it's uninteresting. All of these things help to further the development of your baby and toys are often the first thing that will jumpstart their curiosity and encourage active play time. In order to find the best ways to do this, we first had to seek out the best rattles with a reputation.
How We Did It: Step One, No Boring Toys
No one wants a boring toy! At least, this is what pushed us to begin the journey through the expansive world that is baby rattles. We immediately discarded those that were boring, colorless, and didn't have a crisp and clear sound when shaken. This was probably the easier part of the process because we used our knowledge of commonly known toy brands in order to weed out what was worth it and what wasn't, which led us to a solid group to choose from.
How We Did It: Step Two, Safety First
Of course, any toy for a baby must be safe when you know it'll probably end up in their mouths at some point. Therefore, all of the rattles that made it to our list needed to be 100%-certified safe and non-toxic. This proved to be an easy process as well because if there was no guarantee, it was knocked off the list. Through the process of elimination, this helped us to determine what to get rid of rather than what to add and proved helpful in shaping our list in-depth.
How We Did It: Step Three, The Engagement
We're not talking a wedding engagement, though — We're talking about what happens when a baby fully engages with a toy. This was something that proved to be the most challenging of the steps because nothing is for sure. Every baby has a different sense of what's interesting or entertaining to them so, in order to comply with this, we had to take the good of the many. Simply put, we kept the rattles that had an overwhelming good reputation with parents and caregivers as having a successful first run. This allowed us to incorporate all types of toys and not just traditional Macarena-style shake toys (although those are on our list!). We found that including a diverse range of options would prove to be best since parents, such as you reading this right now, would be able to go through and choose what is best suited for your baby.
Think About It: Physical Development
We've already established that babies learn cognition and improve mental stimulation by playing with a rattle, but what about the physical benefits? There are a few more processes going on deep within your baby's brain and many of them are coordinating with their physical abilities. By grabbing onto a rattle, your baby is learning to grasp something — This is strengthening their hand and finger muscles, allowing for dexterity to take over and encourage muscle growth. They'll very quickly become aware of their ability to reach out and hold things in addition to the ability to shake and move them. Rattles encourage this through the sense of sound which is what engages babies to begin with. Their visual senses are also being engaged when they shake a toy and need to focus on it in order to track motion, which improves their depth perception as well. When all of these processes come together they can be highly beneficial in setting your baby on a great path toward skill development.
Think About It: Coordination and Mental Connections
The connection that happens when a baby realizes an object is making noise and when they realize they're responsible for it is a key factor in making an inference. This is a form of problem-solving and encourages them to process what's happening in such a way that they're forced to draw the connection. By repeated shaking of the toy at hand, they'll hear a noise. After hearing this noise, their natural curiosity will prompt them to shake their toy again and if they hear the same noise, the inference will be confirmed that they're responsible for making it. This is an excellent way to encourage basic learning skills and push your baby to act on instinct because this is how they learn. In the process of solving the mystery noise, they'll also be improving their hand-eye coordination which is something babies are never too young to work on.
Think About It: Visual Learning
Vibrant colors can be a huge part of learning for babies who are several months old. By this point, bright colors are more intriguing than they are overwhelming and they're past the stage where monotones help them to focus. Vibrant, flashy colors can help to draw their attention and hold it while they discover all the things their new toy can do. Additionally, shapes are a great way to help your baby with their sensory skills. Geometric differences are interesting and prompt their curiosity and these go hand in hand with textile differences as well. Your baby is still very much engaged by their sense of touch at this point and will use that to its full extent. Differences in silicone, rubber, or plastic will send messages back to their brain about what type of toy this is, how it feels, what it does, and will encourage their memory skills as well. All of these things aid in knowledge absorption which is huge in the way of learning.
FAQ
Frequently Asked Questions
Q: How can these be washed?
A: That's easy! Rattles can be washed with any baby-safe wipes. This is the best way to keep them sanitary because any moisture will dry up quickly, it's fast, safe, and effective.
Q: What if my baby is scared after shaking this rattle?
A: It is a possibility that your baby might not like the sound each rattle makes. This is why finding toys can be a bit of a trial and error process, but don't fret — There are plenty out there to try. If this happens, simply put the rattle aside and try when your baby is a bit older, or seek out a rattle that's not too loud or overwhelming.
Q: Is there a high chance of this rattle breaking or becoming a choking hazard?
A: We can understand why that would be a serious concern but rest assured that these rattles have been tested thoroughly. All of the brands listed here are trusted and put forth products that easily stand up to everyday play.
Q: What age range are these good for?
A: Rattles can be great for newborn babies all the way up to two years. After that, some children might begin to lose interest and need more advanced toys to suit their age group.
Q: Are any of these useful for teething?
A: We actually have a separate list for teething products! While these are non-toxic, they're not recommended for the use of teething relief.
Q: Is there a certain type of noise I should be looking for with a baby of only three months?
A: Any noise will likely garner attention from your baby. At that age, anything loud and sudden will distract them, so the type of noise a rattle makes is somewhat irrelevant as long as it's making noise, period.
In Closing…
With so many options for rattles that will grab your baby's attention and encourage such elaborate skills, it would be crazy not to provide them with this helpful little toy. Your baby will gain something from playing with it and it's no longer just a way to distract them or put a stop to fussy fits. Nowadays, these toys are advanced and encourage positive learning skills and are much safer than they once were, making them the ideal first sensory toy.