10 Best Musical Baby Toys Reviewed in 2019
last updated
Aug 14, 2019
When babies fall in love with music, it is not scientifically proven that they will be smarter, but it does prove that they will have a love that will last a lifetime. People for many years have said that introducing music to babies at a young age is ideal for their development and it is. Have you ever seen a baby shake their hips and wave their hands to the beat? The songs, rhythms, and beats affect children in different ways. For some, it promotes their physical development with gross- and fine-motor skills, while for others it inspires them to learn their colors and shapes while playing with musical toys. The following compiled list has the best musical toys for your babies to rock out on!
In a Hurry? The test winner after 12 hrs of research
Busy Learners Activity Cube
Why is it better?
Features five sides of interactive play
Motion sensor plays fun sounds when cube is moved around
Stimulates development of fine motor skills
Encourages little ones to sit up and play
Keeps toddler engaged and entertained with various activities and sounds
In a
Hurry? Editors choice:
Test Winner: Busy Learners Activity Cube
17
Researched Sources
12
Hours Researching
16
Products Evaluated
Ease of Use
Educational Value
Entertainment Value
By Default
10 Best Musical Baby Toys Reviewed
1

. Busy Learners Activity Cube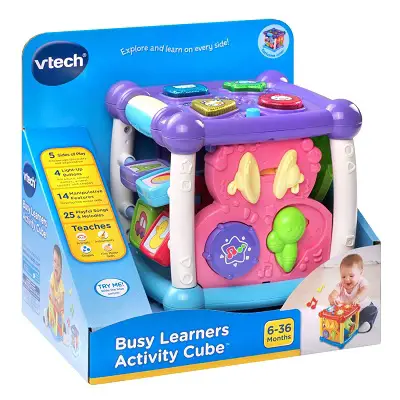 Features five sides of interactive play
Motion sensor plays fun sounds when cube is moved around
Stimulates development of fine motor skills
Encourages little ones to sit up and play
Keeps toddler engaged and entertained with various activities and sounds
Music has a low volume
Requires batteries (2 AA)
Tired of hearing the same four songs on repeat while your toddler fiddles with their favorite toy? The VTech Busy Learners Activity Cube has 25 songs to cycle through, so even if the tunes get stuck in your head--at least you'll have a little variety! There are fourteen interactive features, including ones that help children to learn animals, letters, and instrument sounds! The different sides of the cube challenge various parts of your child's brain and ask them to develop their fine motor skills as well. This has been a fan favorite for a long time and we understand exactly why!
Read more
Ease of Use
It has 25 baby-friendly songs and melodies as well as unique animal sounds. It has motion sensors which activates very fun and enticing sounds to encourage your baby to start crawling towards it.
Educational Value
The VTech Busy Learners Activity Cube is purple and ready to entertain little ones. It features five sides of encouraging discovery play and exploring. There are four buttons that light up and play animal sounds, introduce animal names, and say the shapes. This is a great preschool learning toy that features 14 different interactive activities that stimulates development of fine motor skills and helps encourage the little ones to sit up and play. It also includes a motion sensor that plays fun sounds when the cube is moved around. This encourages their attention and can even promote crawling to the toy when ready.
Entertainment Value
It plays 25 different playful tunes that keep them engaged. It is made of BPA free plastic and has an adjustable volume control along with an automatic shut-off. A 5-sided activity toy complete with highly interactive features and buttons that light up, the Busy Learners Activity Cube is what you will get for your baby if you want a toy that will grow with him or her.
2

. Baby Einstein Musical Toy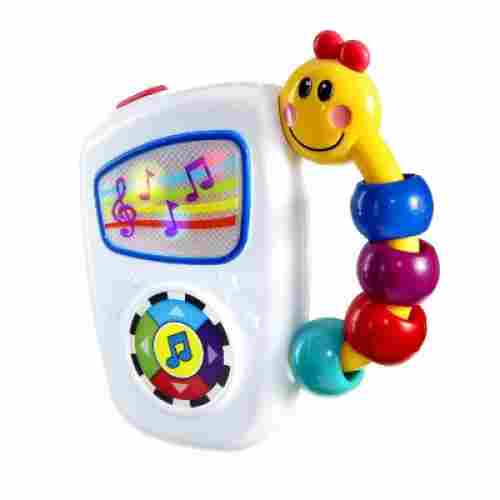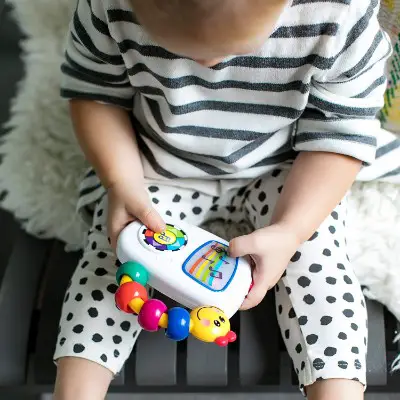 Easy to hold caterpillar handle
Features 7 classical melodies
Promotes visual perception
Stimulates gross motor skills
Encourages child-parent interaction
No volume controls
Lights are not very bright
You can now get the Baby Einstein Take Along Tunes Musical Toy and help your baby develop his or her musical appreciation. The take-along toy functions more like a baby rattle complete with a caterpillar-designed handle with very colorful bead chasers perfect for your baby's tiny hands.
Read more
Ease of Use
It's small and can easily fit in your pocket or even your bag's side pocket. It has lights and sounds that should come in handy for developing your baby's brain. Best of all, it's easy to grasp especially with the small hands of your little one.
Educational Value
It boasts of 7 baby-friendly melodies that can be easily switched using a large-button interface. It also has a LED-like display that shines with very colorful lights to enhance your baby's visual perception while ensuring auditory stimulation.
Entertainment Value
We all know children love music, and songs are a bit longer than tunes on many baby playthings, so it's not annoying you by switching all the time. Your baby will be entertained by the lights that flash as the music plays. This colorful interactive music box involves pushing a button to make it play, strengthening muscles in your baby's hands and arms. The easy grasp handle and small size make this toy a cinch to pack so it can travel with you. The familiar songs are fun for you to remember and fun for your child. You will love the quieter classical music, too, for nap time. You and your baby will fall in love with this sweet little music center.
3

. VTech Pull and Sing Puppy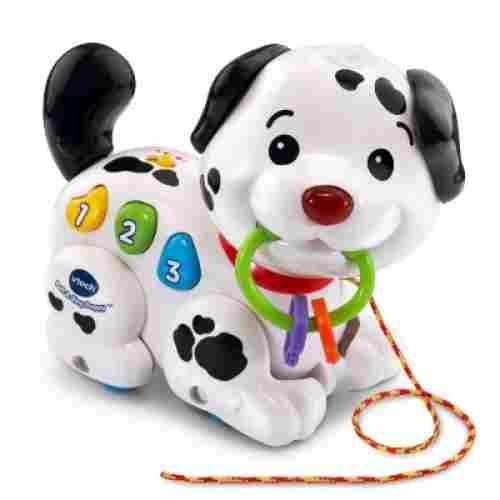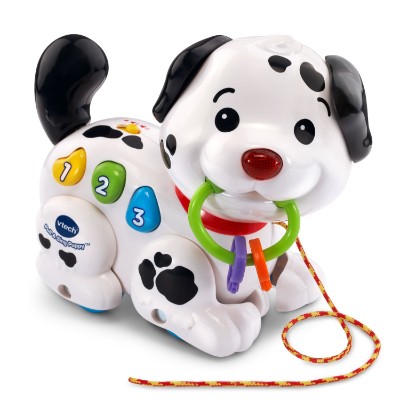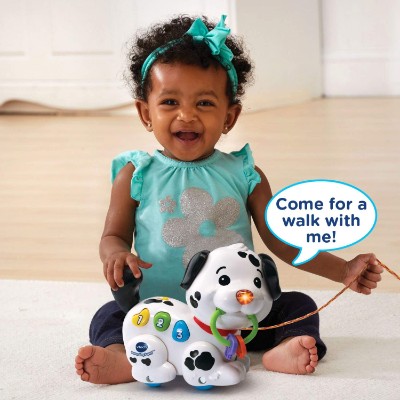 Teaches numbers and colors
Lights up and moves
Plays music when you walk him
Encourages children to get up and be active
Issues fun interactive prompts
Falls over easily (not a sturdy base)
The string is too short for some to comfortably stand and pull
This adorable pup makes a great musical pal! Children can pull or push the puppy to activate musical sounds. His nose lights up when he sings, and his little legs move, too. Colorful buttons help teach numbers as well as improving fine motor skills. With a wagging tail and moving ears, this little guy has multiple features to endear him to your children.
Read more
Ease of Use
The VTech Pull and Sing Pup is simple to operate! Pull him along on his leash, or give him a push and he'll play music and light up. Pushing the buttons on his side produces additional sounds and helps kids to learn numbers. His base is short though, so he can fall over pretty easily when your little one walks him.
Educational Value
This interactive pup doesn't just make noise and strut around; he helps kids learn, as well. He can issue prompts and commands such as "find my yellow button". Children quickly learn to associate words with visuals and may even pick up on puppy lingo too. (Don't be surprised if they start barking!)
Entertainment Value
Who can say no to a puppy? And this puppy is interactive and loaded with fun features! We love the realism in the design; when you pull him along, his little legs move. He can also wag his tail and wiggle his ears. Kids will love walking this sweet musical boy!
4

. LeapFrog Rainbow Tea Set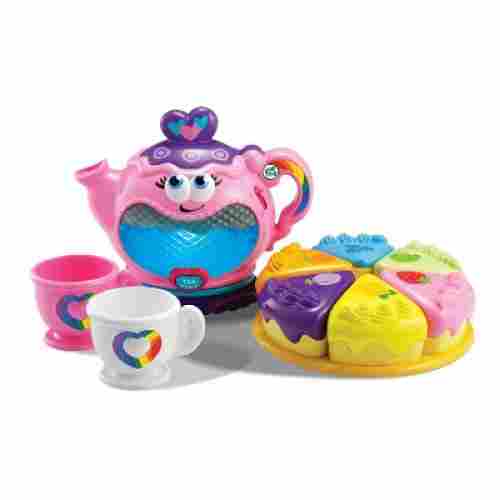 Teaches life skills like conversing, pouring, helping others
The teapot can teach colors, songs, and counting
Use this set to strengthen your parent-child bond
For kids 1-3 years old
Comes with ten pieces, 50 songs and phrases, and more
Adults may find the toy noisy and distracting
Sometimes the songs and tea colors don't match
The teapot is very colorful and teaches kids relationship skills as well as preschool subjects like counting and colors. Kids find this set to be a blast, and they love the lift up, peek-a-boo cover that reveals a mirror.
Read more
Ease of Use
Do you remember having tea parties when you were little? Many of us do and had lots of teatime fun. Who wouldn't want to pass that lovely experience on to their children? This Leap Frog tea set has the 'adorable' quality throughout. It's so colorful and bright. When the tea brews, the teapot sings songs and talks, teaching colors, and counting.
Educational Value
Parents can form a stronger bond with their daughters by helping them understand what the teapot is teaching. Your child can learn colors and matching, how to serve the tea and cakes, and even how to count. These actions will help them when they enter preschool. They will know how to share and make friends, and count and match colors. Pouring tea and serving cake enhances motor skills while listening to the 50 songs and phrases will teach hearing and language. You and your child can carry on conversations over tea; then they can do the same with their friends. This is a teachable moment for your child. Your little one will be thrilled and have a wonderful time learning about tea.
Entertainment Value
The pot and two tea cups come with a tea cake whose pieces can be removed from the platter. Picture your little girl with her friends gathered around the table as she pours tea and delivers slices of cake to her guests. The teapot comes with two cups and a tea cake. It makes pouring sounds and whistles when the tea has finished brewing. The six colors change as your child watches the tea brew, and she can sing along to the tea brewing songs.
Features a set of two maracas, one green and one yellow
Colored beads make fun sounds when shaken
Help development of gross motor skills
Strengthens sensory skills
Stimulates hand eye coordination
Soft cloth pom pom is hard to clean (not dishwasher safe)
Does not make a very loud noise when shaken
Shake, rattle, and roll! These Fisher-Price Maracas feature soft pom poms on their ends. The difference in texture helps to keep baby stimulated as they explore. The rattle part is transparent so baby can see the colorful little beads rolling and jumping around inside. They're the perfect size for tiny hands and can be especially useful to tiny teethers!
Read more
Ease of Use
These lightweight maracas are the perfect size for your little one's hands to grasp and shake. Designed with soft pom poms on the end, you won't have to worry about your baby hurting themselves if they accidentally hit themselves while shaking.
Educational Value
Your child can shake them and make noise, bring out their inner musician and strengthen gross muscle movement. Your baby's muscles will grow stronger. Eventually, his arms will be able to support him. He'll become your little superhero as his eye-hand coordination improves, and your Mom heart will swell with pride. The soft ends of the rattles don't make noise. They are soft and make a great teether when one is needed. Your child will love the soft, tactile experience. Babies learn by touching multiple surfaces, and the maraca rattles will take them a step closer to growing up.
Entertainment Value
Like the real maracas, it comes in two per set. One end of the maracas is a pom-pom bottom with colorful balls that rattle and create the maracas effect. The other end is made of soft chewable material perfect for stimulating tooth eruption. Fisher-Price brings back happy memories for many of us, and they still make high quality, safe toys. These maracas are rattles that help stimulate and expand a baby's senses by exposing them to new parts of their environment.
6

. Hohner 4 Piece Baby Band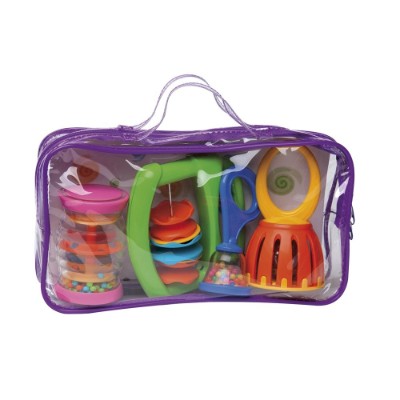 Includes 4 piece set (small tube shaker, small maraca, little rattle, and cage bell)
Comes with vinyl carrying case
Stimulates gross motor skills
Builds hand eye coordination
Promotes accelerated brain development
Suggested washing by hand only
Smaller in size
These little rattles-turned-instruments are colorful, easy to use, and made from BPA-free materials. They're also award-winning! Granted the 27 Creative Child Magazine Top Toy of the Year Award, this package includes four noise-makers: a mini rainbow shaker, a tiny maraca, a baby rattle, and a cage bell. That's enough for your family to start its own baby band!
Read more
Ease of Use
The Hohner 4 Piece Baby Band is a perfect musical toy to let a baby shake to create fun sounds. The set includes a small tube shaker, small maraca, a little rattle, and a cage bell. It also comes with a bag made from vinyl that makes a great carrying case for the set. All the items in the Baby Band set have been tested for safety and are great for children over the age of 3 months.
Educational Value
When a baby plays with the Hohner 4 Piece Baby Band it helps stimulate their gross motor skills, builds hand eye coordination, and promotes accelerated brain development. Making music is fun for babies and this is a great set to get them inspired.
Entertainment Value
If you feel like your baby is going to be a rock star someday, then you have to get the 4-Piece Baby Band by Hohner. It includes a cage bell, a baby maraca, a mini rainmaker, and baby tambourine, perfect for babies as young as 3 months old. Your baby can now enjoy the wide range of different sounds. The tambourine is actually a baby rattle while the rainmaker is marketed as a mini rainbow shaker.
7

. Rhyme and Discover Book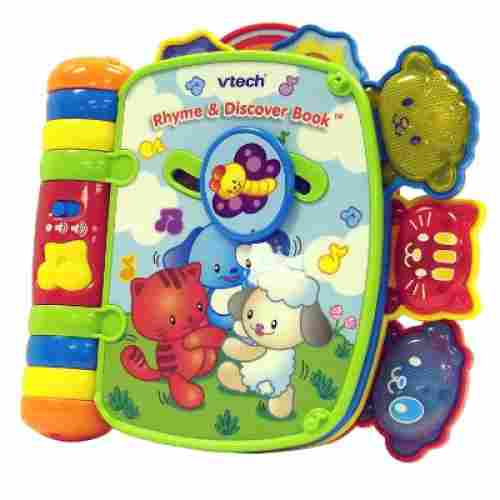 Interactive learning book made of BPA free plastic
Contains 7 well known nursery rhymes
Encourages verbal skills
Promotes parent-child interaction
Strengthens both gross and fine motor skills
Only plays half of each nursery rhyme
Master volume is low
The VTech Rhyme and Discover Book is only a few pages long but it's full of fun activities for kids! Three light up character tabs (a baby lamb, a kitten, and a puppy) help guide you through the book which features seven popular nursery rhymes and four moving pieces. This little book packs a lot of stimulation for young hands and minds. Plus, it's made of safe, easy-to-clean plastic.
Read more
Ease of Use
While VTech is known for premium products, the usefulness and versatility of this toy is considered to be a real bargain for its price. It is made of BPA-free plastic so it is safe and very easy to clean. The large and colorful buttons plus interactive sounds make for an overall sensory learning experience for your baby. Best of all, your baby will be using it until he or she gets to 3 years of age.
Educational Value
The VTech Rhyme and Discover Book is a colorful 6 paged book made from BPA free plastic. The side tabs of the book feature 3 characters that light up for a fully interactive experience. The book contains 7 nursery rhymes and movable pieces within the pages plus 20 sounds, phrases, and songs. When the lights and sounds start the book will also ask open ended questions to inspire cognitive learning skills for your baby and toddler as they learn. The book is completely safe and easily wipes off when playtime is completed. The book measures about 8 inches by 8 ½ inches making it great for little learning hands. When using this musical toy book as a learning experience it will encourage verbal skills, promote parent-child interaction, and strengthen both gross and fine motor skills for a wonderful learning experience.
Entertainment Value
There is so much going on with this activity toy from trusted V-Tech. This company has been around for a long time and diligently matches their toys to stages of child development. Colorful lights, rhythmic reading, and upbeat sounds are the highlight of this cute book. Your child will love pressing the buttons, discovering that she is the one who is making the melodies. She is sure to squeal with delight as she learns new sounds and then connects the lights to the music. The five full pages will give you time to bond with your child as you study the rhymes and songs together.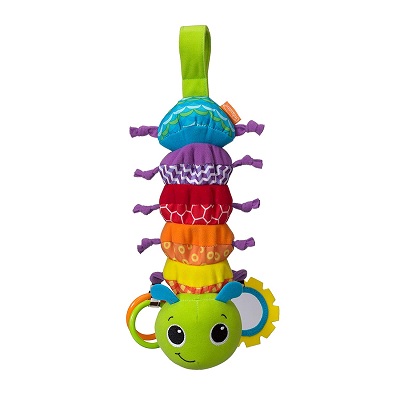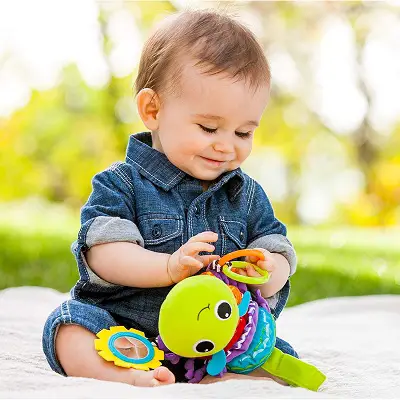 Musical bug that features 2 clacker rings, a mirror, and knotty legs
Plays music for 90 seconds when pulled down
Encourages gross motor skills
Accelerates brain development
Stimulates visual perception
Surface is hand washable only (cannot be washed in dishwasher or washing machine)
Melody is short and just repeats for the 90 seconds
A very ingenious way of introducing melodies to your baby, the Hug & Tug Musical Bug is more like the musical toys of old where you have to pull on a string to hear the melody. And as the melody progresses, the string winds up back again. This is the same principle of the Hug & Tug. Imagine a huggable colorful caterpillar that you can hang over your baby's carrier. Babies pull on it to its full length, let it go, and then listen to wonderful melodies as it slowly winds up back to its original position. The Hug & Tug also comes with a peek-a-boo mirror and clacker rings. This should be a very interesting piece of interactive music for your baby.
Read more
Ease of Use
The velcro strap makes this a great on the go toy as it can easily be attached to strollers and car seats. Your baby will increase their fine motor skills as they work to pull down the bug.
Educational Value
The bug also features 2 rings that clack together as the bug moves, a mirror, and legs that have knots on the end for sensory skills. This is a great musical toy to entertain a little one at home or on the go. This toy encourages gross motor skills while stimulating visual perception and accelerates brain development. This is a cute playful toy to include on any littles ones car seat.
Entertainment Value
The Infantino Hug and Tug Musical Bug is a huggable bug that plays music after it is pulled down. This is a great toy to hang from a car seat, from an activity center, or even from the stroller. When pulling down on the rings the bug slowly moves back up while playing music for 90 seconds.
9

. Munchkin Mozart Magic Cube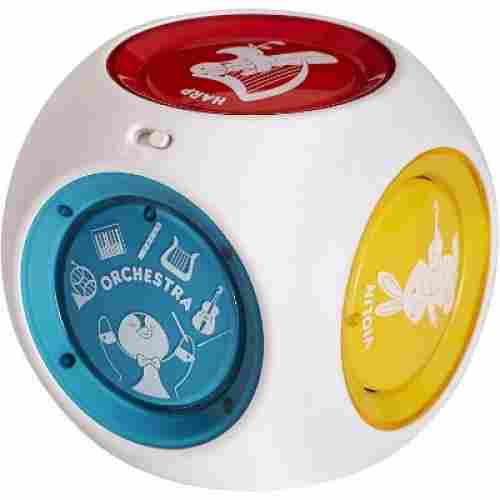 Cube-shaped musical toy
Features classical music by famous composers
Includes instrumental sounds
Lights light up to the tempo of music
Promotes fine-motor-skill development
Battery tray and door do not hold batteries securely
When side buttons are pressed, the whole song is played before it stops, no short version
Mozart is a popular choice among parents introducing their babies to music. It could be the rich, lush sound that little ones like, or how soothing or conversely exciting some of his work can be! This cube takes eight Mozart classics and breaks them down: it plays the sound of five different instruments separately (French horn, piano, harp, flute, and violin), or you can press the final button and hear all of them together as an orchestra.
Read more
Ease of Use
The cube plays five different sounds--the horn, harp, flute, piano, and violin. On each side of the cube, it has a button that plays each of the instruments solo and then also plays the famous compositions. When the music is playing, the buttons light up and shine with the tempo of the music. All of the corners on the cube have been rounded and it is easy for them to pick up and hold.
Educational Value
All babies develop at their own rates and providing them with toys that allow them to explore and master those developmental milestones helps encourage the rate of their development. Toys that promote their fine-motor-skill development allow them to practice and master their hand and finger skills through a fun playtime activity.
Entertainment Value
The bright colors and lights really attract the little one to this toy and once they start playing with it you will find that it is hard for them to put it down. Introducing them to classical music will never be more exciting.
10

. Discovering Music Activity Table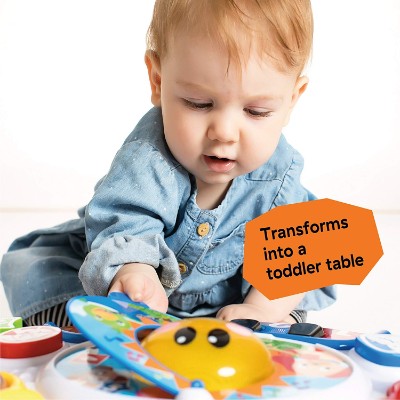 Activity table designed around their discovery of music
Features colored piano keys with numbers
Includes guitar, drum, and horn sounds
Grows with them; can be used for sitting and standing play
Boosts color recognition
Not stable enough for babies to pull themselves up on
Music sounds and songs are very short play time
The discovering music activity table is perfect for budding composers! The light up piano keys teach numbers and colors. The table also includes the sounds of the drum, piano, French horn, and guitar. The table is tri-lingual so you can switch between Spanish, French, and English as baby learns. This cute table is the perfect height and allows baby agency to make their own noise and music!
Read more
Ease of Use
Babies just love music and are really drawn to things that make or play music. That is what makes this discovery table so interesting to them. They will discover, play, and come back to the table day after day. The table is a great way to introduce your baby to the world of creative fun. They are able to make their own music by tapping the keys on the piano while also learning their numbers and colors. Then they can move onto the guitar, the drum, and even play the sounds of a horn. The center of the table offers a music book that the little ones are able to flip through the pages and listen to music, watch the lights, and switch between the modes.
Educational Value
Musical toys are great for the development of babies, but when you combine music and color recognition they are getting the best of both worlds. Music along with colors helps babies recall easier and learn faster.
Entertainment Value
Watching this table grow with your children is so rewarding. When they are first starting to play with the table, it sits on the floor for them to play. Then, once they learn to stand, watching them stand at the table and bang away is very cute, plus super-entertaining for them.
Criteria Used for Evaluation
Ease of Use
The 10 toys listed here have the best ratings based on the criteria that were set by our panel. The toys were then reviewed by each of our experts to make sure that they have the highest standards and offer a great learning experience along with being safe. We want to make sure that safety and quality are just as important as the experience. This list will give you great ideas for musical toys.
We selected the following products considering the following factors: their benefits toward learning, their quality and durability, the number of sales, negative hazards to health and positive feedback from customers. With these points, we have narrowed down the list to the best 10. Hopefully, you will also find value in this list just as thousands of other moms and dads have.
Educational Value
Music is a tool that is powerful in the development of babies. Musical toys help stimulate cognitive skills and motor skills. When babies are playing with musical toys, explore cause-and-effect learning skills along with stimulating neural connections. When they are pressing buttons or shaking a toy, they see that the cause has an effect. They then build the neural connection in their brain. Exploring musical toys and instruments is a great fun and easy way for babies to learn along with building gross- and fine-motor skills.
Musical toys help baby practice gross- and fine-motor skills. The finger motions, the hand movements, the dancing, and playing help build strong motor skills. These are all necessary for their development. It also helps build control over those muscle sets as well. Musical toys and instruments are playful and easy to get babies engaged. The experience will build their cognitive skills and motor skills as well as encouraging baby-adult activities.
Entertainment Value
When you introduce babies to music at a young age, you give them the experience of learning sounds and spending quality time together. When you introduce music to babies at a young age, you also help their language development. Language is lots of sounds put together to form words. When children are introduced to music at a young age, it gives the power to speak and then even start to create little songs of their own. Music helps create strong pathways in the brain.
When introducing music to babies you also build a strong bond and spend quality time with them. You can simply play with the toys to help them learn, hold them and dance to music, or even sing to them. This is a great time for adult-baby interaction. It displays to them the importance of time together as well as building a strong bond between music and their emotions. Introducing babies to music at a young age is a great way to introduce language and build strong relationships that will last a lifetime.
We use toys to help us form and strengthen our social bonds, reinforce or remember lessons from our childhood, rediscover our true identities and real passions, explore our meaningful relationships, decorate our living areas, and even practice our skills as well as exercise our bodies and minds. As toys are a very important part of our lives, starting it right is very crucial. And when we mean starting it right, that means playing with the correct toys right from infancy.
Most Important Criteria
(According to our experts opinion)
Experts Opinion
Editors Opinion
Users Opinion
By Default

Parents, Did You Know?
Musical toys stimulate cognitive development in babies by building neural connections in the brain and stimulating brain activity. Toys that play music or musical instruments build strong neural connections in the brains of babies by helping neurons better transmit signals.
Parents, Did You Know?
Over time, studies suggest that this helps information to be processed faster and can make it easier for them to learn. At a young age, most of neuron connections are created so you want to make sure they are stimulated as much as possible. Exposing babies to music also helps stimulate brain activity as well.
Other Factors to Consider
Emotional Development
When musical instruments are played with, music is played, or a toy creates a musical sound, it is stimulating the brain. Stimulating the brain of babies helps them create logical-thinking skills and helps with problem-solving skills later in life. It is suggested from experts and scientists that children who are exposed to music at a young age show better learning skills and motor skills. So overall using musical toys to help with cognitive development is a great resource.
Frequently Asked Questions
q:

What musical toys are best for babies at birth?

a:

Musical toys that they can listen to and watch at birth are the best toys for babies. Their vision is pretty blurry so having them use their listening skills to find things to look at is a great way to get them engaged in toy play.
q:

What kind of musical toys encourage fine- and gross-motor skills?

a:

Toys that allow both the movement of the whole body and fine finger movement encourage both fine- and gross-motor skills. If you are looking to encourage both skills at the same time, make sure that the toy has the potential to engage both muscles groups.
q:

How do I find these musical toys online?

a:

You can find the items listed this list by either clicking the link that is supplied within the description of each toy or you can do a simple search online. We also encourage you to use the link provided to make sure that you are getting the same toy we are suggesting, but using the internet to find them is a helpful tool as well.
q:

What musical toys are safe for a 6 month old?

a:

A safe musical toy for a 6 month old is something that allows them to move but has no small parts. Listed on our list is a few toys that are great for a 6 month old, like the Maracas Musical Toy and Hug and Tug Musical Bug. They are both toys that engage them with lights and sound but encourage movement.
q:

Do all the toys on the list make music or sounds?

a:

All the toys listed on our 10 best musical toys for babies do make sounds. We have included safe items that all make some kind of musical sounds from light rattle sounds to toys that play music and songs. They are all great toys to introduce music to a baby's life.
q:

What is the best way to get babies to like musical toys?

a:

The best way to get babies to like and play with musical toys is to lead by example. Some babies may naturally be drawn to musical toys while others may need some encouragement from a playmate. Playing with the musical toys with them so they can see the toy in action is a great way to get them engaged.