When babies fall in love with music, it is not scientifically proven that they will be smarter, but it does prove that they will have a love that will last a lifetime. People for many years have said that introducing music to babies at a young age is ideal for their development and it is. Have you ever seen a baby shake their hips and wave their hands to the beat? The songs, rhythms, and beats affect children in different ways. For some, it promotes their physical development with gross- and fine-motor skills, while for others it inspires them to learn their colors and shapes while playing with musical toys. The one thing that they will ultimately benefit from the most is the love for music, songs and singing.
From classical to rock music, every child should have music in their daily lives. It can help soothe and comfort them. It is a great thing to incorporate into a child's bedtime ritual. The interactive experience can provide families with a time to bond by singing together, learning some rhythm, dancing and maybe even eventually learning to read music and playing an instrument on their own.
Introducing music with playtime is also very rewarding. The market has many toys available that play songs, beats, and notes. This makes it easy to incorporate music into any part of their day. The hard part might be selecting the toys. We have rounded up a list for you. The compiled list has the best musical toys for your babies to rock out on.
Our Top 3 Picks
VTech Rhyme & Discover Book

Our rating
Lights & Sounds
Price:

See Here
Baby Einstein Musical Toy

Our rating
Requires AA Batteries
Price:

See Here
Fisher-Price Rattle & Rock

Our rating
Rattle Sounds
Price:

See Here
Baby Einstein Musical Toy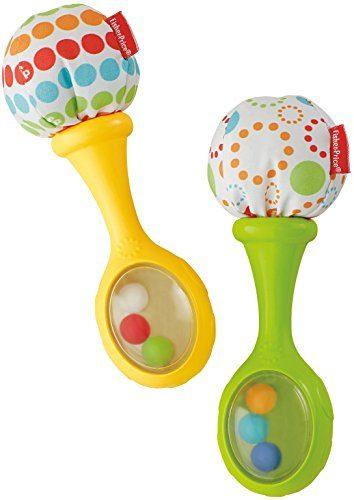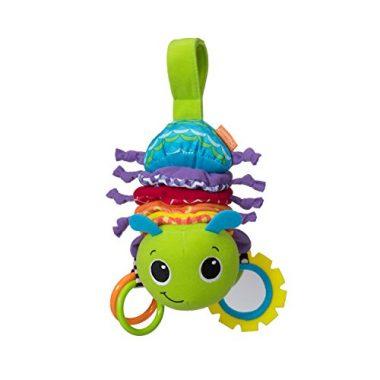 Busy Learners Activity Cube
LeapFrog Musical Rainbow Tea Set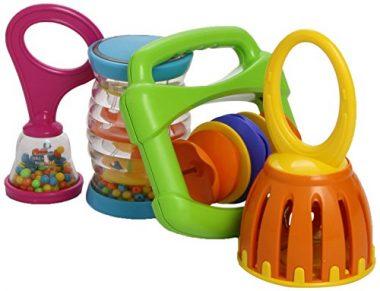 Baby Einstein Sea Dreams Soother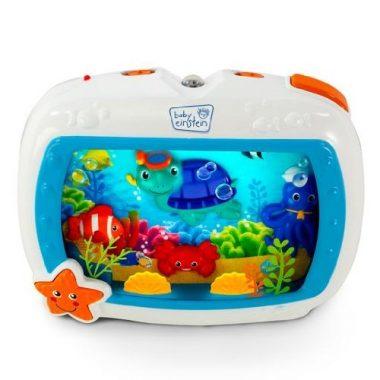 Munchkin Mozart Magic Cube
Discovering Music Activity Table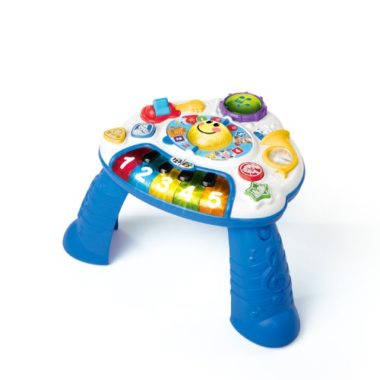 These are the 10 best musical toys for babies. Hopefully, you found one to your liking. Again, remember that toys are very important for kids, especially infants. For your reference, here is a comparison list of all products featured here.
Criteria Used in Evaluation of the Best Musical Baby Toys
Toys that made the 10 best musical toys list were selected on several factors. We review musical toys based on their teaching experience, the quality, reviews, and safety ratings. When the initial list is composed, our panel of experts reviews each toy and then narrows the list down to the best 10. The final list is the 10 best musical toys that are listed on this page.
The 10 toys listed here have the best ratings based on the criteria that were set by our panel. The toys were then reviewed by each of our experts to make sure that they have the highest standards and offer a great learning experience along with being safe. We want to make sure that safety and quality are just as important as the experience.  This list will give you great ideas for musical toys.
Developmental skills learned through musical toys
Music is a tool that is powerful in the development of babies. Musical toys help stimulate cognitive skills and motor skills. When babies are playing with musical toys, explore cause-and-effect learning skills along with stimulating neural connections. When they are pressing buttons or shaking a toy, they see that the cause has an effect. They then build the neural connection in their brain. Exploring musical toys and instruments is a great fun and easy way for babies to learn along with building gross- and fine-motor skills.
Musical toys help baby practice gross- and fine-motor skills. The finger motions, the hand movements, the dancing, and playing help build strong motor skills. These are all necessary for their development. It also helps build control over those muscle sets as well. Musical toys and instruments are playful and easy to get babies engaged. The experience will build their cognitive skills and motor skills as well as encouraging baby-adult activities.
Benefits of introducing music to babies at a young age
When you introduce babies to music at a young age, you give them the experience of learning sounds and spending quality time together. When you introduce music to babies at a young age, you also help their language development. Language is lots of sounds put together to form words. When children are introduced to music at a young age, it gives the power to speak and then even start to create little songs of their own. Music helps create strong pathways in the brain.
When introducing music to babies you also build a strong bond and spend quality time with them. You can simply play with the toys to help them learn, hold them and dance to music, or even sing to them. This is a great time for adult-baby interaction. It displays to them the importance of time together as well as building a strong bond between music and their emotions. Introducing babies to music at a young age is a great way to introduce language and build strong relationships that will last a lifetime.
Musical toys stimulate cognitive development  
Musical toys stimulate cognitive development in babies by building neural connections in the brain and stimulating brain activity. Toys that play music or musical instruments build strong neural connections in the brains of babies by helping neurons better transmit signals. Over time, studies suggest that this helps information to be processed faster and can make it easier for them to learn. At a young age, most of neuron connections are created so you want to make sure they are stimulated as much as possible. Exposing babies to music also helps stimulate brain activity as well.
When musical instruments are played with, music is played, or a toy creates a musical sound, it is stimulating the brain. Stimulating the brain of babies helps them create logical-thinking skills and helps with problem-solving skills later in life. It is suggested from experts and scientists that children who are exposed to music at a young age show better learning skills and motor skills. So overall using musical toys to help with cognitive development is a great resource.
The Power of Music and Development
We use toys to help us form and strengthen our social bonds, reinforce or remember lessons from our childhood, rediscover our true identities and real passions, explore our meaningful relationships, decorate our living areas, and even practice our skills as well as exercise our bodies and minds. As toys are a very important part of our lives, starting it right is very crucial. And when we mean starting it right, that means playing with the correct toys right from infancy.
What we look for when choosing the top musical yoys

We selected the following products considering the following factors: their benefits toward learning, their quality and durability, the number of sales, negative hazards to health and positive feedback from customers. With these points, we have narrowed down the list to the best 10. Hopefully, you will also find value in this list just as thousands of other moms and dads have.
FAQ
Frequently Asked Questions
Q: What musical toys are best for babies at birth?
A: Musical toys that they can listen to and watch at birth are the best toys for babies. Their vision is pretty blurry so having them use their listening skills to find things to look at is a great way to get them engaged in toy play.
Q: What kind of musical toys encourage fine- and gross-motor skills?
A: Toys that allow both the movement of the whole body and fine finger movement encourage both fine- and gross-motor skills. If you are looking to encourage both skills at the same time, make sure that the toy has the potential to engage both muscles groups.
Q: How do I find these musical toys online?
A: You can find the items listed this list by either clicking the link that is supplied within the description of each toy or you can do a simple search online. We also encourage you to use the link provided to make sure that you are getting the same toy we are suggesting, but using the internet to find them is a helpful tool as well.
Q: What musical toys are safe for a 6 month old?
A: A safe musical toy for a 6 month old is something that allows them to move but has no small parts. Listed on our list is a few toys that are great for a 6 month old, like the Maracas Musical Toy and Hug and Tug Musical Bug. They are both toys that engage them with lights and sound but encourage movement.
Q: Do all the toys on the list make music or sounds?
A: All the toys listed on our 10 best musical toys for babies do make sounds. We have included safe items that all make some kind of musical sounds from light rattle sounds to toys that play music and songs. They are all great toys to introduce music to a baby's life.
Q: What is the best way to get babies to like musical toys?
A: The best way to get babies to like and play with musical toys is to lead by example. Some babies may naturally be drawn to musical toys while others may need some encouragement from a playmate. Playing with the musical toys with them so they can see the toy in action is a great way to get them engaged.