10 Best Baby & Infant Jumpers & Bouncers in 2019
last updated
Aug 07, 2019
For parents, there never seems to be enough hours in a day to get everything that they need to get done. Especially, if you have a baby around the house, we know how hard it can be while not only taking care of your child but the household as well. While unfortunately, we're unable to give you an extra set of hands, we're here to introduce you the next best thing.
Exersaucers, which are also known as bouncers or jumpers, can give you that extra little break from having your little one attached to you 24/7. Not only will it give you a few seconds to yourself, but it will also keep them entertained so you can get a few things done. Many of these jumpers offer attached toys that will also help your child's developmental skills and allows them to engage in interactive play.
In a Hurry? The test winner after 112 hrs of research
Evenflo Exersaucer Bounce and Learn
Why is it better?
Includes oversized toys which are perfect for tiny hands
Jumper is lightweight and can easily be moved from room to room
Seat spins 360 degrees
3 adjustable height positions
In a
Hurry? Editors choice:
Test Winner: Evenflo Exersaucer Bounce and Learn
14
Researched Sources
112
Hours Researching
15
Products Evaluated
Accessories
Safety
Physical Development
By Default
10 Best Baby Bouncers & Jumpers Reviewed
1

. Evenflo Exersaucer Bounce and Learn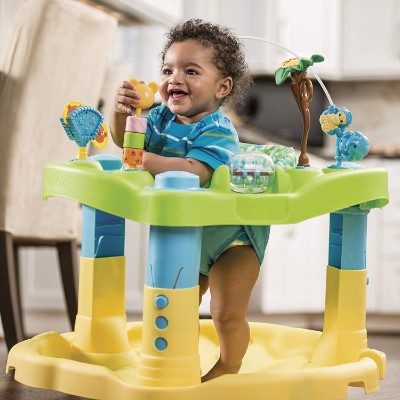 Includes oversized toys which are perfect for tiny hands
Jumper is lightweight and can easily be moved from room to room
Seat spins 360 degrees
3 adjustable height positions
Plastic can get worn down and become sharp around edges
The Evenflo Exersaucer Bounce and Learn is available in five different themes and comes jam-packed with fun, over-sized toys to stimulate baby. Three different height settings allow this piece to grow with your child. It provides a secure environment in which your child can explore, learn, and enjoy! Choose between Zoo Friends, Sweet Tea Party, Polar Playground, Taupe Stripe, and Movin' and Groovin' styles, all of which are colorful and come with cute animal accessories!
Read more
Accessories
The oversized toys are a great feature as it makes this jumper more enjoyable for kids because they can easily grasp them. The color palette is a nice touch as it provides a stimulating environment for your baby to play in.
Safety
Much of this unit is made with plastic so make sure that none of it gets worn and jagged. Parents complained that the seat was uncomfortable for some babies, but it is stable and many children love this.
Physical Development
This play center offers great opportunity for babies to explore cause and effect, self-awareness, object permanens, motor skills, and hand-eye coordination. It also helps condition little legs, necks, and backs to hold themselves upright!
2

. Summer Infant Pop N' Jump Portable Activity Center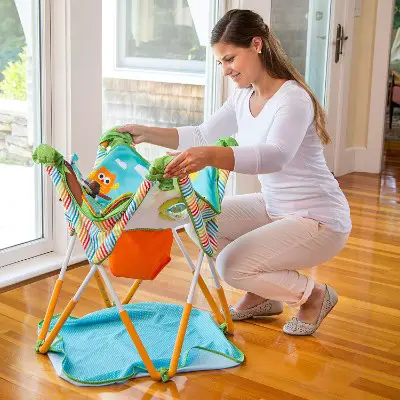 Transporting is easy as the jumper folds down & can be stored in the travel bag
Comes with a canopy that will protect your child from the sun
The jumper comes fully assembled
Includes a spinner ball, teether, mirror book, and rattle
Carrying case could be more durable
No more keeping your baby indoors on sunny days. The Summer Infant Pop N Jump Portable Activity Center is great for outdoor play as it comes with a canopy to protect your baby from the sun. The jumper comes fully assembled which eliminates a stressful setup process. When your baby is not jumping inside the activity center, simply fold it up and store it in the travel bag. The shoulder strap on the travel bag makes it super easy to carry from one location to another.
Read more
Accessories
The canopy is without a doubt this jumper's best feature. Being outside is crucial to your child's development and the canopy allows your child to play safely outdoors. The travel bag is also a huge plus, as it makes transporting the jumper stress-free.
Safety
Don't let the lightweight look and feel of this bouncer fool you; it still means business. It can hold children between six and twelve months and features a UV-resistant canopy to help keep sensitive young skin safe from harmful rays. It endures extreme weather well, and will not rust, crack or break.
Physical Development
Built with a three height adjustment system, your child can use this jumper as they continue to grow. The variety of toys included will stimulate your child's development as they play.
3

. Disney Baby MINNIE MOUSE Activity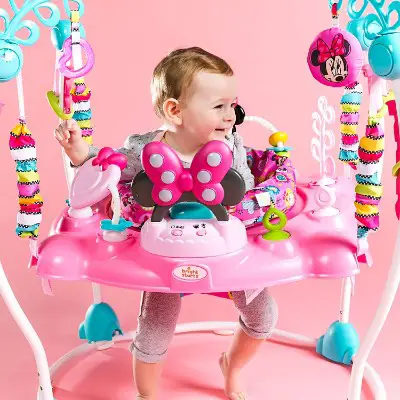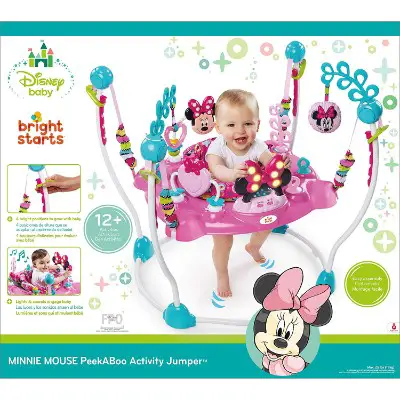 3 Link Loops allow more toys to be attached
Sounds come with two volume options
4 height adjustment system allows the jumper to grow with your child
Fabric can be easily washed.
The base and arms of the jumper could be made more durable
There is also an electronic station that displays lights and sounds to keep your baby's attention. Lucky for you, the sounds come with two volume options. The jumper is equipped with three link loops to give you the opportunity to attach more toys.
Read more
Accessories
This sweet little Minnie Mouse wonderland is full of activities and toys to keep your child occupied. It's 360 degrees of Minnie--literally! Twelve toys and extra loops to attach additional accessories make this bouncer boredom's worst enemy. Children can activate lights and sounds through a variety of ways, including simply by bouncing!
Safety
The Minnie Mouse PeekABoo Jumper is perfect for your little mouse. This brightly colored Minnie themed jumper is equipped with a secure 360-degree rotating seat. Colorful beads, a spinning ball, and a heart-shaped mirror are just 3 out of the 12 toys you will find located on this jumper.
Physical Development
The fabric on the seat can easily be tossed in the wash which keeps cleaning the jumper hassle free. The jumper can be adjusted to four different heights to allow baby to use this as they grow. The toy mirror aids in your child's self-discovery and the hanging toys will develop their hand-eye coordination.
4

. Oribel PortaPlay 4-in-1 Foldable Activity Center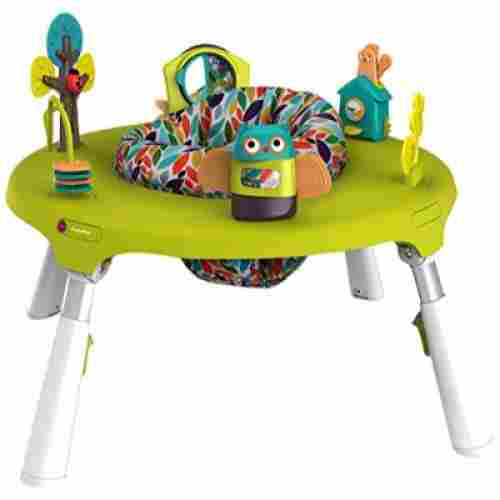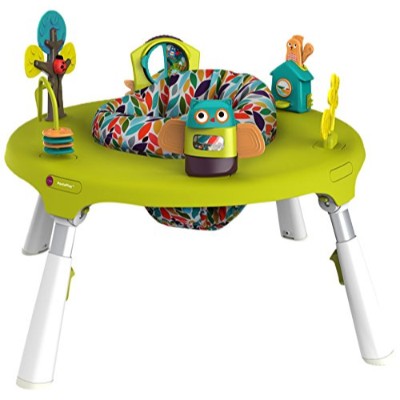 Versatile – converts into a play stand as your baby gets older
Folds easily
Sturdy
Easy to travel with
Enhances fine motor skills
If your baby is on the smaller size, they might not be able to reach the toys well until they are a little bit bigger.
We love this jumper because it is easy to take anywhere. It's hassle-free and easy to store, one last thing you'll be bumping into in the middle of the night. It's perfect for to keep your baby entertained with and it enhances their cognitive skills. We also love that it will grow along with your baby and converts easily into a play stand for them as they become a busy toddler.
Read more
Accessories
This bouncer also ends up converting into a play activity table as well as your baby gets older, you won't have to store it away once your baby becomes too big for it and you won't have to worry about wasting money on something that's you might only think your baby will be in temporarily. This bouncer is longlasting and ready to find it's forever home.
Safety
This little bouncer is foldable and perfect to take anywhere with you. Whether you're looking for an easy to store place or if you're hoping to catch some sun, you'll be able to take this one anywhere on the go. The seat you can place your child in is made of safe elastic material that your baby will be able to rotate and enjoy bouncing along with for hours – this will also help your baby's gross motor development.
Physical Development
Oribel's Portaplay is loaded up with fun features that will help your little one continue along their path to healthy development. The various toys surrounding them will increase their motor skills, hand-eye coordination, understanding of cause and effect, and more! Various textures will stimulate young eyes, fingers, and minds. And the bouncer allows for full 360-degree rotation, meaning baby can get some good exercise, work those tiny muscles, and also start exploring the concept of navigation.
5

. Skip Hop Explore and More Baby's View 3-Stage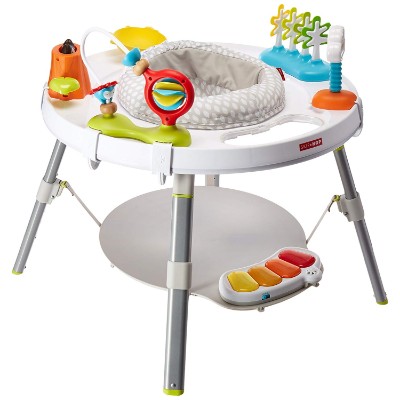 Includes discovery window
From a bouncer, it converts into a walker, and then a table for your toddler
Toys can be moved around the table & more toys can be added
The legs detach making storage easy
The owl toy could be made safer for tiny fingers
Skip Hop has modernized the bouncer with their Explore 3 Stage Activity Center. This easy to assemble activity center gives baby more ways to play. The rotating seat is great for turning and bouncing. The developmentally appropriate toys included can be repositioned anywhere on the table and more toys can be added to the built-in loops. The activity center even has a built-in discovery window that allows your baby to see their feet while they play. The grey and white color palette offers a sleek design that will allow this activity center to sit anywhere in your home and look great
Read more
Accessories
Once your child outgrows the bouncer, the center easily converts into a walker and then a table that can be used for coloring and play. The discovery window develops your child's spatial awareness, teaches them cause and effect, and increases their self-discovery. The legs of the activity center detach easily, thus making storage hassle free. You can adjust the foot platform to your baby's height in order to provide a comfortable and safe bouncing environment.
Safety
You will be able to use this activity center for years not only because it is durable but because it converts from a bouncer to a table. The discovery window is a unique feature that is highly beneficial to your baby. Your child can use this activity center from 4 months old all the way to their toddler years.
Physical Development
Their knowledge of spatial awareness and cause and effect will improve as they watch their feet through the window.
6

. Evenflo ExerSaucer Baby Doorway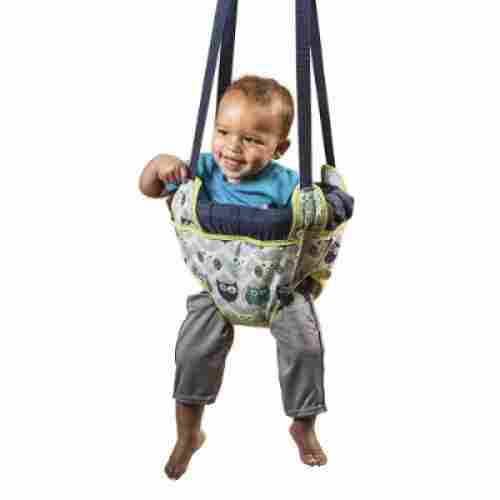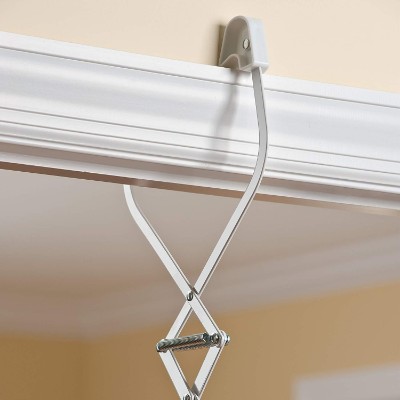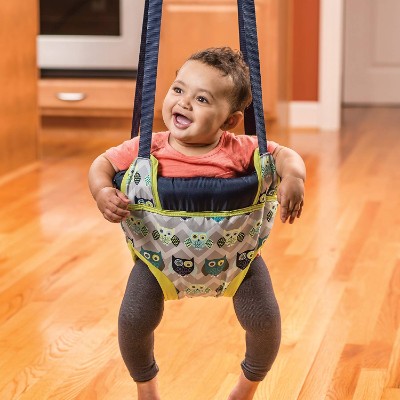 Available in 5 different colors
Seat surrounds your child which provides a safe way to jump
The seat straps are adjustable
Spring is fully enclosed in fabric
Easily folds down & can be transported anywhere
The clamp may take paint off of your doorway
The standing bouncers aren't for everyone. We know space can be limited, especially with the sheer amount of baby-related necessities children bring with them. A hanging bouncer is a happy option for many families, as it can be removed and easily transported from room to room. The Evenflo Exersaucer comes highly recommended. It fits standard doorways, can be machine washed, and is available in five cute patterns ranging from birds and bees to flowers, to one that's shaped like an actual kangaroo with a pouch for your baby.
Read more
Accessories
You can easily fold this jumper into a bag and transport it with you. The spring is fully enclosed by the fabric so you won't have to worry about your child's skin being pinched or scratched. Cleaning this jumper is stress-free as you can easily wipe it down.
Safety
The design of the seat to fully encase your child gives us reassurance that they can jump safely. Especially since the adjustable straps will provide a secure and comfortable fit and the spring is fully enclosed in fabric.
Physical Development
The seat of the jumper fully surrounds your child and is available in 5 different colors. Equipped with adjustable straps you customize the door jumper to provide a comfortable fit for your child.
7

. Fisher-Price Pink Petals Jumperoo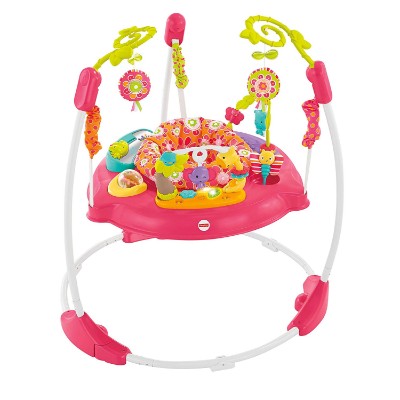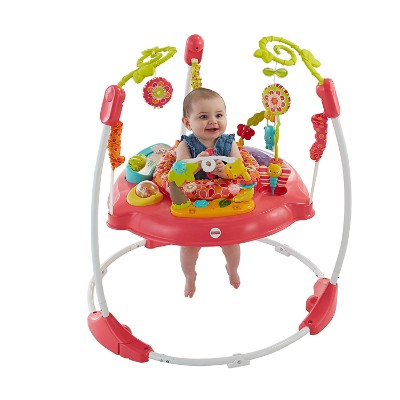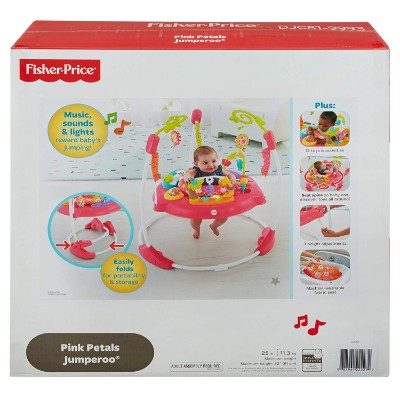 Soft-sided overhead toybar
Two spinners and a squirrel with a rollerball
Lots of different light-up sounds and music
No doorway necessary
Folds up neatly for storage
Overhead toys are hard to reach for younger infants
Pressed for space but want to find a corner to help your precious little bud flourish and grow? Baby's got a whole spread of fun floral activities in this jumper. It's compact and folds flat for storage so you won't have to leave a clunky bouncer lying around the living room at all times. Lights, sounds and music reward baby's jumping and interactions, so they'll be encouraged to stay active. This little jumper sets up anywhere there's an even surface, so you won't need a spare doorway for assembly.
Read more
Accessories
Cute little garden characters such as a hedgehog, squirrel and owl will keep baby company as they play. The dashboard features various light-up and jingling functions as well, so you can work alongside your child with the knowledge that they're not going to get bored any time soon.
Safety
It's pretty to look at, easy to assemble, easy to store, and gives baby plenty to do while you work on your own never-ending list of responsibilities. The bouncer is safe, bright, and loads of fun for infants.
Physical Development
Get your little worm moving and jiving in this bouncer. The jumping action will help build strong muscles and tire baby out enough to happily nap later, while the various light-up and noisy functions will keep them plenty occupied while they're awake.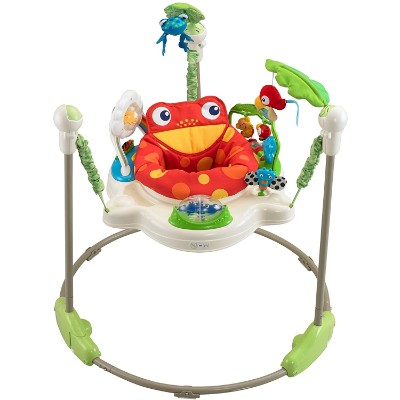 The seat rotates 360 degrees, so baby can interact & play at every angle.
Easy to assemble, take down, and to move from room to room.
Built with three positioned height adjustment, the jumperoo can grow with your child.
Toys, including lights and music, are stationed at 5 locations on this seat, allowing baby to continuously play and stimulate their development.
The seat does not have hooks for parents to add more toys
Made of very sturdy materials from one of the leading toy manufacturers in the world, the Rainforest Jumperoo is a gadget that your baby will easily learn to love. It features several learning activities such as music, lights, and even imitation sounds. Beautifully attached to the frame are 2 soft leaves that for a canopy for dangling soft toys which baby can bat with all his or her might.
Read more
Accessories
The hanging toys include a vine-swinging monkey, a bead bar-hanging parrot, a hide and seek-playing tiger, a rattling and spinning lizard, and a fun bobbling elephant. It also includes a tethered chew toy, a spinning ball filled with beads, and stackable chips. The seat can be rotated a full 360-degrees so baby can have an excellent view of his or her surroundings.
Safety
The Rainforest can be considered a forest-full of kiddie fun in a safe and sturdy frame. The different learning activities allow for the enhancement of young children's developmental tasks especially those related to psychomotor and cognition.
Physical Development
There are plenty of lights and sounds to keep babies distracted in this active bouncer. While babies play they work out their leg muscles to jump, they also work on their hand-eye coordination. The toys encourage children to use their arms to reach for cute dangling rainforest toys and spinners. As parents move around the house, the jumper allows babies to rotate their seat 360 degrees. This makes it less frustrating for babies because they won't feel so alone when parents move out of sight.
9

. Evenflo ExerSaucer Jump and Learn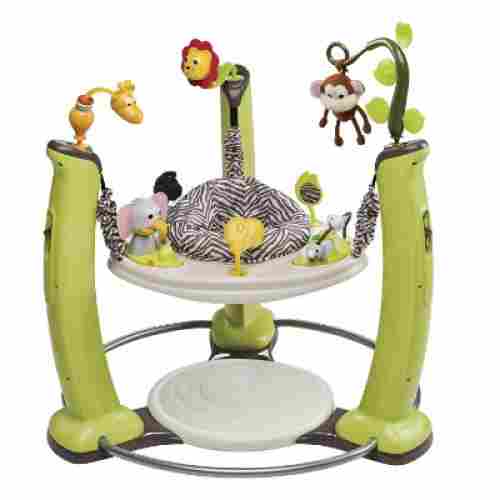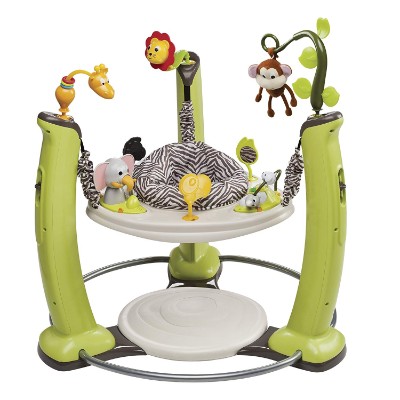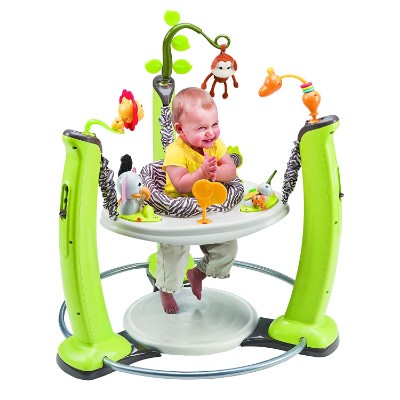 The bounce pad aids in the strengthening of your child's muscles
Toys can be taken off and interchanged
The Frame is durable and provides a stable environment for jumping
The seat pad is machine washable
The jumper will take up a lot of space in your home & does not come apart easily.
The Evenflo Exersaucer gives your little one the opportunity to jump in the jungle while giving you the reassurance that they are safe. The machine-washable seat pad is striped like a zebra and the frame of the jumper is bright green. Once your child is seated they can play with any of the jungle themed toys located around the seat as the seat rotates 360 degrees.
Read more
Accessories
As your child bounces their feet will be landing on the bounce pad. The bounce pad aids in building strength in your child's core and muscles. It also provides two times more of a bounce. The sounds and songs included in this jumper will not only entertain your child but also stimulate their senses and encourage learning.
Safety
They can also look up and enjoy batting at a giraffe, lion, and monkey. The toys can be taken off the jumper and exchanged for other toys or played with around the house. You won't have to worry about your little Tarzan or Jane growing out of this jumper quickly, as it offers a three height adjustment system.
Physical Development
We love that your baby can enjoy bouncing on the bounce pad, while also strengthening their muscles. This jumper includes a variety of toys and sounds to entertain your child but it also allows you to change out the toys.
10

. Skip Hop Baby's View 3-Stage Activity Center
Grows along with your baby
Comes with 4 rearrangeable toys
Let's your baby move
Enhances fine motor skills
Boosts movement skills
Some customers did not like the fact that this jumper didn't fold making it a little bit harder to store. The legs, however, do come off.
With an adjustable height and three stages of play, the Skip Hop Baby's View can be a long-lasting investment. Children can sit and swivel, cruise around and explore, or enjoy a free-standing activity table depending on their age. Activities include piano keys they can play with their feet, peekaboo squeaky clouds, rattles, and more! In total, your little one will enjoy over twenty-five activities in this bouncer.
Read more
Accessories
You'll also be able to rearrange the toys that come along with it any way you like so that each time it's different for your baby, so they'll always be entertained. We love this bouncer because it rotates and allows your baby to move. Your baby will be entertained with everything around them including the rearrangeable toys. Some of these toys even rattle, squeak and light up which will make your little one smile effortlessly.
Safety
It is recommended that children who weigh over than 25 pounds or are over 30 inches are not to use this. However, this jumper also converts into a play activity stand and grows along with your child as well. So, if they no longer reach the weight limit of the bouncer, you'll be able to convert to the next stage.
Physical Development
We love this product because it helps your baby learn to turn and move their feet. We love that this enhances fine motor skills and helps stimulate other cognitive skills as well. We also love that this grows along with your baby as a play activity stand, leaving the possibilities of activities during playtime endless.
Criteria Used for Evaluation
Accessories
The addition of built-in features had to be studied closely and compare them to the developmental tasks expected of this particular age group of children. Jumpers come in two basic models: the Traditional Bouncer, which is also more colloquially known as the Doorway Jumper, and the Stationary Jumper, which is a self-contained standing unit. Both designs require that your child can hold their head upright for long periods of time, and each individual product has a specified weight limit you can find in the product details section. Otherwise, both bouncers are fine, they simply have different drawbacks and attributes.
A Traditional Jumper, or Doorway Jumper, take up less space but cause a huge inconvenience if they're hung in a doorway that people will need to pass through regularly while baby is set up and playing. Even after baby is back in your arms, you'll have to find a way to move the jumper aside or take it down entirely, or else you'll be ducking around it every time you pass through that door.
Freestanding jumpers can live anywhere in your house, but are cumbersome and often clunky. They'll need a corner to live in when they're not being used. Some fold up for compact storage, but not all include that feature in their design. They do, however, keep your doorways free, and can be set up in any room so you can work freely throughout your house or office.
Safety
Since we are already looking at the developmental appropriateness of the plaything, we also had to examine the quality as well as the safety of the product. We took note of any small objects or parts which may potentially endanger babies because of the natural tendency of very young children to be orally fixated.
There was a time when the American Academy of Pediatrics (AAP) issued a warning to parents against the use of baby walkers especially those on wheels because of the injuries that was noted in more than 8,000 infants every year related to the use of such devices. The injuries cited included falls, burns, drowning, and poisoning. What is truly surprising is the statement regarding the lack of developmental benefits of walkers to babies. In fact, the AAP study says that, contrary to what toy manufacturers say, baby and infant walkers can lead to significant delays in both mental and motor development. The same study revealed that strategies to help reduce the incidence of injuries such as the inclusion of warning labels, the installation of stair gates, the institution of stricter adult supervision during babies' walker use, and mass education of the public are largely insufficient.
So, if baby walkers with wheels are indeed counterproductive to the development of young children, what can be done?
The American Society for Testing and Materials, better known as ASTM, in response to the AAP recommendation, revised its standards for the design and manufacture of walkers and came up with ASTM F977-96. This addressed the need for safer walkers. However, the AAP still provides a "use-at-your-own-risk" stance regarding baby walkers. They did recommend something else, however–a stationary activity center.
What the AAP is saying is that our babies are a lot safer with stationary carriers complete with built-in learning activities than those that are mobile. But this does not essentially answer the question most people have about bouncers and exersaucers.
These gadgets are stationary so there should be no danger of very young children falling or getting injured. So this should be beneficial for them, right?
Physical Development
Once the number of products has been significantly reduced by way of customer feedback and reviews, we then subjected each one to a careful scrutiny of their development benefits to young children. If there are obvious discrepancies in the developmental appropriateness of the product, it was stricken off our list.
Unfortunately, while baby bouncers and exersaucers are fun, physical therapists say these gadgets don't do much to help babies' optimum motor development. They say that children using these bouncers and exersaucers typically hold infants' hips in an unusually extended position. This relaxes the hips and consequently and disproportionately grows the muscles of the calf instead of the core muscles and the pelvic region. This leads to the overdevelopment of the calf muscles and the underdevelopment of their hips and quads which are essential in learning to walk. The end result is that children may not be able to learn how to walk properly.
Sure children love to bounce by propelling themselves with their toes. Experts again say that this inadvertently teaches children to use their toes rather than the plantar surface of their feet. When they grow up, they have a higher likelihood of waling on their toes. And if you don't have any aspirations of turning your child into a world-class ballerina, then this is not really good.
Physiotherapists, child motor developmentalists, and pediatricians alike also say that these types of children's gadgets negate the ability of a baby to learn to walk because he or she literally cannot see his or her feet. What happens is that, because babies cannot see their feet while they are attempting to walk, there is no visual feedback that tells their young brains they are stepping in the correct manner or that they are moving appropriately. When they see their feet as they walk, their brains are integrating and processing all of these information together with their kinesthetic and proprioceptive senses so that they will learn next time how to walk properly. Experts ask how babies can learn to walk properly if the visual feedback to their brains is literally absent.
Does this mean many parents are simply not concerned about the safety and development of their children?
Here's the good news. Experts agree that while these gadgets can lead to such difficulties in the motor development of very young kids, they can still be used provided for brief periods of time only. Child developmentalists recommend the use of such devices as long as the child does not use it for more than 30 minutes, preferably only within 15 to 20 minutes, every day. This should minimize the issues seen by leaders of infant development. So, allowing our babies to sit and enjoy their time on their baby jumpers for not longer than half an hour every day should be beneficial especially if the jumper you're going to buy is one that has plenty of learning activities.
This is where today's infant jumpers clearly have the advantage over their predecessors. Luckily, major toy manufacturers are heeding the call of professionals so that they can also help redesign their products. By integrating a variety of educational features in these devices, young children can enhance their mental and cognitive abilities which is crucial in the first year of life. With these learning activities, infants learn about spatial relations, causal relationships, and simple problem solving. Their cognitive capacities are also enhanced a lot better using as many as their senses as possible. This helps the young brain in its integrative processes so that it will be ready for more complex mental, intellectual, and rational processes.
Most Important Criteria
(According to our experts opinion)
Experts Opinion
Editors Opinion
Users Opinion
By Default

Parents, Did You Know?
Baby jumpers or bouncers and exersaucers can be useful instruments in helping our young children develop to their utmost potential. While these types of infant products are very popular among today's parents, it won't hurt to also listen to what child experts have to say. They understand a lot of things about children's growth and development that most of us clearly don't. Just because we see our young kids having a blast with their bouncer doesn't necessarily mean that it's already good for them. The damage we are causing is not something that can be seen right away. These will only manifest when our children are already grownups. By then, we will have to seek corrective treatments and rehabilitation which, unfortunately, will cost us more than limiting our children's playtime with these gadgets to just several minutes a day. Besides, we believe that Mom and Dad are still baby's most cherished "toy." Nothing can ever replace the time and care we give to our kids. Sure, we may also be tired. But, that's exactly what parenthood means–-sacrificing ourselves for our children's benefit.
Parents, Did You Know?
While we do recognize the apprehension of child health experts as well as child developmentalists regarding the use of bouncers and exersaucers among young infants, we simply cannot discount the fact that there are so many parents out there who buy these gadgets for their babies. And many have attested to the fact that their babies "seem" to enjoy the moments they are jumping while being suspended in mid-air.
As such, in coming up with the top 18 jumpers for babies or infants, we had to rely on the experiences of Moms and Dads as to the use of these playthings by their very young children. We had to make sure that we fully understood their sentiments and if they had any concerns regarding a particular product. This became our preliminary screening point for the hundreds of exersaucers and bouncers in the market.
Other Factors to Consider

Brand
While Brand doesn't always make or break the quality of an item, there is often a reason you hear some names over and over again. There are a few companies we can think of off the top of our heads (Evenflo, Fisher-Price, and Little Tikes for starters) that are easily recognizable. While up-and-coming companies are always exciting and should be researched and supported, sometimes you want a name you know you can trust. Popular name brand companies are often long-standing and thus highly experienced. They've researched what families need and through trial and error have found the best materials, designs, and products to meet your needs. Not everything you buy has to be or even should be from one of these brands, but we understand the desire for familiarity when you shop!
Frequently Asked Questions
q:

How do baby jumpers help in baby's development?

a:

Jumpers encourage movement that helps develop their motor skills. They're leg muscles become stronger, which prepares them for the walking stage of life. Parents should be aware that babies shouldn't use their jumpers for hours on end because if they become used to pointing their toes it'll delay walking skills.
q:

Are there any risks associated with baby jumpers?

a:

Baby jumpers can help in a baby's development, but they do pose a safety risk. For example, if not set up correctly they can get hurt and have a head injury. If they are put in the jumper before they can properly support their head they can suffer neck injuries. Babies can swing from side to side when in doorway bumpers and bang on the door frame, causing fingers to get smooshed.
q:

Why use a baby jumper?

a:

Baby jumpers are great for baby to further strengthen leg muscles. They are a seat attached to a strap. They sit and use their toes to push and bounce. This also promotes better nights sleep because a tired baby is a sleepy baby.
q:

Can a parent prevent babies from hurting their feet while on a jumper?

a:

Yes, make sure the jumper is meant for their weight and that the height is adjusted properly. If the jumper sits too low, then a baby will slam on their feet on every bounce. If it sits too high then they'll only be using their toes to push and land. Only using their toes will delay walking skills.
q:

What is the baby jumper age recommendation?

a:

Usually around 4 months of age. But it really depends on the baby's head control. If they can control their head and they can reach the floor properly, then they can use a jumper.
q:

How do I choose the right baby jumper for my baby?

a:

With tons of jumpers on the market, there are several things to look at when deciding on one for your baby. Always look at the recommended weight limit of the jumper to make sure it is suitable for your child. It is also important to think about space in your home as you may need one that can easily be stored away.
q:

What will happen if I ignore the suggested weight limit for the jumper?

a:

We strongly recommend that you don't ignore the weight limit. Ignoring the suggested limit could cause the jumper to break or an injury to your baby.
q:

What type of seat should my jumper have?

a:

Jumpers typically have one of three types of seats. You can choose between a seat that can be washed and removed, a seat that is lined with padding, or a seat that be adjusted as your child grows.
q:

Where should I put the jumper in my home?

a:

As long as there are no pointy or sharp items on your floors you can place the jumper basically anywhere in your home. Be sure to keep the jumper from risky areas like near a pool or stairs. Always keep the jumper on a level and flat surface.