10 Best Toys for Active Toddlers Reviewed in 2019
last updated
Sep 06, 2019
It's important for parents to make sure that their child is getting enough exercise throughout the day. With the growing concern around the world about childhood obesity, it's very critical to encourage and motivate our toddlers to make sure that they stay active while also slowly teaching them the importance of physical health, balance, coordination, physical strength, and endurance. Which is why it's also completely necessary to give your child toys that will help young toddlers to stay active. This is why we also came up with the best 10 toys in today's market for your active toddler that will be instrumental and help guide in your child's overall development.
In a Hurry? The test winner after 13 hrs of research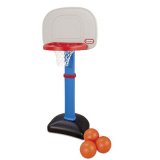 Easy Score Basketball Set by Little Tikes
Why is it better?
The base can be weighted to prevent tipping
The hoop is oversized for easy throws
Adjustable height makes it customizable to your child's age
Completely safe with no risk of parts breaking
Great for group play
In a
Hurry? Editors choice: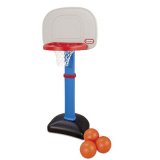 Test Winner: Easy Score Basketball Set by Little Tikes
14
Researched Sources
278
Reviews Considered
13
Hours Researching
10
Products Evaluated
Physical Development
Entertainment Value
Materials
By Default
10 Best Toys for Active Toddlers Reviewed
1

. Easy Score Basketball Set by Little Tikes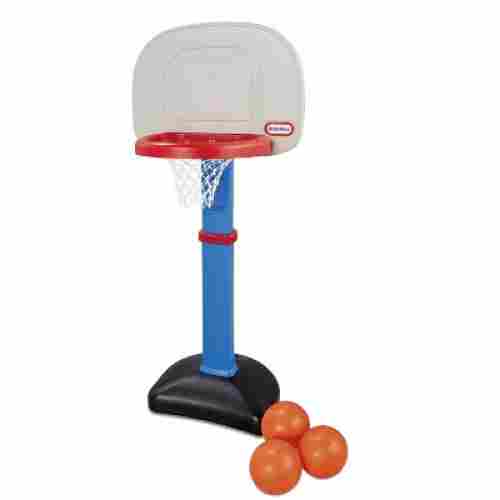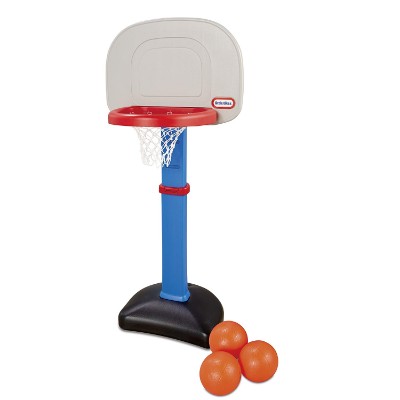 The base can be weighted to prevent tipping
The hoop is oversized for easy throws
Adjustable height makes it customizable to your child's age
Completely safe with no risk of parts breaking
Great for group play
Basketballs are plastic not rubber so they do not bounce
The Easy Score Basketball set is exactly what it sounds like: Easy to score on! Since toddlers don't really know how to dribble, pass, or learn basketball techniques like older kids might, this set is perfect for those with endless energy. Having an easy-to-score on basketball hoop can encourage them to continue playing because they won't be discouraged by missed shots or hard throws.
Read more
Physical Development
The Easy Score is a great way for toddlers to begin appreciating the joys of playing basketball. It's great for developing their self-confidence while also tending to their physical development. This hoop provides a great introduction to sports for all toddler ages. It's easy to use and will grow as your child does until they're ready for a full-sized hoop of their own.
Entertainment Value
Kids obviously can't reach a normal hoop at this age, so this Little Tikes hoop provides both the perfect height and just the right amount of challenge for little kids who love sports but aren't yet old enough to play them seriously. Hoop shots are made easier with an oversized rim as well as an adjustable height that can vary between two and four feet, making it perfect as a toy that will grow with your child.
Materials
Made with sturdy materials, it can be used inside on rainy days or outside during the summer to entertain your kids and help them to be active. The base can be weighted down with sand if playing outside which will lessen the chance of the hoop tipping and make for a more efficient game.
2

. Learn & Groove Musical Mat by LeapFrog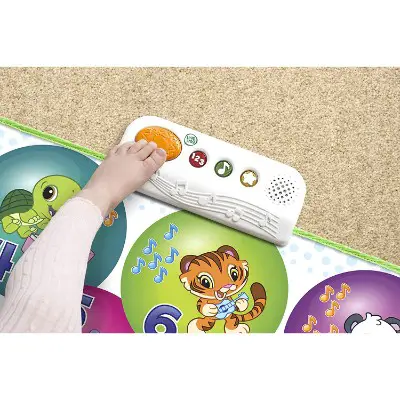 Helps toddlers learn about animals and numbers
Improves rhythm skills
Helps dexterity
Good for individual play or group play with friends
Kids have the freedom to make their own music
AAA batteries are included for demonstration only and need to be replaced upon purchase
Remember that precious scene in Big where Tom Hanks plays music by dancing on a life-size piano mat? You and your toddler can recreate that iconic moment with the Learn and Groove Musical Mat by Leapfrog! This mat teaches children about animals and numbers while also helping to improve rhythm and musical skills. Kids can even make their own music! It's the perfect activity for toddlers to enjoy alone or with friends.
Read more
Physical Development
The Learn & Groove provides the added benefit of helping your kid develop his or her cognitive skills while also enhancing your child's balance and spatial awareness. Of course, hopping to the beat is great for his or her cardiovascular and muscular systems, too.
Entertainment Value
Kids can dance to the sound of their own tunes or simply follow the ones created by the LeapFrog pad, either way, they'll have a blast. This mat encourages learning through a movement that is huge when it comes to restless toddlers. They'll have a variety of things to learn about which will keep them entertained as well as physically in shape.
Materials
The mat itself is over four feet long and will keep kids playing for hours on end with several different accompanying games. The mat even functions as an educational form of Twister as it asks kids to step or put their hands on the right animal or number, which helps flexibility and motor skills.
3

. Little Tikes 3 Foot Trampoline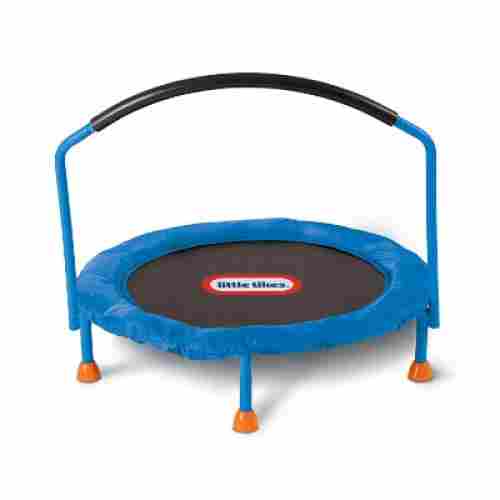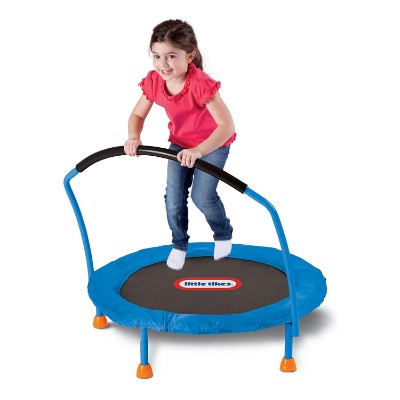 Combination construction makes it safer
Handlebar stretches across the width of the trampoline
Good for kids up to age six
Increases coordination
Improves balance
For indoor use only
Can only be used by one kid at a time
For slightly more pep in your step, the Little Tikes trampoline might be better suited for your little one. This trampoline is more traditional in style but still compact enough that it makes for great indoor use.
Read more
Physical Development
This trampoline is a great way to get your toddler active and develop motor skills. The Little Tikes Trampoline is a safe and fun jumping platform, plain and simple. It doesn't have anything fancy except for its safety features.
Entertainment Value
It's great for ages three to six and perfect for those kids who have a little extra energy to burn off! Little Tikes created this trampoline with the idea of safety in mind. Its construction consists of both plastic and metal for strength as well as durability so kids can have the best carefree jumping experience possible.
Materials
Little Tikes designed their super bounceable trampoline with a handlebar that stretches across the entire width of it to provide the most support possible for kids when jumping. The sides are covered in protective material to help keep kids centered and prevent them from bouncing over the edge or falling off.
4

. Monster Plush 6-Pin Bowling Game by Melissa & Doug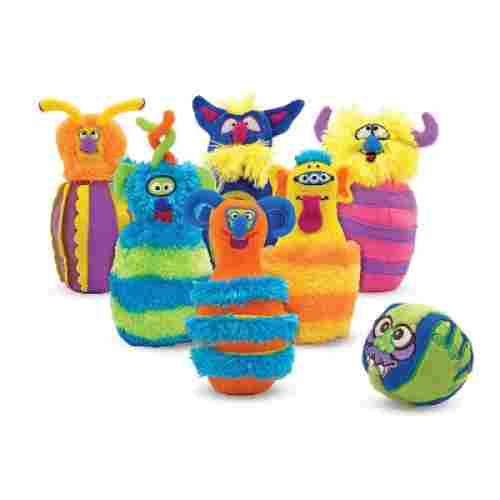 Plush bowling makes the game safe for all ages
Great for indoor play
Comes with a matching plush ball
Heavy force is not needed to knock over pins
Easy set up for toddlers
Pins may occasionally fall over on their own
You need extremely level ground to play this on
Who doesn't love a good game of bowling? The sport teaches sportsmanship, technique, skill, coordination, and serves as a great first game for your toddler. Melissa & Doug have created a way for toddlers to bowl without worrying about hard bowling balls or hitting all the pins at crazy velocity with their Monster Plush bowling game.
Read more
Physical Development
This game is perfect to play inside on rainy days and great for playing with their friends. It'll keep them active indoors and teach them skills such as coordination and aim. No points are needed to keep track of who's winning and who's losing because when it comes to Monster Plush bowling, everyone's a winner!
Entertainment Value
This game is perfect for indoors on days when the weather isn't great or during those winter months when kids get restless indoors. It'll give them something fun to do while teaching them how to improve their aim as the try and hit every furry monster.
Materials
This set comes with six hilarious and playful plush monster bowling "pins" that stand on their own and can be stacked in whichever pattern your kids want. The set also comes with a matching monster plush bowling "ball" that they'll use to mow down all the scary (but really funny!) monsters that stand before them.
5

. Sportstastic Activity Center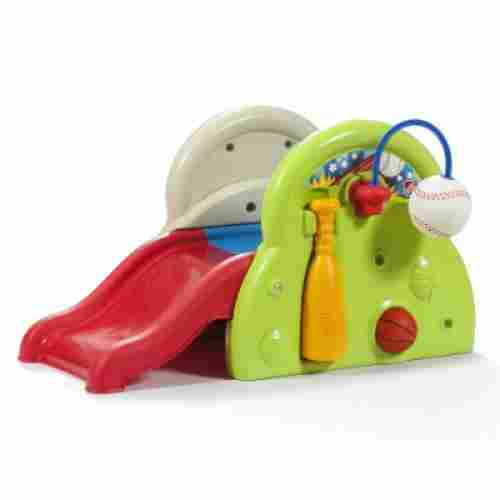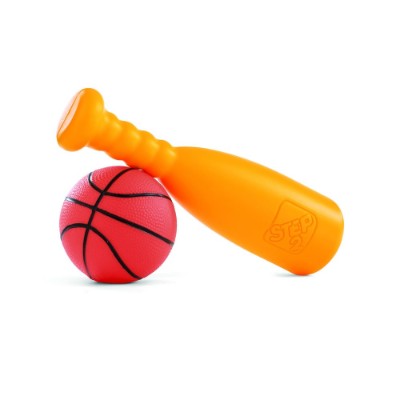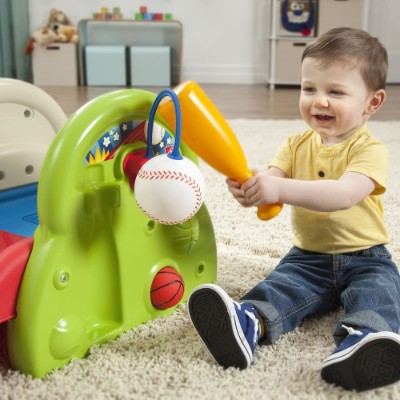 Three-in-one sports center
Great for group play since there are enough activities for multiple kids to play
Everything is sized perfectly for toddlers
Built well and is durable enough to last for years
It'll keep kids busy with so many areas to jump to
Because it's so small it's not a toy that will grow with your kids
For the ultimate in indoor activity fun, look no further than Step2's Sportstastic Activity Center. This unique three-in-one sports center has everything; just wait until you hear what your kids can look forward to with this crazy toy. The sports center itself is a slide that allows your kids to climb up one side and slide on down to the other, where they'll find two more fun activities!
Read more
Physical Development
This activity center is a fantastic addition to any playroom since it has something for everyone. Your toddler will have a blast sliding down the slide, running over to one side to shoot some hoops, and on his way back, stopping to hit a home run with the hanging baseball and teeny toddler-sized bat. Talk about keeping them active!
Entertainment Value
There are enough activities in this center to keep kids playing for hours and it's something they'll return to day after day. It functions as a sports center but also a great way to keep kids active and running around indoors.
Materials
On one side you have a basketball hoop with a surprise basketball, perfectly fitted for tiny hands, stuck inside of the opposite center wall. On that same side, your toddler will find a baseball bat in addition to the basketball, along with a hanging baseball that serves as perfect tee practice until they're old enough to take a swing at a real ball!
6

. Playskool Sit and Spin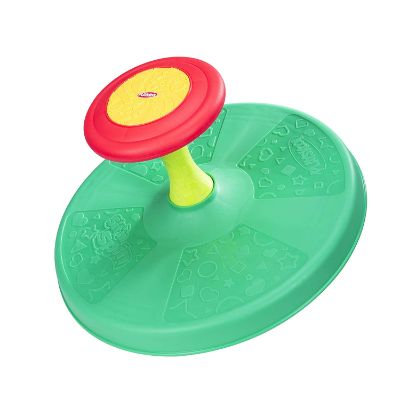 Promotes muscular strength and balance
Fun and easy to operate
Children control their own speed
Lightweight and easy to clean
It's on the small side so heed the dimensions
Children often fall in love with the simplest of activities. This Playskool Sit-and-Spin capitalizes on a toddler's fascination with sensations that might be new to them but nothing out of the ordinary to you and me. Children have control over how fast or slow they spin as they turn the wheel. Get ready to twist and shout!
Read more
Physical Development
While your little one will need to sit in order to safely enjoy this activity, they'll get a good workout in their core and arms as they use their own strength to spin themselves. It will also assist them with balance and is likely to get those little hearts pumping for increased cardiovascular health!
Entertainment Value
Kids are full of wiggles and giggles, as Playskool notes. This twirling contraption helps them to get all their sillies out. They'll have fun sitting and spinning themselves or watching their friends go round and round. It's fun and laughter all around and around and around with the Sit and Spin!
Materials
The Sit-and-Spin comes in easy frustration-free packaging so you can order, open, and go. It's a lightweight addition to the playroom, meaning it's easy to travel with or put away when playtime is over. And it's constructed from soft but durable plastic that makes clean-up a cinch for parents.
7

. Totsports Easy Hit Golf Set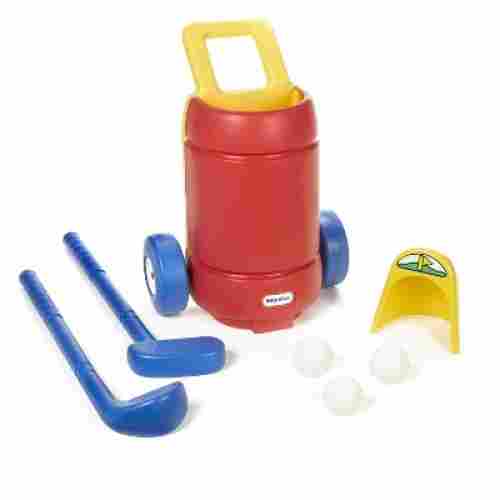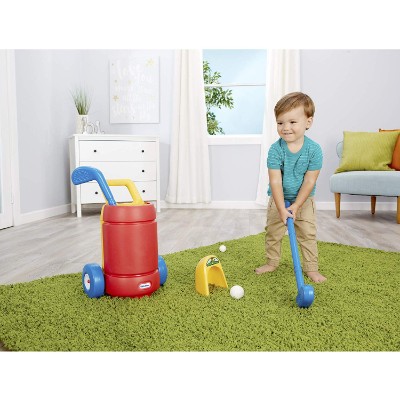 Comes with everything your child needs for a putt-putt game
Has a carrying kit that holds all the pieces included
Two different clubs for increased accuracy
Great for playing in the backyard
Good for a family activity
Replacement golf balls are difficult to find
One thing you don't normally see made with toddlers in mind is a golf set. Surprise! Little Tikes created this set to perfectly fit a toddler's hands and teach them the art of the perfect swing. It'll make them feel like grown-ups with their very own golf club carrying bag as well as a tiny tee that will become the end goal for every one of their swings.
Read more
Physical Development
You can set up a game of putt-putt right in your very own backyard and teach your kids how to coordinate their swings for the most accuracy, or just set them off to have their own fun. This is a great game to play with their friends as it'll teach them the art of friendly competition while also forcing them to run around and collect their golf balls and carry their clubs around. It might not be real golf, but at least your backyard won't be full of divots!
Entertainment Value
Golf may seem boring to most people but to a kid, it can be the most fun game in the world. They can practice what they see on television and each successful swing will make them feel like a professional golfer.
Materials
The set also comes with two different clubs, a driver and a putter, for increased accuracy. Three golf balls are also a part of the set and everything was designed with toddlers in mind.
8

. Sunny Patch Blossom Bright Sprinkler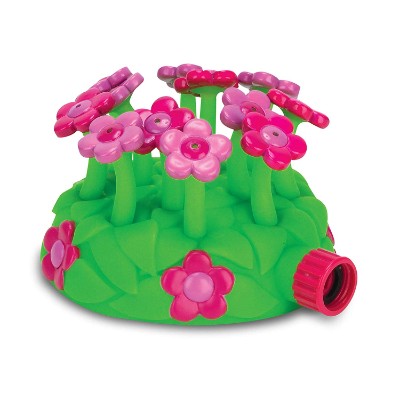 Can be used with a generic household hose
Good for all ages including toddlers
Helpful for summer days when it's hot and kids don't like being outside
Great for family BBQs and get-togethers
Portable to bring to parks or friend's houses
Water spray height depends on the strength of your hose and faucet
You wouldn't really consider the Sunny Patch Blossom Bright Sprinkler as a great toy for active tots. But it sure is a great and fun way to beat the summer heat. And when kids are playing with the sprinkled water, mimicking the rain, they will be running, jumping, and even evading the jets of water from this lovely water mound. For more great products like this, check out our guide to the best sprinkler for kids.
Read more
Physical Development
Cooling down on a sunny day has never been easier or more fun. The Sunny Patch Blossom Sprinkler encourages your kids to be active on those hot summer days while keeping them safely cooled-down at the same time.
Entertainment Value
The Bright Sprinkler is great for enticing kids to have fun in the garden while being sprinkled with water, mimicking rain. This helps in their social and emotional development while also catering to their physical needs.
Materials
Made of durable plastic, this sprinkler is great for family fun. Take it to BBQs or the park, set it up at family gatherings and stay cool!
9

. Fisher-Price Laugh & Learn Singin Soccer Ball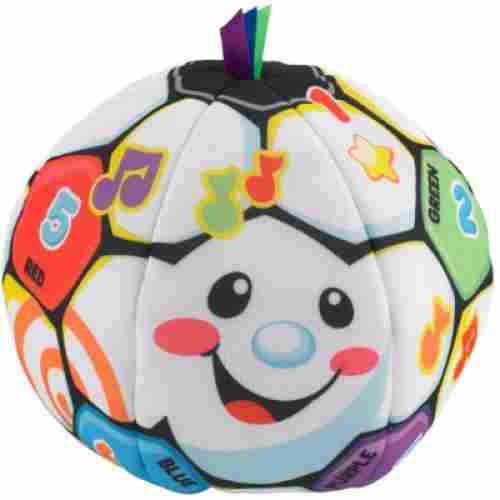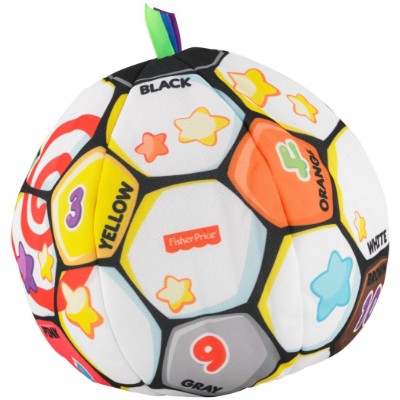 Soft and safe for all ages
Teaches toddlers elementary things
Can be used in pass-and-play groups
Great for family fun
Easily machined-washed
Batteries will need to be replaced often
Who says you can't be an athlete and an artist? The Fisher-Price Laugh and Learn Singin' Soccer Ball is the best of both worlds. This soccer ball sings as your baby throws, kicks, and rolls it about. The songs are perfect for toddlers as they help to teach about basic academic building blocks such as colors and numbers. Playing with the soccer ball alone or with a friend will also help to build their hand-eye coordination, dexterity, cardiovascular health, and more!
Read more
Physical Development
This ball can also be played with amongst groups or with families with its pass-and-play feature that will teach toddlers new things while engaging them in group play fun. A singing soccer ball is a fun one! Watch as your toddler learns things like how to count as they sing along with this fun pillow-like toy.
Entertainment Value
When squeezed, shaken, or pressed, the ball speaks and teaches things like counting, numbers, colors, opposites, and many more, that a toddler will find stimulating.
Materials
The songs this soccer ball sings are fun and will bring joy to your toddler's face as they learn to sing along and practice everything they're learning. To clean the soccer ball, simply remove the electronic inside and throw it in the washing machine! Just because it's an easy toy doesn't mean it's not tons of fun.
10

. Step2 Ride-On Motorcycle
Easy enough for a toddler to ride by themselves
Great learning tool before a trike or training wheels
Fun design makes kids feel more grown-up
Helps to improve coordination
Their balance will get better with time
The bike is extremely lightweight and may increase tipping for toddlers who are not heavy enough
Got a cool rider ready to hit the (metaphoric) road? The Step2 Ride On Motorcycle is a chick little treat for tikes looking to improve their balance and enjoy role-playing racing their bike around the house. The wide wheels allow for easy balance and the realistic headlights and taillights add some serious style. The easy-grip handles make steering a cinch and the bike can safely hold up to 50 pounds according to the manual.
Read more
Physical Development
Balancing is a skill and isn't something that all toddlers have perfected at a young age. This motorcycle will help them improve that while they work on their physical coordination. It's good for teaching your toddler the hand-eye coordination they need on their way to learning how to ride a bike and with its wide wheels, the chances of your toddler falling over are slim.
Entertainment Value
Parents can help kids get over their fear by gently pushing them around on this motorcycle and when toddlers are old enough to fully reach the ground while they're sitting on it, they can push themselves around without any help.
Materials
The handlebars are easy to grip which will help your toddler feel like they're in full control of the ride-on toy and the direction they're heading in. Since there's no mechanics or electronics, how fast your toddler goes is completely up to them.
Criteria Used for Evaluation
Physical Development
Kids can rightfully benefit from increased levels of physical activity. While these are not primarily geared for weight loss, overall fitness, or even bodybuilding purposes, toddler activities can still have a tremendous effect on their overall growth and development. That's why it's imperative to get them physically active.
Entertainment Value
Studies suggest that families who limit their children's intake of digital forms of media and encourage regular exercise see an increase in overall physical health. Toddlers already have lots of energy, to begin with, so they don't need a whole lot of encouragement to find and enjoy ways to expend it. We suggest keeping toys around that naturally require or suggest active play so as not to dampen their tiny, vibrant spirits. Kids notoriously will avoid anything that doesn't stimulate them, so we've tried to pick active toys that will hold their attention and allow for hours of fun and years of use.
Materials
We wanted to choose durable, well-made toys to help your kids stay active. It's understandable that some parents simply have inadequate or insufficient knowledge as to how they can help encourage their young toddlers to learn how to appreciate and enjoy a variety of physical activities.
Most Important Criteria
(According to our experts opinion)
Experts Opinion
Editors Opinion
Users Opinion
By Default

Parents, Did You Know?
We tend to sleep better after a good workout for the simple fact that our muscles are more relaxed. The same can be said of your toddler. If you're having difficulty encouraging your child to nap, try playing with him or her. Jump, run, or hop. Within 30 minutes, he or she may be napping. Aside from muscle relaxation, the improved oxygenation to the tissues also helps promote better sleep, especially among young children.
Parents, Did You Know?
One of the most important benefits of physical activity for toddlers is that it gives them confidence in themselves. Being able to jump or hop is already considered as an amazing "feat." This boosts their ego and thus, helps them to try out other things.
Other Factors to Consider
Approved by Pediatricians
If you asked your pediatrician and he/she gave you the go-ahead to let your child engage in games, sports or even exercises, parents now have to choose which activity is appropriate for their child's level of development. You'll be able to provide your child with toys that we've shared on our list.
Weight
Increased physical activities help promote the more efficient use of calories. Because muscles are continuously moving, they require more calories to burn. This helps prevent the abnormal accumulation of calories in the body. As you may already know, excess calories are often converted into fats which are stored in various parts of the body. This leads to the development of obesity and an increased risk of developing diabetes in the future. While we are not saying that physical inactivity leads to obesity, it is one of those factors that experts claim to play a major role in the development of childhood obesity, the others being faulty eating habits, poor food choices, and genetics.
Frequently Asked Questions
q:

Are these good toys for a preschooler?

a:

Yes! Active play is necessary from the time kids start walking all the way on up until they're adults. Preschoolers benefit from active play with improved flexibility, better coordination, and stronger muscles which will help them to prevent injury later on in life and maintain a good health and fitness level.
q:

How can I get my child to play with these toys for a longer period of time if they get bored?

a:

Toddlers are known for having short attention spans. One trick to get your toddler to play long is to play with them. Often if they have siblings or friends who are engaging in active play with them, they'll be more prone to longer play sessions. You can have the same effect by taking an interest in what and how they're playing and extending their interactions with their toys.
q:

Are these products good for a more than one child?

a:

Most of the products listed here are perfect for group play. Some of these toys even need to be played within a group, such as the basketball hoops. Group play will always last longer and be more entertaining and interesting for your toddler while teaching them better social skills.
q:

Can these toys be used outdoors?

a:

Most of the toys listed here can be used outdoors. Any toys that can't are otherwise specified but for the most part, unless they have an electronic component or become dangerous (i.e. the trampolines, they may become slippery after rain), they can be used in both environments.
q:

What's the youngest age that a child can use these toys?

a:

Active play is encouraged in kids from ages 1 to 2 and up. All of these toys are suitable for toddlers, but some can even be used for even earlier age groups than that while others are specifically targeted for toddler age groups.
q:

Where can I find replacement parts (like the soccer ball or basketball)?

a:

The easiest way to find replacement parts for these products is to contact the manufacturer. They should have a helpline that will direct you to where to purchase replacements. You can also check the websites of these toys or conduct a search on Amazon for them.