10 Best Bowling Balls for Kids Reviewed in 2019
last updated
Apr 25, 2019
Bowling is one of America's most played sports. The sport is easy to pick up and great for children. With the concept being very direct and learning the can be picked up in a snap it makes bowling a sport that can be introduced to children even at a young age. Like other sports, there are health and developmental benefits. It helps strengthen the core muscles of the body which develop balance, coordination, and smooth movements. It is an enjoyable sport that can be played by most everyone in the family, but like any sport having the right equipment makes the world of difference. The list below is the best bowling balls for kids on the current market.
In a Hurry? The test winner after 26 hrs of research
Brunswick Tzone Deep Space
Why is it better?
High-gloss polish
Many color choices
Many weights available for kids
Improves your game
One of the most widely purchased and reviewed bowling balls
In a
Hurry? Editors choice:
Test Winner: Brunswick Tzone Deep Space
27
Researched Sources
26
Hours Researching
14
Products Evaluated
Design
Materials
Weight
By Default
In Depth Review Top 10
Brunswick Tzone Deep Space
Champion Sports Rubber
Brunswick Rhino
Brunswick Lizard Eye Glow
Hammer Black Widow
Ebonite Maxim Cool Water
Brunswick T-Zone Patriot Blaze
Pyramid Path
Champion Sports Foam
Sportime UltraFoam Junior
Table of contents
Criteria Used for Evaluation
Other Factors to Consider
Frequently Asked Questions
Sources
10 Best Bowling Balls for Kids Reviewed
1

. Brunswick Tzone Deep Space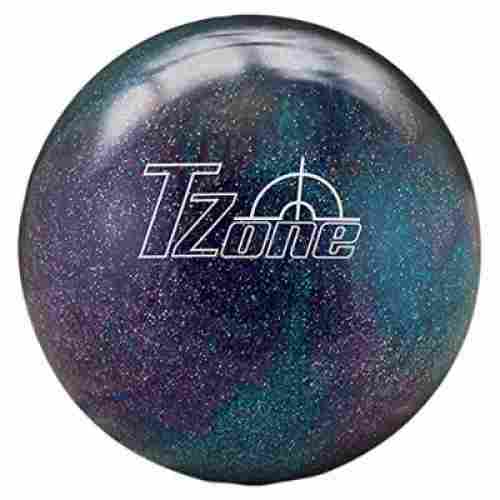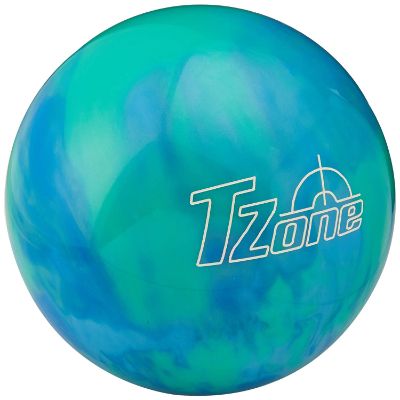 High-gloss polish
Many color choices
Many weights available for kids
Improves your game
One of the most widely purchased and reviewed bowling balls
A few reviewers stated their ball cracked from the finger holes (this could be a problem that occurred when the holes were drilled after the purchase - not the seller's fault)
Oh my! Which one to choose? This bowling ball brand comes in colors named Arctic Blast, Deep Space, and Scarlet Shadow to name a few.
Read more
Design
The mixture and swirl of color combinations are so gorgeous, it will be hard for your child to pick just one. Several reviews claimed that this ball is to credit for the overall improvement in their performance on the bowling lane.
Materials
The high-gloss finish is what makes the embedded patterns and colors stand out so vibrantly. Brunswick has by far the most widely available bowling balls offered and the most positive reviews by buyers. Many say that this particular ball has significantly improved their game and their scores at bowling.
Weight
There are loads of weight choices for kids to get the best bowling with which to begin this great sport. Scores have increased and skills have become better just because of this well-made bowling ball. With enhanced performance levels comes increased self-esteem and enjoyment in the sport.
2

. Champion Sports Rubber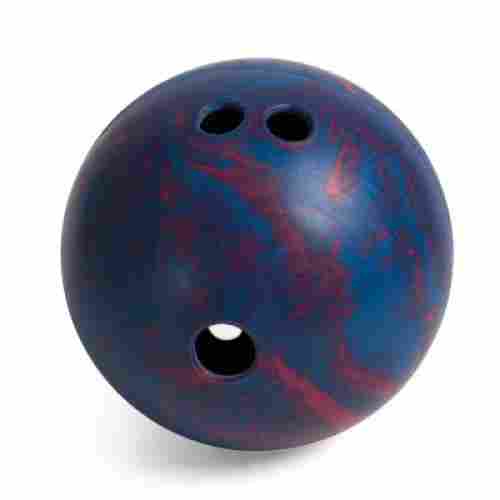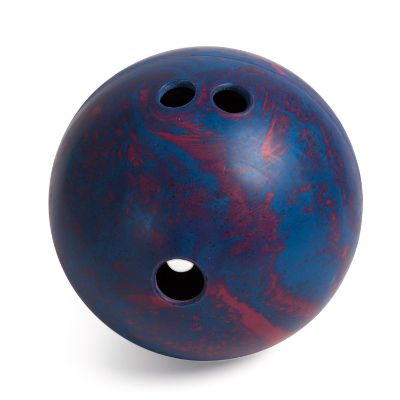 Lightweight authentic bowling ball
Features four finger holes and two thumb holes
Perfect bright colors, red and blue
Constructed from rubber durable material, can be used on multiple surfaces
Improve physical health and development
Cannot be used in all bowling alleys
Does not get slide movement on lanes in the bowling alley
Constructed with seamless precision this bowling ball is perfect for kids that want to learn how to perfect their game. The ball is constructed out of a rubber material that is durable and easy to throw.
Read more
Design
It can be used with foam or plastic pins plus it can be used at home, at school, at a recreational center, and even in the house. This bowling ball has been created to allow players to become their best without having to always be at the bowling alley. It is a multi-surface ball that helps learning or advanced bowlers with technique and control.
Materials
With four finger holes, including two that are thumb holes, it is easy to grip for bowlers with different finger and hand sizes. Bowling is very beneficial to the physical development of kids. When bowling the player must twist, stretch, and lung when throwing a proper bowling ball. These repeated movements improve their flexibility, balance, and poster. This controlled set of movements along with the physical steps to throw the ball makes bowling a great way to improve physical health and development.
Weight
It is a great ball for everyone in the family. It allows everyone to enjoy the same great authentic bowling no matter their age or size. The bowling ball is a bright blue and red making it easy to spot on the return. It is a lightweight, bright colored, super durable bowling ball that is great for kids and more.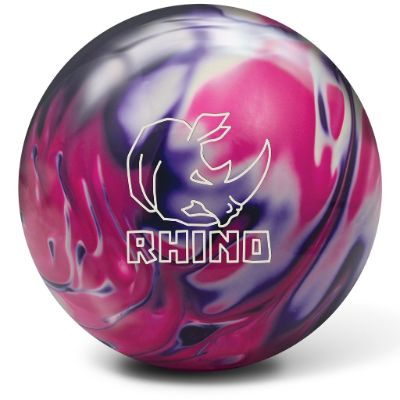 Entry skill level bowling ball for beginners
Does not react to oily or dry lanes
Perfectly balanced for control
Light bulb shaped core with the reactive coverstock
Boosts hand eye coordination
Does not react to hook ball bowling
Coverstock scratches easily
When kids are learning to bowl at a bowling alley they need a ball that has been constructed for beginners and this is it. This is an entry skill level bowling bowl that has been made just for kids.
Read more
Design
So, when creating this bowling ball the makers designed it so that it does not react to oily or dry spots. It is perfectly balanced to allow kids to have control and with the reactive coverstock, it pairs well with all different types of lane conditions. In the center of the ball, it features a core in the shape of a light bulb. It makes the ball super balanced and gives bowlers that control that makes learning fun and rewarding.
Materials
This ball is made out of durable materials that will last your little ones a while. Improving hand eye coordination past the time that the kids little seem like something that you no longer need to focus on, but in fact, it is a skill that needs to be worked on throughout their entire life. Bowling is an amazing way to practice fine tuning those hand eye coordination skills. Throwing a ball down a lane 60 feet into some pins and knocking them down improves the skill just like any other sport.
Weight
The weight it perfects plus it does not react to the different types of surfaces on the lanes. Many bowling alleys place oil on their lanes to aid in the movement of the ball. This can make it hard for young bowlers to learn a technique.
4

. Brunswick Lizard Eye Glow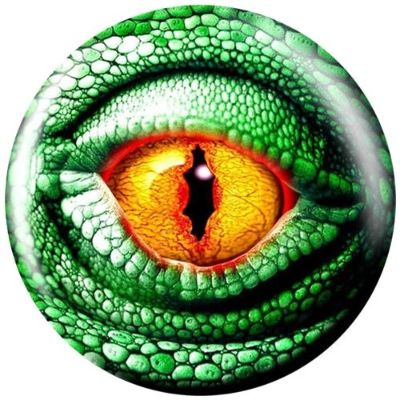 Glows in blacklight for Cosmic bowling
Is a fantastic replica of a lizard eye
Good selection of kids weights for size
Makes a nice display piece for office or home
Great for beginners and recreational players
Only one pattern choice
A seam is visible where the two picture patterns come together on the ball
Bowling with the eyeball of a lizard has got to be the coolest thing for a kid to do! Whether your child is a boy or a girl, they will want this bowling ball to be the hit of the alley.
Read more
Design
It looks terrific rolling down the lane. When it is not in use as a bowling ball it can be displayed at home in your child's room just to look at. The picture quality is wonderful and the eye looks very real. It even glows in blacklight for those Cosmic bowling events.
Materials
Several of the bowling balls listed here have the ability to glow in blacklight that is sometimes on in bowling alleys during Cosmic bowling. This ball has that capability to glow for your child. We can just see it now - a huge, glowing lizard eye rolling down the bowling lane. What a sight!
Weight
The ball is used for straight shots because it does not have the traction for hooks or curves, but that is just perfect for the beginner of the sport. Even though there is only one choice for the picture, there are plenty of different weights from which to pick for your child.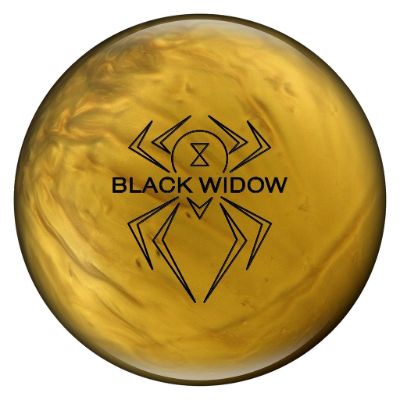 Combines angular cover stock and core
Provides players with maximum motion
Best suited for medium to well-oiled lanes
Features black widow brand stamp
Improves flexibility and stability
Lighter balls for kids do not feature gas mask core
Does not perform well without a medium to well-oiled lanes
Wow. Oh, wow. This bowling ball is truly a sight to be seen. It brings together the most angular cover stock and core to maximum its' performance.
Read more
Design
This powerhouse bowling ball is great for kids that have already learned to bowl and are taking their game to the next level. The backspin and motion that players get with this ball will give them nothing but the rewards. Plus the gold toned with the striking black widow right in the finish makes it a sight to be seen.
Materials
The motion is something that all bowlers want to see. With the carbon fiber core on the outside that has a patent pending and its leading industry warranty for three years. The finish on the outside has been polished and is great for medium to heavy oiled lanes.
Weight
Bowling is a great way to improve flexibility and stability. Many kids are not often found in the bowling center, but it is, in fact, a great low impact sport that allows kids to compete in a fixed environment while also allowing them to work on improving their flexibility and balance when bowling the ball down the lanes.
6

. Ebonite Maxim Cool Water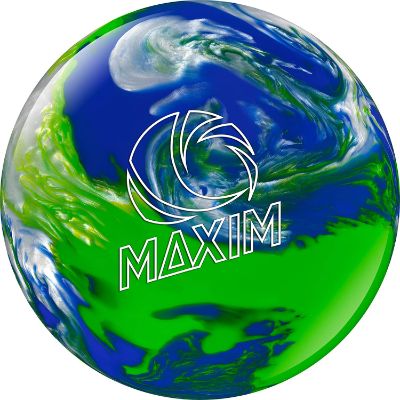 Has a three-piece core
Polyester coverstock (straight throws)
Looks like water (ocean)
Covered with a high gloss finish
Easy to spot on the rack with other balls
One complaint about cracking after a few uses (this might be the fault of the person who drilled the finger holes after the purchase)
Looking like a mass of water similar to the ocean, this ball is a wonderful color mixture of blue, green and white swirls. It will certainly be easy to spot among other balls at the bowling alley.
Read more
Design
Kids that are into geography or water sports may really like this ball because of the embedded image, and they can certainly find the weight just for them with all of the choices available.
Materials
Ebonite covered this ball with polyester/plastic to ensure straight throws for the beginner and recreational player and a gorgeous high-gloss finish to make it shine. The three-piece core allows versatility in the drilling of the finger holes, which can maximize the spin of the ball. Bowling balls like this Ebonite Maxim have options when having the holes drilled because the manufacturer put in a core to the ball that is different than the standard. This one has a three-piece core for versatility in the finger holes and possible hook options.
Weight
Instructions included with the ball help the buyer and the professional drilling the holes to choose the right placement for the player. There are several weights available for this ball, as well as finger holes, so everyone can find a Maxim Cool Water that works for them.
7

. Brunswick T-Zone Patriot Blaze
A great patriotic pattern that stands out among others
Polyester/plastic (good spin)
Has hook possibilities
Good high gloss polish
Great ball for beginners of the sport
A few were disappointed that the ball is plastic (says so in the description)
This ball is a great way to show off your patriotic side because it is a beautiful swirl of red, white, and blue in the most exquisite mix. It is another bowling ball that can be easily distinguished in the alley rack and on the lane as it knocks down all the pins.
Read more
Design
Brunswick offers very unique color schemes and this is just one of its masterful creations. Kids will adore the colors and may even proudly display the ball in their room when not in use. It is too pretty to tuck away.
Materials
The ball has a high gloss finish and it is made of polyester/plastic to give it that spin to stay in a straight path. This is good for beginners as they learn the ropes of bowling. The hook shots can come later as your child gains hand motion skills in throwing the ball. However, this ball does have the option of some curve when the finger holes are drilled. Plenty of weight choices are to be had, too.
Weight
Most bowling balls at the alley are in the dull abused ones for those that do not own a ball. Beginners usually start bowling with these balls to get the feel of the sport. It is refreshing that creators of sports equipment are equally making gear for the professionals as well as the novice to own and enjoy.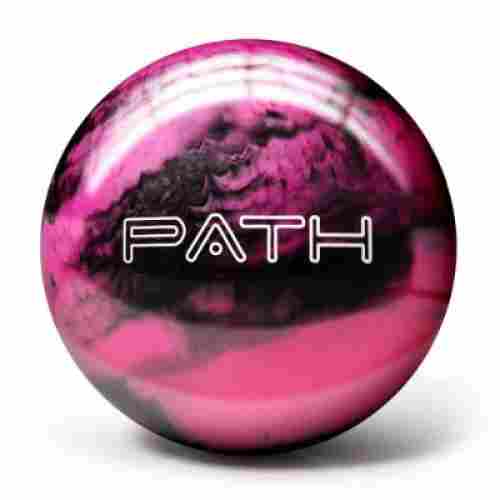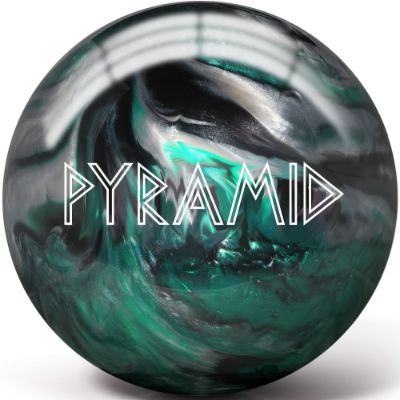 A beautifully designed bowling ball with a polyester coverstock
Great for kids
Can be used at any skill level
Comes new and undrilled in box
Engaging kids in low-impact competitive sport
Coverstock is easy to chip
Lightweight ball meant for kid bowlers
This is a great quality bowling ball for a great price and is ideal for kids. It is perfect for kids of all ages and can be used at all skill levels. No matter if your kid is just starting out or already bowled their first 300, this ball will be a great addition to their game.
Read more
Design
Each of the bowling balls designed and manufactured by this company come with a two-year warranty and is sure to outlast most balls in the allies. This bowling ball is sure to turn some heads at the bowling alley for the kids.
Materials
The ball is made from a polyester coverstock that is constructed to allow the ball to roll straight. Each ball comes undrilled and new in the box. Plus, it offers a cool effect of being reflective under black light. It is wonderful for bowlers who bowl straight on with a more precise bowling technique.
Weight
This ball comes in a variety of weights and is a great beginner ball. Bowling is a great low-impact sport for kids. The sport offers a competitive game that will get the heart rate going without having to worry about having to engage in a full-contact sport. Bowling is a competitive sport that takes lots of practice and dedication.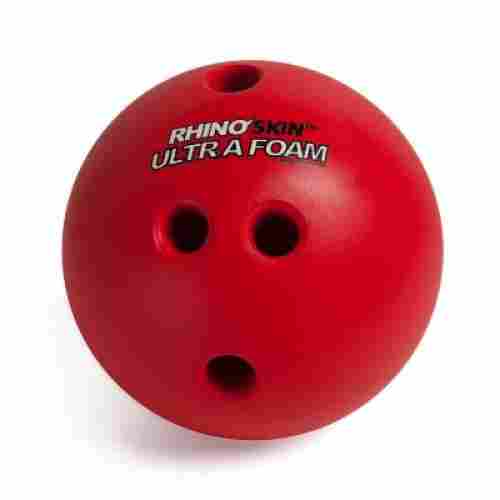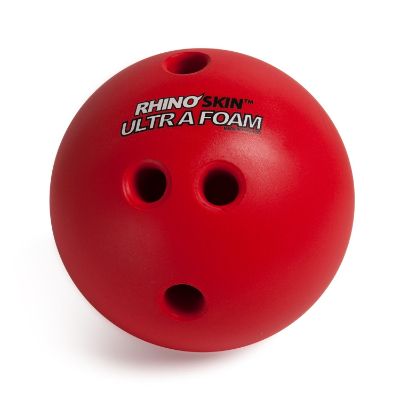 UltrafFoam bowling ball designed for the whole family
Great for all ages, lightweight design
Available in many bright colors
Features two sets of different sized three finger holes
Safe for use indoors and outdoors
The ball will scuff on hard surfaces
Only great for beginners and little kids
Fet your littlest ones involved in the game. This bowling ball is designed to be firm and strong, but yet it is still pliable and light. It has been constructed of lightweight foam, which is dense, but not dense enough to hurt toes if it is dropped on them.
Read more
Design
Bowling is the perfect game to get everyone involved and with this ball, even the littlest family members can play alongside their big brothers or sisters. This ball is designed for everyone to use with two different sets of finger holes. Each of the sets has three finger holes. The different sized holes allow everyone from little ones to adults to use the ball without any custom drilling.
Materials
It is a great ball to teach little ones how to correctly angle, throw, and control their bowling technique. Using the ball allows them to work on the technique of bowling, mastering how to throw a strike ball and learn to pick up those splits. Built to last, this bowling ball can be used on the lanes at the alley and even used in the backyard for practice. The protective skin on the outside gives it a great look and preserves it well.
Weight
It comes in many colors and is great for everyone in the family to use. So, get everyone out and enjoying the game. Due to the finger holes and variety of sizes, this allows for everyone to join in on the fun.
10

. Sportime UltraFoam Junior
Made of urethane foam (durability)
Weighs only one pound
Perfect for toddlers and small kids
Used for gym or classroom activities
Multi-colored for visual effect
Cannot be used on alley lanes
Comes in only one color choice
This one is for the babies. Everyone wants to bowl, but some are too small to handle a real ball. With the Ultrafoam ball, your toddler can act like a real bowler at home or at school.
Read more
Design
Unfortunately, there is no color choice for this particular bowling ball, but it does come in a nice multi-color swirl pattern to make it appealing to the eye of your little one. There is also only one size and weight of this ball. It is mainly for the tiny bowler in your family.
Materials
It is fun for the whole family for parties and get-togethers. The finger holes are already drilled in, so the fun can begin immediately. It is made of urethane foam so it is quite durable, plus it is resistant to most household chemicals, oils, and soaps.
Weight
Super lightweight! The Ultrafoam bowling ball is one tough item. It can withstand plenty of rough and tumble from abrasions, shock, oils, grease, and various other common liquids. Because of this resistance to so many elements, it is easy to keep clean and will certainly outlast your little bowler with many years of fun.
Criteria Used for Evaluation
Design
Most of the balls featured have really exciting patterns that will entice kids to join in the fun of bowling. With color splashes, swirls, globe designs, and lizard eyeballs for decoration, these fashionable balls are just the equipment kids want to show off at the alley. New designs come out every day to satisfy an endless appetite for new and exciting bowling balls. Everyone wants to be the envy of the crowd, and with these bowling balls, your child can do that easily.

Weight
All of the bowling balls we selected are available at weights just right for children and teens. Most of the choices come in a large selection of weights, so the proper equipment can be had in the chosen color scheme. Bowling balls in most bowling alleys are between 6 and 16 pounds, as are almost all of the featured balls here. The only ones that will not have a big selection of weights are the practice balls specifically intended for toddlers and first-timers to the sport. The weights for these are not as important as in a regular bowling ball. The beginner balls are very lightweight and are meant for the user to begin his or her appreciation of the sport. Beginner bowling balls are used to teach the child how to hold the ball with fingers in the holes, and then how to walk and release the ball to knock down the pins. It is the mechanics that are important with these balls that may not specify weight or give weight choices.
Materials
Because all of these balls are for recreational use or beginners, they are the most economical bowling balls available. They are mostly made of a polyester/plastic substance, which creates a ball that will have a very straight path down the lane. The plastic material allows the bowling ball to have less contact friction with the floor and therefore it slides better and in a straighter line. Once an individual's skill level increases, balls that will allow a hook throw can be purchased. Those upgraded bowling balls can be made of urethane or resin. However, to just start out with the sport, kids should use the plastic balls until they become more advanced with the movements and knowledge of bowling. The balls supplied in bowling alleys, known as house balls, are all made of plastic.
Most Important Criteria
(According to our experts opinion)
Experts Opinion
Editors Opinion
Users Opinion
By Default

Parents, did you know?
It helps strengthen the core muscles of the body which develop balance, coordination, and smooth movements. It is an enjoyable sport that can be played by most everyone in the family, but like any sport having the right equipment makes the world of difference. The list below is the best bowling balls for kids on the current market.
Parents, did you know?
Bowling is believed to be one of the oldest sports known to man, going back to ancient times. Remnants of bowling bowls have been found in Egypt dating back to 3200 BC!
Other Factors to Consider
Age Range
One of the most important concerns when purchasing a bowling ball for a child is which weight is the right weight. There are two general methods for choosing a ball for children based on their age or individual weight. The first method uses the age of the child to select the weight of the ball. The age and weight should be the same. For instance, if you need a bowling ball for a 7-year-old kid, then get a ball that weighs 7 pounds and so forth. This is usually a great guide and one that is widely used. The other technique is to divide the weight of the child by 10 and choose a bowling ball that is the same as the answer. For example, if the child weighs 60 pounds, divide 60 by 10 to get the answer six. Thus, a 60-pound kid should use a ball that weighs six pounds. Both of these methods work well when choosing a ball, especially for beginners and those that are very young. It is always best to just try balls at the bowling alley first to see which your child can comfortably handle.
Frequently Asked Questions
q:

What size (weight) ball should I buy for my child?

a:

There are two general rules when selecting bowling balls for kids. One is to use their age for the weight of the ball. For example, a 7-year-old child would use a 7-pound ball ideally. The other guideline is to measure each pound of the ball by every 10 pounds of the child. For example, a child that weighs 80 pounds would use an 8-pound ball (80/10 = 8).
q:

Bowling balls are not specific for boys or girls. Can a girl use any style of a bowling ball?

a:

Yes, girls use the same balls as boys. Just make sure that the weight of the ball is the proper amount for the child to be lifting and throwing.
q:

What should you use to clean bowling balls. Will certain soaps harm the lanes at the alleys?

a:

Unless the bowling ball gets covered with something sticky or hard to get off, just wiping with a dry or slightly wet towel should clean it well. No soap should be necessary for just regular use.
q:

When is a good age to introduce my child to the sport of bowling?

a:

Between the ages of 3 years old and 5 years old is the best time to introduce your child to the game of bowling. At this age, they are able to understand the concept of the game and are able to roll/throw the ball with skill. Before the age of 3 years old, many kids just end up tossing the ball and watching it bounce down the lane which is not preferred by any bowling alley.
q:

If you purchase a bowling ball that has a design on it, will this design ever come off or wear off with extended use?

a:

No. The patterns and designs on the bowling balls listed are embedded into the surface of the ball material. The outer layer protects the image for the life of the bowling ball.
q:

Can any of these bowling balls be used outdoors for kids to play with at a party or picnic?

a:

Regular bowling balls cannot be used outside or on rough surfaces. These balls should only be used on a bowling alley lane. However, the practice balls that we feature as the beginner bowling balls are perfect for indoor or outdoor play. They are constructed of durable materials that can withstand the roughness of outside ground and floor surfaces.