The time for windbreakers, sweaters, and pumpkin carving is over, winter is upon us. With record-breaking lows all across the country, it is more important now than ever to make sure your little one is properly bundled up. Perhaps you want to take the family on a ski trip to Aspen, or perhaps you want to indulge the memory-making of your child's first snow. From snow forts to snowmen, to snowball fights the number of snowsuits and snow bibs is a dizzying world to enter into, especially with so many concerns for parents. It takes dedicated time and research to determine what products are suitable for cold winters, which are more mobile, and which are low-quality and prone to ripping. The bottom line is that a snowsuit is the last thing you want to leave to guesswork. That is why we compiled this nice handy list for you. Check out our criteria section for more information on how we chose what items to feature.
On our list, we have included two-pieces, one-piece snowsuits, coats and snow pants. So whether you only need a pair of snow pants, just a coat, or the whole shebang, this list should meet your needs. Keep in mind that one-piece snowsuits will tend to only last a season due to your children growing, the general perk of one-pieces being the convenience of fewer articles to carry and that they are typically easy to get on and off. Two-pieces are great because (when they are sold together) they often already have complimenting colors and designs. Another good feature about going for a two-piece is that snow pants tend to have the most longevity of winter-wear as most of them will have adjustable shoulder straps. As a parent, your first step in this process should be to determine which of these approaches you will take.
Whether you want your kid to look as cute as possible, or you just want to quickly purchase a pair of snow pants with confidence in the quality, this list has products for every need and desire. No need to worry about general quality and durability, our research team has only included top-rated products by satisfied customers.
Our Top 3 Picks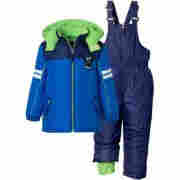 iXtreme Boys' Active Colorblock Snowsuit

Our rating
100% Polyester
Price:

See Here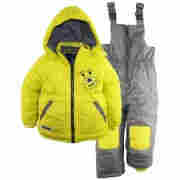 Rugged Bear Little Boys' Robot Snowsuit

Our rating
Machine Wash Cold
Price:

See Here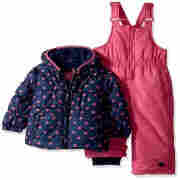 Pink Platinum Baby Girls Sweetheart Snowsuit

Our rating
Adjustable Straps
Price:

See Here

The Best Kids Snowsuits in 2018
Arctix Infiniti Kids Overalls Bib

Boys' Winter 2 Piece Snowsuit
Girls Sweetheart Print Snowsuit
Columbia Toddler Girls' Frosty Slope Set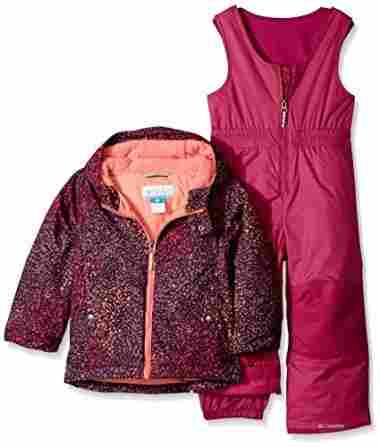 Patagonia Infant Girls Hi-Loft Down
Boys' Colorblock Snowsuit
Osh Kosh Girls' Bib Snowsuit

Pink Platinum Puffer Snowsuit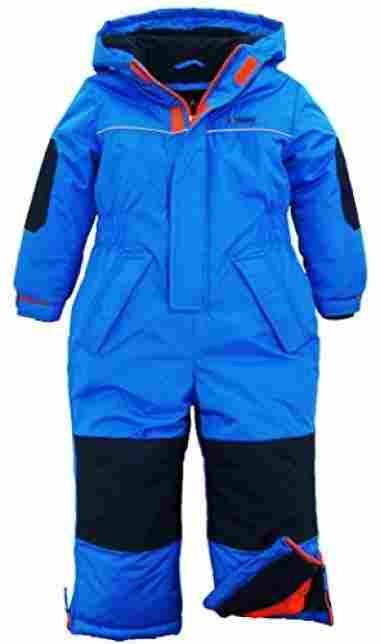 Boys' Frosty Freeze Bunting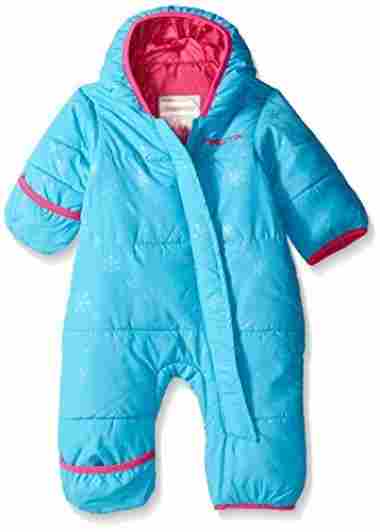 iXtreme One Piece Snowsuit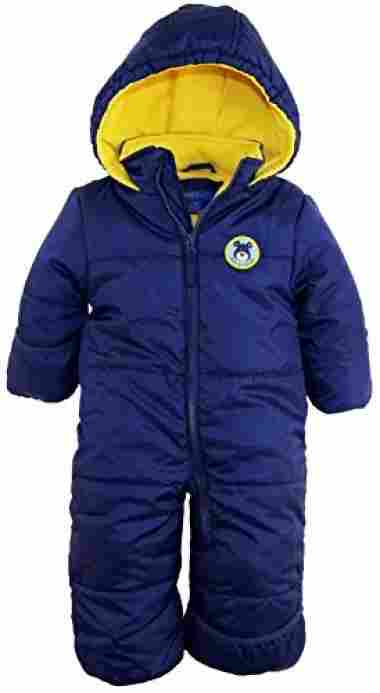 Girls' Snuggly Bunny Bunting
Duck Goose Cute Little Kitty Quilted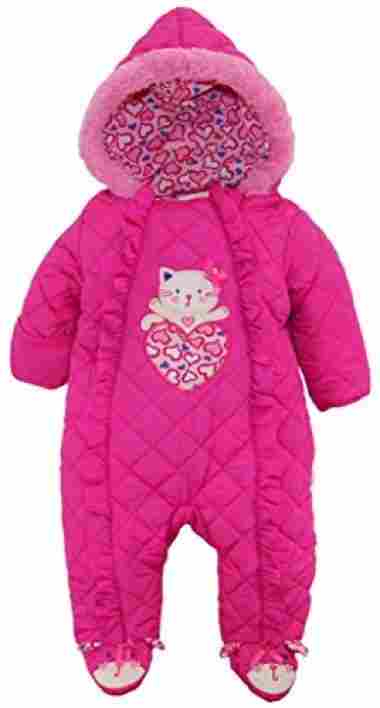 Arctix Infant/Toddler Snow Bib
Criteria Used In Evaluation of The Best Kids & Toddler Snowsuits
Our researchers dug through countless websites and read through numerous customer reviews to compile a list of the top 20 snowsuits and snow bibs for this winter season. Compilation of the list took into account such qualities as variety in color, durability, overall value, adjustability, and whether or not the suits come off and go back on easy.
Some snowsuits are meant for babies and were considered for warmth and ease of access. We understand that nobody wants to be awkwardly fumbling with their baby's coat to change a diaper. Nothing puts a damper on a family ski-trip like uncomfortable, wet, and upset children.
We understand that functionality is the goal but the appearance is what makes shopping fun for parents. As such suits made it on the list due to their fun colors and designs. We made sure to include sets of snowsuits that come with multiple colors and designs to choose from.
Also taken into consideration is warmth. Those experiencing milder winters will be happy with something thinner and more mobile whereas those in the Minnesota or Chicago should opt for something more heavy duty.
What Determined the Most Popular Products
There are far too many snowsuits to choose from, and being unfamiliar with the individual products can lead to accidentally purchasing inferior products that rip during their first use. To make sure this doesn't happen to you we only included products with guaranteed durability. Only after functionality and practicality do we factor in other qualities such as color variety, and adjustability.
We specifically sought products with high customer satisfaction. Any company can talk up their own product and gloss over any issues. Customers have no reason to lie, and as such, we made sure to give their comments the most weight in deciding what made our list. Every product which topped our list did so because parents like you were satisfied with their purchase.
Your Child
The biggest recurring issue with buying snowsuits and bibs is size. In researching this list our team members were tasked with wading through a plethora of comments bemoaning sizing issues and ill-fitting snow pants. As such, we did our best to mention if the sizes seem to run small or large. Parents will also be doing themselves an extra favor if they take the time to look up a company's individual sizing practices. Google is your friend here, and even with proper measurement and sizing, there is still always a chance of an awkward fit. That is why we also made sure to include brands that have fair return policies if returns are less than easy we made sure to make mention of it.
Please be aware that some snowsuits and bibs listed are intended for milder winter climates whereas others are more suitable for harsher climates. No need to get your child an extra bulky suit if it isn't necessary. Likewise, you definitely do not want your child stepping out into a polar vortex wearing something too thin.
FAQ
Frequently Asked Questions
Q: What size should I get?
A: The retail websites should have sizing guides which are the best place to start. It is also a good idea to check customer reviews and see if there is a consensus on whether or not the suits run large or small. It should be noted however that sizing will always be tricky and awkward fits can still happen even if you followed every step. As a safeguard, it is a good practice to check a company's return policy before making a purchase.
Q: Which coats are car seat safe?
A: As a general rule of thumb, no coats or snowsuits are really car seat safe. Bulkiness and often slippery material are not ideal for car safety. A handy alternative is to keep blankets in the car, so you can heat up your loved one without inhibiting safety.
Q: What should I be looking for in a snowsuit?
A: Check insulation, some coats or bibs are not fully insulated, or only are insulated from the top down. Check to make sure that a suit is fully insulated if you want maximum warmth. Adjustable straps on snow pants are also important as they can ensure use over multiple seasons as your little one grows. Lastly, check for an asymmetrical zipper, or a zipper that goes most of the way down, that will ensure that you can take the little tyke out in case of an emergency or when nature calls.
Q: How are the hoods on these snowsuits? Should I still purchase a hat?
A: We would recommend buying a snow cap. Not only is there always a chance the hood will not fit as snuggly as desired, but having a hat is just insurance and another option for extra warmth.
Q: Should I get a one-piece or two-piece snowsuit?
A: One-piece snowsuits are often recommended for infants and babies as they offer the easiest on-and-off for mom and dad. If your little one is more independent and bathroom emergencies or car-seats aren't an issue, then we recommend going with a two-piece.
Q: What should my child wear underneath a snowsuit?
A: It is best for your child to wear cotton material underneath their snowsuit, the reason being that any other material can become itchy, scratchy, and all around uncomfortable as it rubs against the material of the snowsuit.