10 Best Sewing Machines for Kids Reviewed in 2023
last updated
Jun 20, 2019
Foster a love of sewing in your child with a machine designed specifically for them. Sewing will encourage your child to get creative as well as stimulating their development. They will be able to increase their hand-eye coordination while also expressing themselves through original pieces. With our list of the ten best sewing machine for kids, the idea of sewing no longer has to be intimidating. Our list is composed of machines for children of all ages whether they are a beginner or a pro. Shop from our list and let the crafting begin!
In a Hurry? The test winner after 24 hrs of research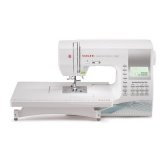 SINGER Quantum Stylist 9960
Why is it better?
Portable
Includes 600 built-in stitches and fonts
Sews 850 stitches per minute
Bobbin is easy to see
In a
Hurry? Editors choice: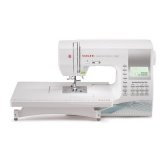 Test Winner: SINGER Quantum Stylist 9960
18
Researched Sources
24
Hours Researching
17
Products Evaluated
Safety
Durability
Ease of Use
By Default
10 Best Sewing Machines for Kids Reviewed
Criteria Used for Evaluation
Safety
First, we want to acknowledge that sewing can never be 100 percent safe, which is why supervision is always recommended, even for advanced sewers. However, a sewing machine for kids should have certain features that make the sewing experience safer. We also want to clarify that sewing machines can be safe, whether they're big or small, light or heavy. Having said that, beginners should probably start with lightweight machines and limited features that focus on the basics. That's why quite a few of our picks have smooth, rounded surfaces and clearly labeled dials and/or button controls. Such features can go a long way in preventing injuries that can happen simply from trying to set up the machine.
Durability
Durability is the key to a long-lasting sewing machine, which is why we looked for machines with solid construction from the inside out. For example, metal interior frames are an absolute must for heavy-duty machines. The outer panels and switches should be made of thick plastic since they'll be subject to heavy handling. We also considered how these machines would hold up during travel since many sewing enthusiasts hate to be without their machines for too long.
Ease of Use
Of course, the vast majority of our picks are not computerized machines, but many of them still have innovative technical features for a user-friendly sewing experience. Auto-threaders and thread cutters are incredibly helpful since threading is one of the most frustrating tasks for sewers of any age. Top-drop bobbins with clear plates and built-in bobbin winders are welcome to time and sanity savers, especially for kids who become easily frustrated.
Most Important Criteria
(According to our experts opinion)
Experts Opinion
Editors Opinion
Users Opinion
By Default

Parents, did you know?
We also focused on features that ensure proper securing and attachment of critical parts like the pressure foot and thread spool. Either of these parts coming loose or unraveling during the sewing process can do serious damage to your child's fingers. That's why we chose to stick with snap-on feet, which you can hear and feel as they lock in place.
Parents, did you know?
We also like easy speed control, especially dual-control options through either the foot pedal or a switch on the machine. Easy to reach on/off switches are critical as well, which is why all of our picks have these switches in front of the machine. We also did our best to pick machines with easily identifiable images for the on/off and speed functions.
Parents, did you know?
As a general rule, if they can't be trusted to stay intact when packed into a standard suitcase, then it's not durable enough to be on our list. An exception to the rule is computerized sewing machines, which have to be handled carefully since they contain super-sensitive parts like motherboards. In all honesty, we don't recommend traveling with these unless you can store them in a carry-all, but many are really too big for that purpose.
We used the aforementioned guidelines to find companies with proven reputations for rugged, built-to-last machines. Many of these companies like Brother and Singer offer 25-year warranties, which also factors into a machine's durability. While the warranty itself doesn't make a machine durable, the fact that you have it ensures that you'll have the machine for a set number of years.
Other Factors to Consider
Age Range
These requirements, however, are not as stringent for the mini portables that are specifically made for beginners. These are extremely light because they lack metal frames, but that's not necessary for small, "practice" machines that are only meant for basic hems and stitches. It's expected that children with a real interest in sewing will transition to bigger machines while keeping the these around as back-ups. Still, you can be assured that we only selected machines from companies with proves reputations, like Singer and Brother.
Frequently Asked Questions
q:

Computerized or mechanical: which is better for a beginner?

a:

As a general rule, mechanical sewing machines tend to be better for beginners. Before we state the reasons why, please be aware that we are talking about portable electronic sewing machines when we say "mechanical." These are lighter and more advanced than the all-metal stationary machines, but they lack most of the customization that you would get from a computerized machine.

As for why they're better for beginners, the main reason is that they're easy to operate. The vast majority are push-button models for better speed control. They also have limited stitch and buttonhole options, so beginners can focus on the basics without getting overwhelmed. Mechanical machines are also easier to clean, which is important for fostering independence, even if you're helping them with most of the steps. However, computerized sewing machines have their advantages, especially for kids who show great aptitude for crafting projects. Programmable computer options provide a lot of shortcuts through options like auto thread cutting and lock stitching for neater finishes without even trying. Overall, both types of machines have their pros and cons, so it's a real matter of what your child is ready for.
q:

Can these machines handle thick layers of fabric?

a:

Some are definitely better than others for heavy-duty projects, though most beginner sewing machines are meant for thinner fabrics. That makes sense given that little kids and beginners should start with very simple projects that focus on skills like even stitching.

In general, the heavier sewing machines with metal frames are best for thick fabrics. We highly recommend computerized sewing machines like the Eversewn Charlotte and the Janome 8100, which have highly specialized functions for quilting and home decor. These functions are clear signs of a heavy-duty sewing machine since quilting and home decor typically require thick, multilayers of fabric. These machines have additional features, such as high SPM (stitches per minute) and adjustable thread tension, which are essential for powering through thick fabrics.
q:

Which machine has the best potential to grow along with my child's abilities?

a:

If you're quite sure that you've got a budding seamstress on your hands, it's understandable that you want a machine with a comprehensive set of features and design options. Most people opt for computerized sewing machines since they offer tons of stitch patterns and presser feet options for all kinds of fabrics. Furthermore, their high-tech features like LCD light-up screens, preset memory functions, and adjustable thread tension provide a lot of helpful shortcuts as your child takes on more demanding sewing tasks.

However, computerized sewing machines can be overwhelming for some kids since there are so many programming options. Unless your child is already a wiz with computers and smartphones, it may be better to go with a standard sewing machine that's strong enough to handle big projects. You'll want to look for machines with sturdy metal frames, and heavy-duty feeding systems for thick fabrics. Multiple buttonhole options and stitch patterns for quilting and embroidering are also indicative of sewing machines with long-term commitment potential.
q:

Are these machines compatible with universal presser feet?

a:

Universal presser feet sound like they should work on every sewing machine, but this is not necessarily the case depending on the type of shank adapter they use. For example, Singer has their own proprietary low-shank and slant-shank adapters, which only work with Singer brand snap-on feet. In addition, the attachment bar on their shank adapters is a bit skinnier than the ones you see on most other brands. Hence, a universal presser foot is unlikely to work with their machines.

For the sake of optimal safety and functionality, we recommend buying presser feet made for your specific brand of sewing machine. Presser feet that are not fully or correctly secured may pop off, which can result in serious injuries for your child. Furthermore, it can damage the machine, thereby ruining your child's projects, and possibly voiding your warranty. That's why it's best to follow the manufacturer's recommendations and to ask them about compatible alternatives before purchasing any replacement parts.
q:

How often should I replace the needles?

a:

his is an excellent question since needles are the cheapest, yet most important part of a sewing project. Frankly, most people don't replace them enough, hence the preponderance of injuries and damage to the machine. A good rule of thumb is to replace needles every four hours of sewing time. This may sound like paranoia, but needles on sewing machine go through fabric hundreds to thousands of times per minute, so it doesn't take long before they get dull or bent. Once that happens, you get looped threads, skipped stitches, runs in your fabric, or worst of all, damage to the machine.

With beginners, you can probably go longer in between needle changes since they'll be working on simple projects for short durations of time. As they become advanced sewers, they'll start working for longer periods of time on more complicated projects. They may also start using thicker fabrics for projects like quilting, in which case needles may have to be replaced even more often. Finally, remember to read the manufacturer's instructions regarding care and maintenance. This is particularly important for ensuring that you don't do anything to void your warranty.
q:

How do I clean and maintain these machines?

a:

Next to regular needle changes, cleaning is the best way to ensure that your child's sewing machine works properly year after year. First and foremost, make sure to read the manufacturer's instructions on proper care and maintenance. Singer, in particular, has proprietary parts and features that may require special cleaning. You should also have your sewing machine professionally serviced once a year, especially computerized sewing machines.

In the meantime, the machine should be cleaned after each project or at least every 10 to 12 hours of use. Beginners and young children should watch you do the entire process, but eventually, they will be able to help with steps like wiping down the insides of the machine. They can eventually move onto more advanced steps, liking blowing out lint with an air can or dropping lubricating oil onto the proper areas. While it seems like a lot of work, you should treat it like any other activity you do with your child. For children, the important thing is to spend time with them, whether you're doing chores or playing games.