Play-doh is a very popular compound that has been created specifically for children to play with. The dough-like material is great for molding and creating shapes, characters, and different types of pretend food items. It is a great hands-on material that allows children to get away from the TV and electronic devices and use their hands to create special works of art or pretend to make their parents a special cake. Creating, squeezing, and working those lumps of dough can inspire even the littlest one to do great things.
Playing with Play-doh is a great way to develop their fine-motor skills, inspire their cognitive development, and help them engage in positive social interactions. They can play alone or with friends. With either style of play, the interactive toy offers so many benefits.
There are also a very wide variety of Play-doh sets on the market.
There are sets that have the dough compound and a few tools to deluxe sets that have a character-themed toy. Each of the sets always includes interactive tools that make creating fun and easy. They will inspire them to create with their hands and use their minds to turn lumps of the compound into something wonderful.
No matter their age or mindset, all kids to love to play with Play-doh. So if you don't already have a set or you are looking to add to their collection, there are lots to choose from. To make the selecting easier, we have created a list of the best Play-doh sets on the market. These are our recommendations.
Our Top 3 Picks
Play-Doh Kitchen Creations

Our rating
Authentic Sizzling Sounds
Price:

See Here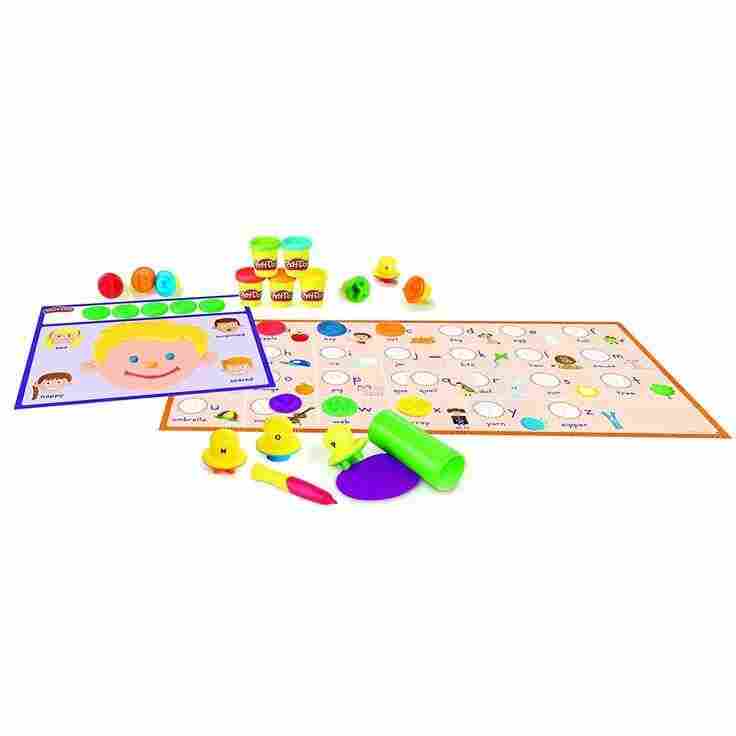 Play-Doh Shape and Learn

Our rating
Fun Learning Activity
Price:

See Here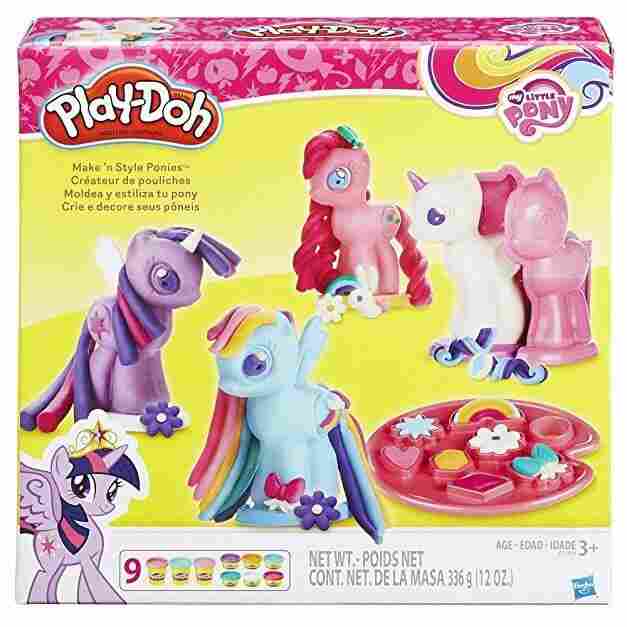 Play-Doh My Little Pony

Our rating
Style your Favorite Pony
Price:

See Here

The Best Play-Doh Sets for Kids Reviewed in 2018
Play-Doh Kitchen Creations Sizzlin' Stovetop
Play-Doh Fun Factory Deluxe Set
Play-Doh My Little Pony Make 'n Style Ponies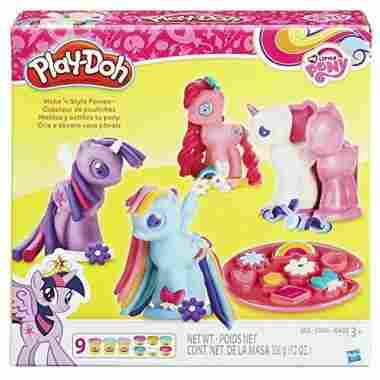 Play-Doh Doctor Drill 'n Fill Retro Pack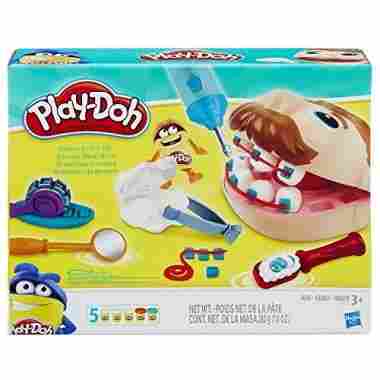 Play-Doh Kitchen Creations Magical Oven
Play-Doh Burger Barbecue Toy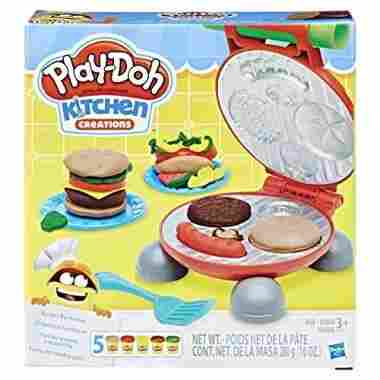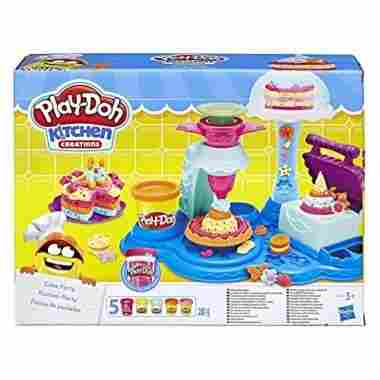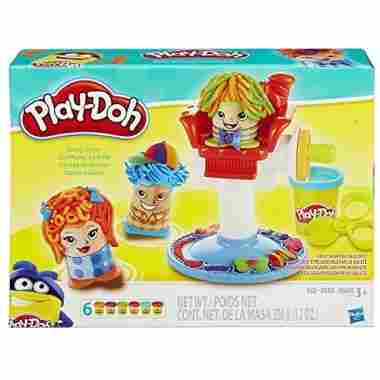 Play-Doh Sweet Shoppe Frosting Fun Bakery Playset
Criteria Used in Evaluation of the Best Play-Doh Sets
Encourages Creativity
The main goal of any Play-Doh play time is to spark your child's own creativity. At the least, this can be accomplished with only the modeling compound and household items. The sets are just an extra tool for encouraging prolonged creative play. This kind of limitless play is a great way to strengthen the parts of the brain that help your child solve problems. It helps the brain make new connections that lead to the improved development of other skills. There are many benefits to creative play and that's why you notice art is taught in school.
As your kid begins to shape their creations, they're executing hand-eye coordination, spatial reasoning, and other skills. The list of positives for Play-Doh play is seemingly endless which is why it's been a top choice of educators for decades. The sets on this list were chosen because they demonstrate an ability to use your child's interest in a topic and bring it to a creative activity. To help your child benefit from those brain-building moments, we encourage you to choose sets that match their personality and introduce some new topics as well.
Includes Interchangeable Tools
Play-Doh as a company makes an effort to design each set to include the accessories they think are essential for the experience. We know that when played with at home kids are going to mix tools together. It's our opinion that this is a good thing and should be encouraged. One of the reasons is that if for some reason the main part is lost or broken the tools can still be useful. Open-ended play sessions are fantastic for your child's brain development so we chose sets that include tools that can be played with separately from the main piece.
Allows Independent Play
The point of the creative play is that it is led by your child. This kind of kid-centered session isn't possible if the toys they're using are too difficult for them to operate. Even if a child is motivated enough to ask for help, the chances that they are going to keep playing independently decrease if they need assistance often. We know that every child's abilities are unique so we made an effort to describe the experience other kids have had with the toys as well as how they operate. That way you as the parent are empowered to choose the best play set for your child. After all, you are the expert.
Easy to Clean
Any parent who has guided Play-Doh play before knows that kids aren't always great at understanding the need to clean small parts out of tools. The result is that colors can become mixed together and before long you're left with a brown-colored compound. Another unfortunate result is that the dried pieces fall out of the toy when it's brought out to be played with again and land on the ground. Overall, we don't ever want to make a parent's job more difficult so we chose sets that are as easy to clean after each use as possible. The idea was that your kid could be shown how to check out the set for remaining compound before it's put away. That way it allows kids a chance to be the boss of clean up with minimal frustration for everyone.
FAQs
Frequently Asked Questions
Q: Doesn't Play-Doh end up in tiny pieces that are tough to clean up?
A: Sometimes. We suggest having kids play in an area that's easy to clean. They can also use pieces of Play-Doh to pick up the smaller pieces when cleaning up.
Q: How do I clean the components of a playset?
A: Remove as much as you can after each play session. Then use water to clean any remaining out of places that are tough to reach.
Q: If I lose a piece to a set can I order it separately?
A: Unfortunately not. Though we've found that many kids end up mixing accessories together from different playsets and enjoying them together.
Q: How can I preserve a Play-Doh creation permanently?
A: You could allow it to dry but this might result in cracking. Instead, we suggest taking a picture so that you can treasure your child's creation forever.
Q: Is Play-Doh safe for all kids to play with?
A: It does not contain nuts or milk by-products but does include wheat as part of its recipe. The vast majority of kids aren't so allergic to wheat that they'd have a reaction to touching it. If you're concerned about your child we'd recommend asking their doctor.
Q: Is Play-Doh really edible?
A: It's nontoxic so won't hurt your child if they DO eat some. Keep in mind though that it's not meant to be eaten so that should be discouraged.