As a parent, your main goals are to make sure your child is safe, healthy, and developing appropriately. If you're looking for an activity that is not only fun but will also stimulate your child's development, we strongly recommend painting. Allowing your child to get messy with finger paints or even a paintbrush encourages them to freely express themselves. If you're worried about clean up, try dressing your little one in a paint smock and laying a trash bag underneath where they are painting. While allowing your child to paint at the kitchen table is great, providing them with their own easel is even better. Easels give them their own space to get creative. Your child will increase their fine-motor skills as they grip their paintbrush. Dipping their brush in and out of colors will improve their hand-eye coordination. Not all easels are made only for painting. In fact, many are designed with chalkboards, whiteboards, or even a roll of paper for your little one to color on. Whichever medium they choose to get creative with, standing in front of their work will strengthen their muscles. Easels come in all shapes and sizes. Whether you live in a small apartment or a big house, we're confident there's an easel on the market that is perfect for your family. Start your search with our list of the 10 best easels.
Our Top 3 Picks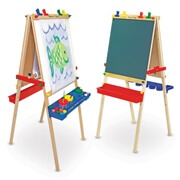 Melissa & Doug Standing Easel

Our rating
Easy Storage
Price:

See Here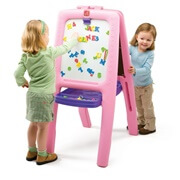 Step2 Pink Easel for Two

Our rating
77 Magnetic Letters
Price:

See Here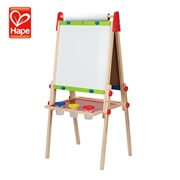 Hape All-in-One Wooden Easel

Our rating
Height Adjustable
Price:

See Here
[/vc_column_text][/vc_column][/vc_row]
Elk & Bear Double Sided Magnetic Whiteboard
Age Range: At least 3 years old
Age Range: 3 to 8 years old
All-in-One Wooden Art Easel
Age Range: 3 to 8 years old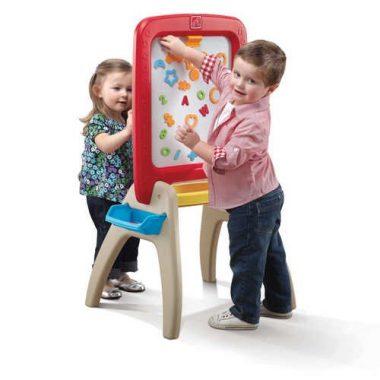 Age Range: 3 to 8 years old
Flip and Doodle Desk with Stool
Age Range: 2 to 8 years old
Tabletop Magnetic & Whiteboard 2 Sides
Age Range: 3 to 15 years old
Age Range: At least 3 years old
Melissa & Doug Double-Sided Magnetic
Age Range: At least 6 years old
Melissa & Doug Deluxe Magnetic Standing
Age Range: At least 3 years old
Criteria Used to Evaluate the Best Easels for Kids
With the holidays right around the corner, everyone is keeping an eye out for the perfect gifts for those they love. These are perfect to inspire your little artist, for the holidays or any special occasion! Whether you have an aspiring artist in your life or just want to find a fun activity to keep your kids occupied, you're sure to find something that will excite and inspire your little one.
Age Recommendations
These items are suited for younger children. The age recommendation for most of these products range from ages 3 to around 8. There are however a couple of options that can go a few years higher. As most of these are height adjustable, there is a possibility they can grow with and keep up with your child. These are suitable for both boys and although there is one that's pink, perfectly suited for your little princess.
These will inspire imagination and creative play. These items are versatile and most have multiple surfaces for plenty of artistic options. Watch your child's eyes light up as they create incredible masterpieces. With a paper roll option for most of these, your child will be able to hang and dry so you can cherish their art forever!
If there are multiple children playing, most of these kids' easels have more than one activity surface, which lets your kids play together without having to be in each other's space. This is a great way to help them bond and find a common activity to enjoy together while still allowing them to respect each other's boundaries and space.
Introduction of Basic Concepts
Some of these easels have a magnetized side and come with letter and number magnets although you may also purchase these separately if they aren't included. By using these magnets, you can introduce your child to letters and numbers as well as some basic concepts of science. Magnets and their positive/negative charge will be introduced in it's most basic form, helping build a solid foundation for understanding more complex science concepts. There are several magnet units available that can be purchased separately so you can introduce your children to animals and shapes as well. The magnets available come in different colors so they can even be used to introduce your child to the concept of sorting and grouping.
These are also a great way to help promote your child's development of fine-motor skills. By gripping paint brushes, chalk, and dry erase markers, and opening and closing clips to hold artwork, your kids will have plenty of motor-building skills. This is also accomplished with the magnets as they will use their little fingers to grip the magnets. Some of the easels are relatively compact and all are collapsible so travel is possible, even easy with some.
How We Chose the Best Easels for Kids on Our List
Ase we said, we don't expect really young kids to perfect the art of painting or the use of the children's easel. With this in mind, we set out to focus mainly on introducing these products to children so they will know how to use them and become instrumental in their very own artworks. As such, our very first criterion was the design of the easel for kids. Obviously, it should look like the real thing. However, depending on the age of the child, it should also allow for imagination to flourish. Child psychologists say that the only way we can stimulate a kid's imagination is when we give him or her an item that has features different from the real thing. It would be then up to the child to "fill" in the gaps between the real and the toy by imagining its function.
Since we already set out on a developmental approach for the choices of kids' art easels, we thought that it would be ideal if the design of the product closely matches the recommended age of children who are going to use it. So, developmental appropriateness was a major factor in the selection process. Related to this is the ease of its set up, maintenance, and storage. It's equally important that these products can be easily managed by kids themselves so they don't have to rely on mom or dad. This fosters a sense of responsibility and independence, something that all kids need to learn.
Because kids will be effectively managing their experiences with these products, easels for children must be safe. We looked for components that may endanger children's safety and health. This includes materials that were used or applied as finishing to the product. Also included are components that may be too small or maybe even too sharp for kids' safety.
When all these were evaluated, we still came up with an amazing array of products. Hence, we decided to look at the product rating and considered only those with no less than 4.5 stars. Most consumers will definitely look for the number of stars a particular product has as this gives them some form of security in the quality and usefulness of the item.
Why Creative Arts are Important to Kids
It is no secret that creative arts can have a lot of benefits, especially for children. If we feel more relaxed, more attuned to our emotions when we look at stunning works of art, just imagine what these pieces of art can do for children. Kids doing the artwork can derive a variety of benefits, too. Studies have shown that creative arts help kids develop across a variety of domains.
First is their physical development. Hand-eye coordination is enhanced which can provide the basis for better control of purposeful movements. This can provide the necessary training for them to master dexterity.
Using colors, drawing lines, and forming shapes are all domains of cognition whereby children are able to form mental concepts and express these through their drawings or paintings. What many fail to recognize is that the process of drawing or painting can entail different problem-solving skills. For instance, coming up with a different color typically requires the combination of two or more primary or secondary colors. This can then be refined further by comparing the resulting color to the standards as well as the color required.
Obviously, creative arts can do a lot of things for a child's imagination. This can form the basis for the development of the child's divergent thinking which, in turn, forms the basis of their critical thinking and logical reasoning. Many scientific disciplines are based on these two fundamental cognitive processes.
Engaging in creative arts can also help children develop their social and emotional skills. Most of their artwork will be expressions of their views about themselves and their world. This serves as the foundation for their self-concept which is important in building healthier social relationships.
There are many other reasons why kids should engage in creative arts. The whole idea is to give them the opportunity to express themselves.
The Bottom Line
It is in the expression of their thoughts and feelings that children are able to communicate with other people, particularly parents and other caregivers. With the 10 best easels for children, you now have a tool to make this happen.
FAQ
Frequently Asked Questions
Q: Do these sets come with art supplies included?
A: While not all have extras, some of these sets may contain a few bonus items such as erasers or paper. There are units that can be purchased separately for extra fun. These are magnets that range in shape, and color.
Q: Do they require assembly?
A: Some of these kits do require assembly. With the exceptions of needing help from a couple of everyday handy tools, putting these products together should not be too strenuous of a task. Please keep in mind this does not mean a child can set this up with no adult help/supervision.
Q: What size are these items?
A: While there are a couple options on this list that are ideal for travel and compact storage space, the majority of these products are fairly large and feature the option to grow, as your child does. These are the perfect size for smaller children.
Q: Are they easy to clean?
A: There are mixed reviews regarding the cleaning of these products. Some state clean up is very easy and some state the products leave behind color residue. They do have cleaning solutions the aid in the cleanup process. These can be purchased from most any superstore, such as Walmart. They may even be available for purchase online, this way they'll come right to you!!
Q: Do they come with good storage space?
A: While there are a few items on here that don't have the capacity for a lot of storage, there are some great choices here with ample storage. This will help keep your little one as organized as possible. On some, all the supplies are right at hand so the creations can last for hours.
Q: Is there a way to find replacement pieces?
A: While most of these brands don't market or manufacture individual replacement pieces, they do have separate sets available for purchase, giving your child the flexibility to mix and match.
You May Also Like
10 Best Art Sets For Kids
10 Best Crayola Toys