10 Best Easels for Kids Reviewed in 2019
last updated
Aug 05, 2019
As a parent, your main goals are to make sure your child is safe, healthy, and developing appropriately. If you're looking for an activity that is not only fun but will also stimulate your child's development, we strongly recommend painting. Allowing your child to get messy with finger paints or even a paintbrush encourages them to express themselves freely.
If you're worried about the clean up, try dressing your little one in a paint smock and laying a trash bag underneath where they are painting. While allowing your child to paint at the kitchen table is excellent, providing them with the easel for kids is even better. Easels give them their own space to get creative. Whichever medium they choose to get creative with, standing in front of their work will strengthen their muscles. Start your search with our list of the 10 best easels.
In a Hurry? The test winner after 97 hrs of research
Elk & Bear Double Sided Magnetic Whiteboard
Why is it better?
Built in handle
Encourages Social Play
The easel can be folded flat which makes it easy to transport
Increases reading and writing skills
In a
Hurry? Editors choice:
Test Winner: Elk & Bear Double Sided Magnetic Whiteboard
32
Researched Sources
97
Hours Researching
16
Products Evaluated
Design
Effectiveness
Compatibility
By Default
10 Best Easels for Kids Reviewed
1

. Elk & Bear Double Sided Magnetic Whiteboard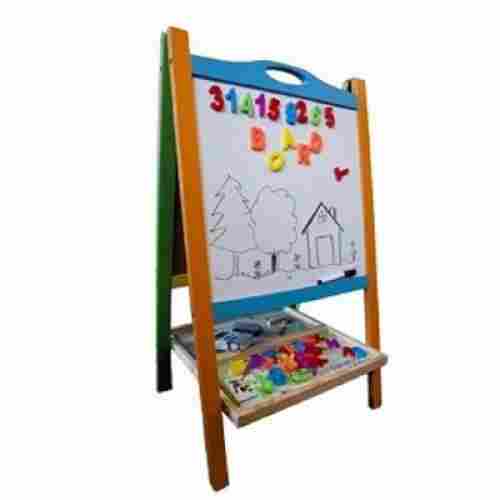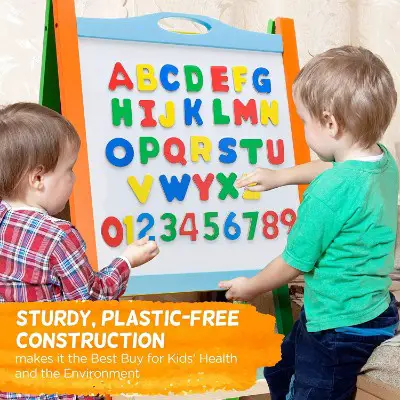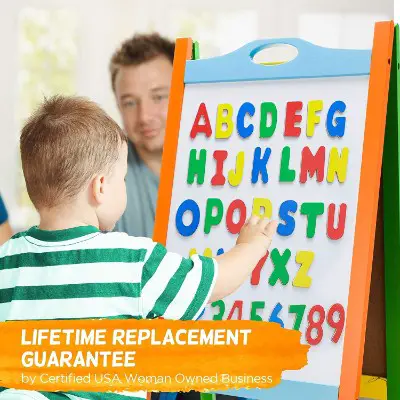 Built in handle
Encourages Social Play
The easel can be folded flat which makes it easy to transport
Increases reading and writing skills
Only includes one dry erase marker
The Elk & Bear Double sided kids art easel is great for little artists everywhere. Geared towards children who are between the ages of 3-5, this easel allows them to draw with chalk or markers as it has a magnetic dry erase board and a chalkboard.
Read more
Design
A dry-erase marker, eraser, and chalk are all included so your child can begin doodling as soon as they receive it. The easel is 29.9 inches, which makes it the perfect height for toddlers and younger children. Designed with a handle at the top, it can easily be moved from place to place. To increase its portability, it can be folded flat and easily stored away. There are two wooden trays at the bottom, which can hold all of your little one's art supplies.
Effectiveness
The Magnetic letters that come with the easel will increase your child's reading and writing skills. As they draw and color, they will increase their brain's development, which is crucial in early childhood. The double-sided feature allows them to develop their social skills by drawing with a friend.
Compatibility
It is perfect for two children to use at one time or for one child to have two sides of exploring art fun at the same time. This easel features two different sides that can be used at the same time. One side is a chalkboard and is great for all different kinds of chalk mediums from liquid chalk paint to the standard white sticks that you get at the grocery store, plus everything in between.
The other side is a magnetic board with a dry erase feature. It is great for placing a piece of paper up with magnets for painting or drawing time or just drawing right on the board with special markers. Either side or both sides can be enjoyed at the same time.
2

. Melissa & Doug Deluxe Standing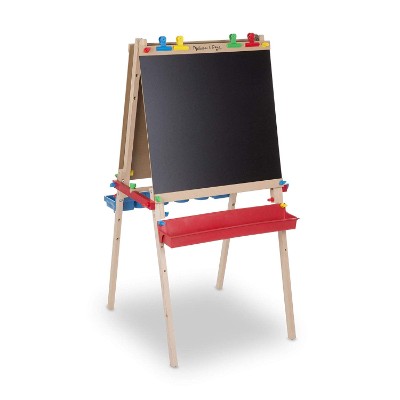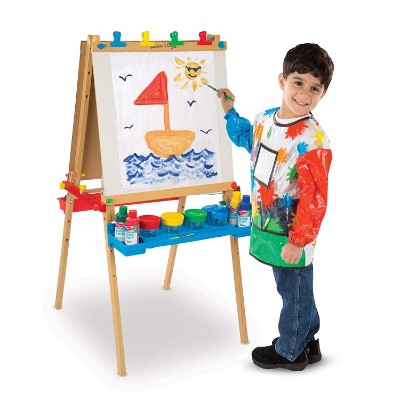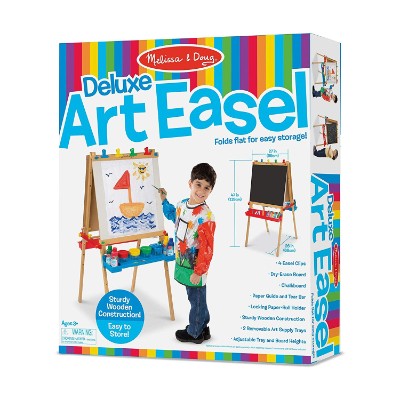 Equipped with trays for holding art supplies
Easily folds down & can be stored away
Includes clips to attach paper
Dual sides encourage social play
Assembly is required and may be difficult
Encourage your child to unleash their creativity with the Melissa and Doug Deluxe Standing art easel for kids. This double-sided easel provides your child with twice the fun as one side is a dry erase board and the other is a chalkboard.
Read more
Design
Not only can your child draw with chalk or dry erase markers, but the built-in paper roll allows them to get creative with paint, markers, or crayons as well. The height of the easel can be adjusted, so your child can continue to use it as they grow. The four colored clips make it easy for your child to hang up their work.
Effectiveness
Your child has the freedom to decide what medium they would like to use. Each side of the board is equipped with a plastic tray that is designed to hold all of your child's art supplies. The trays can be removed thus making it easy for you to clean them. Storing is super easy as the wooden frame is designed to fold.
Compatibility
Easels can be one of those things that you are hesitating to buy because you feel that it will just take up too much room in the playroom or living room area, but not with this wooden deluxe easel. It folds right up making it perfect for storing when not in use.
The legs side up into the easel part of the set and then the two sides fold up together to make it a compact square that is easy to store. Letting your little one explore their creativity will never be a space concern with this easel model.
Includes Magnetic numbers, letters, & Signs
Equipped with storage tray
Minimal & easy assembly
Available in two colors
Does not include chalk or markers
The Pink kids easel for Two is an adorable easel for toddlers who are just beginning to explore the joys of using a variety of media to create wonderful artwork. It's one great starter kids easel as it comes with very sturdy and stable construction. The extra-wide stance allows for greater stability while the hinge mechanism at the top ensures ease of folding and storage.
Read more
Design
The Step2 toys creation comes with two usable surfaces, one of which is a standard chalkboard while the other side is a metallic dry erase surface. Young girls will love doodling on the easel's writable surface. They'll be using colored chalks and whiteboard markers to express whatever it is they have in their minds.
They will also love the accompanying magnetic numbers, letters, and various signs all made with a foam body for a different tactile experience. Its pink frame should provide just the right visual appeal for your young princess' room. An extra-large clip is fully integrated at the top on both sides of the children art easel, perfect for securing craft paper and other drawing or painting paper.
Supplies and materials can then be placed on the tray just under the panels. Pencil ledges have also been incorporated to make sure your child's art materials won't be rolling anywhere. This is one great tool for encouraging your child to draw and paint together with her best friend.
Effectiveness
This great easel for kids is perfect for your little princess. This tool is a great way to inspire your little one and give her a head start on some very basic everyday concepts. These include letters and numbers. Another great benefit to this Easel set is the magnetic aspect. This will introduce a basic understanding of magnetic concepts, such as positive and negative charges. It's pink for pleasing aesthetics, so your little princess is sure to love it!
Compatibility
Kids can acquire so many items over the times, especially when it comes to art supplies. What is great about this easel is that is it ideal for storing all those supplies. It features two deep storage trays on both sides of the easel. The trays are great for holding all those paintbrushes, dry erase markers, chalk sticks, and paint plus between the trays are a handy center tray. This try can be used to hold magnets, paper, and so much more. The storage system on this easel is really ideal for lots of supplies.
4

. Step2 All Around for Two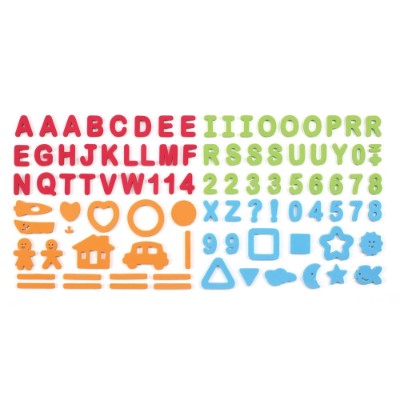 Built in Clip allows paper to be easily attached
Contains three storage trays
Easy to Assemble
Folds flat for easy storage
Magnets could be more durable
The Step2 All Around Easel for Two is technically similar to the other products of Step2 in this list except that the double-sided panel is slotted into a smaller A-frame stand. This makes the panel be oriented into a straight vertical. The other products are typically inclined at a 20-degree angle from the floor.
Read more
Design
Slots on the board can be easily slid into their corresponding grooves at the top of the supporting frame which, in turn, has wide-stance legs to allow for greater stability. Your child will never knock or tip this art easel for kids that easily. A deep tray is slotted underneath the panel and in between the leg frames. Moreover, storage trays can be attached to the side of the leg frame on either side so your child has three storage compartments for organizing his or her art materials.
Normally, the center tray is used for storing the 94 foam magnetic pieces that include letters, signs, and numbers. The magnetized whiteboard should be a great tool for children's pretend teaching play where they can stick the magnets onto the board and learn the different letters of the alphabet, try out spellings, play with words, and even solve simple math problems in addition and subtraction.
Like Step2's other products, a large clip is also integrated on both sides of the panel giving your kid the chance to paint or draw on paper with so much ease. Made of supreme quality materials, you can bet the All Around is going to last until your child reaches school age.
Effectiveness
This design is incredibly similar to the other Step 2 items on this list. Different from the previously mentioned, however, it comes with 94 foam magnetic pieces as part of the set. These great designs include but are not limited to, shapes, numbers, and animals. The double-sided panel slotted into a smaller A form with a wider stance for greater stability.
Compatibility
Storage is always an issue when it comes to your little one playing on their easel. It seems like there is never enough room for everything that they need when they are working on their art projects. This easel for kids setup has done a great job at utilizing the storage and making it easy for the little ones to access their art supplies at an arm's reach.
There are two storage bins and one storage tray featured on this model. The two storage bins on each side of the easel are deep storage bins that are ideal for markers, brushes, and erasers. The bonus with the side storage trays is that they are removable making them super easy to clean. In the middle in the easel is a tray that is under the art area. It is ideal for small magnets, paint, and other small items that the kids can get to with ease. The storage on this easel is ideal for kids that love to explore with lots of different kinds of mediums.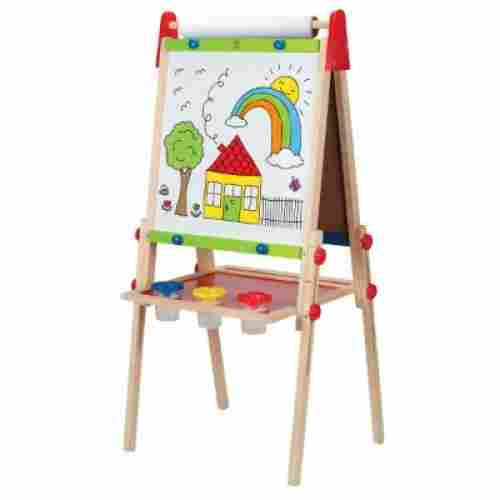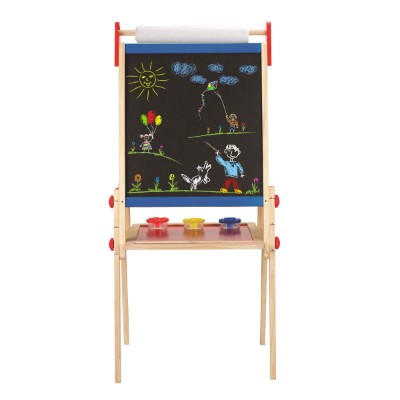 Easel adjusts in height & grows with child
Includes paper roll which can easily be refilled
Comes with three cups for paint
Built-in tray is great for keeping art tools organized & catching paint drips
The paper roll & bar do not have a locking mechanism, making it easy for your toddler to take apart
If you get an art easel for kids, you may want to think in the long term, especially if your child has already shown signs of increasing interest in drawing or even coloring and painting. As such, you'll need something that will grow with him or her. Featuring fully height-adjustable painting or drawing panels, the Hape All-in-One Wooden Kid's Art Easel is a great growing-up tool.
Read more
Design
The double-sided panels can be easily adjusted with a turn of a few knobs. The magnetic whiteboard makes for an excellent surface for dry-erase markers as well as magnet accessories. The blackboard, on the other hand, can make for a fabulous surface for doodling with standard or colored chalk.
But the real beauty of the Hape All-in-One is its built-in paper roll tube that you can easily refill. Your child will have endless fun creating amazing graphics and images as well as caricatures of his or her favorite things in life. The drip tray is excellent for catching drips and bits from your child's creative adventures. The same tray can also serve as storage for art materials and other implements.
It also comes with three transparent pots which your child can fill with his or her favorite paint pigments. It can also double as a container for water during water coloring sessions. The wooden design of the A-frame should also make your child feel more like the artists of Paris or Milan.
Effectiveness
This all-in-one easel is made of non-toxic materials so you can have peace of mind as your little one creates a world all their own. With this amazing product, the options are endless. There is a magnetic whiteboard on one side, a chalkboard on the other, and if that isn't enough, in the middle there is a hook for a roll of paper to sit. This is easily replaced so your little one's fun never stops. This product features turnable knobs for easy adjustment so, in addition to hours of creative fun, it will grow with your child allowing for the possibility of years of fun.
Compatibility
Kids that love art come in all different heights. Art is just not one height why should the easel? That is why this adjustable height easel is great for kids of all ages and heights. Featured on each side of this easel are easy to turn handles. While securely holding the easel part of the setup, simply turn the handles on each side, then slide, and turn handles again to secure.
It is that easy and simple. The height adjustable setup is ideal to suit kids of many different ages and heights this makes it perfect for a family that has more than one art-loving child.
6

. Flip and Doodle Desk with Stool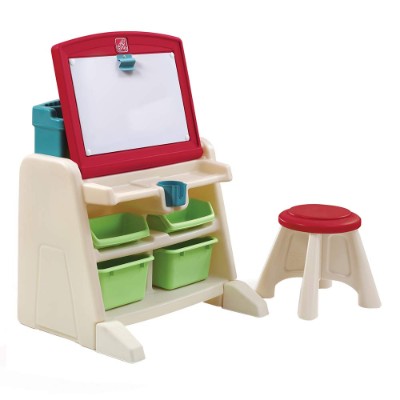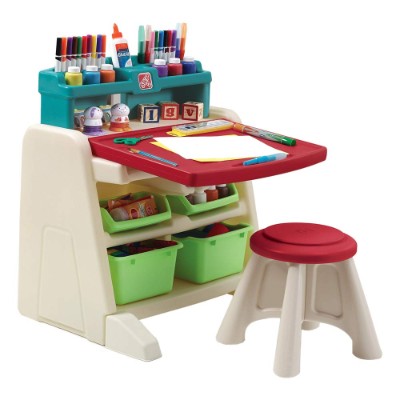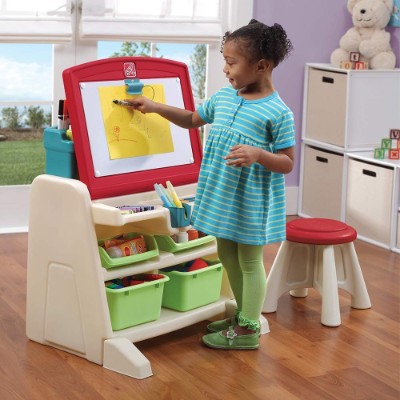 Built in cup holder makes rinsing a paintbrush easy
Unique design allows desk to be converted into an easel
Contains four storage trays for art materials
Offers a large & sturdy work surface
Comes with stool instead of a chair with a back
The Step2 Flip and Doodle Desk is not actually a kids easel in the strictest sense of the word. When you look at it, it is primarily a kiddie table built specifically for a variety of writing, drawing, or any other art activities. This multifunctionality is further extended by the desktop that can be flipped upright to serve as the art easel for toddlers.
Read more
Design
The Flip and Doodle comes with a fully magnetized whiteboard which is perfect for doodling with dry erase markers. If your child already has a collection of magnet pieces such as the alphabet, shapes, numbers, and even animals and other things, the Flip and Doodle can actually become a storyboard for your child. Obviously, attaching craft paper or any type of paper to draw or paint on is made a breeze by its large clip on top.
Organizing the tools and materials is also easy as the desktop actually has a molded-in tray just under the flip panel, perfect for storing pencils, markers, and even erasers. A cup holder is integrated into the middle edge of the desktop, helping kids with their watercolor paintbrushes. On the back of the Flip and Doodle are storage bins for organizing your child's books including drawing and coloring books.
The cabinet-type desk also features 2-level storage for 4 additional bins, giving children superb storage capabilities to organize their stuff. And when your child is already done painting, drawing or even playing with his or her magnet toys, he or she can simply fold down the easel and it converts back into a table so your child can continue playing with his or her other toys. The Flip and Doodle also comes with a beautiful sturdy stool perfectly designed for tots and preschoolers.
Effectiveness
This great set comes complete with a seat for your little one to sit on. It has bins and shelves for easy organization and storage. This great little desk can also be folded down making it supreme for storage and possibly if you dare, travel.
This purchase comes with dry erase markers included. Also available for purchase are magnets featuring Shapes, ABC's, Numbers, and Animals. Introduce your child to a world of creativity and learning with this amazing little art set.
Compatibility
Nothing is better with design than when one thing can turn into another. They often call this a two in one design. It is the perfect design for children's items because it allows you to get more use out of toys. This model of easel offers a desk area and then flips into an easel station. It is perfect for encouraging your little one to explore all their creativity. Along with the design of this ideal comes lots of storage. This is a perfect set up for a smaller space or for children that love to design art standing up or setting down.
7

. Tabletop Magnetic & Whiteboard 2 Sides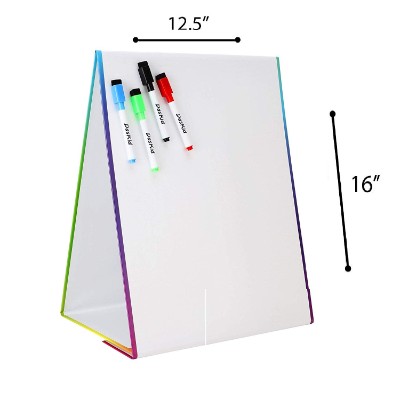 Double-sided
Magnetic
Folds up easily and compactly for storage
Can be utilized as a normal easel with a little resourcefulness
Cleans easily
Magnets are not strong
The frame is weak and could use reinforcement
If you don't have space for a giant bulky kids easel, the Tabletop Magnetic easel and Whiteboard is perfect for your home. Children ages three and up can draw on either side of this easel as both sides are a magnetic whiteboard.
Read more
Design
The easel stands freely on its own, thus making it easy for your child to set it up on the table or floor. It even folds down, so your little one can draw with it in their lap. Along with the board, you will receive four dry erase markers in the following colors; red, black, green, and blue.
Effectiveness
Cleaning the board is super easy, simply wipe the board with a dry paper towel. With the board having the ability to fold flat, you can easily store it out of the way when your child is not using it. By purchasing letter magnets separately, your child can practice writing the letters on the board. Your little one can increase their social skills by sharing the board with a friend.
Compatibility
It works great as a tabletop dry erase board and can fold up to basically the size of a small, disassembled box. If you want to use it as an easel, simply use magnets to hold the paper in place.
8

. Fold And Go Art Studio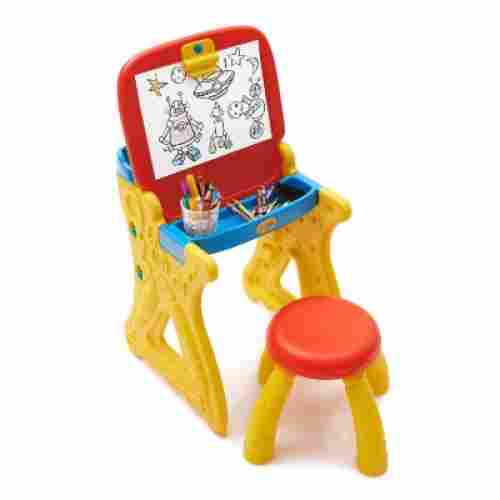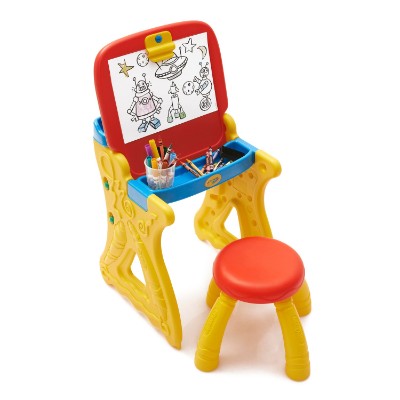 Desk flips into a chalkboard or dry erase board
The bright colors stimulate sensory development
Easy to Assemble
Storage space keeps art supplies organized
Does not come with markers or chalk
The Fold and Go Art Studio is similar to Step2's Flip and Doodle easel for toddlers except that the former doesn't have storage bins for other things. Nevertheless, the Fold and Go Art Studio is a multipurpose kiddie desk with the desktop doubling as an easel complete with a grip clip for securing drawing paper.
Read more
Design
Under the cover is a storage compartment for keeping and organizing your child's painting, coloring, and drawing instruments. There's also a tray on the back of the Fold and Go Art Studio for organizing boxes of crayons as well as other art instruments and materials. When folded, the desktop can serve as an excellent surface for doodling and coloring while your child is conveniently seated on the accompanying stool.
Made with high-grade materials, both the table and the stool can serve as a superb way of encouraging kids to make full use of their imagination whether it is through drawings, watercolor paintings, or simply doodling. The solid leg frame helps assure a sturdy drawing platform.
Effectiveness
Also a feature from the familiar name of the Crayola, this fold and go art studio is so convenient. This quality product is made of high-grade materials featuring a solid leg frame. This dual-purpose desk is versatile in use and easy for travel. With an undercover storage compartment, it will be a breeze for your little one to keep track of their art supplies. This little studio also comes complete with its own little stool for an authentic artistic experience.
Compatibility
It's from Crayola. And while they're not really known for furniture pieces, their reputation nonetheless, is admirable. Besides, the dual purpose of the desktop makes it a great gift for art-inclined children.
9

. Melissa & Doug Double-Sided Magnetic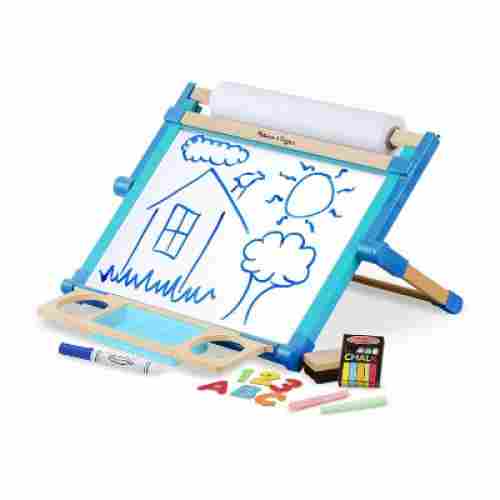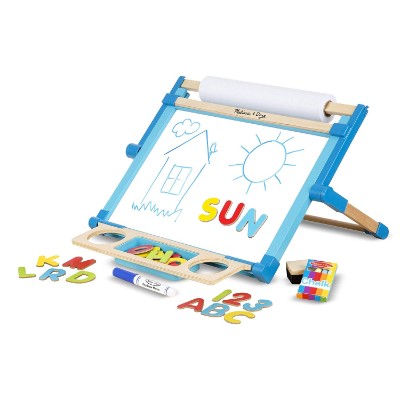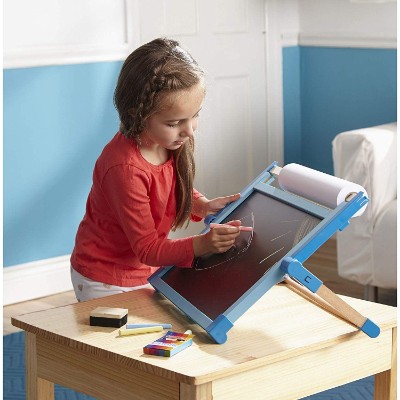 Folds to store and travel easily
Paper roll attachment and paper roll included
Dry erase marker and five-colored chalk set included
Double-sided for chalkboard and whiteboard accessibility
Includes letters and numbers magnets
Quality of chalkboard is poor
Lacks traction to stand steady on the table; try adding a silicone or rubber base
On one side of this Melissa & Doug piece, a chalkboard awaits, and on the other: a dry erase board. An attachment at the top allows you to strap in a roll of fresh white paper on which children can draw, paint, and color.
Read more
Design
It folds flat for easy storage via a sturdy wooden leg that props up this tabletop easel. The set includes a fifty-foot long paper roll, one dry erase marker, five pieces of colored chalk, an eraser, and thirty-six numerical/alphabetical magnets.
Effectiveness
Your child can write out their letters and numbers side by side with the magnetic alphabet and numbers included in the set, and the five colorful options allow them fun shades with which to work.
Compatibility
This multifaceted art station is compact, easy to travel with, and offers a variety of ways for young children to create. It isn't an elaborate set and probably works best for children aged three and up, though you should certainly supervise little ones with dry erase markers.
10

. Melissa & Doug Deluxe Magnetic Standing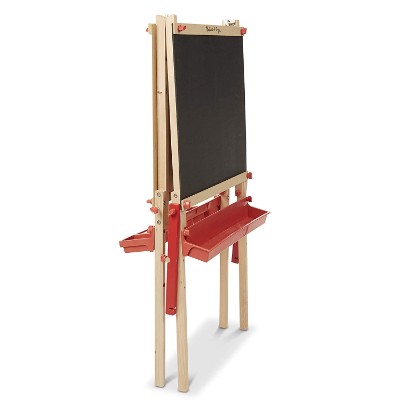 Double-sided
Chalkboard
Whiteboard
Magnetic board with letters and numbers
Easel includes mounting for 12- or 18-inch paper rolls with a tear guide
Wood is cheap and bendable
Only includes one of each letter and number
This Melissa and Doug product is double the fun in more than one way. It's two-sided, so multiple artists can create at the same time without fighting over space.
Read more
Design
The product doubles as both a dry-erase board and a chalkboard. Additionally, the letters and numbers magnets give young ones who are still practicing reading, writing, and arithmetic tools to continue expanding their mathematical and vocabulary skills.
Effectiveness
This easel offers the ability to paint, draw and color on one side, while also being a handy learning tool for homework or more educational fun, given the chalkboard/whiteboard functions and the 39 magnetic numbers and letters.
Compatibility
It's multifaceted and makes creating neatly an option for kids with the mounted paper roll holder, also doubling as a tear-guide. Pop in a roll, let your child pull down their desired amount, make their masterpiece, tear it off and start on the next.
Criteria Used for Evaluation
Design
Some of these easels have a magnetized side and come with letter and number magnets although you may also purchase these separately if they aren't included. By using these magnets, you can introduce your child to letters and numbers as well as some basic concepts of science. Magnets and their positive/negative charge will be introduced in it's most basic form, helping build a solid foundation for understanding more complex science concepts.
There are several magnet units available that can be purchased separately so you can introduce your children to animals and shapes as well. The magnets available come in different colors so they can even be used to introduce your child to the concept of sorting and grouping.
These are also a great way to help promote your child's development of fine-motor skills. By gripping paint brushes, chalk, and dry erase markers, and opening and closing clips to hold artwork, your kids will have plenty of motor-building skills. This is also accomplished with the magnets as they will use their little fingers to grip the magnets. Some of the easels are relatively compact and all are collapsible so travel is possible, even easy with some.

Effectiveness
Ase we said, we don't expect really young kids to perfect the art of painting or the use of the children's easel. With this in mind, we set out to focus mainly on introducing these products to children so they will know how to use them and become instrumental in their very own artworks. As such, our very first criterion was the design of the easel for kids. Obviously, it should look like the real thing.
However, depending on the age of the child, it should also allow for imagination to flourish. Child psychologists say that the only way we can stimulate a kid's imagination is when we give him or her an item that has features different from the real thing. It would be then up to the child to "fill" in the gaps between the real and the toy by imagining its function.
Since we already set out on a developmental approach for the choices of kids' art easels, we thought that it would be ideal if the design of the product closely matches the recommended age of children who are going to use it. So, developmental appropriateness was a major factor in the selection process. Related to this is the ease of its set up, maintenance, and storage. It's equally important that these products can be easily managed by kids themselves so they don't have to rely on mom or dad. This fosters a sense of responsibility and independence, something that all kids need to learn.
Because kids will be effectively managing their experiences with these products, easels for children must be safe. We looked for components that may endanger children's safety and health. This includes materials that were used or applied as finishing to the product. Also included are components that may be too small or maybe even too sharp for kids' safety.
When all these were evaluated, we still came up with an amazing array of products. Hence, we decided to look at the product rating and considered only those with no less than 4.5 stars. Most consumers will definitely look for the number of stars a particular product has as this gives them some form of security in the quality and usefulness of the item.
Compatibility
It is no secret that creative arts can have a lot of benefits, especially for children. If we feel more relaxed, more attuned to our emotions when we look at stunning works of art, just imagine what these pieces of art can do for children. Kids doing the artwork can derive a variety of benefits, too. Studies have shown that creative arts help kids develop across a variety of domains.
First is their physical development. Hand-eye coordination is enhanced which can provide the basis for better control of purposeful movements. This can provide the necessary training for them to master dexterity.
Obviously, creative arts can do a lot of things for a child's imagination.
This can form the basis for the development of the child's divergent thinking which, in turn, forms the basis of their critical thinking and logical reasoning. Many scientific disciplines are based on these two fundamental cognitive processes.
Most Important Criteria
(According to our experts opinion)
Experts Opinion
Editors Opinion
Users Opinion
By Default

Parents, Did you Know?
Using easels is a great way to start kids into a learning experience. When they are young and first starting the stand an easel can be a great place to use magnets of shapes and colors. It is a good practice for gross and fine motor skill development.
Parents, Did you Know?
Easels are a toy of timeless fun. When they are little stickers and paper are fun then as then grow using paint and other mediums can be used. It is a device that kids will get years of use from.
Other Factors to Consider

Social Development
Engaging in creative arts can also help children develop their social and emotional skills. Most of their artwork will be expressions of their views about themselves and their world. This serves as the foundation for their self-concept which is important in building healthier social relationships.There are many other reasons why kids should engage in creative arts. The whole idea is to give them the opportunity to express themselves.
Creativity
Using colors, drawing lines, and forming shapes are all domains of cognition whereby children are able to form mental concepts and express these through their drawings or paintings. What many fail to recognize is that the process of drawing or painting can entail different problem-solving skills. For instance, coming up with a different color typically requires the combination of two or more primary or secondary colors. This can then be refined further by comparing the resulting color to the standards as well as the color required.
Frequently Asked Questions
q:

Do these sets come with art supplies included?

a:

While not all have extras, some of these easels for kids may contain a few bonus items such as erasers or paper. There are units that can be purchased separately for extra fun. These are magnets that range in shape, and color.
q:

Do they require assembly?

a:

Some of these art easels for kids do require assembly. With the exceptions of needing help from a couple of everyday handy tools, putting these products together should not be too strenuous of a task. Please keep in mind this does not mean a child can set this up with no adult help/supervision.
q:

What size are these items?

a:

While there are a couple options on this list that are ideal for travel and compact storage space, the majority of these products are fairly large and feature the option to grow, as your child does. These are the perfect size for smaller children.
q:

Are they easy to clean?

a:

There are mixed reviews regarding the cleaning of these products. Some state clean up is very easy and some state the products leave behind color residue. They do have cleaning solutions the aid in the cleanup process. These can be purchased from most any superstore, such as Walmart. They may even be available for purchase online, this way they'll come right to you!!
q:

Do they come with good storage space?

a:

While there are a few items on here that don't have the capacity for a lot of storage, there are some great choices here with ample storage. This will help keep your little one as organized as possible. On some, all the supplies are right at hand so the creations can last for hours.
q:

Is there a way to find replacement pieces?

a:

While most of these brands don't market or manufacture individual replacement pieces, they do have separate sets available for purchase, giving your child the flexibility to mix and match.