10 Best Magnetic Toys for Kids in 2023
last updated
Aug 19, 2019
Unlike poles attract while like poles repel. This is the basic definition of magnetism. But what's a pole? And are there exceptions? If you're curious about the breakdown, don't just shop our top 10 magnetic toys with the kids in mind; browse for you, too! Some of these games and kits are geared towards much younger users, but plenty are fun, appropriate, and educational for all ages. Learning as a family is a surefire way to keep your children engaged in their academics. Who says you can't bond while also having fun and helping push along the schoolwork? Magnets are just one such example of products that the market has learned how to channel into recreational disguises, while still slipping some scholastic lessons in. We've done the legwork so you can get straight to the fun! Take a look at this year's favorite magnetic toys below!
In a Hurry? The test winner after 20 hrs of research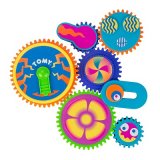 Gearation Refrigerator Magnets
Why is it better?
Colorful and fun-looking
Battery operated makes gears turn
Improves critical thinking
Helps dexterity
Teaches them gear functions
In a
Hurry? Editors choice: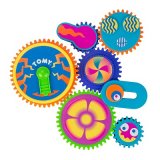 Test Winner: Gearation Refrigerator Magnets
17
Researched Sources
20
Hours Researching
18
Products Evaluated
Age Range
Educational Value
Materials
By Default
10 Best Magnetic Toys Reviewed
Criteria Used for Evaluation

Age Range
We strive to consider the various needs and guidelines to be abided by when purchasing for different age groups. Small parts are always a choking hazard for the very young, so we aimed to offer a selection of toys that were safe for babies and toddlers as well as more complicated sets and products for the older crowd.
Ages 2 and Up
The Fridge Phonics Letter Magnetic Set helps reinforce much of the work done in the classroom at pre-K as children learn about animals and the alphabet. The pieces are moderately sized to help avoid choking hazards.
Ages 3 and Up
The Deluxe Magnetic Fishing Game manages to avoid small pieces while employing a very simple and fun premise for kids to enjoy. And any of the magnetic building blocks such as The Magnetic Tiles Deluxe Building Set, The Shape Mags Junior Set, The Magformers Standard Set (#5), and many others, are colorful, creative, and easy for young ones to understand.
Ages 6-8 and Up
The Doinkit Darts Magnetic Board will appeal to older audiences, as it carries all the gravitas of a real darts game without the danger of actual, pointed darts. The Gearation Fridge Magnets allows kids to build an interworking string of gears powered by one battery-operated gear that starts all the others moving. It's a mesmerizing way to expand their critical-thinking skills.
Educational Value
Children can learn a lot from magnetic toys. To begin with, they can learn the most clear and present lesson: about magnetism and unlike poles. But it's more than just that! Many magnetic toys are also construction sets, which allow children to develop their dexterity, hand-eye coordination, fine motor skills, concentration, and creativity. Imaginative designs and toys also help kids to build confidence and a sense of autonomy when they build and fabricate structures all on their own! Some of these sets come with lots of pieces to encourage social play. And some of the harder and more advanced designs may require adult assistance which can help to facilitate family bonding.
Still, other magnetic toys have less to do with building and more to do with academic skills. There are lots of fun sets that allow children to categorize things like animals and colors. And many magnetic sets meant to go on display via the refrigerator can help kids to work through obstacles in learning letters, words, and numbers. Beyond that, you may find some magnetic games on our list. These can help with skills like matching, as well as more physical development such as fine motor skills and hand-eye coordination.
Magnets qualify as STEM toys and we love anything that makes important fields like math and science engaging, appealing, and accessible to kids!
Materials
Magnets can be finicky. And when magnets get fussy, children often follow. Don't battle cheap magnets that frustrate your children; all of our products have been cross-referenced with customer reviews to ensure that they're high quality and durable. It's a bummer to purchase a new toy only for it to break under enthusiastic and energetic little handle within a few weeks. We take rough play and longevity into account when we narrow the market down for our top picks!
Additionally, we strive to shine a light on companies that focus on the safety of their products and the materials used during manufacturing. The products on our lists feature woods and plastics that have been tested for safety and are free of harmful chemicals. You won't find any phthalates, lead, or BPA here. Kids deserve clean toys and parents deserve clean consciences!
Still, not all materials are suitable for every age. If you have especially young ones in the house, either opt for sets that include bigger pieces so as to avoid choking hazards, or make sure you keep an eye out for strays and clean up carefully after older siblings are done with play time.
Most Important Criteria
(According to our experts opinion)
Experts Opinion
Editors Opinion
Users Opinion
By Default

Parents, Did You Know?
Magnetism is powered by electric currents? Electric currents and elementary particles create magnetic fields!
Parents, Did You Know?
Humans have known about and used magnets for thousands of years!
Other Factors to Consider
Creativity
Some magnetic toys allow for greater creative play than others. Depending on the set you're buying, the shapes of the pieces, and whether there's an instructional booklet, your child can experience varying levels of freedom when trying to create multiple structures or designs of their own. If they still need guidance, opt for a set that includes a book with tutorials. If they like to make their very own creations, choose a set with lots of pieces in different shapes, sizes, and colors!
Safety
Magnets certainly don't seem to pose much danger when they come in the forms of cute, colorful building sets and interactive fridge toys. Overall, they tend to be a safe bet both in terms of your child's wellbeing and their enjoyment! These magnets are strong enough to hold their shape but not so strong as to pose the threat of smooshing little fingers. Some of the pieces snap together, so do watch out for pinches skin in those instances, and many of these sets include small tiles. We suggest these toys for children ages three and up since toddlers are at a high risk when put in the proximity of choking hazards. All of these toys are made from safe plastics and free of harmful chemicals.
Frequently Asked Questions
q:

Should I buy magnetic toys that distract kids for hours?

a:

Toys should not be considered babysitters. It is recommended that parents spend time with their kids by sitting on the floor and engaging with them. Toys should also be educational and not so distracting that it seems like they can never put it down. When purchasing a magnetic toy, think about which set is age-appropriate and if it is something parent and child can play with together while it stimulates their creativity.
q:

Is there a right place to buy the right toys?

a:

Most big box stores have a toy aisle with a section of educational toys. Unfortunately, most of these toys are not very good at educating since they do all the thinking for them. Online retailers like Amazon.com have massive libraries of educational toys and the information on them is significantly more accessible. You can still support local and buy from a brick-and-mortar store if they have it but make sure to do your research online where reviews from actual customers are available.
q:

Are magnetic toys safe for kids?

a:

Not all magnetic toys are dangerous for kids. The American Academy of Pediatrics (AAP) puts restrictions on how strong magnetic toys can be. Some toys seem to have weak magnetism, but that is because if the magnets get swallowed the strong force can cause serious and life-threatening damage to the digestive system.
q:

Are magnetic toys only for kids?

a:

No, plenty of adults can enjoy the fun of magnetic toys. There are adults who have them on their desk because it gives them something to fidget with at work. For those who work at a call center, seeing toys on desks is a normal sight. A magnetic toy is wonderful because it's a quiet toy that adults can use while waiting for the next call.
q:

Can my child take magnets on an airplane?

a:

Many kids are gifted with smartphones, computers and other electrical devices. But magnetic toys are better for long air flights. Magnetic toys don't need to be checked by TSA like electronic devices do. They can spend time creating mess-free artwork and keep quiet while on a plane.
q:

Which types of magnetic toys are dangerous for kids?

a:

Toys with a strong magnetism that are not sealed in strong plastic are dangerous for little kids to play with. The magnetic toys on our list are safe for kids to use because they are sealed in plastic casings that are difficult to swallow. There are other toys on our list that have stand-alone magnetic balls, that is why we recommend that older kids play with these types of toys and that they are supervised by adults.