Curious about the law of attraction?
So are your kids–but possibly in different ways. Most children will start covering magnetic force at some point early in their science curriculum. Magnets are a wonderful educational tool for children. They're tactile, giving kids something to hold, play with, and feel the physical force behind. They can seem mystic and wonderous to young learners still acquainting themselves with physics. And they come in lots of fun shapes, sizes, and toys!
Unlike poles attract while like poles repel. This is the basic definition of magnetism. But what's a pole? And are there exceptions? If you're curious about the breakdown, don't just shop our top 10 magnetic toys with the kids in mind; browse for you, too! Some of these games and kits are geared towards much younger users, but plenty are fun, appropriate, and educational for all ages. Learning as a family is a surefire way to keep your children engaged in their academics. Who says you can't bond while also having fun and helping push along the schoolwork? Magnets are just one such example of products that the market has learned how to channel into recreational disguises, while still slipping some scholastic lessons in.
We've done the legwork so you can get straight to the fun! Take a look at this year's favorite magnetic toys below!
Our Top 3 Picks
Geomag Black & White

Our rating
Visual-Spatial Skills
Price:

See Here
Playmags Magnetic Tiles Set

Our rating
100 Piece Super Set
Price:

See Here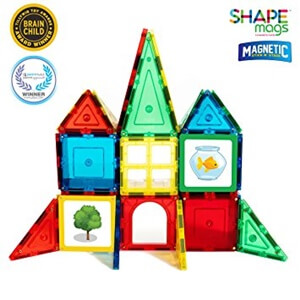 Magnetic Stick N Stack Junior Set

Our rating
Award Winning Game
Price:

See Here
[/vc_column_text][/vc_column][/vc_row]
Magnetic Tiles Deluxe Building Set
Age range: At least 3 years old
Age range: At least 3 years old
Fridge Phonics Magnetic Letter Set
Age range: At least 2 years old
Age range: At least 3 years old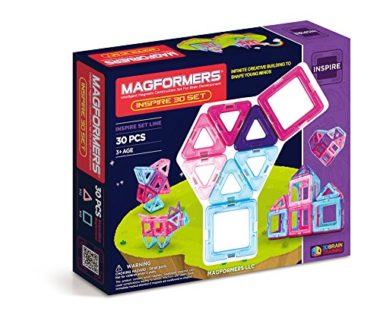 Age range: At least 2 years old
Gearation Refrigerator Magnets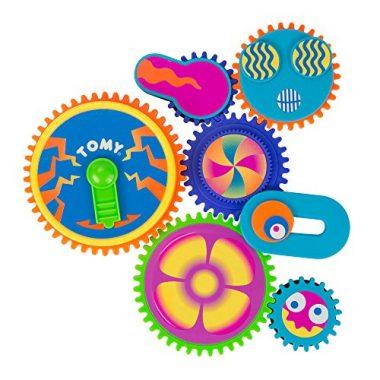 Age range: 3 to 7 years old
Deluxe Magnetic Fishing Game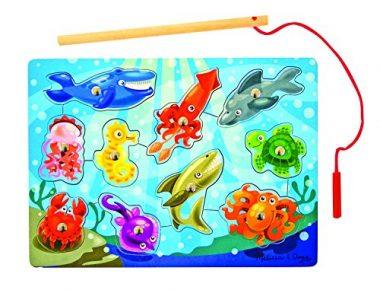 Age range: 3 to 5 years old
Age range: At least 3 years old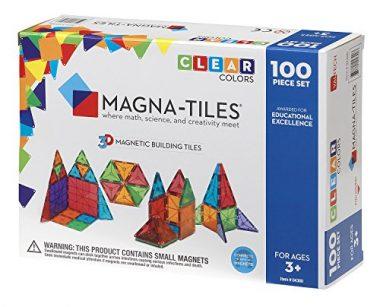 Age range: At least 3 years old
Klutz LEGO Chain Reactions Craft Kit
Criteria Used to Evaluate The Best Magnetic Toys for Kids
While formulating this list, our team kept a number of factors in mind. First and foremost, we checked the quality of all products and the ratio of purchases to customer satisfaction. Second, we considered the various needs and guidelines to be abided by when purchasing for different age groups. Small parts are always a choking hazard for the very young, so we aimed to offer a selection of toys that were safe for babies and toddlers as well as more complicated sets and products for the older crowd.
Ages 2 and Up
The Fridge Phonics Letter Magnetic Set helps reinforce much of the work done in the classroom at pre-K as children learn about animals and the alphabet. The pieces are moderately sized to help avoid choking hazards.
Ages 3 and Up
The Deluxe Magnetic Fishing Game manages to avoid small pieces while employing a very simple and fun premise for kids to enjoy. And any of the magnetic building blocks such as The Magnetic Tiles Deluxe Building Set, The Shape Mags Junior Set, The Magformers Standard Set (#5), and many others, are colorful, creative, and easy for young ones to understand.
Ages 6-8 and Up
The Doinkit Darts Magnetic Board will appeal to older audiences, as it carries all the gravitas of a real darts game without the danger of actual, pointed darts. The Gearation Fridge Magnets allows kids to build an interworking string of gears powered by one battery-operated gear that starts all the others moving. It's a mesmerizing way to expand their critical-thinking skills.
Learning with Magnets
A few of these magnetic toys are based on the principle of magnetic fields, itself. But plenty of them work to teach other important distinctions and skills in less obvious ways, such as the animals, alphabets, various games, and construction toys. Magnets are a great way to play and build, as they are sturdy and won't fall apart easily if the product's quality is high. Schedule play time for the whole family to keep everyone sticking together like, unlike poles.
FAQ
Frequently Asked Questions
Q: Should I buy magnetic toys that distract kids for hours?
A: Toys should not be considered babysitters. It is recommended that parents spend time with their kids by sitting on the floor and engaging with them. Toys should also be educational and not so distracting that it seems like they can never put it down. When purchasing a magnetic toy, think about which set is age-appropriate and if it is something parent and child can play with together while it stimulates their creativity.
Q: Is there a right place to buy the right toys?
A: Most big box stores have a toy aisle with a section of educational toys. Unfortunately, most of these toys are not very good at educating since they do all the thinking for them. Online retailers like Amazon.com have massive libraries of educational toys and the information on them is significantly more accessible. You can still support local and buy from a brick-and-mortar store if they have it but make sure to do your research online where reviews from actual customers are available.
Q: Are magnetic toys safe for kids?
A: Not all magnetic toys are dangerous for kids. The American Academy of Pediatrics (AAP) puts restrictions on how strong magnetic toys can be. Some toys seem to have weak magnetism, but that is because if the magnets get swallowed the strong force can cause serious and life-threatening damage to the digestive system.
Q: Are magnetic toys only for kids?
A: No, plenty of adults can enjoy the fun of magnetic toys. There are adults who have them on their desk because it gives them something to fidget with at work. For those who work at a call center, seeing toys on desks is a normal sight. A magnetic toy is wonderful because it's a quiet toy that adults can use while waiting for the next call.
Q: Can my child take magnets on an airplane?
A: Many kids are gifted with smartphones, computers and other electrical devices. But magnetic toys are better for long air flights. Magnetic toys don't need to be checked by TSA like electronic devices do. They can spend time creating mess-free artwork and keep quiet while on a plane.
Q: Which types of magnetic toys are dangerous for kids?
A: Toys with a strong magnetism that are not sealed in strong plastic are dangerous for little kids to play with. The magnetic toys on our list are safe for kids to use because they are sealed in plastic casings that are difficult to swallow. There are other toys on our list that have stand-alone magnetic balls, that is why we recommend that older kids play with these types of toys and that they are supervised by adults.