It's the law of attraction; like poles repel, unlike poles attract. If that still reads a bit like an intriguing foreign language to you, you might like the following products just as much as your kids. Children begin learning the basic principles of science very young. These lessons don't always come dryly lectured from textbooks, with dreary diagrams trying to explain the phenomenon of the world around us. Rather, to engage children from a young age in the world of science, many parents and teachers are utilizing creative, playful resources. STEM toys are one such example of these, and among the many fields to explore in the world of science, magnetism is one that (forgive the pun), draws many of us in.
To young eyes, many basic scientific principles still appear as magic. They are excited by the unknown and eager to learn. The following toys give children the opportunity to play with magnetic forces and ask questions about the process. Some of the products below come with educational handbooks and sidebars to help you guide curious minds. Others are less forthright in their magnetic mission, but teach skills like arithmetic, construction, pattern recognition, and distinguishing colors, shapes, and animals.
So don't just browse for one person; consider the whole family as you scroll through the incredible array of magnetic toys and games available on the market today. Learn together and play together at the same time.
Our Top 3 Picks 
Geomag Black & White

Our rating
Visual-Spatial Skills
Price:

See Here
Playmags Magnetic Tiles Set

Our rating
100 Piece Super Set
Price:

See Here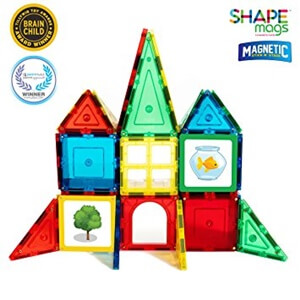 Magnetic Stick N Stack Junior Set

Our rating
Award Winning Game
Price:

See Here
Klutz LEGO Chain Reactions Craft Kit
Magnetic Tiles Deluxe Building Set
Age range: At least 3 years old
Age range: At least 3 years old
Fridge Phonics Magnetic Letter Set
Age range: At least 2 years old
Age range: At least 3 years old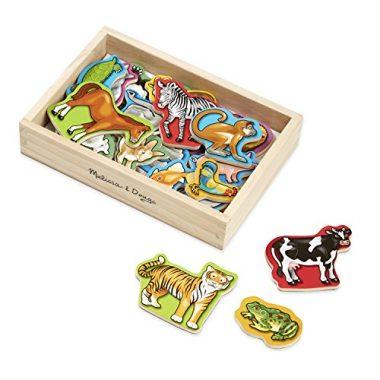 Age range: At least 2 years old
Gearation Refrigerator Magnets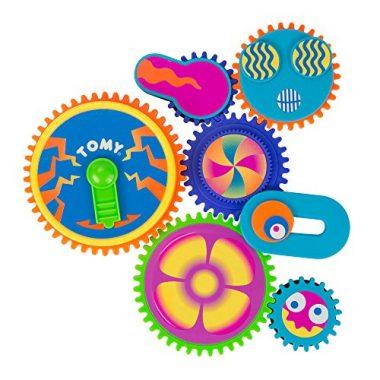 Age range: 3 to 7 years old
Deluxe Magnetic Fishing Game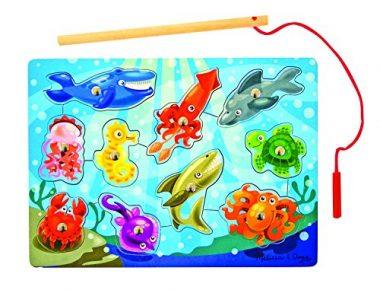 Age range: 3 to 5 years old
MIBOTE 109+1Pcs for Boys/Girls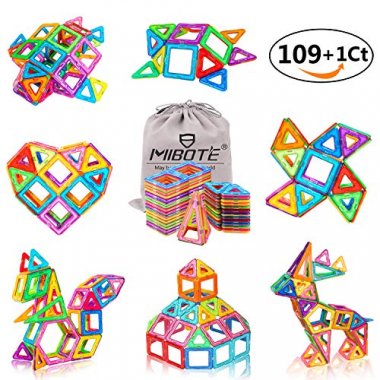 Age range: At least 3 years old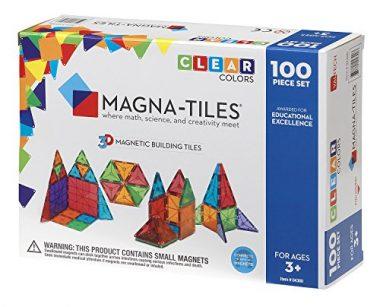 Age range: At least 3 years old
Doinkit Darts Magnetic Board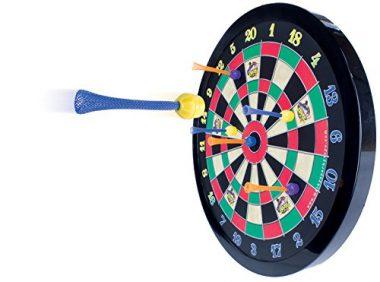 Age range: 6 to 15 years old
Age range: 3 to 6 years old
Write and Learn Creative Center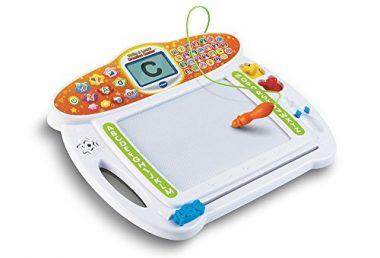 Age range: 3 to 6 years old
Wooden Magnetic Responsibility Chart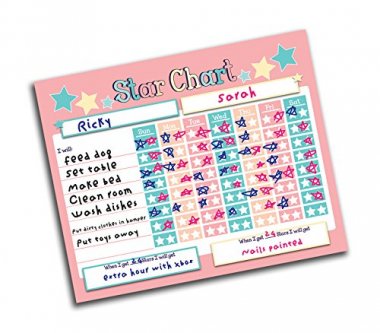 Age range: At least 4 years old
Age range: At least 3 years old
Age range: 8 to 15 years old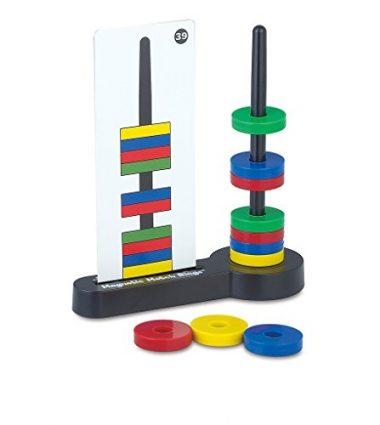 Age range: At least 3 years old
EduKid Toys MAGNETIC EASEL & WHITEBOARD
Age range: 8 to 15 years old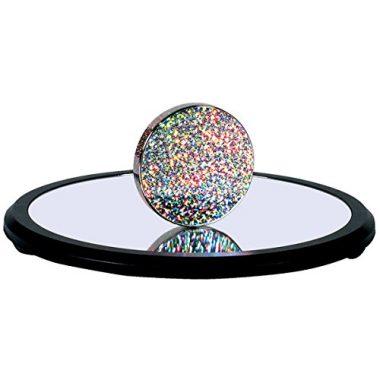 Age range: 8 to 15 years old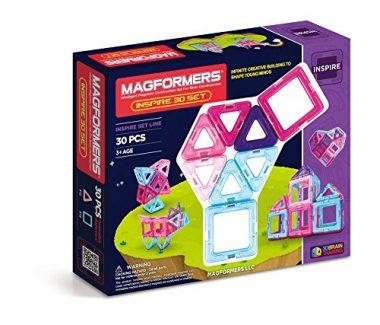 Age range: At least 3 years old
Criteria Used to Evaluate The Best Magnetic Toys for Kids
While formulating this list, our team kept a number of factors in mind. First and foremost, we checked the quality of all products and the ratio of purchases to customer satisfaction. Second, we considered the various needs and guidelines to be abided when purchasing for different age groups. Small parts are always a choking hazard for the very young, so we aimed to offer a selection of toys that were safe for babies and toddlers as well as more complicated sets and products for the older crowd.
Ages 2 and Up
The Animal Magnets (#6) and Fridge Phonics Letter Magnetic Set (#4) both help reinforce much of the work done in the classroom at Pre-K as children learn about animals and the alphabet. The pieces are moderately sized to help avoid choking hazards.
Ages 3 and Up
Though still requiring supervision, products like the Magnetic Match Rings (#17) and Free Play Magnatab (#15) are simple enough in design and mechanics that many toddlers grasp the rules and how to play. The Deluxe Magnetic Fishing Game (#8) manages to avoid small pieces while employing a very simple and fun premise for kids to enjoy. And any of the magnetic building blocks such as The Magnetic Tiles Deluxe Building Set (#2), The Shape Mags Junior Set (#3), The Magformers Standard Set (#5), and many others, are colorful, creative, and easy for young ones to understand.
If you're looking to boost responsibility and a rewards system in a bright way, try the Wooden Magnetic Responsibility Chart (#14). And if your child is interested in funky, fancy fridge magnets or playing dress up, the Generation Refrigerator Magnets (#7) or the Magnetic Dress-Up Set (#12) are great options. To boost arithmetic and scholastic skills, take a look at the Write and Learn Creative Center.
Ages 6-8 and Up
The Doinkit Darts Magnetic Board (#11) will appeal to older audiences, as it carries all the gravitas of a real darts game without the danger of actual, pointed darts. The Magnetic Kit by M (#16) is a detailed educational toy that will teach about magnets while you play. The EduKid Toys Magnetic Easel and Whiteboard (#18)  is the perfect outlet for budding artists. And the Euler's Disk by Toysmith (#19) and GeoMag Black and White Kit (#1) are sleek and chic enough even adults are likely to make a grab for them.
Learning with Magnets
A few of these magnetic toys are based on the principle of magnetic fields, itself. But plenty of them work to teach other important distinctions and skills in less obvious ways, such as the animals, alphabets, various games, and construction toys. Magnets are a great way to play and build, as they are sturdy and won't fall apart easily if the product's quality is high. Schedule play time for the whole family to keep everyone sticking together like, unlike poles.
FAQ
Frequently Asked Questions
Q: Should I buy magnetic toys that distract kids for hours?
A: Toys should not be considered babysitters. It is recommended that parents spend time with their kids by sitting on the floor with them and engaging with them. Toys should also be educational and not so distracting that it seems like they can never put it down. When purchasing a magnetic toy, think about which set is age appropriate and if it is something parent and child can play with together while it stimulates their creativity.
Q: Is there a right place to buy the right toys?
A: Most big box stores have a toy aisle with a section of educational toys. Unfortunately, most of these toys are not very good at educating since they do all the thinking for them. Online retailers like Amazon.com have massive libraries of educational toys and the information on them is significantly more accessible. You can still support local and buy from a brick and mortar store if they have it but make sure to do your research online where reviews from actual customers are available.
Q: Are magnetic toys safe for kids?
A: Not all magnetic toys are dangerous for kids. The American Academy of Pediatrics (AAP) puts restrictions on how strong magnetic toys can be. Some toys seem to have weak magnetism, but that is because if the magnets get swallowed the strong force can cause serious and life-threatening damage to the digestive system.
Q: Are magnetic toys only for kids?
A: No, plenty of adults can enjoy the fun of magnetic toys. There are adults that have them on their desk because it gives them something to fidget with at work. For those who work at a call center, seeing toys on desks is a normal sight. A magnetic toy is wonderful because it's a quiet toy that adults can use while waiting for the next call.
Q: Can my child take magnets on the airplane?
A: Many kids are gifted with smartphones, computers and other electrical devices. But magnetic toys are better for long air flights. Magnetic toys don't need to be checked by TSA like electronic devices do. They can spend time creating mess-free artwork and keep quiet while on a plane.
Q: Which types of magnetic toys are dangerous for kids?
A: Toys with a strong magnetism that are not sealed in strong plastic are dangerous or little kids to play with. The magnetic toys on our list are safe for kids to use because they are sealed in plastic casings that are difficult to swallow. There are other toys on our list that have stand-alone magnetic balls, that is why we recommend that older kids play with these types of toys and that they are supervised by adults.