10 Best Matchbox Cars and Toys for Kids in 2019
last updated
Aug 21, 2019
In 1953, Lesney Products began selling small diecast toys in boxes similar in shape, size, and style to matchboxes; and thus, one of today's most popular toy companies was born. Matchbox has sold a wide array of toys, ranging from large diecast models to action figures and plenty more. They're notorious mostly for their action vehicles and automobile playsets. Creative, high-quality, and versatile, Matchbox brings a solid set of products to the table each and every year.
If you have a mini car enthusiast, consider adding to their collection with some of Matchbox's most popular and beloved items! Below, you'll find the top ten Matchbox Cars and Playsets available today. These miniature die-cast replicas and playsets are all tested and well-rated by hundreds of users, so you know these are all excellent products. We highlight ten of the most outstanding of these in this beneficial shopping guide.
In a Hurry? The test winner after 25 hrs of research
Garbage Truck Lrg
Why is it better?
Colorful 15-inch scale truck
Has horn and engine sounds
A functional side-loading extension arm
An on-off switch to control sound
In a
Hurry? Editors choice:
Test Winner: Garbage Truck Lrg
20
Researched Sources
25
Hours Researching
16
Products Evaluated
Durability
Creativity
Physical Development
Ease of Use
By Default
10 Best Matchbox Cars & Toys for Kids Reviewed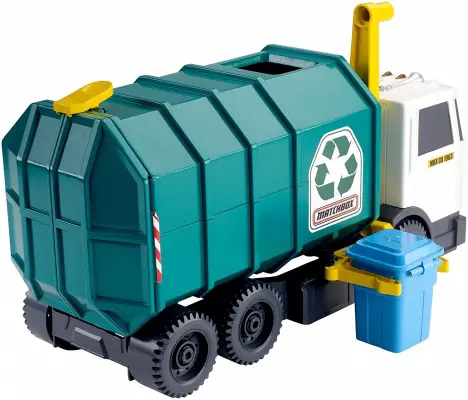 Colorful 15-inch scale truck
Has horn and engine sounds
A functional side-loading extension arm
An on-off switch to control sound
A bit loud while in operation
For those kids who are just fascinated by the garbage and recycle trucks this one is ideal. Not only does it have the original features of a garbage truck, such as having an actual trash can and recycle bin, but it also mimics one. It makes all the sounds of an actual garbage truck as well. All a child needs to do is push it along, and the sounds start to emanate from the vehicle. Kids are fascinated with garbage trucks in the way that they sound and function. So, no doubt this little truck is sure to be a hit.
Read more
Durability
You can see how sturdy this unique matchbox car is with the strong build and the highly-functional tires. Kids can play with it for hours and hours and never wear it out or make it show signs of use.
Creativity
The adorable dump truck is quite colorful which makes it visually appealing. Since the toy will make the various sounds, it will engage a child's hearing and draw their interest.
Physical development
It provides excellent gross motor skills as a child controls the truck with their hands. Due to the many features that the vehicle has, it will engage a kid's sensory perceptions and help develop their physical talents.
Ease of use
The little vehicle has the lift arm that works, to take each container up then flip it over. All a child needs to do is push down the simple handle to manage garbage lever to see this facsimile happen.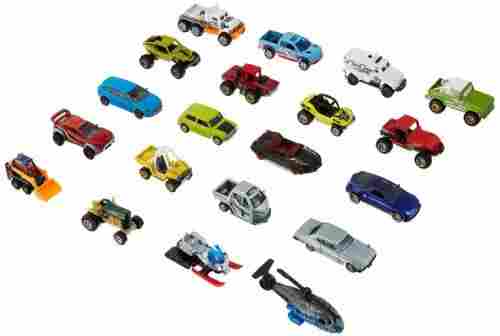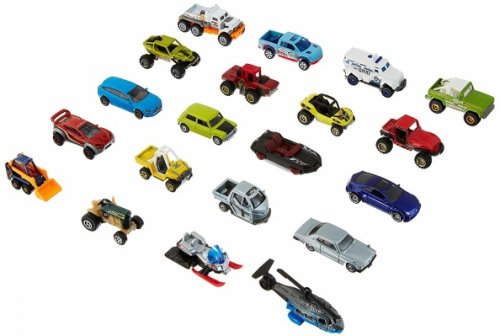 Contains 20 colorful tiny vehicles
Made out of quality diecast metal
Has moving wheels and other components
Genuine details on each model
Might be too small for toddlers
This is an excellent toy set of small miniature vehicles that give a child a chance to create their very own imaginary city. The colorful cars consist of several various models of transportation both recreational and commercial. Recreational vehicles include a jeep, a land rover, and a pickup truck.
While the industrial models include a construction vehicle, two emergency vehicles plus a garbage truck. If that isn't enough, the set consists of two other modes of transportation that don't fall under the category of cars but still add to the overall experience, which is a snowmobile and a helicopter. This wonderful combination set would make for hours of play for a group of kids such as siblings to interact in a world all their own.
Read more
Durability
It is ideal not just for playing but also for collecting. This is surely a superb toy vehicle set that will be something a child could treasure for years to come and well into adulthood.
Creativity
All of the vehicles in this large pack are less than two inches in size but are realistic in features. Let a kid's imagination hit the road and take flight with this set, as it makes a fabulous special gift or everyday surprise.
Physical development
Excellent motor skills and finger dexterity can be developed as a child grabs and holds these miniatures in the palm of their hands. Their hand-eye coordination will also be put in practice as they use the vehicles in play.
Ease of use
Perfect for taking on road trips or placing in kids backpacks to play with while away from home, your child can easily put these small items in a bag or pocket to play with anywhere and anytime.
3

. Undersea Squid Sub Playset
Floats or can be submerged underwater
Squid squirts water and sticks to surfaces
Has a retractable crane arm that works
Includes a water safe car inside the submarine
Water may become trapped in the submarine if submerged
The Undersea Squid Sub Playset is an ideal toy set for the budding marine biologist who has a desire to explore the depths of the sea. The set features a submarine that not only closely resembles the real thing but has similar features as well. The brightly colored sub will indeed float on water. The rubber squid has features of its own such as suction cups on its tentacles that allow it to cling to things such as the submarine. It also has the ability to squirt water making it an excellent squirting toy too. Matchbox is mostly known for their cars, so it's nice to come across another type of vehicle that lives up to the company's superb standard.
Read more
Durability
Fill the removable tubes with water, and it will be able to submerge as well. There is also a retractable arm that will grab hold of things such as the included rubber squid.
Creativity
This terrific product is colorful enough to be visually appealing and sharpen a child's visual perceptions. They will spend hours upon hours engaged in fantasy play of wild sea tales to delight themselves and others.
Physical development
It has the right components for kids to quickly grab hold of with a good grip to perfect those gross motor skills. It also promotes fine motor abilities, coordination, and balance during play.
Ease of use
This is an excellent and fun toy to use in the bathtub. It can be enjoyable to use in a pool or even at the lake if the child has access to such surroundings. It is a simple and fun water toy that can also be enjoyed on land too.
4

. Rescue Headquarters Playset
Double-sided playset
Includes firetruck, police car, and civilian car
Features landing pad and police helicopter
Launchpads send heroes speeding into action
Functional lights, sounds, and microphone
Terrible assembly instructions
Your little one is ready for their first rescue mission with this Matchbox Rescue Headquarters Playset. The combination fire and police stations feature a tower with working lights and sounds. A functional microphone allows kids to call in the emergencies to their first responders. Firemen can race to the scene in their firetruck, or police can chopper in with their helicopter. Dual ramps launch emergency vehicles from back to front and the side ramps as well. Role-playing games help boost children's confidence, as well as their creative expression, and many social skills. The Matchbox Rescue Headquarters Playset is fit for all kinds of heroic fun!
Read more
Durability
Well-built, colorful, and durable, this incredible matchbox cars playset will keep kids busy in imaginative fun for long periods. It can stand rough play for one or several kids because it is constructed of sturdy materials.
Creativity
This set includes extra accessories to make imaginative play extra-realistic. Kids can set up flames, road cones, and barriers for the heroes to navigate around in their storytelling and make-believe scenes.
Physical development
The Rescue Headquarters Playset gives kids an optimal setting to role-play as some real, local heroes. They will develop many physical talents in moving the vehicles and using the two stations in their interactive play.
Ease of use
It has tons of fun features that are simple to operate, such as the launchpads and working sounds and lights, and kids can use the microphone to call in creative emergencies of their own invention.
5

. Elite Rescue Strike Hawk Chopper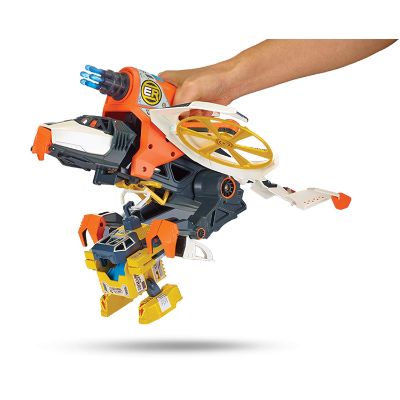 Matchbox designed chopper that reaches the end of the earth
Features a missile launching system
Includes lights and realistic sounds
Car storage in each of the 'feet' of the chopper
Promotes gross motor skill development
Features no sound or volume control
Missiles are very small, not intended for children under the age of three years old
When it comes to extreme adventures this extreme rescue elite chopper is up for it. From an earthquake that shook the city to its limits to a crazy wildfire that has the whole west under fire this chopper is ready for the rescue. With crazy adventures that reach the limits, this chopper can go where most vehicles can not. It is able to step in and save the day.
Read more
Durability
If there is danger and there is a mission that needs to be completed this brave elite chopper is there for the rescue. It has a flight capability that puts it in another rescue category. It is able to reach places that no other rescue system vehicle can. Plus is also features an attached system that will keep everyone safe while they are aboard. The attack missiles can be launched from the top of the chopper with just one hand.
Creativity
Not only does the chopper have its own missile launching system, but it features rotating blades that increase the thrill and has a life-like sounds that take the playroom and turn it into a dangerous area that all the playmates need to be rescued from hard to reach areas. Over the bookcase and into the side table this chopper will go anywhere that the captain takes it.
Physical Development
Any rescue mission that your little ones can create will take them on a physical trip that takes movement. When your little one is making the movements with the chopper along with navigating around the room they are boosting their gross motor skills. The same motions over and over create a muscle memory that gives them the strength and endurance that they need to continue to meet those milestones.
Ease of Use
Playing with a chopper will never be so easy or interesting. The launching features, lights, and sounds will bring their level of creativity to a whole new level allowing them to engage in solo and interactive play. Learning is easy when it all seems like a play date.
6

. Big Boots Yeti Catcher Truck Vehicle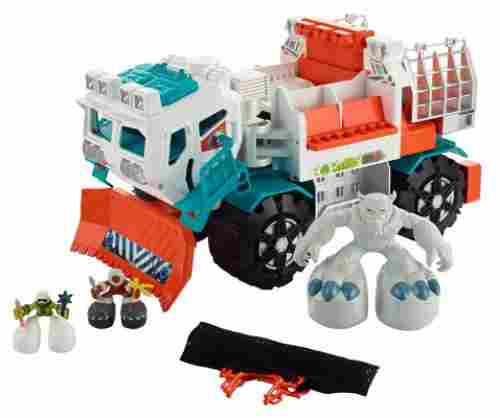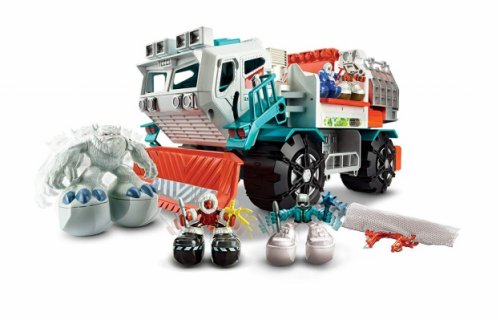 Two Big Boots figurines
Yeti Catching Truck with snow plows
Yeti figurine and net included
Truck transforms into battle station
Big Boots figures launch from the platform
Can be hard to put back together after shooting the net
On the hunt for the abominable snowman? Well, his cousin the Yeti's been spotted nearby, and the matchbox big boots yeti catcher truck vehicle equips kids with everything they need to give chase. Big Boots lands on their feet each and every time, so they're constantly ready to spring into action.
This kit features two Big Boots figurines, a Yeti, a net, and the Yeti Catcher Truck. The truck is equipped with a plow, so it can forge ahead through the snow and straight to victory! The Big Boots series is a ton of fun. If you aren't already familiar with it, here's the basic breakdown: the miniatures are bottom-heavy, so they'll always land on their feet, and their playsets feature vehicles that flip them through the air and straight into the action. Kids go crazy for that trick.
Read more
Durability
Even though most of the pieces of this fantastic set are constructed of hard plastic and not metal, it is still quite durable to withstand many hours of rugged play and enjoyment from kids.
Creativity
There is a world of possibilities in creating many stories and scenes with this prop and included figures. This excellent assortment is great for one or many children to create their own tales of adventure.
Physical development
Kids will develop enhanced motor skills, hand-eye coordination, self-expression, and social skills when they engage with the Matchbox Big Boots Yeti Catcher Set on a regular basis.
Ease of use
The truck transforms into a huge platform from which hunters and heroes can build their camp and launch attacks. A tracking system helps the party find the Yeti and stop his vicious rampage.
Has 9 Matchbox 1.64 scale diecast cars
An exclusive model available only in set
Ideal size for stocking stuffers and plastic Easter eggs
Good to take along to school or on the go
Consumers can't choose which collection they want
This wonderful item is a good starter set for the budding Matchbox car enthusiast. It consists of nine different colorful models of diecast quality cars. These will vary from racers to general-purpose vehicles that are well-known and loved. Each of these has movable wheels that make them ideal for any standard toy racetrack.
They are suitable for use with any of the quality Matchbox accessories as well. If that isn't enough this set also includes one car that is exclusive to this set only and not available in any other Matchbox car set. A child can also grab hold of the vehicles which will offer better motor skills. Good set to give to more than one child and to provide hours of interaction in play.
Read more
Durability
Built in the usual way of the tough diecast materials, this adorable combination group of vehicles can be saved in the package for a collector or used as toys. Either way, they will last for years in great condition.
Creativity
A kid can never have too many toy cars. The matchbox cars set gives them just the right number of cars to provide fun car play anywhere. Children can use some of the most basic vehicles like these to invent some exceptional tales and scenes.
Physical development
Visually appealing with the bright shiny colors to grab a child's attention, this fabulous product will provide a kid with better hand coordination as they push the little cars to entertain themselves.
Ease of use
What could be easier than a bunch of miniature cars to play with anywhere you go. It is the small size of these toys that makes them so appealing and versatile for kids as they take them everywhere to use.
8

. Mission 4-Level Garage Playset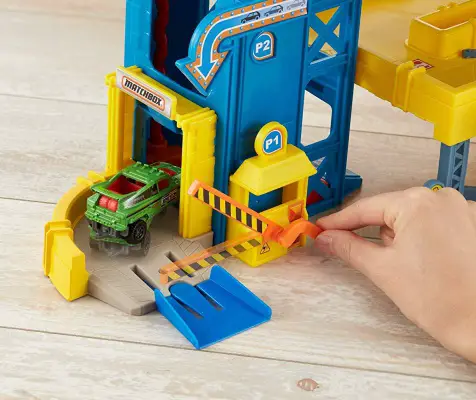 Four levels or interactive activity
Compatible with Matchbox cars and Hot Wheels
Includes one tiny toy truck
Made of durable plastic that will last
Assembly can be challenging
The Matchbox cars may be close to real life models, but this excellent and wild toy garage is like none we have ever seen in real life. Not only is this a four-level garage where a child can take their cars down the spiral ramp but also use other interactive features. Inside the parking garage is an actual car wash where a child can stop to pretend to wash the car. If their vehicle should need gas or repairs, not to worry because there is also a gas and repair station waiting to be used to load the car up with fuel. As for supplying the most valuable matchbox cars to use in the garage, the set comes with a little truck included so, the fun adventures can start immediately. A beautiful accessory for not just the cars, but other small-scale vehicles.
Read more
Durability
The matchbox toys playsets of props like this one are not made of the steel material that the usual cars and vehicles are constructed. Nonetheless, they are durable and strong to support play from one or many children for years of fun.
Creativity
Such large play scenes sharpen a child's imagination and creative skills when they engage in storytelling and acting out their ideas. If a child wants to take part in assembling the toy, there will be cognitive benefits as well, such as problem-solving.
Physical development
This amazing item provides gross motor skill abilities and coordination since a child is placing the small cars in various areas in the toy. There are just as many physical aspects to be gained with such playthings as there are mental ones.
Ease of use
The Garage Playset is full of numerous features that are sure to occupy a child physically and mentally for hours. When others join in on the fun, the excitement could last a whole day with various scenes and acting out roles.
9

. Mission: Marine Rescue Shark Ship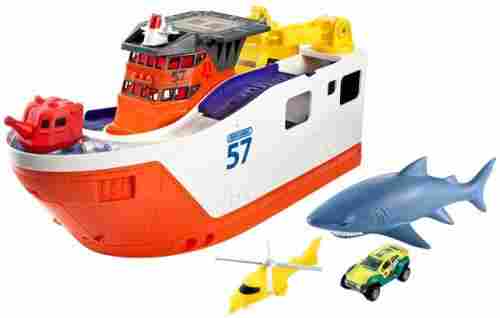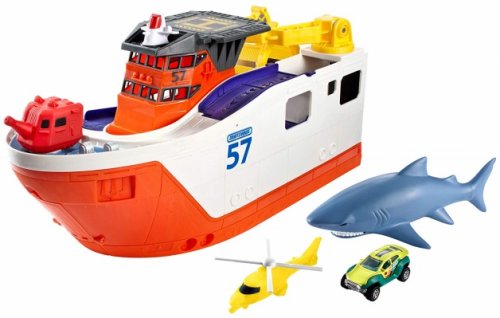 Works on both land and sea
Features two water-proof cars
Sneaky chomping shark figurine
Boat has water cannon and floating raft
Secret passageways and launchpads for cars
Sent in a normal shipping box - not the original packaging
All aboard! This matchbox mission marine rescue shark ship is ready to hit the high seas for some serious adventures. The playset is good on land and sea. Set it afloat in the bathtub or the pool or roll it around on the floor or table. It can launch cars in multiple ways and features secret passages, as well as two water-safe cars.
The shark is chomping at the bit to eat those rescue vehicles though, so watch out! With a crane arm and a helicopter toy, the boat can do some serious damage to those sneaky sharks from the air. A water cannon and floating raft enable rescuers to set out to sea and save other sailors as well. Kids will love shooting water from the canon and operating the giant crane arm.
Read more
Durability
Too many toys out there can roll around on the grass and the floor, but rust when they're introduced to bath time. That is not a problem with this splendid toy that is tough and strong to the elements.
Creativity
This mega-sized playset features lots of different fun interactive mechanisms to spark the imagination and creative side of your child. just think of all the fun adventures they can have on land and in the water.
Physical development
Kids will experience an increase in motor skills and coordination, especially as they pull levels, pushbuttons, and snap pieces into place to play with this rescue ship in its many, versatile forms.
Ease of use
This set is sustainable in water and on solid land plus features a ton of cool interactive abilities. It is so simple to use and interact with quickly for make-believe scenarios and high-sea excursions.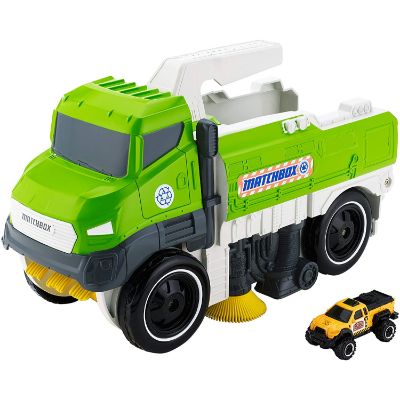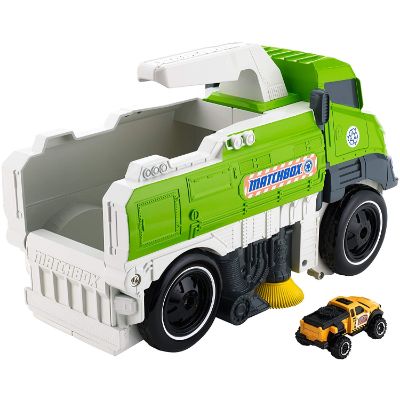 Designed from inspiration from everyday heroes
Truck designed with street sweeping design with working action
Oversized truck 'sweeps' up small cars, toys, and blocks
Features a control handle for easy control
Encourages developmental of hand eye coordination
Wheels and sweeping feature do not work well on carpets
Does not have a large capacity in the rear area
The design of this matchbox sweep n' keep truck is inspired by what everyday heroes can be. When children are inspired by the people that are around us each day they are then super excited to recreate the dream. This is a truck that has been created to get the job done, just like the street sweepers do every day. It is fun to play with and even funnier to clean up.
Read more
Durability
Playing with trucks is super fun, but this sweeper truck makes cleaning up even better. It is an oversized Matchbox truck that has been designed to act just like the real sweepers on the street by cleaning up the after the mess. It actually is able to 'sweep' the play area by picking up small cars and even blocks all around the room.
Creativity
The oversized street sweeper is a real working Matchbox truck that is a great addition to any toy or car collection. It features a sweeper that is able to pick up small matchbox toys, cars, and blocks from the front and then dumps them in the rear. The hard-working sweeper is able to hold around 30 small cars in the rear. It makes recreating the street sweeping job fun and super realistic for the little ones as they clean up the play area with a smile on their face and a mission on their mind.
Physical Development
Keeping that hand-eye coordination sharp is super important when your little one is growing and making huge physical leaps. This street sweeper is perfect for working all the components of the development of the hand and eye coordination. Using the sweeper to 'pick up' cars, toys, and small blocks around the room while pushing and lining up the sweeper is a perfect task for working the skill set.
Ease of Use
It is almost like the kid will know how to use this truck before you can even get it out of the box. It is super simple and as they push the sweeper around and 'pick up' items the area in the rear will fill up. Unloading is as simple as the sweep.
Criteria Used for Evaluation
Durability
Since most of the old matchbox cars are created out of strong diecast metal, you can expect them to last a long time for regular and rough play. Even the super painted details will endure many hours of play and storytelling with the vehicles. The larger props for the vehicles are created of hard plastic, which is also long-lasting and tough to endure many hours of enjoyment.
Kids can be hard on their most valuable matchbox cars, especially when enjoying them with other children. These sturdy Matchbox toys can take punishment and still look wonderful and new. It is a part of what makes them such great collectible toys for both adults and kids to have for years and years.
Creativity
Imaginary play is vital to a child's overall development. Especially now in the technological age. Toy cars and
trucks, boats and other modes of transportation will genuinely engage a child's imagination. They can pretend that they are in a car race or pretend in the kids sandbox that they are working at a construction site. They can play in the bathtub pretending that the submarine is going to look for undersea life.
The possibilities of imaginary play are endless, and through imagination, a child can tap into their creative side. Using their imagination, they can explore different avenues, so providing a child with toys that foster imaginary play is essential to their overall development.
Physical Development
While playing with Matchbox toys, including vehicles, kids engage their hands. Even with the simplest of gestures such as a child pushing the car in a specific direction. They can also hold the toy in their hands, guiding it along. While doing so, a child engages their hand muscles and also learns how to make hand movements. A good lesson for them in hand coordination, helping them to understand even at a young age how to grab hold of something such as a handle or a doorknob.
Ease of Use
When taking a closer look at most valuable matchbox cars and toys, we discover that there is a good reason why this toy brand has stood the test of time. There are actual benefits in playing with these vehicles and the toys as well. These will not only occupy a child for hours of play but during doing so a child also will be enriched with specific developmental and life skills. These simple little cars and vehicles do not need any props to be enjoyed but having or making some props can increase the excitement greatly. Toy vehicles can easily be entertaining for both boys and girls, as they admire the colors and designs and make up stories and activities to use them in.
Most Important Criteria
(According to our experts opinion)
Experts Opinion
Editors Opinion
Users Opinion
By Default

Parents, Did you Know?
If your child is collecting vintage matchbox cars to save for a formal collection, it is best to save them in their original packaging and not take them out for play. They will be in mint condition this way and hold their value well.
Parents, Did you Know?
Make sure that your child is old enough and responsible enough to play with such small toys that could pose a choking hazard. They need to be past the growing phase where they put everything in their mouth in order to use it.
Other Factors to Consider

Social Development
Matchbox toys and indeed the sets of Matchbox vehicles are the right way for kids to interact at play. Siblings can have fun together with the various types of vehicles. Kids can also interact with friends sharing the multiple models of cars. During these interactions, a child will also develop better language skills and be able to communicate better. This makes such play ideal for kids who are toddler age to engage in.

Brand
The diecast Matchbox car is not only good for play but also as collectibles. Kids who learn about collecting learn about nostalgia as well. Keeping a collection and growing it along the way will help create memories and also give a child an outlet. Also, in collecting old Matchbox cars, kids can learn more about these little diecast vehicles, the various models and the multiple years that each model came out.
Frequently Asked Questions
q:

What year were Matchbox cars created and who created them?

a:

Jack O'Dell created a Matchbox car back in the early '50s. He initially came up with the tiny little car because his daughter's school has a rule that kids could only bring in toys small enough to fit into a matchbox. While working for a British diecasting company known as Lesney Products, he created the miniature scaled-down model of another Lesney toy, the road roller that he gave to his daughter. In 1953, the first three models of these cars hit the market and were an instant hit.
q:

Why are these called Matchbox cars?

a:

The name is pretty self-explanatory, as it comes from the fact that the diecast models were so small, they could fit in a matchbox. In fact, the first models did come inside a replica of a matchbox, which was ideal for storage purposes as well.
q:

Besides the submarine, did Matchbox come out with any other boats in their line?

a:

Yes, Matchbox may be known for their cars, but as illustrated above, they do provide other vehicles as well. That will include toy boats such as the submarine and other quality plastic toys that explore water fun. Matchbox also created the Sea Kings line which is a set of finely detailed diecast boats. For those into planes and helicopters, there is also the Sky Busters line of diecast models as well.
q:

How did Mattel end up with the rights to the Matchbox toy line?

a:

In 1982 due to stiff competition, Lensey Products sold the rights to their Matchbox car line to the American company Universal Toys. Eventually, the toy manufacturer sold the rights to Tyco. Now comes the ironic part…Mattel, the company that manufactures Matchbox biggest rival–Hot Wheels–bought Tyco, and therefore they found themselves now the owners of the Matchbox car and toys line.
q:

What are some of the other types of Matchbox building systems?

a:

Besides the Mega Rig Jurassic Copter which is featured here, there are several other types of sets available in the Matchbox building systems. Such as the Mega Rig Spaceship Shuttle and the Mega Rig Fire Ruck. Each of these provides not just a fun-filled toy but a chance to build various types of vehicles that go with the overall theme.
q:

What are the rarest and most sought-after models of Matchbox cars?

a:

There are five models of Matchbox vehicles that are considered to be some of the rarest to find. The models are of course vintage and are mostly for collectors, mainly because to obtain these it could be very costly. Not surprising is that the original and the first one ever made–the Road Roller–is highly prized by collectors. Here is the complete list of the five rarest Matchbox cars.

1953 Aveling Barford Road Roller
1961 Magirus Deutz Crane
1965 BP Dodge Wrecker
1966 Opel Diplomat
1967 Mercedes Benz 230SL