When you're a child, all you want to do is be a grown up. An important part of growing up when you're at a young age is using your imagination to play dress up. One of the best childhood memories for most girls is getting their ears pierced and finally saying goodbye to those clip-on earrings. What's better to go along with a new pair of earrings than somewhere to store them? It's almost a rite of passage as a child to finally own your own jewelry box. It's something that you can say is finally yours. Not only does it mean no longer rooting through your mom's antique diamonds, but it opens the world of the expression of style for the very first time.
Jewelry storage has come quite a long way since the day of simple boxes with just two compartments. Now, there are entire box lines that cater to children's needs and whatever type of jewelry they choose to have. We know it's hard to figure out which one is the best to purchase when there are so many choices out there. We've created the ultimate list of the best jewelry boxes for your child, whether they gravitate toward necklaces, earrings, bracelets or rings, you can be sure to find a style that suits their individuality.
Lenox Childhood Memories Ballerina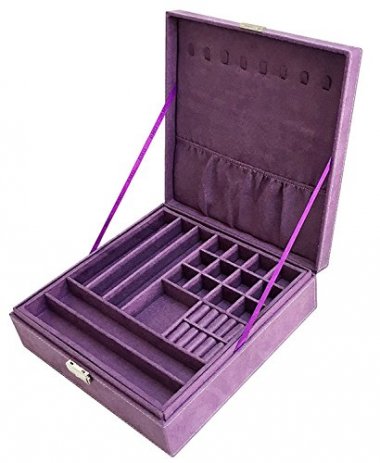 JewelKeeper Swan Lake Tune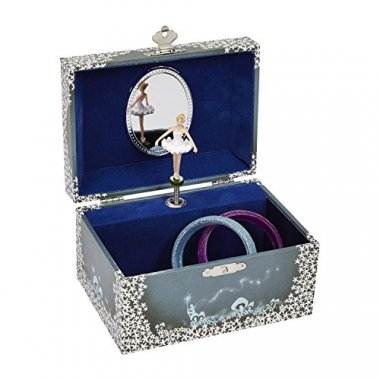 Enchantmints Ballerina Musical
Vlando Small Faux Leather
Vlando Pink Pandora Mirror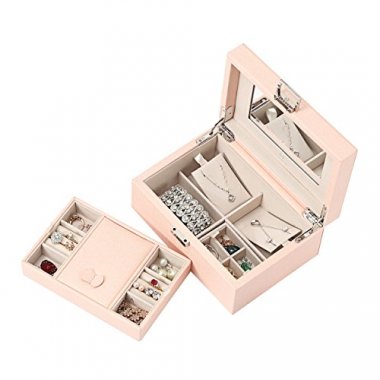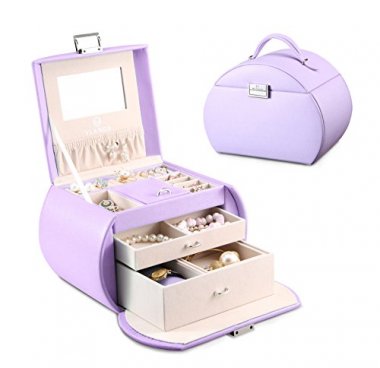 JewelKeeper Butterfly Flower Music
JewelKeeper Unicorn Musical
SONGMICS Mirrored Mini Travel
Criteria Used to Evaluate the Best Jewelry Boxes for Kids
We know that simply choosing the perfect jewelry box for your child can quickly turn into a dreadful task for any parent. This is exactly why we took it on ourselves to narrow down the best boxes out there. We looked for specific features like appearance, functionality, and overall use for different types of accessories.
Appearance
You're going to want a jewelry box that matches your child's individuality, especially when it's going to be sitting on your child's dresser or nightstand. This list includes a variety of boxes ranging from simple to quintessentially feminine designs. There's a box that's unique to fit any type of child, but we made sure that every single one of them has functionality as well as that eye-catching ability.
Functionality
Parents can agree that it's super-important for a kid to have storage for all their treasured items. Jewelry is timeless and we believe that jewelry boxes should be as well. Whether it's a large box with numerous compartments and holders, or a smaller box suitable for travel with enough space for the most important pieces. Whatever the occasion is, it made the list.
Overall Usage
Of course, everyday use is held to a high standard and the items we review are no different. In the hands of children, naturally wear and tear increases, but we've been sure to rule out any items that wouldn't make the cut because of that. We feature only the best, the most sturdy, secure and stylish piece when it comes to containing something so special.
FAQ
Frequently Asked Questions
Q: What age are these jewelry boxes appropriate for?
A: Although jewelry boxes are really appropriate for any age, parental supervision is always needed when younger children (toddler aged and under) are handling small jewelry pieces. The box itself is appropriate for all ages.
Q: Can bottom compartments be removed?
A: On most of the jewelry boxes with second layer compartments, they can be removed to create extra and taller space for larger items.
Q: How is the music quality of the songs played in musical jewelry boxes?
A: Sound quality is excellent. For each box that has a musical addition, each song is easily identified and played out until the wind-up mechanism stops or until the box itself is closed.
Q: Is this too heavy for an 8 year old girl who travels by car and train a lot and wants to take it to school?
A: The jewelry boxes with handles are not heavy by any means. The handle implies that they are meant to travel and are lightweight. The wooden and metal boxes may become increasingly heavy with added accessories and items.
Q: Is it lockable?
A: Most of the jewelry boxes have a clasp that securely closes, however, several do come with an option to lock as well–only one (Sodynee Two-Layer Jewelry Box) comes with an actual lock and key.
Q: Will the color fade on these, especially the lighter-colored pastel ones?
A: All of the mentioned jewelry boxes are of good quality and are long-lasting meaning they are not likely to fade in the slightest.