10 Best Kids Music and Childrens CDs Reviewed in 2019
last updated
Jun 27, 2019
Music is not only fun, but it offers a world of developmental benefits for children. It sparks brain development, helps promote dancing to enhance gross motor skills, and boosts emotional development. From the benefits to the fun factor listening to CDs is an overall great way to allow kids to connect their bodies and brains while having some fun doing it. They love listening to their favorite musical moments in movies to the kid versions of the hit tunes on the radio. Here are from featured favorites that are great to add to their collection.
In a Hurry? The test winner after 76 hrs of research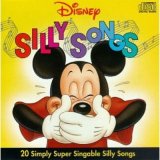 Disney Silly Songs: 20 Simply Super Singable
Why is it better?
Fun, upbeat songs
Cameos by notable Disney characters
Easy rhymes and lyrics to encourage sing-a-long time
Creative story-telling as an introduction to musical narratives
In a
Hurry? Editors choice: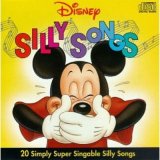 Test Winner: Disney Silly Songs: 20 Simply Super Singable
22
Researched Sources
76
Hours Researching
15
Products Evaluated
Brand
Entertainment Value
Educational Value
By Default
In Depth Review Top 10
Disney Silly Songs: 20 Simply Super Singable
You Are My Little Bird
Singable Songs for the Very Young: Great with a Peanut-Butter Sandwich
100 Singalong Songs For Kids
Frozen: The Songs
NOW Disney
The Best of The Laurie Berkner Band
Kidz Bop Ultimate Hits
Frog Trouble And Eleven Other Pretty Serious Songs
Sesame Street Platinum All-Time Favorites
Table of contents
Criteria Used for Evaluation
Expert Interviews & Opinions
Other Factors to Consider
Frequently Asked Questions
Sources
10 Best Kids Music & Children's CDs Reviewed
1

. Disney Silly Songs: 20 Simply Super Singable
Fun, upbeat songs
Cameos by notable Disney characters
Easy rhymes and lyrics to encourage sing-a-long time
Creative story-telling as an introduction to musical narratives
Not all songs are sung by Disney characters
When you have a little one that just loves to jam out to the Mickey Mouse and the gang as they take songs and make them super silly. The CD features 20 different kids' songs that each has their silly twist. As they listen you can watch them giggle. Each of the songs is funny in their own way and the kids just love listening to the CD and look forward to the next silly song each time.
Read more
Brand
Classics like "It Ain't Gonna' Rain No More", "Ta Ra Ra Boom De Ay!", and "Little Bunny Foo Foo" are sure to inspire sing-alongs. Mickey, Minnie, Goofy, and Daisy all make recognizable appearances to contribute to the fun.
Entertainment Value
A compilation of twenty silly songs sung by children, children's bands, and famous Disney characters, this album is a great way to keep the mood light and energized. Easy, silly lyrics are sure to keep your children engaged and singing along. Children who listen regularly to music are shown to perform better academically and develop many mental skills at a faster and stronger capacity than those who do not.
Educational Value
The songs tend to be more narrative-driven, lots of them being little more than funny stories told with a rhyme-scheme, so don't expect too much educational value, but it's certainly good for giggles.
2

. You Are My Little Bird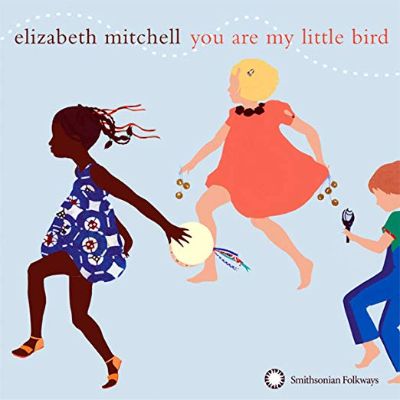 Brings joy and easy comfort to uptight kids
Easy for parents to listen to.
Songs are new to children
Parents may recognize them as their own childhood songs
Great for road trips
Some people don't love the sound of the kids singing in the background.
Traveling around the world when your little one is young can be hard, so why not bring the world to them? That is exactly what this album does for the kids. It brings American folk songs and melodies from all around the world together on one album. It is a gentle and peaceful way to introduce songs that we learned as children and then also share songs from other cultures. The album features 17 songs. It is available in three media forms: Streaming, MP3, and CD.
Read more
Brand
This album feels like home. It's soft but upbeat. There is a mix of fast and happy along with slow and relaxing. Elizabeth Mitchell is the artist and her voice is very soothing. There aren't many background instruments, so Mitchell's voice stands out. But it isn't harsh.
Entertainment Value
When kids hear the songs on this little bird cd, they tend to laugh and sing because the music is so inviting. These songs can bring comfort and joy to unhappy little ones and be enjoyed while playing. Elizabeth's songs are easy to listen to for parents, as well, when they get tired of hearing the alphabet song for the umpteenth time. It's great when music can be used for having fun, singing along, dancing, and even wearing costumes to interact with the music. The songs have a homey feel to them, and that's comfortable for people.
Educational Value
You and your kids will enjoy learning the words to these melodies while dipping into a cd full of favorites and a few from around the world. The cover art is appropriate and pretty with kids playing and just slightly muted colors. The image matches the music. The bird's theme is really great because kids become familiar with birds at an early age, and they are gentle creatures. That matches the music. Ms. Mitchell has been singing children's songs since 1998 and she brings a gentle spirit to these age-old tunes that many of us sang when we were kids.
3

. Singable Songs for the Very Young: Great with a Peanut-Butter Sandwich
Fun, upbeat kids songs
The songs are funny, and they teach
Great opportunity for physical exercise
Bright, simple lyrics that are easy for kids
Some buyers dislike a few of the lyrics, but these are few and far between.
Children's music is an important part of the memories that are created as a child. So, sharing music with your children can truly be a very bonding experience. This album features 19 songs. The songs range from old classic originals to humorous counting songs. It was originally recorded in the 1970s, but it is a timeless classic that you won't even realize has that much age. Preschoolers can jam as they get ready for the day and toddlers will learn all about their routine from this album.
Read more
Brand
We know you want your kids to have fun with music, and there isn't anyone more fun than Raffi. With his rockabilly songs that are fun and singable, he provides joy for the kids and even grownups
Entertainment Value
Many of the songs on this cd are based on kids oldies. They can make even a dour soul smile, so the kids will surely be laughing, dancing, and singing along to these really cute songs. They help kids keep the rhythm and there are even learning songs to encourage kids to do what they do during the day, like brushing their teeth or enjoying a peanut butter sandwich. Many of the tunes will be familiar, but the words may be new. Kids can skip, jump, and play to the music, have a great time, and learn something too.
Educational Value
The songs presented in this CD are definitely written for kids. There is the all-important rhythm for brain development. An opportunity for exercise, words they rhyme, and words that repeat. Kids learn better when words and actions are repeated. "Repetition is the mother of skill," says Tony Robbins. It's true. Brains love repetition because it helps us remember the words. Lots of learning goes on in Raffi's songs.
4

. Singalong Songs For Kids
100 songs to sing along to
Available for streaming, an MP3, and audio CD
Classic songs that are easy to sing along to
Provides fun rhythms and beats to learn
Designed for kids, sung by kids
Case of CD does not ship well
Each song it a short version
If you are looking for an album to dance the afternoon away then look no further. This is the album for you. Included on the album are over 100 different songs that the kids will dance, laugh, and sing right along with. It is available in three forms; Streaming service, MP3 download, and an audio CD. The album is a fun mix of everything that the kids enjoy about music.
Read more
Brand
These songs have written for kids and have been sung by kids making it a true entertaining experience for them. This album has been created by a publisher that is well known for putting together classic tunes for kids to dance and sing along to. You will find this true with this album as well. It is a well put together collection of music for children of all ages.
Entertainment Value
Dancing is a great way to learn the rhythm of the music and listening to music at a young age provides children with an environment that allows their bodies to bop with the beat. As they bop along with the beat they explore how their bodies can move and then learn to love the way they feel when they listen to music. Music is always a great way to entertain and provide everyone with a good time.
Educational Value
Listening to music provides kids with an introduction to rhythm and lyrics. Each of the songs features a distinct sound that teaches them the differences between from one song to the next. This provides them with an understanding of the beat and how the words of the music follow along. Children that are introduced to music allow them to explore their creativity and learn to dance like no one is looking.
Audio CD featuring soundtrack music from the movie Frozen
Featured film is an Oscar awarding winner
CD features 10 hits right out of the movie
Includes poster and stickers
Enhances recall memory promoting literacy success
Features a version of Let It Go sung by Idina Menzel
Includes two versions of the same two of the songs
Is it like the movie jumped right on the screen and on to this CD.? This is the exact same music that they hear during the movie and what tunes they are singing along too. When you little one just loves a movie and you want to bring them a different medium to enjoy, but still provide a great experience then CDs like this soundtrack are just the answer. AS they skip around dancing to the songs and you will see them thinking about the movie is a new way.
Read more
Brand
From the movie screen to the CD player this soundtrack from the Oscar award winning movie will be a big hit with the kids. It is everything they love about the movie. Every time they listen to the CD they will see the characters dancing around in their minds and then bring the characters to life for them. The Cd features 10 hits from the movie.
Entertainment Value
From song number 1 to number 10 the kids will love dancing and singing along. On the CD they will find; Frozen Heart, Do You Want to Build a Snowman, For the First Time in Forever, Love Is an Open Door, Let It Go, Reindeer Are Better Than People, In Summer, For the First Time in Forever, Fixer Upper, and Let It Go. Included with the CD in the case is a fold-out poster of the characters from the movie and stickers that can be used on the poster or anywhere else the kids would love to see their favorite characters. From the big screen to your CD player this soundtrack will be a huge hit with any Frozen lover in your life.
Educational Value
Listening to CDs is a valued way of strengthening the memory of your little one. Research has proven that listening to music helps enhance your recall memory. When children listen to music is allows them to relax and learn better. Positive music enhances the effects even more. The upbeat sounds from this soundtrack will allow them to retain more information in their memory and aiding in their literacy success.
Collection of Disney soundtrack hits on a featured CD
Features songs from 20 different award winning movies
From the brand NOW
All the hits in one magical place
Increases verbal communication developmental skills
Includes classic hit soundtracks from older movies
Features instrumental versions of some songs
Disney movies are being created and those the tunes that are being played on the screen, but soon those movies are overplayed and newer movies start to replace them. Don't let your little one's favorite songs go unsung. With CDs like NOW, you can capture those movies soundtracks and keeps the kids listening for many years to come. This is a collection from the Disney movies with all the great classics that the kids just love.
Read more
Brand
From Disney, a collection of hits from 2012 have come together with the NOW brand to create a featured CD for kids. The collection features the most popular tunes and brings them all together on one CD. It is a great way to bring the magic of Disney right to the listening ears of your kids. Kids all have their favorite songs from their favorite movies and you often hear them singing along as they watch the movie, so bring the tunes directly to them with this Disney collection of musical moments from their hit movies.
Entertainment Value
Included on the CD are hits like; When You Wish Upon a Star from the movie Pinocchio, Circle of Life from The Lion King, You've Got a Friend in Me from the movie Toy Story and so much more. On the CD kids will find a collection of 20 different songs right from the movie. They are the same versions that they hear on the award winning movies and will spark their interest from track number 1. If your kids dig Disney movies and just can't get enough of them, then this soundtrack CD has been created just for them.
Educational Value
Music CDs are the words of the mind. It is proven that children that listen to music have stronger verbal intelligence. The training of the brain from listening to music enhances their ability to be able to understand words and also be able to explain the meaning of those words. The increase of verbal intelligence will boost their overall verbal communication developmental skills.
7

. The Best of The Laurie Berkner Band
Alternative to all-kids chorus CD's
Collection of top hits
Adults and kids will enjoy
Varied tempos for different moods
An array of silly songs and sweet, sound messages
Some younger children seem to feel lukewarm about it
Reviewers have complained about a "tinny" production feel
When you're listening to the same songs on repeat every week, they might as well be ones that don't make you want to pull your hair out. It's nice to have an option that feels a little more geared towards both kids and parents.
Read more
Brand
The Laurie Berkner Band may well be the Beatles of Toddler-Town. Best known for their recurring work on Jack's Big Music show (formerly on NOGGIN, now on Nick Jr.), Berkner and her fellow musicians have compiled a collection of their most popular tunes. Listeners describe her as "folksy" and "joyful."
Entertainment Value
Multiple parents have commented that if your child has a penchant for the repeat button, this is a sound investment, as her voice is soothing and the songs are fun and catchy, as opposed to the squeaky high-pitched monotones of many children's songs. This collection features favorites from her five albums and best-selling DVD and comes complete with twenty tracks and a digital booklet.
Educational Value
Music helps stimulate growing minds and is a wonderfully creative and emotional outlet for little ones. Laurie's songs offer a more folk-rock alternative in orchestration, while still featuring simple, silly lyrics so parents and children alike can enjoy the listening experience together.
8

. Kidz Bop Ultimate Hits
Offers teaching moments for parents
Kids can relate to the themes
For kids preteen to teen
Ranked highly in Amazon's Children's CD category
Offers teaching moments for parents
Kids can relate to the themes
For kids preteen to teen
Ranked highly in Amazon's Children's CD category
This CD is fun and entertaining for kids. The material is relatable and very kid-friendly. Songs are uplifting with great opportunities for teaching moments. This CD is something even parents can listen to for extended periods. Great for road trips.
Read more
Brand
Their mantra is "sung by kids for kids," and this dynamic group of musicians is still very popular with children. Billboard listed them #1 kids group for seven consecutive years. Their songs are for the preteen to the teenage crowd, recreating popular songs in a kid-friendly manner. But the themes are more mature than themes for the toddlers.
Entertainment Value
This CD includes "California Gurls," "Hey, Soul Sister," and "Fire Burning." There are 13 songs on the album. The kids sing well, the songs are perky and well-written. There are some mature themes in that they include loss of love, sadness, and, relationships, but nothing improper. There are great consistent rhythms for good brain development, and they are fun to dance to.
Educational Value
These have the quality of being songs teens can relate to since they've known their numbers and ABCs for a long time now. The songs talk about being a bit more independent, there's an opportunity for dancing, so they get exercise, and many of the songs are upbeat, encouraging, and happy. Parents can listen to these songs, too, and relate to what their children are listening to, talk about, and get to know their kids more deeply. The songs are pop songs, with occasionally a thread of Hip Hop.
9

. Frog Trouble And Eleven Other Pretty Serious Songs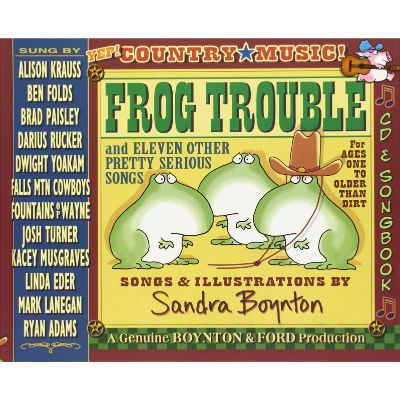 Many teachable moments for parents and even teachers
Fun, retroish, danceable music
The songs on this CD bring wonderful images to mind that kids will love
Kids will listen over and over again, rocking and singing to these tunes
There are some very relaxing songs on this CD too
Some buyers didn't like the slow songs
The various tempos throughout the album help tell the stories presented in the lyrics. The upbeat songs are joyful and the slower songs are relaxing and melodic. This is a fun, beneficial CD for kids and adults alike.
Read more
Brand
Kids songs take on a country flair with this Sandra Boynton CD. Sandra is the writer of the songs on this album, and they are sung by country singers and bands. Brad Paisley and Mark Lanegan are just two of the talented musicians presenting Boynton's songs, and Frog Trouble is a top pick and the title song. The songs on this CD are a bit retro and that is comforting for some of us older folks, something we can teach our kids about.
Entertainment Value
The CD cover is very colorful and attractive. Songs are upbeat and danceable, giving kids a chance to exercise growing muscles and treat their brains to various tempos that will help them grow. Brad Paisley singing "Copycat" is very cute and teaches a really interesting lesson. "End of a Summer Storm" sung by Alison Krauss is such a beautiful mid-tempo song that it rises above most of the others. Great songs by Boynton.
Educational Value
The rhythms on this album are varied so the brain gets a real workout. "Copycat" is the most fun song on the album. There is a lesson in each song, so kids can learn from them, and parents can easily find teachable moments their kids can use in their imaginary journeys. The songs are somewhat short, so they should keep the kids' attention with ease. This is a great CD for car rides, short or long, and is awesome entertainment. Kids love to sing along.
10

. Sesame Street Platinum All-Time Favorites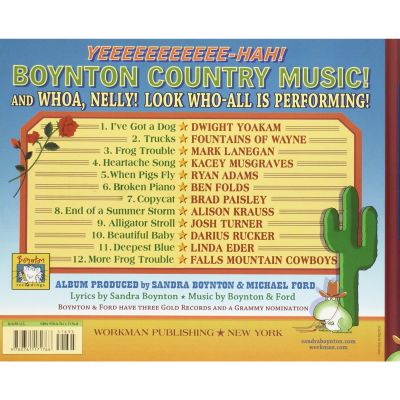 Recognizable kids' characters and voices
Educational songs and silly songs alike
Variety of mellow and toe-tapping arrangements
Classic songs parents might recognize
New voice actors for some of the characters
Missing many other classic Sesame Street songs
Those little feet are made for dancing and dancing is what they will do. This Sesame Street album is a collection of all the favorites that they love dancing to on the show, but brought to them in a CD form. It is a wonderful way to introduce beats and lyrics to them outside of the show and as a whole.
Read more
Brand
A throwback for the era that grew up with Sesame Street and is now raising children of their own, Sesame Street's Platinum All-Time Favorites is nostalgic enough for moms and/or dads while being fun and fresh enough to keep kids entertained.
Entertainment Value
"Sing" and "Little Things" help to remind listeners of the many parts of the world around us for which we can choose to be grateful, while "Lambaba" and "Happy Tappin' with Elmo" are fun, silly scores to get up and dance to. It's a nice variety of sweet, scholastic, and silly songs, all sung by major characters your child has likely seen on television and can identify and be excited about.
Educational Value
Songs like "People in Your Neighborhood" help to teach about social ecosystems, and the roles the people around us play, such as what a mailman's job is. Songs like "ABC-DEF-GHI" and "C is for Cookie" are fun ways to help drill language skills. Kermit makes a guest star appearance to sing "Being Green," a song about learning to accept what we perceive as our own imperfections.
Criteria Used for Evaluation

Brand
The criteria for kids music CDs is a bit different from toys since the parents are handling the CDs, not the kids. We used several different criteria. One of these was that we wanted reputable artists and producers who are proven in the world of children's music. We looked for comments and reviews in which buyers said things like, " I listened to this with my kids," or "I remember this from my childhood."
Entertainment Value
We were also looking for how buyers rated the music and if their kids liked the CD. Ratings were high on all of these CDs, and most of them told us that kids really got into the songs, danced to them, or fell asleep to them. There are many familiar tunes on this list and many that are new. Most of all we wanted these songs to be fun and helpful to both parents and kids. Many parents get sick of listening to the ABCs all day, so we put in some albums that parents can listen to along with the kids and not go nuts. The buyers' comments are so very important.
Educational Value
As always, we looked for how this music supports development in children's growing years. Kids songs, in general, do that, but we wanted songs with consistent sound and rhythms to help with brain growth. This helps kids think better in a more creative way and supports problem-solving skills. Upbeat, positive sounds and lyrics help kids in the area of self-confidence. And dancing to music makes kids' muscles strong. One of the most important aspects is that kids need to participate in music and our list includes plenty of songs that invite children to take an active role in listening and movement. Many of these tunes teach a lesson, and the parents can help explain when questions arise.
Most Important Criteria
(According to our experts opinion)
Experts Opinion
Editors Opinion
Users Opinion
By Default

Parents, did you know?
Here is a major reason we decided to include children's music CDs on our website. Music helps kids with their growth for years because you, as parents, can play music for your baby from the start. A baby's brain can pick up on music and learn the melodies. They don't know the words yet, but they hear the music. So your baby's brain can make more neural connections right away and start to support their future learning.
Parents, did you know?
Music soothes children from when they are small so you often see parents putting on some quiet music or singing a lullaby. This takes their child from agitated to quiet, to sleeping more often than not. Music is a great tool for encouraging behaviors that we want. Whether it's the melody or the tempo or both, kids respond well to music.
Parents, did you know?
Our brains respond to music by making connections between the left brain and the right brain so that the artist in us can work more easily with our logical side. This helps our children learn how to problem solve, learn complex math skills, and become a more creative problem solver. This also supports our kids in becoming better readers, a skill that will take them to upper levels of learning.
Parents, did you know?
Music is often repetitive in the lyrics of a song and the rhythms. Sometimes, the most important part of the song is the chorus, which is usually sung after each verse. How many times have you remembered part of a song from long ago, and then you remembered that it is the chorus of the song? The chorus is the repeated part of the song and that's why you remembered it. You recall the words and the music. Repetition embeds information into the brain. From that information, you can connect it other memories and apply it to new skills. How great is that? That's how kids learn and music plays a large part in learning.
Parents, did you know?
Music can also teach. The most obvious is the ABC and counting songs. But there are songs out there about science, about everyday life, brushing teeth, and making friends. Kids learn a lot from songs, so parents need to be aware of what their older kids are listening to. But more than that, share the music with them and learn together or make them teachable moments in which you teach them and you get to bond with your child.
Parents, did you know?
Of course, the main thing about music is that it is to be enjoyed by both parents and kids, hopefully together. There are lots of activities that can be planned around music. Perhaps a little skit, dancing, playing an instrument, sing-a-long songs, even beating on a pot with a wooden spoon. Anything you can do to get your child steeped in music can help them learn and grow. Music makes learning a little easier. There are no negatives to using music to engage your kids. It can only help.
Parents, did you know?
In the Trends in Cognitive Sciences Journal, a meta-analysis of 400 total studies suggested that music doesn't just feel good, it's physiologically helpful to us. Music has been known to help suppress the stress hormone cortisol in listeners under great amounts of duress. Even in those who are in a moderate to decent mood, music spikes feelings that promote the secretion of dopamine within our bodies. Additionally, the regions of the brain associated with movement, strategizing, focus, and memory are all shown to be activated by the simple act of listening to music.
Parents, did you know?
Beyond these basic advantages, music has the power to unite us. We bond socially over our tastes in music and utilize it as a centerpiece for many cultural events. Parades feature music. Movies are scored. There's often music in the background at parties, festivals, and great community events. Engaging in music, even just by listening to it, gives us a platform from which we can grow and connect with those around us. And it doesn't matter what genre you prefer either; the healthy and cognitive benefits are proven to work across the board
Parents, did you know?
Perhaps the most important part of choosing the day's soundtrack is actually picking music that you personally enjoy, as it appears that when we invest in the music playing, the advantages it gives us are all the stronger. The default-mode network (a part of the brain connected to empathy and self-awareness) in our brain shows increased activity when we listen to music we love. So we say find your favorite songs and pump up the volume!
Other Factors to Consider

Brand
One of the most important aspects is that kids need to participate in music and our list includes plenty of songs that invite children to take an active role in listening and movement. Many of these tunes teach a lesson, and the parents can help explain when questions arise. Some of these CDs have been used in classrooms to teach those lessons. They provide teaching moments for parents and teachers. Parents should enjoy these moments as bonding time between them and their child. And you can teach and reteach these lessons because kids learn by repetition. These repeated lessons are implanted in the brain, and all without the pain of flash cards.
Design
Parents praise these songs because kids are learning from them, and singing along gives them something to do and more to experience. But these are kid-approved songs as well. And why do kids approve them? Because they can have FUN! Kids want to have fun, be active, and be entertained. They want to laugh and sing and be full of joy, and parents want that too. So the list is full of entertaining songs that are positive and speak to what kids can relate to. They relate to the school bus, taking a bath, brushing teeth, and having friends, things kids experience in their everyday lives.
Frequently Asked Questions
q:

If I play these CDs for my child, will he be more interested in music lessons?

a:

Your child's interest in music is fostered more within your child than anything that comes from without. But you may find that certain songs or rhythms excite him more than others. If he's ready to take lessons, he will probably tell you. Or just observe him when he's grooving to the music. Does he tap his toes or fingers? Does he hum favorite tunes or even burst into song even when he's doing something else? When you see these signs, it may be time to ask what he wants.
q:

My daughter has trouble forming relationships. Can listening to music help?

a:

Yes, but it's best if she listens with someone else, especially kids her age. Get her interested in lessons and playing in a school band or chorus. In this way, she learns to listen to others musically, their rhythm, speed, and volume for instance, and it should spawn discussion and maybe even a friendship or two. Then perhaps she and her friends will listen to music together outside of class.
q:

My son listens to loud music when he does his homework, but I feel it might be distracting him. What can I do?

a:

First, I would ask him if it's distracting him. I would also watch his grades. If the music has lyrics, see if he would be amenable to listening to instrumental music while studying. That may help both of you.
q:

How can I make listening to kids songs more interesting?

a:

First of all, remember that repetition is a good thing, as it helps kids remember stuff. But you can change the lyrics slightly by substituting words, so instead of "the wheels on the bus" you sing "the wheels on the car." Raffi is really good at this, so go ahead and try the Raffi CD.
q:

My son is fidgety, so how can I help him get to sleep at naptime?

a:

Probably the best course of action is to make sure naptime is at the same time every day. Play soothing music like that from the Lullaby CD on the list. Make this a habit so your child's brain learns to expect to go to sleep at this time and to this music. This is the routine. If you are someplace else and you don't have the CD with you, sing the songs to him. You are repeating the routine every day so your child's brain learns when it's time to sleep.
q:

How should I introduce new music to my daughter so that I don't go nuts hearing toddler songs over and over?

a:

This is a common problem among parents. The answer could be a simple, "Just suck it up and roll with it." Or it could be this: go through the CDs on our list. Amazon offers samples of many of them. Choose a style the whole family will enjoy, and start introducing the new songs and style slowly. Many parents like Elizabeth Mitchell and similar artists. Make all songs more interesting to your child by helping her make instruments out of household kitchen utensils or other tools. Maybe they will eventually show some excitement about a certain type of music that you can become interested in, too.