10 Best Kids Pianos and Keyboards Reviewed in 2019
last updated
Jun 29, 2019
Listening to and playing music have proven health and development benefits. Music activates parts of our brain that allow us to retain information more clearly as well as boost our mood. Learning and playing music also encourages discipline, focus, comprehension, problem-solving, and creative expression. Playing an instrument can help to boost confidence as well! And what better instrument to learn than one of the classics: the piano? Most songs can be arranged easily to be played on keys. If your little one is interested in getting started, take a look at some of our favorite pianos and keyboards for kids!
In a Hurry? The test winner after 23 hrs of research
Play22 Playmat 71
Why is it better?
The keyboard is strong enough for rowdy youngsters to play with
The volume is adjustable
It sits well in the living room
It's easy to move around the house
In a
Hurry? Editors choice:
Test Winner: Play22 Playmat 71
26
Researched Sources
23
Hours Researching
16
Products Evaluated
Design
Ease of Use
Effectiveness
By Default
10 Best Kids Piano & Keyboards Reviewed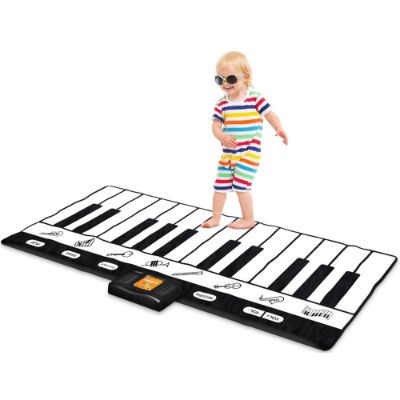 The keyboard is strong enough for rowdy youngsters to play with
The volume is adjustable
It sits well in the living room
It's easy to move around the house
The keyboard turns on at full volume
Remember that scene in Big where Tom Hanks plays the giant piano? Gussy your little one up and get ready to rock together! This adorable piano mat is the perfect size for young children and includes eight different instrument sounds. Choose between Piano, Violin, Saxophone, Trumpet, Clarinet, Banjo, Xylophone, and Guitar. Your little maestro can be a master of many different sounds and you can adjust the volume so you're only hearing their compositions when the time is right.
Read more
Design
It has 4 modes: play, record, playback, and demo. It has a 100% satisfaction guarantee so parents don't have to worry if their kids didn't want a piano for the holidays, or if someone else in the family misunderstood and they also purchased the same piano for their kiddo they can return their purchase no problem.
Ease of Use
Whether recreating movie scenes or just having fun, the whole family can play together and sing with this massive keyboard. The robust construction means there are years of fun for growing families. Cleaning is as easy as wiping it down with a damp cloth. The mat is soft and rough enough to wear socks or indoor shoes while playing with it.
Effectiveness
It can be roll up and taken on family trips. It is also a great holiday present for kids.
2

. VTech Record and Learn KidiStudio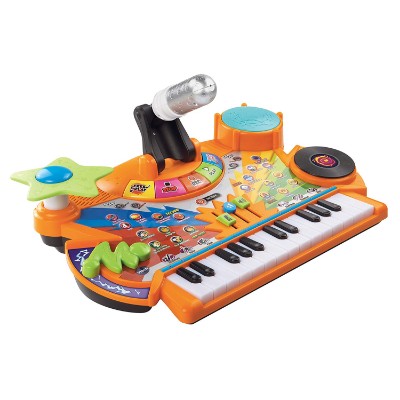 It doesn't sound like a true piano.
It doesn't use a power supply, only batteries.
This miniature recording studio is perfect for budding music lovers! VTech's Record and Learn Kidistudio allows toddlers to play their own beats and melodies, record it, then play it back! The microphone features fun voice-changing technology, and kids can enjoy playing the drums, adding scratch disk sounds, or testing out the whammy bar. There are 40+ songs and sound effects ranging from Jazz to Techno to Rock. This studio teaches tempo, rhythm, and melody, and is recommended for children ages 3-6.
Read more
Design
The keyboard library holds over 40+ different sounds and music like Jazz and Techno. This colorful record studio can help an aspiring music genius find their voice. Kids can play alone or learn to coordinate and record a group ensemble.
Ease of Use
Kids will learn about tempo, rhythm, and melody while they play. This kit is safe enough for toddlers to play around with it. The batteries it requires are included and are secured in the unit so it's difficult for kids to get to and mess with.
Effectiveness
It's an actual record studio and not just a look alike toy. It's fun to record an entire family song after everyone picks their role in the song.
3

. Casio SA76 44 Mini-Sized
This keyboard can change from piano to organ with the flick of a button
Kids can practice at least 10 rehearsal songs that come with this keyboard
There is a percussion track that kids can use as background sounds for their songs
There are over 100 tones, 50 rhythms, and 10 integrated songs
The keyboard doesn't include an adapter. The adapter that it does require is available online and is sold together frequently with this keyboard
The Casio SA76 MiniKeyboard is a nice setup for children who are looking for something more sophisticated than a toy piano/keyboard but maybe aren't ready for anything grand, high tech, or expensive, yet. This keyboard provides a clean, crisp sound and has 44 keys. There are ten songs pre-recorded that kids can learn to play along to, as well as the ability to switch between piano and organ sounds. It requires 6 AA batteries or you can purchase a wall charger for permanent power.
Read more
Design
Older kids can read the LCD display and make use of the huge library of sounds and songs. The sellers also have different bundle packs available to choose from like beginners bundles and intermediate bundles.
Ease of Use
Kids can learn how to play the piano using this keyboard. They can play their first recital in front of their family and during reunions. If they continue their practice and show a solid interest, then it may be time to move on to a professional music school. Or at least they can perform well in music class.
Effectiveness
This keyboard is conveniently small and compact. It can be played with just about anywhere.
4

. RockJam 61-Key Electronic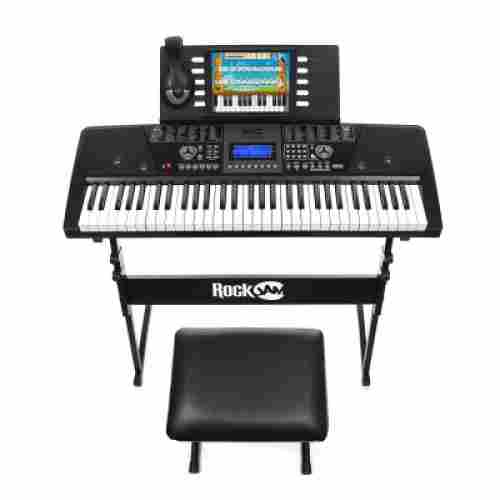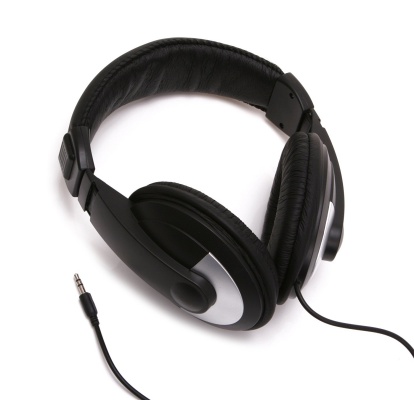 It comes with 30 free songs
The keyboard is sturdy and the height is adjustable
The seat is adjustable and it is thickly padded for comfort
It comes with an easy to follow user's guide
Lots of popular pop and rock stars are included like Happy by Pharrell Williams, Just the Way You Are by Bruno Mars and many more
There is no microphone on the headset, just an awesome headphone
If you know your child is committed and looking for a full-size keyboard that is compact but still geared more towards young players, then consider the RockJame RJ561. It features a full 61 keys with 100 rhythms, 100 keyboard sounds, and 50 demo songs. This particular keyboard comes with a full setup, including a stand and a stool. With every purchase of a RockJam, you also receive one month of free membership on the Simply Piano app, and two months of Face to Face lessons through Take Lesson, so you can be right on your way to being king or queen of the keys!
Read more
Design
The headset lets kids practice without disturbing others. Kids that have a lot of homework can practice the late night before a concert without waking up their family.
Ease of Use
It will sound as quiet as someone typing on a computer keyboard. That sound is quite soothing anyways so they won't be an interruption. Kids can play quietly in the daytime while their parents or siblings are trying to watch their T.V. show.
Effectiveness
It is a great gift for beginning lessons for kids. It is good to get this keyboard first before deciding to purchase a grand piano.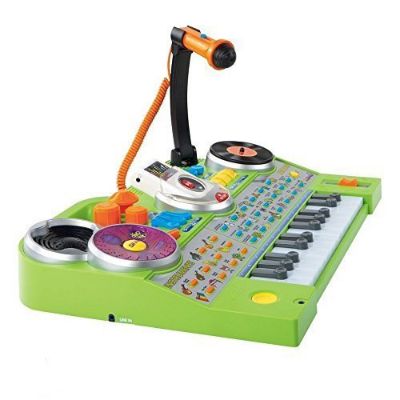 Kids can record and playback their own songs
Book of pre-recorded songs
Different genres of music
Multiple instrument sounds
Keyboard lights up to help children play songs
It runs on batteries or via a power adapter, but the adapter is sold separately
This VTech Kidijamz Studio is a smaller version of the Record and Learn. The microphone has two voice-changing effects and the set is programmed with five musical styles and ten musical instruments. The keys light up to help guide little fingers as they plunk their way through beginner songs. There are record and playback features as well as detachable headphones and music player!
Read more
Design
The light-up keyboard instructs children how to play pre-selected songs by illuminating the necessary keys in the proper sequence. A detachable music player and headphones feature a record and a playback feature so kids can hear their own work. Two turn-tables allow kids to make the fun record scratch sound (by rotating the one on the right) or change the genre of music (by rotating the one on the left). The VTech KidiJamz Studio is most suitable for children ages three to six years old. With so many fun features, kids will be jamming out in no time at all with this awesome studio kit!
Ease of Use
This studio kit will allow children to experiment with various musical stylings and instrument sounds. It will also increase dexterity, hand-eye coordination, and motor skills as kids learn to follow along with the light up keys to make beautiful music!
Effectiveness
It really drives home the basic principles of playing piano. The light up keys teach kids the proper sequences to be able to make music. Since little ones require concepts to be broken down into much smaller, more easily digestible sentiments, this is a great way to help them understand the beginnings of playing an instrument.
6

. RockJam 54-Key Portable Electronic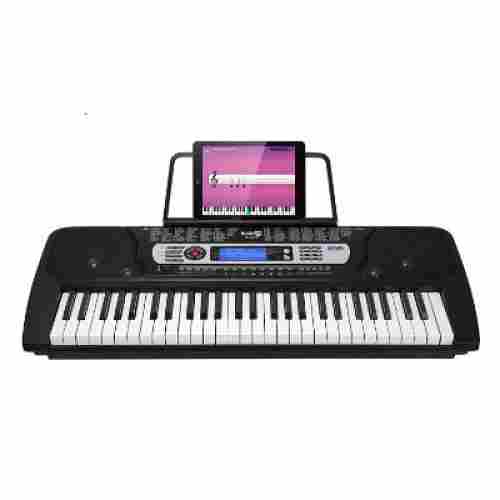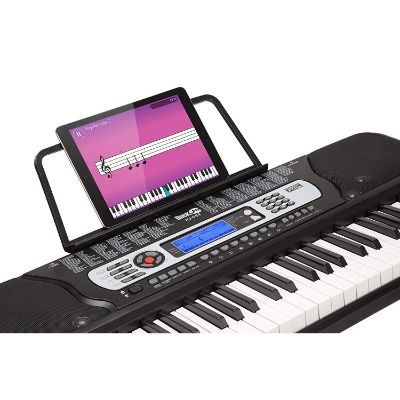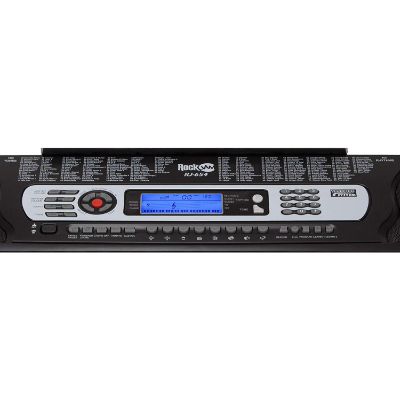 The size and shape make it easy to store and take along on trips
30 free songs are available for this keyboard from an iPad app
It can be used by students in 20 different countries
A warranty is available for purchase
The stand is not included. But it is available for sale online and is easy to find because it is frequently bought together
It can be attached to a tablet with music learning apps
This beautiful keyboard from RockJam has 54 keys and two built-in stereo speakers. It can be powered by batteries or a wall unit. The LCD screen provides feedback on the keys in use to help users understand what they're playing. It also includes record and playback features, 8 demo songs, 100 sound effects, and 100 rhythms. You'll also receive access to the Simply Piano app (for both iOS and Android) to help you along as you learn!
Read more
Design
There is enough to keep advanced users coming back for more while still being user-friendly enough for novice pianists.
Ease of Use
This is a nice sized keyboard for kids of all sizes to use. A young kid can learn to play and read simple notes. Pianists around the world love how easy this keyboard is to store and transport. And the accompanying app makes this a mobile tech dream come true.
Effectiveness
The built in stereo speakers gives off nice audio. A bandle pack that includes the stand is available online for purchase and it's easy to find.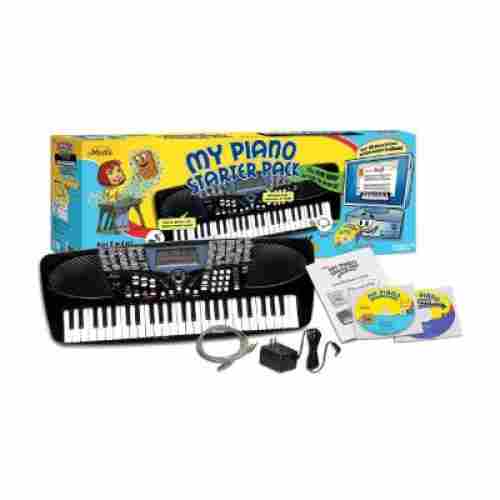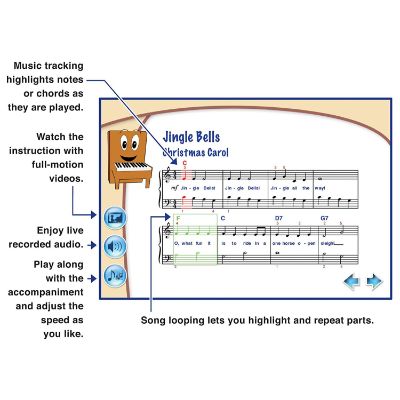 The award-winning educational software is included with the kit
A DVD is also available as a backup, just in case a computer is not available
Over 100 lessons are included
Students get feedback on notes they played correctly and incorrectly and are shown what should be played
It is not sturdy enough for rough play. Young kids who are too rough with this keyboard will break it
Looking for a keyboard and some beginning lessons all in one? The eMedia My Piano Starter Pack includes a CD-Rom and DVD with tips, techniques, and exercises meant to help children just starting out with piano. Between the animated keyboard and 100+ digital lessons, your child will have all the resources they need to master basic skills and principles. Videos guide children through songs and technique on their 49-key, plug-and-play piano, equipped with speakers and a USB cord.
Read more
Design
It has everything users would expect including built-in speakers, over 100 songs and sounds, USB cord, metronome, memory fun pads, recorder, headphone, and microphone jack and the adapter. Plug this keyboard onto a monitor to follow the lessons along.
Ease of Use
The fact that this piano has a built-in system that teaches proper positioning of the fingers and hands, reading music, and that much more with quite popular tunes will assist your child in developing their piano skills.
Effectiveness
It is a great looking MIDI keyboard that has many features that help kids learn to play the keyboard. Kids as young as 8-years-old can learn to play from this keyboard.
8

. Hamzer 61-Key Digital Portable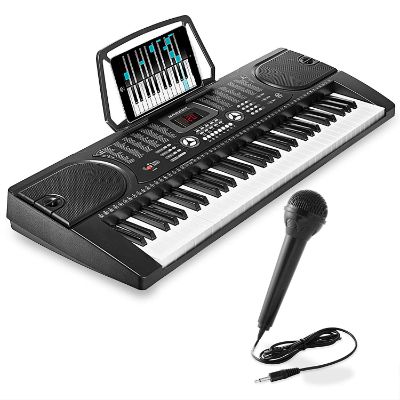 If no electricity or power outlets are available, the keyboard takes six AA batteries
The piano stand is easy for parents to attach
The music rest can hold music sheets as well as tablets
The speaker and microphone audio outputs let students perform loud and proud
Batteries are not included in this kit; it takes six AA batteries
It does not have a pedal
At 61-keys, this Hamzer keyboard provides a full range of crisp, quality notes. It features built-in speakers, 255 timbres, 255 rhythms, 61 keyboard percussions, and 24 demo songs. Meant for beginner-to-intermediate level players, the set also includes transparent stickers to label the keys for faster comprehension and familiarization. Complete with a microphone that can plug into the headphone jack, you can choose to practice as loudly or as quietly as you please. Record yourself, then play it back to hear how you sound, admire your progress and study how you can improve!
Read more
Design
It is made to master the fine art of finger control and it has a detachable stand to hold music. It also includes a microphone, a headphone jack, audio input and output, and a power adapter.
Ease of Use
Kids can learn to sing and play as they have fun trying out the different background sounds. They can pretend they are playing a different musical instrument and record that sound too. The many different teaching modes make this instrument ideal for aspiring students.
Effectiveness
We love that this kids' piano is portable and takes batteries, which is awesome for road trips or when you are not near a power source.
The 4-in-1 instrument provides piano, violin, xylophone, and saxophone sounds
Plays over 20 unique songs and melodies
Light-up keys help teach your child how to actually play melodies at 3 different skill levels
Perfect for building fine motor skills and building word recognition
Suitable for children aged 18 months to 4 years old
Several reviewers report that after every song there is a moment of applause followed by a loud cartoon-like giggle that can get very annoying very quickly
Multiple buttons, flashing lights, and sounds can be overwhelming for some children
VTech's ZooJamz Piano is a cute, quaint little keyboard for the very youngest composers out there! It comes in a darling zebra design, with light up keys labeled according to the classic 'Do Re Mi' scale. Kids can learn to play songs at three different levels, sing into the microphone to hear their own amplified voice, or rotate between different instrument sounds. There are over 100 songs, sounds, melodies, and phrases to choose from so your little virtuoso is sure to be busy!
Read more
Design
The VTech Zoo Jamz is less a piano and more an entire music studio all in one. This brightly colored toy features 4 unique instrumental sounds that play a variety of different melodies and songs. A microphone allows your little one to sing along and hear their own echoing voice while also providing more than another 100 sounds and phrases to delight their ears. You can even join with the alligator from the Zoo Jamz Guitar and the lion from the Zoo Jamz Microphone (sold separately) by pressing the animal band button and performing your own concert! Bring the gift of music to your little one and watch as inspiration dances at their fingertips!
Ease of Use
Music can stimulate cognitive growth by presenting new words and phrases along with a cheerful tune to help your little one remember. This is an ideal way to build vocabulary and early language skills. A whammy bar and a scratch disc also await your child's questing fingers to aid unique sound effects and enhance their all-important fine motor skills. Dozens of buttons pull strings, microphone, and other sound effects encourage your child to explore independent and creative play while sparking their imagination.
Effectiveness
This piano is more like an all-in-one music studio which cannot only entertain your little one for hours at a time but also introduces teaching concepts that can aid them in learning to actually play songs!
10

. Little Tikes PopTunes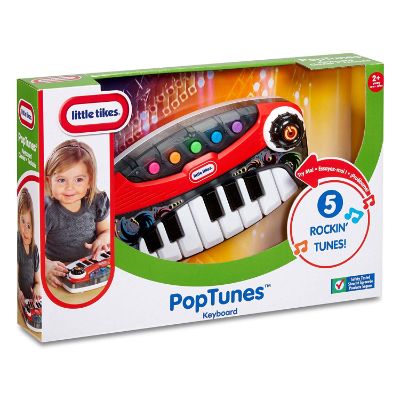 LED light up keyboard
Pre-programmed songs in rock arrangements
Pre-set tunes and freestyle options
Great size for toddlers
Good sound quality
A lot going on visually; may overwhelm some kids
Keys don't light up to show kids how to play the songs
At 13 total keys, the Little Tikes PopTunes Piano is one of the smallest keyboards on the list and thus perfect for baby! Kids can play in two modes: pre-set tunes or freestyle! This allows them to bop and jam along to pre-recorded melodies or to make their own music. The keys all light up with red or blue LED lights and the setup includes both major and minor keys. We recommend this product for children between 24 months and 5 years of age.
Read more
Design
It has two modes of play: pre-set tunes and freestyle. With eight light up keys in both major and minor keys, little ones can play their own tunes or listen to pre-recorded favorites such as: Yankee Doodle, The Bear Went Over the Mountain, Do You Know the Muffin Man, Pop Goes the Weasel, and Baa Baa Black Sheep. The sound quality is great and the keyboard is perfectly sized for a toddler. With LED lights inside, kids will be stimulated on all fronts as they bang away on the keys!
Ease of Use
This keyboard is a great starter kit for toddlers. It makes noise, plays fun songs that they'll recognize, and helps them to understand basic music principles like cause and effect while also developing their motor skills and dexterity.
Effectiveness
This is a fun little gadget for toddlers starting to venture into the world of music. There aren't enough keys to overwhelm them but the eight keys on the board do function and allow children to make their own music.
Criteria Used for Evaluation
Design
There are so many toys in the marketplace that it makes it hard to choose the right toys for kids. Some toys are not educational at all, they are meant to be played with for the sheer joy of the game itself. But other games can be educational and fun at the same time. A keyboard is the type of toy that is fun and educational. Kids learn so much when they try out a new instrument.
Kids who play instruments learn how to read notes, practice their creativity, work out their arms and fingers, and learn how to use a handy tool that can potentially make them a little income in the future. Kids who practice on a keyboard can eventually book gigs and earn some cash, with the help of their parents of course.
Ease of Use
The keyboards on our list benefit kids of different ages. Some keyboards can be shared between older siblings because they are meant to be used responsibly. Other keyboards are meant for toddlers to play around with and are not meant to be treated like precious delicate equipment.

Effectiveness
Keyboards that make different sounds like animals and other instruments give kids a chance to explore various music patterns to see what tunes they like. They'll get a chance to discover a bit about themselves as they start to see a pattern in their music.
Kids can also have a chance to learn what it is like to perform in front of others. Stage fright is a nightmare for many performers to overcome. Stage artists dream about going on stage to show off a talent and entertain others. When kids play in front of family and friends, they are learning to overcome potential stage fright because they'll be used to performing in front of others.
Most Important Criteria
(According to our experts opinion)
Experts Opinion
Editors Opinion
Users Opinion
By Default

Parents, Did you Know?
When buying a keyboard or piano for a child remember that their hands are smaller than yours. It makes it alot easier for them to be able to feel comfortable playing the device when it fits their size.
Parents, Did you Know?
Remember to make learning to play an the piano or keyboard to be fun. The more fun kids have learning the more they will want to learn more about it.
Other Factors to Consider

Social Development
As kids get older, their audience slowly gets bigger over time. It's hard to expect people who never performed in front of others to all of a sudden perform like an expert in front of a full house. For kids who want to show off their talents but absolutely do not want to perform in front of others, then keyboards with playback and recording technology are perfect for them. Kids who don't want to play in front of others can play a saved song from their keyboards for their family to enjoy and praise.
Emotional Development
Studies show that listening to music yields multiple benefits: increased memory and informational retention, elevated mood, and better focus are just a few of these rewards. Playing music also helps to challenge our brains and allows us an outlet of creative expression. Children can work motor skills, hand-eye coordination, memory, dexterity, creativity, and more when they learn to play an instrument. Piano is a great place to start and these top-rated keyboards will help your child gain rhythm, enjoy music, and more!
Frequently Asked Questions
q:

What should parents look out for when buying their kid their first keyboard?

a:

A few things to look out for are price, the age of the student, space and experience. If the student is a toddler, then a parent should ask themselves if their kid shows interest in learning to play. If they do show interest, then the new keyboard should fit comfortably with the child. Also, how much room in the house is there for a keyboard? Where will it go and is it worth buying an expensive piano for a beginner?
q:

How early can kids start taking piano lessons?

a:

As soon as a kid can sit up properly, shows interest in learning and can focus, around the age of 3 years old is the youngest a kid can start lessons. But 5-year-olds have better focus so it might be worth waiting until then since lessons can be costly. Otherwise, buying a toy keyboard will be best for a young child to play with. When learning how to play an instrument, the first thing that everyone says is that having fun playing is the most important part of the lessons.
q:

What are the benefits of taking keyboard lessons?

a:

Its cheaper than buying a large piano. Pianos require expensive upkeep like tuning and maintenance. The sounds a piano makes are wonderful and pleasant, but the problem is when a kid has received a gift like the piano and they lose interest, the investment has gone to waste. It's better to buy a keyboard to start as it is cheaper and it doesn't take up a lot of room.
q:

What are the benefits for kids learning to play piano or keyboard?

a:

Kids who learn how to play the piano or keyboard gain several rewards. Their self-esteem increases, they get better test results, it increases their coordination and it helps them concentrate. Overall, kids become well-rounded, happy individuals. Many who practice piano, start to appreciate the classics like Bach and Mozart.
q:

Why should kids learn to play instruments?

a:

Learning to play musical instruments does amazing things for people. It increases their memory capacity, makes them more organized, teaches perseverance and responsibility, the list goes on. There are lots of good reasons to learn to play an instrument. And kids who play become wonderful individuals in the future.
q:

How do kids learn to play the keyboard?

a:

When learning to play the keyboard, the first thing to practice is good posture. Sitting properly at the piano will lessen the amount of injury from a strain in the future. Many students end up practicing for countless hours a day. And sitting properly at the bench will help them hit the correct notes at a concert.
q:

Any tips kids should know about as they start to learn to play the keyboard?

a:

Have good posture and buy a piano bench. Posture is important when playing a keyboard or piano. And using any seat or no seat and hunching over to play is a bad idea. It will hinder performance when the player has bad posture and is in pain because of it.
q:

How different is learning to play the piano from learning to play the keyboard?

a:

A piano traditionally has more keys than a keyboard. The piano has a deeper more enriching sound and its wooden construction brings an air of class and sophistication to just about any living space. But they are also big, bulky and cost lots of money to obtain and maintain. Learning to play on a keyboard is practical, cheaper and easy to move.