10 Best Ukuleles for Kids to Practice their Music Talent in 2019
last updated
Jun 19, 2019
The ukulele is one of the most popular beginner instruments that kids can play and enjoy early in their childhood. Schools have adapted them into their vast music programs to teach rhythm, music appreciation, coordination, and audible skills to many. Your child can easily learn this wonderful musical instrument at home with one of these excellent ukuleles featured in this beneficial buying guide. All of these selections have the best ratings and the most positive reviews from buyers. Both toy and music store quality models are highlighted to give you and your child a great choice in choosing the perfect one. We rate each one for you based on the sound quality, entertainment value, ease of use, and style of the instrument. It is easier to compare them in this way. Start your child's appreciation of music and playing an instrument with one of these wonderful ukuleles!
In a Hurry? The test winner after 57 hrs of research
Kala Official Learn to Play Soprano Starter Kit
Why is it better?
Most recognized brand worldwide
Comes with online lessons and a free tuner
Includes a booklet and a tote bag
Most popular size and the smallest ukulele
Closest fret spacing and the shortest length of scale
In a
Hurry? Editors choice:
Test Winner: Kala Official Learn to Play Soprano Starter Kit
25
Researched Sources
57
Hours Researching
21
Products Evaluated
Style
Ease of Use
Entertainment Value
Sound Quality
By Default
10 Best Ukuleles for Kids
1

. Kala Official Learn to Play Soprano Starter Kit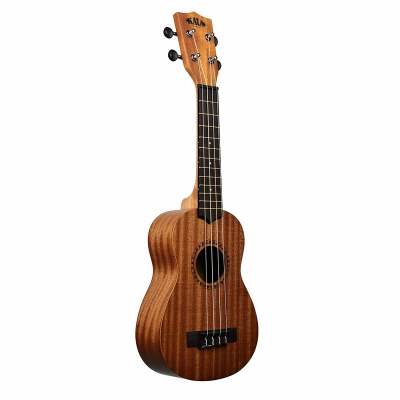 Most recognized brand worldwide
Comes with online lessons and a free tuner
Includes a booklet and a tote bag
Most popular size and the smallest ukulele
Closest fret spacing and the shortest length of scale
Some buyers were not impressed with the sound
The free lessons and app are trial versions
With over 2,300 customer reviews online and a fabulous rating, the Kala Official Learn to Play Ukulele Starter Kit is the most popular ukulele for beginners. The Kala brand of ukulele is the most sought after and the most recognized worldwide.
Read more
Most schools choose this high-quality instrument since it is the classic soprano type of ukulele. It is the most popular size and the smallest ukulele sold with the closest fret spacing and the shortest length of the scale. More people learn the ukulele on this product than any other. Some well-known musicians play this popular instrument such as Vance Joy, Twenty One Pilots, and Zac Brown. It is made of mahogany with traditional laser-etched Hawaiian rosette, Aquila Super Nylgut Italian strings, Graphtech NuBone saddle and nut, and a beautiful satin finish.
Style
This soprano instrument is one of the easiest for kids to begin with when they are interested in a musical instrument. The Kala brand is well-known for its excellent build and quality materials.
Ease of use
It comes with online lessons that are free and a free tuner with the app. Also included are a booklet for a quick start in playing the ukulele and a tote bag with the Kala logo on it.
Entertainment value
Since this is a music store brand of instrument, your child will experience one of the best types of ukuleles when playing it. It will give them the encouragement they need to further their music interest.
Sound quality
This music store type of ukulele will provide the best playing sound for any beginner. It has one of the best sounds with the close fret spacing and short scale length that kids will enjoy learning.
2

. Hola! Music HM-21MG Soprano Bundle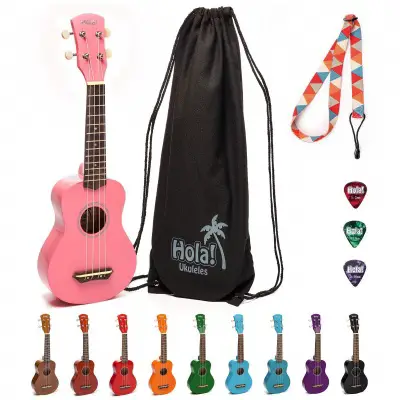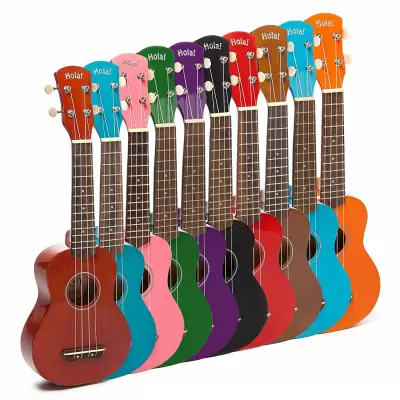 Includes free video lessons for two months
Made of beautiful maple and walnut woods
Has Aquila Nylgut premium strings
Comes with picks, a strap, and a tote bag
Offered in the bright colors of purple, pink, and red
A few strings may not hold the chords as expected
Fret bar edges can scratch
Offered in the solid vibrant colors of pink, purple, and red, your child will love this terrific Soprano Ukulele Bundle product. Made of beautiful maple and walnut wood, it has geared tuners of silver and Aquila Nylgut premium strings.
Read more
The paint is a thin layer that allows the natural characteristics of the wood to be seen. This fabulous instrument creates pitch-perfect, warm, Hawaiian harmonies for the beginner or intermediate player. There are twelve nickel frets of silver with fret marks of position at the 5, 7, and 10 marks on the fingerboard. It includes free video lessons for two months with an expert-level instructor, plus the set comes with three picks, a strap to hold the instrument, and a tote bag of canvas material.
Style
Sopranos, like this one, will be the best choice for kids to begin playing the ukulele. It is simple to learn, made of gorgeous wood materials, fits in the hands well and comes with free lessons.
Ease of use
You cannot go wrong with a musical instrument that provides the player with free video lessons with a professional. Everything needs for playing this item is included to enjoy it right away.
Entertainment value
This amazing instrument can bring much pleasure to a child that is interested in playing an instrument. It is smaller than a guitar and can lead a path to many other instruments in the child's life.
Sound quality
The high-quality wood and the excellent Italian strings that make up this stunning ukulele create one of the best sounds from a beginner instrument. Kids can develop a good ear with this simple product.
3

. Donner Concert Mahogany DUC-1 23 Inch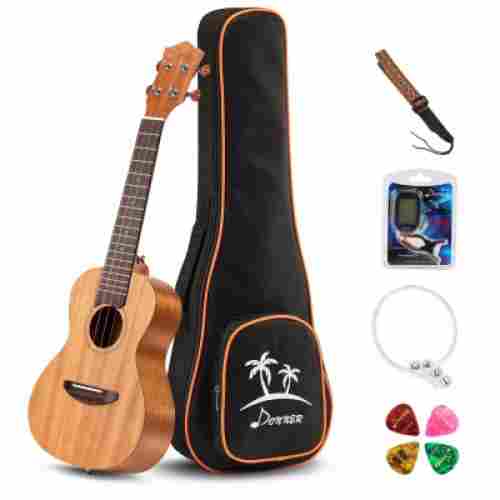 A concert type ukulele
Features a bright and rich sound
Includes Doner tuners to maintain tune
Positions 5, 7, 10, and 12 are marked
Includes a digital tuner, a strap, guitar picks, and a bag
Some people did not like the quality of the strings
A few experienced a buzz on the second and third strings
The Donner Concert Ukulele is not a soprano instrument but a concert type ukulele. It has a body of mahogany and four carbon nylon advanced strings.
Read more
Enjoy a comfortable feel for playing with the bridge and fingerboard of rosewood and a bright and rich sound with the mahogany wood. The sound is accurate and smooth, and the design features concentric rings of the rosette and position inlay dots. This superb item includes guitar style, chrome plated, patented Doner tuners, so the instrument is in tune always. It is right hand oriented and has 18 frets of brass with positions 5, 7, 10, and 12 marked on the fingerboard. This wonderful ukulele set includes a clip-on digital tuner, nylon carbon string, a ukulele strap, four guitar picks, and a ukulele bag.
Style
Most of the products listed on this page are soprano, but this one is a concert type of ukulele. It has a different sound due to the included wood pieces, strings, and design.
Ease of use
The finger positions are marked on the fingerboard, so kids know exactly where to place their hands. Tuning is easy with this piece as it comes with a digital tuner to perfect the playing sound.
Entertainment value
As a concert ukulele, this product will give the child some diversity with sounds not heard with a soprano type instrument. Kids have everything needed to learn and enjoy this product with this set.
Sound quality
Kids will get to experience a quality sound with this terrific instrument that has an accurate and smooth sound. The rosewood and mahogany work with the fantastic strings to emit beautiful music.
4

. Soprano Beginner Pack 21 Inch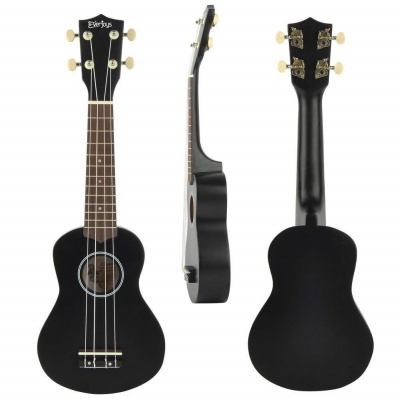 Available in more than eight solid colors
Has an eco-friendly design
Made of blackwood and basswood
Nylon strings are different colors for the notes
Gears are guitar-style for tuning
The case is a thin nylon cover
The tuning key can be loose
Having an eco-friendly design and colorful nylon strings, the Soprano Ukulele Beginner Pack is made of blackwood and basswood. The instrument itself is available in more than eight various solid colors, plus the strings are different colors to show the varying notes for beginners.
Read more
The rainbow strings aid with the learning process making it easier and faster. It is better than formal lessons to learn with the songbook on how to play the instrument. The gears are guitar-style for the tuning process, and the fingerboard of blackwood looks nice. Included are a carrying bag, songbook, a strap, a polishing cloth, two picks, a message card (for gift-giving), a printed box, and a tuner that is digital. The frets of nickel silver combine with the wood pieces for a wonderful sound, and the bridge of maple looks great as it holds the strings securely.
Style
This is another soprano ukulele that is more popular than the other three types of this instrument. It has the best sound, the most accessories, and is made of high-quality wood.
Ease of use
Everything is included with this marvelous set to make your child look like a professional and feel like one too. The tuner, picks, and instruction booklet will give them much easy practice in gaining the skill of ukulele playing.
Entertainment value
The bright colors possible for this little instrument will excite kids to play it. even the strings are colorful and inviting to try their skills along with the songbook to learn.
Sound quality
The silver frets and the various types of solid wood give this soprano ukulele its fabulous sound that any beginner musician will love. Tuning is very easy to with the digital tuner included.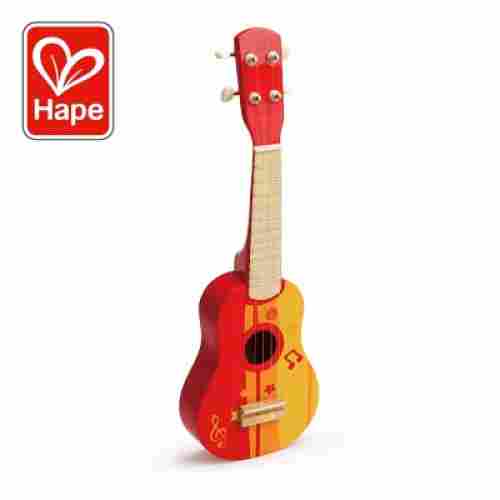 Promotes creativity and auditory skills
Made of child-safe and non-toxic materials
Ends of the strings are hidden to avoid harm
Durable and sturdy construction
Aids with developing musical aptitude
Paint job could be better
Was hard to tune for some parents
Available in red or blue colors and sturdy enough for young hands to explore, the Ki's Wooden Toy Ukulele from Hape is easy to tune and play.
Read more
It is a great introduction for kids to playing an instrument and the learning of the music world. Made of child-safe and non-toxic materials, it is perfect for toddlers and little kids. The ends of the strings are hidden within the wood pieces to avoid scratching kids. It can be tuned for a quality sound and aids with developing musical aptitude. The durable and sturdy construction is meant for enthusiastic play, plus the wood comes from forests that are sustainably maintained.
Style
This small wooden ukulele educates about musical techniques such as strumming, composition, and basic rhythm and promotes the development of creativity and auditory skills.
Ease of use
Even though this product does not come with an instruction booklet, it is easy enough to just pick up and play. It is even quite simple to tune to get the best quality sound from the wooden frame.
Entertainment value
As toddlers hear music being played, it will be quite beneficial to show them such instruments as this one, so they know what makes the sounds. They can play along with songs or make wonderful music on their own.
Sound quality
For being just a toy, this cute instrument for toddlers has a very good sound that is quite similar to a music store ukulele. It can be tuned to a good sound, so kids can develop an appreciation for the music.
6

. Concert Ranch 23 Inch Professional Wooden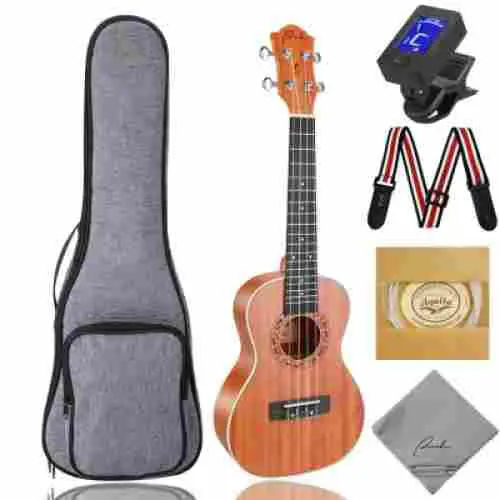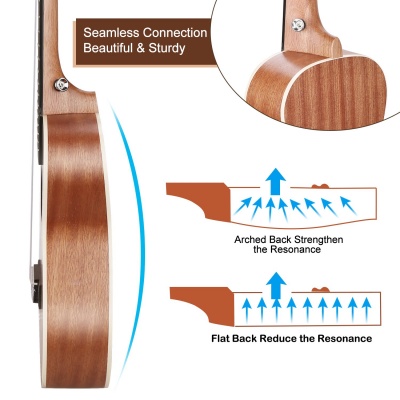 Includes online lessons for free
Has Aquila strings already installed
Made of beautiful sapele wood
Is a concert type ukulele
Nickel frets are marked for fingers
Can be top heavy
Tuner might not last long
This excellent product is one of the few ukuleles that we highlight that is not the soprano type. The Ranch Professional Wooden Ukulele is a concert instrument that makes a darker and warmer tone than the soprano build.
Read more
The Aquila strings are already installed and there are smooth fretboards on all sides. Good for intermediate players and novices, this ukulele has gear tuners that are silver, polished frets, and a neck that is simple to navigate. The nickel frets are marked at the 5, 7, 10, 12, 15, and 17 positions for fingers to learn how to play easily. The fantastic ukulele comes with a gig bag, extra string set, a strap, a digital tuner and a battery, and a polishing cloth. There are online lessons for free included also.
Style
Made of beautiful sapele wood, this product is a professional instrument that is well-built and lightweight. It is a concert type instead of a soprano to give the user a different sound experience from the materials.
Ease of use
With the finger positions marked and free lessons online, kids will learn how to use and play this instrument quickly. Tuning the item is also learned simply with the digital tuner.
Entertainment value
Learning how to play an instrument and the various parts of one is a fascinating activity for children. with the free lessons that come with this product, your child will be enthralled with the lovely music as they learn.
Sound quality
The music from a concert ukulele is described as being darker and warmer than the soprano. Even though the soprano is the more common type, the concert one has a gorgeous sound that beginners can appreciate.
7

. Honsing Soprano Kit with Gig Bag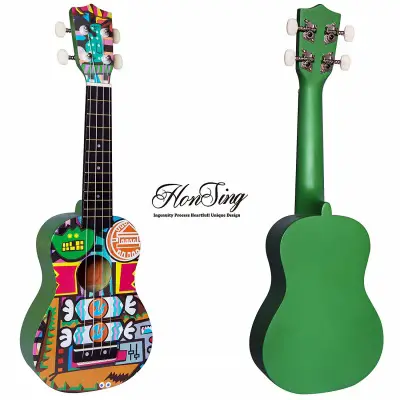 Is a soprano type ukulele
Nine solid colors and fancy designs
Smooth touch and sturdy construction
Made of linden and basswood
Includes Aquila Nylgut soft strings
Strings were in the incorrect order for a few buyers
The tuning might not stay long
The Honsing Ukulele is a soprano type instrument that is made of linden and basswood for a smooth touch and sturdy construction.
Read more
Nine color choices are offered in solid colors and fancy designs of mixed hues for this excellent ukulele that is perfect for beginners. It is a high-quality and well-made instrument with geared tuners of silver, nylon strings, and seventeen frets. Included are Aquila Nylgut smooth and soft strings that have a sweet and clear sound. The exciting color patterns will entice kids to play, plus the overall tone is distinctive and bright.
Style
This is one of the most colorful ukulele instruments that we have seen in our research. It is a soprano type that is constructed of basswood and linden for a solid sturdy build.
Ease of use
Just picking up an instrument and strumming the strings is a simple way to teach yourself how to play. This fancy ukulele is just that easy to learn or you can watch some videos online for some guidance.
Entertainment value
If your child is only slightly interested in musical instruments, then perhaps the dazzling color and pattern assortment of this product will excite them. kids are enthralled with bright colors, and this instrument certainly has those.
Sound quality
Most people start out beginners with the soprano ukulele because it has a quality sound and is the easiest to learn how to play. This one has an enjoyably sweet and bright sound that will encourage children to play music.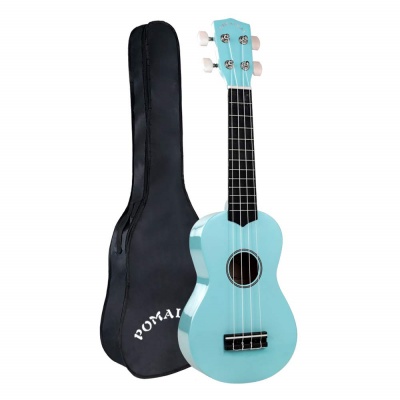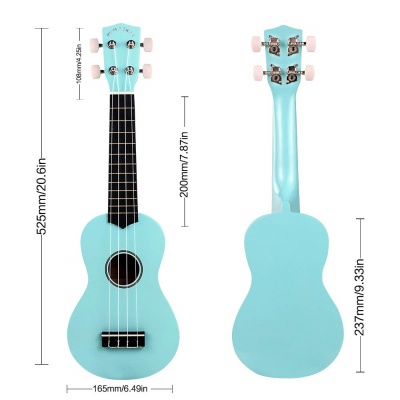 Is a soprano type ukulele
Comes in nine different colors
Real basswood and a finish of high gloss
Sound is melodious, crisp, and clear
Comes with a gig bag
Might not hold a tune for long
The gig bag could be more sturdy
This Soprano Wood Ukulele comes in nine different colors and is constructed of real basswood and a finish of high gloss.
Read more
The wonderful sound is melodious, crisp, and clear and is good for the child for auditory development, memory training, and coordination. Fingers are not harmed in playing with the smooth fret wires, and the instrument comes with a superb gig bag. Included are twelve frets on the fingerboard that generate various tones for songs. This item features standard and fast tuning, plus four strings that are nylon for a full-bodied sound that is durable and stable. Children will be attracted to the colorful instrument and then encouraged with the ease of learning this superior ukulele.
Style
Offered in many bright colors, this soprano ukulele has a high gloss on durable and long-lasting real basswood. It is a solid construction that will last for years of use in learning this easy instrument.
Ease of use
The little form of this ukulele will fit into small hands very well and be manipulated easily by the tiny fingers of kids. With or without a songbook and instructions, children will learn how to play this instrument on their own.
Entertainment value
Playing an instrument is not all work, as they should be fun and exciting too. The fun colors and the small size of the ukulele offer something that many larger instruments cannot.
Sound quality
The soprano ukulele is the most popular because it has the best sound of all four types and is the easiest for kids to play. The sound is clear and crisp to aid with music appreciation development in youngsters.
9

. Soprano Solid Mahogany Beginners Starter Kit
Comes with online courses for free
Pre-tuned before it is shipped
Easy to learn with the accessories and videos
Rounded edges for comfort and safety
A strengthening rib in the neck
No instructions for string replacement
Might not hold a tune long
Built of solid mahogany wood, this Soprano Ukulele is longer lasting than one that is laminated, plus the sound is purer cleaner, and warmer.
Read more
When the excellent wood ages, the sound of this product will gradually improve, making it ideal for novice players. It includes online courses for free, a tuner machine, set of Aquila strings, and gears of pure copper. The instrument is pre-tuned before it is shipped to you to help stretch the strings. You get a start manual, extra strings, a gig bag, picks, a strap, and the tuner. It also has a strengthening rib in the neck to prevent it from twisting with the stretching of the strings.
Style
The mahogany wood and Aquila strings of this marvelous instrument combine in the build of this soprano ukulele for incredible sound quality. The aging wood improves the sound as it is used.
Ease of use
Easy to learn in just thirty minutes with the accessories and videos, this ukulele's design is unique with rounded edges that make practice comfortable and safe. It is also one of the most eye-appealing instruments for children.
Entertainment value
The many accessories in this kit will encourage children to play this instrument. Learning this ukulele is a lesson in music appreciation that can lead to other instruments and possibly professional playing.
Sound quality
You would have to hear the various sounds of the different ukulele types to know that the soprano kind, like this one, has the best sounds that are crisp, clean, and pure.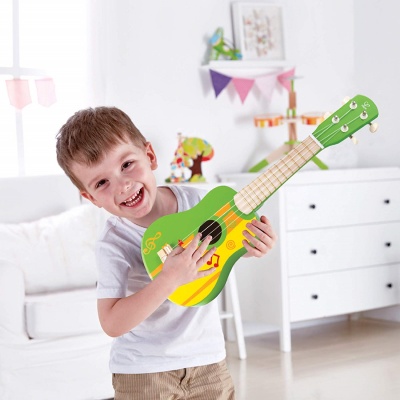 Guitar string are tunable
Sturdy build for small hands
Good travel toy to carry and hold
Finish is non-toxic and safe
A tropical yellow and green pattern
Might not hold a tune
String were not in the right order for a few people
The Kids Ukulele teaches composition, musical techniques, strumming, and rhythm to children as it has a sturdy build for small hands.
Read more
It develops creativity, auditory talents, and musical interest and stimulates creativity in children with bright, clear sounds. Kids will not break this ukulele as easy as they would a plastic one since the wooden frame is strong and durable. It is also pleasing to the eye with the tropical yellow and green coloration along with the finish that is non-toxic and safe. This is a good travel toy since it is simple for children to carry and hold, plus it improves hand-eye coordination and rhythmic skills early.
Style
Modeled after the soprano type of ukulele, this simple wood instrument for toddlers will introduce them to music items. It is brightly colored and small for them to hold and carry well.
Ease of use
Included are four strings that are simple to tune and chords and notes that are easy to learn. With just a little practice, children can develop the skills to play a song in a short time.
Entertainment value
When children play with this delightful and colorful instrument, they will not know how much they are learning about music. They will just know that it is simple and fun to make the music.
Sound quality
While this toy ukulele is not made of the best quality wood that some of the music store instruments are, it still has a good sound for kids and beginners. The music is bright and clear to give some experience with strumming and rhythm.
Criteria Used for Evaluation
Style
You will notice that the majority of the ukuleles listed on this page are the soprano type. These are overall the best of the four kinds of ukuleles for children to begin playing. The other types are baritone, tenor, and concert. Sopranos are well-built, small, and have great sound, in general. They are more economical for parents and can spark an interest in playing an easy instrument better than the other three. For children, this kind often comes in a variety of colors, as you can see by some of the selections, we highlight in this buying guide. The soprano is a wonderful starter instrument for kids and any age of beginner, as adults love playing these too.
Ease of Use
Whether your child is just playing for fun or is really interested in the ukulele to develop their musical talents, this is one of the easiest instruments to play. This is why many schools have accepted it as a beginner instrument in their music programs. With the help of online courses and videos, kids can now teach themselves how to play the ukulele. Some of these models have instructions or free videos that can teach your child the basics of playing this incredible instrument.
Entertainment Value
Any instrument is entertaining and enjoyable to kids, especially if they are experiencing it for the first time in their lives. What makes the ukulele so entertaining is the crisp clean sound that it makes, the ease with which it can be played, and the small size that makes it ideal for kids to carry and play easily. They will be enthralled with some of the vibrant and bright colors of a few of these selections we feature and also the assortment of accessories that comes with most of them.
Sound Quality
We do feature toy ukuleles in this list as well as some high-quality ukuleles for older children. We wanted to provide an assortment of instruments that are the best in this category online. The sound quality of the toy models will, of course, not be as good as the music store brands, but they can introduce music and instruments in general to very young children. Even the toy products will have a good sound to begin the child's experience with an instrument. If there is a real interest in playing the ukulele, then it would be a good decision to purchase a music store quality one as soon as the child can handle one. The great sound of these better ukuleles can make the difference in the child sticking with the playing of it or not.
Most Important Criteria
(According to our experts opinion)
Experts Opinion
Editors Opinion
Users Opinion
By Default

Parents, Did you Know?
The best age for children to start playing the ukulele is age six. They could show an interest in musical instruments at the young age of three in some cases. It is advised that parents not force kids into playing any type of instrument and let them gain such an interest naturally on their own.
Parents, Did you Know?
The ukulele is so popular for the first instrument a child can play because of its size and simplicity in playing. They are fun and not expensive too. More schools have taken an interest in teaching kids the ukulele as their first instrument and to spark general interest in music altogether.
Other Factors to Consider

Physical Development
To play the ukulele even just for fun takes gross motor abilities to hold it and fine motor skills to strum the strings. Children will also gain coordination of hands and eyes, listening qualities, music appreciation, and the ability to read music notes and chords. This is quite a lot for toddlers and little kids to develop in the time they learn this instrument. It is a good thing that it all happens unknowingly to the child that is just in it for the fun and excitement of a new experience.

Educational Value
Kids will learn plenty about music and musical instruments by using one of these ukuleles. Most of them come with instructions on how to tune them and play the chords and notes to make music. Some even have songbooks to encourage kids with ready-made songs that have the notes displayed for easy referencing. Even if your child does not grow up to be a musician, they will get to experience the mechanics of how this instrument works and sounds up close.
Frequently Asked Questions
q:

Is the only difference in the ukulele types the sound quality?

a:

The sound is the biggest difference, but it really depends on the construction, materials used, and the craftsmanship of the instrument. The sound quality is based on all of that in combination.
q:

Are these instruments left or righthanded?

a:

We list one ukulele that says it is meant for right-handed people, but the others do not specify. These should be easy to play for either hand preference with just turning the instrument towards the dominant hand.
q:

Are boys or girls more attracted to this type of instrument than the other?

a:

No, both sexes are equally interested in the ukulele as a musical instrument to play. Many schools have adopted the ukulele into their music programs for kids to play because it is so easy, economical, and enjoyable.
q:

What age is the best to introduce this musical instrument to children?

a:

If the child shows an interest, then any age is great. Generally, six-year-olds are the best for starting to play musical instruments. Just don't force a child to play one if they really protest. They might pick it up later in life if they are not forced into playing.
q:

Are these long-lasting instruments of good quality or just toys for playing?

a:

We do feature some of both types. There are a few toy models for toddlers to be exposed to a musical instrument early in life. These are the smallest one on the list and the most durable. They are clearly marked in the summary as toys. The others are high-quality instruments that will last a long time with the proper care and tuning.
q:

What do customers find to be the most unappealing aspect of these ukuleles for kids?

a:

Most of the negative remarks from buyers concern the overall quality of the product and the fact that they are hard to stay tuned. Being that most of these items do not come already tuned, they must have that when they are received. Frequent tuning is necessary at the beginning in order to stretch the strings. Once this is accomplished, the tuning will be minimal.