Sing it loud, sing it proud! We all remember the days of being singing along to our favorite songs and putting on a show. There's no better way of getting your child involved in music then by gifting your child their very own karaoke machine. Music is a wonderful way to bring people together. Most of the time when parents remember karaoke machines, they remember a big clunky machine that takes up a lot of space. With the ones on our list below, parents won't have to worry about that – most of the devices on our list are all handheld and can connect to any smart phone to play any of your family's favorite songs! We're not saying that your child has got to be – well – the best at singing or even preforming with this device but we're sure that parents will love watching their child dance and sing their heart outs to their favorite tunes at the top of their lungs.
Our Top 3 Picks
Memorex MKS-SS2

Our rating
Compatibility with all media devices
Price:

See Here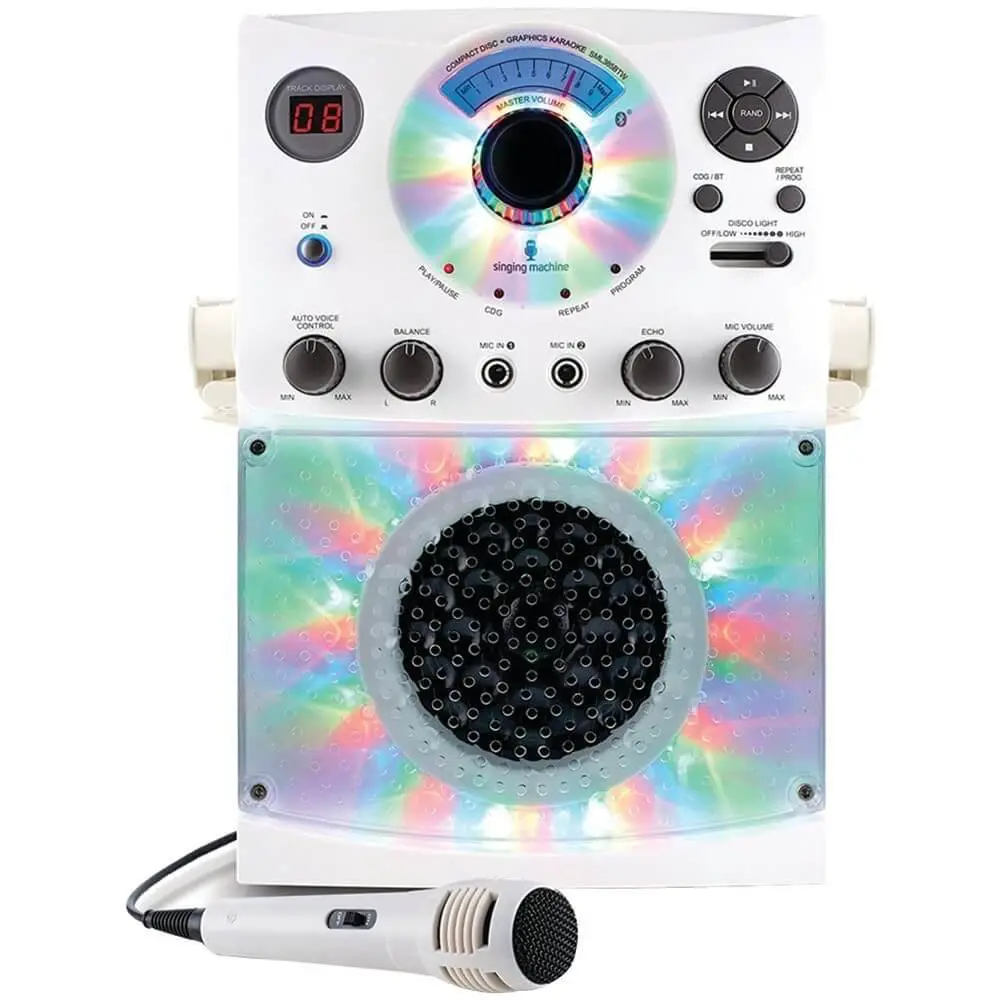 Singing Machine SML385BTW

Our rating
2 microphone jacks
Price:

See Here
Singing Machine SML-283P

Our rating
Lightweight & portable
Price:

See Here
Our Picks Of The Top Kids Karaoke Machines
Butterfly Kids with Microphone
Age Range: At least 3 years old
KidzLane Sing-A-Long with 2 Microphones
Age Range: At least 3 years old
Zitronik Bluetooth Microphone
Age Range: At least 3 years old
Portable Microphone for Kids
Age Range: At least 3 years old
Musical Kids Electronic Keyboard W/ Microphone
Age Range: At least 3 years old
Age Range: 5 months to 8 years old
KaroKing Wireless Microphone for Kids
Age Range: At least 3 years old
Portable KTV Karaoke Machine with Speaker
Age Range: At least 3 years old
VTech Record and Learn KidiStudio
Age Range: At least 3 years old
BONAOK Wireless Bluetooth 3-in-1 Microphone
Age Range: 3 to 7 years old
Criteria Used in Evaluation of The Best Kids Karaoke Machines
The karaoke machines that are picked for the 10 best karaoke machines for kids were a challenging task for our experts. We wanted to make sure that all the machines that were listed for designed for use for kids and not adults. Each of the machines was reviewed for their age rating and quality rating. We did not want to suggest a karaoke machine that was age appropriate but was poor quality. Each machine had to fit both criteria before making the list.
Once the list was constructed of the best karaoke machines for kids our panel of experts broke it down to the 10 best ones, based on features and developmental benefits. We want to make sure that any machine suggested by us is a fun experience that child to learn from as well. It is also important for them to have a great safety rating as well. So, the panels of experts select the best age-appropriate, quality machines that display the features and developmental benefits to be on our list.
Karaoke Machines Build Self-Esteem and Confidence
Karaoke machines build self-esteem and confidence by helping children learn to take center stage without building a complex about it. It allows children to build confidence through performing to their favorite song. Public speaking is considered one of the biggest fears of adults. When introduces karaoke machines at a young age it helps children become less fearful of speaking in public and creates a great confidence that allows them to take center stage without any sweating.
Building self-esteem for a child can sometimes be hard. While others seem to just be born with it, some have to learn and build their self-esteem. Karaoke machines in a friendly environment can be a great tool for children. It allows them to feel confident and when you feel confident it builds their self-esteem right along with it. Encouraging children to have fun and learn a new song or perform one they just love is a great way to build confidence and self-esteem.
Benefits of introducing karaoke machines to children at a young age
There are several benefits to introducing karaoke machines to children at a young age. Introducing karaoke machines to children at a young age can build confidence and self-esteem while helping them build strong developmental skills that will last a lifetime. Having children take "center stage" at a young age promotes confidence and gives them the ability to speak in front of others without having anxiety.
Introducing karaoke machines at a young age helps build self-esteem by giving them a strong sense of their place in life. It allows children to connect with others through music and the experience of singing in front of others which builds self-esteem that cannot be taught. Karaoke machines are a great way to build confidence and self-esteem for children.
Developmental skills used with karaoke machines
When children use karaoke machines it helps with the development of many development skills. Children are using both gross and fine motor skills when using and performing with a karaoke machine. Using their gross and fine motor skills allows them to build of the level of skills that they have while also getting out their build up energy. Using gross motor skills to perform and fine motor skills to use the machine is a great way to help children encourage building both sets of developmental skills.
Karaoke machines also help with cognitive developmental skills. They promote memory skills, visual learning skills, and even encourage children to learn how to read if they are not already doing so. All these skills are important and encouraging children to build those skills through the use of a karaoke machine is a fun way too.
What Determined the Amazing Karaoke Machines in Our List
Picking the karaoke machines to include in our list of top 10 was quite challenging since we're talking about devices that are specially designed for kids, not adults. This means we had to determine the device's developmental appropriateness in relation to a particular child's age. It would be quite inappropriate to include a karaoke device built for adults when the one who's going to use it is a child. As such, its design must be appropriate for children of a particular age.
Additionally, we examined the individual built-in features of these karaoke machines to determine what benefits they would bring to children. If these features will only benefit adults, then it could hardly be classified as a kids' karaoke machine.
Safety is also a primary concern since these are essentially devices that are made of electronic components. These also run on electricity or even rechargeable batteries. It is very important that these products are safe to use by our children. We had to look for indicators of quality and safety such as certifications from recognized quality control organizations.
We also considered the experiences of consumers with these products. The more positive the customer reviews and feedbacks, the more confident we were in including the said product in our list. At least, we can always say that there are many parents out there who consider these products as great value for your money.
Lastly, we considered the reputation or credibility of the company that made these karaoke machines. Some companies are just new in the industry and it would be quite unusual for us to trust a newbie over one that has been in the business for a significantly long time. However, if there are a lot of positive customer experiences related to the product, then the age of the company clearly doesn't matter.
Music and Children
There are many benefits of music to children, especially among babies. For starters, music has been shown to improve children's cognitive development particularly the different learning processes in the brain. Exactly how this works is not fully understood, however. Nevertheless, existing literature shows that children who are exposed to music during the early stages of life grow up to become smarter and more intelligent compared to other children of the same age.
Their intelligence is not the only aspect of their development that's affected by music. It has been shown by numerous studies that music can also enhance children's emotional intelligence. This enables children to be more attuned with their emotions making them better equipped to handle or manage emotional and social issues. When they grow up, they tend to be happier and feel more content about life in general than most kids. This can lead to fewer incidence of depression as well as other mood disorders. Children who are emotionally intelligent have a much happier and more positive disposition in life making them less threatened by social and emotional stresses.
Music also helps facilitate social interactions by making them feel more confident about themselves. When children sing in front of an audience, they get to muster courage and help prevent stage fright or even social phobia. At least, you'll be content knowing that your child will be able to mingle with any type of individual.
The Bottom Line
Music is an integral part of our lives. For children, singing can have a lot of benefits, too. With the different kiddie karaoke systems we have provided in this list, you can rest assured they'll grow up to become better persons.
FAQ
Frequently Asked Questions
Q: Do all karaoke machines display music lyrics to the songs?
A: No, all karaoke machines do not display the lyrics to the music. There are 4 types of karaoke machines on the market. Only the All-in-one System includes everything you need to display the music, hear the song and you singing, and CD player or audio input for the music. The other three types of machines on the market require either a TV to display the lyrics or a smart device. Make sure to do your research on the type of machine that features the things you would like.
Q: Where can I buy a karaoke machine in a store?
A: You can buy a karaoke machine in almost any toy or department store. To make sure that you know what type of system you want and the features that you need make sure to do some research. Using our list to review the benefits along with the pros/cons is a good way to start. Then to find a certain machine in a store a search on the internet is usually a good place to start.
Q: Do children learn from karaoke machines?
A: Yes, children do learn from karaoke machines. All types of machines are different and feature different types of learning experiences, but the base benefits from all karaoke machines are; improving cognitive development, allows them to express emotions, teaches how to read, builds vocabulary skills, and boosts gross and fine motor. It can also help prevent stage fright as an adult. Karaoke machines are a fun way to learn some great skills.
Q: Are all karaoke machines portable?
A: Not all karaoke machines are portable. Different types of machines require different things. If you are looking for a portable machine look for an all-in-one machine that requires batteries. This would be a completely portable karaoke machine. Others require power from an outlet and many need a TV to display the lyrics.
Q: How do I know what karaoke machine is safe for a 4-year-old?
A: Karaoke machines like toys all have safety rating for age appropriateness. So, not all karaoke machines are safe for a 4-year-old. Included within each of the items listed on our list is an age rating that is given to using by the manufacturer. It is important to make sure that the karaoke machine that you decide on it age appropriateness. To make sure that a karaoke machine is safe for a 4-year old please refer to each item.
Q: When is the best time to introduce music and singing to a child?
A: It is never too early to introduce music and singing to a child. Music and singing are a big part of life for toddlers, so introducing them to songs as early as you can. Music is more than a form of entertainment for children it is also a learning experience. Music creates pathways within the brain that builds cells and creates the ability to learn more and more as life goes on. Music and singing is also a great way to bring friends and family together.