10 Best Kids Karaoke Machines Reviewed in 2019
last updated
Oct 18, 2019
Sing it loud, sing it proud! We all remember the days of being singing along to our favorite songs and putting on a show. There's no better way of getting your child involved in music then by gifting your child their very own karaoke machine. Music is a wonderful way to bring people together. Most of the time when parents remember karaoke machines, they remember a big clunky machine that takes up a lot of space. With the ones on our list below, parents won't have to worry about that – most of the devices on our list are all handheld and can connect to any smart phone to play any of your family's favorite songs!
In a Hurry? The test winner after 14 hrs of research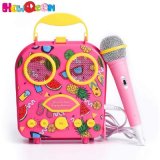 HowQ Children's Handbag Karaoke System
Why is it better?
Portable karaoke machine with multifunction inputs
Features wireless technology to connect speakers via Bluetooth
Compatible with AM/FM radio, AUX input, and smartphones
Includes true bass stereo sounds, high quality clear music
Built in rechargeable battery for up to four hours of singing fun
In a
Hurry? Editors choice: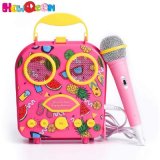 Test Winner: HowQ Children's Handbag Karaoke System
250
Reviews Considered
14
Hours Researching
13
Products Evaluated
Portability
Durability
Entertainment Value
Creativity
By Default
10 Best Karaoke Machines Reviewed
1

. HowQ Children's Handbag Karaoke System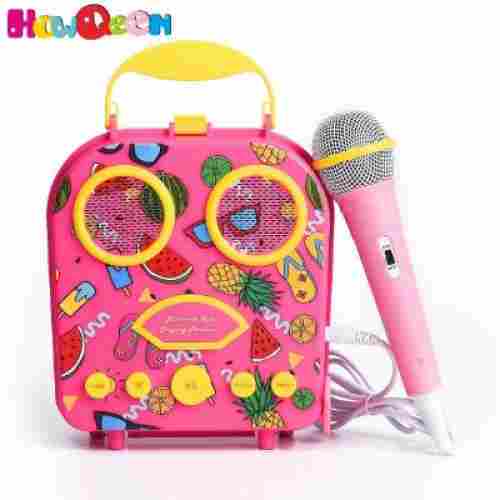 Portable karaoke machine with multifunction inputs
Features wireless technology to connect speakers via Bluetooth
Compatible with AM/FM radio, AUX input, and smartphones
Includes true bass stereo sounds, high quality clear music
Built in rechargeable battery for up to four hours of singing fun
Machine is smaller than expected
Microphone is not very durable
When your child waits to sing karaoke and also take their show on the road this is a great karaoke machine to be able to travel with. It is perfect for indoor or outdoor use and features a rechargeable battery. Letting them be able to sing anywhere and also be able to listen to music along the way.
Read more
Portability
The karaoke machine is completely portable. It features speakers that connect via Bluetooth technology making this a wireless connection to the karaoke machine. With this set the beach handbag shaped karaoke machine features a set of speakers that are lightweight and travel size. The machine also can be used as a travel case to be able to take other items long when they go to sing.
Durability
Built into this beach bag shaped karaoke machine is a long lasting rechargeable battery. This battery is about to provide power to the speaker and microphone system for up to four hours. It is a simple karaoke machine that is made with durable materials that are constructed to be able to allow the machine to travel easily and the hard case on the outside protects the machine and all the features along with anything inside the storage case.
Entertainment Value
The experience with this karaoke machine will be a blast for your little one. It connects directly to any smart device, through AUX ports and even has its own AM/FM transmitting. The speakers will play as long as the smart device is within 30 feet of the machine allowing the kids to be able to move about and dance will singing with the machine. The speakers offer a wonderful bass stereo sound that offers clear and rich high quality sound really adding to the experience.
Creativity
Between the super unique design of this portable karaoke machine and the wireless connection this allows the little ones to be able to freely express themselves without being held down by a certain playlist or generic songs. They can sing along with anything that comes over the radio, played through an AUX device or smartphone.
2

. Altec Lansing Party Star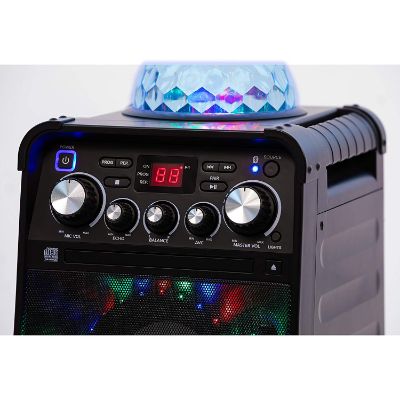 Sound quality is great
Equipped with a built-in CD player and disco lighting
Allows you to stream music using Bluetooth
Audio Voice Control makes everyone sound like a professional singer
Only comes with one microphone
Elevate your family's karaoke experience with the Altec Lansing Party Star machine.
Read more
Portability
Designed with a built-in CD+G player, you karaoke anywhere a screen is located. You can also stream music via Bluetooth to play any song you have in your library. The Bluetooth ranges up to 33 feet, thus your little one can dance freely around the house while they sing. The machines weigh under ten pounds, thus making it easy to transport.
Durability
The hard casing gives this machine the ability to take a beating.
Entertainment Value
Set the mood with the built-in disco lighting. While this set does only come with one microphone, it has the ability to support two. Purchasing an extra microphone will allow your child to sing duets or even act as a backup singer.
Creativity
The Audio Voice Control features make it possible for anyone who is singing to sound like a professional.
Easy to use
Equipped with 10 different voice effects and several sound effects
Compatible with all video sharing sites, YouTube, and Karaoke apps
Microphone stand adjusts
Some reviewers feel it is expensive
The Singsation All-In-One Karaoke machine will instantly make your child feel like a star.
Read more
Portability
There is no need to stand in one spot with this machine. The 10-foot cord will allow your child to dance around to get the crowd even more pumped.
Durability
While the machine is built with high-quality materials you are given the option to purchase a three-year protection plan just in case an accident happens.
Entertainment Value
The microphone stand adjusts from 2 to six feet making it easy for people of all ages to enjoy. Designed to be compatible with all Karaoke apps, video sharing sites, and YouTube there is no limit on what song your child can sing.
Creativity
This device is equipped with 10 different voice effects. Your family can get creative and sing their favorite songs using effects like a chipmunk or high pitch. You can even make the performance more entertaining by adding in an air horn or DJ scratch sound effect.
4

. VTech Kidi Super Star Karaoke System with Microphone and Mic Stand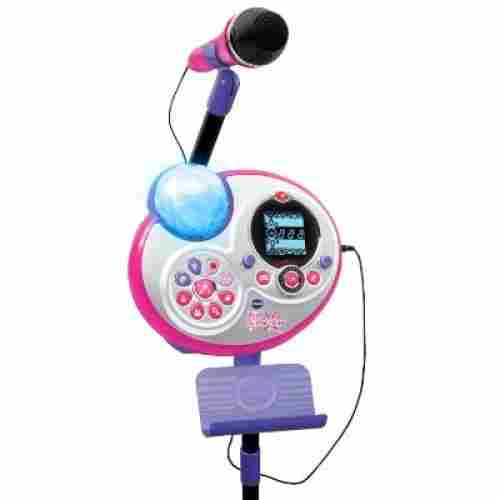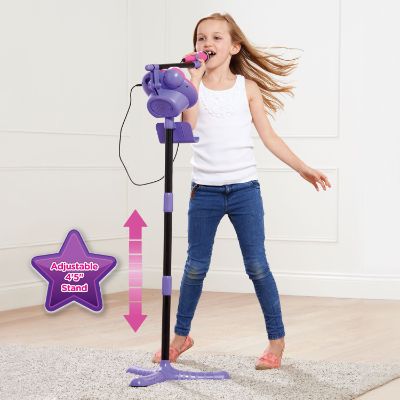 Playback feature
Records up to 5 minutes
Connects to IPOD/MP3
Adjustable height
Boosts memory and cognitive learning skills
Some customers said that the microphone can give off static.
This device allows your child to connect their ipod with to play along their favorite songs. They'll be able to playback and record all of their preformances and remember them for a lifetime. There's also a feature where your child can add in sound effects making each performance extra special.
Read more
Portability
Can be detached from the table top.
Durability
This device runs on 4 AA batteries. It's also recommended for children 4 to 9. It does come with an adjustable height feature so that your little one will be able to grow with this.
Entertainment Value
Your child can add sound effects and change the sound of their device with this built in microphone. It also comes with a disco light making each preformance have extra jazz.
Creativity
Your child will be able to record up to 5 minutes of each song that they choose. They'll also be able to playback their preformance.
5

. Portable Microphone for Kids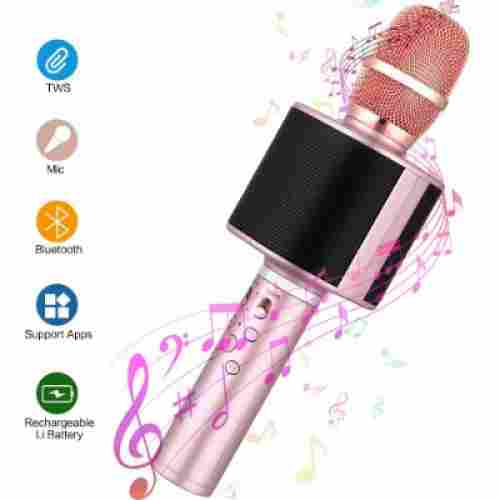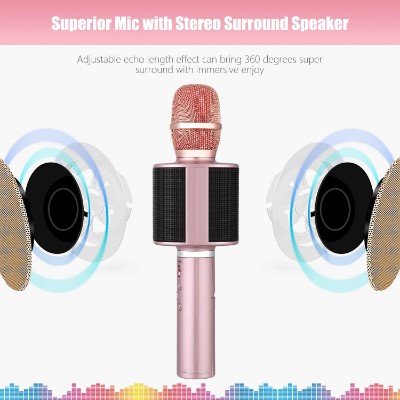 Wireless
Bluetooth speaker
Six hours of battery life
Connects to any Smartphone
Not only is this awesome karaoke tool affordable, it also gives you up to six hours of continuous battery life, which means you and the kids can really let loose with nothing holding you back! It's always a hit at birthday parties and other family gatherings.
Read more
Portability
Because it's both a microphone and a speaker, your kids can use it to listen to music once they tire themselves out from singing.
Durability
A sleek design makes this extremely lightweight and easy to carry, while the five different muted color options don't distract from your kids' performance.
Entertainment Value
Nothing is more remarkable than the human voice and its capacity for a wide range of sounds. For many kids, this tool is the first step toward a lifelong love of singing
Creativity
By being able to sing along to their favorite songs at home, kids can learn about the power of their own voice and what makes them unique. Developing the voice at an early age is crucial for confidence later in life, and contributes to a child's appreciation of music in all its forms.
6

. KaroKing Wireless Microphone for Kids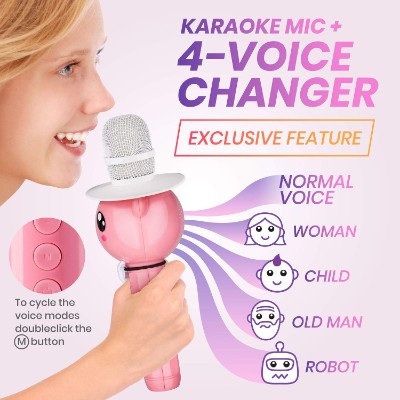 Long-lasting
Four different voice settings
Easy to grip
Preset with oldie hits.
Some customers received the wrong color upon purchase arrival. Other than the color they were overly impressed with the mic itself
Who isn't a fan of karaoke? This KaraoKing's kid-friendly microphone will take you back to the golden days. Your children will be able to sing along to all your favorite songs with this friendly bear.
Read more
Portability
You don't have to worry about the hassle of wires everywhere or clunky machines that you have to find a place to store while your child plays with other things. While this device is handheld it also connects to any smart phone and has a long-lasting charge so it's perfect for any party. We know you and your family will love this device and all the tunes that come with it. It's also portable so it's perfect for on the go and to bring to any of occasion!
Durability
While it does have a rechargeable battery, battery life only runs up to 6 hours uncharged!
Entertainment Value
It also connects to any smart phone so if you get a little tired of any of the oldies that's already preset, you'll be able to sing along to any song with just a simple connection! This kid friendly device is easy to use and easy for children to grip.
Creativity
This device also comes with four different voice settings that you can choose from which can make each song extra special.
7

. LET'S GO! Wireless Portable Handheld Bluetooth

Sleek and stylish microphone karaoke machine
Features the latest Bluetooth technology
Includes noise canceling technology to promote voice control
Speakers are of high quality and have inner magnets
Easy to use with multi-function buttons located in front of the machine
Box that the machine is packaged in is poorly made
Difficult for younger children to operate
This is a sleek and stylish karaoke machine that features a mini design that works just like a professional karaoke machine but comes in a handheld device. The complete machine has been made from an aluminum alloy material. This material gives the machine that sleek and stylish look plus makes the machine super durable for the little ones.
Read more
Portability
One of the coolest features of this portable wireless karaoke machine is its size. The size of the mini machine allows the kids to be able to take this machine just about anywhere that they go. It makes them a star at any scene. The high quality speakers built directly into the microphone will present great quality music and voice output.
Durability
The professionally working karaoke machine has been constructed from an aluminum alloy that gives the machine durability that other machines are not able to offer. It is a complete all in one system that connects directly to a smart device through Bluetooth wireless technology so there are no cords or heavy equipment that weighs the machine down. This is a complete machine that is fun to take along anywhere they go.
Entertainment Value
Let the kids impress all the guests at their next party or let them become the life of the party at the next one they attend with this sleek and portable karaoke machine. It wirelessly connects to any smart device using the latest technology and plays the tunes over two high quality speakers that have inner magnets. It gives them the perfect voice promoting their self-confidence and entertaining the quests all around them.
Creativity
All the easy to use functions on this karaoke machine allow the kids to be able to focus on their voice and being able to express their musical talent without having to worry about hard to use buttons. On the front of the machine, there are a few multi-function buttons that control the whole machine. These functions are very easy to use and adjust plus the machine as a whole is comfortable to hold allowing the feeling to flow through their music and not their worries.
8

. VTech Record and Learn KidiStudio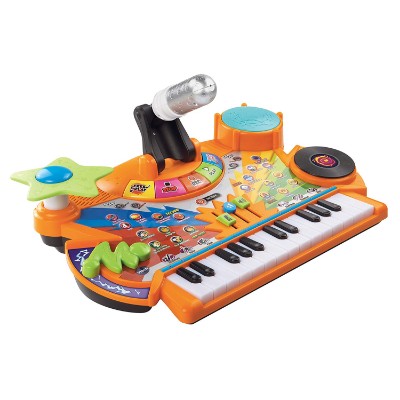 Demo batteries included
More than forty sounds included
Recording feature
Keyboard lights
New batteries required for regular use
Designed especially for toddlers, this bright and colorful keyboard is the perfect introduction to musical instruments for young ones who are just starting to develop their musical talents.
Read more
Portability
This toy comes with many of the most popular children's songs, so your child can play along to familiar tunes.
Durability
Impressively, it even comes with a real microphone so your kid can experience the real deal. It also lets them record and play their own voice, so they can learn and improve faster.
Entertainment Value
Young children respond best at this stage to visual stimulus, which is why the fun visual buttons and keys on this toy are designed to make it easy for your toddler to differentiate between them. With so many different songs, rhythms, and instrument sounds to choose from, your toddler will be content for hours with this highly entertaining toy.
Creativity
Lively pictures and graphics help to guide your child through the different sound options, encouraging them to think creatively while having fun.
9

. BONAOK Wireless Bluetooth 3-in-1 Microphone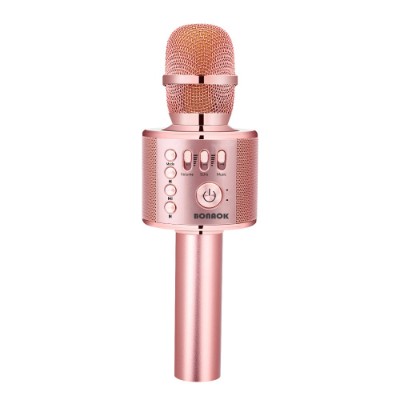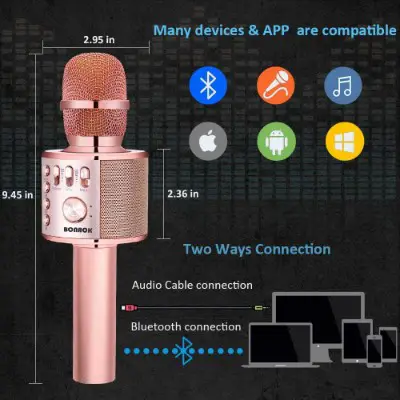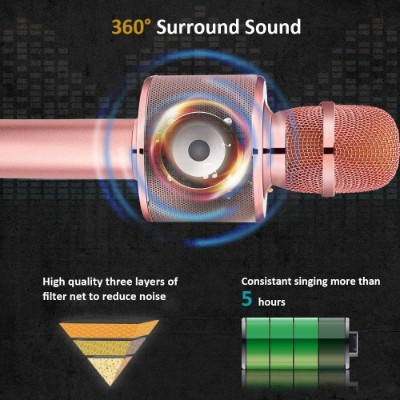 Can convert files to mp3
Handheld
Versatile connection
Easy to use
Some customers experienced charging issues
With technology always advancing in today's world: it's no wonder that this Bluetooth connection karaoke mic will allow you and your family sing any song that's synched right from your phone! This handheld device is perfect for your future performer to put on a show whether it's at home or on the go.
Read more
Portability
One thing that's noticeable is with this handheld device your favorite tracks can actually convert into mp3 tracks with this device when plugged in to a USB port.
Durability
This karaoke mic allows you the ability to transfer any of the songs that your family sings where you may be able to create your own little karaoke family album memory. It's the perfect gift for any occasion.
Entertainment Value
It allows you to have the choice of singing along to some of the preset songs that's already suggested from the device or you can pick your favorite and belt out those lyrics that you know so well.
Creativity
What makes this even more special is that this comes with multiple different settings that you'll be able to fiddle with such as: volume adjusting, echo range, music selection and more!
10

. Musical Kids Electronic Keyboard W/ Microphone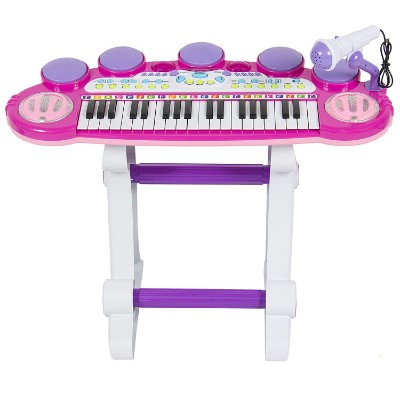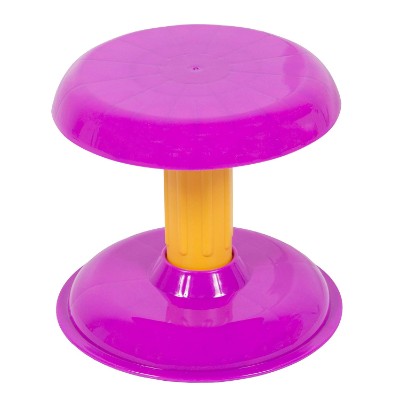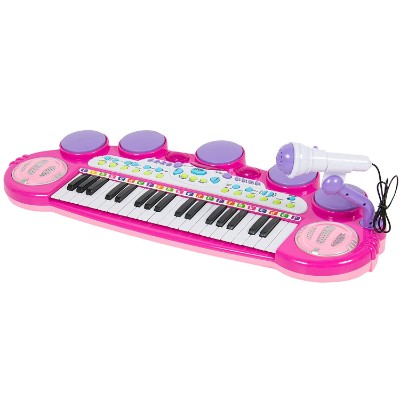 Microphone included
Keyboard lights up
Recording feature
Multiple sounds and rhythms
Give your child the very best of both worlds with this fully functional musical toy. It comes with an astonishing thirty-seven piano keys that offer a wide range of sounds, and the microphone attached allows your child to sing while they play!
Read more
Portability
This keyboard and mic comes with a fully adjustable stool in a matching color scheme.
Durability
With a bright pink color scheme and a keyboard that lights up, they'll never want to stop singing their little hearts out.
Entertainment Value
Children as young as three years old will delight in the multiple rhythms and music styles available, and the recording feature lets them listen to their own voice like a real musician!
Creativity
This toy is an excellent way for your child to improve their physical coordination abilities while having fun. Being able to use both the left and right sides of the brain at once is an important skill in multitasking, and because this toy requires them to use both their hands and their voice, they will better understand the techniques of musical harmony, just like the professionals. Their focus will be improved from the challenge of dual activities as well
Criteria Used for Evaluation
Most Important Criteria
(According to our experts opinion)
Experts Opinion
Editors Opinion
Users Opinion
By Default

Parents should know
Building self-esteem for a child can sometimes be hard. While others seem to just be born with it, some have to learn and build their self-esteem. Karaoke machines in a friendly environment can be a great tool for children.It allows them to feel confident and when you feel confident it builds their self-esteem right along with it. Encouraging children to have fun and learn a new song or perform one they just love is a great way to build confidence and self-esteem.
Parents should know
Introducing karaoke machines at a young age helps build self-esteem by giving them a strong sense of their place in life. It allows children to connect with others through music and the experience of singing in front of others which builds self-esteem that cannot be taught. Karaoke machines are a great way to build confidence and self-esteem for children.
Other Factors to Consider

Educational Value
When children use karaoke machines it helps with the development of many development skills. Children are using both gross and fine motor skills when using and performing with a karaoke machine. Using their gross and fine motor skills allows them to build of the level of skills that they have while also getting out their build up energy. Using gross motor skills to perform and fine motor skills to use the machine is a great way to help children encourage building both sets of developmental skills.
Karaoke machines also help with cognitive developmental skills. They promote memory skills, visual learning skills, and even encourage children to learn how to read if they are not already doing so. All these skills are important and encouraging children to build those skills through the use of a karaoke machine is a fun way too.
Age Range
Picking the karaoke machines to include in our list of top 10 was quite challenging since we're talking about devices that are specially designed for kids, not adults. This means we had to determine the device's developmental appropriateness in relation to a particular child's age. It would be quite inappropriate to include a karaoke device built for adults when the one who's going to use it is a child. As such, its design must be appropriate for children of a particular age. Additionally, we examined the individual built-in features of these karaoke machines to determine what benefits they would bring to children. If these features will only benefit adults, then it could hardly be classified as a kids' karaoke machine
Safety
>Safety is also a primary concern since these are essentially devices that are made of electronic components. These also run on electricity or even rechargeable batteries. It is very important that these products are safe to use by our children. We had to look for indicators of quality and safety such as certifications from recognized quality control organizations. We also considered the experiences of consumers with these products. The more positive the customer reviews and feedbacks, the more confident we were in including the said product in our list. At least, we can always say that there are many parents out there who consider these products as great value for your money.

Brand
Lastly, we considered the reputation or credibility of the company that made these karaoke machines. Some companies are just new in the industry and it would be quite unusual for us to trust a newbie over one that has been in the business for a significantly long time. However, if there are a lot of positive customer experiences related to the product, then the age of the company clearly doesn't matter.
Emotional Development
There are many benefits of music to children, especially among babies. For starters, music has been shown to improve children's cognitive development particularly the different learning processes in the brain. Exactly how this works is not fully understood, however. Nevertheless, existing literature shows that children who are exposed to music during the early stages of life grow up to become smarter and more intelligent compared to other children of the same age.

Social Development
Their intelligence is not the only aspect of their development that's affected by music. It has been shown by numerous studies that music can also enhance children's emotional intelligence. This enables children to be more attuned with their emotions making them better equipped to handle or manage emotional and social issues. When they grow up, they tend to be happier and feel more content about life in general than most kids. This can lead to fewer incidence of depression as well as other mood disorders. Children who are emotionally intelligent have a much happier and more positive disposition in life making them less threatened by social and emotional stresses.

Effectiveness
Music also helps facilitate social interactions by making them feel more confident about themselves. When children sing in front of an audience, they get to muster courage and help prevent stage fright or even social phobia. At least, you'll be content knowing that your child will be able to mingle with any type of individual.
Frequently Asked Questions
q:

Do all karaoke machines display music lyrics to the songs?

a:

No, all karaoke machines do not display the lyrics to the music. There are 4 types of karaoke machines on the market. Only the All-in-one System includes everything you need to display the music, hear the song and you singing, and CD player or audio input for the music. The other three types of machines on the market require either a TV to display the lyrics or a smart device. Make sure to do your research on the type of machine that features the things you would like.
q:

Where can I buy a karaoke machine in a store?

a:

You can buy a karaoke machine in almost any toy or department store. To make sure that you know what type of system you want and the features that you need make sure to do some research. Using our list to review the benefits along with the pros/cons is a good way to start. Then to find a certain machine in a store a search on the internet is usually a good place to start.
q:

Do children learn from karaoke machines?

a:

Yes, children do learn from karaoke machines. All types of machines are different and feature different types of learning experiences, but the base benefits from all karaoke machines are; improving cognitive development, allows them to express emotions, teaches how to read, builds vocabulary skills, and boosts gross and fine motor. It can also help prevent stage fright as an adult. Karaoke machines are a fun way to learn some great skills.
q:

Are all karaoke machines portable?

a:

Not all karaoke machines are portable. Different types of machines require different things. If you are looking for a portable machine look for an all-in-one machine that requires batteries. This would be a completely portable karaoke machine. Others require power from an outlet and many need a TV to display the lyrics.
q:

How do I know what karaoke machine is safe for a 4-year-old?

a:

Karaoke machines like toys all have safety rating for age appropriateness. So, not all karaoke machines are safe for a 4-year-old. Included within each of the items listed on our list is an age rating that is given to using by the manufacturer. It is important to make sure that the karaoke machine that you decide on it age appropriateness. To make sure that a karaoke machine is safe for a 4-year old please refer to each item.
q:

When is the best time to introduce music and singing to a child?

a:

It is never too early to introduce music and singing to a child. Music and singing are a big part of life for toddlers, so introducing them to songs as early as you can. Music is more than a form of entertainment for children it is also a learning experience. Music creates pathways within the brain that builds cells and creates the ability to learn more and more as life goes on. Music and singing is also a great way to bring friends and family together.