Many parents believe that the home is one of the safest places for any young child. Unfortunately, the sad truth is that there are a lot of hazards at home which might not actually be safe for young children. If you have a child who is beginning to explore his or her surroundings, then you need to have a system in place that will somehow prevent him or her from exploring beyond what you think are safe areas. In such cases, you will definitely need baby gates as an integral component of child-proofing your home.
Our Top 3 Picks
Evenflo Easy Walk Thru

Our rating
Lock Indicator
Price:

See Here
New Clevr 3-in-1

Our rating
Quality Multi-Purpose Design
Price:

See Here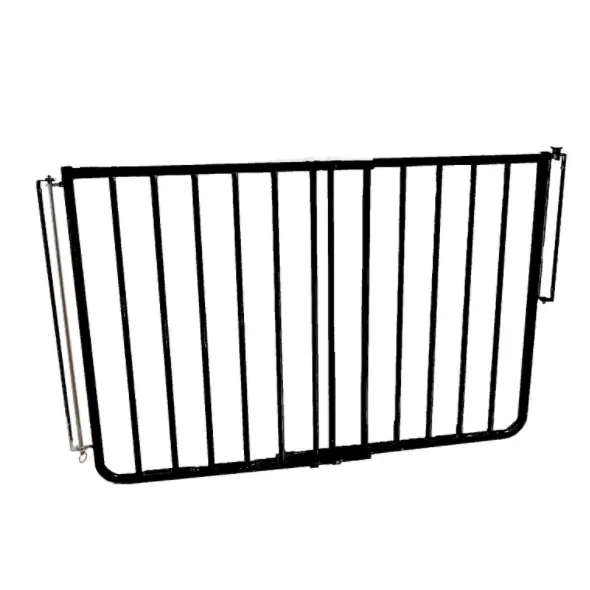 Cardinal Gates Outdoor Safety

Our rating
Weatherproof Gate
Price:

See Here
Now, there are a lot of baby safety gates in the market. We have come up with a shortlist of the world's top 25 baby gates we are optimistic will give you the peace of mind that you need for your children while they go on exploring the different parts of your house.
Our Picks For The Top Baby Gates For Child Safety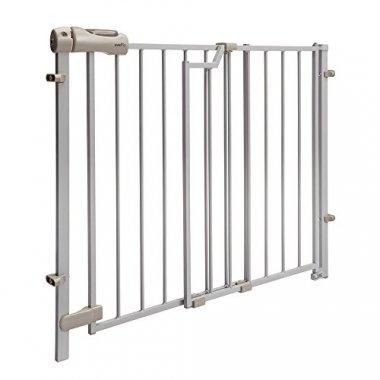 New Clevr 3-in-1 Baby 6 Panel Playard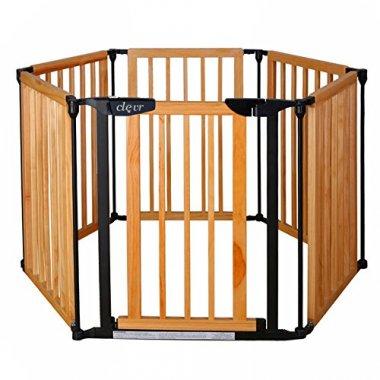 Cardinal Gates SS-30OD Outdoor Model
Safety 1st Décor Easy Install
Munchkin Auto Close Model MK0094-011
Evenflo Versatile Play Space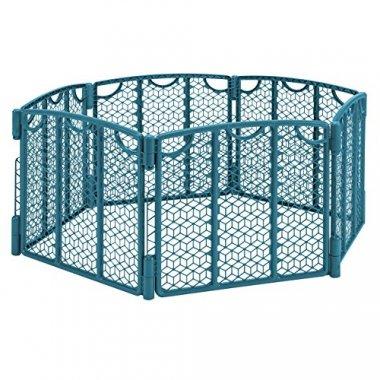 Evenflo Expansion Walk Thru Room Divider
Regalo Home Accents 0310 DS
Smart Retract Inc. Retract-A-Gate
Regalo Deluxe Platinum 1166 P DS
Dream Baby Chelsea Auto Close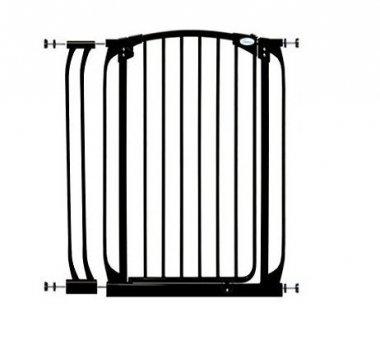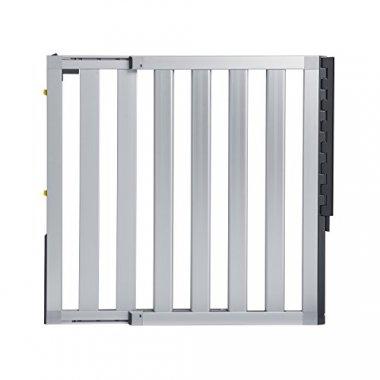 North States Superyard 3-in-1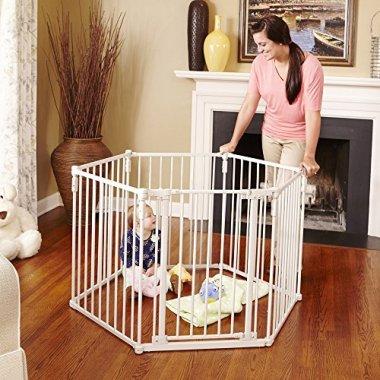 North States Deluxe Décor 4934S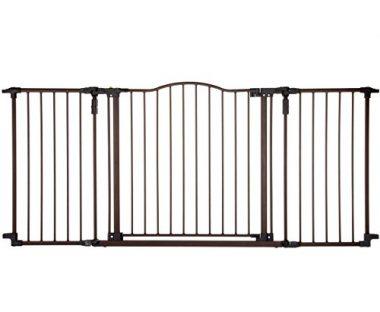 Summer Infant Metal Expansion Gate
Safety 1st Eco-Friendly Nature Next Bamboo Gate
Summer Infant Decorative Walk-Thru Gate
Summer Infant Retractable Gate
North States Easy Close Metal Gate
Munchkin Easy-Close Metal Safety Gate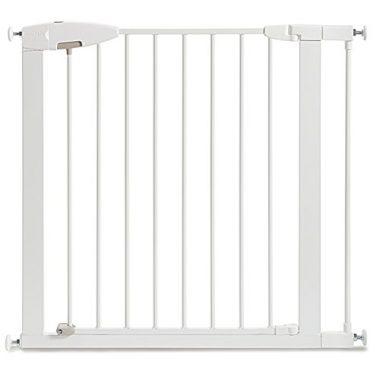 North States Superyard Colorplay
Safety 1st Wide Doorways Fabric Gate
Criteria Used to Evaluate the Best Baby Safety Gates
When the 25 Best Baby Safety Gates for Stairs and Houses list was created we wanted to make sure that the list includes items that were useful, were constructed from quality materials, and had an overall safety and review rating of 4 out of 5 stars. Each of the products was reviewed for the three categories and once that list was created then our panels of experts were able to create the list for the top 25.
Our panel of experts then reviewed each item and created the list of the top 25 based of the features that overall were the best bases on safety aspects. The list needed to only contain items that were used by consumers and had the best quality. We hope this list helps protect infants in your home.
Childproofing our homes
Childproofing our homes is very important. When your baby is starting to crawl it's time to start childproofing your home. Most accidents that happen usually occur in the home. You want to make sure that you protect your child in their own home and provide them with an environment they can explore safely. Most of the victims of accidents in the home are under the age of 2.
It is the responsibility of the parents to make sure their child is safe at all times. There are lots of systems and devices on the market to help make your home the safest it can be. Securing and childproofing the home is the best way to keep them safe, but also being vigilant on a daily basis is needed as well.
Keeping babies safe around the house
Keeping babies and kids safe is a difficult job, but can be taken in a very proactive role. You want to make sure that your home is child-proof and that you can prevent any injuries that you can. Providing them with a safe environment they can explore is important to their physical and mental development.
Securing safe areas by using gates and play yards is a great way to allow them to explore without putting them in harm's way. You always want to make sure the areas that you place them in are completely safe for them. Securing their nursery is always one the first places that you want to do. This way if they were able to get out of their crib they would be safe until you were able to reach them.
Childproofing tools and where to use them
There are many child-proofing tools on the market. The problem often is people are not sure where to use them. It is important to remember that when childproofing your home you have to think like a child, or, more importantly, get on their level. Things that are obviously not safe for us are things they need to learn with guidance. The goal is to keep them safe until they reach an age when they are able to make those decisions correctly.
The first step to childproofing and knowing where you need to use the tools is by getting down on the ground and crawling around. You want to remove any objects that they can get to and pull down on themselves or that have small pieces. Once that is complete you want to start using tools to better protect them. All electrical outlets should be covered with plugs. These covering caps are easy to install and prevents children from sticking things in. The next thing is blind cords. They all should be placed in a plastic wind that gets the entire stack out and keeps them out of their reach. Next are the doors, cabinets, and toilets. Each of those requires a different type of safety bracket and they can be purchased in a set. The best things to remember when child-proofing your home is that babies will get into anything and everything. It is best to remove, protect, or safeguard them from anything you can.
What Determined the Best Baby Safety Gates
When it comes to our children's safety at home, we can never really be complacent. That is why in coming up with our magic list of the top ten baby safety gates, we had to be doubly sure of what needs to be included.
Our researchers scoured the internet with all the possible safety barrier mechanisms currently available. Unfortunately, it was impossible to individually test these products as doing so will be a logistical nightmare in itself. Nevertheless, we had to rely on other means with which to ascertain a product's usefulness, quality, and overall security to bring you only the best safety systems for children at home. For starters, we had to closely examine the different features that have been built-in into the product. We then had to make a careful prediction of the possible implications of such features. We then had to compare it to the first-hand experiences of consumers who may have already used the product. This is one way to validate our assumptions about the overall quality of the safety fences in our list.
Believe us, it was never easy. But we knew it had to be done. That's why we persevered to give you our take on the top 25 baby gates that will help protect your infant at home.
Safety Gates and Our Responsibility of Child-Proofing Our Homes
More and more families are recognizing the need to child-proof their homes. According to the Centers for Disease Control, there are over 9.2 million children who get treated in an emergency medical facility for unintentional injuries. These are injuries sustained from burns, falls, poisoning, drowning, suffocation, and those related to vehicular accidents. Among those cases that resulted in moderate to severe injuries but are not fatal, falls are a leading cause accounting for close to 3 million cases every year. More than 50 percent of fall victims were young children below 1 year of age. Falls was followed by being struck by or being hit with an object. Also noteworthy is that children below the age of 1 year had a significantly higher incidence of suffocation.
Child-proofing our homes, especially if we have very young children roaming the premises of our property, thus, becomes an important responsibility. The use of baby fences is just one of the ways in which we can child-proof our homes. These devices or systems effectively prevent children from going from one area of the house to another which can be considered as largely dangerous or risky.
For example, these devices can be placed in the doorway between your kid's playroom and the kitchen or the dining room. We all know that the kitchen is not a really safe place for young children. Just imagine your baby crawling or even walking towards the kitchen and then reaching for whatever is on your countertop. You have a gas stove, an oven, or even sharp knives lying haphazardly on the counter. Now we don't really have to tell you that this is dangerous because it should already be obvious. It's just an example but we know you get the idea.
It should be clear that the use of baby safety systems is just one of the ways in which we can help prevent unintentional injuries among the youngest members of our families. That is why it is also crucial to look at the other ways or means in which we can help ensure the well-being of our young kids. Here are some tips on how you can accomplish this.
Look at Your Home from the Perspective of Your Baby – Standing upright and looking at the different parts of your house will give you a false sense of security simply because you are not looking at it from how your kid sees it. The best way to start child-proofing your home is to get down on your hands and knees and scan your surroundings so you will appreciate what your child actually sees whenever he or she performs his or her daily routine exploration. Another way to put it is to think like your child. If you were your kid, where will you go? What will arouse your curiosity? Do you think several electrical cables sprawled on the floor is safe to hold? How about coins and other loose items such as medicines, paper clips, beads, marbles, and other stuff? When you do get on your knees you will see what your child sees. This way, you can start child-proofing your home.
Keep All Electrical Outlets Protected – Plug-in caps are essential to child-proofing your home; unless your electrical outlets are located high up near the ceiling. Unfortunately, if your child is naturally curious, these plug-in caps might as well end up in your kid's mouth. A safer alternative is for you to replace all of your electrical outlets with those that have a security latch. As much as possible don't use any extension outlets. But if this is unavoidable, then protect these as well.
Fix Furniture and Other Heavy Fixtures onto the Floor or the Wall – One of the inherent dangers at home is children getting hit by falling objects or, worse, being hit by furniture or appliances that tip over. If at all possible, you may need to fasten or secure these objects to the floor or against the wall so they won't be falling on top of your kid. Remember that young kids will be pulling on almost everything and anything they can hold on to as soon as they start crawling. Additionally, you have to make sure that all drawers of your cabinets and dressers are always kept closed. These can function as stairs for your children which can lead to injuries sustained from falls.
Check Ties and Cords especially on Curtains and Blinds – The exposed ends of these ties or cords can potentially trap your child's neck. As much as possible, cordless window coverings must be used.
Secure every Window and Door in Your Home – Window guards or stops can be used to help prevent falls. Make sure that low windows cannot be opened more than 4 inches. Window stops can again be attached to help prevent windows from opening more than what is considered safe.
Prevent Poisoning – Be always on the lookout for substances that are potentially hazardous to your child's health. Check for lead, phthalates, and BPA as well as other harmful chemicals.
These are just some of the things that we can do to help ensure our homes are safer for our children. On a more personal level, however, we honestly believe that nothing can beat greater vigilance on our part.
The Bottom Line
Baby gates are just one of the many ways we can help provide safer homes for our young kids. And with our list of the top 25 baby gates, we are positive you feel much more confident about keeping your children safe right in your own home.
FAQ
Frequently Asked Questions
Q: When is it time to start using baby gates in my home?
A: It is time to start using baby fences in your home when you notice that your baby is showing signs of crawling. That usually is about 7 to 10 months old. It is best to install them before they even start to crawl.
Q: Do all baby gates require hardware to be installed on the walls?
A: All baby fences do not require hardware to be installed. There are pressure-mounted baby safety barriers that use tension between doorways and walls to create a secure fit. Only at the top of the stairs are gates that use hardware or are hard mounted are required.
Q: Where can I find the product listed on the 25 Best Baby Safety Gates for Stairs and Houses to purchase?
A: All the baby gates listed on the 25 Best Baby Safety Gates for Stairs and Houses can be purchased by clicking the link below the product picture. The link will take you directly to Amazon where the product can be purchased.
Q: What is the difference between pressure-mounted baby gates and hardware mounted baby gates?
A: The difference between pressure-mounted baby gates and hardware mounted baby gates is the way then are mounted. Hardware mounted gates require screws and installation when pressure-mounted gates use pressure against walls or door frames to secure them. Pressure-mounted gates can be used anywhere in the house, but at the top of the stairs. Gates that are used at the top of the stairs are required to be secured with hardware.
Q: How do I know when it is time to start childproofing my house?
A: It is time to start childproofing your house before your baby starts to crawl. When they start to crawl they start exploring the world around them and you want that to be as safe as possible. When childproofing your home it is better to be proactive and not reactive to situations.
Q: Are gates with doors better than gates that are removable after each use?
A: All models have their own features that make them more desirable than others. The best way to choose a fence that works best for you is to review the features. Gates with doors can be nice for areas that you walk through often because they don't need to be completely open all the time. Gates that are removable allow you to have a safe area when needed, but it can be removed to use the full width of the opening.