One of the most crucial things we need to teach our kids is how to manage their finances. We know not everyone of us are doing a pretty good job at managing our own finances but, hopefully our kids will do better. We can help them start thinking about money management by saving a little of their daily allowance by depositing these into their own piggy banks. As such, we are giving you the 10 best piggy banks for kids in 2017 we guarantee your children will not only love but will cherish for the rest of their lives.
Our Picks Of The Top Piggy Banks for Kids
Streamline Green Frog Money Piggy Bank
Girls Pink & Green Circles Pig Piggy Bank by Burton & Burton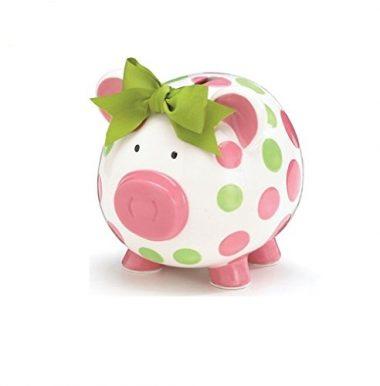 Carters Smiley Happy Piggy Bank
Schylling Rubber Piggy Bank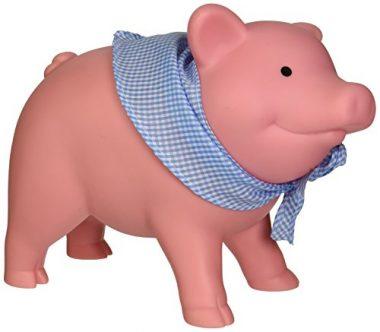 Digital Coin Bank Savings Jar by Digital Energy
Thomas the Train Tank Engine Coin Bank
Ookamiwolf Cute Pig Money Box Piggy Bank
Fire Truck Coin Bank – Coin Bank for Boys – Teach Financial Literacy for Kids – Perfect Kids Money Bank – Piggy Bank of the Future by Money Scholar
NFL Green Bay Packers Resin Large Thematic Piggy Bank
Jhua Cartoon Electronic Password Piggy Bank Cash Coin Can
How We Chose the Top Piggy Banks in Our List
When we talk about kiddie coin depositories, most people would simply buy almost any other figurine, be it an animal or some other character, which has a slot at the back with which to insert change. But then, we thought kids might not get really excited about saving if they see a very ordinary looking device. So, we aimed to look for piggy banks that have passed the scrutiny and have met the approval of countless parents who have already purchased these products. At any rate, you can be sure that what we have listed here are also used by other parents who, just like you, would like to teach their kids to enjoy saving their money.
From this shortlist of the most popular coin and change depositories, we then identified if they do have certain features that will really entice kids to make full use of the gadget. Security features, mechanical components, and other features that have been built into the design of the device were also individually scrutinized. Primarily, we wanted to identify if such features offered some form of benefit to kids; although, we later found out that a great majority of parents actually prefer the simple yet cute and lovely designs of these products. Based on our readings of their experiences, we were able to determine that indeed, these simple products were well-accepted by their children. As such, we took these into consideration as well.
How We Can Teach Our Kids to Value Money
For some of us, we may not been fortunate enough to be taught by our respective parents how to save money for the rainy days. Perhaps because we grew up in an environment where everything is already provided for by our family that we simply cannot appreciate the value of working for money. For some of us, maybe the money lessons just didn't sink in. We may have been given our coin banks when we were kids yet we didn't get the correct instructions as to why we need to save. Let us not make the same mistake with our kids. We can actually help our children learn the value of money regardless of their age so they will be more responsible in handling their finances in the future. Here are some tips we can share with you on how we can teach our kids about money.
Organize his or her coin bank. 
For those of us who are using the envelope budgeting system, we can actually use the same principle to teach our kids on how to save. Technically, what you will have is several piggy banks, you can get several of a kind or even completely different products from our list, and then put a sticker or any label on each of these coin depositories. Now ask your child what he or she wants to buy with his or her money. For every item that he or she wants to purchase or avail of, use one specific coin depository. For instance, if your son is aching to have his latest set of Nerf blasters or your girl wants her new Barbie set, then you can allot a container for this. Likewise, if your kid wants to go on Disneyland holiday, then you also have to allot a container for that.
Develop a chart that indicates your kid's savings goals. 
It's always a lot better if you have a visual way of knowing if you are already hitting the target. As such, you can help you child create a savings goals chart or something to that effect. You can be as creative as you want. The idea is to provide motivation to your child as he or she is inching closer towards his or her goal. For instance, you can try to figure out how much the item your kid wants to buy costs. Now try to determine how many days or how many weeks he or she must save a certain amount to achieve the goal. Depending on your agreement, you can place any marker or even stickers on your kid's weekly savings goals.
Consider positive reinforcement for your child's behavior. 
Try giving a small reward to your child every time he or she is able to save his or her money. It doesn't really have to be big and extravagant otherwise, we lose the idea of saving. A chocolate sundae treat or maybe even stickers or a 30-minute extension on his or her favorite video games might help.
It's quite difficult to teach kids something if they don't see their parents doing it. So, if we are teaching them how to save and value money, then we must be able to show them how. We can also have our very own piggy banks if you must.
A penny for your kid's penny. 
To really entice your kid to save, why not match his or her savings? So, if he is able to save $2 per week, we can add $2 to his or her savings. Some kids are motivated to save more because the matching amount simply means higher as well.
Get them a kiddie bank account. 
When your child is old enough, you might want to consider getting him or her a high-yielding kiddie savings account. This is especially true if they have already learned in school about interests, especially compounded interest.
Help your kid make priorities. 
This is a very important aspect of money management: prioritization. Our children must learn how to prioritize his or her needs from his or her wants. You can ask your child to create a list of the things he or she wants in life. These must be both short- and long- term goals so that he or she will know how to prioritize. Once these have been prioritized, you can then ask your child to save a certain amount towards the achievement of each goal. This is the basics of financial planning.
It's okay to make mistakes. 
If your kid, because of extra money, suddenly splurges on things he or she clearly doesn't need, he or she will realize it soon enough that it would have been better to stick to his or her savings goals. It's okay for kids to make mistakes. At least, it's a learning experience for them.
There are quite a number of board games and other play activities that you can use to teach your kid simple concepts on money management. The Game of Life and Monopoly are excellent games where you can teach your kid how to manage his or her finances well. Other excellent options are Rich Dad Cashflow for Kids and Rich Kid Smart Kid.
The Bottom Line
Teaching our kids to value money is an integral part of effective parenting. While we are not saying that our 10 best piggy banks for kids will make them financial wizards, since you still will have to lead them in the right direction, these are instruments you can use to instill basic concepts about saving money.
You May Also Like
10 Best Lunch Boxes For Kids
10 Top Watches For Kids
10 Most Popular Kids Headphones
10 Cool Backpacks For Kids
10 Best Water Bottles For Kids